As a born and bred citizen of Vancouver, I don't really know a life of extreme climate and wince when I look at a thermostat reading higher than 25°C. It might be for that reason that I consider ramen to be a year-round food rather than seasonal. So when Ramen Koika comes calling with new "summer" menu items, my body was ready, but not because of a seasonal summer ingredient, but because I love ramen at any time of the year. Last week, I had the chance to go in and try some of their new summer 2020 menu items and some old favourites at their original Davie Street location.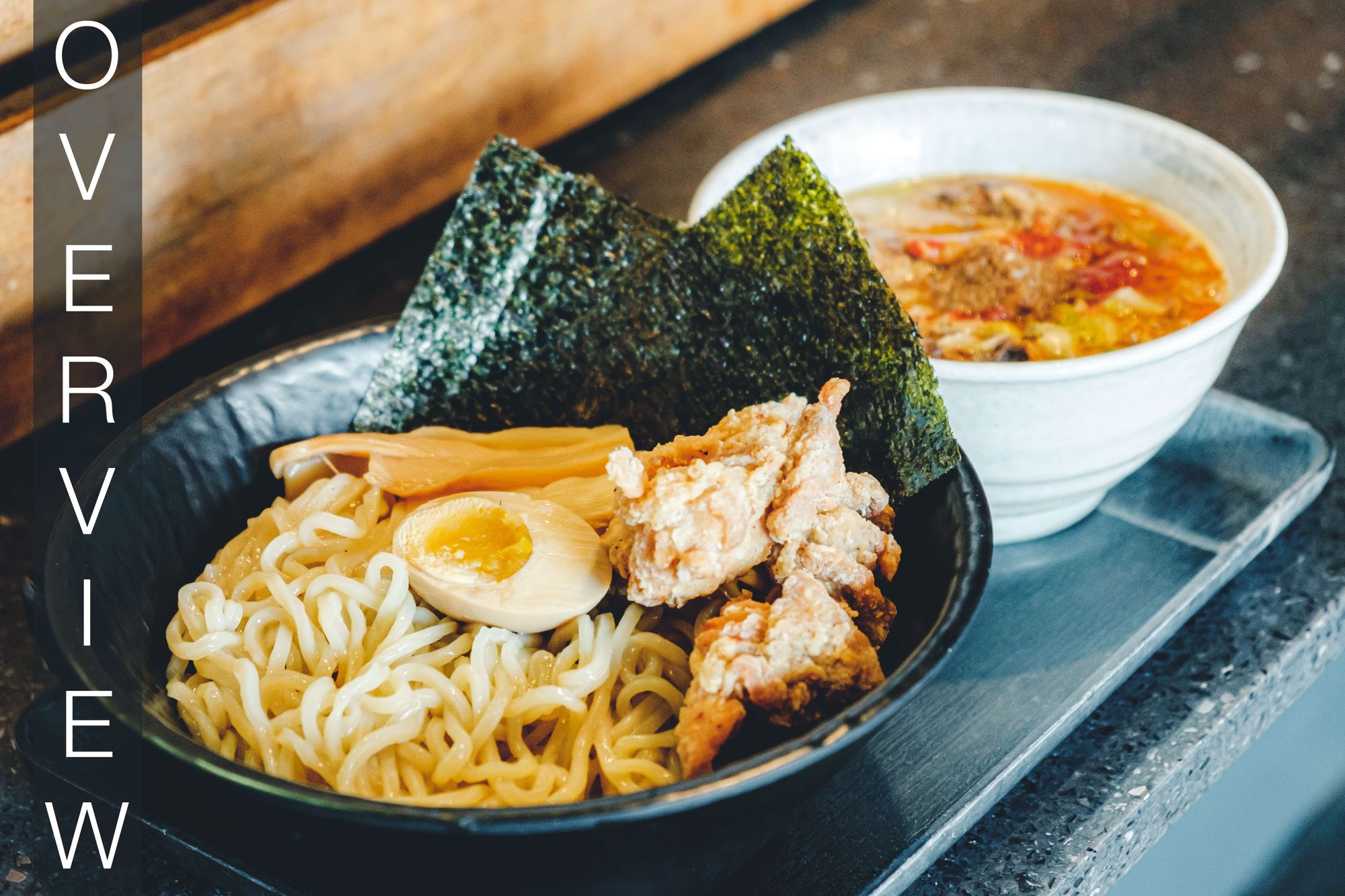 Disclosure: This was a complimentary tasting. All opinions are my own and the featured business was not provided advance copy and is seeing this post at the same time as you.
Food:
Team Do came here for an early Sunday dinner and I had a great taste of the following:
Ugly Onigiri
Puri-Puri Ebi
Triple Black Mazesoba ($15.50)
Fried Chicken Tsukemen ($15.50)
One thing that makes Ramen Koika cool is their creative take on the classic pairings of ramen. Traditionally, a bowl of ramen goes with a plate of gyoza, and while gyoza is on the menu here, we opted for the ugly onigiri. This was a rice ball stuffed with tuna, mayo, mixed and rolled in seaweed and sesame oil. The result was a cute little appetizer that rewarded you with a savoury tuna on the inside. I would have tuna sashimi on the inside but I understand that may have necessitated a separate food preparation process for this restaurant, so just keep that in mind if you're looking for some fish before your ramen.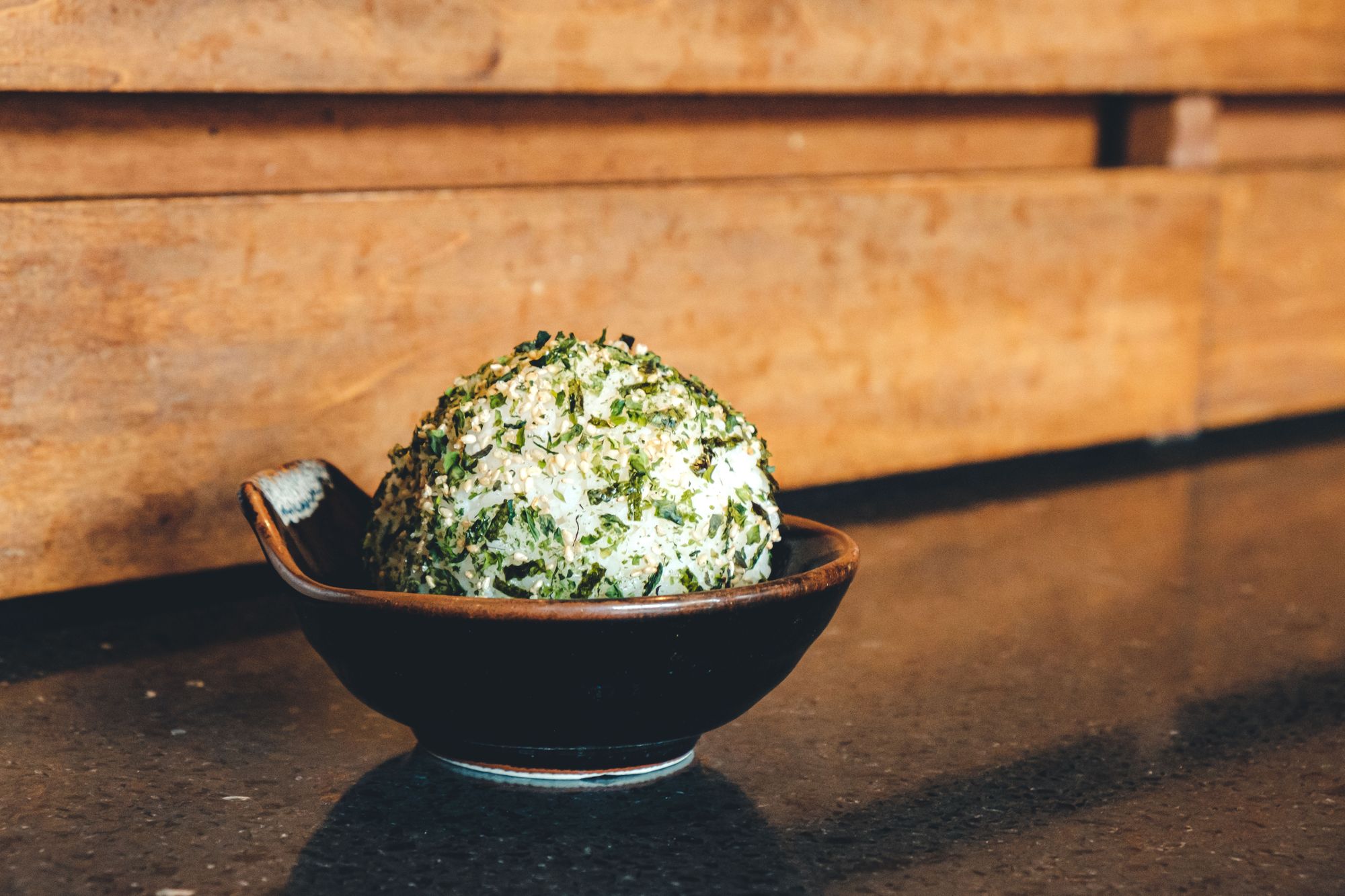 The puri-puri ebi was my preferred appetizer for our meal. These were deep-fried panko-breaded jumbo shrimp lathered in tartar sauce, sesame, and parsley. This cute foursome formed a neat presentation and had an extra crispy texture for each bite. This was a little messy to eat but only because of how crispy each puri-puri was. The shrimp inside was quite juicy implying a careful attention to detail during the deep-frying process so as not to overcook.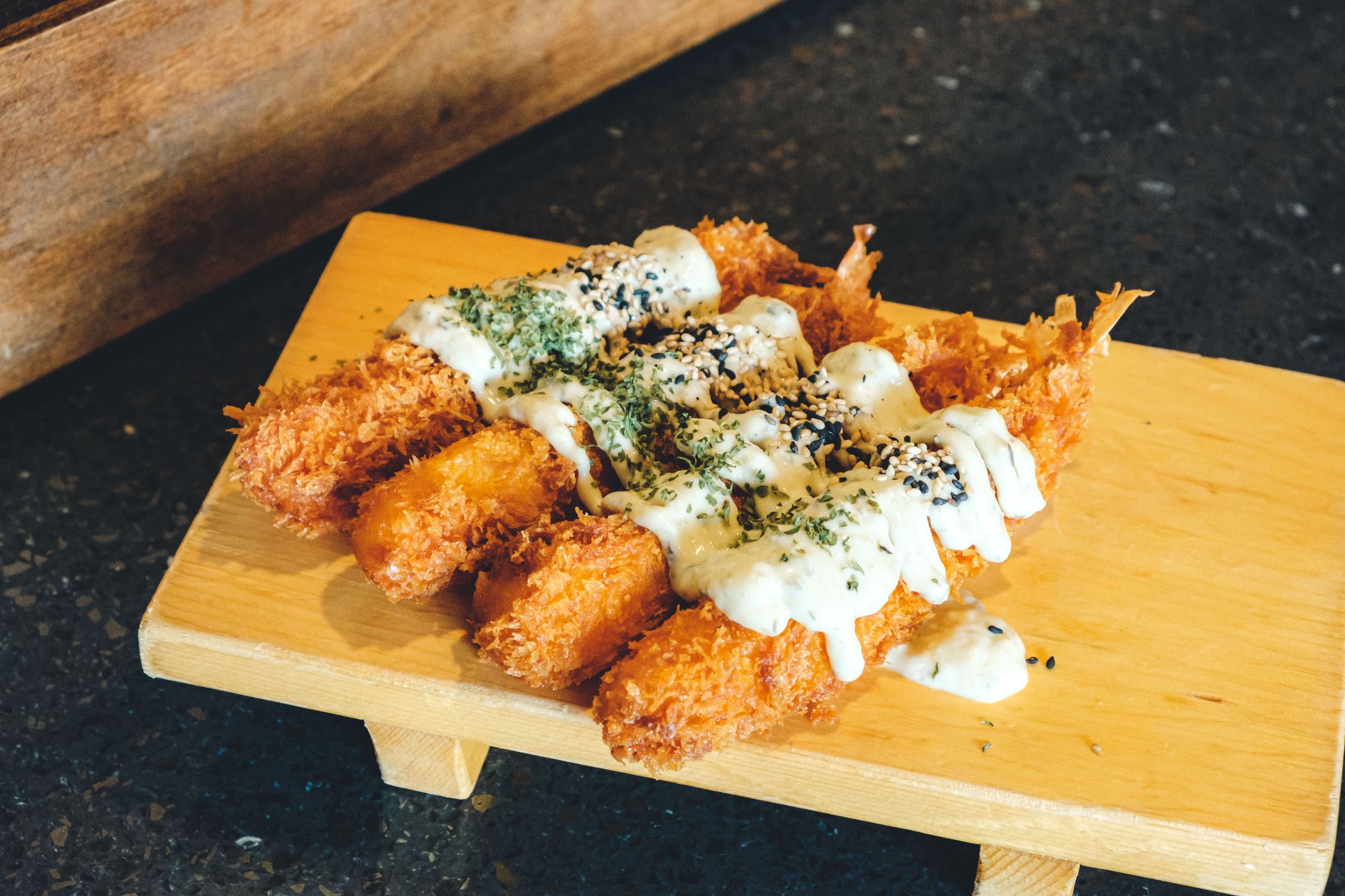 There were 4 new menu items added for summer but the one that caught my eye first was the triple black mazesoba. I'm a huge fan of this style of ramen that's been introduced into Vancouver's food scene. For those unaware, mazesoba is a bowl of noodles presented with a thick sauce and toppings such as parsley and/or egg. To eat, you grab your chopsticks, stir the sauce and egg up into the noodles and toppings. There is no broth to speak of but the point is that the sauce sauce is thick enough that your stirring distributes it all over your noodles.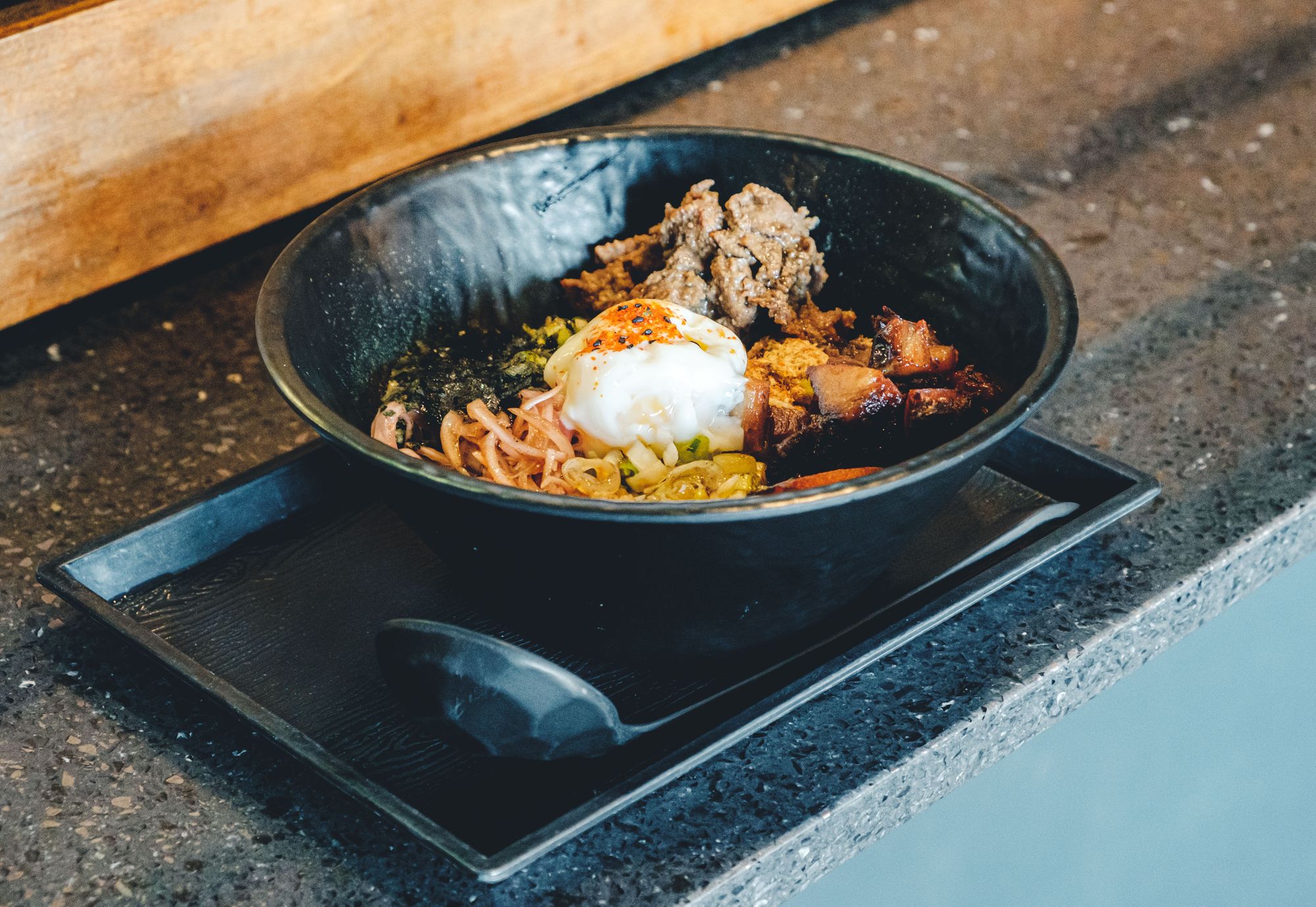 For the Ramen Koika take on mazesoba, the triple black takes the toppings from one of Koika's most popular items, namely: cube deep-fried cha-shu, green onion, stir-fried marinated beef, chopped roasted seaweed, minced garlic, marinated onion, black and garlic oil. These are presented with an onsen tamago ("hot spring egg" in Japanese) and a special mazesoba sauce and what you have is a medley of flavours atop noodles ready to be stirred together. The garlic feeling is no joke in this dish, so you should be prepared with your hunger and maybe some gum afterwards because the garlic breath is real afterwards.
The mazesoba noodles here were incredibly bouncy with the al dente bounce I like to have in my ramen noodles. The cha-shu was a little tough for me. I guess when they're cubed it's easy to overcook but maybe that was the point. My standpoint is that the black garlic is the main companion for your mazesoba noodles.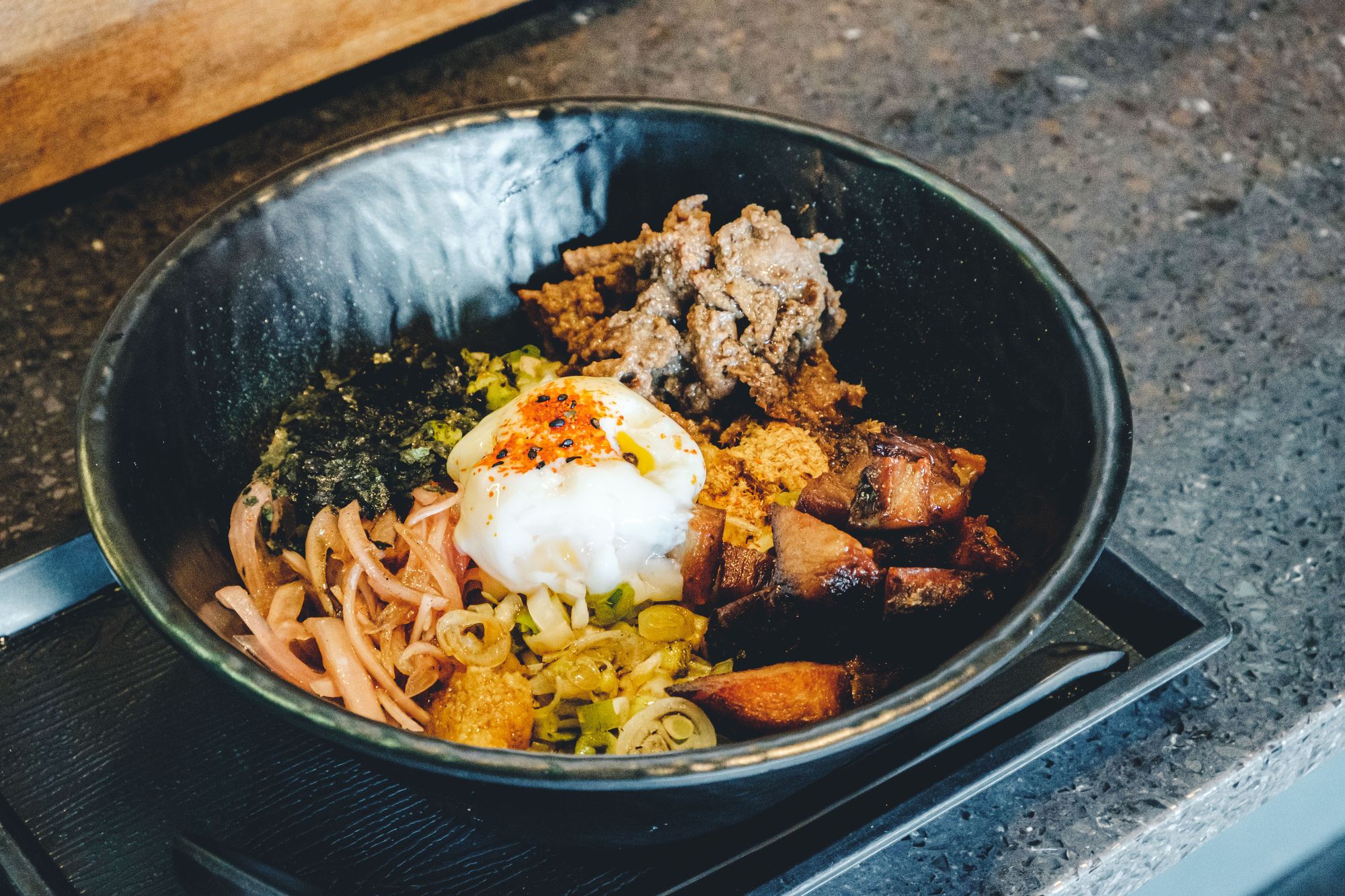 The other ramen we had today was tsukemen, a dipping-style of ramen where you take your noodles, dip them into a hot and thick broth, and then slurp them all up. Traditionally in Japan, these noodles are served cold for the summer weather meaning you don't have to dive into a piping hot broth if it's truly sweltering outside. The fried chicken tsukemen comes with 2 pieces of chicken karaage, roasted seaweed, and a half soft-boiled egg (an homage to the owners' ramen mentor), and in the broth, shredded pork, green onion, bamboo shoot, bonito flakes, and an optional spice paste.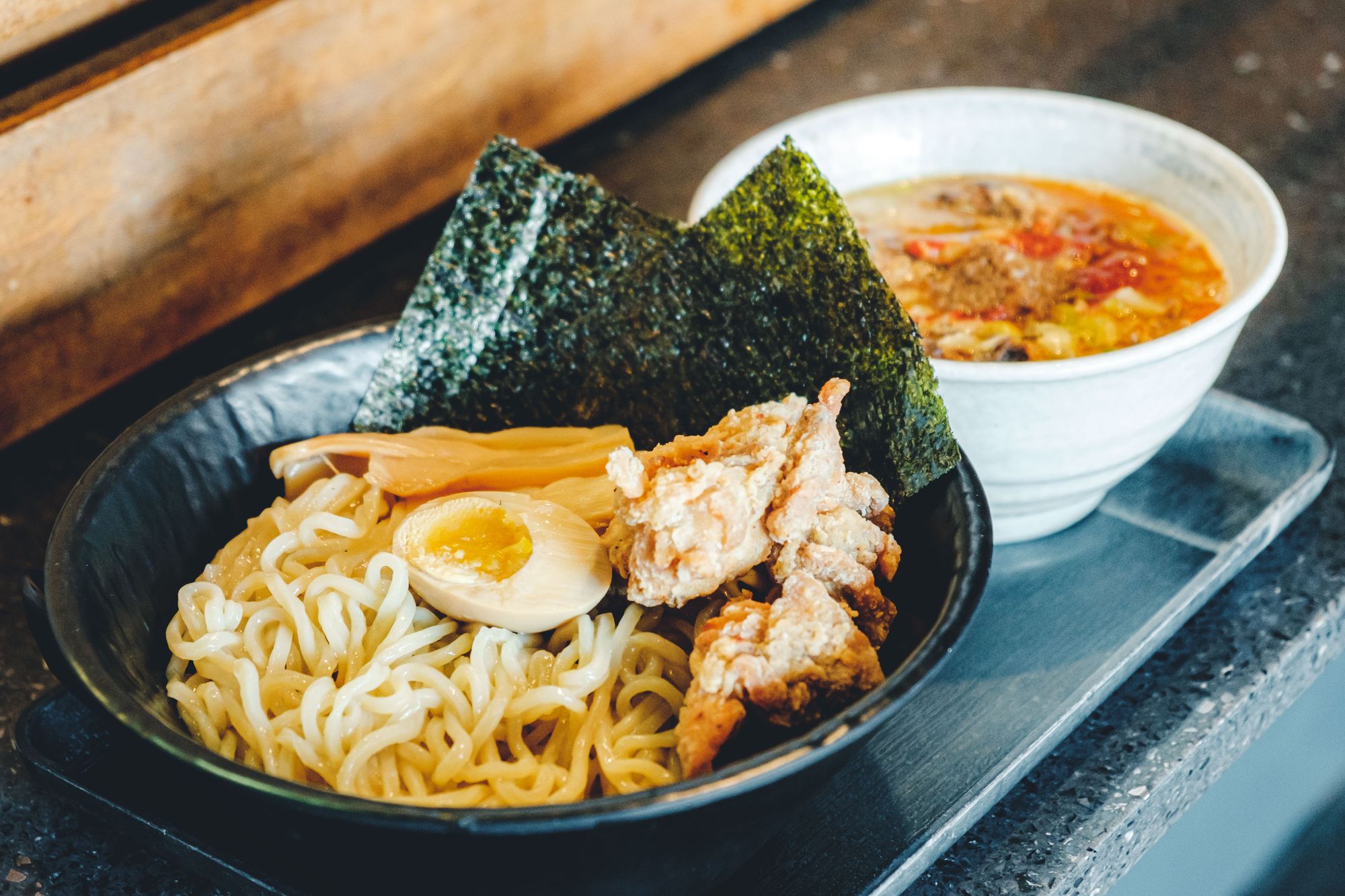 Similar to the mazesoba noodles, the tsukemen noodles here were thick and offered lots of bounce despite the thicker profile. The broth was the real star here though. With most of the water simmered out, the broth is packed with a savoury pork flavour herbed up with the green onions and more seaweed. I gave drinking it straight up a try and winced at how salty it was. Case in point: follow the instructions and dip your ramen over in this bowl prior to consuming. The noodles are thick so you will need to have some wrist strength in your chopsticks to wrangle the noodles properly. The fried chicken karaage wasn't "blow my socks off" texture like the puri-puri ebi but got the job done as a light accompaniment.
Features:
If there's one thing you should know about Ramen Koika, it's that they make their noodles in-house. "Koika" also means "love song" in Japanese. The founders went to Japan, learned how to make Tokyo-style ramen, came back to Vancouver, and invested in the Ramen Koika business. Investing in the business also meant making their noodles in-house, which isn't standard practice in Vancouver. Not sure the owners knew they were doing something uncommon crafting both the noodles and the broth in-house but it truly makes things feel "from scratch" and means that all of the ramen, tsukemen, and mazesoba noodles are made on-premises.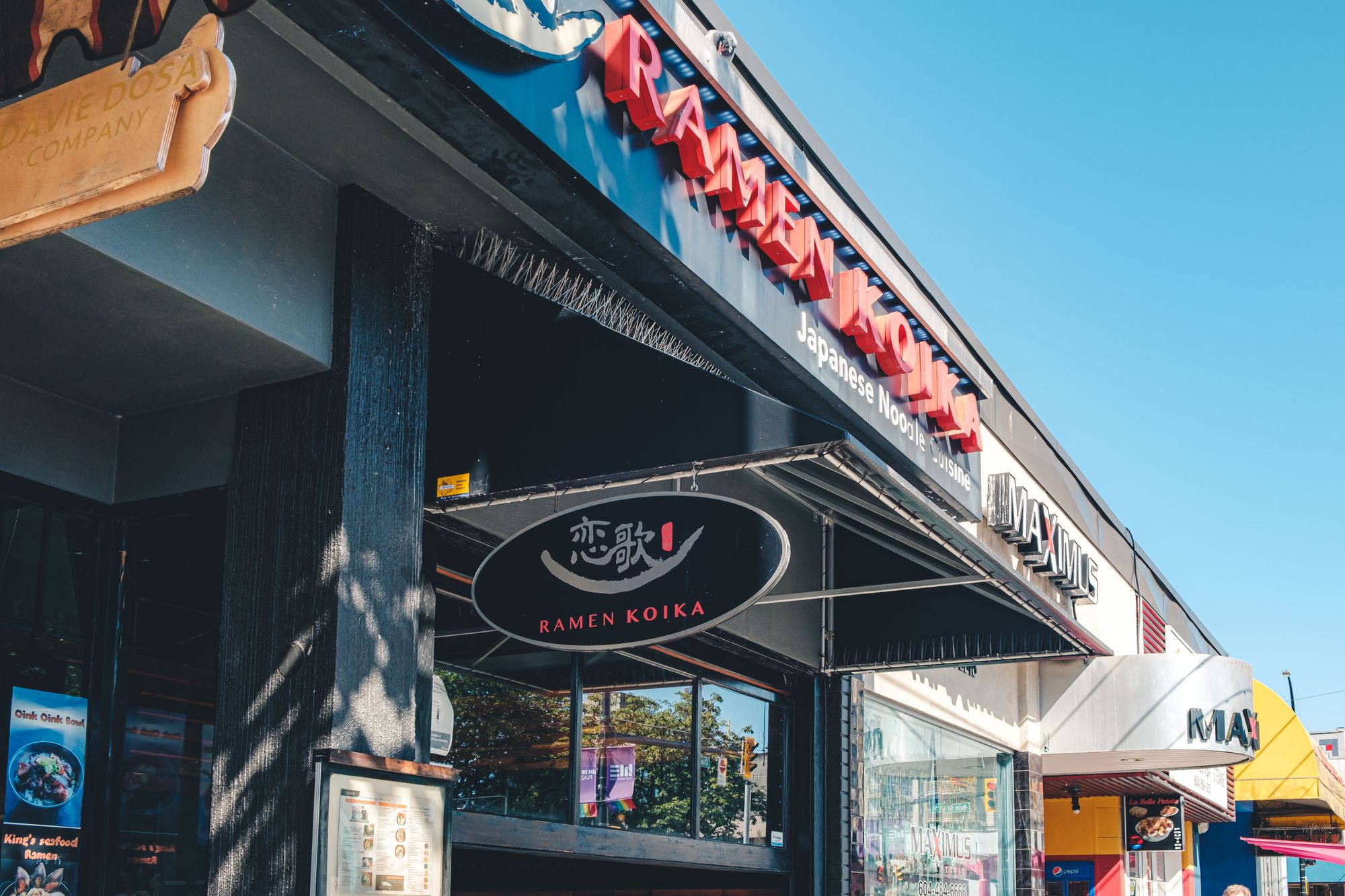 COVID-19 Measures:
In these extraordinary times, it makes sense to report on the health and safety practices employed by the restaurants I'm visiting.
Ramen Koika has all staff in masks and gloves, and upon seating you, staff will present to you hand sanitizer for you to apply. The sanitizer is brought right over to you. Tables are also spaced out far apart to accommodate social distancing. For the front ramen bar area, this also means seats are no longer right beside each other. The single seats are spaced 2 meters from the next seat, and max party seating in this area appears to be limited to 2.
What this also means is that there is a very unobstructed view out the front window because of the space between seats.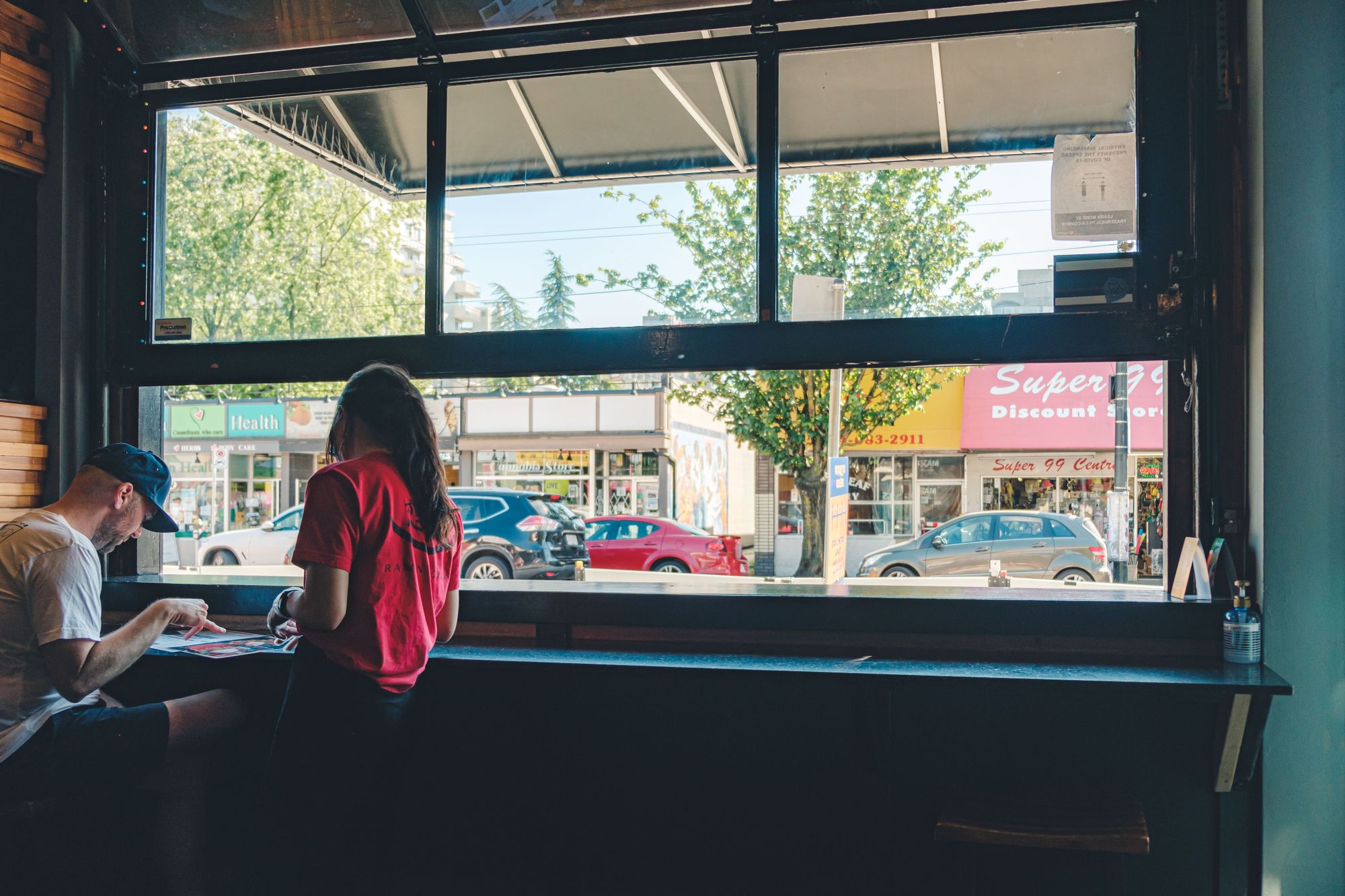 Final Thoughts:
One-liner: Ramen Koika, known for making its noodles expands further into the noodle game this summer with its first mazesoba creation
Highlight: Triple Black Maze Soba
Price per person: $18-$25
Would I go back? Yes.