Ramen Koika, one of the few restaurants in Vancouver that produces its own noodles on-premises, is expanding into Korean pocha with new menu items while retaining the wide variety of Tokyo-style ramen they already offer.
To acquaint myself with "pocha", I turned to my favourite blog on Korean customs, Eat Your Kimchi. Basically, "pocha" is short for "pojangmacha" (포장마차), a Korean term for tented street stalls that serve soju and bar fare.
Last week, I had the chance to experience some of the newest menu items.
Disclosure: This was a complimentary tasting provided in exchange for an honest overview and no monetary compensation.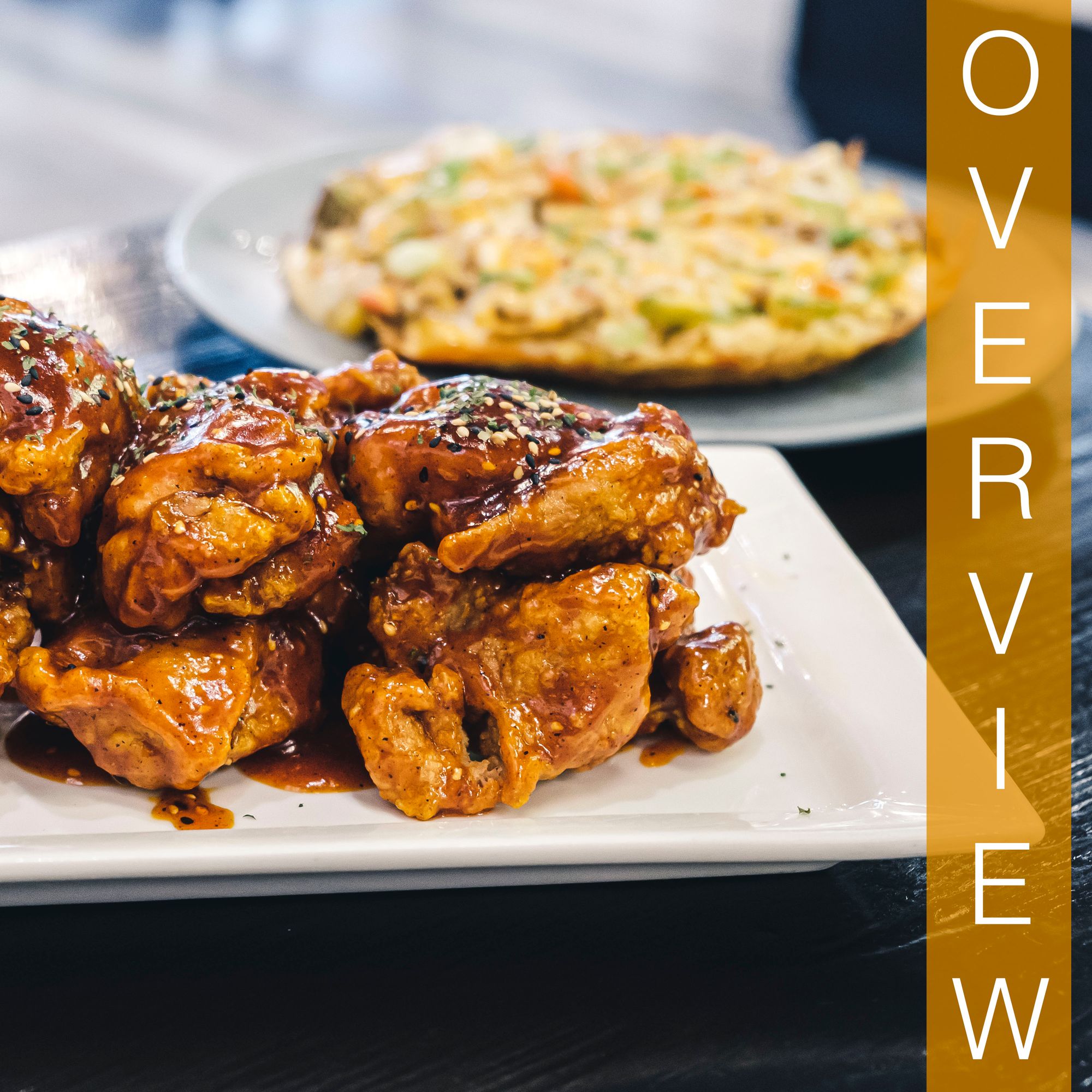 Food and Drink:
Team GlueCrew came here for a Wednesday evening dinner and I had a great taste of the following:
Soonsal Chicken w/ Sweet Chili Sauce ($17.50)
Bulgogi Ramen Pizza ($16.50)
Kkanpung Mandu ($13.95)
Curry Ramen (Pork) ($13.95)
Asahi Super Dry ($7)
The soonsal chicken was first to arrive and boy was this a massive plate of deep-fried boneless chicken served with a sweet chili sauce. The sauce was generous so each bite was lathered in a mild gochujang-like heat. Through the sauce was the light batter, and through the light batter was a hunk of juicy chicken. To keep things interesting, a side of radish served as garnish and a light drizzle of sesame provided a solid finish to this classic pocha dish. I think this chicken would be best enjoyed by a group of 3 or 4 so that each person is only responsible for 2-3 pieces of chicken. A table of 2 would likely find there is too much to share so my guest and I struggled through the final half of this plate.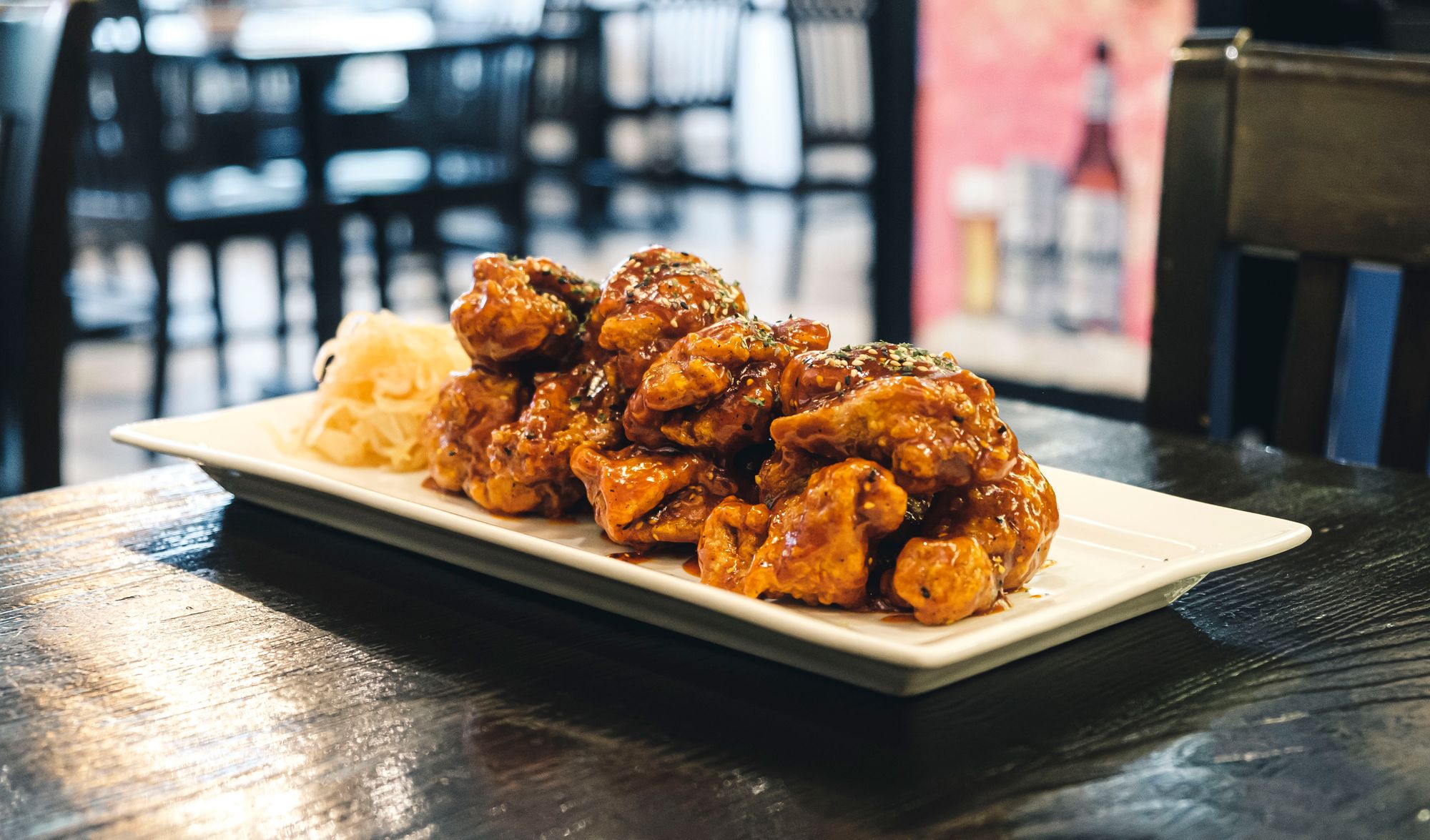 Next up was the bulgogi ramen pizza which was a very original creation. I was most curious as to how ramen would serve as a base for pizza. If you've ever had Chinese-style crispy fried noodles, a similar concept is applied here. The base of the pizza is a body of fried noodles, in the middle is a juicier layer of more noodles, and on top is a mix of bulgogi (beef), cheese, peppers, and onions. I'm pretty sure this is a one-of-a-kind item as far as pocha food in Vancouver, and it's probably made its appearance at Ramen Koika because Koika prepares their noodles on-premises meaning they can tweak the recipe as needed.
In any case, slicing this pizza into manageable sections was a bit of a challenge. I had to use my chopsticks to pick up pieces of my pizza but the taste was still glorious. Melted cheese and bulgogi is a match made in heaven and the noodle base that served as their vessel completed the trifecta of cheese, meat, and carbs.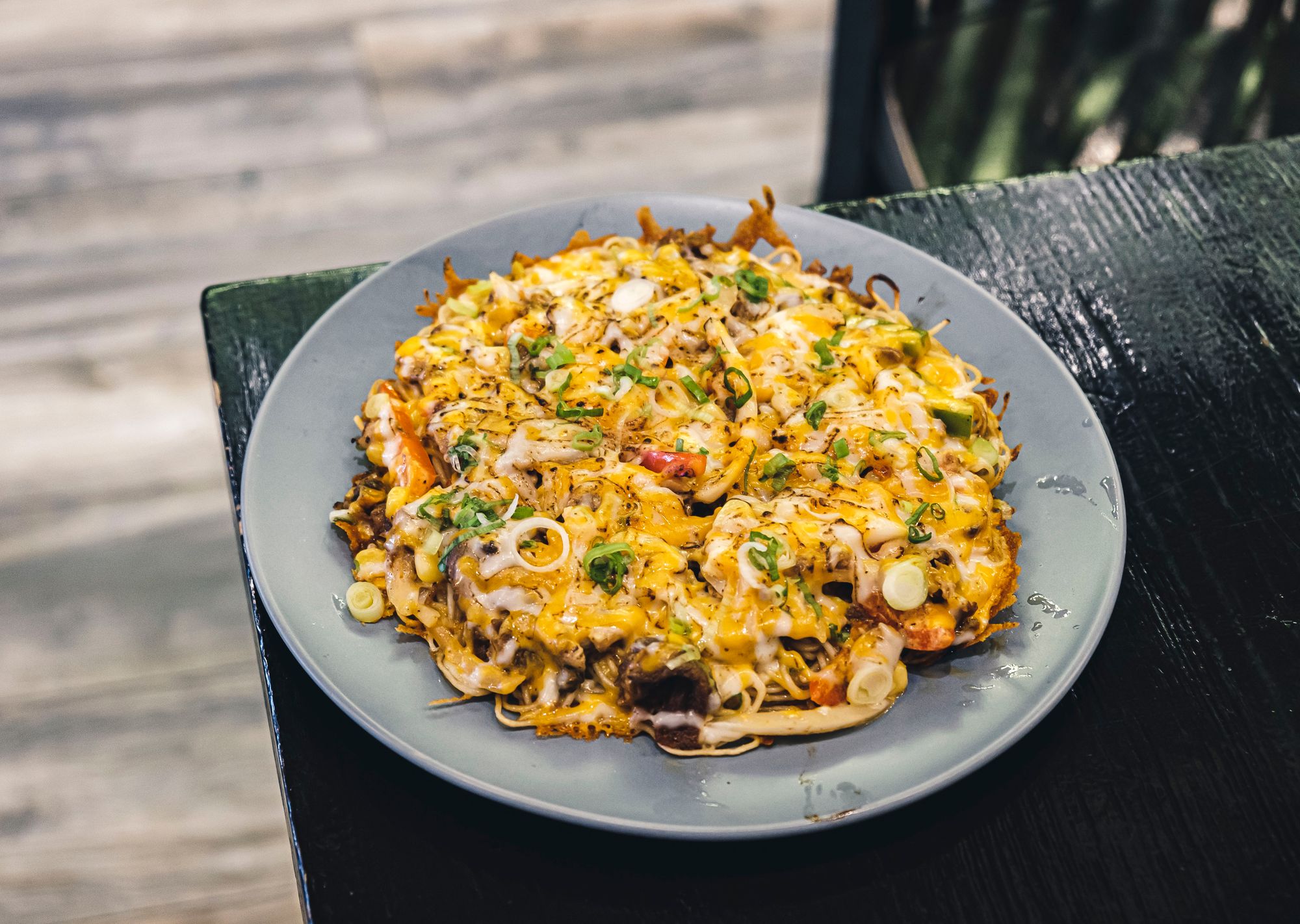 Coming in hot was the kkanpung mandu, or the stir-fried vegetable and deep-fried dumplings. Unlike many entry-level Chinese or Korean eateries where your dumplings are just thrown onto a plate, the presentation at Ramen Koika is a slight notch above such example. The mandu were arranged in a neat circle around a bed of stir-fried vegetables. It wasn't an overly precious-looking garnish but at least it was edible. I appreciate these kinds of details and 10 dumplings is a very shareable amount.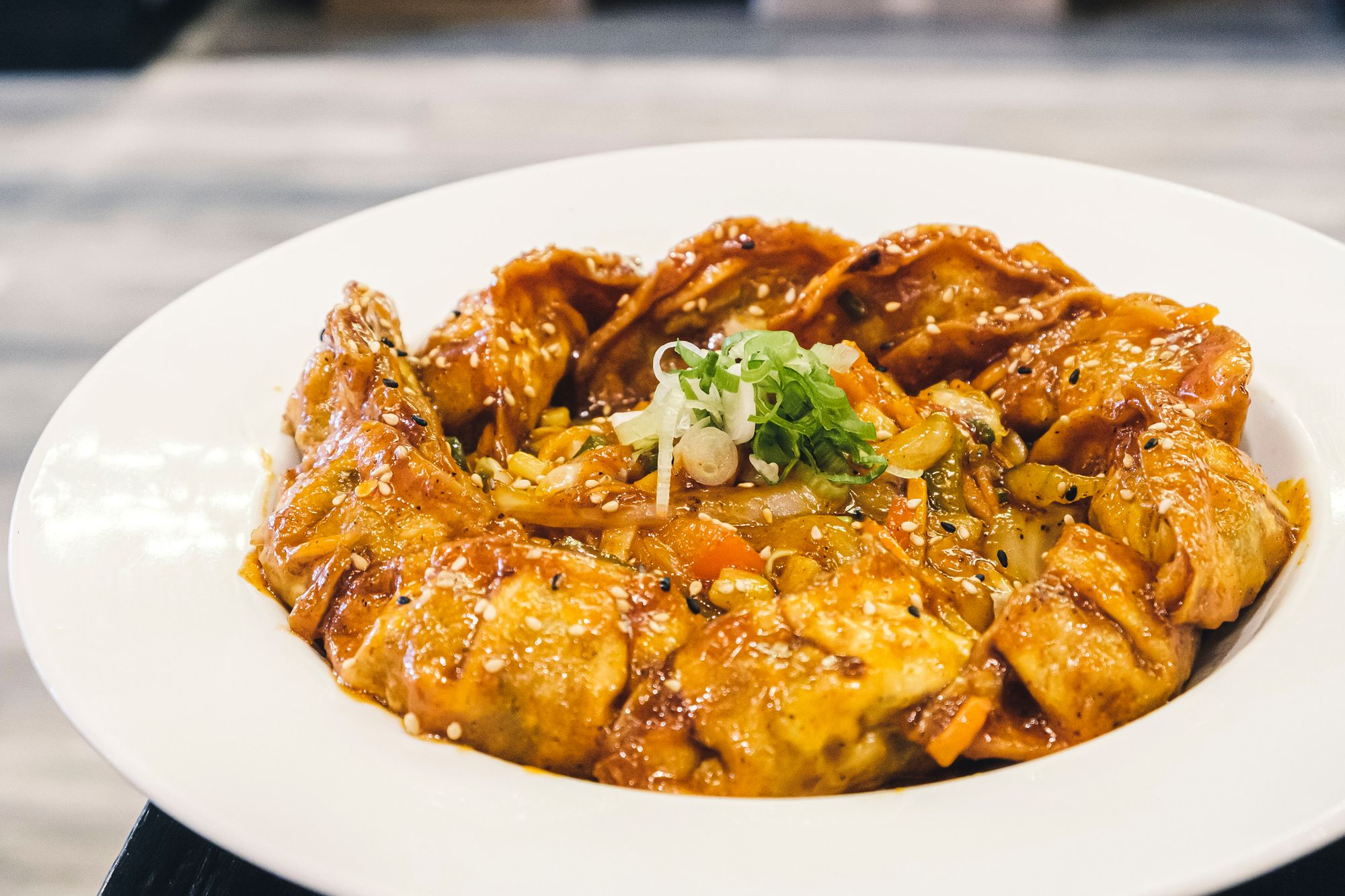 You can't go to Ramen Koika without getting their namesake ramen, and the newest option to join the menu is the curry ramen. I've recently come back from Japan, and with it, have brought back a constant craving for curry (read: a huge bias for curry). With that in mind, I loved the curry ramen. Served with shredded pork, pork broth, carrot, mushroom, and cabbage, this bowl had all the ingredients of a worthy curry and ramen bowl. Traditional ramen bowls would use slices of chashu, but when you have a curry broth, I can see the use of shredded pork providing a ton more surface area for the savoury curry to cling onto.
This bowl only got better with time thanks to the absorption of curry. The noodles were quite wavy so if they weren't sucking in the curry broth, they were providing a worthy vessel to catch a curry-ful bite. The curry had a mild sweetness with a ton of umami and could be customized to your spice tolerance (I opted for medium).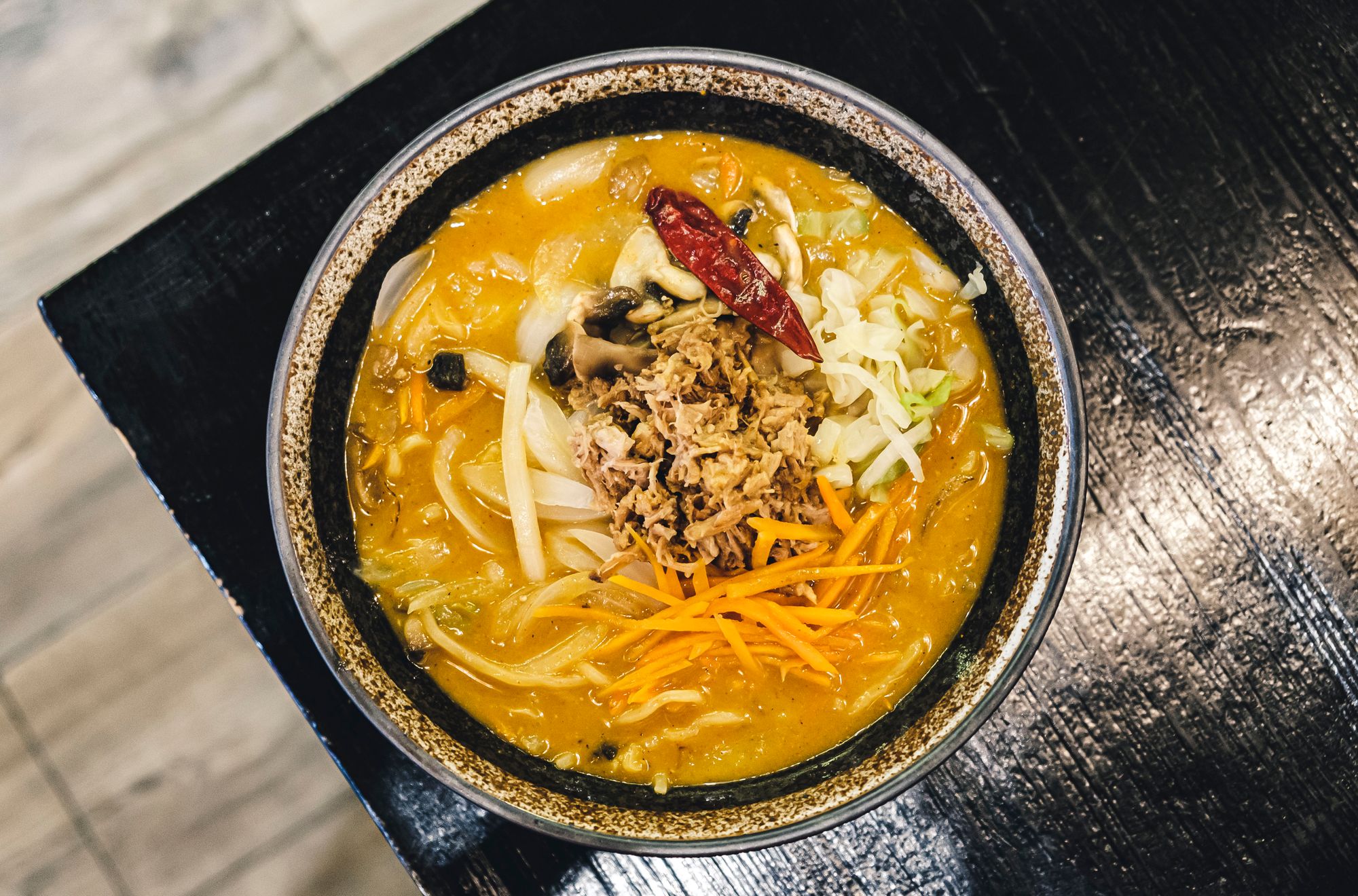 As mentioned earlier, Ramen Koika specializes in Tokyo-style ramen, so it's appropriate they also serve Asahi, an imported Tokyo-based brew on tap. Lots of carbonation was to be had in my sleeve though I wish I took this photo before the two-finger head disappeared. This was a solid complement to the soonsal chicken we were struggling to finish.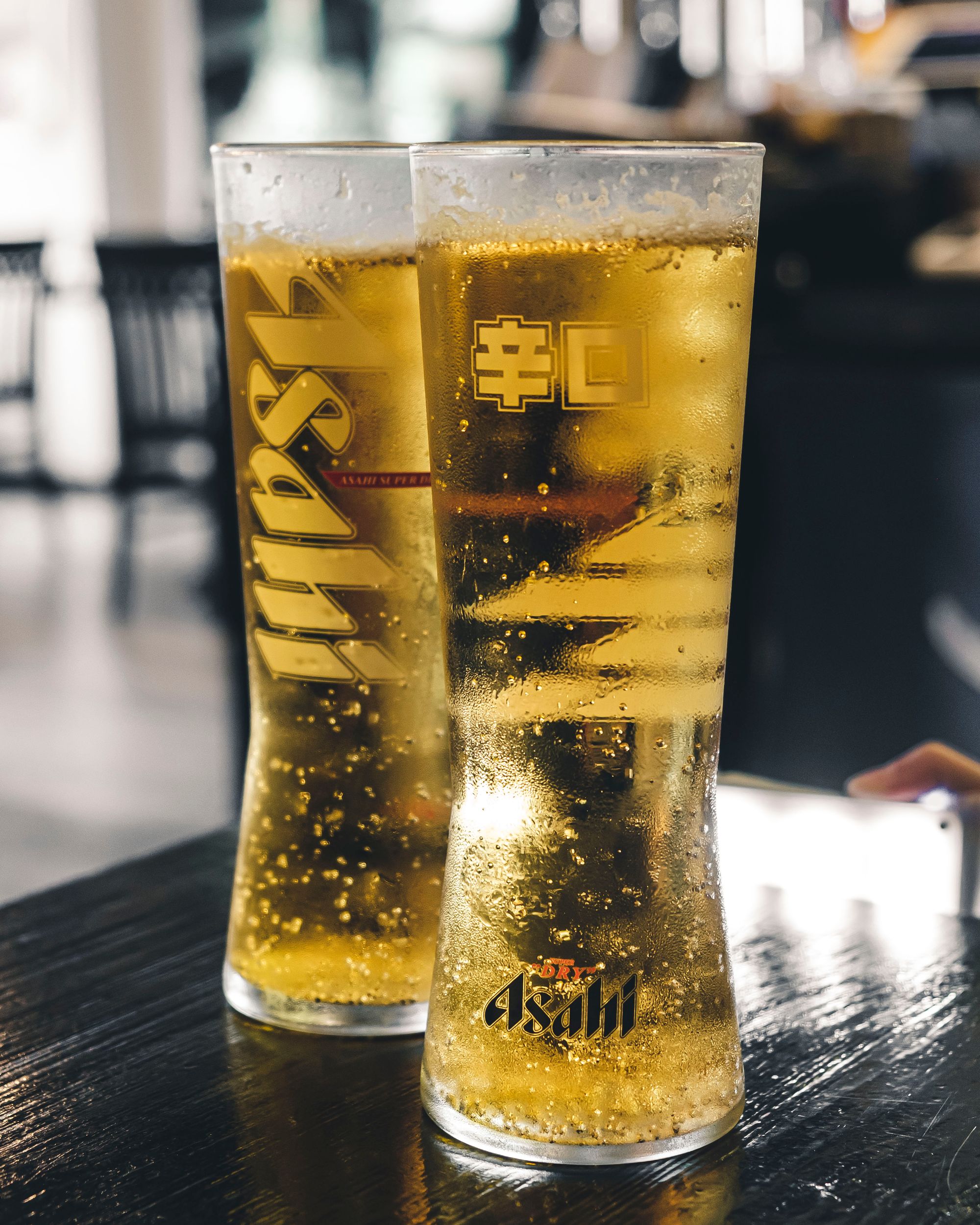 Features:
Ramen Koika takes up residence in a busy ramen corridor in Vancouver's West End neighbourhoord on Robson Street. With seating for about 60 guests, this location fits a few more people than the original Davie Street location. Noodles are a big priority for this eatery but it'll be interesting to stay tuned for how their menu evolves over time. As it stands, today's Ramen Koika on Robson has a full swatch of ramen in addition to a pocha menu that will compete with places like Zabu and Jang Mo Jib which are just a few steps away.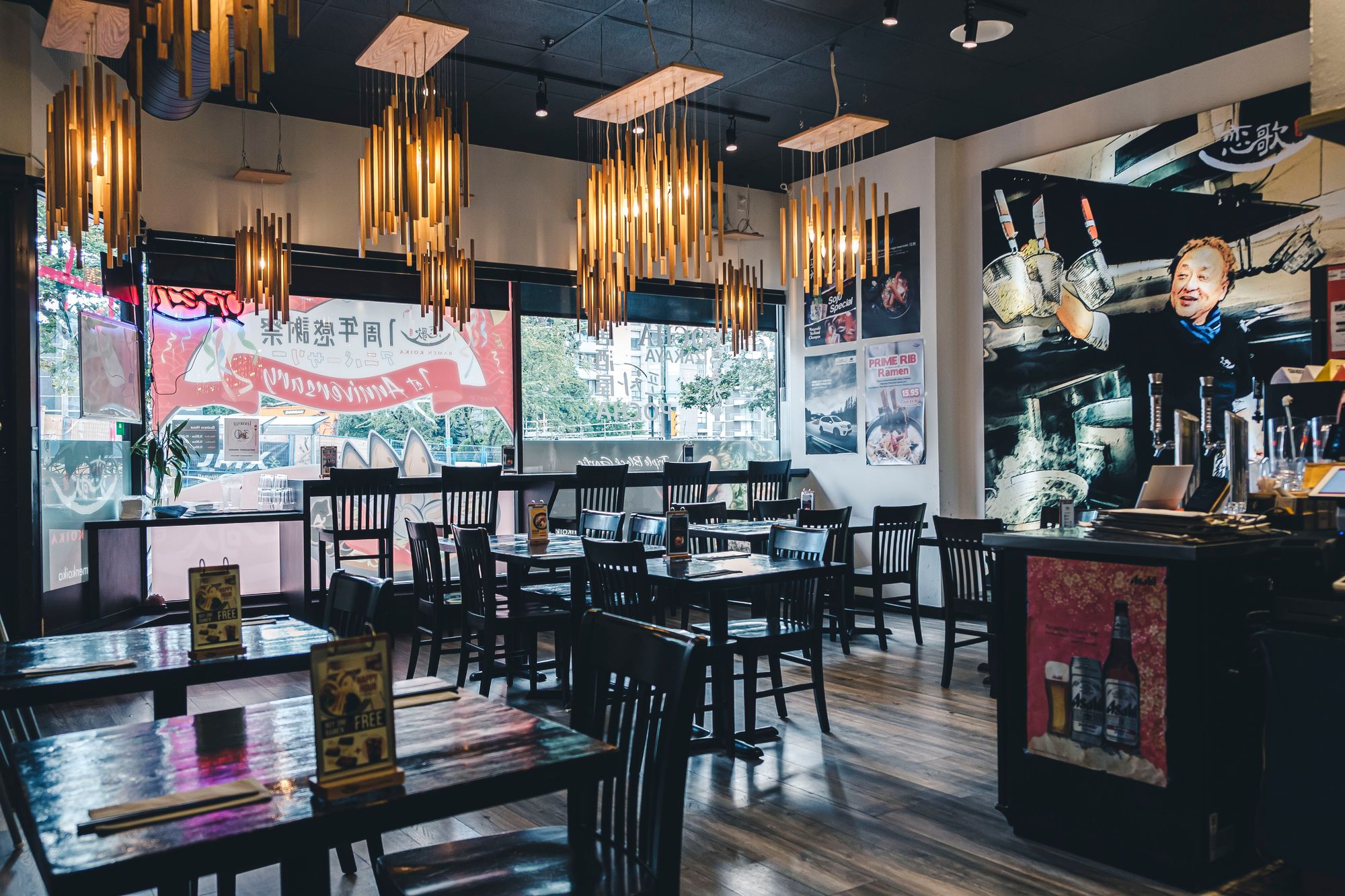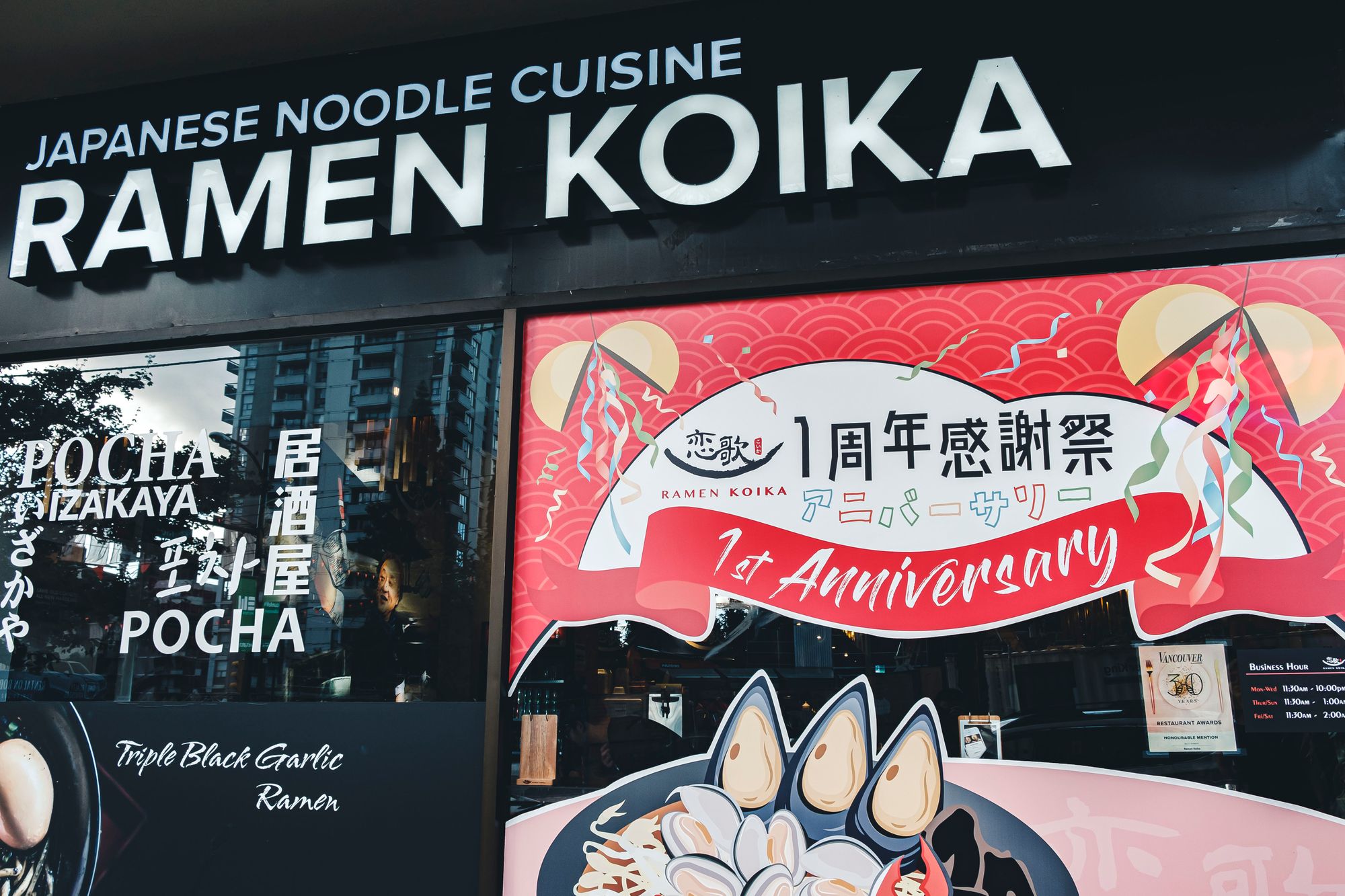 Final Thoughts:
One-liner: Not just a ramen shop that makes its own noodles, but a full-on Korean pocha menu experience too
Highlight: Bulgogi Ramen Pizza
Price per person: $15-$30
Would I go back? Yes.