With the coming of autumn, some restaurants will be shifting their menus to incorporate flavours to match the season. Dockside Restaurant, located in Vancouver's Granville Island, have introduced Mark Crofton as their new Executive Chef, and together put out some new culinary creations. I got to try 8 of their new plated goods at a media tasting last week.
Disclosure: This was a media event and all opinions are my own.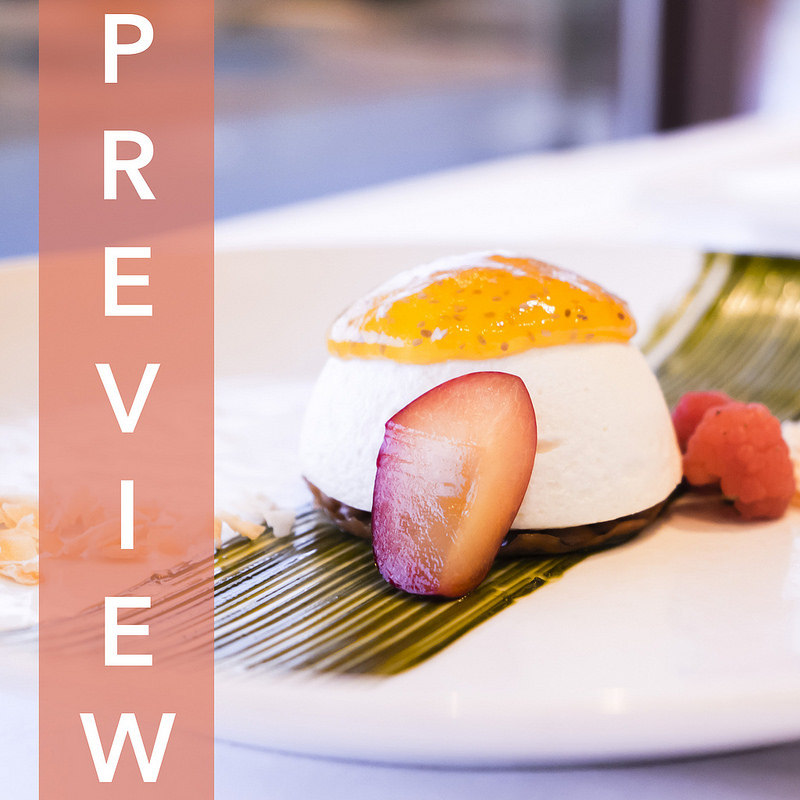 Food:
For this media tasting, we tasted the following:
Warm Fall Harvest Kale Salad ($18)
Super Food Buddha Bowl ($18)
Ocean Wise Grilled Haida Gwaii Halibut ($36)
Ocean Wise Forno Roasted Salmon ($33)
Braised Lamb Shank ($34)
Two Rivers Meats Grilled Beef Tenderloin (6oz) ($36)
Sticky Toffee Pudding ($12)
Coconut Milk Cheesecake ($12)
Fall in Vancouver is all about keeping warm, so the warm fall harvest kale salad is a salad winner for me. With roasted root vegetables, crisp apples, buttermilk dressing, and grana padano cheese, this packed a ton of flavour that gathered generously in the crevices of the kale.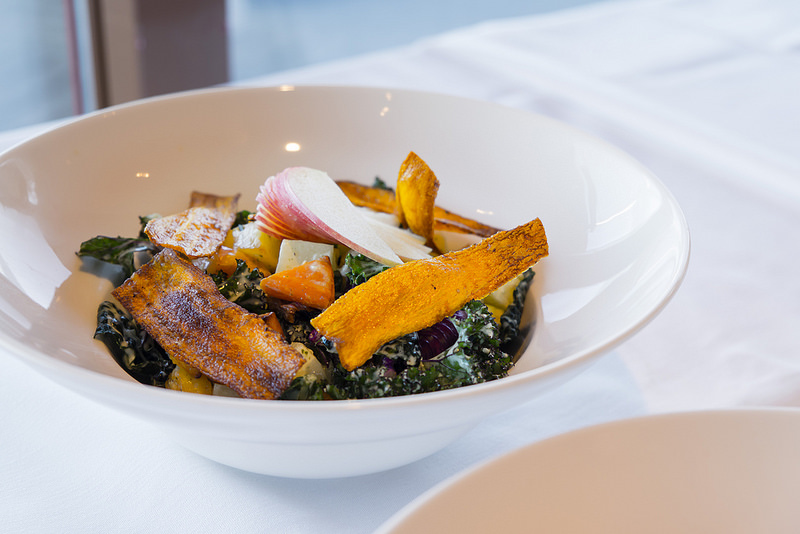 Warm Fall Harvest Kale Salad
The super food buddha bowl was full of all things good for you, including organic quinoa, farro, wehani (brown) rice, house-pickled vegetables, heirloom tomatoes, romaine hearts, and a citrus vinaigrette. This can come as a non-vegan bowl if you opt for grilled chicken on top. With the refreshing vinaigrette though, I don't think it's needed.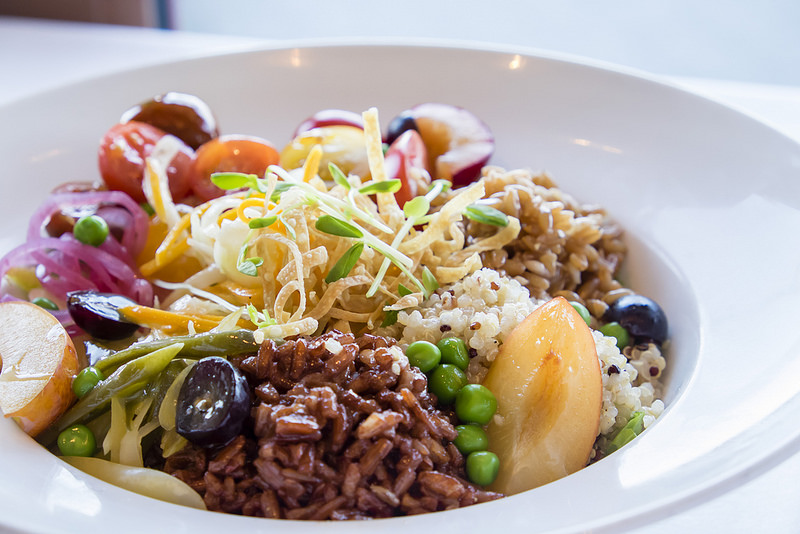 Super Food Buddha Bowl
Next up was Dockside's proclaimed specialty, its seafood menu. The grilled Haida Gwaii halibut was served with a lemon-herb spaetzle, in a dungeness crab bisque with house pickled and roasted organic vegetables. Again, roasted vegetables took this dish to the next level but the juiciness of the halibut with the swirl of bisque clinging onto it left me wishing I had more. This plate packed a ton of flavour and exhibited none of the flakiness that happens when halibut is overcooked.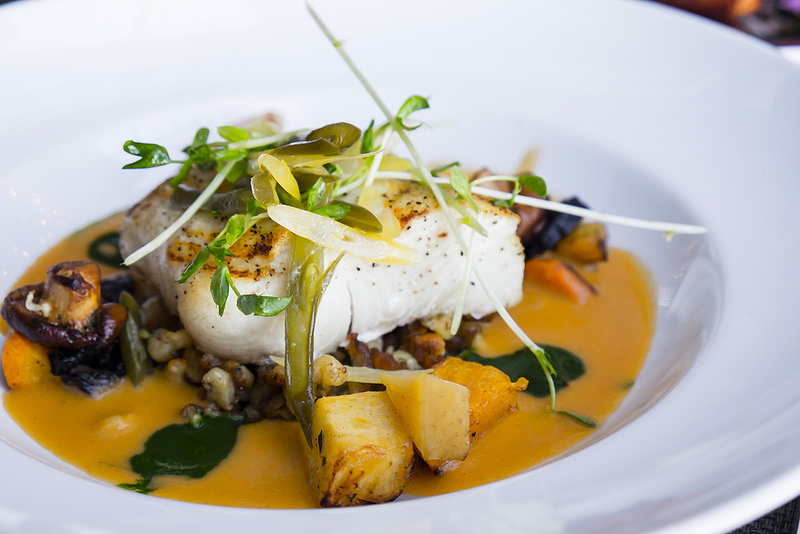 Grilled Haida Gwaii Halibut
The forno roasted salmon was served with a pistachio mash, bell pepper aioli, and seasonal organic vegetables. This was an interesting cooking technique as most fish in restaurants are just grilled, but the salmon was baked. This resulted in a charred look that was still quite flavourful and pretty juicy. The pistachio mash was also something out of the ordinary and I was a big fan.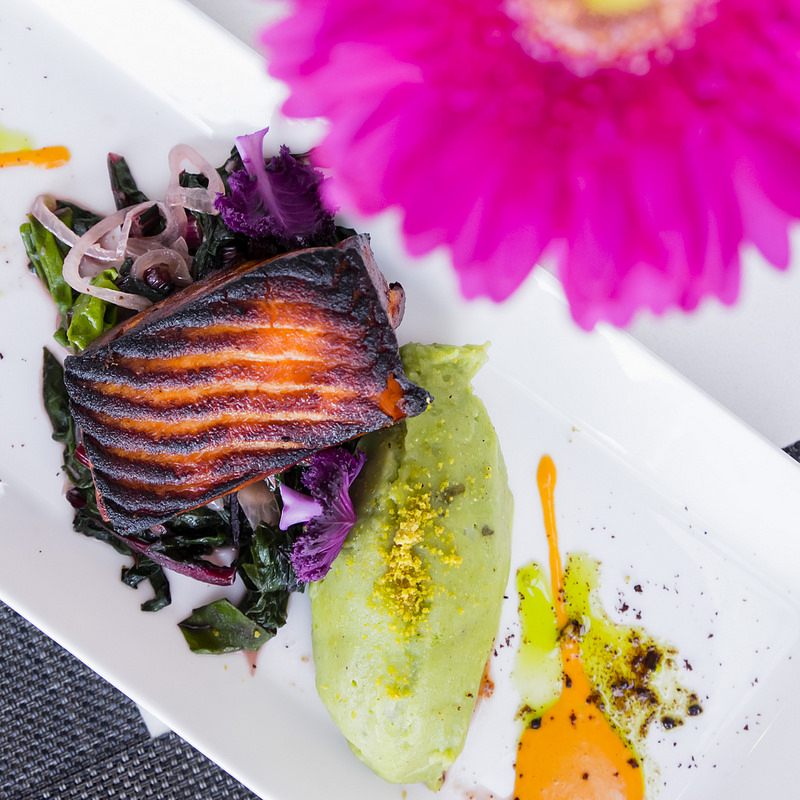 Forno Roasted Salmon
Moving onto some traditional meats, the braised lamb shank was served with Israeli cous cous, butternut squash, Okanagan plum jus, dukkah (Egyptian spice blend), and organic veggies. This was a medley of exotic flavours and with any good lamb shank, no knife needed.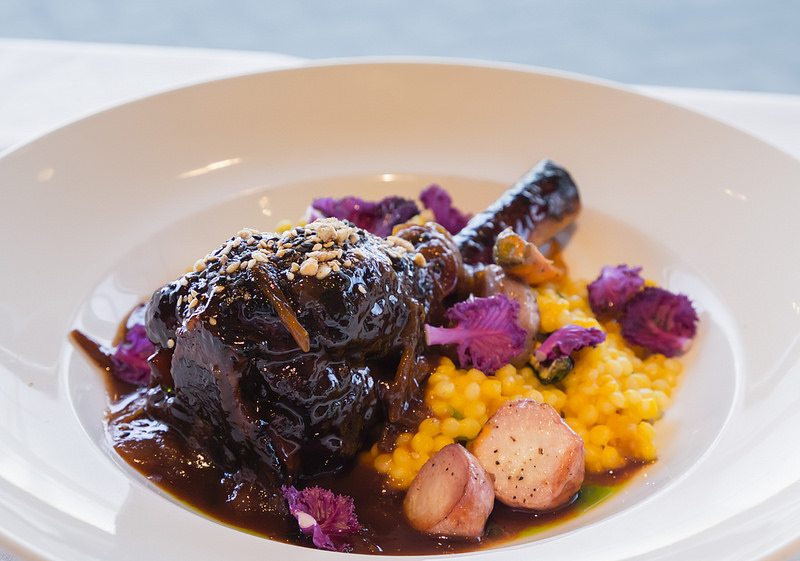 Braised Lamb Shank
The other meat was a Two Rivers grilled beef tenderloin. 6oz is a standard serving for most people who also get an appie or dessert. This was served with potato yam pavé, butternut squash purée, red wine thyme jus, organic veggies, and a preserved cherry-basil compound butter. From the ingredient list, this is simply art. Everything here takes skill or a ton of time to make. Add to that a local meat supplier in Two Rivers, and I think this is a swell dish to order if you're feeling for something juicy and medium-rare.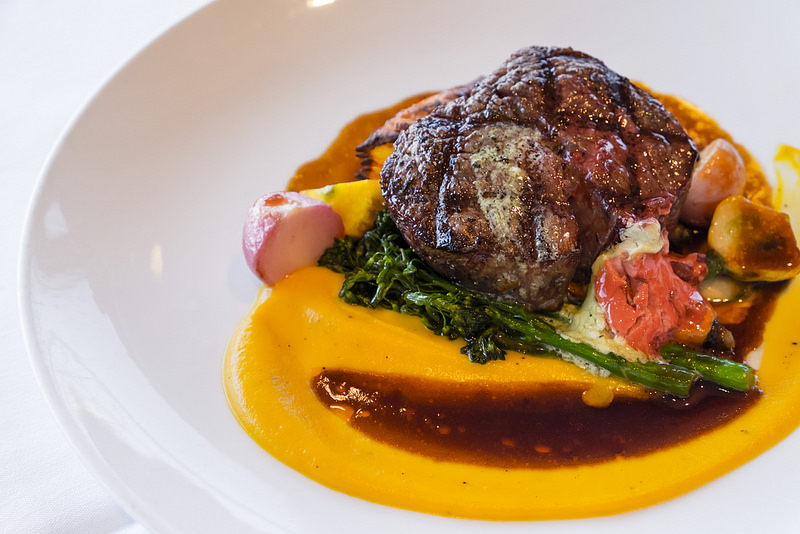 Two Rivers Grilled Beef Tenderloin
Finally, we moved onto desserts. First up was a sticky toffee pudding that I wish I could have had all for myself. Mixing the caramel, vanilla ice cream, and bread pudding was pure joy. If you weren't full before, you'd be full with this.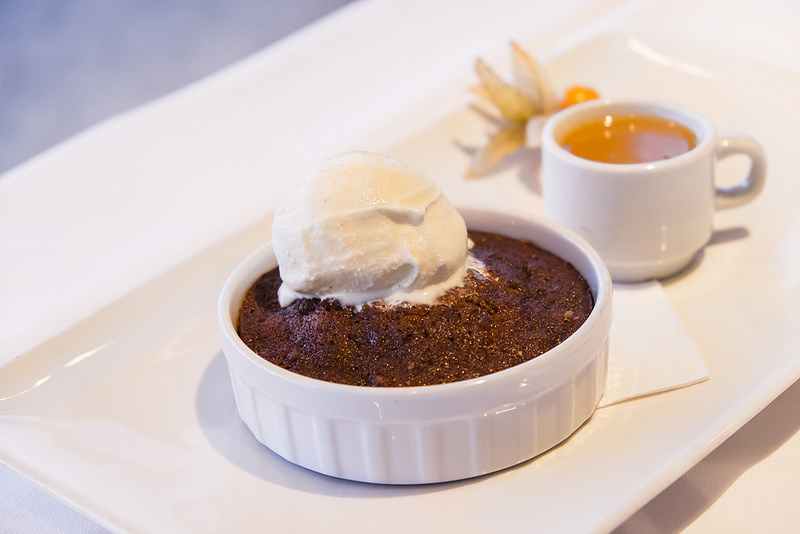 Sticky Toffee Pudding
The Coconut Milk Cheesecake is the dream for anyone who's lactose intolerant. With a passion fruit chia seed glaze, honet toasted nuts and candied coconut chips, this was a beautiful plating worthy of finishing a meal with.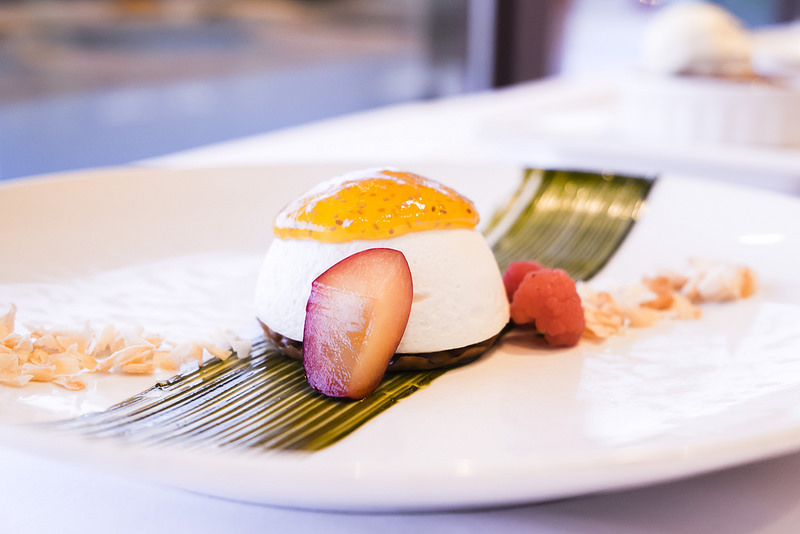 Coconut Milk Cheesecake
Features:
Dockside Restaurant is located in the Granville Island Hotel in Vancouver. It has a lounge, outdoor patio, and indoor dining room with enough capacity to host a hundred-something guest wedding. The flooring appears a bit aged but the rest of the seating arrangements look pretty pristine. The outdoor patio is simply gorgeous and doesn't show much age. The vibe in here is pretty upscale with a full coat room and an island bar area.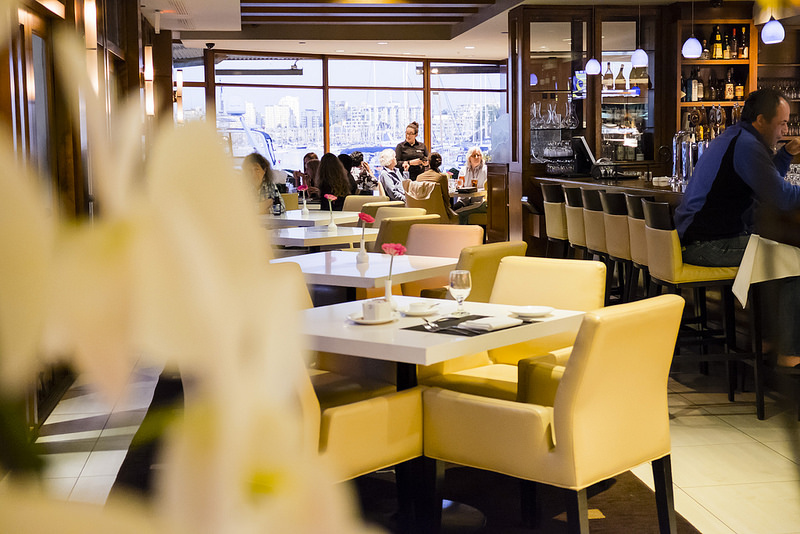 Inside Dockside Restaurant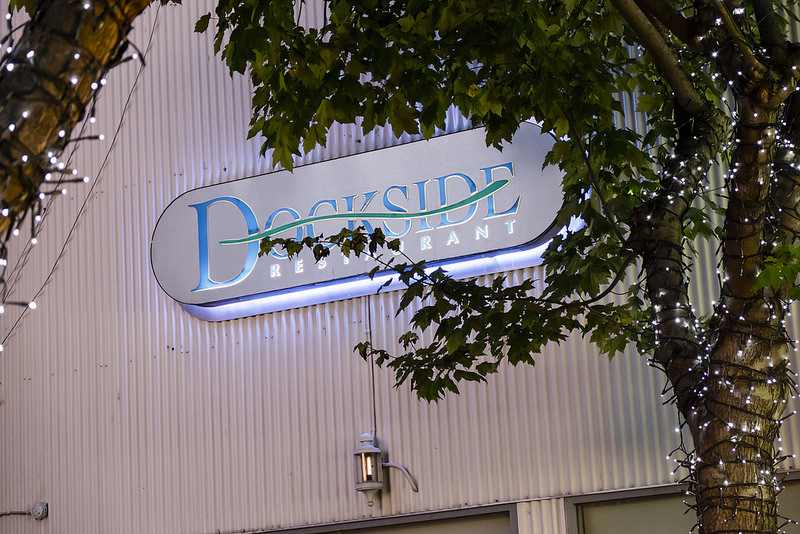 Outside Dockside Restaurant
Final Thoughts:
One-liner: Some new creative flavours in what are considered modern dishes in a western seafood restaurant
Highlight: Grilled Haida Gwaii Halibut
Recommended dishes: Harvest Kale Salad, Halibut, Tenderloin, and Coconut Milk Cheesecake
Would I go back? Yes.