For those who are wondering what's in the white tents by Sole Foods Street Farms near Vancouver's seawall, Harvest Haus is back! A bigger venue, more themed activities, and the same German-inspired volksfest have primed this year's event to be the largest thus far. For one more weekend, the Halle is open for many shouts of "PROST!" (cheers in German).
Disclosure: I was given a complimentary ticket for this event and all opinions are my own. I ended up needing to purchase extra gulden.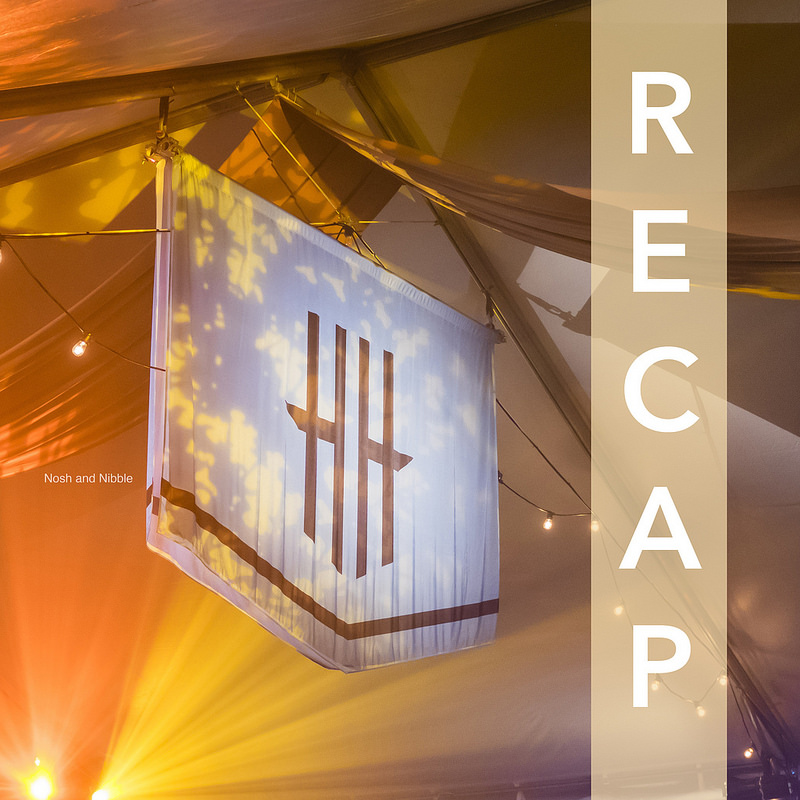 Activities:
I was a lucky attendee of the opening night on Thursday and experienced the following:
Stiegl Radler (5 gulden)
Struddel (2 gulden)
Axe Throwing (free this night; regular 15 gulden)
Bratwurst (4 gulden)
Waldertau Cocktail with Jägermeister (5 gulden)
Pretzel (2 gulden)
After grabbing our rented stein for the evening, Team GlueCrew headed off to start with some beer. All brews are served in the hefty steins which require some strength to hold but feel satisfying.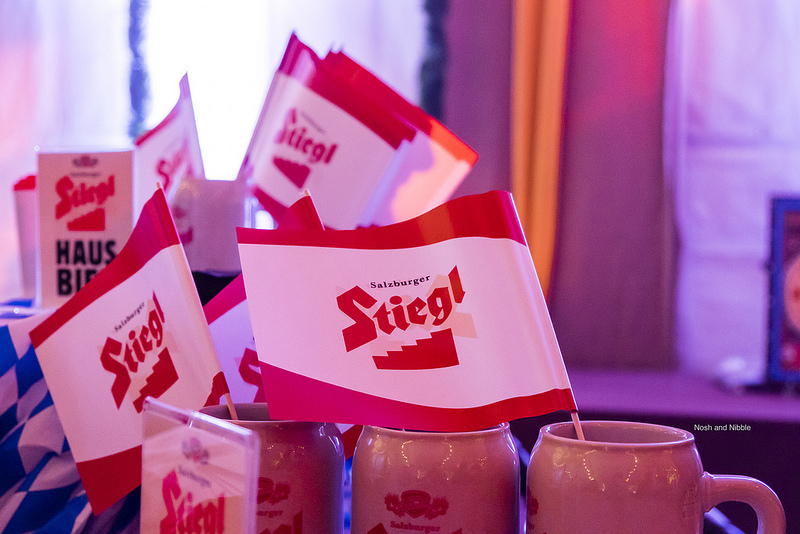 Stiegl Flagging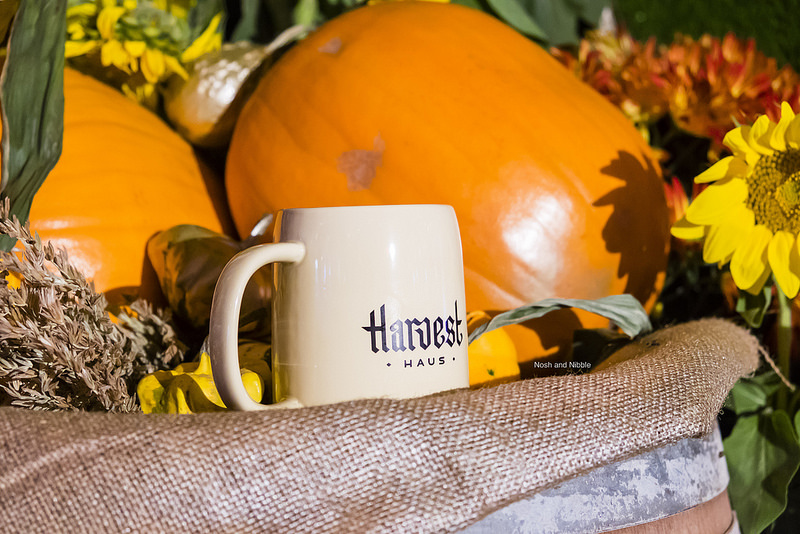 Harvest Haus Stein
Feeling for some baked goods, we next tried a classic apple struddel. With a hearty dusting of cinnamon, this struddel delivered on apple but would have been better if it could be warmed. Sadly the stall sits in the middle of the Halle so I don't think this is possible.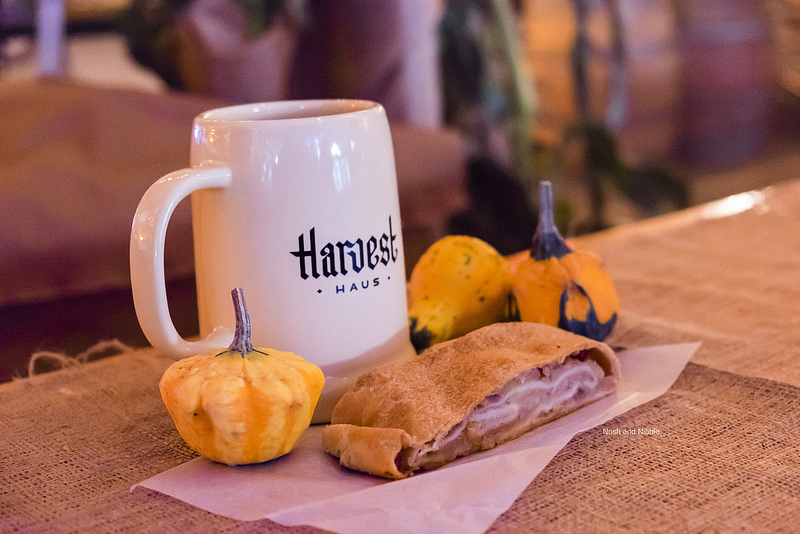 Apple Struddel
The best activity of the night was easily the axe throwing. Hosted by Axe Wood Crew, this was a safe, axe-throwing tutorial workshop feature 8 lanes and 10 throws. The 2 instructors were superb and I even landed a bullseye on my 5th attempt. Axe throwing was, as I predicted, strangely therapeutic as each thud of the blade stuck in with a short thunk or bounced off with a loud blat.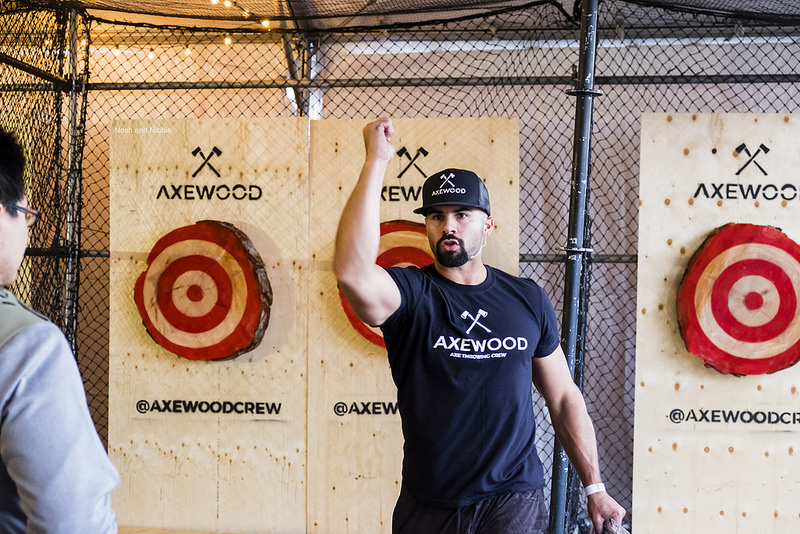 Axe Throwing Instruction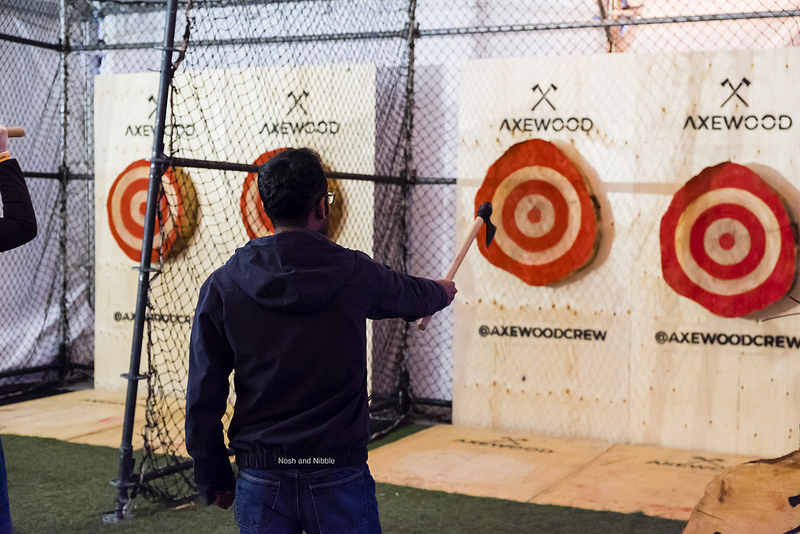 The wrong way to hold an axe (sorry, participant)
We then moved onto some bratwurst from Oyama Sausage. For 4 gulden, I think this is one of the best uses of your gulden (other than bier). The juiciness of the sausage made it a joy to bite into and buyers could dress their kaiser bun with sauerkraut, mustard and ketchup.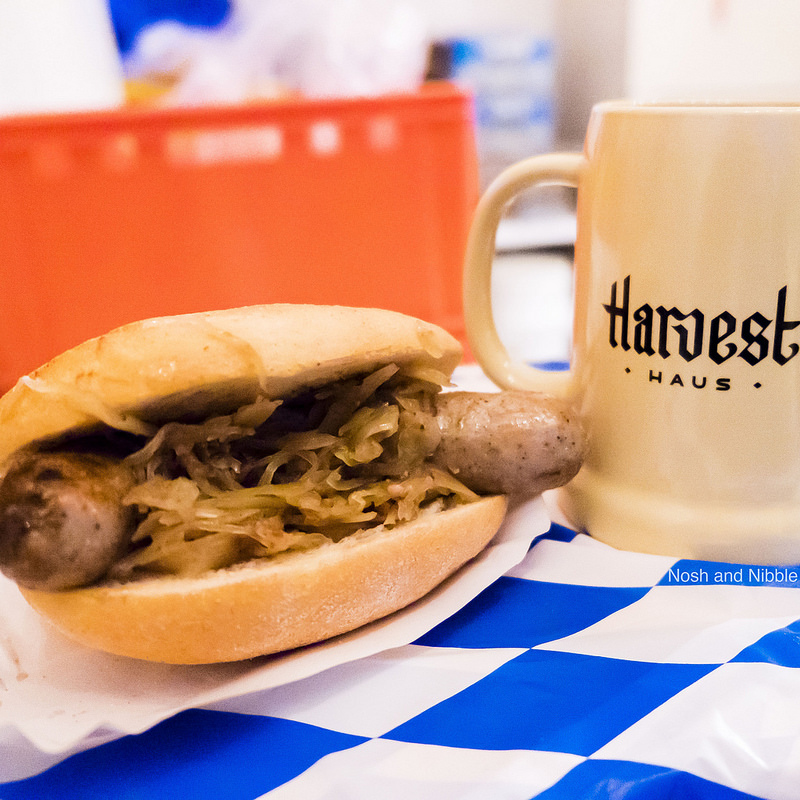 Bratwurst
I followed this bratwurst up with some Wäldertau Baked Apple Cocktail with Jägermeister. Thumbs up on making a homier drink that beer-averse harvesters can enjoy.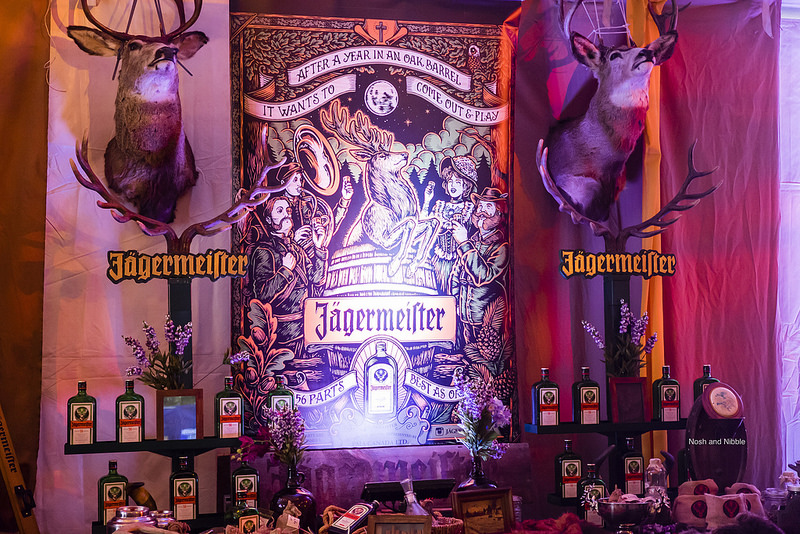 Jägermeister Stand
To spend our last gulden, we had a pretzel. As with the struddel, these were sadly cold by the time they were being sold at Harvest Haus. I think it would be super if this stall could be upgraded to a hot food vendor because a fresh pretzel is vastly superior to a cold one, in my opion.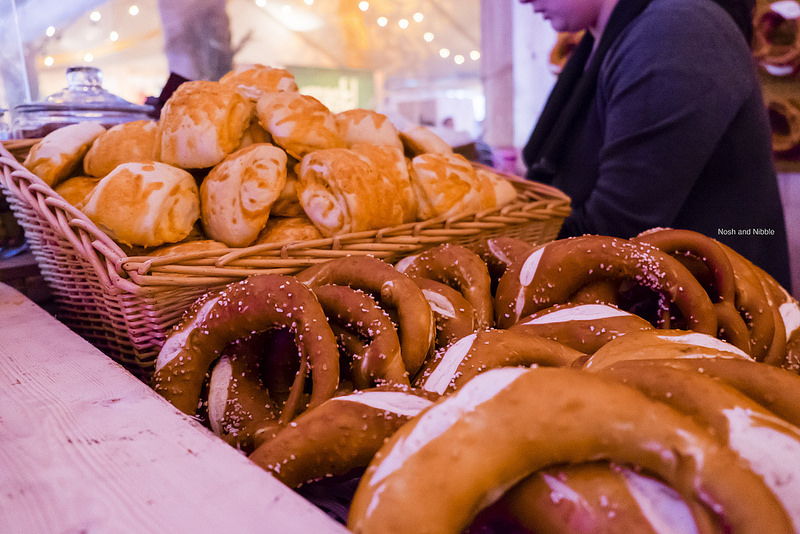 Pretzels
Throughout the night, there was live music, DJing, and the host of the Halle welcoming guests and kicking off the night with a keg tapping. His accent was very believable and I swear he gets the biggest kick out of getting groups of people to turn their steins upwards.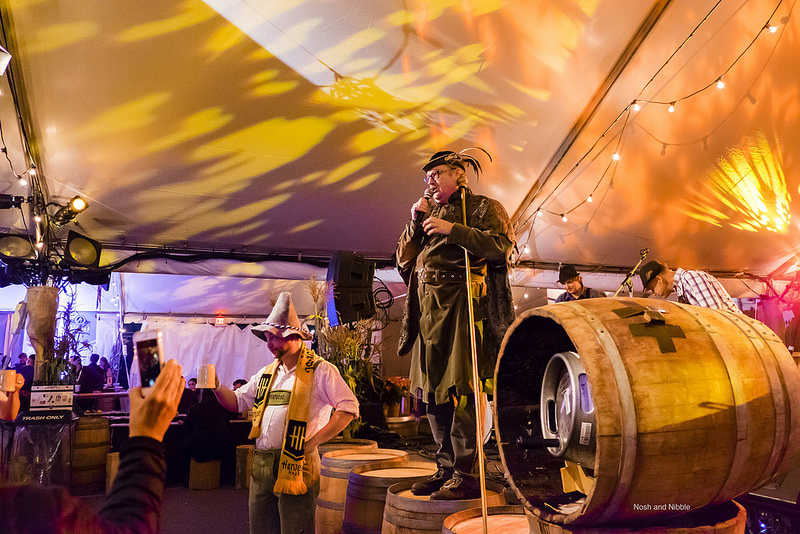 Host of the Halle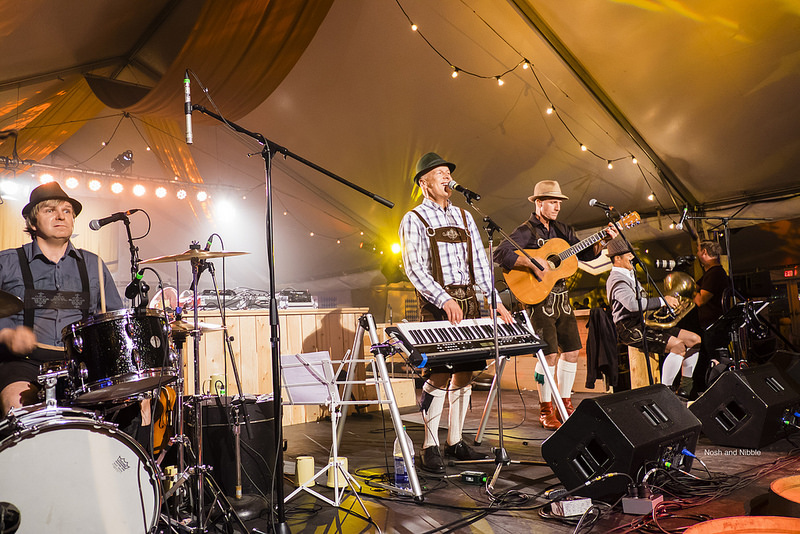 German Cover Band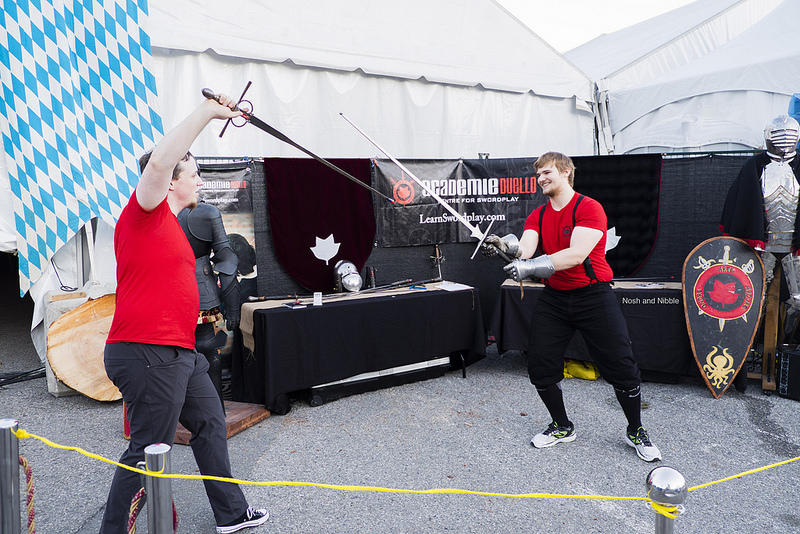 Academie Duello
Gulden cost $2 each and can be purchased individually or in groups of 10 or 20. If you're concerned about the cost of beer, you can start your night at one of the cheaper bars around Gastown (e.g. Metropole, The Pint) and then make your way over.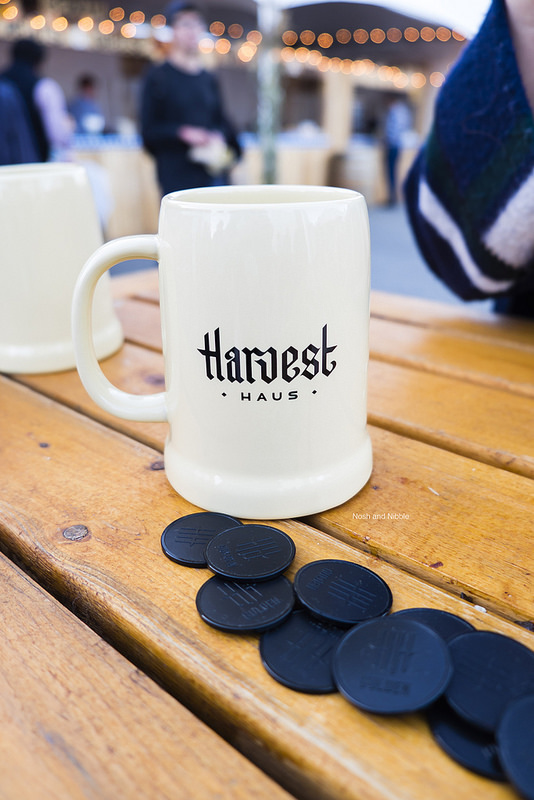 Stein and Gulden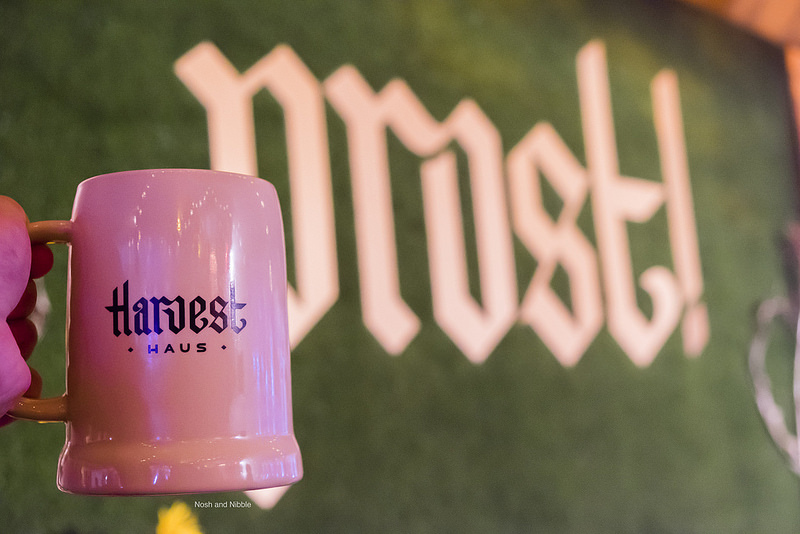 Prost!
Final Thoughts:
One-liner: A fun, experience-based German celebration of harvest perfect for those who want a night away from the bar to immerse themselves in
Highlight: Axe Throwing
Price per person: $35-$80 (depending on how much you intend to purchase within)
Would I go back? Yes.
For more information on Harvest Haus as well as purchasing your ticket for the final weekend, visit www.harvesthaus.com.