On my last trip to the Bay Area, I was excited to try some upscale west coast eateries. A couple days after Foreign Cinema, I was at Kin Khao, a 1 Michelin Star restaurant in downtown San Francisco. With this designation in mind, and my first Michelin experience at stake, I went in with pretty high expectations, but came out with something different.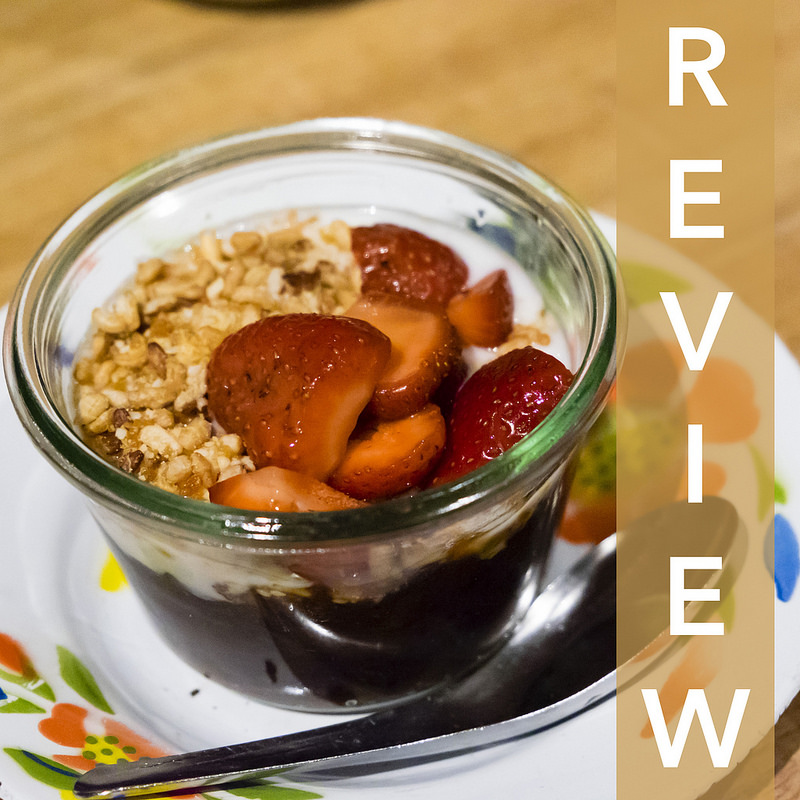 Food and Drink:
Team DoMah came here for a Friday evening dinner and I had a great taste of the following:
Thai Iced Tea ($5)
House Pickles ($5)
Mushroom Hor Mok Terrine ($14)
Nam Tok Beans ($14)
Pretty Hot Wings ($13)
Namprik Ong ($19)
Pad Kee Mao ($20)
Massaman Nuea ($35)
White Jasmine Rice ($4)
Black Rice Pudding (~$10)
Starting with a classic Thai iced tea, this had a classic mix of sweet milk and tea. Flavours were balanced and served chilled.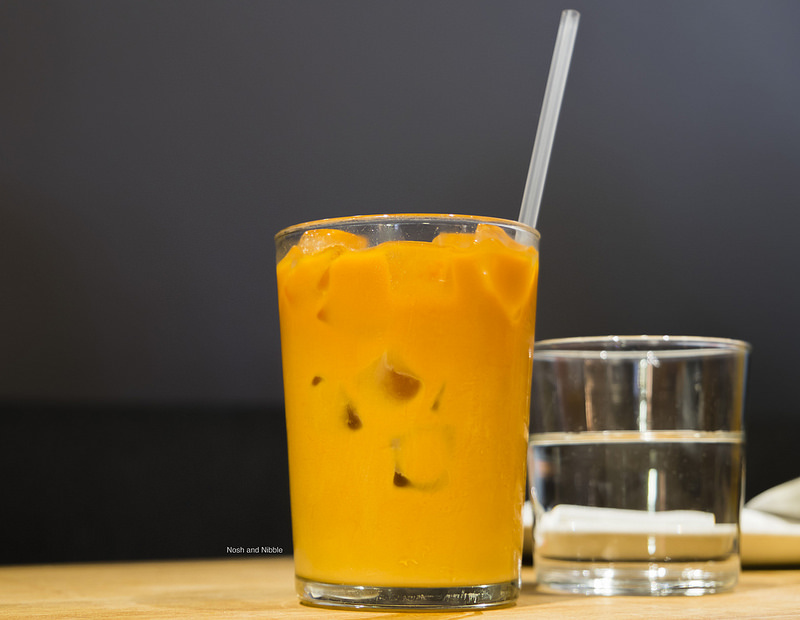 Thai Iced Tea
The house pickles were a colourful sight. I enjoyed feeling the crunch between my teeth on each of the cauliflower, carrot, and daikon, and cucumber.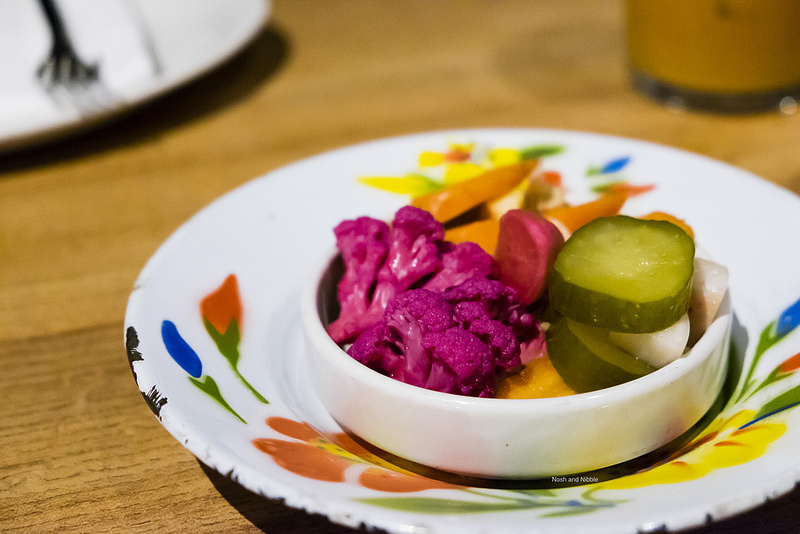 House Pickles
The mushroom hor mok terrine was our first appie and was a jar of curry mousse with mushrooms and served with crisp rice cakes. Spooning the terrine onto the rice cakes was a joy with soft-meets-hard feelings and an intense curried mushroom finish to the terrine. A+ appy.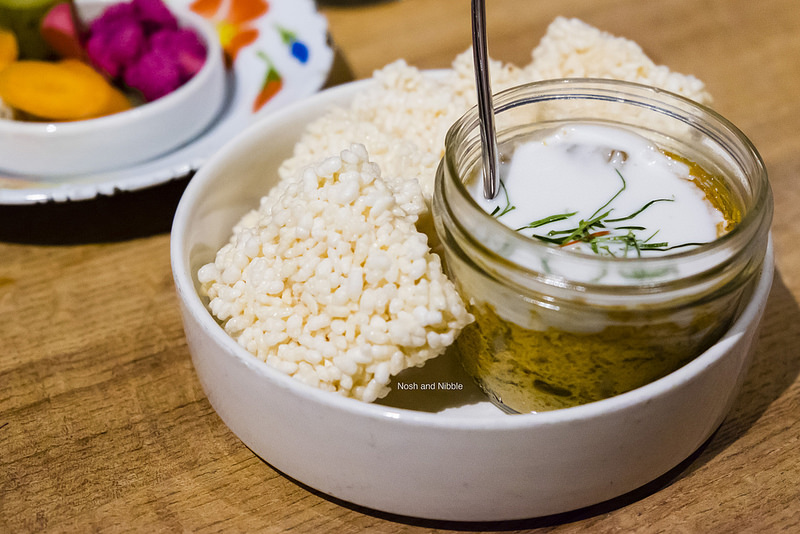 Mushroom Hor Mok Terrine
The nam tok beans was a bowl of rancho gordo scarlet runner beans tossed isaan-style with lime, chili, rice powder, light soy, shallots, and herbs. Again, flavours were intense in this fun dish. Scooping the beans and using the lettuce leaves as eating vessels was a visceral and enjoyable experience. For those concerned that appies are never filling, the nam tok beans beg to differ.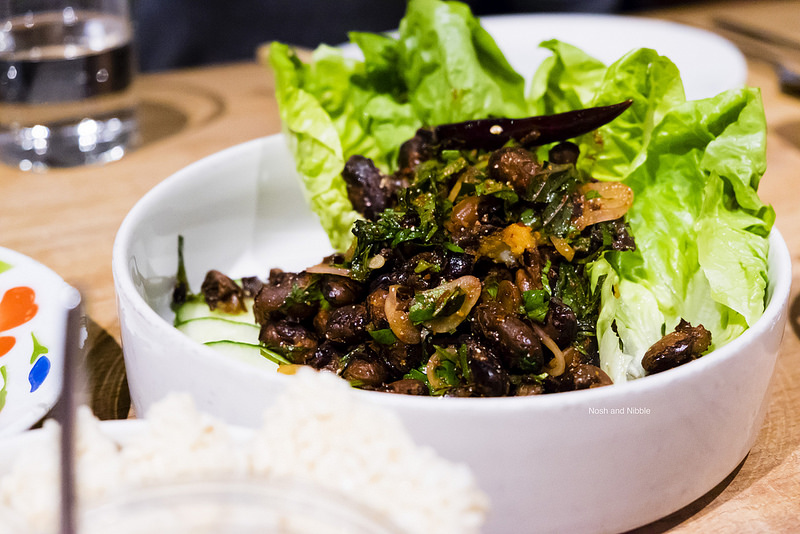 Nam Tok Beans
Without a doubt, the spiciest dish of the night were the pretty hot wings. These were prepared in a nam pla fish sauce and garlic marinade, then rubbed with a tamarind and sriracha glaze. Did I already mention the flavours at Kin Khao penetrate hard? These wings were a little too hot for my palate but I commend Kin Khao for giving us the authentic spice treatment. I emptied my Thai iced tea promptly after this dish of juicy, saucy chicken.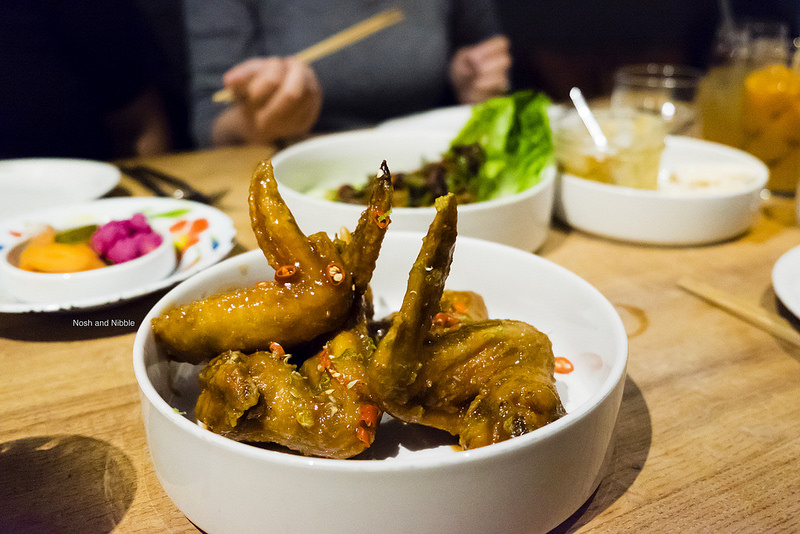 Pretty Hot Wings
One of the meats this night was a namprik ong. With an assortment of crunchy pork crackling, cucumber, squash, cilantro, melon, and "dirty girl tomato relish" cooked in a smokey and mild spiced chili paste, this was a similar dish as the mushroom terrine earlier but inferior in taste. Maybe the pretty hot wings wrecked my taste buds, but I felt the paste here was lacking the piercing flavours found in every other dish thus far and we ran out before being able to douse each other ingredient on the plate.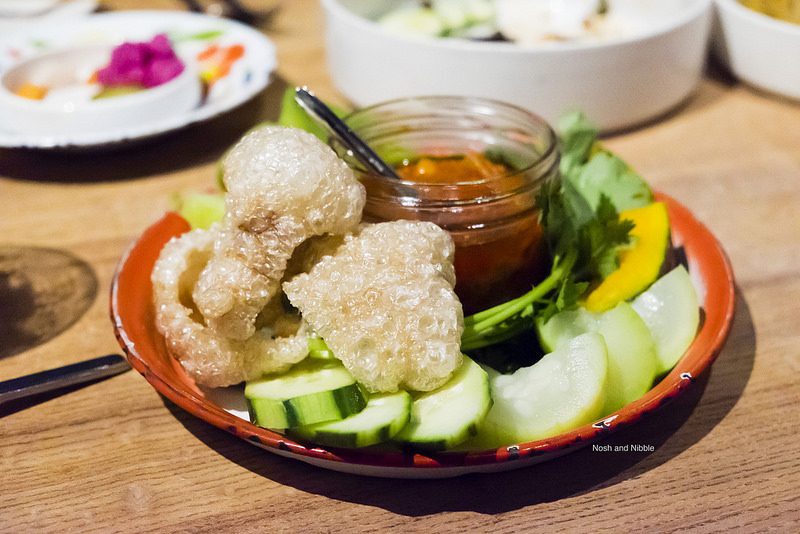 Namprik Ong
The other meat tonight was a pad kee mao, AKA Drunken Noodles. These were rice noodles served with ground pork, garlic, bird's eye chili, bell peppers, and holy basil. Bird's eye chili peppers get their name from looking at one from the stem-end which appears like the eye of a bird. These were some very high quality noodle. Each strand had incredible pull and absorbed a ton of flavour. I have full confidence that the best part about this dish are the rice noodles with the peppers and pork a side thought.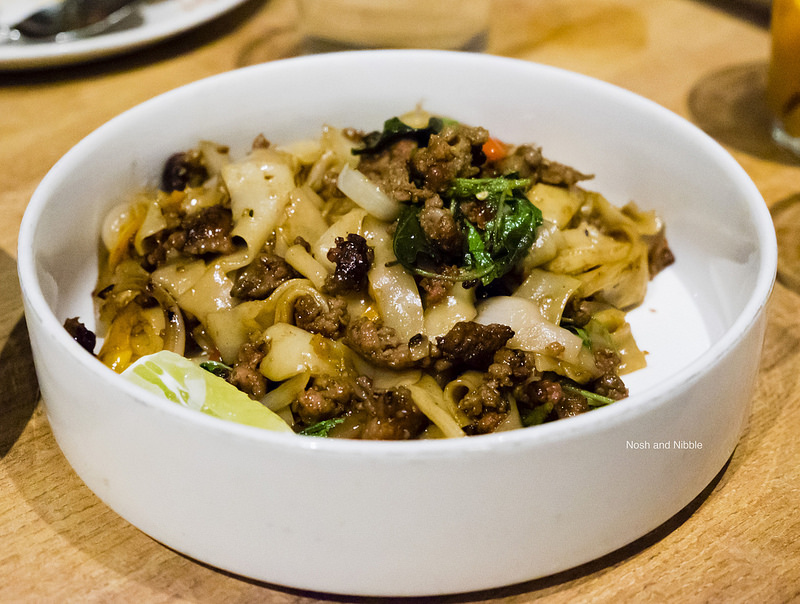 Pad Kee Mao
For our choice of made-from-scratch curry, we had the massaman nuea. This was a bowl of braised beef cheeks, served with burnt shallots and potatoes. Don't get me wrong, this was an incredible curry, but the cost of labour drives the price up like crazy. You'll be hard-pressed to find a restaurant that makes their curry from scratch, but you'll easily find one with supplier-bought curry powder that tastes 80% as good at half the price. Keep in mind you're paying for hard work when you order this dish, which by all accounts was very tasty.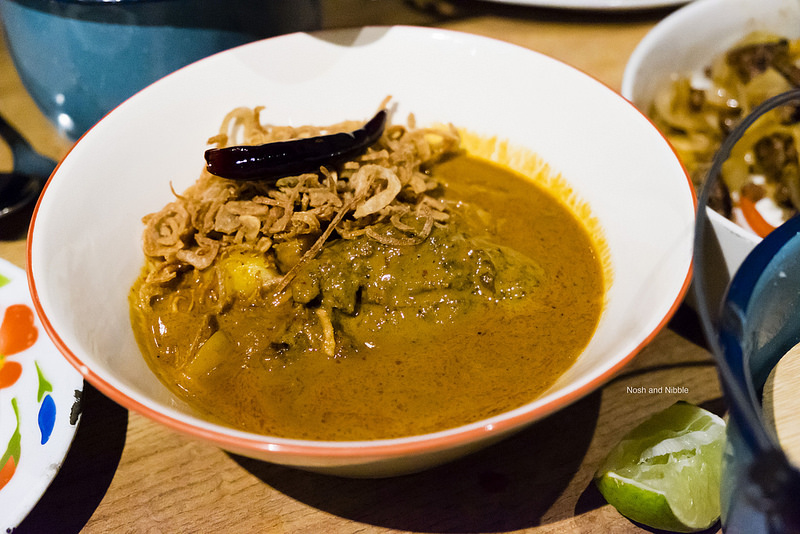 Massaman Nuea
In case we didn't order enough food (we did), we ordered two buckets of jasmine rice. Our server totally upsold our table of 4 as we hardly made a dent in the second bucket. It's huge!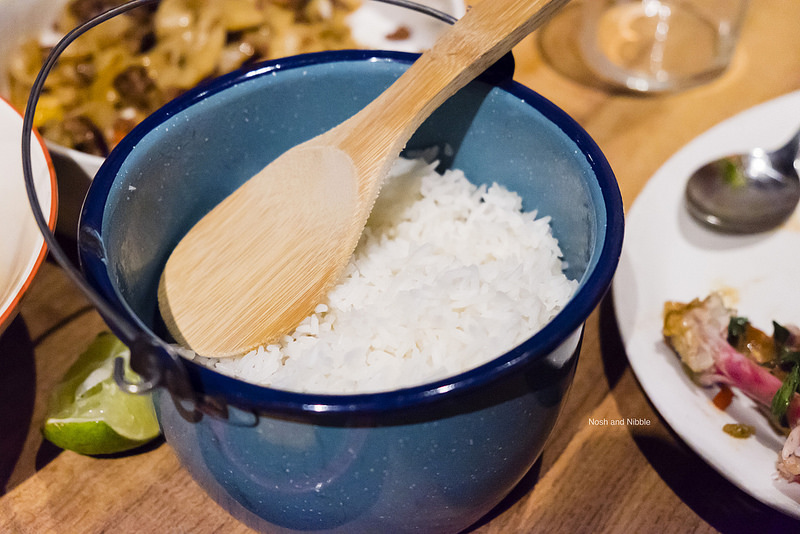 Jasmine Rice
Finally, for dessert we had the black rice pudding. This was served with strawberries hibiscus syrup, burnt coconut sugar caramel, and salty coconut cream, puffed rice, peanut, sesame praline. There was a bit of everything for everyone here. Best thing was this was lactose-friendly and full of flavour. After so many tongue-testing flavours, having something sweet was a relief.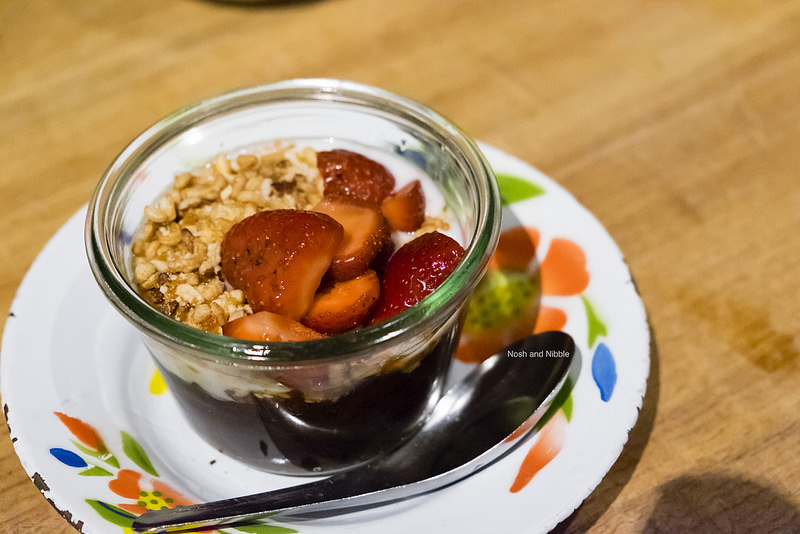 Black Rice Pudding
Features:
Kin Khao is a pretty understated restaurant, occupying a small hovel with simple accents and lots of wooden frames. The space is hella dark so if you're gonna take photos be prepared to hold your breath. The washroom is outside of the restaurant as part of the hotel (Hilton Parc 55). There's seating for about 60 guests in tables and bar seating. The atmosphere is pretty relaxed and more casual than what you might read of a western Michelin-starred restaurant.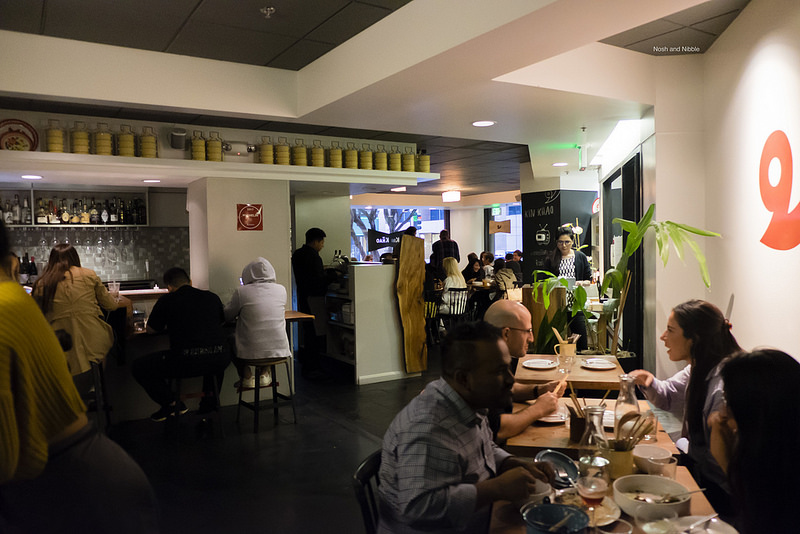 Inside Kin Khao
Service:
Service was at times very comfortable and at others questionable. On one occasion, our server took my sister's drink before she was finished and without prompting her. An easily avoided situation.
Unpictured, but we also ordered a salted duck egg (I didn't have much of it, so no review). We discovered leftover egg shell on the duck egg. We left erroneous egg shell in plain sight on a finished plate, and when she came over to clean out dishes, our server made no mention, note, or apology for the egg shell mistake. It's a small detail, but aren't small details the most important when it comes to finer dining?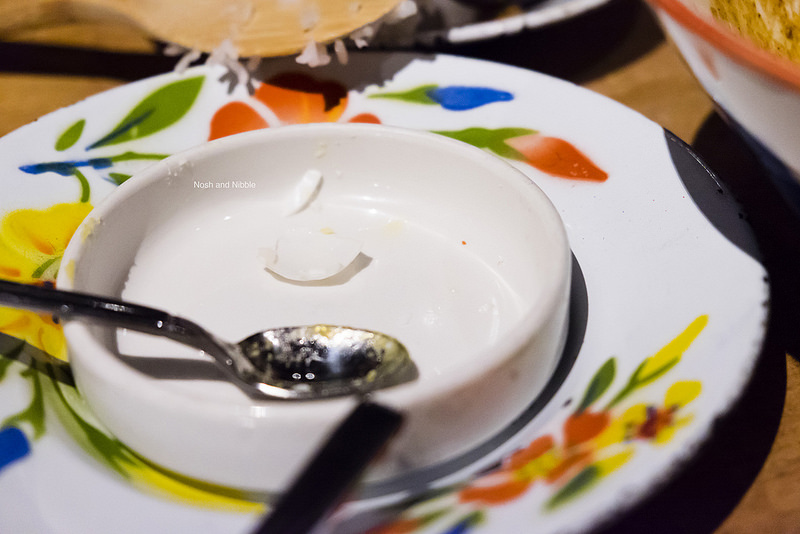 Discarded Egg Shell
Otherwise, the speed of dining was quick with our plates sporadically being served within 15 minutes of us placing our order. It was packed on a Friday night so I think it goes without saying you should make a reservation if you want to dine here.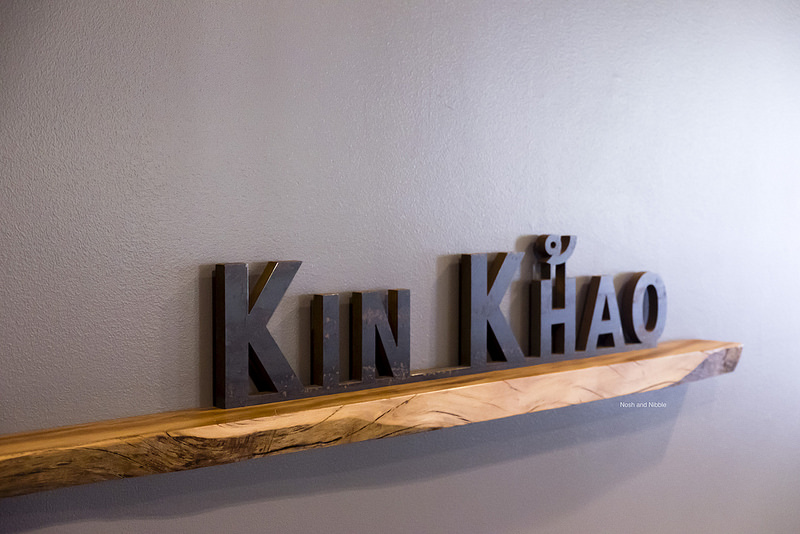 Outside Kin Khao
Kin Khao does not serve Pad Thai. You should come to terms with the idea that Pad Thai does not represent all Thai food before making a reservation.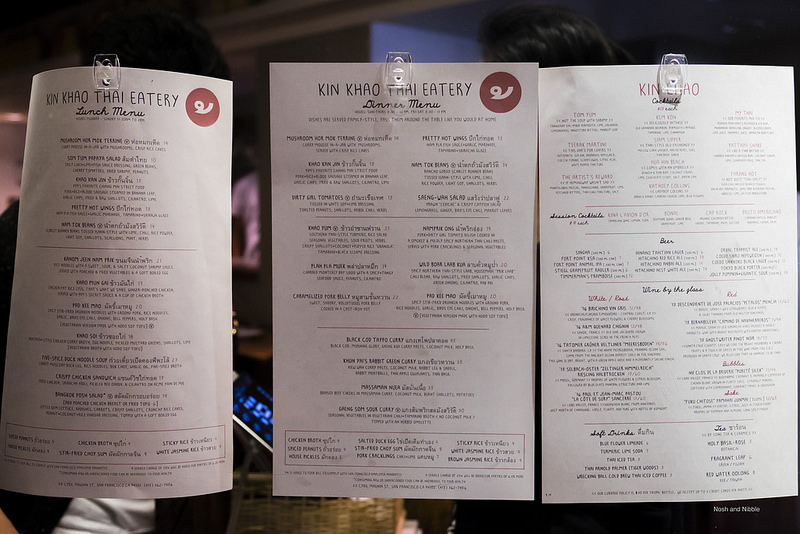 Menu
Final Thoughts:
One-liner: High quality Thai food great for culinary enthusiasts but service that doesn't quite match the taste
Highlight: Mushroom Hor Mok Terrine or Pad Kee Mao
Price per person: $40-$70
Would I go back? Just for appies.