For much of the past 4 weeks, I've been a lucky judge for one of Vancouver Foodster's food challenges. The Burger Challenge was my most anticipated challenge of the year because I feel these buns of glory are underrated in the food community in Vancouver. For the judge's vote, the Fresh Window of Drew's Catering placed first. Finally, my silence can be unmuted and I can document my full experience at this hidden gem in the Marpole neighbourhood.
Disclosure: I was given a complimentary tasting in addition to my burger judging duties which ended November 12th. All opinions are my own.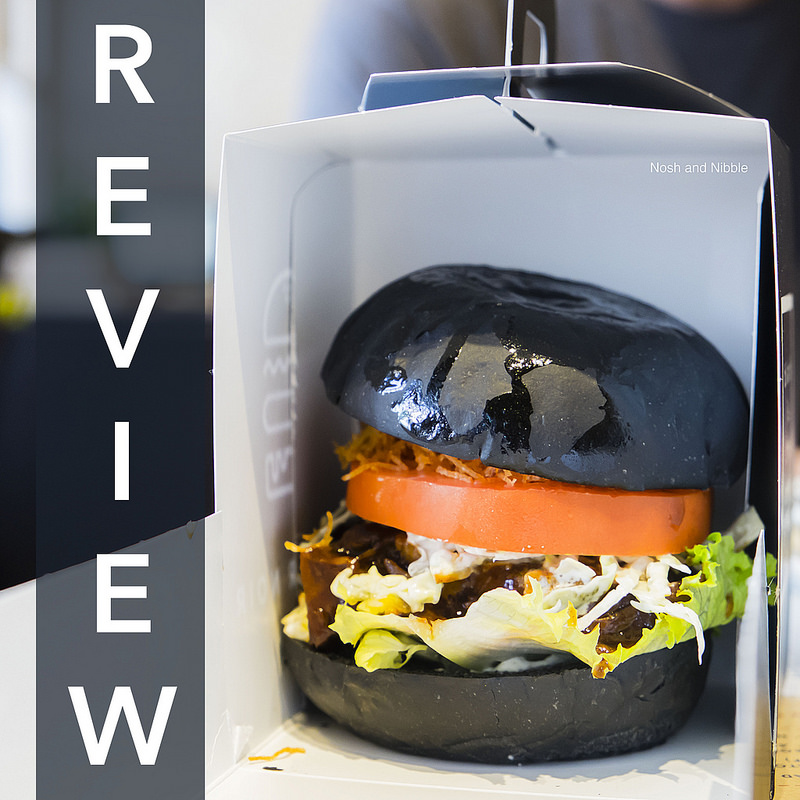 Food:
Team Survivor came here for a weekday lunch and I had a great taste of the following:
Classic Mac' N Cheese ($7)
DC Poke Salad ($12)
Burger Noir ($12)
Keep in mind goods from this cafe window are meant to be taken to-go, so pardon the plating.
The mac' and cheese was a classic. Coming in a generous container, the pasta was evenly mixed with a ton of white cheddar sauce that made each bite quite balanced. I would have liked the pasta to be a little more al dente but for the price, most people, and especially calorie-per-dollar hunters, would find this to be enough for a meal.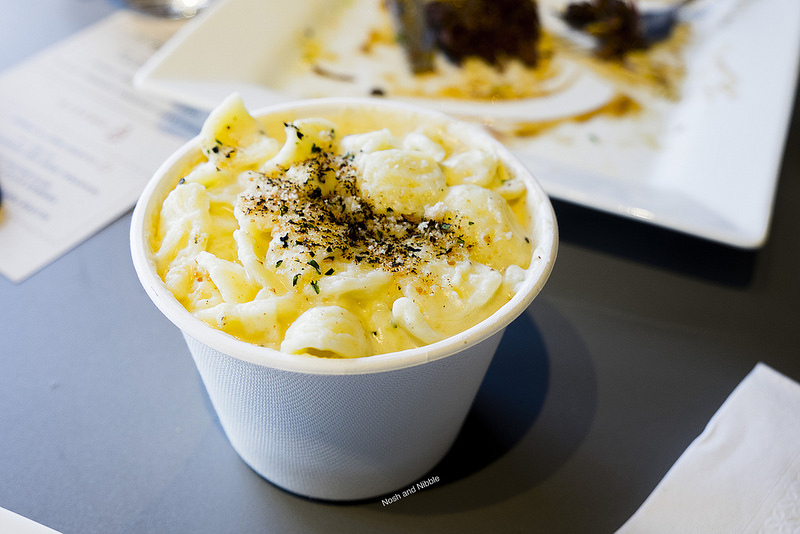 Mac' and Cheese
As poke took over Vancouver in 2016 and 2017, Drew's Catering also joined in the action with their own DC poke salad. Featuring blackened albacore tuna, organic greens, avocado, tomatoes, marinated artichokes, roasted corn, pea shoots, edamame, boiled egg, and sesame miso dressing, this takes the classic poke bowl in Vancouver and turns it up a notch. Most poke shops won't have anything like artichokes, roasted corn (it's usually steamed), nor a boiled egg. For the price, this poke tasted fresh and was a terrific value coming in the same size as what you'd get for $15 at The Poke Shop in Gastown.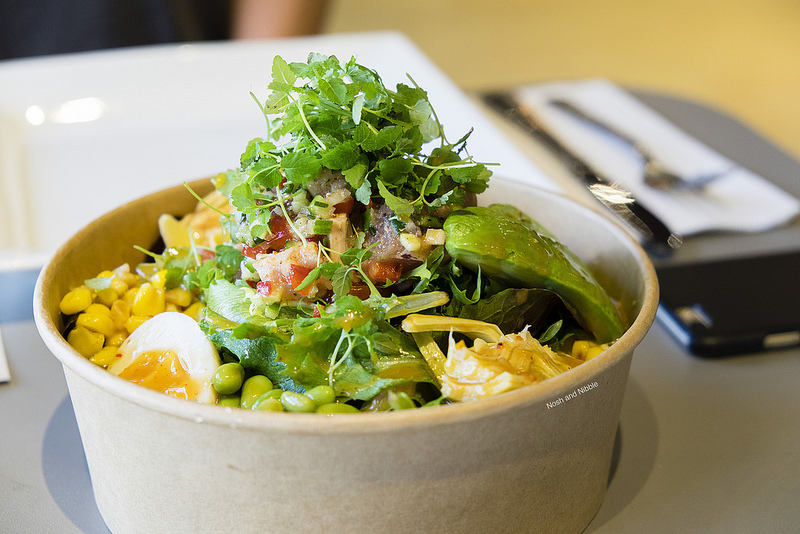 DC Poke Salad
Finally, the burger that needs no introduction – burger noir. These black brioche buns enclosed a 24-hour braised beef short rib with savoy cabbage coleslaw, horseradish aioli, and shoestring potato in what I consider the most novel approach to burgers this city has seen. Through the magic of coconut ash, a blackened burger was born. Some may find that the beef short rib replacement of a patty fails to create a burger, but as long as you grip it tight enough, everything holds.
The juiciness of the short rib combined with the fine crunch of the shoestring potatoes egged me on to eat this as fast as possible. Once it was done, I was left wanting more with my hands now lathered with short rib juices. If you have a chance to try this burger, I highly recommend you go out of your way to do so.

Burger Noir
Features:
Drew's Fresh Window operates as a takeout counter window. There are a couple of seats under the counter but the main mission is to send customers on their way after picking up their order. If you miss the little banner outside the window, you might accidentally walk past this place without realizing it.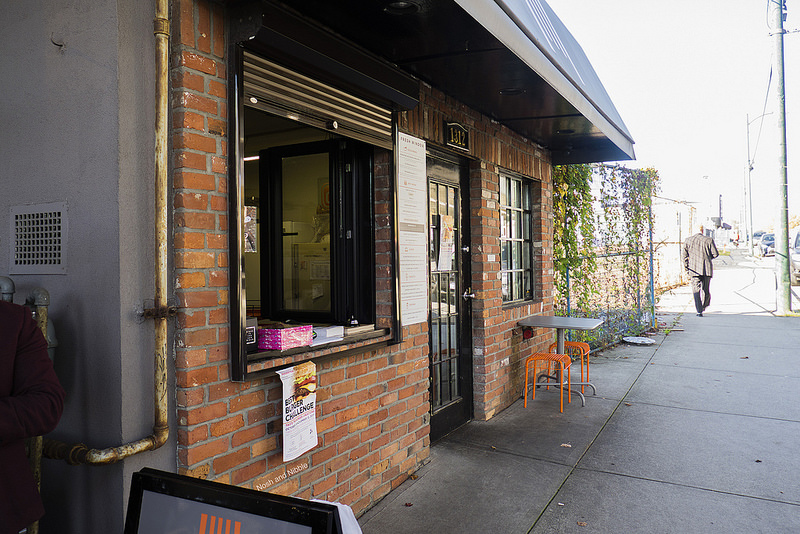 Outside Drew's Fresh Window
Service:
Not much to say here as it's a takeout window. You'll place and pay for your order prior to receiving it, but coming here might be the hardest part. The main operating hours are 11:30am-3pm on Mondays to Fridays. The location is a little out of the way being so far from the more central Vancouver neighbourhoods, but great things are worth making time for, right?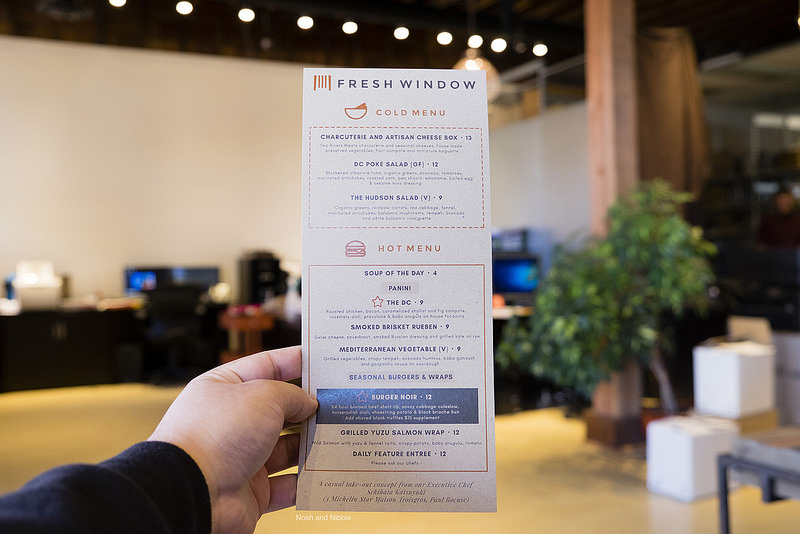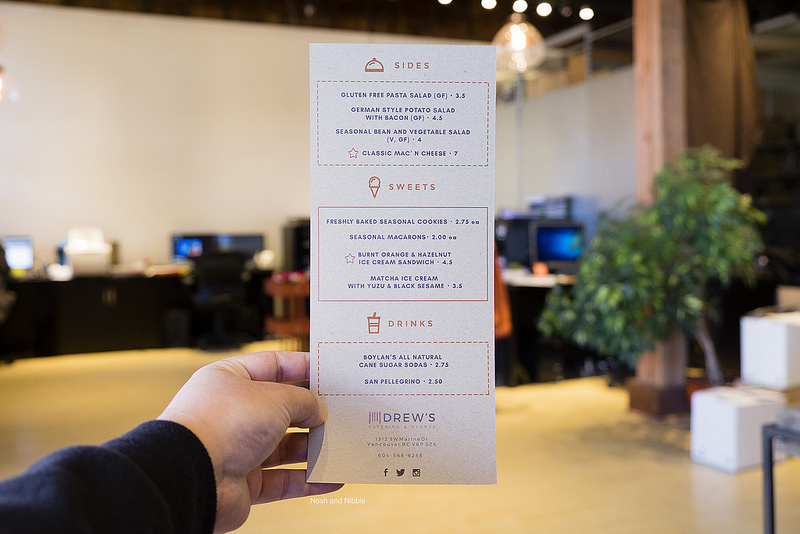 Drew's Fresh Window Menu
Final Thoughts:
One-liner: A burger like no other in Vancouver with other items punching above their designated price tier
Highlight: Burger Noir
Price per person: $7-$20
Would I go back? Yes.