From the ashes of Granville Street's Ceili's comes a new Irish experience. Dublin Calling is the latest expansion from the Toronto-born restaurant company. With a huge inherited space and more TVs than you can watch, how does the new menu fare? I had a taste and found out.
Disclosure: This was a complimentary tasting provided in exchange for an honest review and no monetary compensation.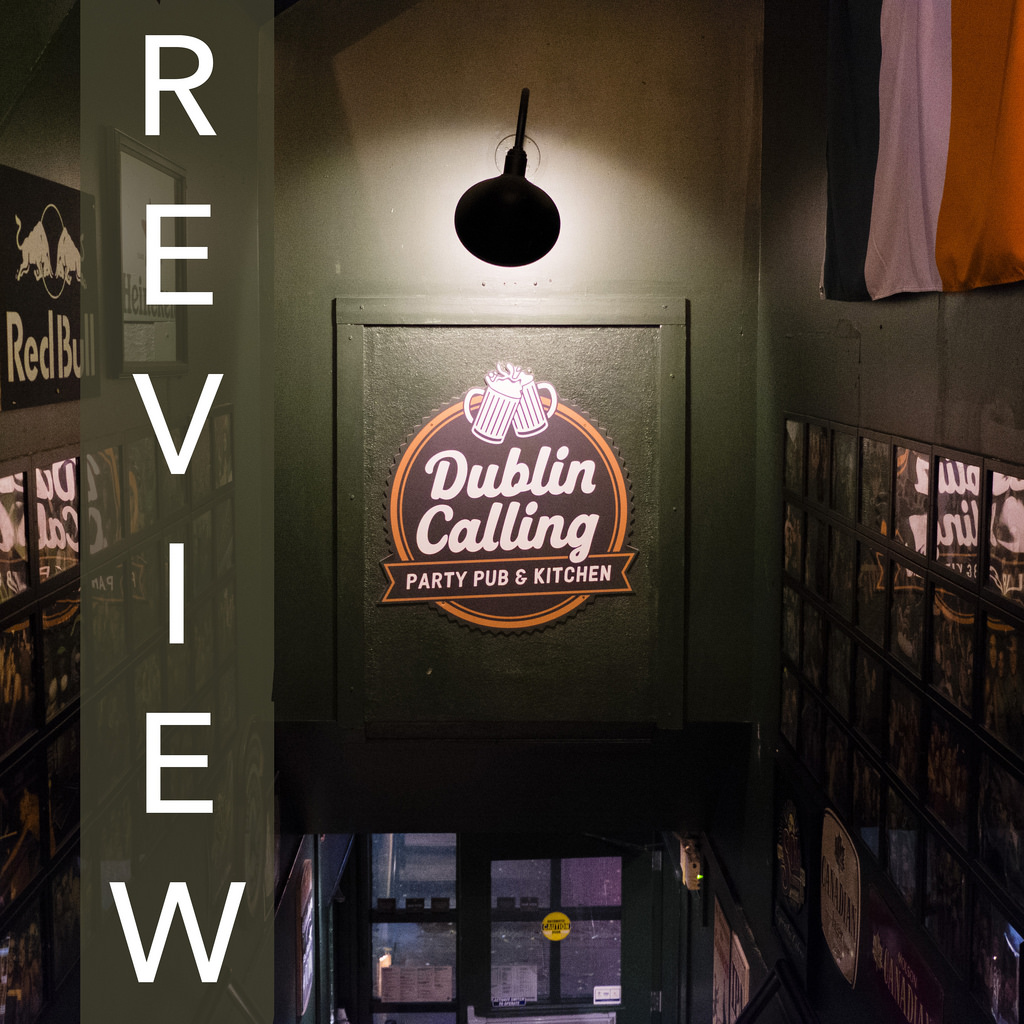 Food and Drink:
Team Tastic came here on a Tuesday evening and I had a great taste of the following:
Dublin's Irish Sour ($12, 1.5oz)
Shepherd's Pie Bites ($10)
Home Made Yorkshire ($19)
Cheddar Cheese and Bacon Stuffed Burger ($17)
Starting off with a drink, the Dublin's Irish sour was made with Jameson whiskey, fresh lemon juice, soda, egg whites, and rosemary simple syrup. I always love a good head of foam on my drink, so this was actually pretty refreshing. $12 1.5oz of Jameson is a bit on the high side but this place is far from a dive bar so I'll give this a pass since everything else was tasty.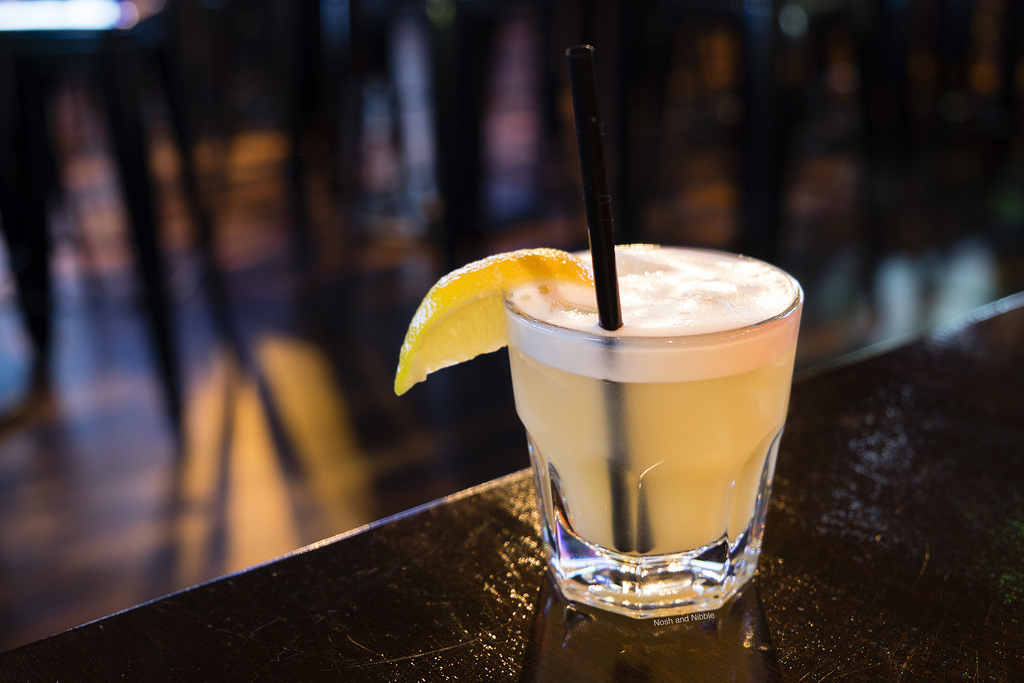 Dublin's Irish Sour
Moving on to some appies, the shepherd's pie bites were deep fried mini shepherd's pie served with Guinness bacon cheese sauce. This was a cool entry on the menu but the real joy was popping a ball of these bites into the savoury cheese sauce and then into my mouth. The breading was extra crisp and very finger-friendly.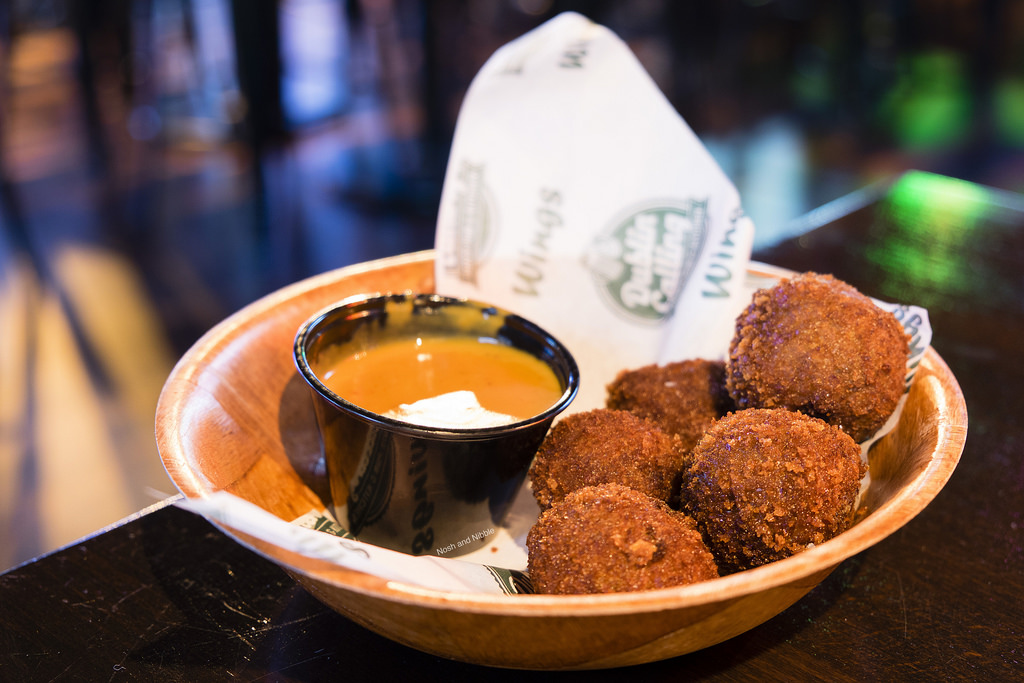 Shepherd's Pie Bites
Yorkshire Pudding is actually an English food so it was interesting to see the home made yorkshire. Of course I had to try it. Maybe on its way into Canada, the menu developers wanted to mix in some Irish neighbours?
Made with roasted beef short rib, caramelized onions, sautéed vegetables, roasted garlic mashed potatoes, and rosemary demi glace, this yorkshire was pretty good. The caramelized onions with a bed of mashed potatoes swirled ever so nicely with the generous demi glace. I wish the yorkshires had been served on top of the whole thing but they were instead buried beneath the short rib. By the time I found them they had already been soaked through with the demi glace and were a bit soggy.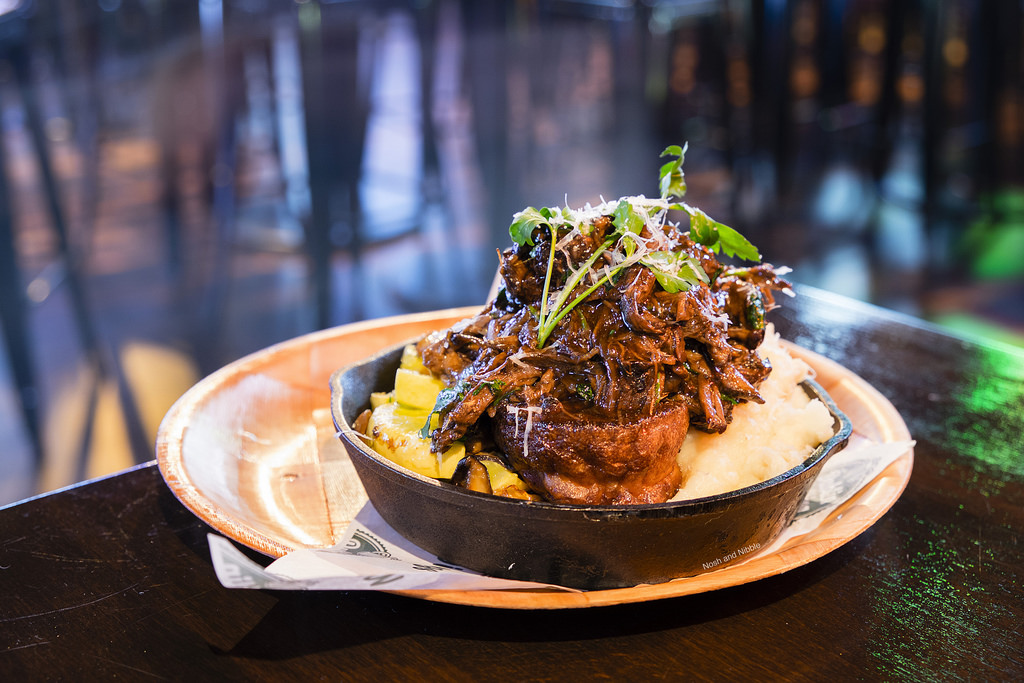 Home Made Yorkshire
I'm a sucker for burgers. If I'm at a bar, my eyes gravitate to the burger(s) on the menu. In the case of the cheddar cheese and bacon stuffed burger, this was deceiving on the eyes but a joy to eat. See, the cheese and bacon are mixed into the patty. Once I realized this, it made sense that the patty was so incredibly juicy and full of flavour. There's some creativity happening in this burger that you don't always see in bar menus.
Special shout-out to the fries. For anyone who appreciates the art of Costco cafeteria-style fries, you're in for a treat here with crispy fries with a fluffy interior.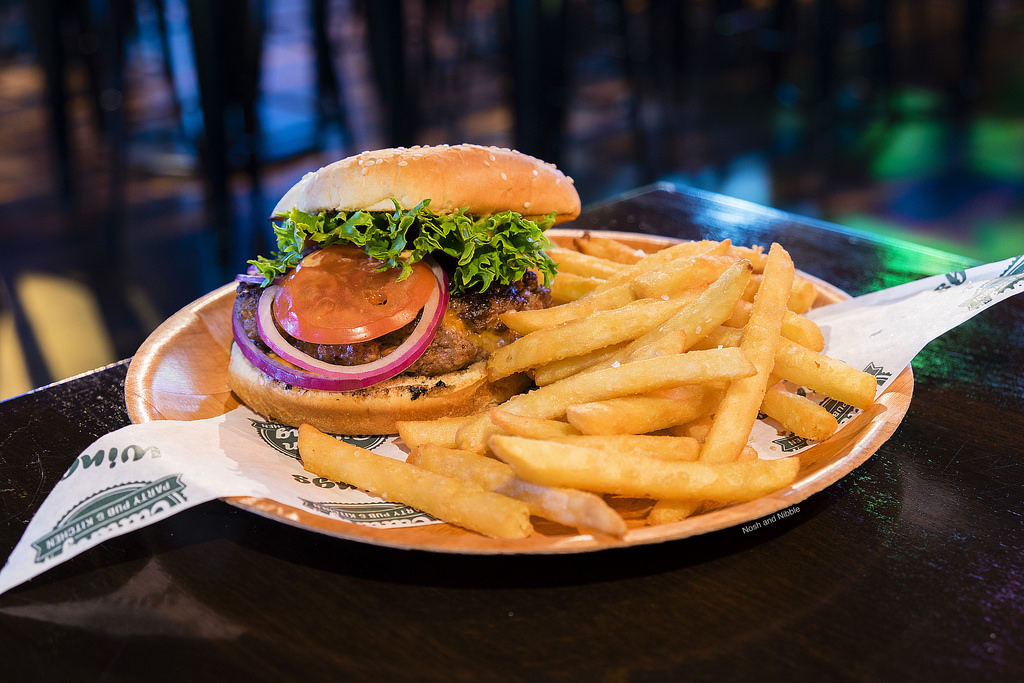 Cheddar Cheese and Bacon Stuffed Burger
Features:
As Dublin Calling takes over the old Ceili's Irish Pub, they've got a huge space. The trademark green Irish colouring is still present here, but there's been some redecorating on the inside. The eating area, seating around 80 among bar, booths, and high tables, is armed with a plethora of TVs. I'm talking more TVs than your peripheral vision can handle. If they wanted to, **I'm sure Dublin Calling could bust out every flavour of TSN and Sportsnet and still have screens left over to show a Cork City game or two. **
Billiard fans will also find comfort here as there's a dedicated half for darts, pool, skee ball, and giant Jenga.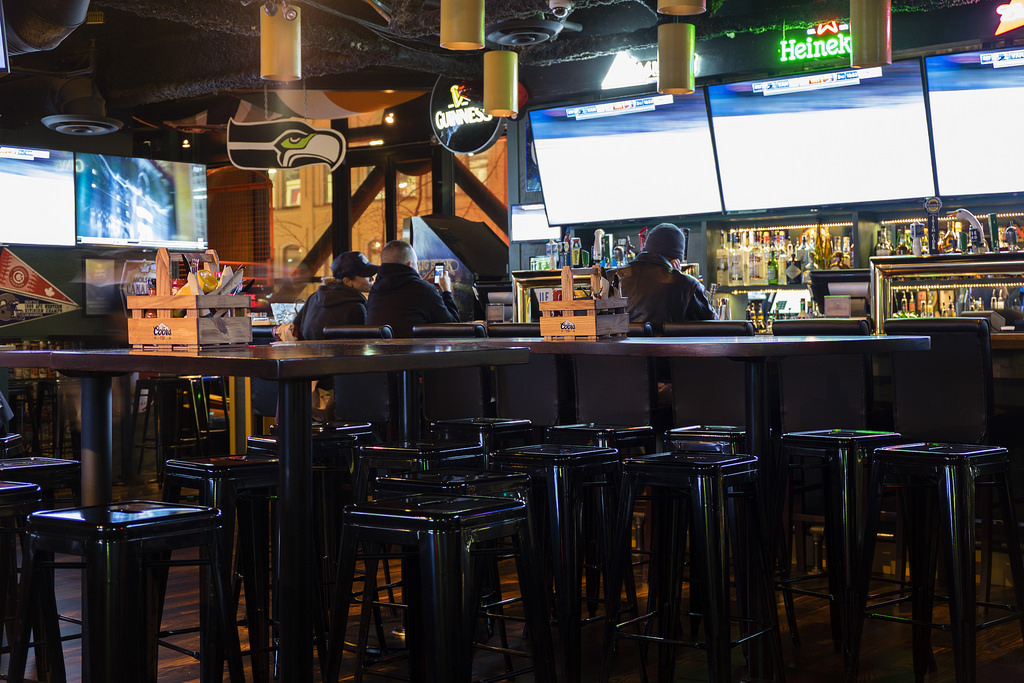 Inside Dublin Calling
Service:
Service is a little above average at Dublin Calling. As a pub, the bar isn't set too high but I did notice a server going around asking nearby tables how things were going, so no complaints there. Food took about 15 minutes to come out which also on par. It wasn't too busy on a Tuesday evening around 6pm so if you're looking to get an early dinner or start of your billiards night, I'd recommend coming before 8pm (weeknights, at least) to avoid disappointment.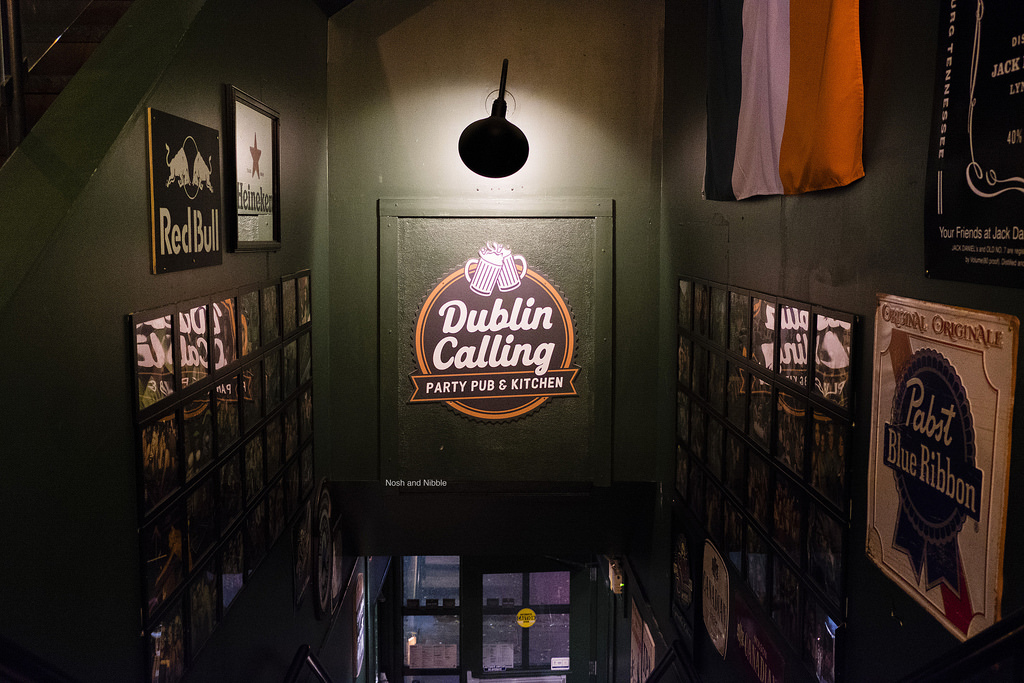 Outside Dublin Calling
Final Thoughts:
One-liner: A shiny new Irish themed pub with all the fixings plus some additions from their southern neighbours
Highlight: Cheddar Cheese and Bacon Stuffed Burger
Price per person: $20-$40
Would I go back? Yes.
At the time of writing, Dublin Calling in Vancouver isn't listed on Google Maps! It's located in Ceili's old spot.