This December the Vancouver Christmas Market is back in full throttle. With an emphasis on German celebration, there's a ton to eat and see in what is quite possibly the most Christmas-y spot in Downtown Vancouver. This year, I was a lucky media participant to sample the market prior to opening in addition to visiting on my own, so this post covers both visits.
Disclosure: I was given free admission for my visit and have marked the foods I paid for with a star below. All opinions are my own.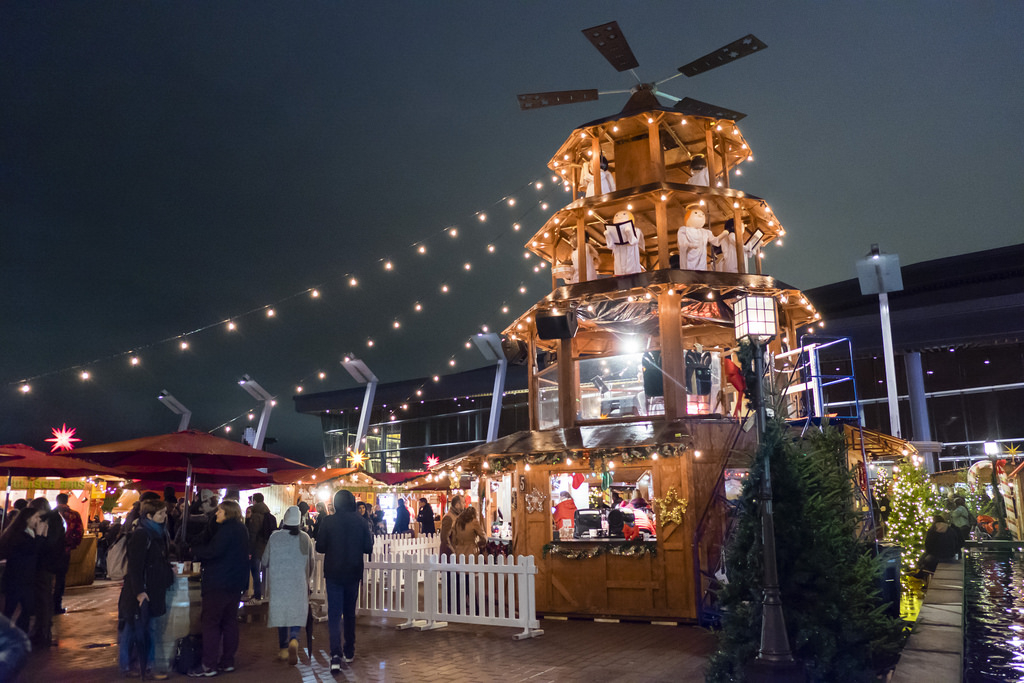 Food:
Over my two visits I had a great taste of the following:
Freybe Brat Haus - Das Brat ($8)*
Das Gulasch Haus - Tender Beef + Breadbowl ($11 + $2)
Das Spätzle Haus - Spätzle Poutine (~$9)
Das Haxen Haus - Whole Pork Hock ($24)*
Berliner ($3.50)*
Das Pretzel Haus - Original Recipe Pretzel ($5)
Cheese Me Raclette - Swiss Raclette ($10)
Transylvanian Bakery - Almond Chimney Cake ($7.50)
Costco comparisons aside, the das brat is a solid investment to eat at the Vancouver Christmas Market. When you factor in a juicy sausage with lots of pop on the skin and a ton of flavour in the sauerkraut, I consider this to be a tasty Christmas market staple. I enjoyed a das brat on both of my visits.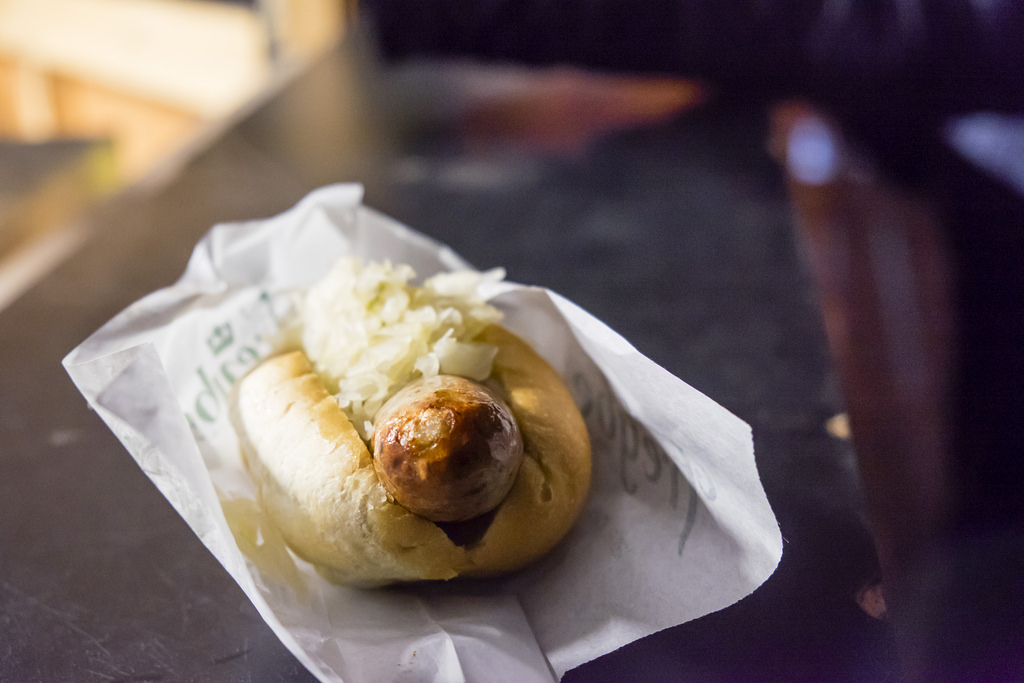 Das Brat
For those looking for something to warm the soul, the tender beef breadbowl is as homey as it gets. The beef was super tender and served at a temperature perfect for slurping. Finish your soup and then you get to finish your bowl!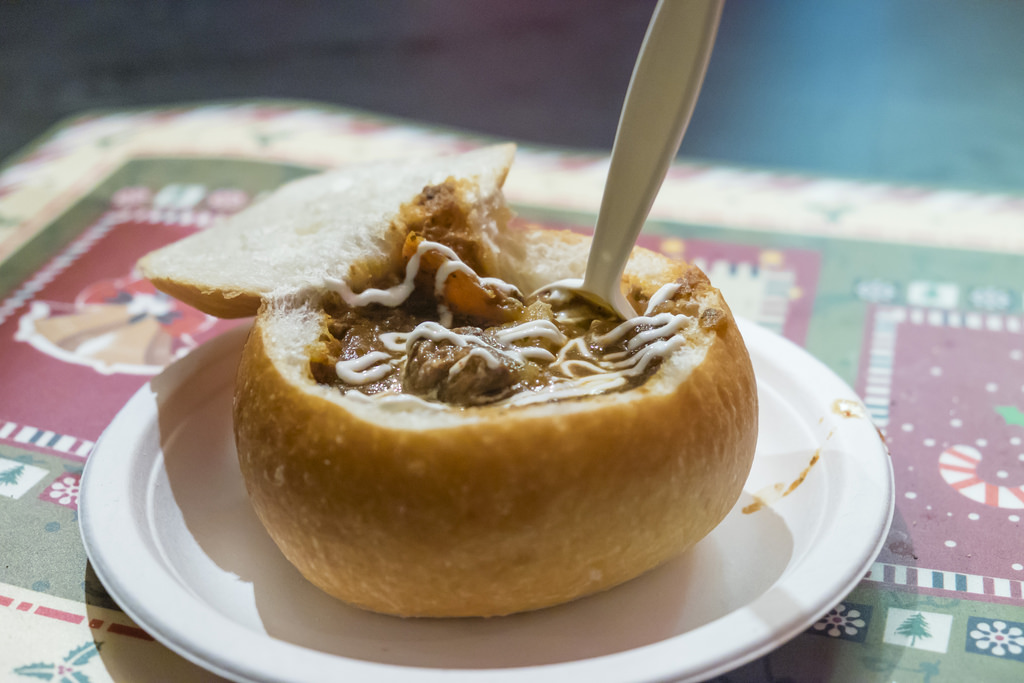 Tender Beef Gulasch Breadbowl - Sample Sized
Das Spätzle Haus is one of the mainstays of the Vancouver Christmas Market but this year they're on with a new addition in the form of spätzle poutine. Combining German egg noodles with the classic Canadian treats, this was an extra savoury dish with all the fixings on top.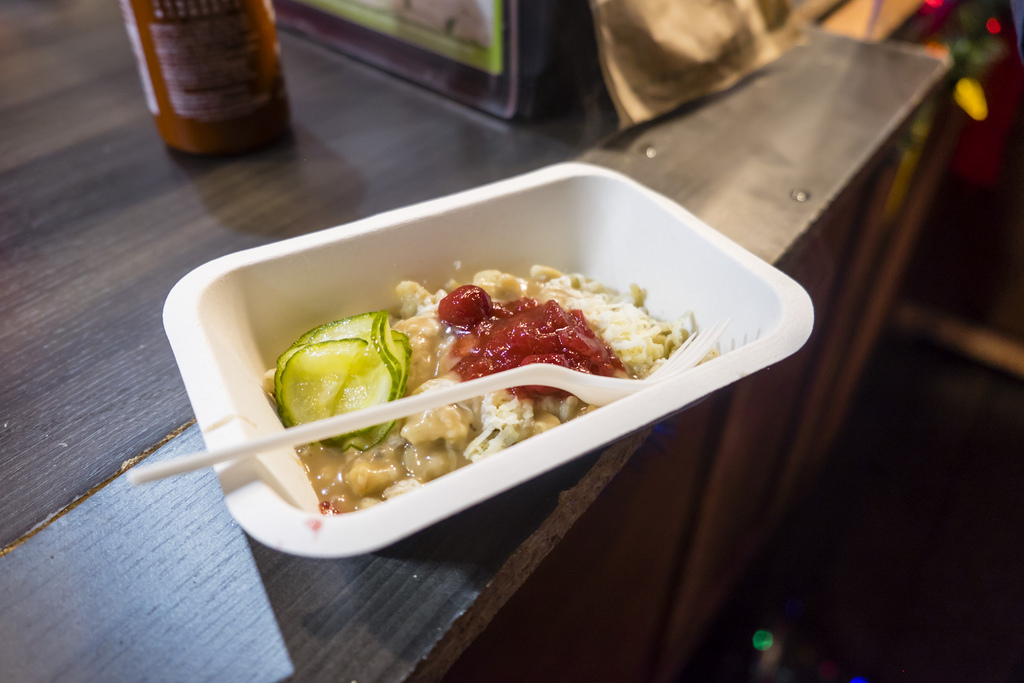 Spätzle Poutine - Sample Sized
The pork hock stand has always been one of my favourites given how hard it is to get pork hock elsewhere in Vancouver. Opting for the whole pork hock, this came pre-cut with extra bits left to gnaw off the bone. My only problem with the pork hock this year is its price. From $19.50 last year to $24 (after tax) this year, this item saw the largest price increase out of the items I also tried last year. You may want to scope out the rest of the market before deciding if you want to splurge $24 for what is still a delicious stomach-filler.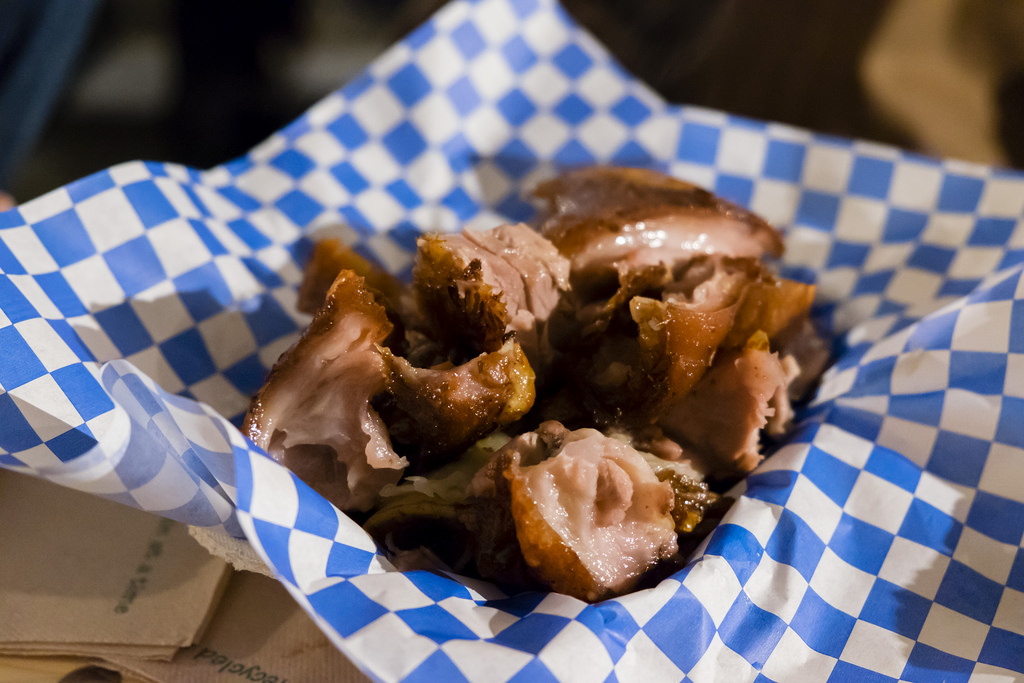 Whole Pork Hock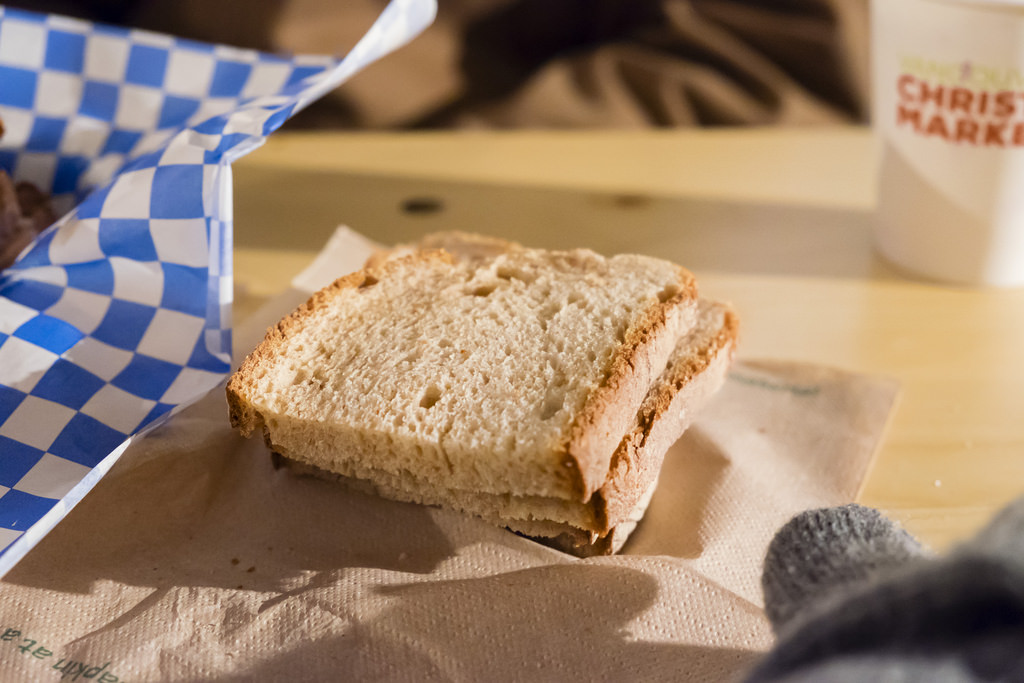 Whole Pork Hock - Side Bread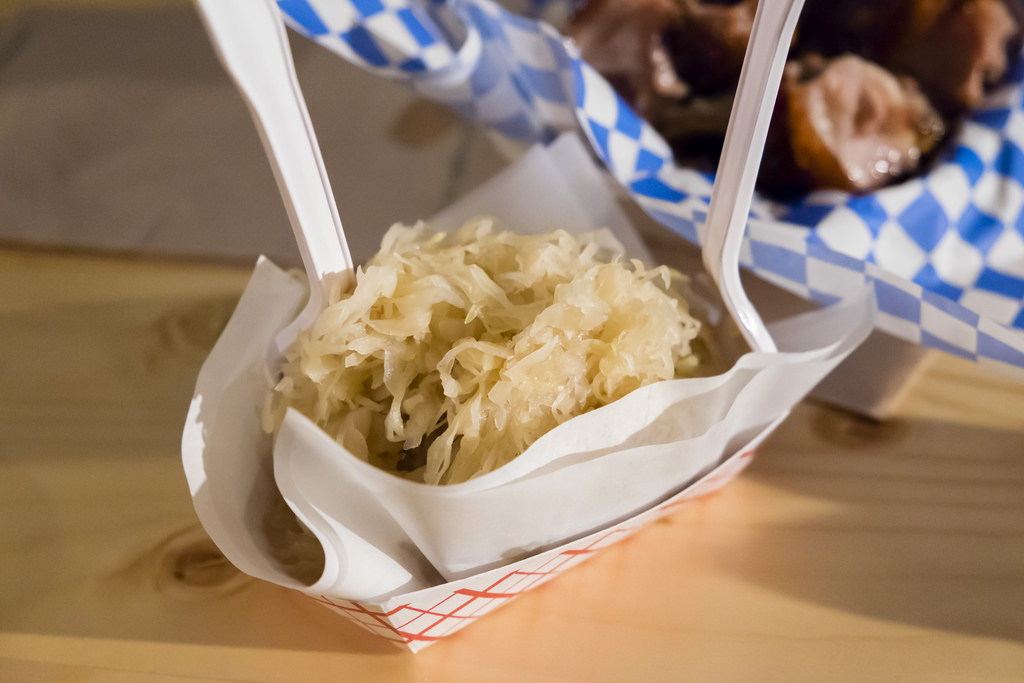 Whole Pork Hock - Side Sauerkraut
For simple delights, sometimes a berliner is all you need. Coming in either apricot and strawberry fillings, I preferred the strawberry which was great in a fluffy bun. I found the apricot to be a little sweeter but either is less sweet than what you'd buy at places at Cartem's or Lucky's.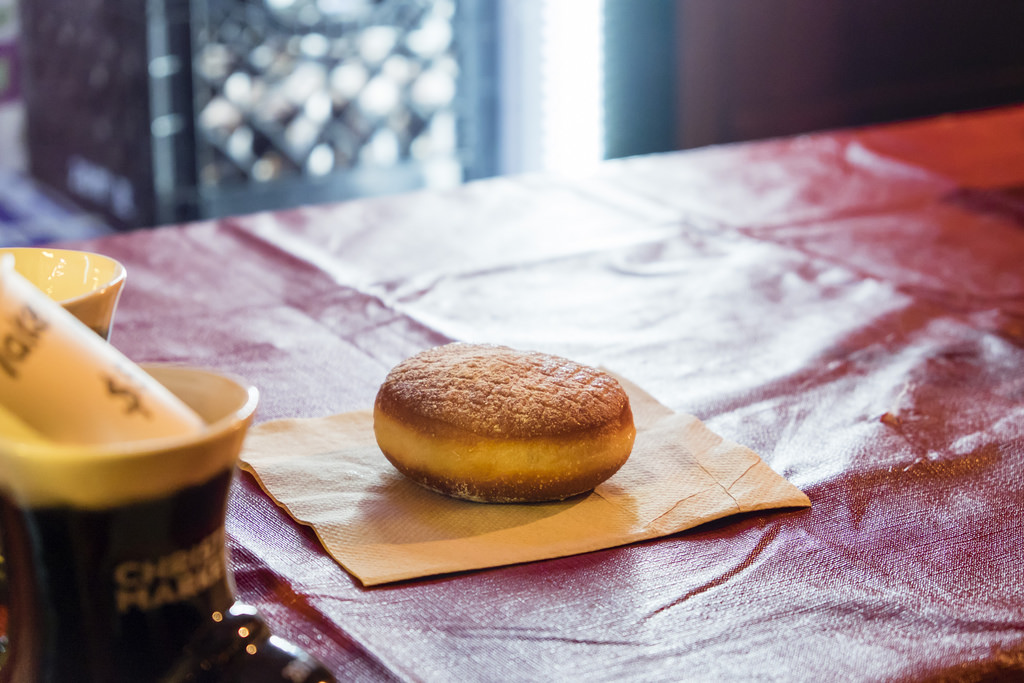 Berliner
The original recipe pretzel is a classic – baked and warmed for your chewing pleasures. This was a good cheaper option but I think most people should pony up for a bratwurst or some of the other vendors here before opting for a pretzel.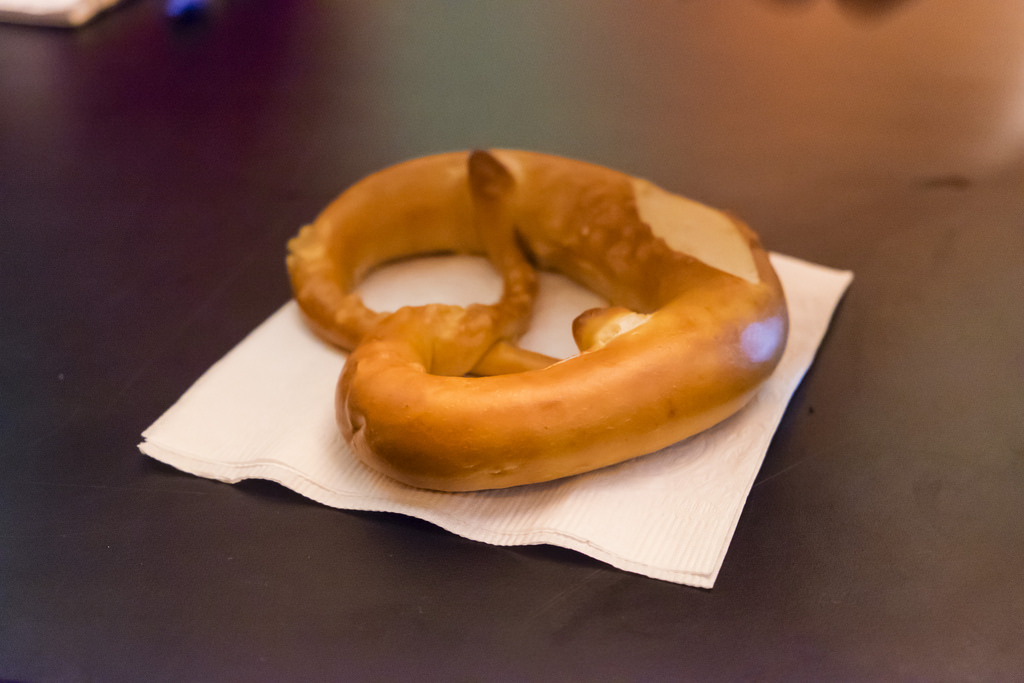 Original Recipe Pretzel
Moving into Swiss territory, the swiss raclette was one of the coolest foods. Taking a wheel of hard swiss cheese, heating the edge, and scraping off the melted parts into a plate of potatoes made for a scrumptious savoury serving of warmth and fine sour zing from the side pickles.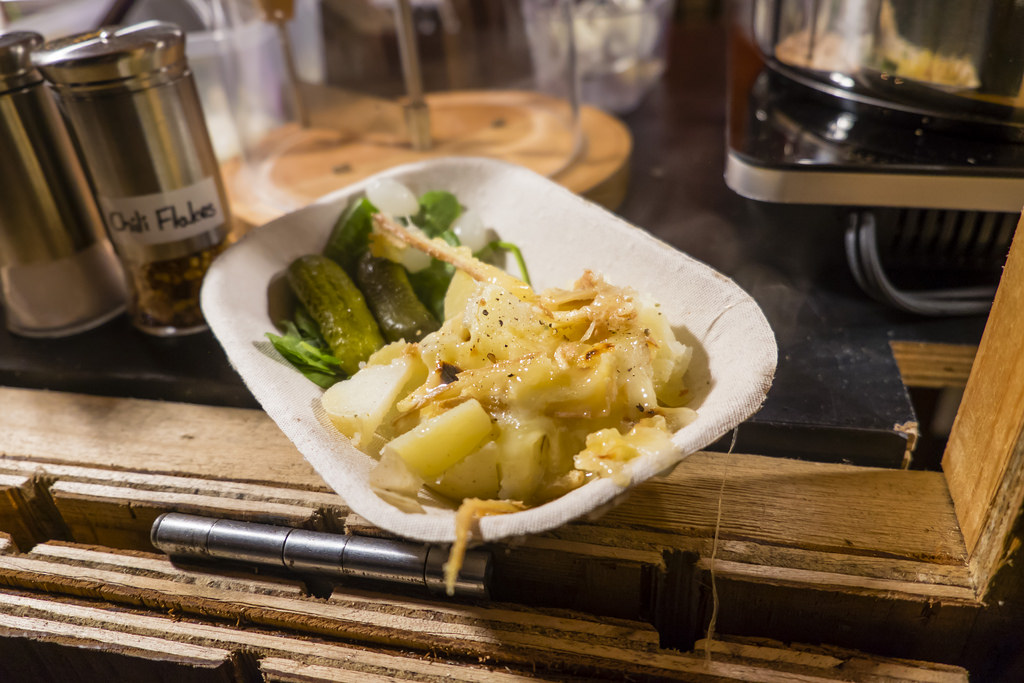 Swiss Raclette - Sample Sized
Last but not least, the almond chimney cake was a swirl of seasoned bread dusted with almond bits. The bread was soft, chewy, and if there were a Hungarian version of the hurricane potato, this might be it.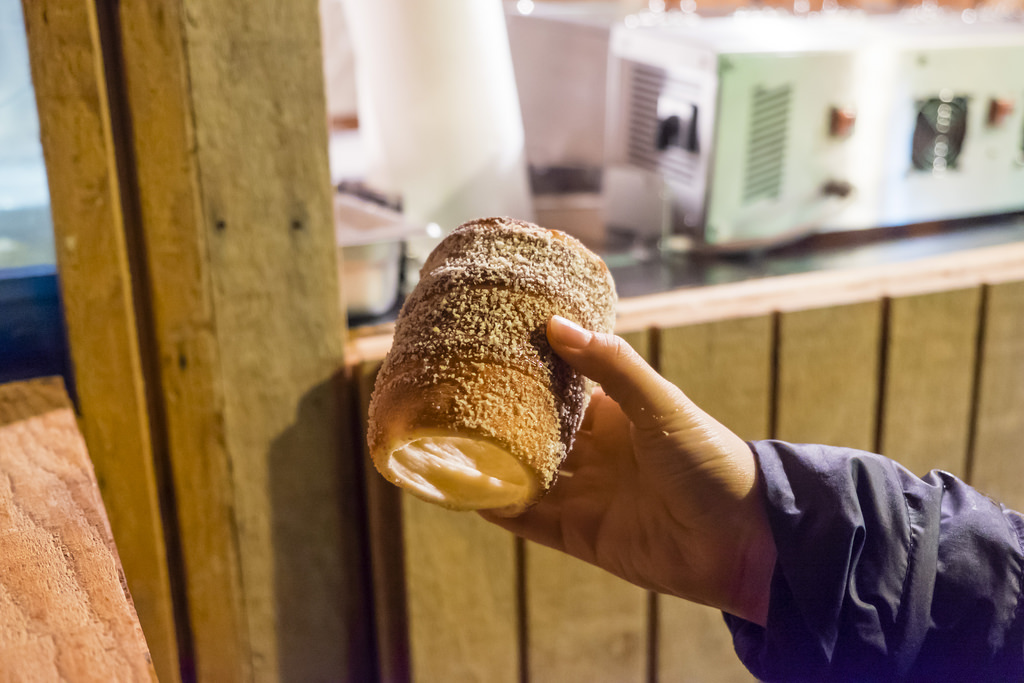 Almond Chimney Cake
Features:
All of the food vendors are located in the middle of the Vancouver Christmas Market. With winding paths, it's pretty fun to meander along the walks to discover different eats in each hut. All paths lead back to the central flying stage though, and this is where you can purchase glühwein and this year's collector mugs – super cute boots! At the back of the market, you can find an enclosed eating area with benches which was super convenient because both times I visited the market were on rainy nights.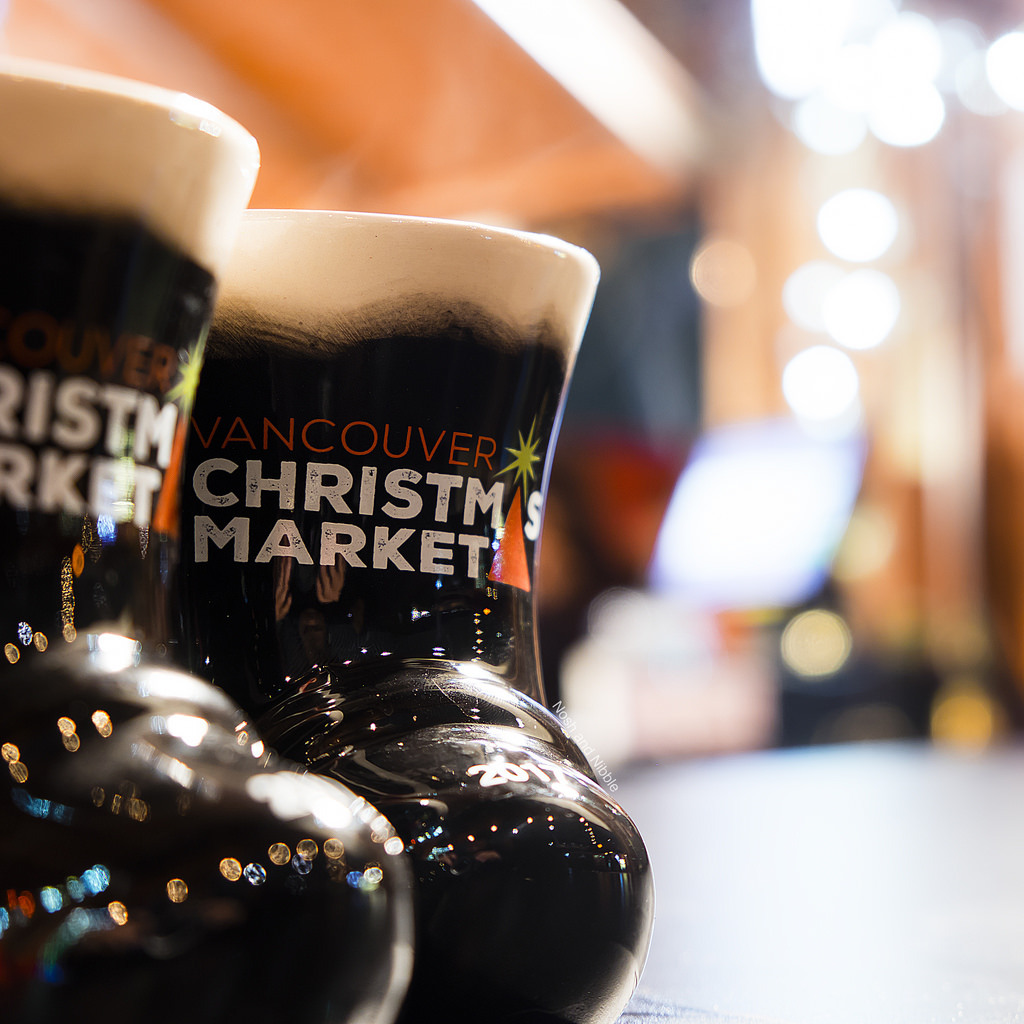 Vancouver Christmas Market Collector Mugs
In addition, there are a ton of artisan and merchant vendors along the sides of the venue at Jack Poole Plaza.
Also at the back of the Vancouver Christmas Market is the Käthe Wohlfahrt exhibit. This tent is full of festive ornaments and collectibles you can purchase to prove your Christmasing behaviour and get on Santa's nice list.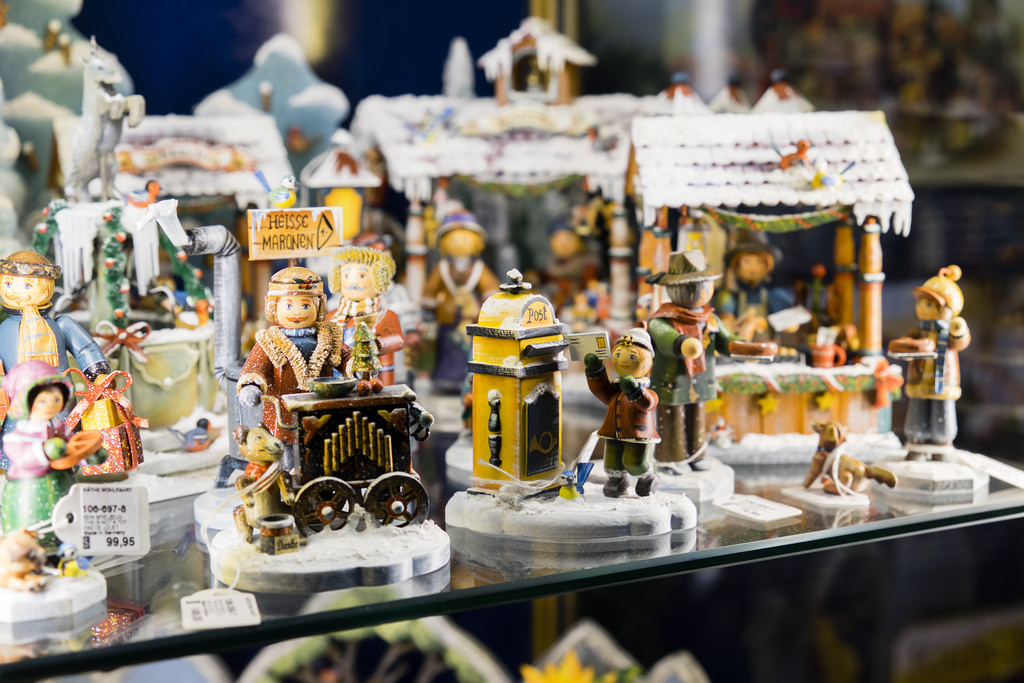 Käthe Wohlfahrt Collectibles
The famous carousel makes another appearance at the Vancouver Christmas Market, reaffirming its status as downtown Vancouver's only traditional carousel.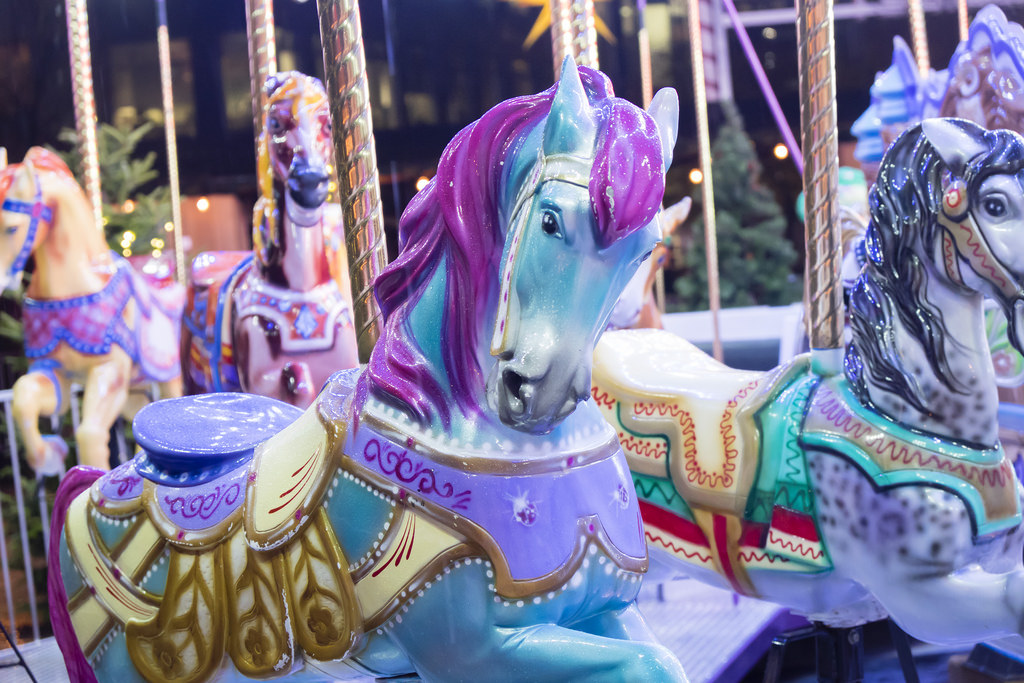 Carousel
New this year is the walk-in Christmas tree. I had remarked last year that the lack of Christmas tree was a bummer, and my concerns were answered this year in a very Instagram-friendly space.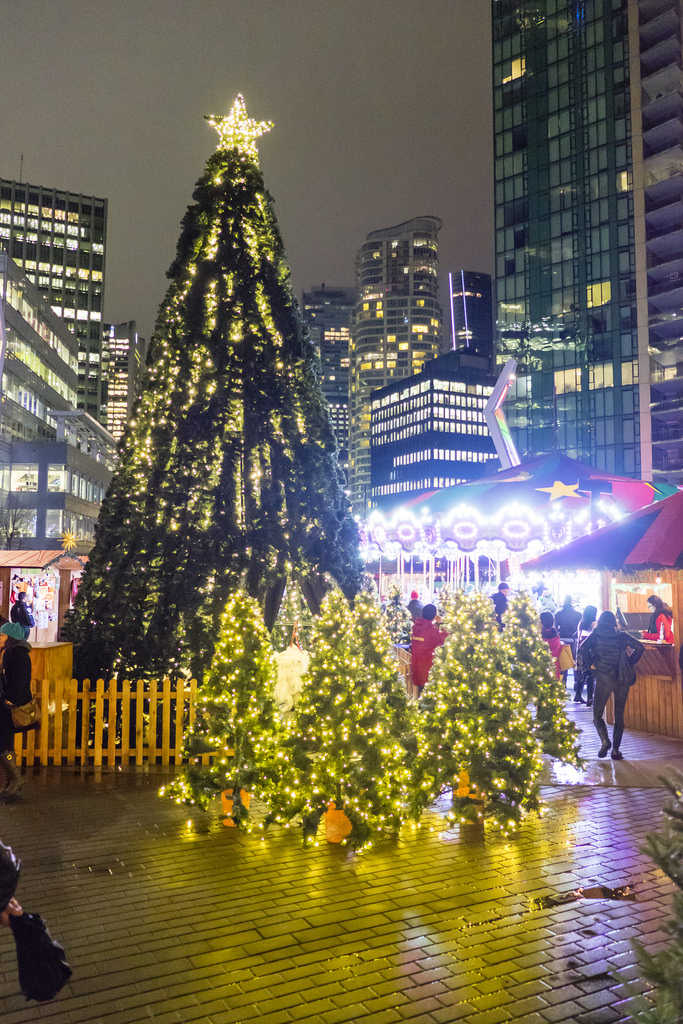 Walk-In Christmas Tree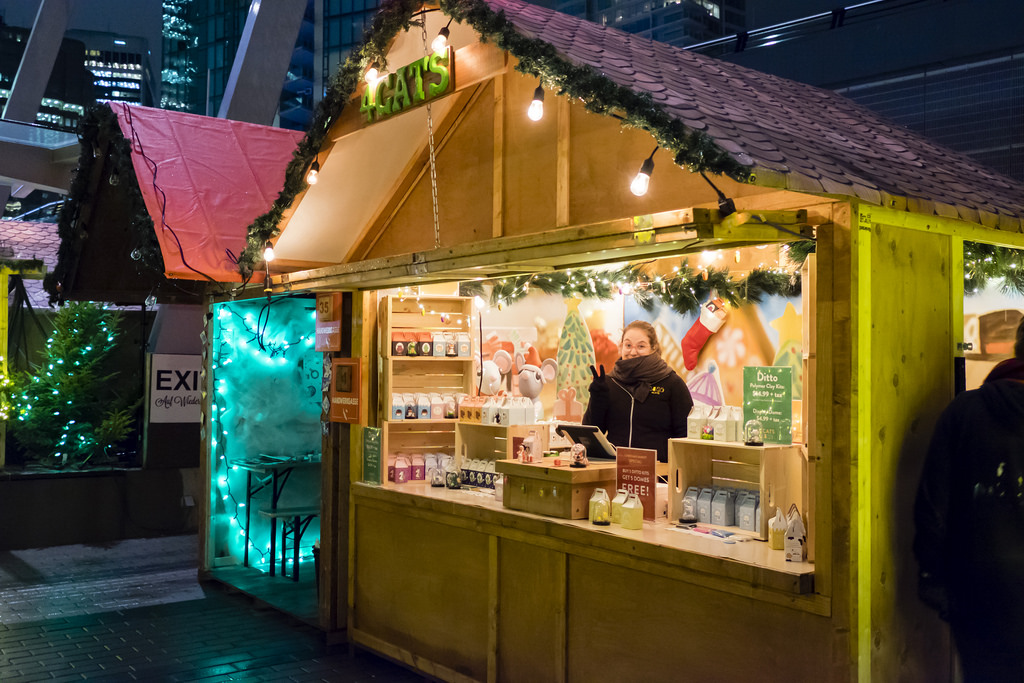 4Cats - Polymer Clay Kits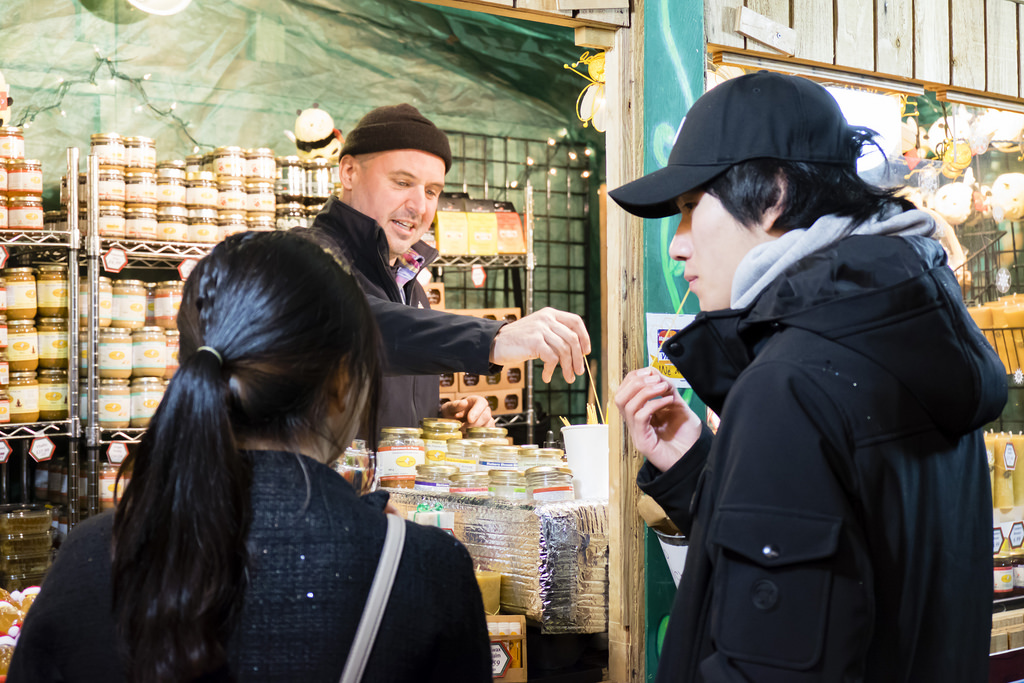 Honeybee Centre - Honey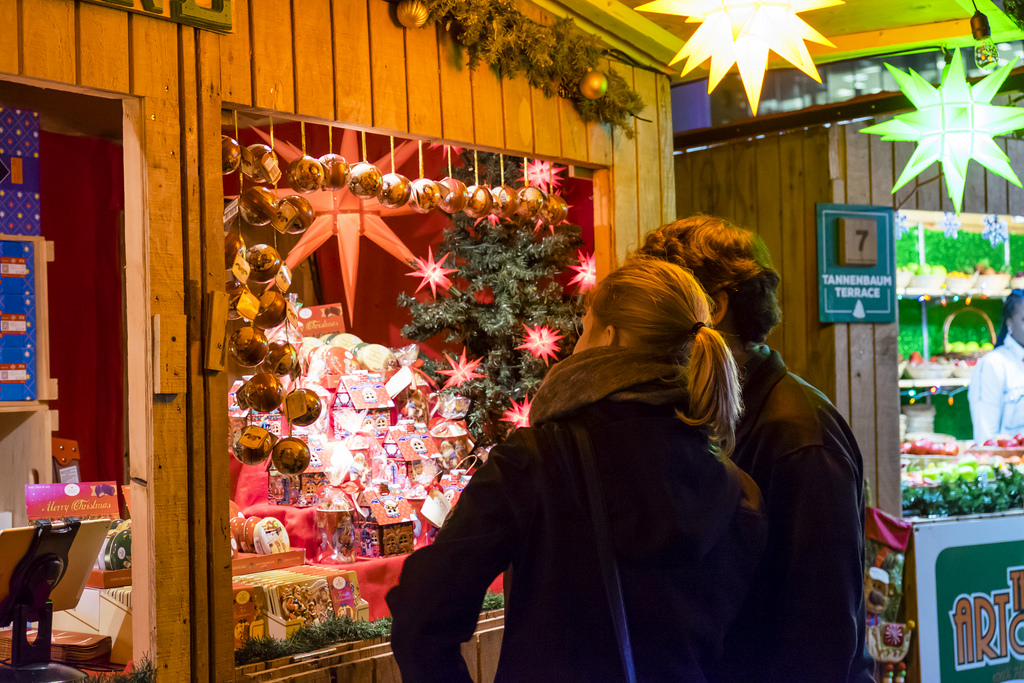 Vendor Shopping
Final Thoughts:
And that's my experience! The Vancouver Christmas Market runs every day until Dec 24th and tickets can be purchased either at the front entrance or on their website.
One-liner: The same classic Vancouver Christmas Market with a new walk-in Christmas tree, a sheltered eating area, and a better layout for your experience
Highlight: Spätzle Poutine
Price per person: $20-$30 (the estimated price for a person to leave feeling full)
Would I go back? Yes.