How often do you have to compromise with your vegetarian friends when it comes to dining out? CHAU this week, The Naam the next, it can be tough deliberating. Dundas Eat + Drink opened last year and features a pretty deliberate vegetarian menu (sorry, having caesar salad does not qualify as a vegetarian menu) in addition to its regular menu.
Disclosure: This was a complimentary tasting and all opinions are my own.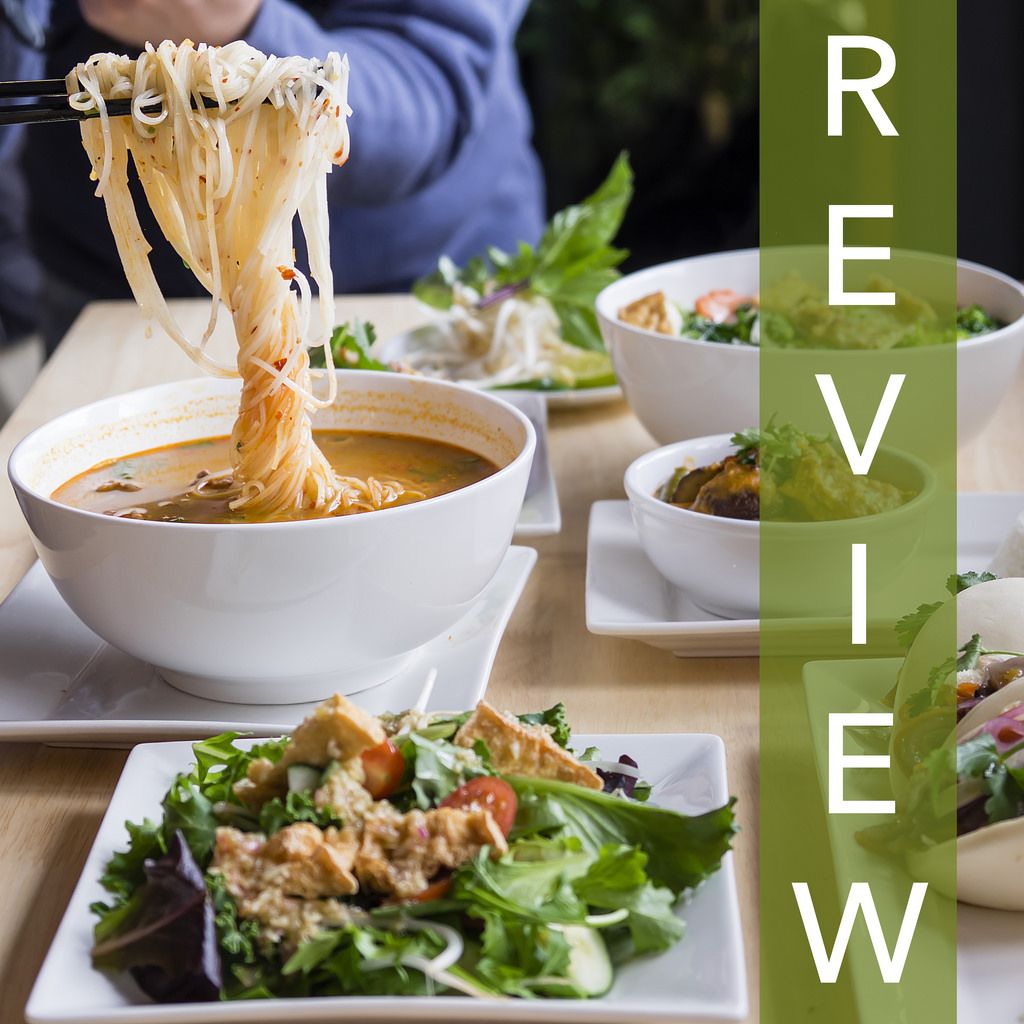 Food and Drink:
Team Pork Ninjas came here for a Sunday lunch and I had a great taste of the following:
Vietnamese Iced Coffee ($3.50)
The Dundas Platter ($17)
Veggie Pho ($9)
Veggie Bao Sliders (~$9)
Asia Burger ($14)
Dungeness Dundas Nachos ($14)
I started with a classic iced coffee. In Vietnamese cuisine, this meant a single-serve filter dripping into a cup of condensed milk. This was then stirred and poured into a glass filled with ice. If you normally add sugar to your coffee, condensed milk is a nice change. If you're a black coffee drinker, this is just another way to sweeten coffee.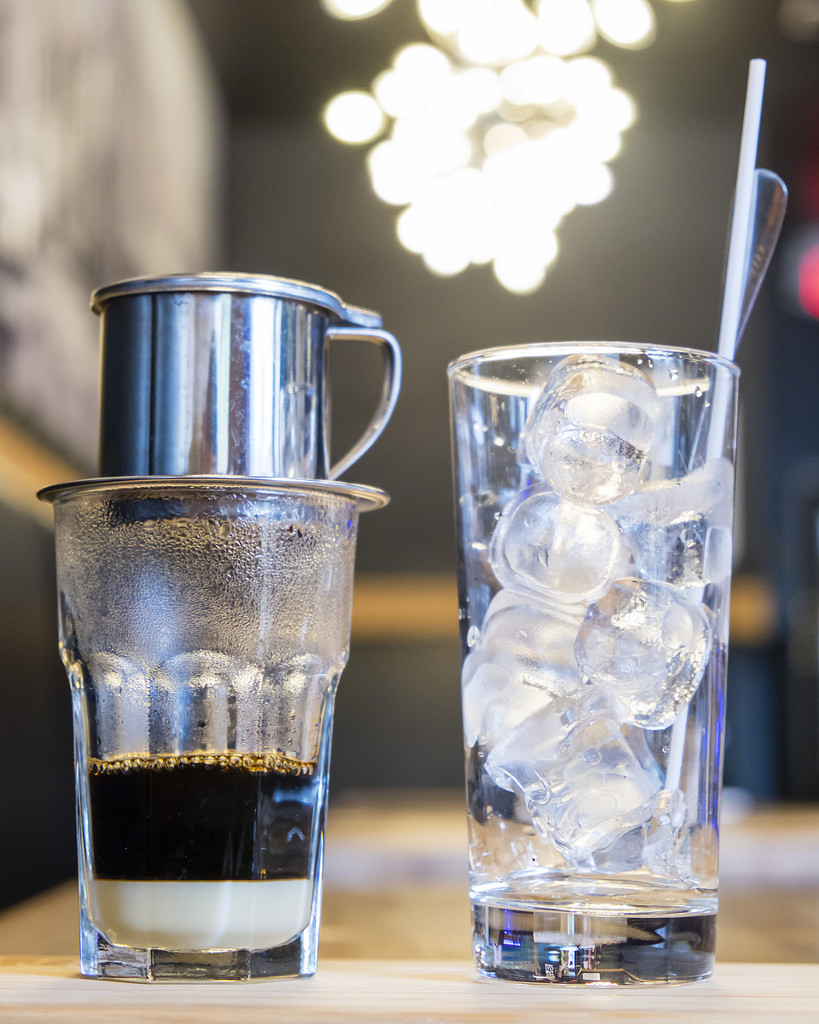 Vietnamese Iced Coffee
The Dundas Platter is a good introduction to vegetarianism for meat lovers due to the cassava fries. If these fail to please the meatier portions still deliver. Between the skewers, spring rolls, fries, vermicelli, and sauces, this is a confirmed filler you should probably split with a friend (this way you can save room for dessert).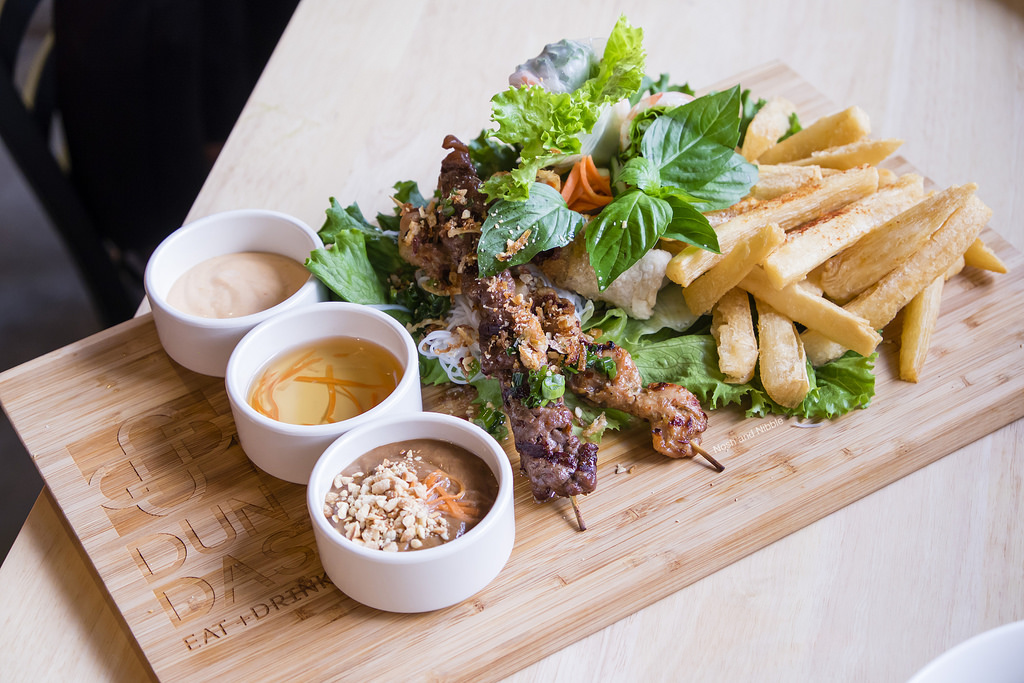 Dundas Platter
Veggie pho is Dundas' take on the Vietnamese classic. Replacing the usual beef broth and beef was a vegetable one and tofu, respectively. The broth tasted obviously vegetarian, was thinner than a beef broth, but still retained the homeyness of a pho broth.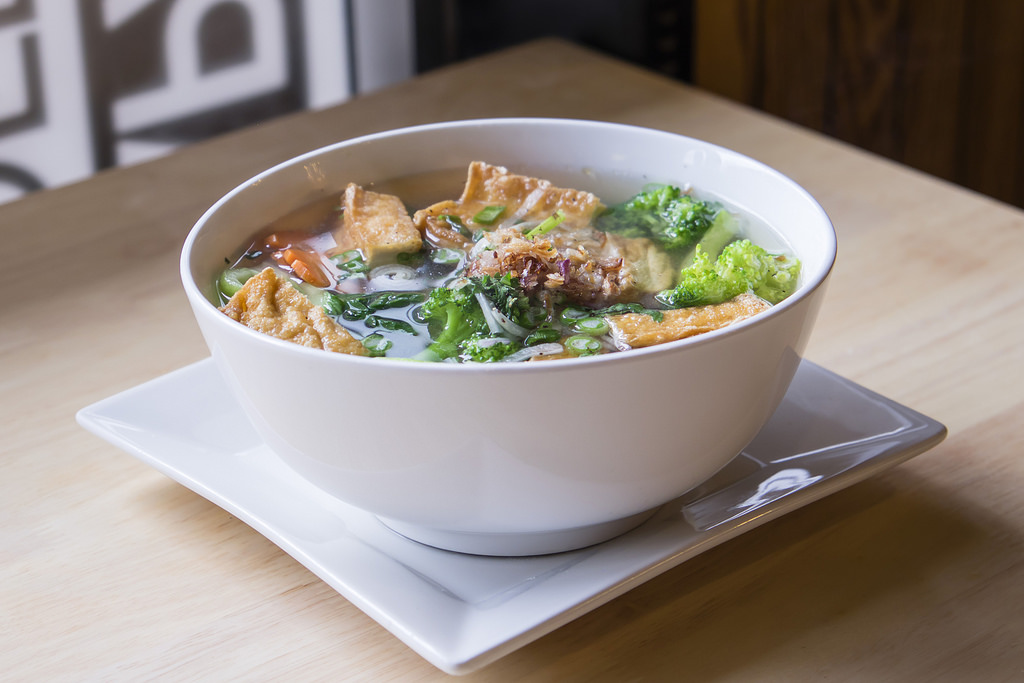 Veggie Pho
The veggie bao sliders were also pretty good. Mainly flavoured with caramelized onion, tofu, carrot, and cilantro, the bao also needs mentioning. It was fluffy like Bao Down buns and neither too dry nor moist.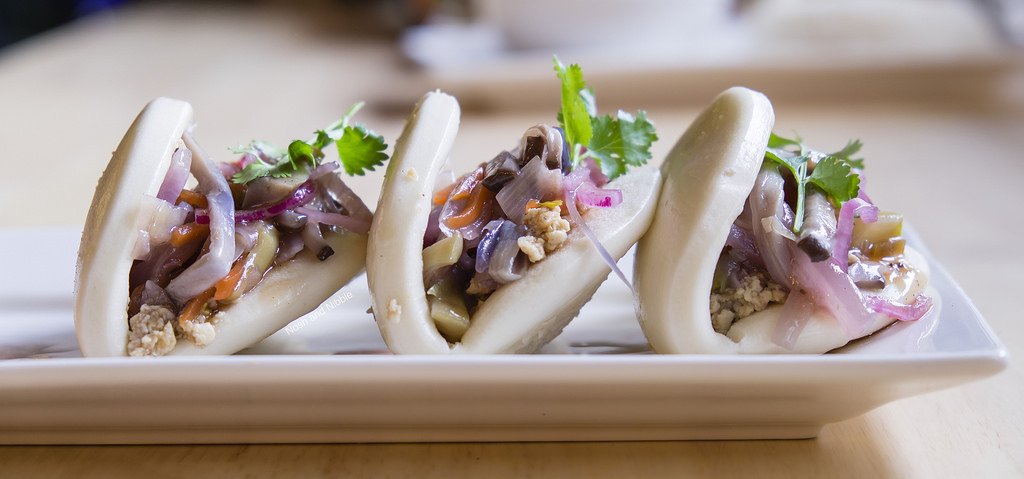 Veggie Bao Sliders
I'm a big burger fan, so I was all for the Asia Burger when it arrived. Topped with a sunny side egg and sauced with a sriracha aioli,, this popped with flavour and the patty was pretty substantial given this was a $14 burger.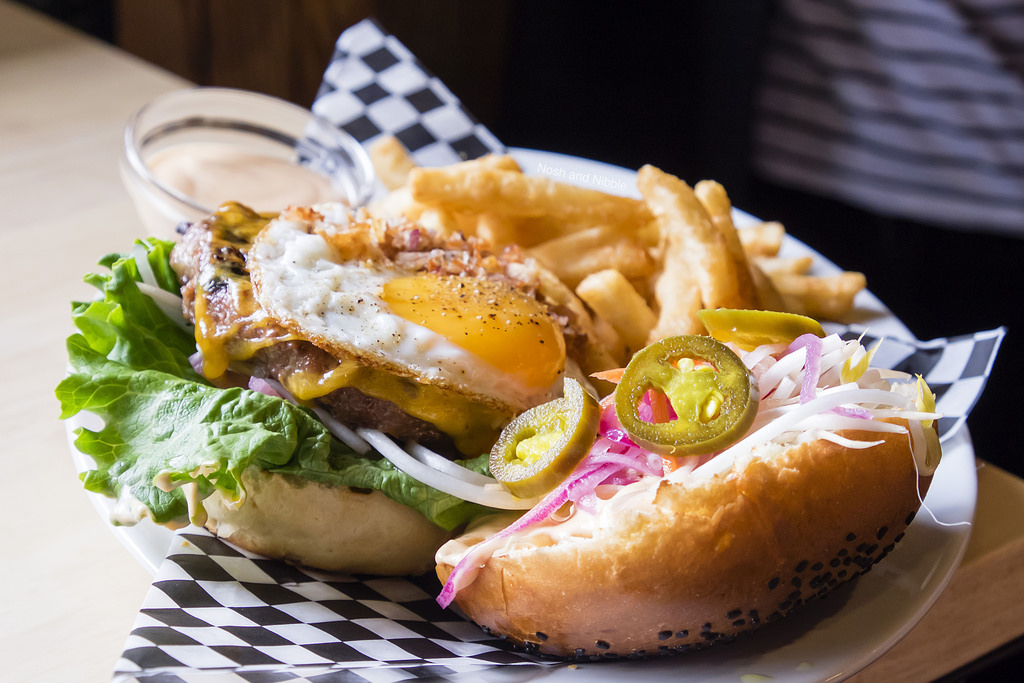 Asia Burger
The Dungeness Dundas Nachos were pretty good too. This was a creative take using wonton chips and topped with Dungeness crab as opposed to the usual ground beef. This had good cheesiness and a cool sweet cilantro mango sauce to go along with it.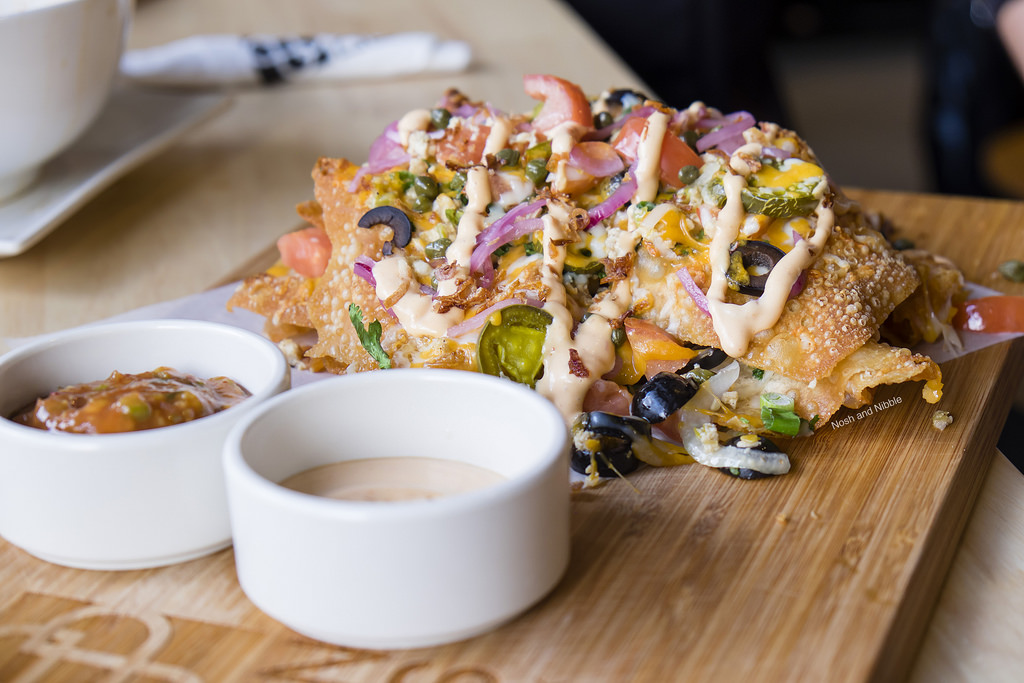 Dungeness Dundas Nachos
There's a lot happening on the menu. One could see this place as a neighbourhood bar, a traditional Vietnamese restaurant, and a vegetarian eatery all-in-one. Thankfully, many of the ingredients lend to multiple dishes so I don't think the menu is spread too thin.
Features:
Dundas Eat + Drink is a mid-size eatery. There's a small variety of seating with regular tables, bar seating, window seating, and a circular booth in the corner. Anything that can be served on a board (coffee, platters, etc.) is served on a board. Kudos to the owner who happens to enjoy woodworking. The feel is that of a homey bar mixed with modern lighting. There is seating for about 60 guests and everything still looks new.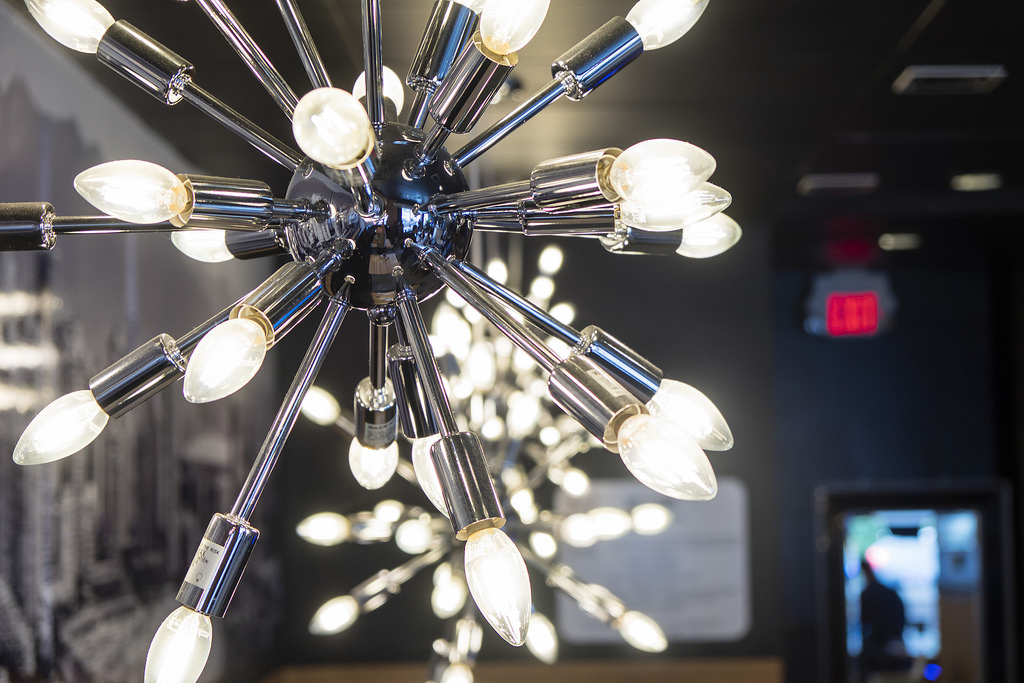 Lights of Dundas Eat + Drink
Fun fact: This restaurant is also known for offering a 5lb pho-eating "Six O Pho Challenge". I don't think anybody completed it with grace.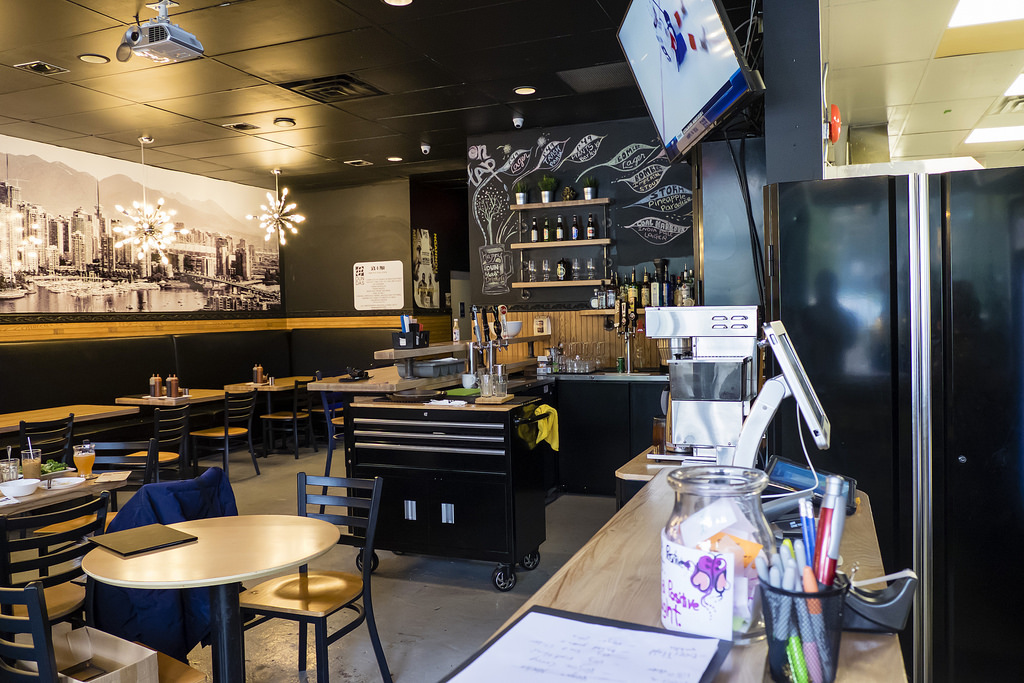 Inside Dundas Eat + Drink
Final Thoughts:
One-liner: A classic Vietnamese kitchen with twists of both bar and vegetarian vibes
Highlight: Asia Burger
Price per person: $10-$25
Would I go back? Yes.