Manousheh is the cherished national pie of Lebanon. Manoush'eh, with a Canadian spin on its name ("eh", get it), has appeared on the Davie Street strip serving up traditional Lebanese flatbreads. Often a staple for breakfast in Lebanon, manoushehs here are adapted for all meals of the day. I had a chance to try this eatery earlier week.
Disclosure: This was a complimentary tasting provided in exchange for an honest review and no monetary compensation.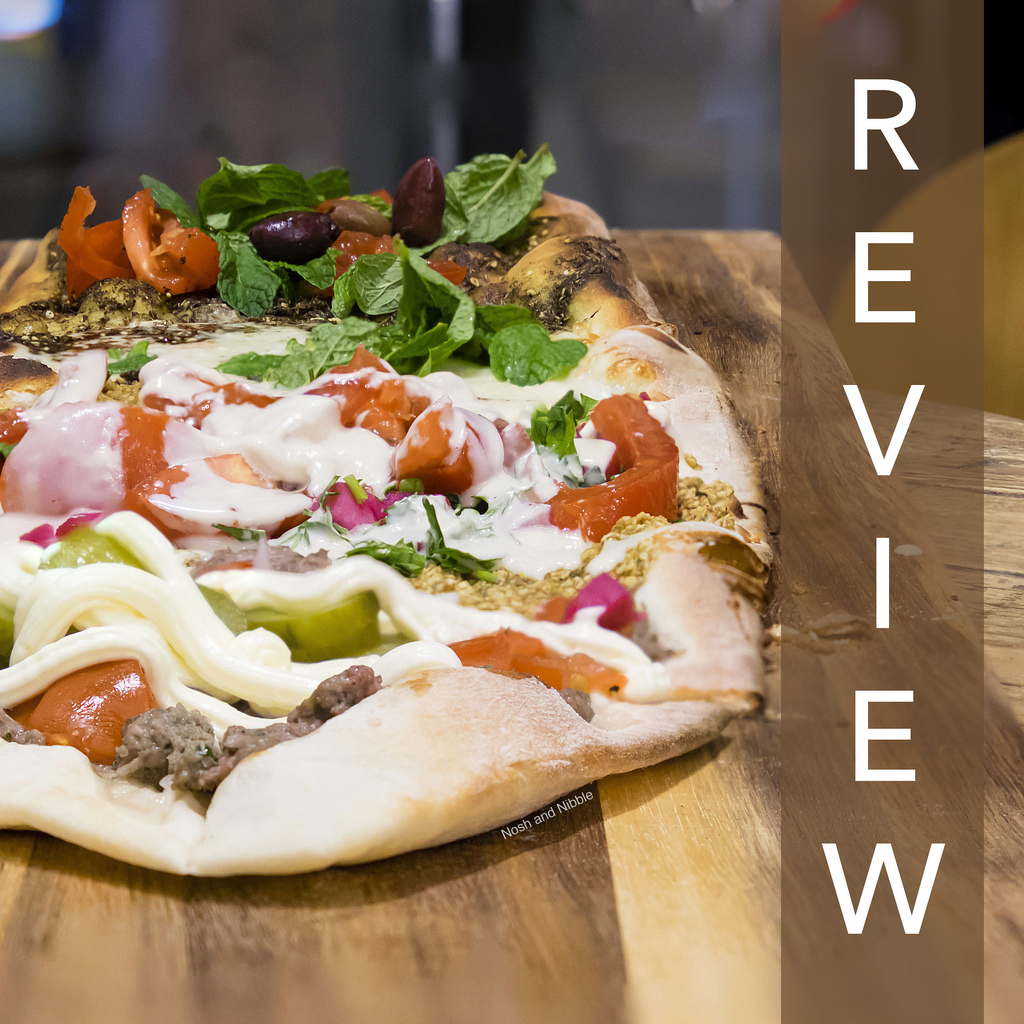 Food:
Team JACT came here for a Monday night dinner session and I had a great taste of the following:
"The Rocket" ($13)
Knefeh ($8)
The Rocket was a manousheh made for Vancouver Foodster's ongoing Flatbread Challenge. Within this 25 inch-wide platter were 4 flavours – the kafta (ground beef, onion, and parsley), falafel, jebneh (akkawai cheese), and zaatar (a traditional mix of dried wild thyme, sumac, olives, mint, sesame seeds and oil). Unlike one-and-done shops that suddenly disappear because of a lack of experience or enough research in a product, Manoush'eh's already been in the dining scene through their venture at JamJar. The manousheh bread here had a crisp shell and a fluffy interior.
Out of the four flavours we tried, I liked the kafta and zaatar flavours the best. I'm an omnivore so I love me some beef, and the ground beef here was a great compliment spread onto the manousheh. The zaatar (vegan-friendly) had a terrific mix of ingredients. First-timers will be delighted with the slight zestyness provided by the thyme and sumac. Topping this off with mint leaves was a great flavour enhancer.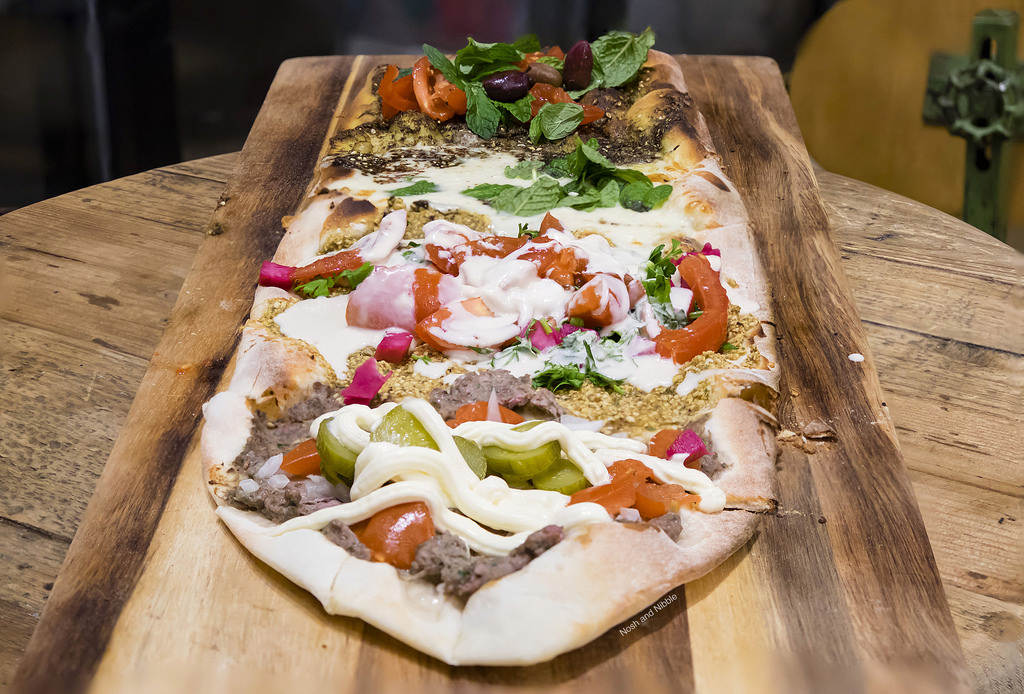 The Rocket
The jebneh was pretty good too, but after trying knefeh described below I was convinced the knefeh should replace the jebneh in every decision.
I wasn't a huge fan of the falafel – this one had a white tahini sauce that ran off pretty easily. If you've never had Jamjar falafel before though, this is another avenue to trying their delicious recipe. Just be careful as you munch through.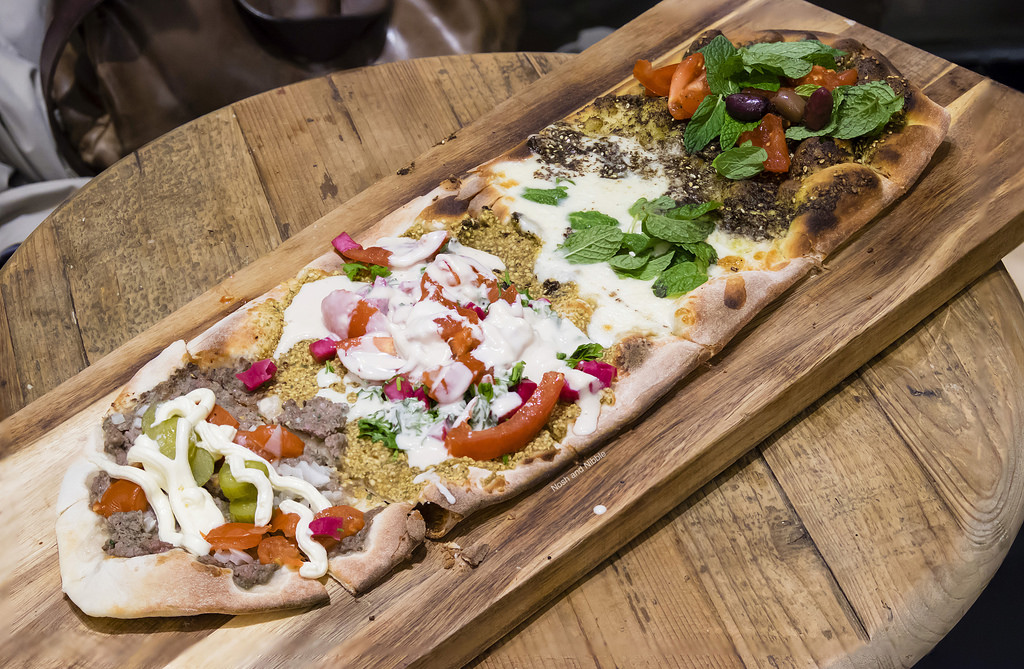 The Rocket - Kafta, Falafel, Jebneh, and Zaatar
I inquired about dessert manousheh and we were rewarded with a taste of the knefeh. This was a pastry-like dough soaked in sweet, sugar-based syrup. It might not look like much, but this was seriously a cool dessert. Baked with a layer of cheese on top, this was gooey with both savoury and sweet flavours. My palate went for a ride and this was a great topper for my stomach after sharing The Rocket.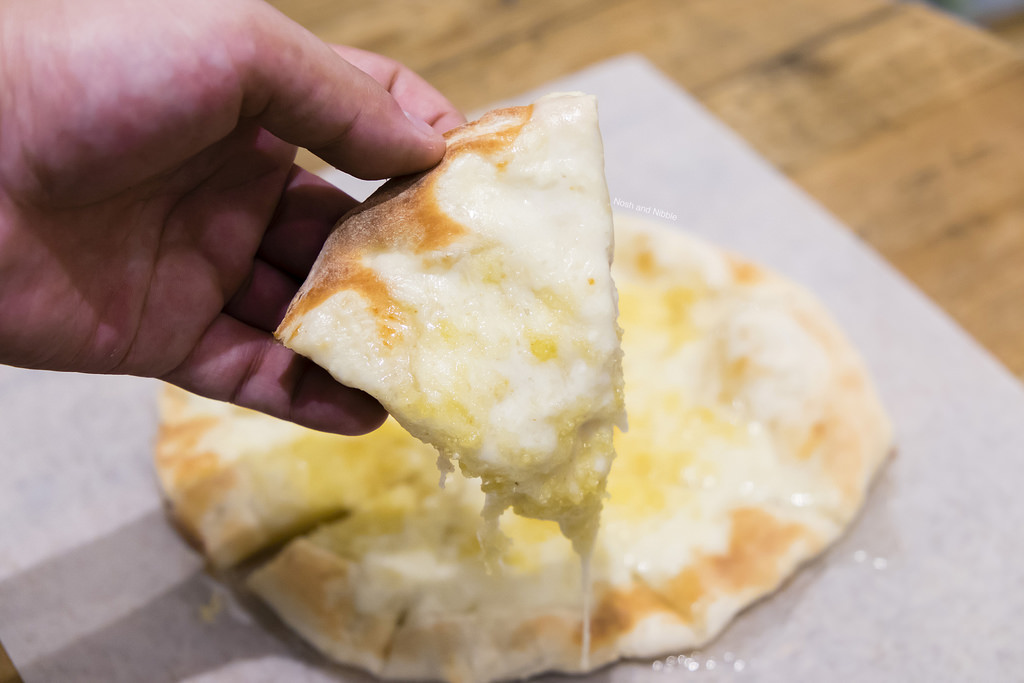 Knefeh
All manousheh/flatbreads here are made in-house, from scratch, and then baked fresh in this corner oven.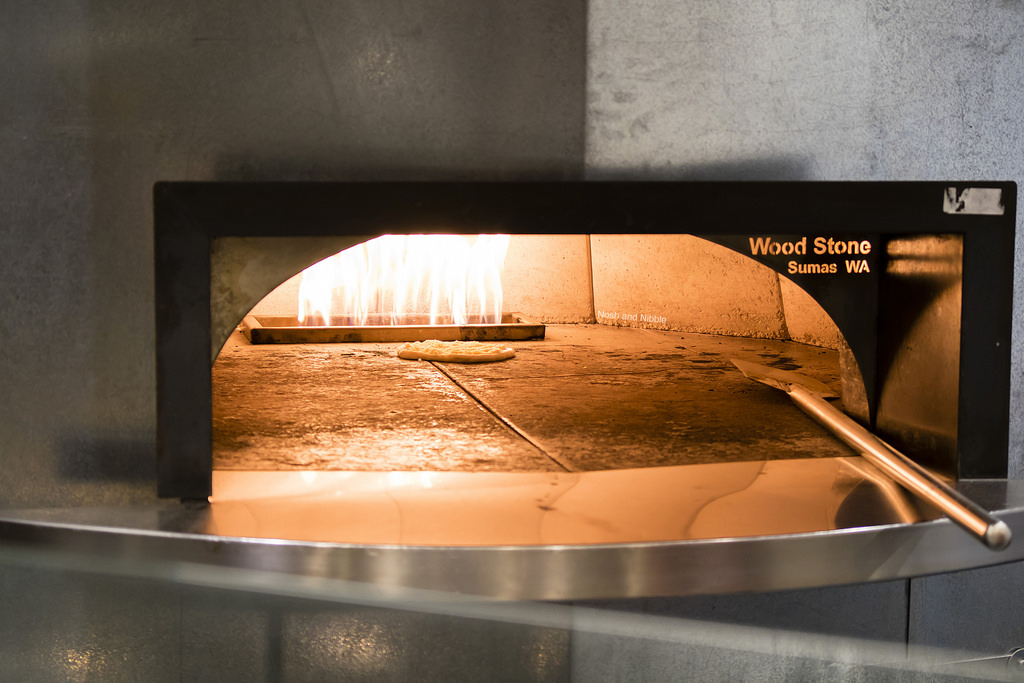 Oven
Features:
Manoush'eh takes up residence across the street from the Vancity Theatre and hours of operation are the following:
10am-10pm, Monday-Saturday
Inside are a couple of tables, a window bench, and a takeout counter. It's a small space that only fits about 6 guests, so you'll need to get cozy. The chairs are pretty cool – they have a small back that bends with almost no resistance.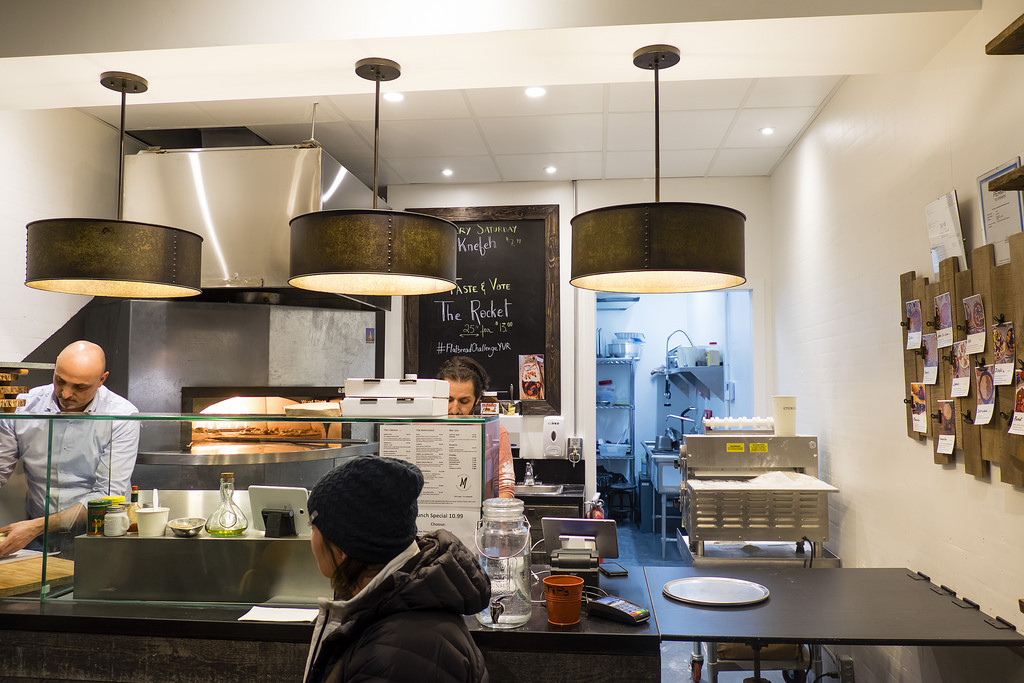 Inside Manoush'eh
I liked that there was a photo menu provided for first-timers – not everyone has had manousheh and I always love a photo guide.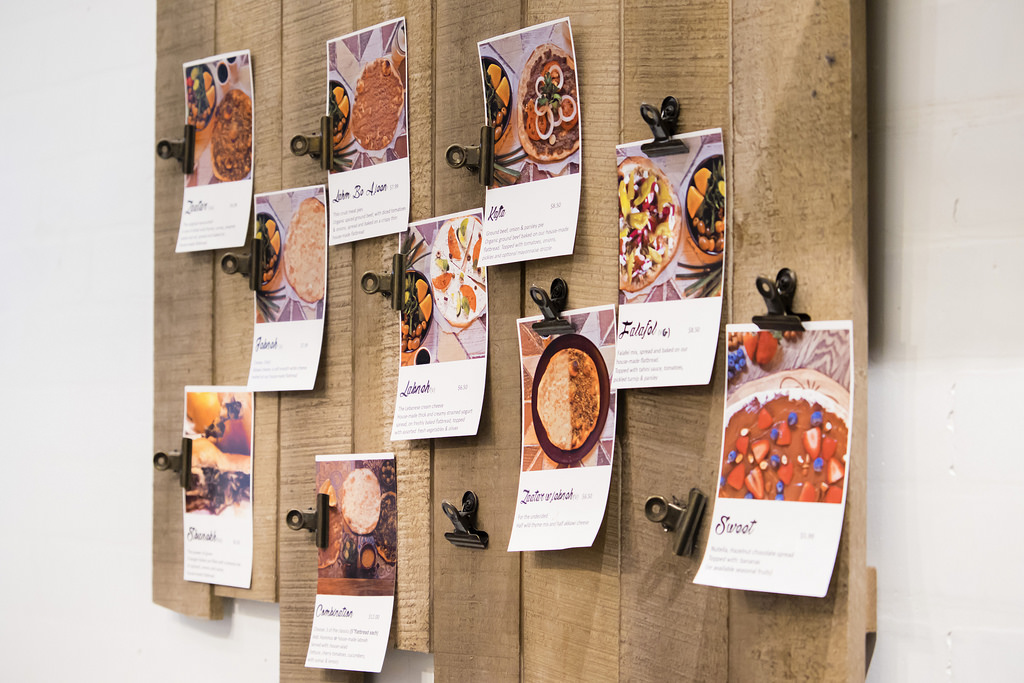 Photo Menu
Service:
Here you'll place and pay for your order prior to picking it up. If you're ordering The Rocket, it's available until January 28th. If you're into eating food off a giant platter, The Rocket should fit the bill. It was pretty busy here on a Monday evening at 6pm, so I'd recommend bringing no more than 1 friend and coming before 6pm to avoid disappointment. There's a water station where you can self-serve.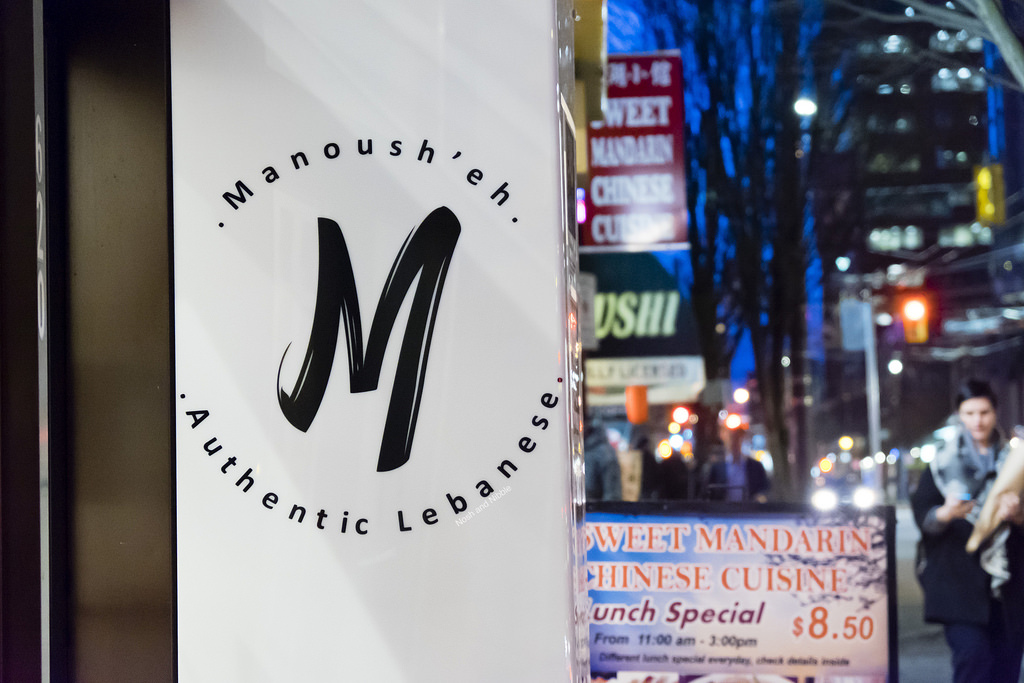 Outside Manoush'eh
Final Thoughts:
One-liner: Lebanese flatbread that caters to both traditionalists and newcomers
Highlight: Kafta Manousheh
Price per person: $7-$12
Would I go back? Yes.