Last week I was invited to try out Chongqing-style hot pot at Liuyishou in Burnaby. One of a few locations in Canada, this is actually a large chain from China with hundreds of stores. The purpose of last week's get together was to preview Liuyishou Hotpot Week and enjoy special Chinese New Year celebration menus across Canada, presented by Vancouver Gourmet Tours, a new restaurant touring business primarily focused around tasting crawls in different Vancouver and Richmond, BC neighbourhoods.
Disclosure: This was a media preview and all opinions are my own.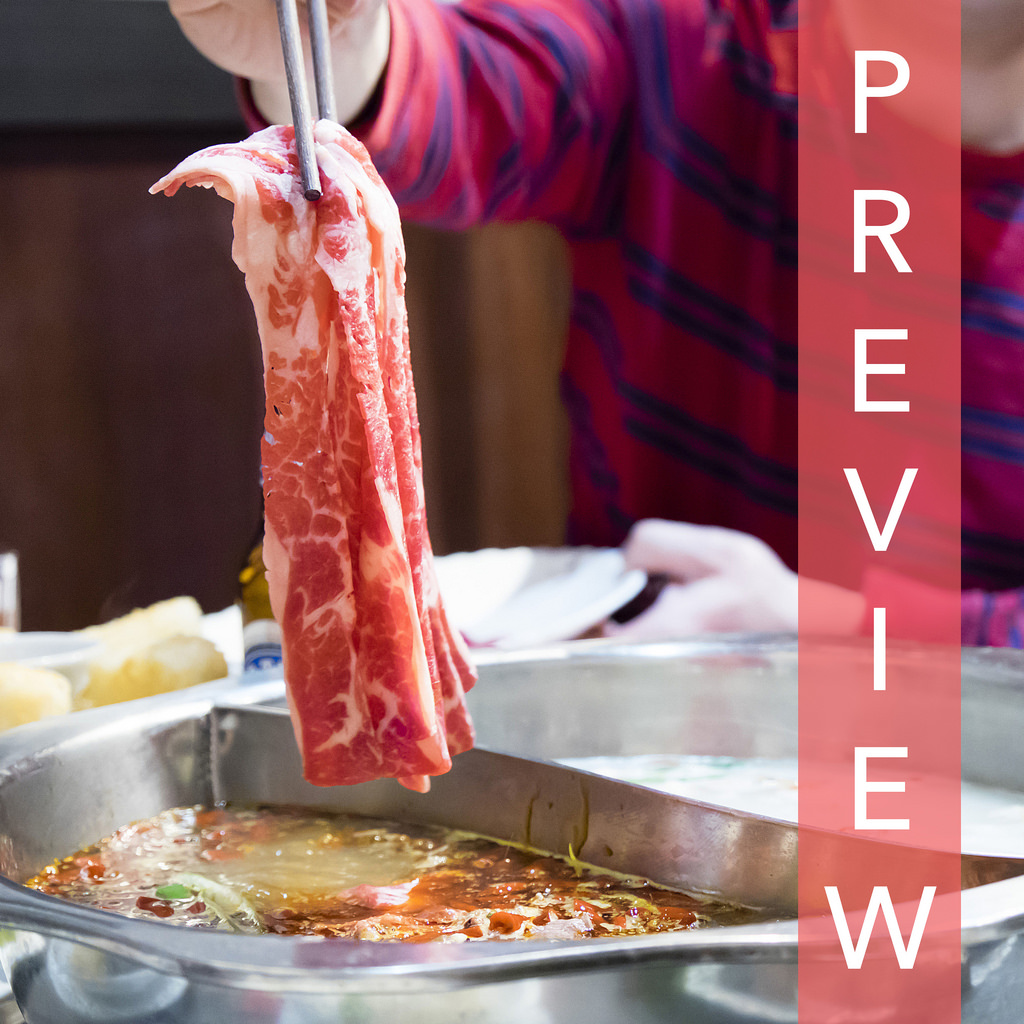 Food:
Our preview featured the following:
Specialty hot pot soup base,
Sauce Bar with 20+ sauces, fresh herbs, and spices,
unlimited appetizer dishes and fresh fruits
A selection from 20+ choices of hot pot ingredients, including:
-- Premium Meats & Seafood
-- Handmade Meatballs
-- Chongqing Specialty Foods
-- Vegetable Platter
-- Mixed Mushroom Platter
-- Hand-made Noodles
-- Golden Mantou Buns
-- Chongqing Classic Desserts
-- Red Truck Craft Beer (Greater Vancouver Locations Only)
We started with some golden mantou buns. These were steamed buns with a crust top that we dipped into a pool of condensed milk. This was a pleasant sweet start to what would be an extra savoury meal.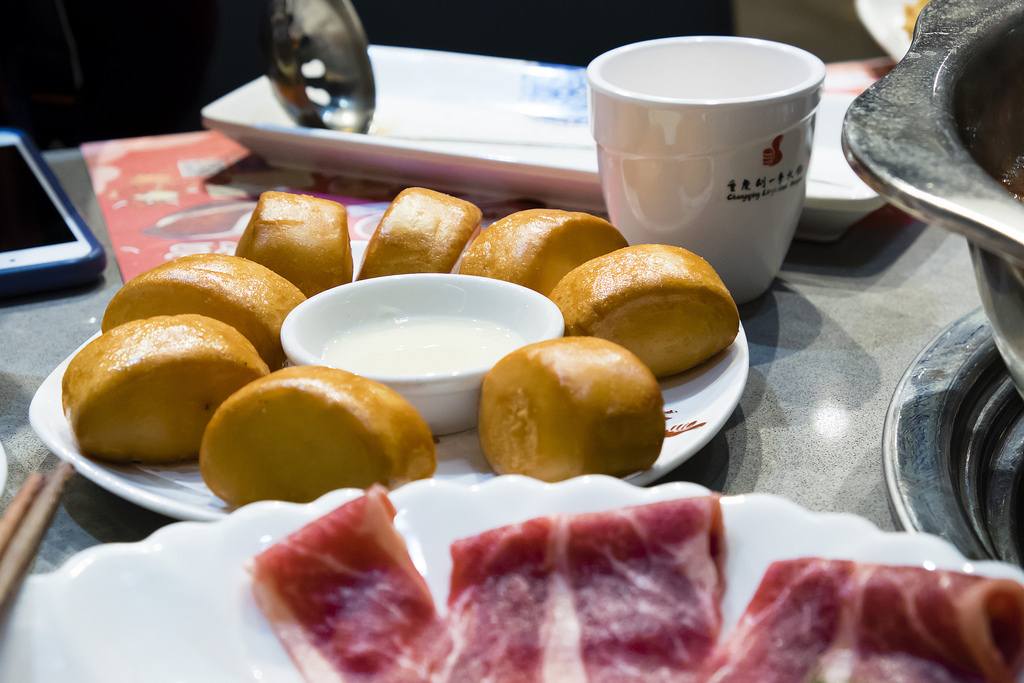 Golden Mantou Buns
For the actual hot pot, there was a giant hot pot divided into spicy and non-spicy sides. A cute mascot made of spiced button stood on the spicy side awaiting to be melted into the savoury broth.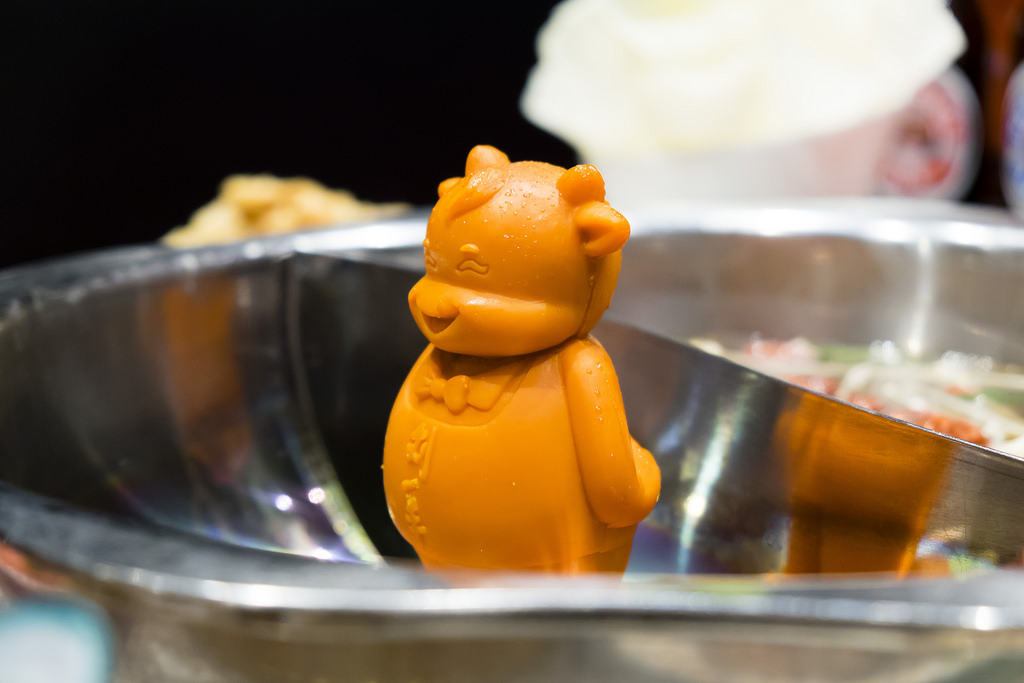 Spiced Butter Mascot

Soup Base Pour
Once the soup base started boiling, we began cooking our hot pot ingredients. I loved the mushroom platter which expanded beyond my usual diet of enoki and button mushrooms.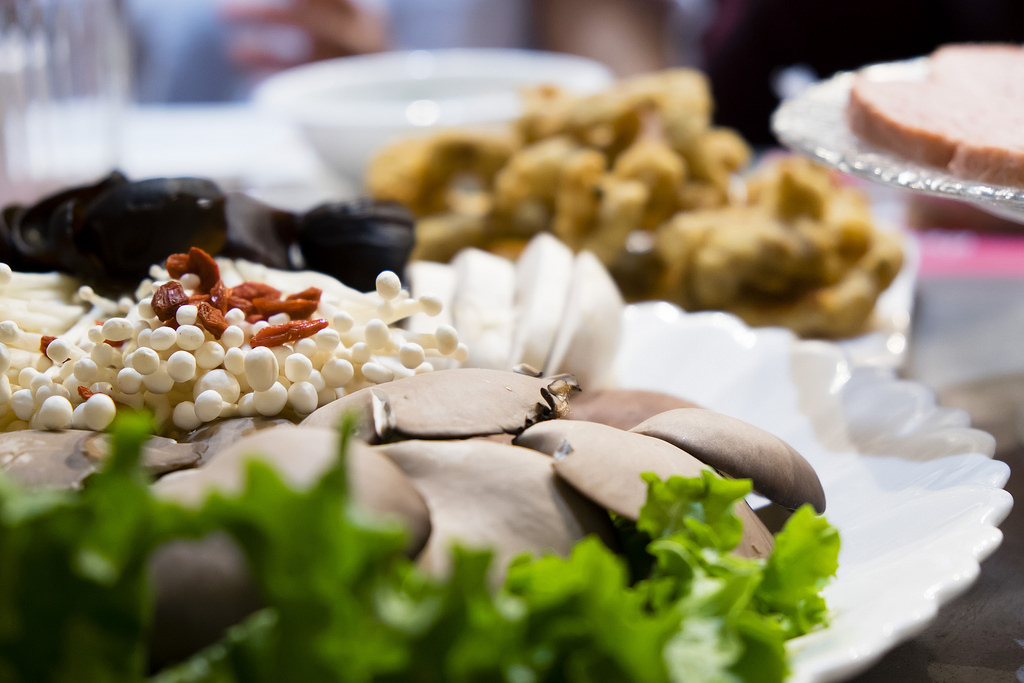 Mushroom Platter
Another plate we had was the marbled beef. Compared to places like Little Sheep Mongolian Hot Pot, the beef here appeared to have more marbling, making for a juicier cut of beef.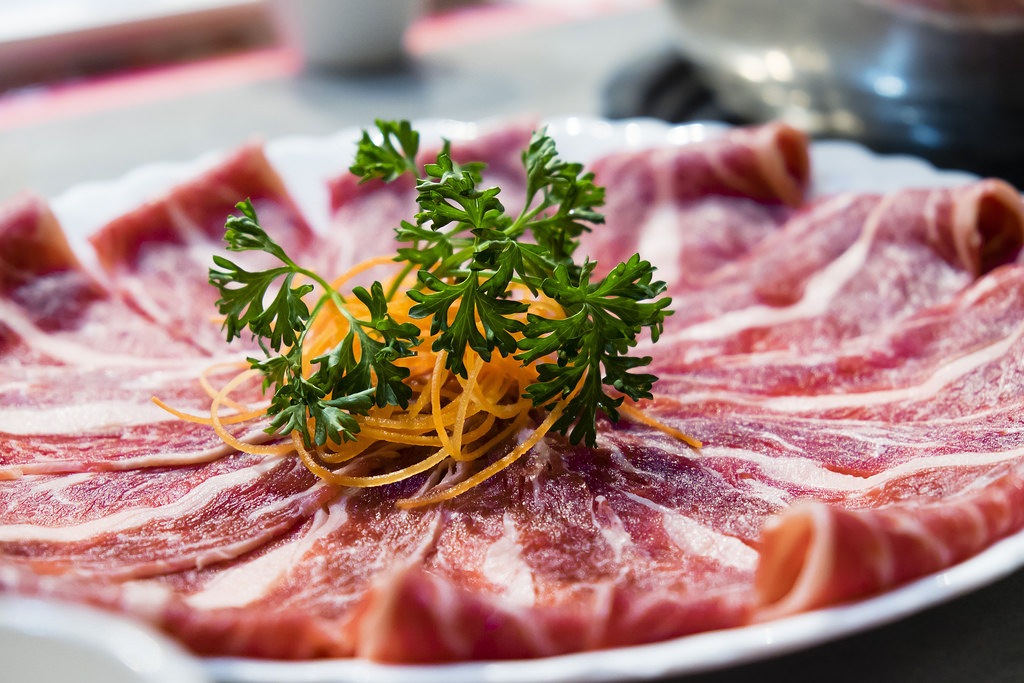 Marbled Beef Platter
The best thing about Liuyishou hot pot in my opinion is the inclusion of a sauce bar with 20+ seasonings and sauces. There are pictures along the wall to guide you in making the perfect sauce bowl for different soup bases.
In addition, the snacks and fruits here are unlimited, meaning if you can't take the heat from your spicy soup base, you can take a break with some oranges or nuts, refilling your sauce bowl as you go.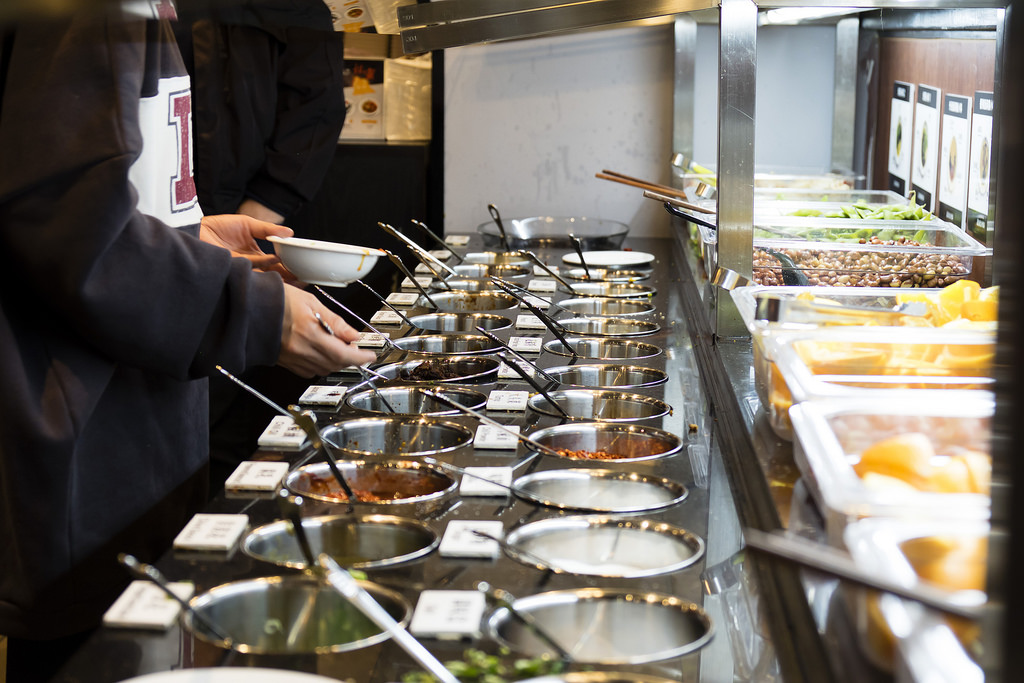 Sauce Bar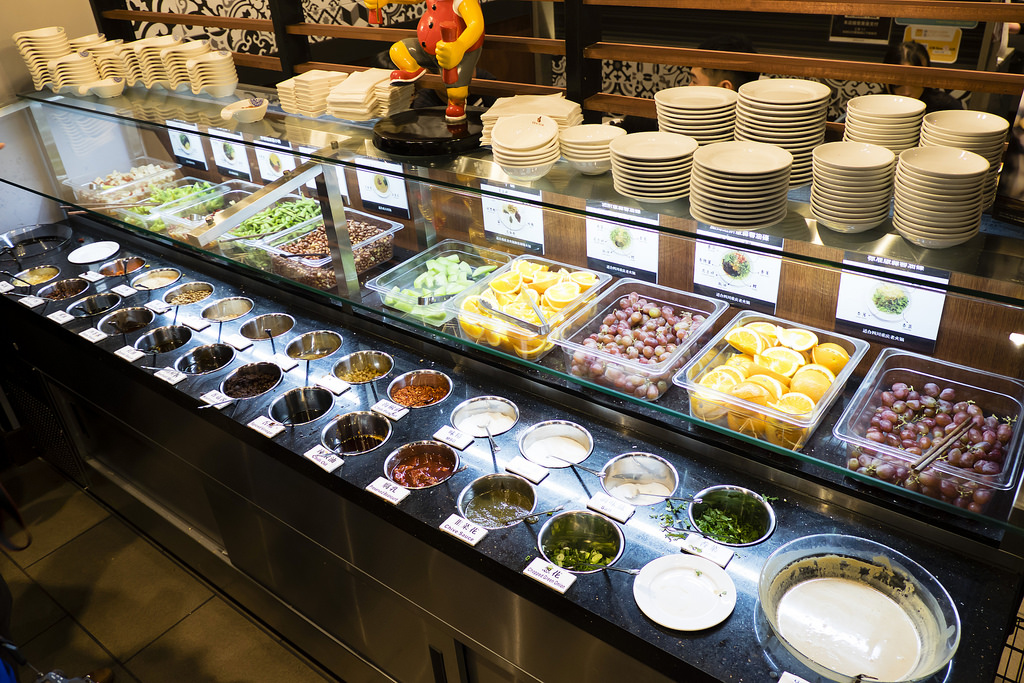 Unlimited Snacks
Finally, we finished off with a traditional Chongqing dessert. This was a gelatinous mix of fruits, nuts, and dried hawthorn. Again, my biggest concern was cutting through the heat of the spicy soup base, so this was refreshing and cooled me down.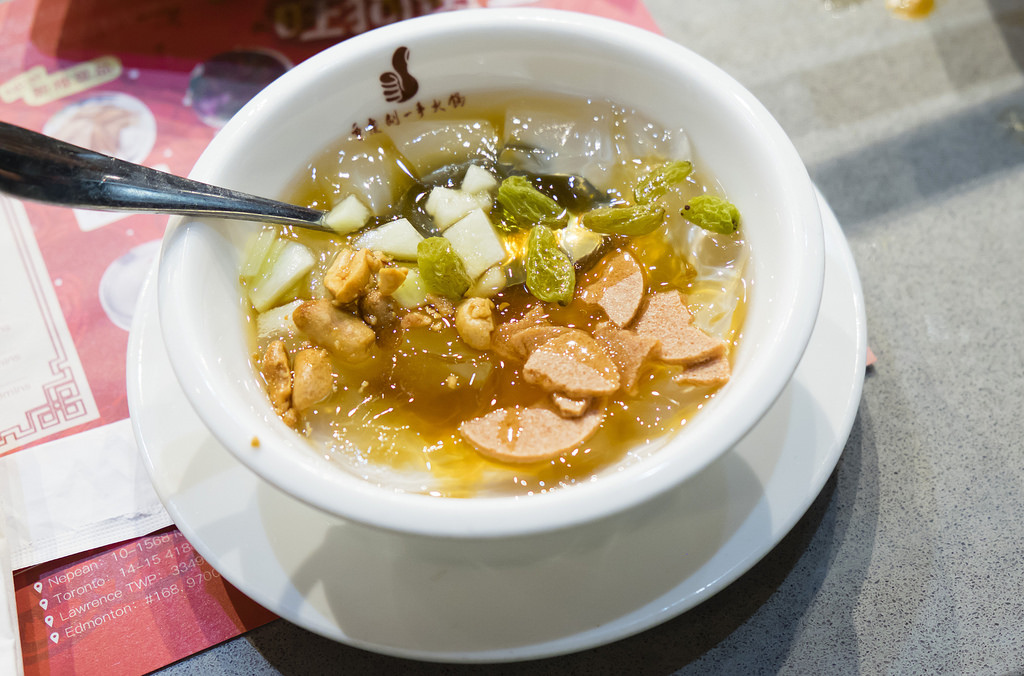 Chongqing Classic Dessert
Overall, this was a very tasty introduction to proper Chongqing hot pot. The main differences between here and Little Sheep (sorry, I've only been to Little Sheep for hot pot proper!) are the better cuts of meat and an immersive spicy soup base. I couldn't handle the medium spice level but I did love watching that little mascot of butter melt into the soup base. I left feeling absolutely stuffed.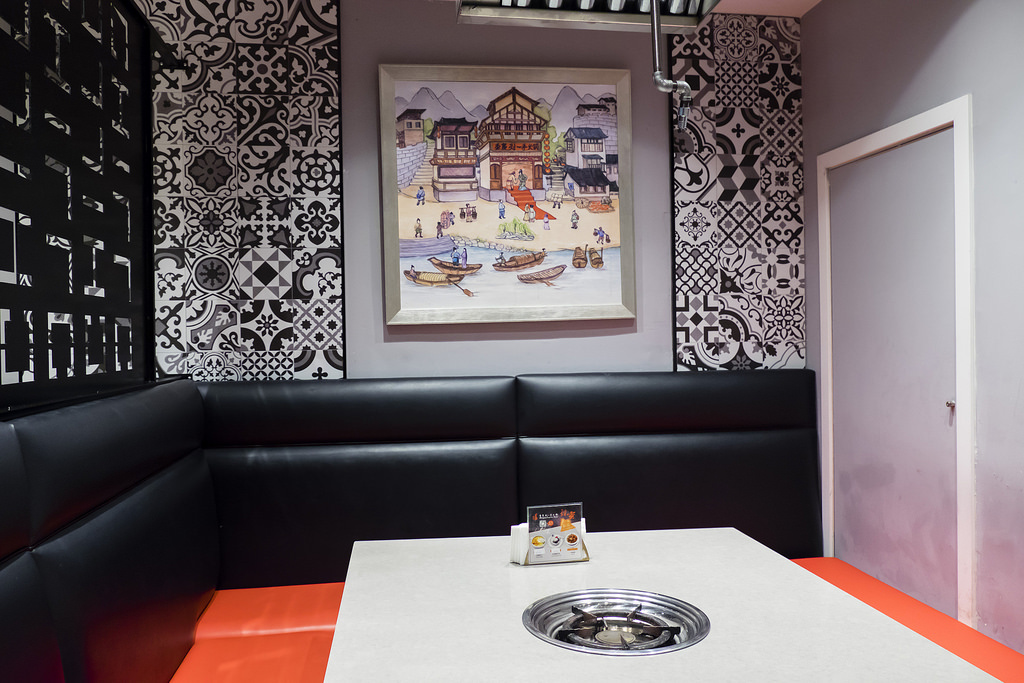 Inside Liuyishou Hotpot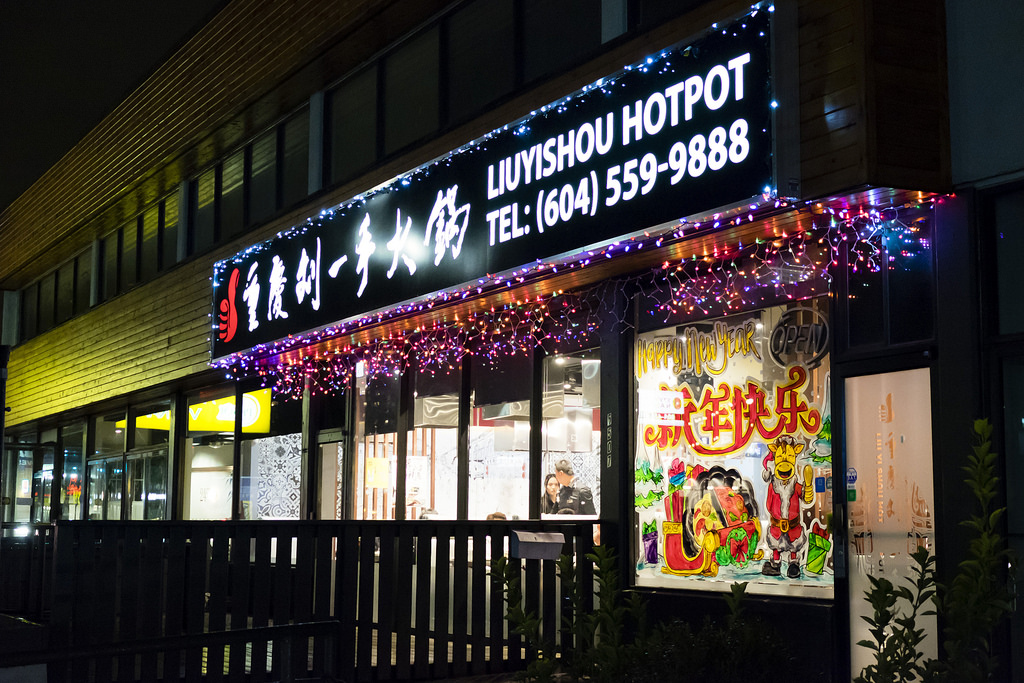 Outside Liuyishou Hotpot
Final Thoughts:
One-liner: Authentic Chongqing hot pot that delivers the heat at any level you like (mild, medium, max)
Highlight: Marbled beef
Price per person: $20-$35
Would I go back? Yes.
As part of Chinese New Years, Liuyishou is celebrating with Hot Pot Week across Canada. From February 26 to March 2, you can enjoy the following hot pot dinner set for 2 people ($68 total) or for 4 people ($120 total), and this includes the price of the soup base. If you've only been to Little Sheep and want to step up, I think Liuyishou is a solid choice considering you're also getting beer (or traditional plum juice) with your hot pot dinner set.
For more information, visit http://www.vangourmettours.com/events/chinese-new-year-events/liuyishou-2018/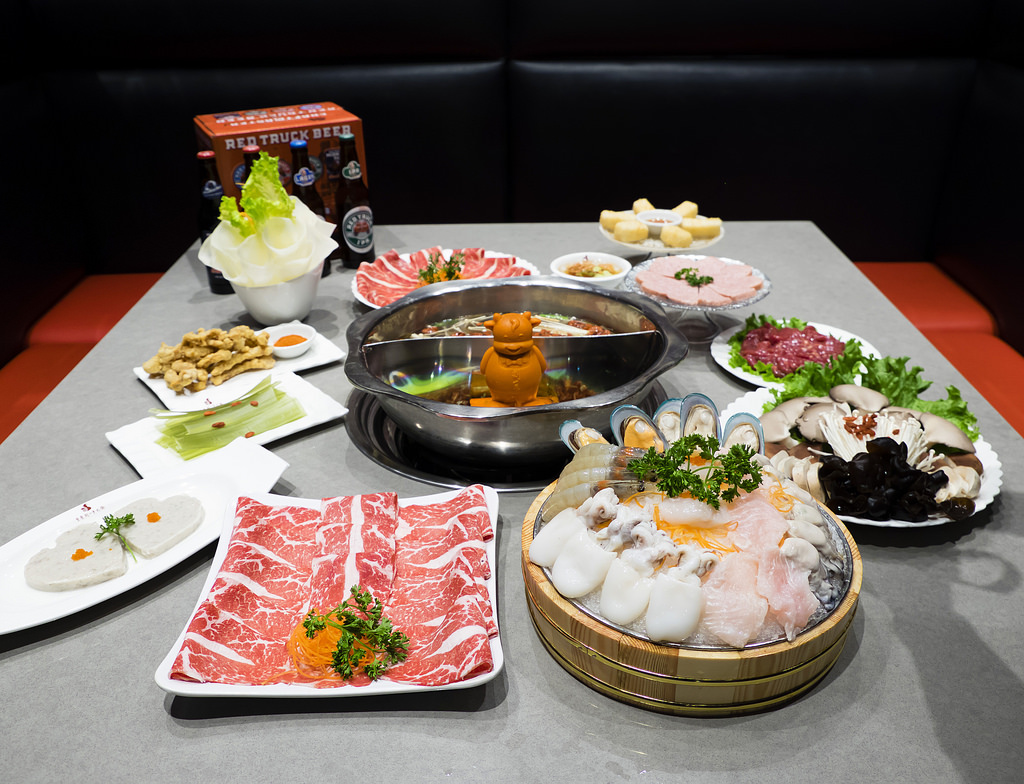 Liuyishou Hotpot Week