Following the heels of the last Vancouver expansion of a popular American burger chain (CaliBurger), Johnny Rockets has stepped up and opened a new location in a brand new building on the corner of Nelson Street at Howe in Vancouver. With bold reds and claims of "the original hamburger", there's a lot of hype behind their fresh-never-frozen Angus beef and I'm all for burgers which tends to go underappreciated in Vancouver.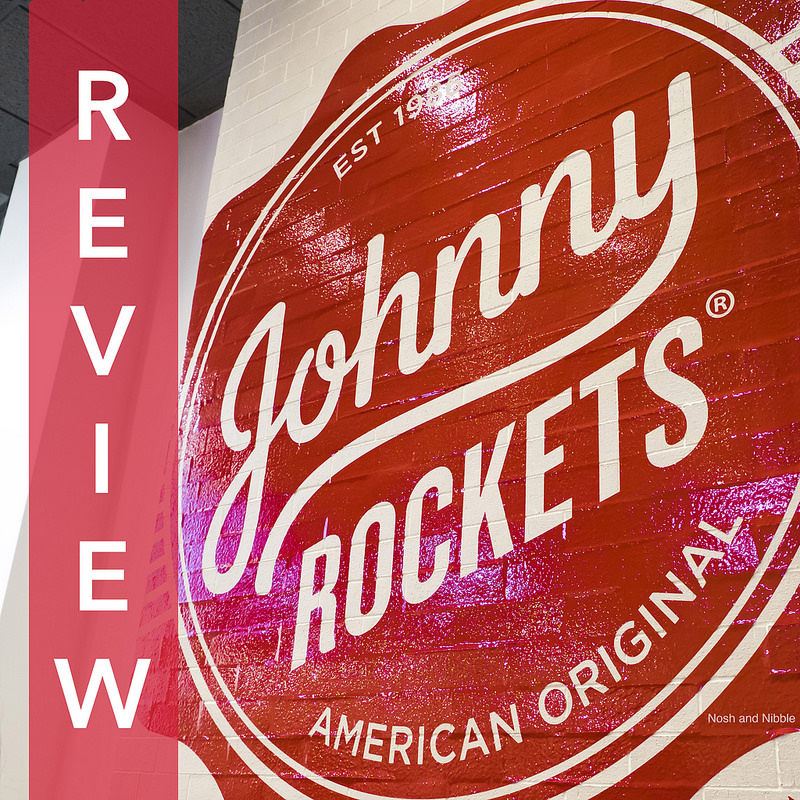 Food:
There's a promotion right now where the Original Hamburger is only $3 as opposed to the $6 I paid for my meal. Value!
On my visit, I had the following:
Original Hamburger ($6)
Onion Rings ($4)
At first glance, I'm thinking what a competitive deal. Angus beef in a sizeable patty with onion rings no more expensive than A&W!
The website claims the bun to be a brioche bun, but I found the original hamburger's bun to be pretty tough, requiring much chewing, and I did not discover much butter or joy in the patty. At $6, you're also only getting shredded lettuce. I think if you're paying full price, you'd best pony up the extra dollar to qualify for leaf lettuce and the signature Johnny Rocket sauce.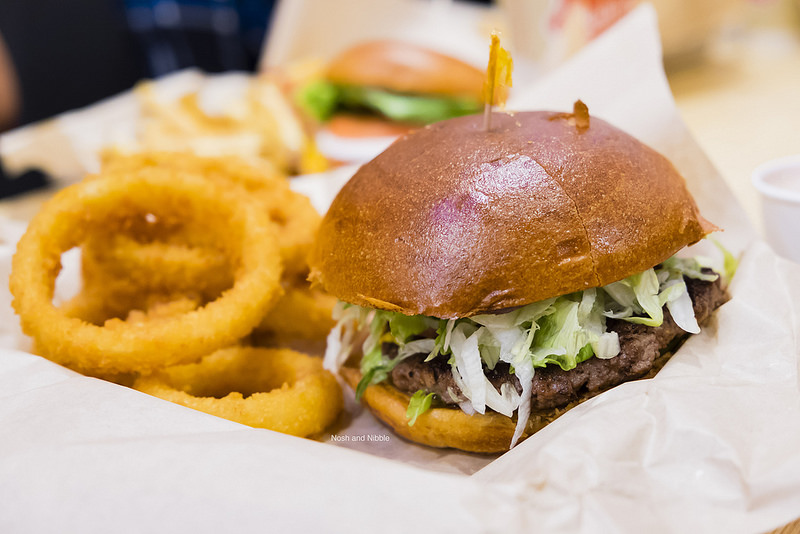 Original Hamburger
Something that turned out quite well were the onion rings. Arriving on their own paper-lined tray, these were golden, crisp, and tore with a satisfying rip. Taste-wise, these were less seasoned than something from A&W but also a little less greasy. To each their own when it comes to how greasy onion rings should be, but I'd put Johnny Rocket onion rings on the same level of satisfaction as A&W.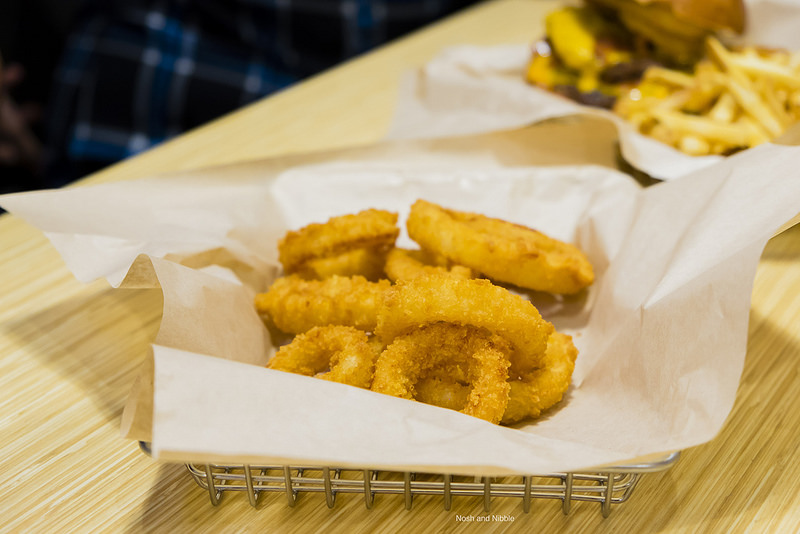 Onion Rings
Features:
Johnny Rockets is shaped like a standard fast food standalone restaurant with a walk-up counter and seating in the form of high tables, booths, and regular tables. There wasn't anything to differentiate, functionally, but these folks do have a choose-your-own type of soda fountain and some nice wood panelling for the slogan "Stay Original". There's seating for about 50 guests in this location.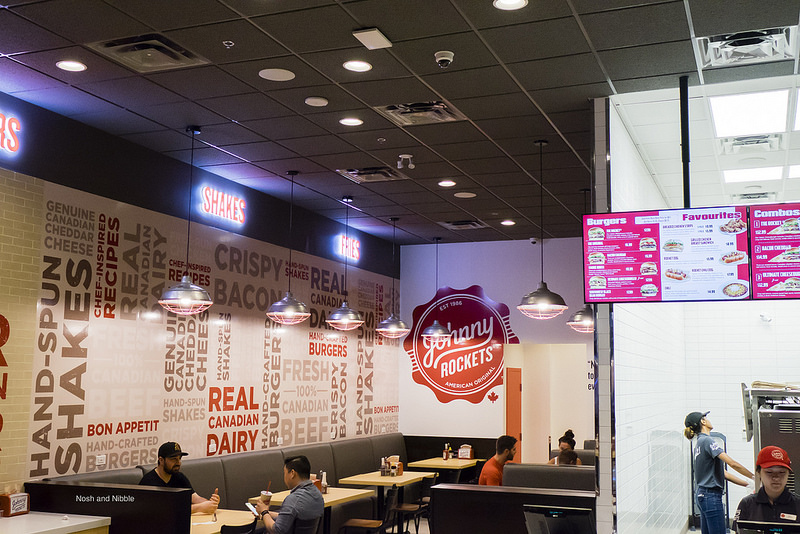 Inside Johnny Rockets
Service:
Unrelated to any future visit, but the man in charge of the Canadian expansion was present in the restaurant during my visit and was doling out free milkshake samples to everyone. This was a kind gesture and we noted that this was a corporate expansion so quality and consistency will probably be adhered to for the most part.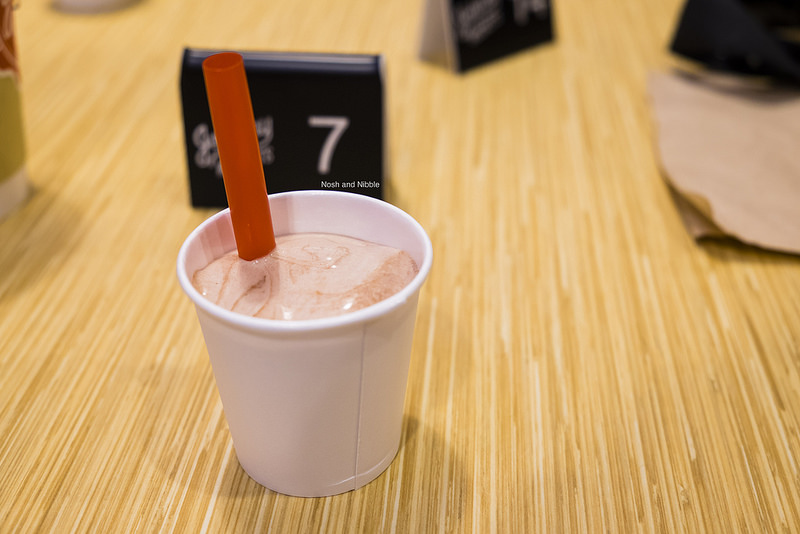 Milkshake Sampler
Unlike other fast food places, you'll place and pay for your order prior to receiving it at your table. Customers receive a number for their order which is picked up by staff as they deliver your meal to you which is indeed a nice upgrade from the usual suspects. You'll bus your own table here.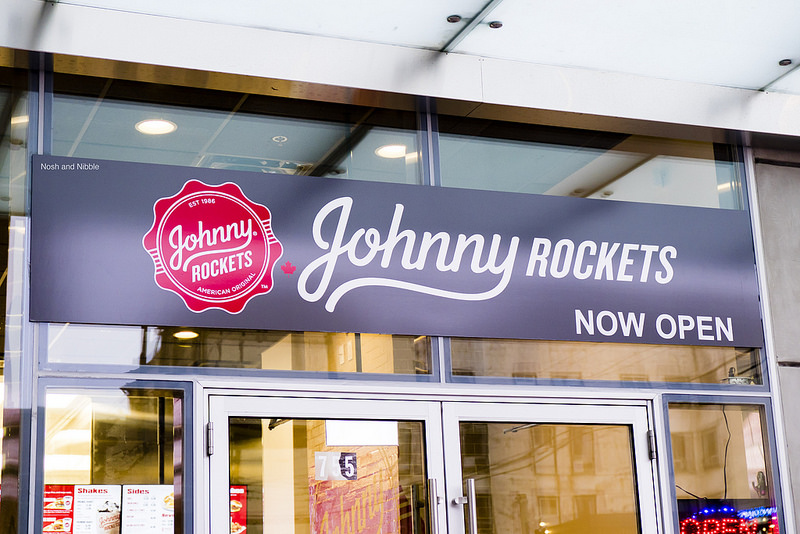 Outside Johnny Rockets
Final Thoughts:
One-liner: Solid angus beef patty though the bun leaves something to be desired and you should probably start with The Rocket burger
Highlight: Onion Rings
Price per person: $8-$15
Would I go back? Not for the original burger.