Vancouver's Chinatown neighbourhood is in the middle of an identity change. As landlords quabble over what should be developed and what should be preserved, restaurants like Mamie Taylor's live another year, offering a new spin on comfort foods in a restaurant styled like a hunters' lodge. Most recently, the team has added Chef Jonas Hamre (of UBC AMS fame) and General Manager Zachary "Zack" Lavoie (of Keefer Room and Hawksworth fame). Last week, I had the chance to sit down and enjoy some of the new eats and drinks coming to the menu.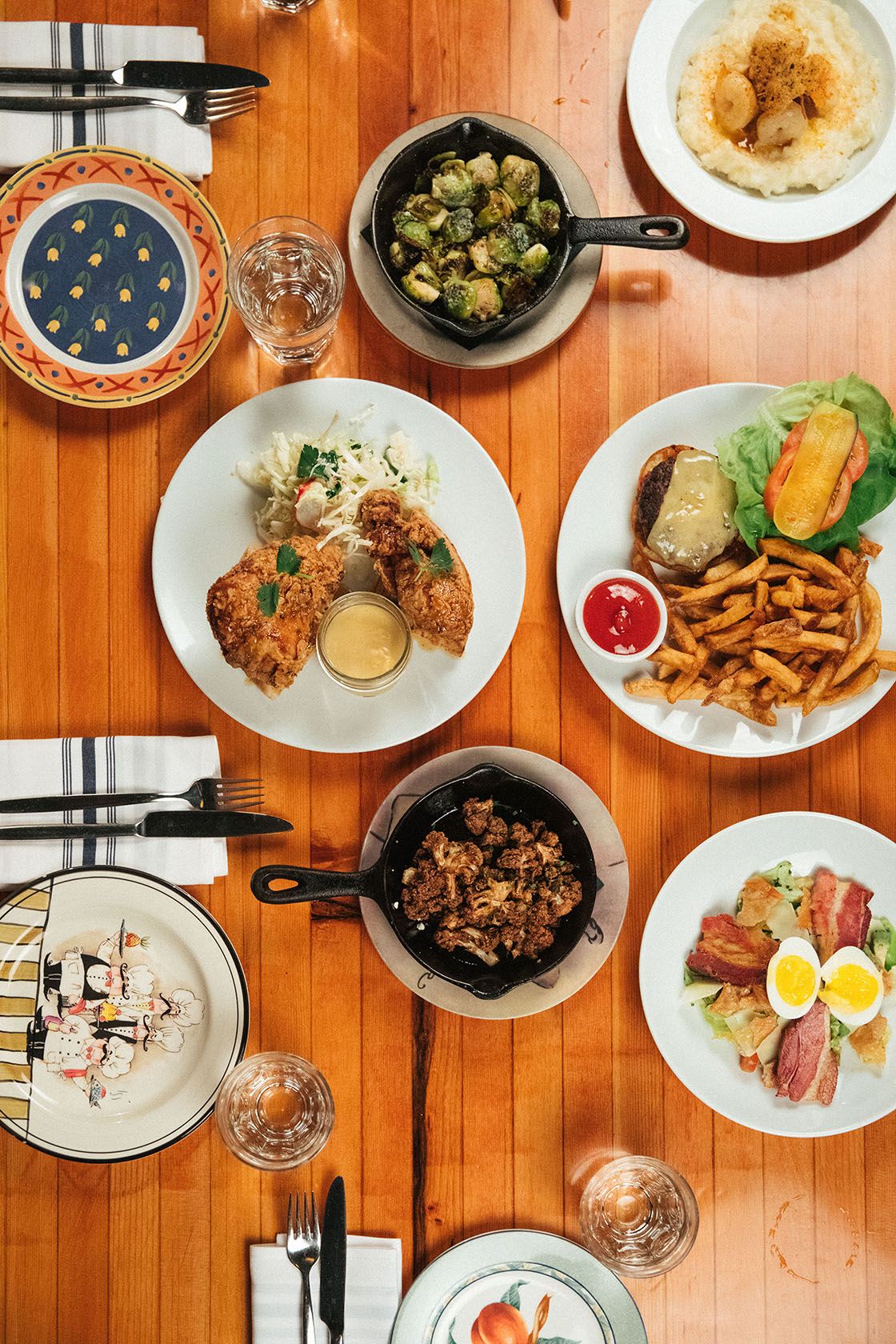 Disclosure: This was a media dinner and all opinions are my own.
Food and Drink:
Team GlueCrew came here for a Wednesday night dinner and I had a great taste of the following:
Not Your Grandma's Lemonade Cocktail (~$14)
Between Two Fernets Cocktail ($14)
Roasted Brussel Sprouts
Crispy Cauliflower ($9)
Ham Grenades ($9)
Shrimp and Grits
Cobb Salad ($17)
Burger ($17)
Chicken and Waffles
Mississippi Mud Pie ($9)
New to the cocktail menu is the not your grandma's lemonade, a citrus spritz made with charred lemon, tequila, gin, lemon juice, and soda water. I normally don't drink tequila cocktails (been scarred a lot of crappy tequila shots in my youth, see), but this cocktail was a nice bridge over from my usual gin libations. There was a ton of lemon in this making it more palatable for me.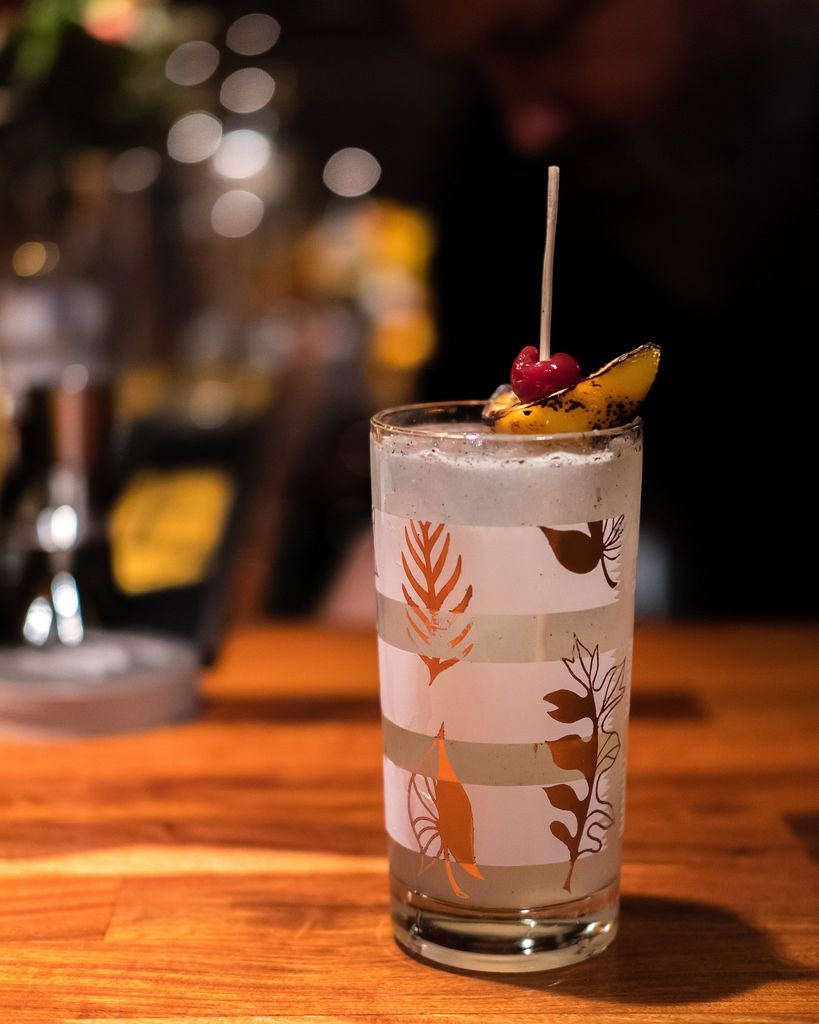 My second cocktail was the between two fernets which was mixed with gin, house vermouth, fernet branca, lemon, and honey. This was a sweet bitter laced with enough honey to leave a smooth residual mouthfeel. Anyone who likes a sweeter drink will enjoy this cocktail.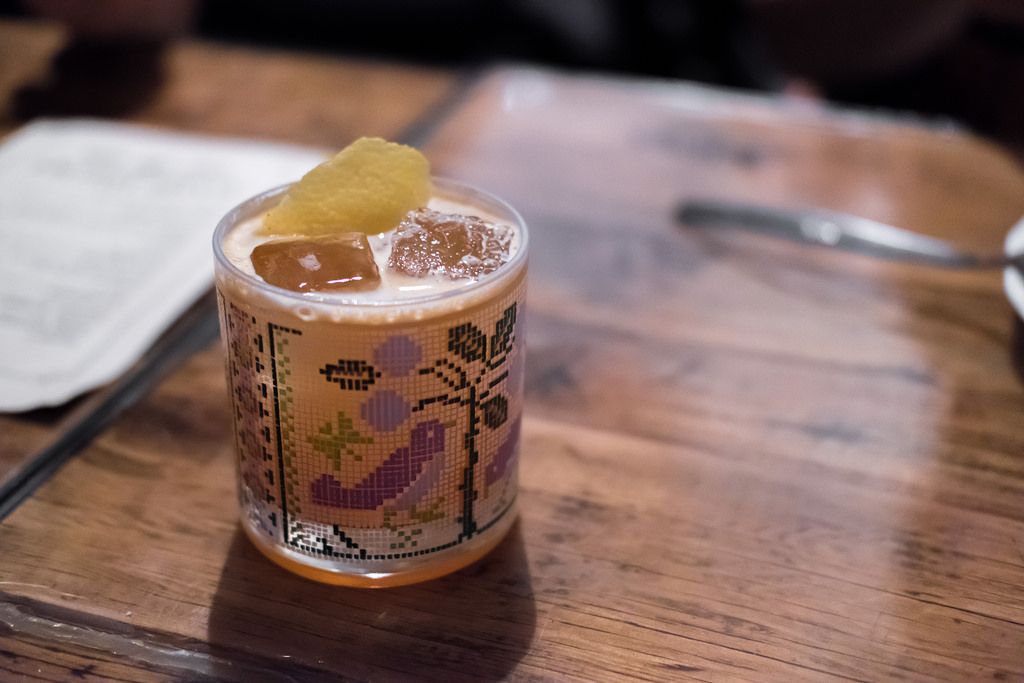 For food, we started with a trio of roasted brussel sprouts, crispy cauliflower, and ham grenades. The brussel sprouts were extra crisp with a small zap of blue cheese to give them extra punch. The cauliflower was wonderfully crisp with an appropriate squeeze of lemon to give them extra flavour. These two were served in homey skillets to make them look extra appealing.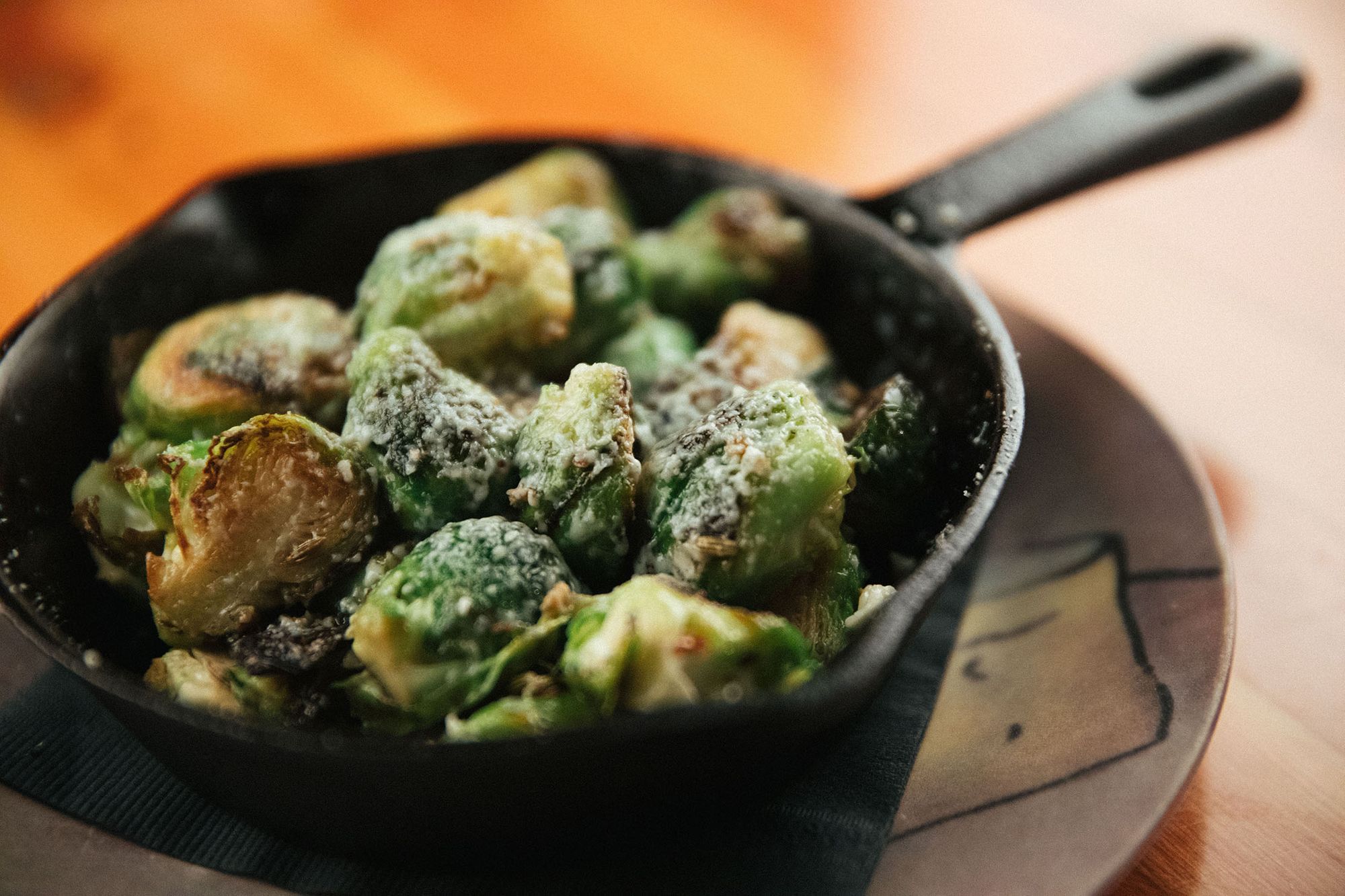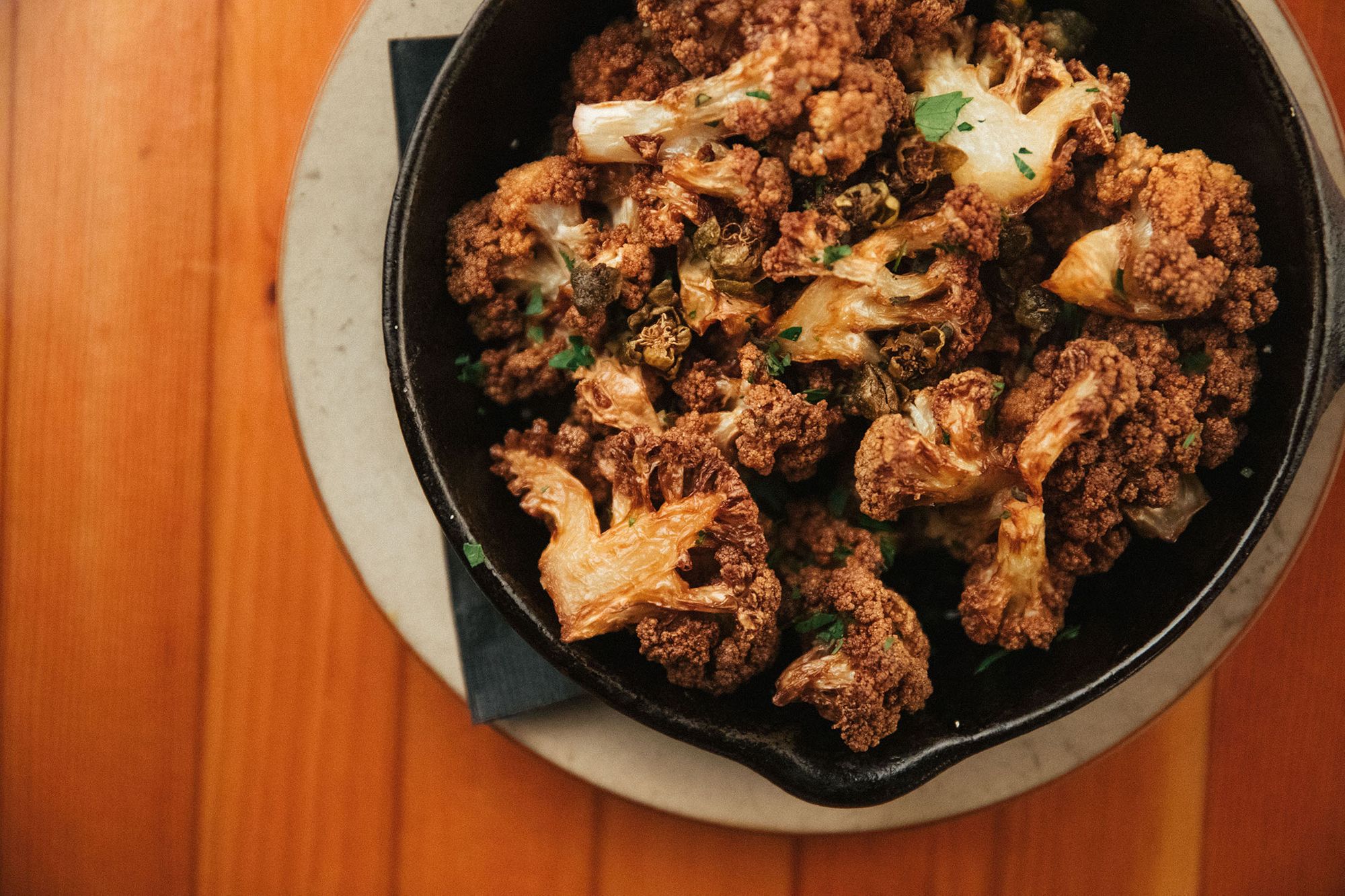 The ham grenades, remants of the previous menu, were delicious tater tot-like cubes of potato and ham meticulously pressed together. I would consider this a dangerous finger food because it's so easy to want more than your fair share.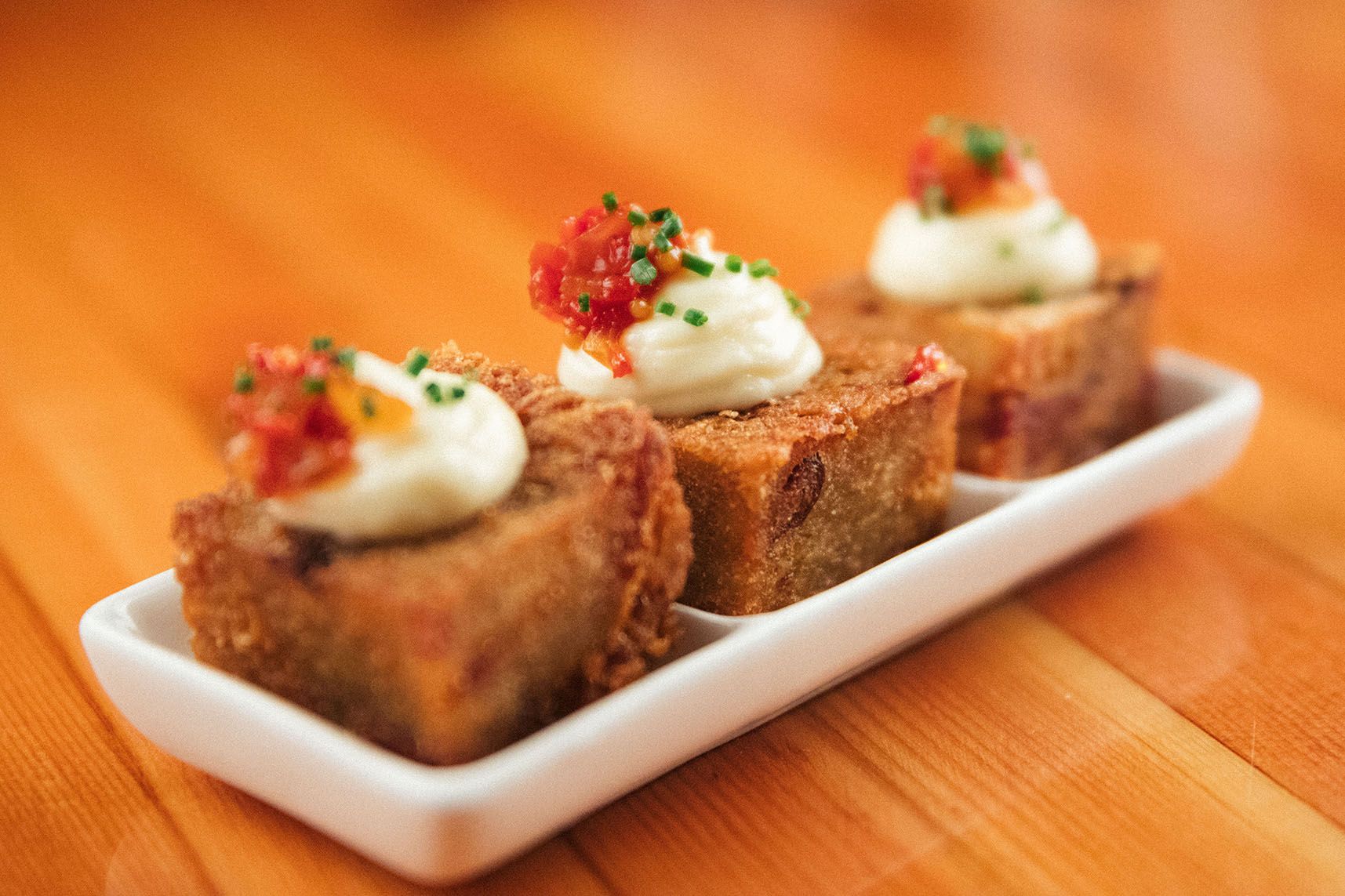 We shared a few more table features in the shrimp and grits and the cobb salad. The shrimp and grits was pure southern comfort with juicy shrimp on top a bed of grits and crunchy parmesan.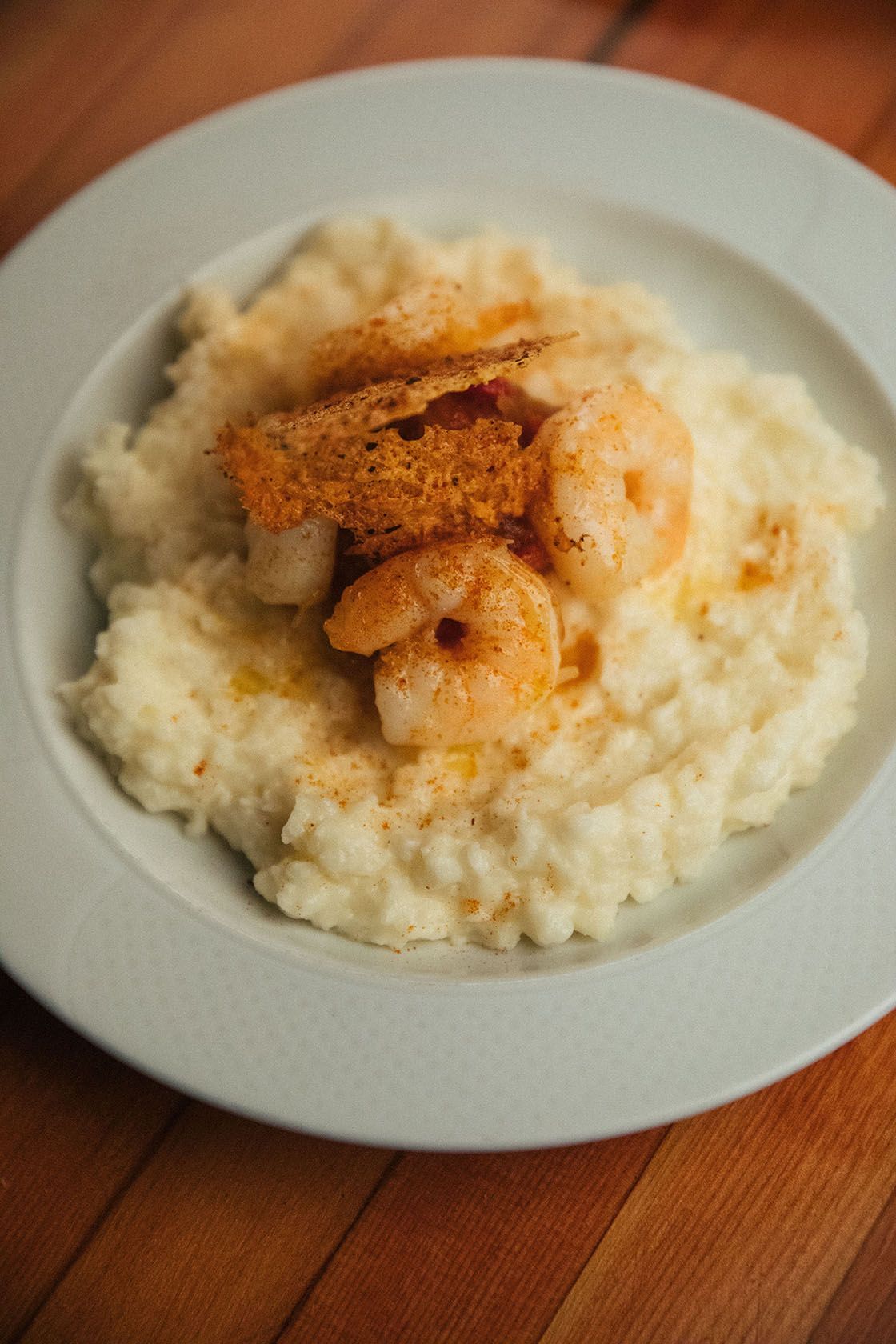 The cobb salad was the coolest dish of the night. I'm used to cobb salads being basic chicken and blue cheese salad bowls, but this cobb salad was decked out with pork belly, soft-boiled egg, chicken crackling, aged cheddar, avocado, and lettuce. The pork belly was extra juicy and played real well with the chicken crackling. For anyone who's a fan of Tuc Craft Kitchen's pork crackling, you'll be right at home with this salad.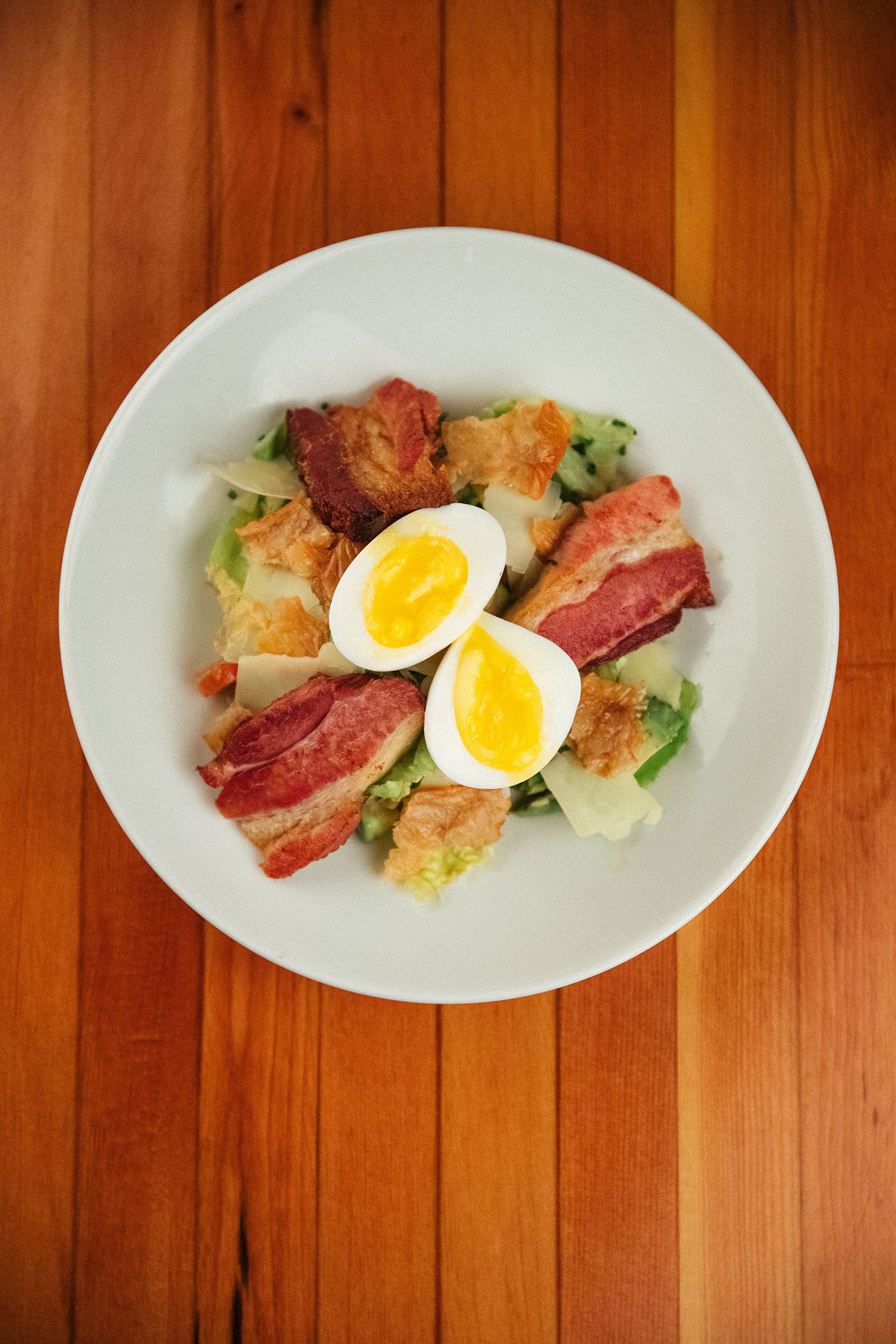 Moving onto some mains, the burger came with gooey cheese, iceberg lettuce, tomato, pickles, and house fries. The classic recipe here delivered on the standard sensations but I think to properly enjoy this burger would be to add in all the trimmings. We didn't get that opportunity so this burger was alright as far as restaurant burgers go in Vancouver.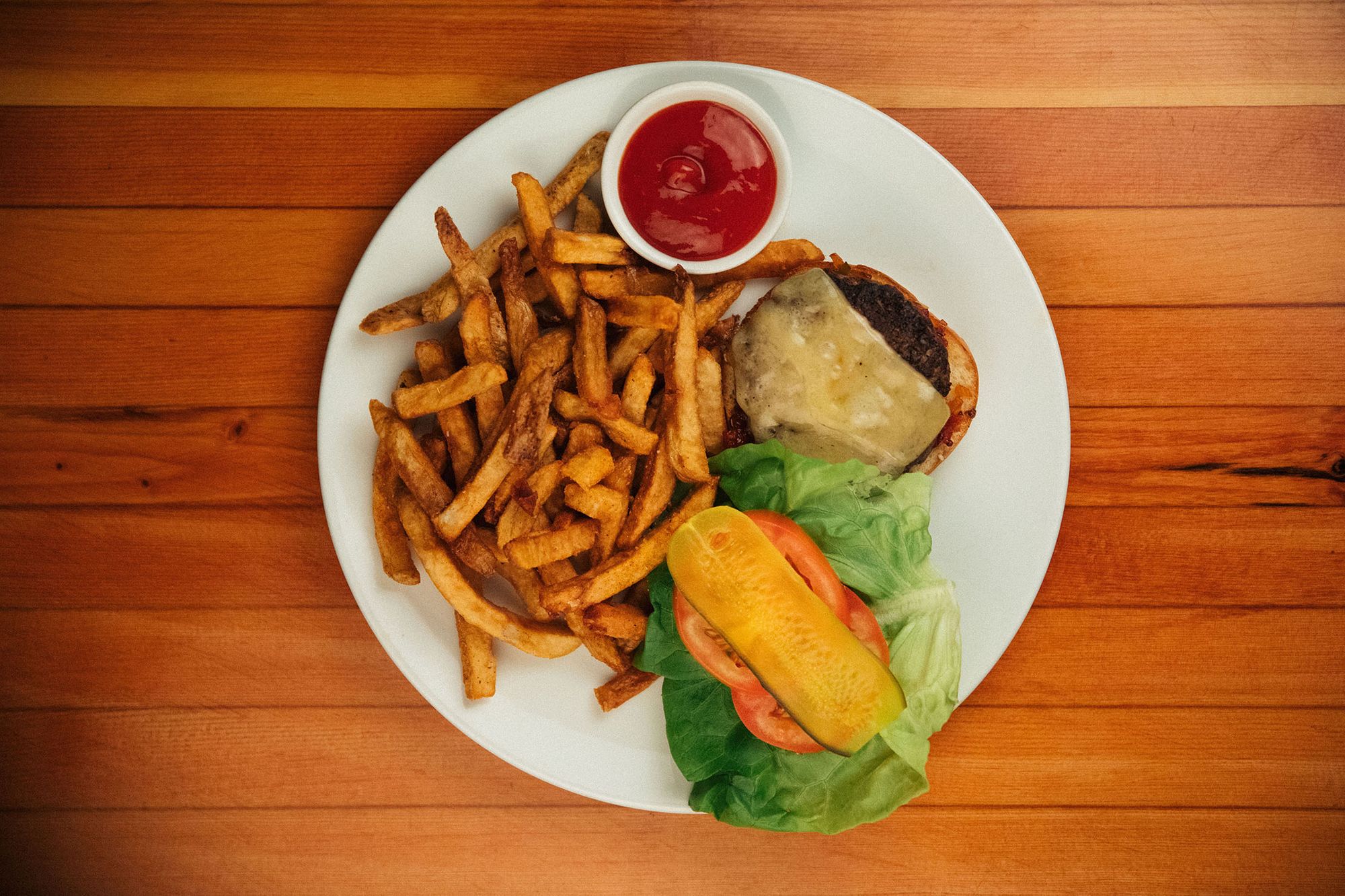 The coolest main was the chicken and waffles. Featuring a unique cauliflower waffle base, this dish tasted, dare I say it, healthy? Fried chicken aside, which is always a welcome main, the waffle had a distinct cauliflower aftertaste in every bite. I wouldn't go as far as naming this as my go-to waffle for all time, but I love it when a restaurant does something different from the norm so I do vouch for trying out this chicken and waffle dish at least once.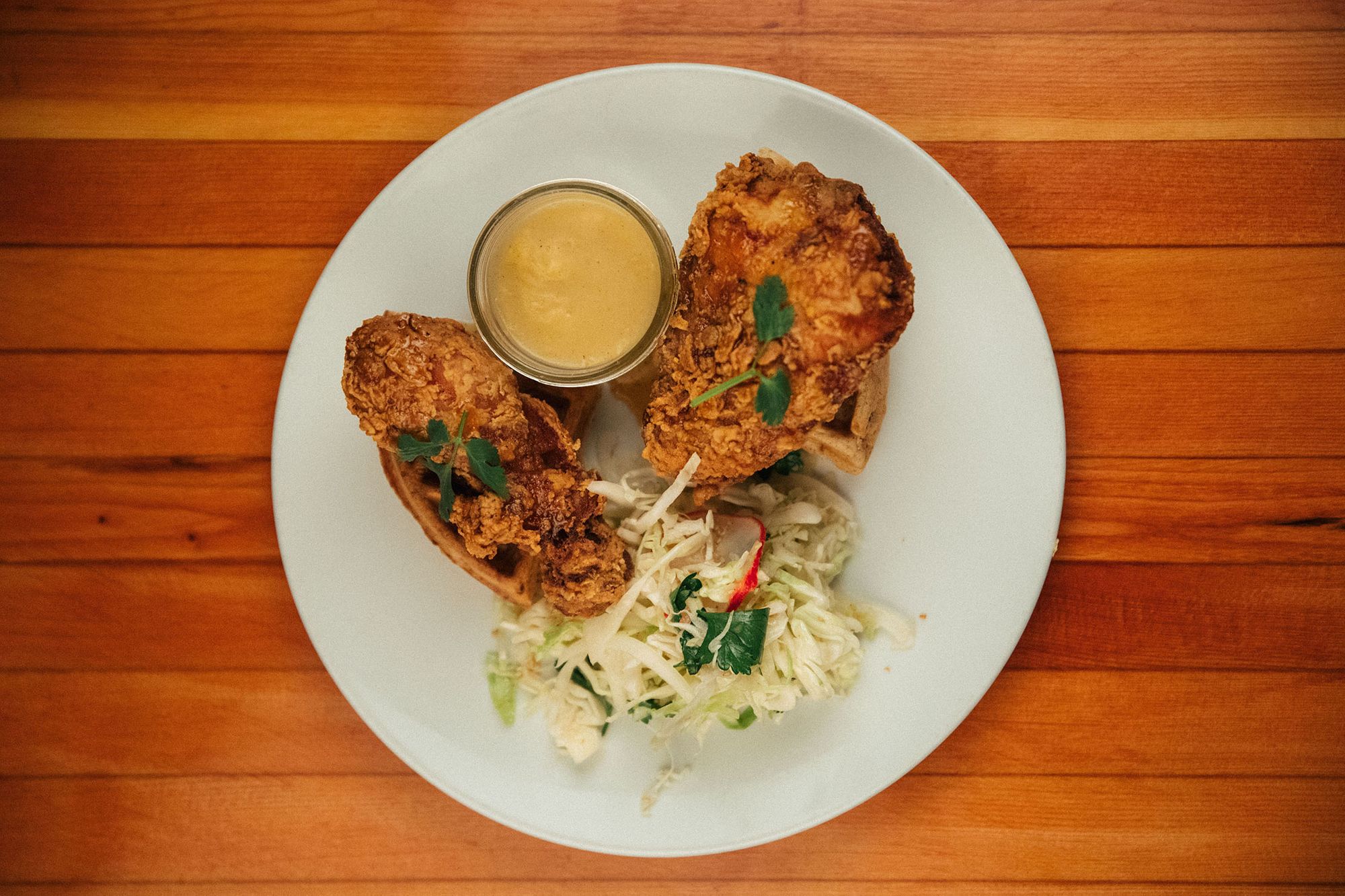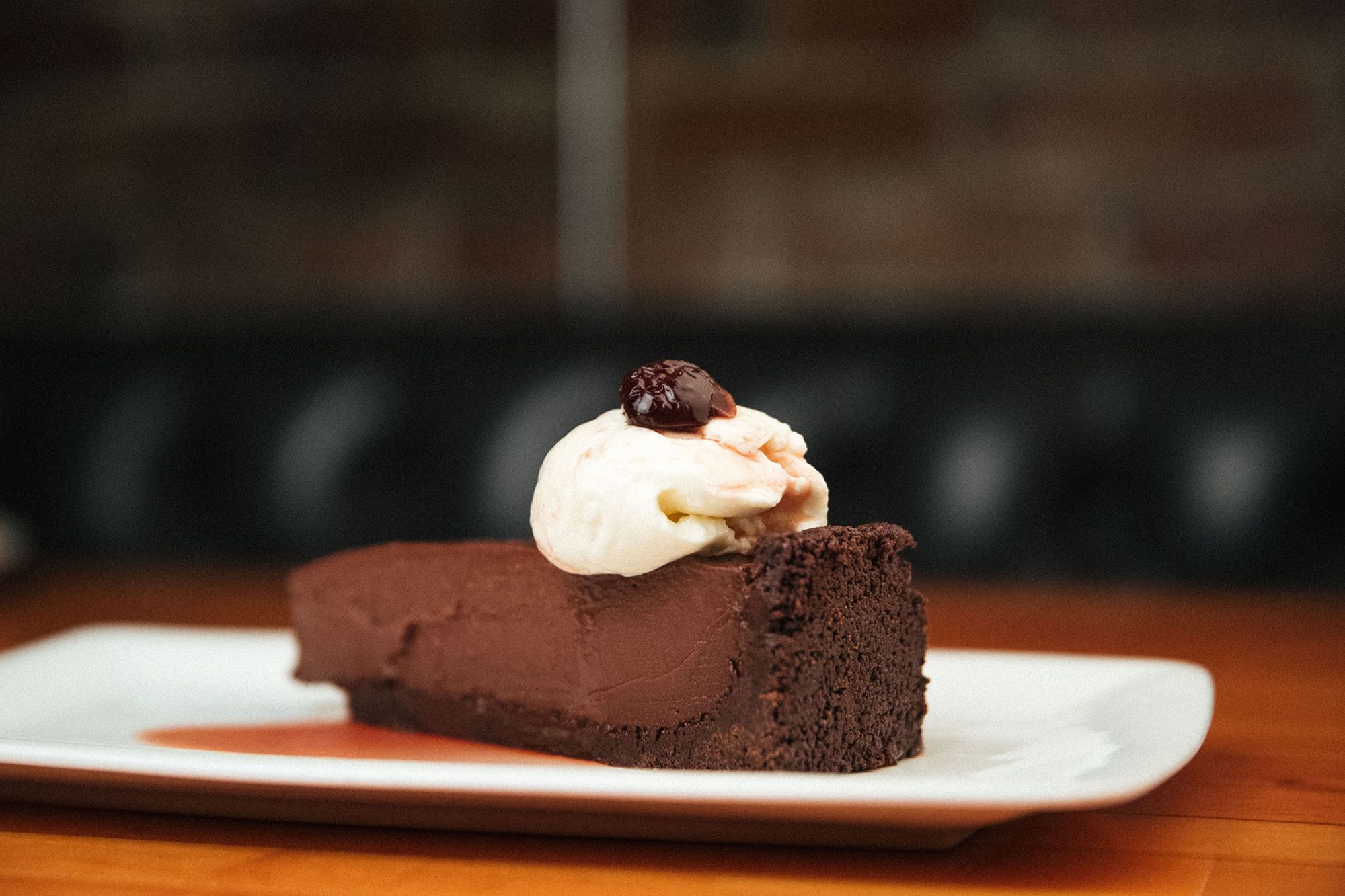 For dessert, we enjoyed a Mississippi mud pie (read: chocolate and more chocolate). There was a cream cheese mousse and amaretto-soaked cherry on top but the joy was all in the chocolate base and crust.
Final Thoughts:
One-liner: Comfort food, reimagined in a homey lodge-like restaurant full of taxidermy
Highlight: Cobb Salad
Price per person: $20-$40
Would I go back? Yes.