Businesses have been coming and going pretty frequently in Downtown Vancouver's Robson Street. What used to be Donair Spot on 1236 Robson Street is Rice and Noodle, a counter-service eatery that serves up the core of Asian street food (mostly Thai): rice and noodle. It's an apt restaurant name that sums up the majority of its menu.
Disclosure: This was a complimentary media tasting. All opinions are my own.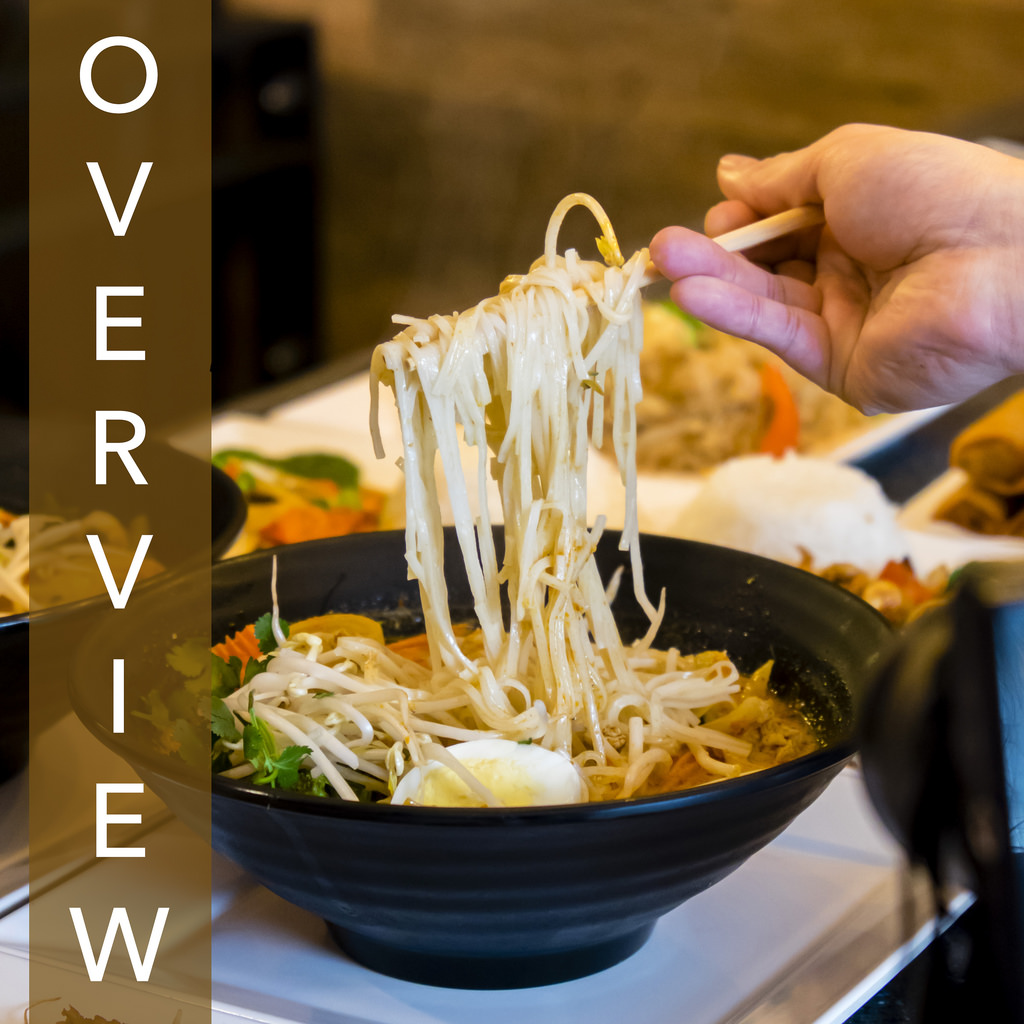 Food:
I came here with Domo Is Craving, Eat With Mao, Foodology, Hello Vancity, Picky Diner, and Vanfoodies to try out some menu items and we enjoyed the following:
Family Combo for 5 ($50)

Pad Thai with Shrimp
Kung Pao Chicken
Mongolian Beef
Green Curry with Chicken
Pineapple Fried Rice with Chicken
5 Spring Rolls

Panang Red Curry ($10)
Creamy Peanut Stirfry ($10)
Tom Yum Soup ($10)
Laksa ($11)
At first glance, getting enough friends to splurge on the Family Combo is ideal as a diner because it saves a few dollars on the pad thai (shrimp is normally an add-on) and gets you a few spring rolls thrown in for good measure.
A quick note on the Pad Thai is that the prawns were cooked just right (i.e. actually tender and not overly opaque) and with a splash of lime were good to go. An a-la-carte Pad Thai with prawns here is cheaper than what'd you'd pay for in a food court, making Rice and Noodle a great solution for Pad Thai cravings.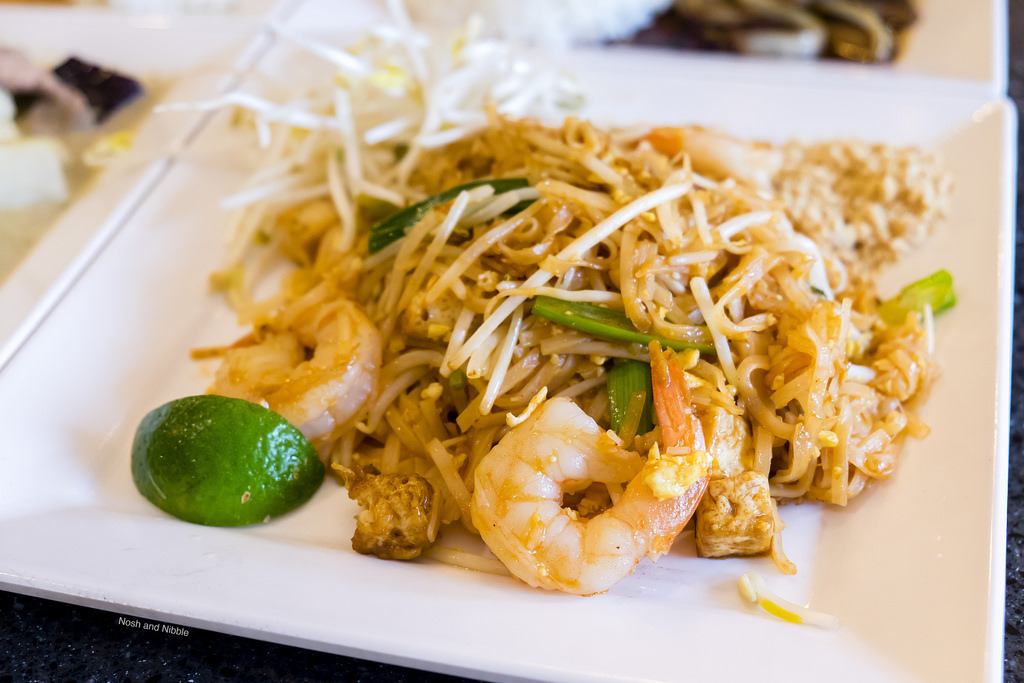 Pad Thai
The Kung Pao Chicken was a plate of rice, green bean, onion, pineapple, red pepper, ginger, cashew spinach. Named after Governor Ding Baozhen (丁宝桢), this classic dish was a filling option thanks to its generous rice and cashew nuts.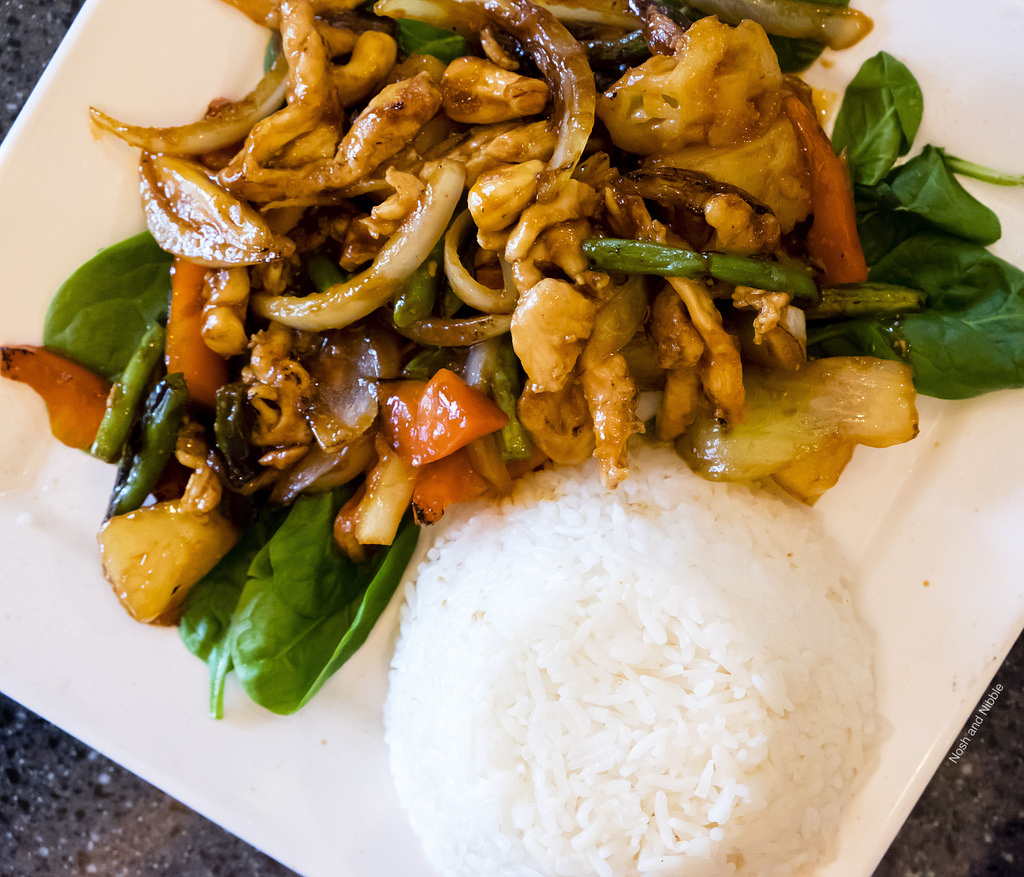 Kung Pao Chicken
The Mongolian Beef came with rice, broccoli, bean sprouts, carrot, green bean, ginger, onion, red cabbage, and water chestnut. The sauce was king here with its innate onion and nutty flavours that immersed well with the rice.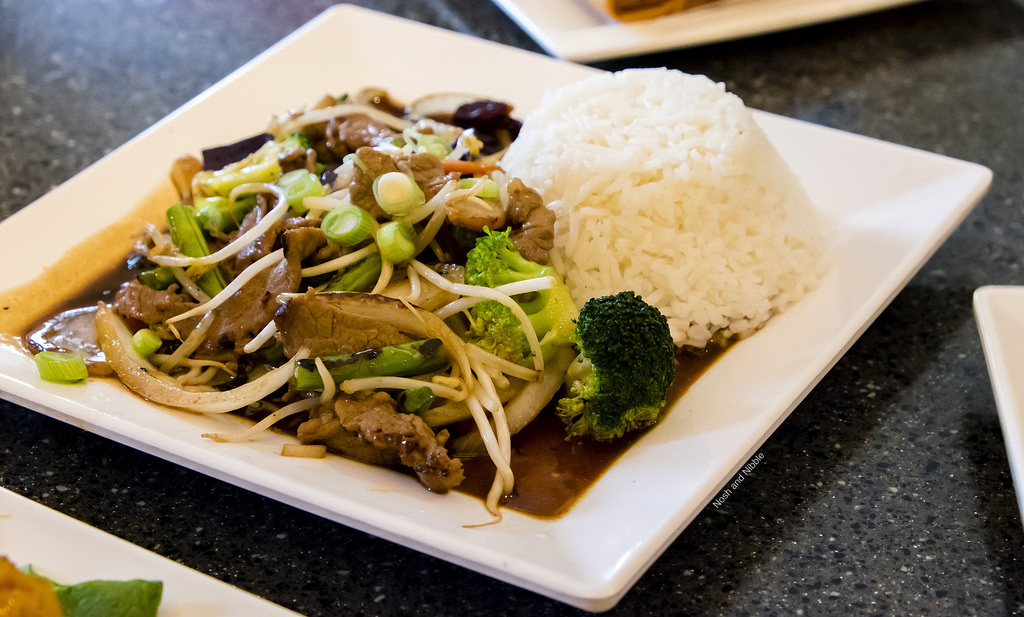 Mongolian Beef
The Green Curry with Chicken was my first indication that spice levels were no joke at Rice and Noodle. At a cool 2 chili peppers (out of 10), this left a light heat in my mouth (which is beginning to water now as I type) and the curry made a good sauce for mixing into the rice.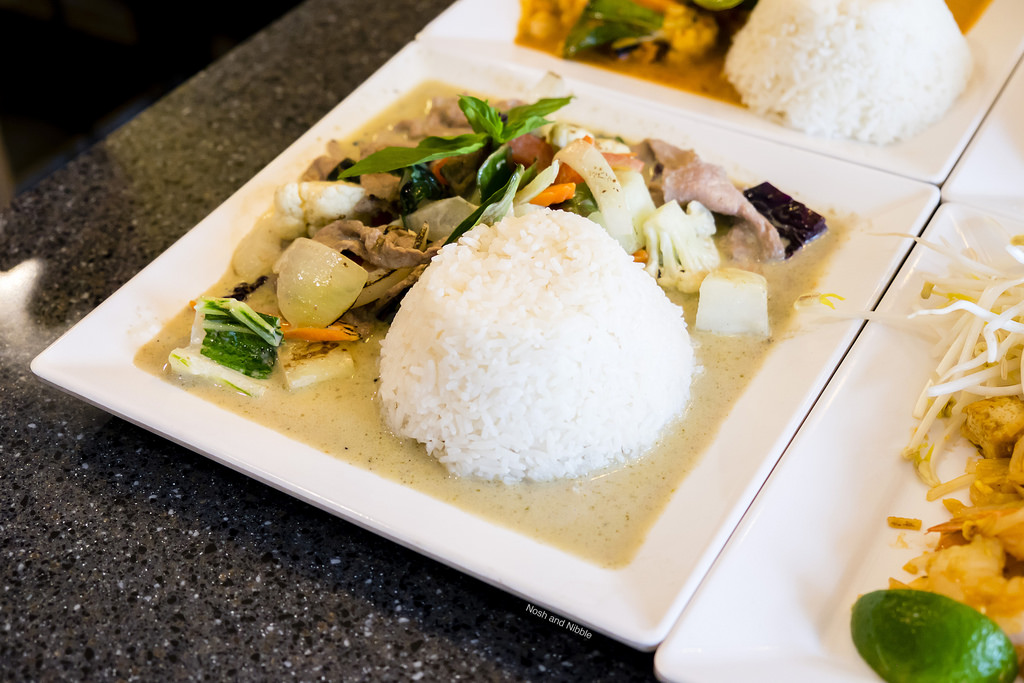 Green Curry with Chicken
The last rice dish of the Family Combo was the Pineapple Fried Rice with Chicken, which came with egg, carrot, green bean, onion, and red pepper. Fried rice always has a welcoming texture, but I think the variety of sauces and curries at Rice and Noodle suits me better. Drier textured rice is no bueno for me.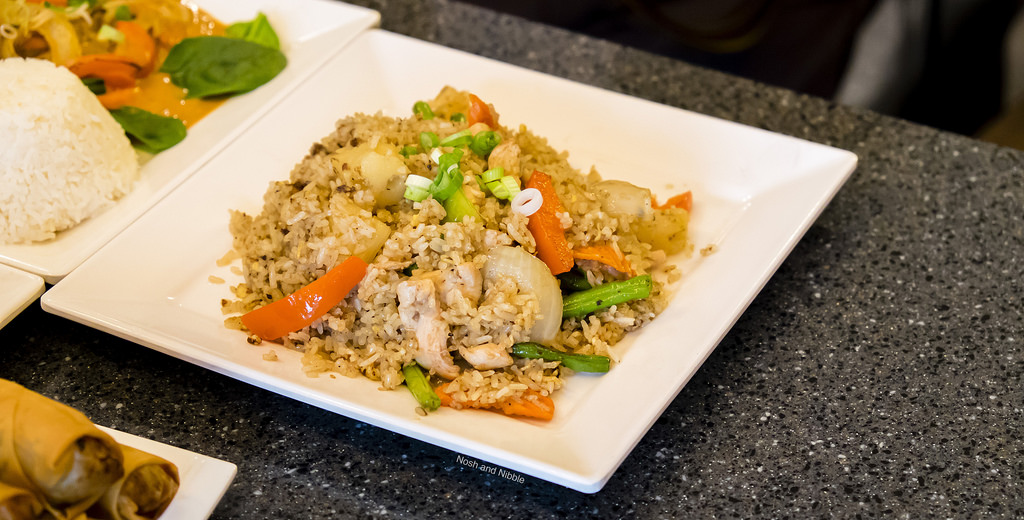 Pineapple Fried Rice
The spring rolls were crunchy and came with a sweet plum sauce for dipping. It's a good symbol of eating with 4 other friends because there are exactly 5 spring rolls.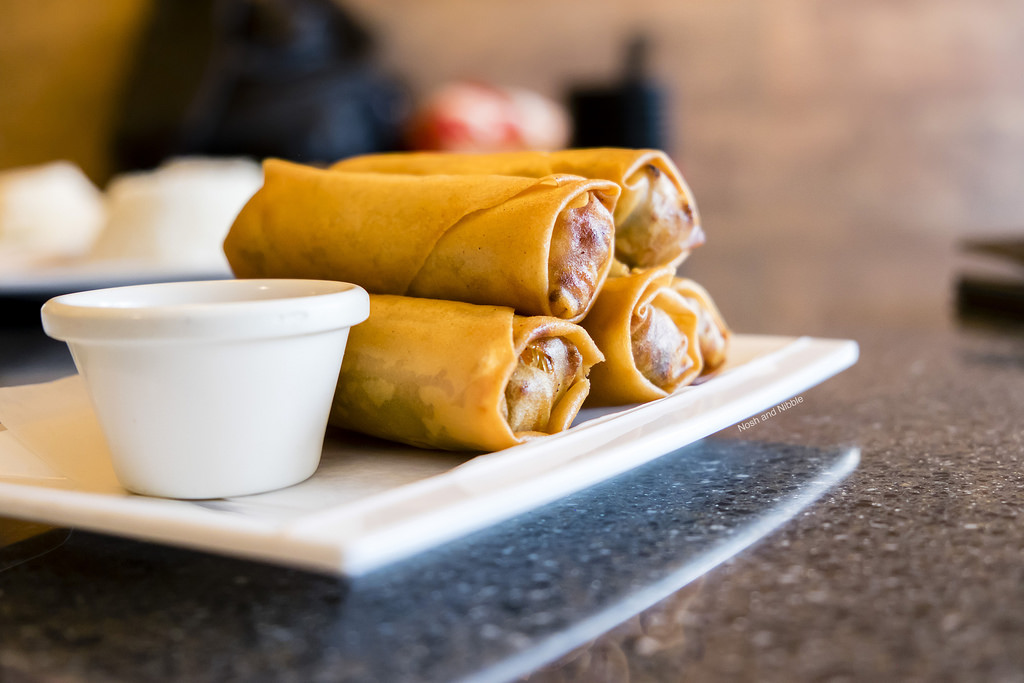 Spring Rolls
Moving onto some other a-la-carte items, the Panang Red Curry was served with basil, cauliflower and yam. This was just like the green curry earlier but less spicy and with more coriander flavour.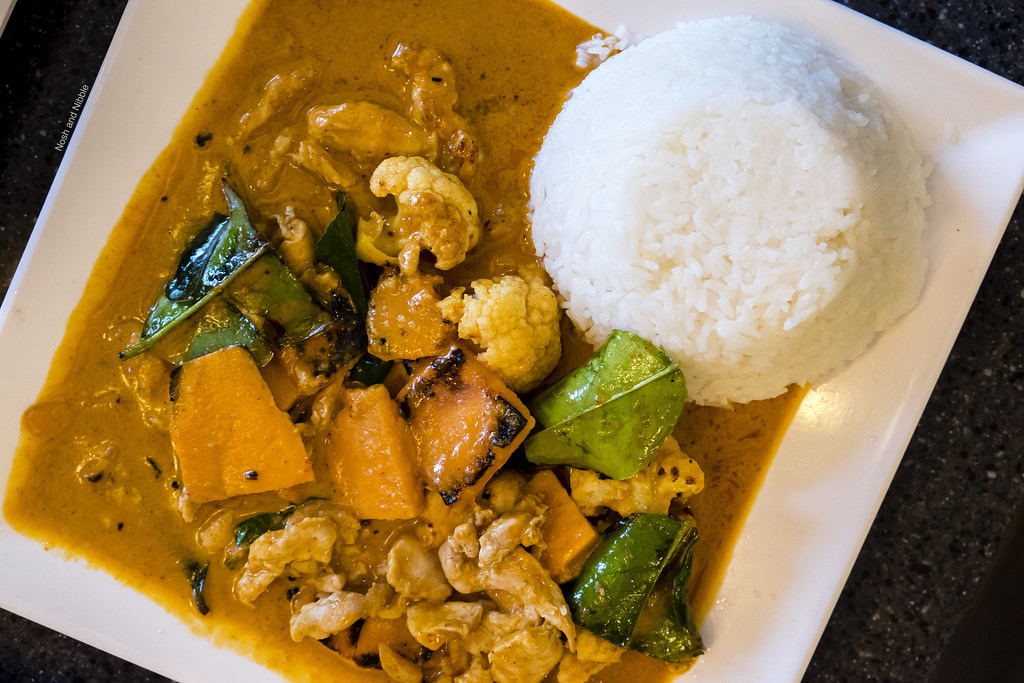 Panang Red Curry
The Creamy Peanut Stirfry was my favourite out of the rice dishes. With bean sprouts, carrot, onion, red pepper, and spinach, this dish was a hair more complex than the curries but featured more vegetables to swirl the nutty sauce with.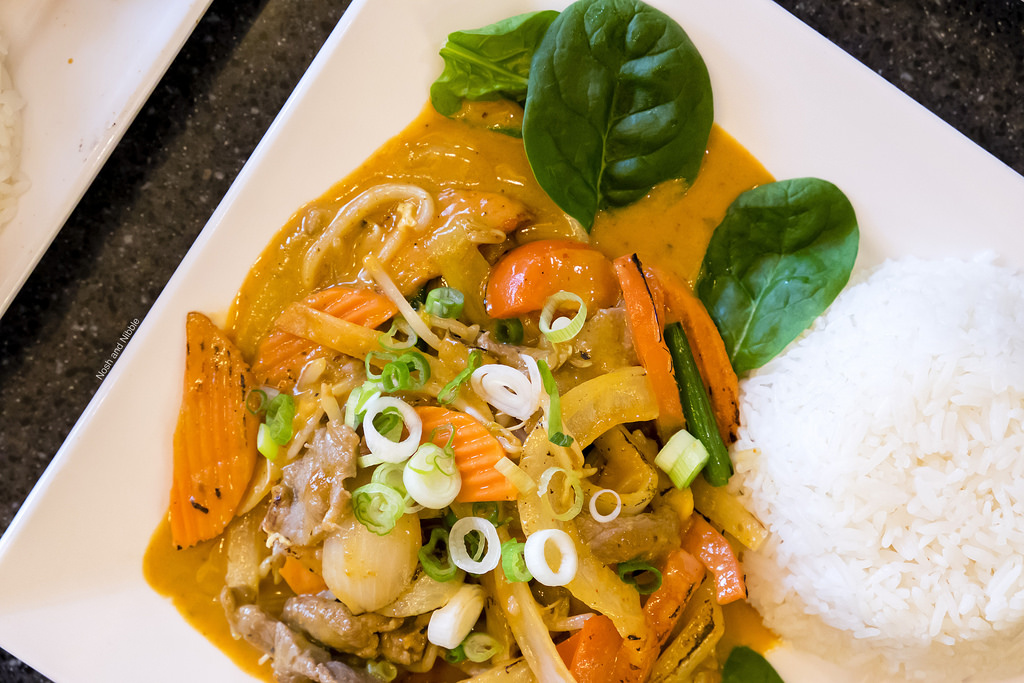 Creamy Peanut Stirfry
The spiciest dish of our night was for sure the Tom Yum Soup. When you mix spice with a liquid, even a lower chili pepper count's heat can take over your mouth. Given my mild spice tolerance, I'm not sure how a trained person would handle a 10 so I give Rice and Noodles props for offering a real challenge. This soup had a lemongrass broth, rice noodles, bean sprouts, cilantro, mushroom, onion, tomato.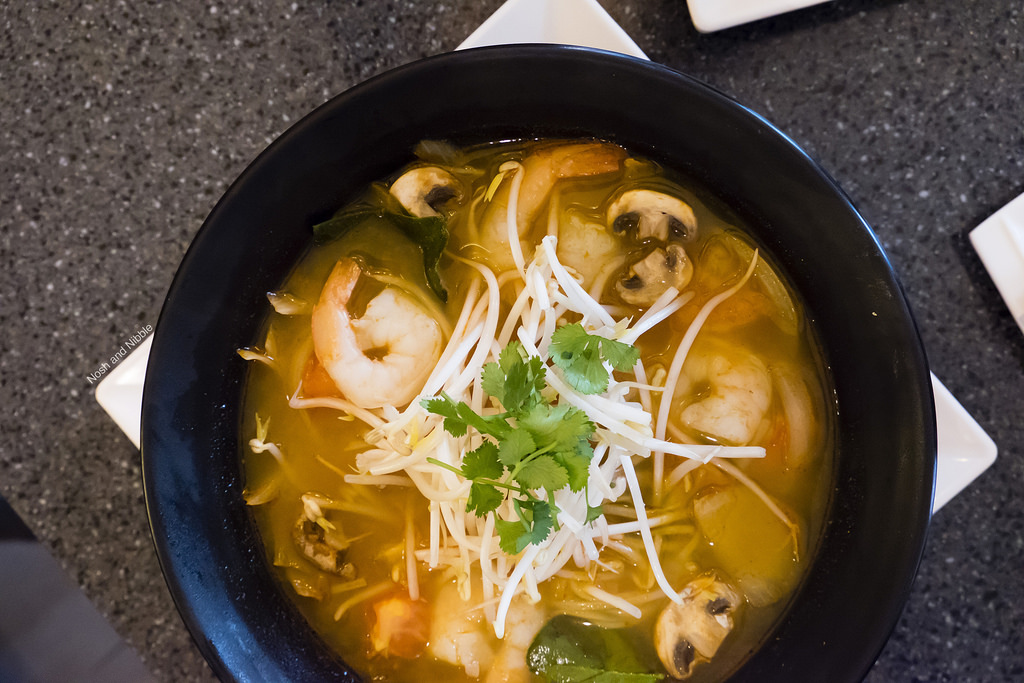 Tom Yum Soup
The other bloggers will probably laugh at me but the laksa was too spicy for me to finish the whole bowl. Clocking in at 3 chili peppers (again, out of 10), this was the pinnacle of heat in my tasting experience. Wish I could describe what it tasted like but the spice was too real. Noodles were chewy and provided lots of bounce and I believe $11 laksa is a great value for Robson Street.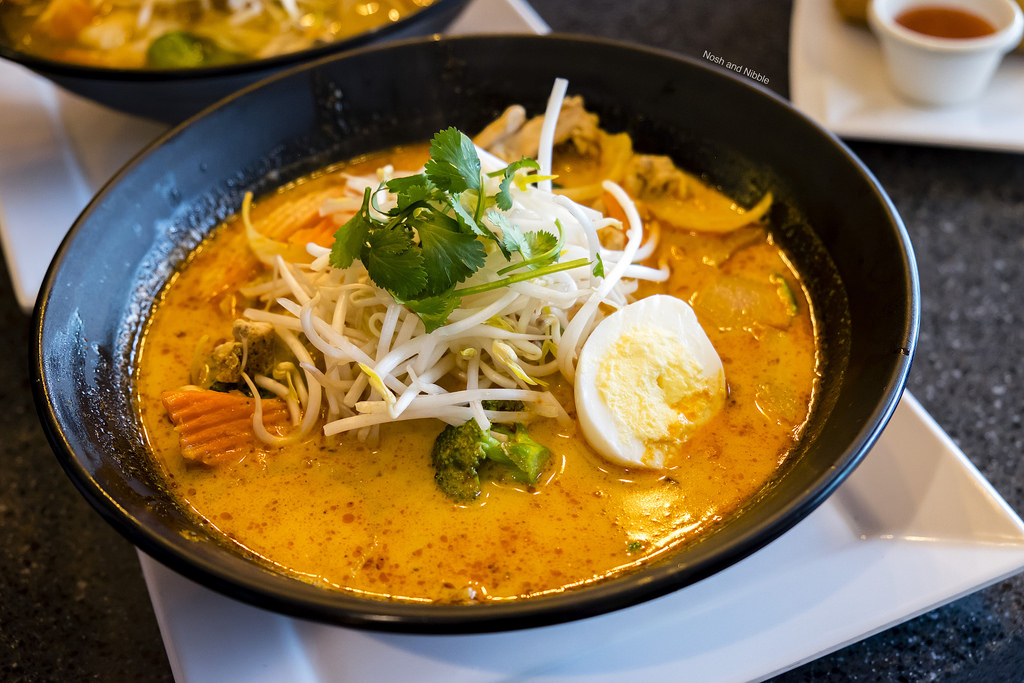 Laksa
Top 3 items for me: Laksa (less spice though), Creamy Peanut Stirfry, and Pad Thai.
Features:
Rice and Noodle is a classic-looking restaurant with a few accents like a stone longtable. You might not know right away, but you'll place and pay for your order at the counter before your food is brought out to you. Rice and Noodle owners totally gutted the interior because the Donair Spot that used to be here was quite cramped and didn't offer any booth seating. There's space for about 30 guests as the real party happens with the food delivery options (pretty sure they're on Door Dash, Foodora, and so many others).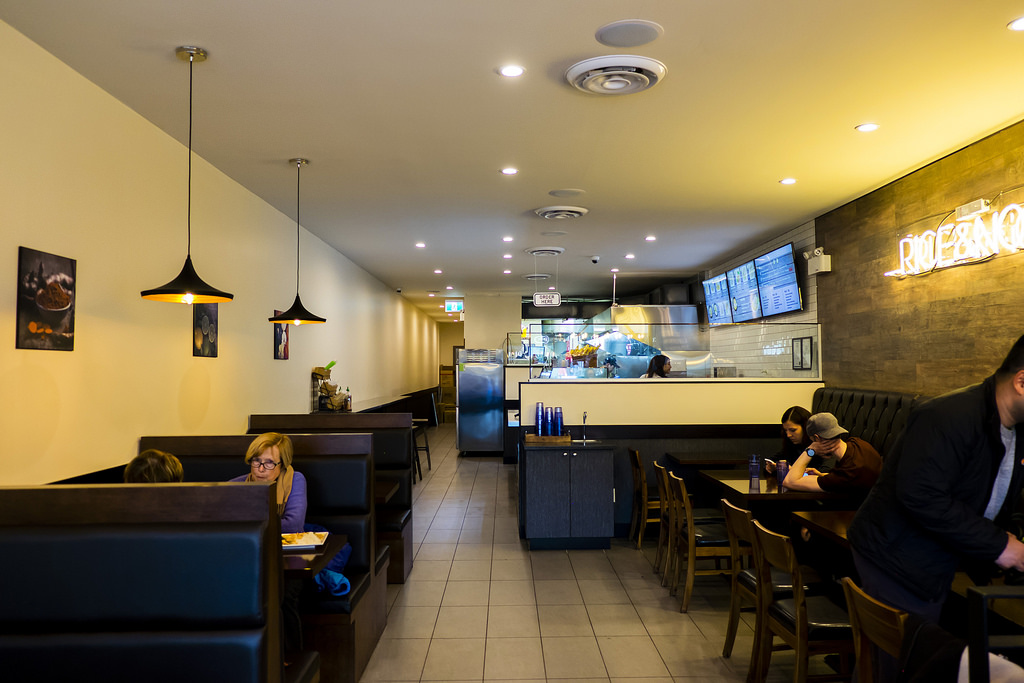 Inside Rice and Noodle
It was hella busy in here after 6:30pm, and I can see why. With all dishes available for $11 (including prawns), this is a solid place to stop by when you're looking for something simple and homey. While Thai is the main focus of flavour, Japanese and Chinese cuisines are also on the menu. Rice and Noodle would be perfect for a restaurant-frequenting diner who maybe blew too much money at Honey Salt and needs to keep finances in check for awhile.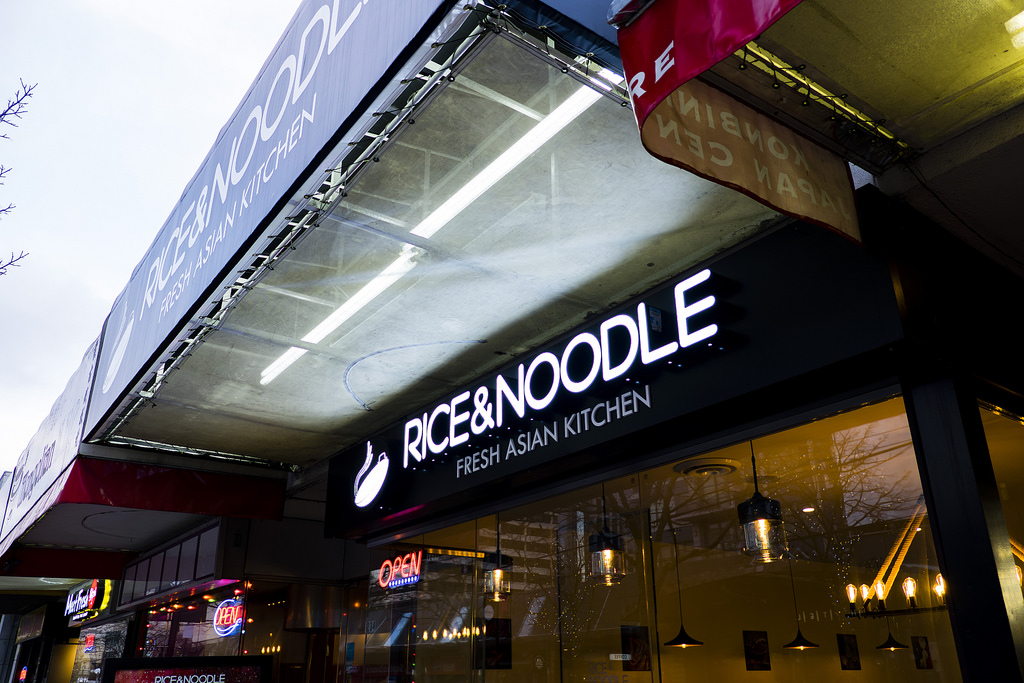 Outside Rice and Noodle
Final Thoughts:
Final Thoughts: Thai flavours (+ more) that are a good value for your meal and can appear the mightiest spice hunters
Highlight: Laksa
Price per person: $11-$15
Would I go back? Yes.