I love Italian food, don't get me wrong. I love pasta and pretty much all carbs. I also love La Quercia and their tasting menu which constantly changes. It was painful to come to this conclusion that I'm just not the right type of audience for Oca Pastificio, the latest baby by the team at La Quercia (and by extension, L'Ufficio). I'll take you on a play-by-play of the dishes we had and where I thought I no longer qualified to properly appreciate the pasta found in this newish Vancouver restaurant.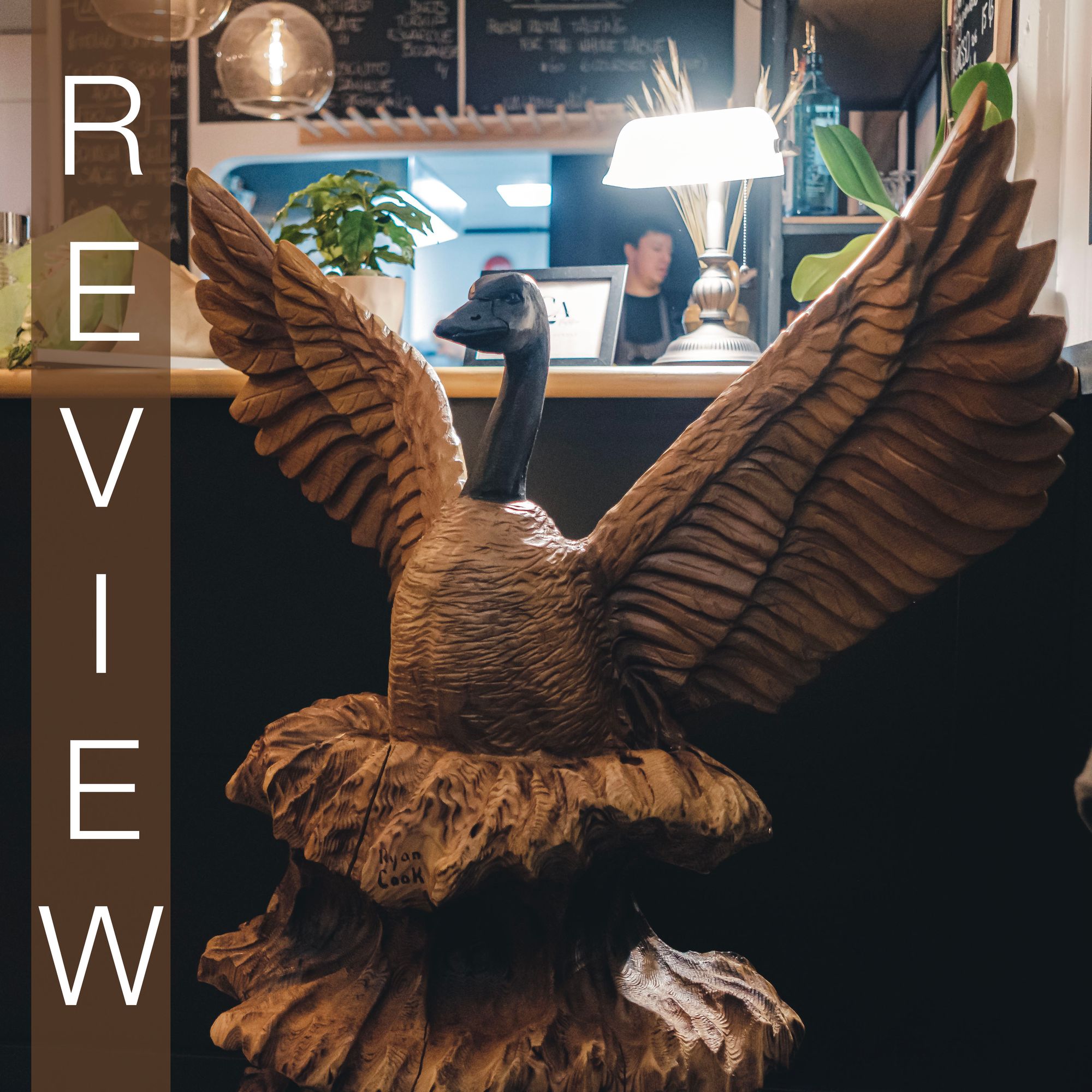 Food:
Team Tastic came here for a 5pm weekend dinner and I had a great taste of the following:
Squash Tortelli with Sage Butter ($24)
Maltagliati with lamb and peppers ($21)
Gorgonzola Hazelnut Risotto ($35)
The squash tortelli was a collection of about 20 little tortellinis filled with  squash and lathered in a sage-infused butter. The pasta shells, freshly rolled to order, had a perfect crimp and al dente bite. The plate was a little light on accompaniment and the focus was 100% focused on the actual pasta. I wish there was a little something on the side of this pasta dish to make it more than a single-entity type of dish. I would have happily paid for more sage but alas, there was but a single leaf of sage which left a lot of flavour to be desired. I love butter as much as the next guy, but I need a little more seasoning to get by.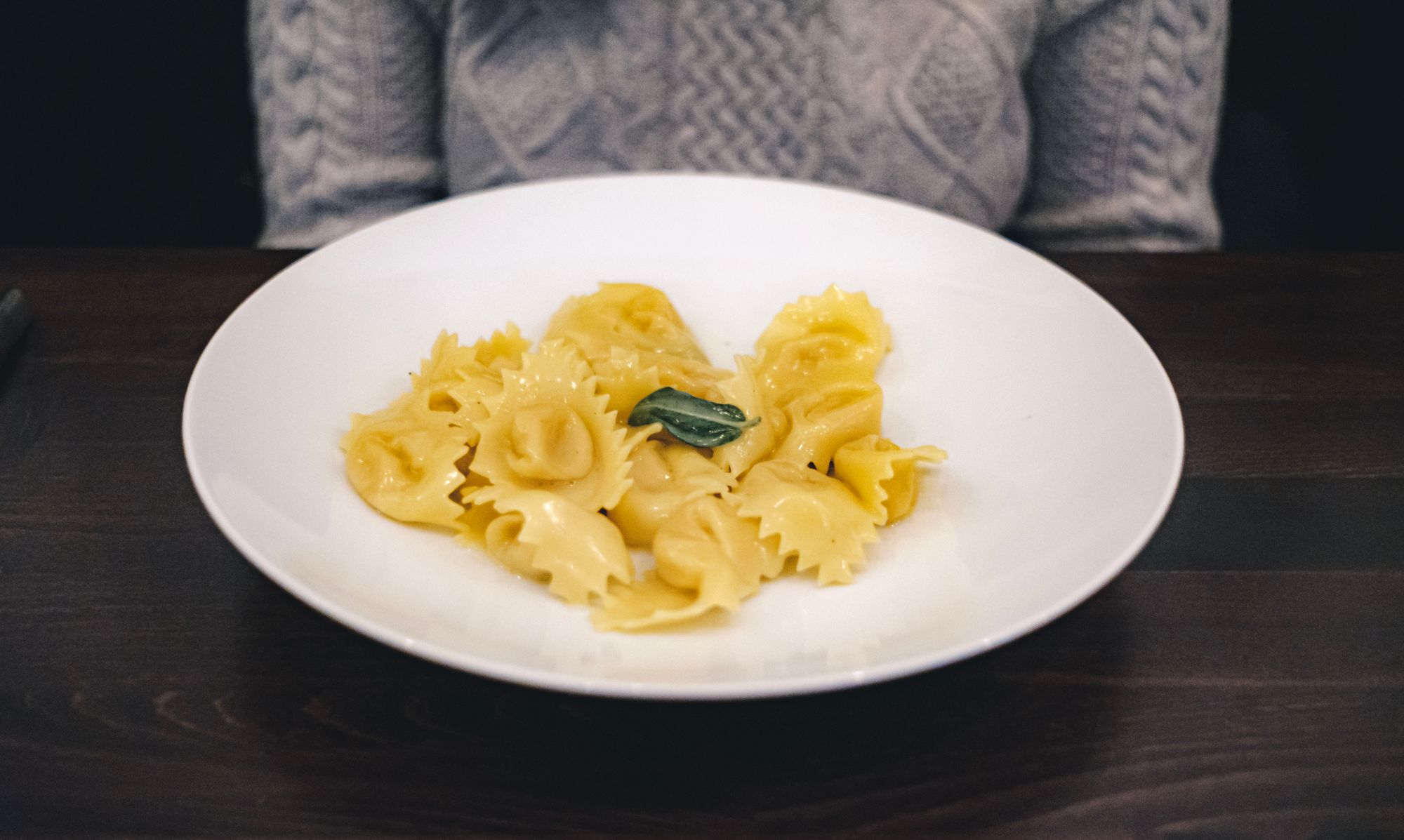 The maltagliati was more up my alley. This type of pasta is basically formed from the scraps of other pasta, giving this pasta a more wild feel in its lack of uniformity and size. In our case, this meant that most pasta noodles ended with a sharp triangle. The al dente was also real in this pasta but this time, the tomato sauce provided a welcome acidic zing to the herbed lamb and peppers mixed into the dish. For a less hardcore pasta dish, this maltagliati was equal parts al dente and homey.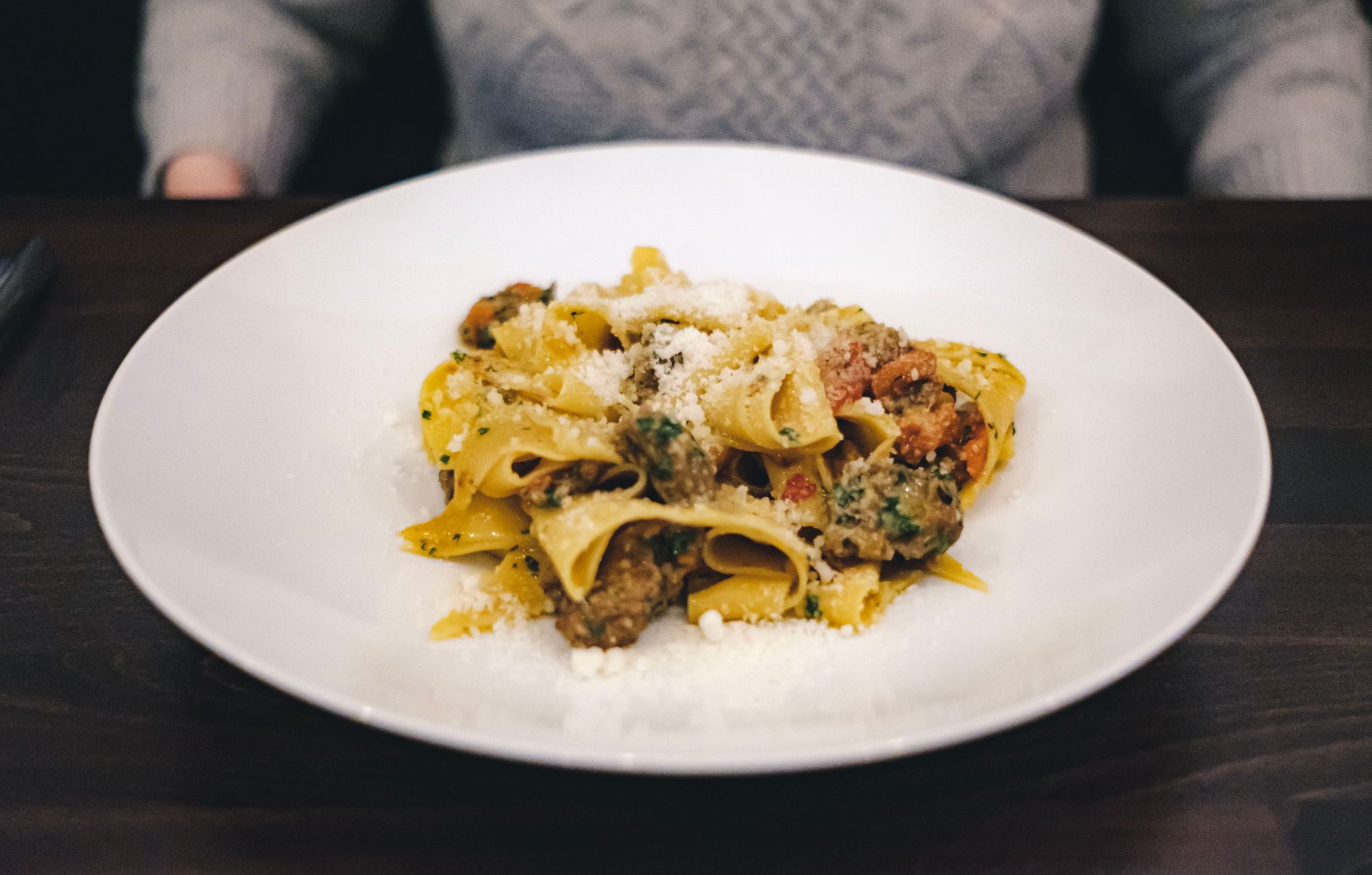 We found we were still hungry halfway through the pasta so we opted for an additional gorgonzola hazelnut risotto, which our server noted would take 15-20 minutes as the rice would be cooked to order. It actually showed up in about 10 minutes. This risotto was full of blue cheese aroma and arrived as a thick gloop of risotto with a hearty amount of hazelnuts dotted through the plate. There was no denying that this was the most filling dish of the night though it was also the most expensive. I loved how evenly the gorgonzola was mixed into the risotto. Without being too overpowering, the nutty hazelnuts played very well with the gorgonzola and provided great depth in each bite. Suffice to say, this risotto turned out to be the most interesting dish of the night, despite not being a pasta which is what most of the buzz for Oca Pastificio has been built in Vancouver media.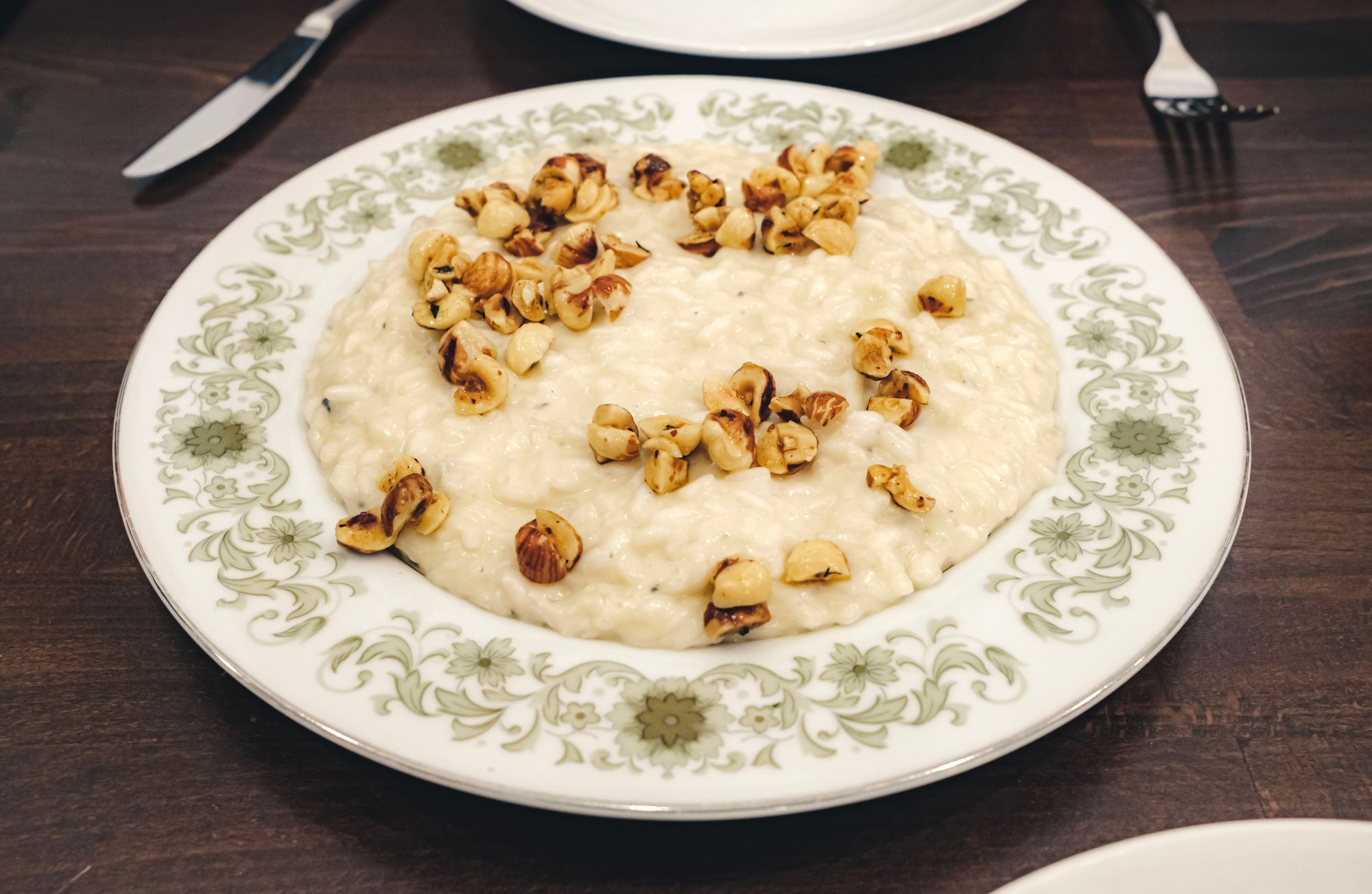 Portion sizes aside, at least most of the menu is full of carbs, so you likely won't be leaving this restaurant hungry unless you really splurged on the appy salads.
Features:
Everything to do with pasta at Oca Pastificio in Vancouver is, simply put, really homey. Your order is taken to the kitchen of 1-3 people, the pasta is pressed out, cooked with fresh ingredients, and sent out to your table in minutes. They also have a tasting menu option which basically takes you through the menu. Homey favourites like meatballs and lasagna unfortunately do not make the cut on the menu, much to my disappointment. Call me basic, but this lack of my homiest favourites will make it hard for me to want to go back to Oca Pastificio unless I become more of a pasta purist.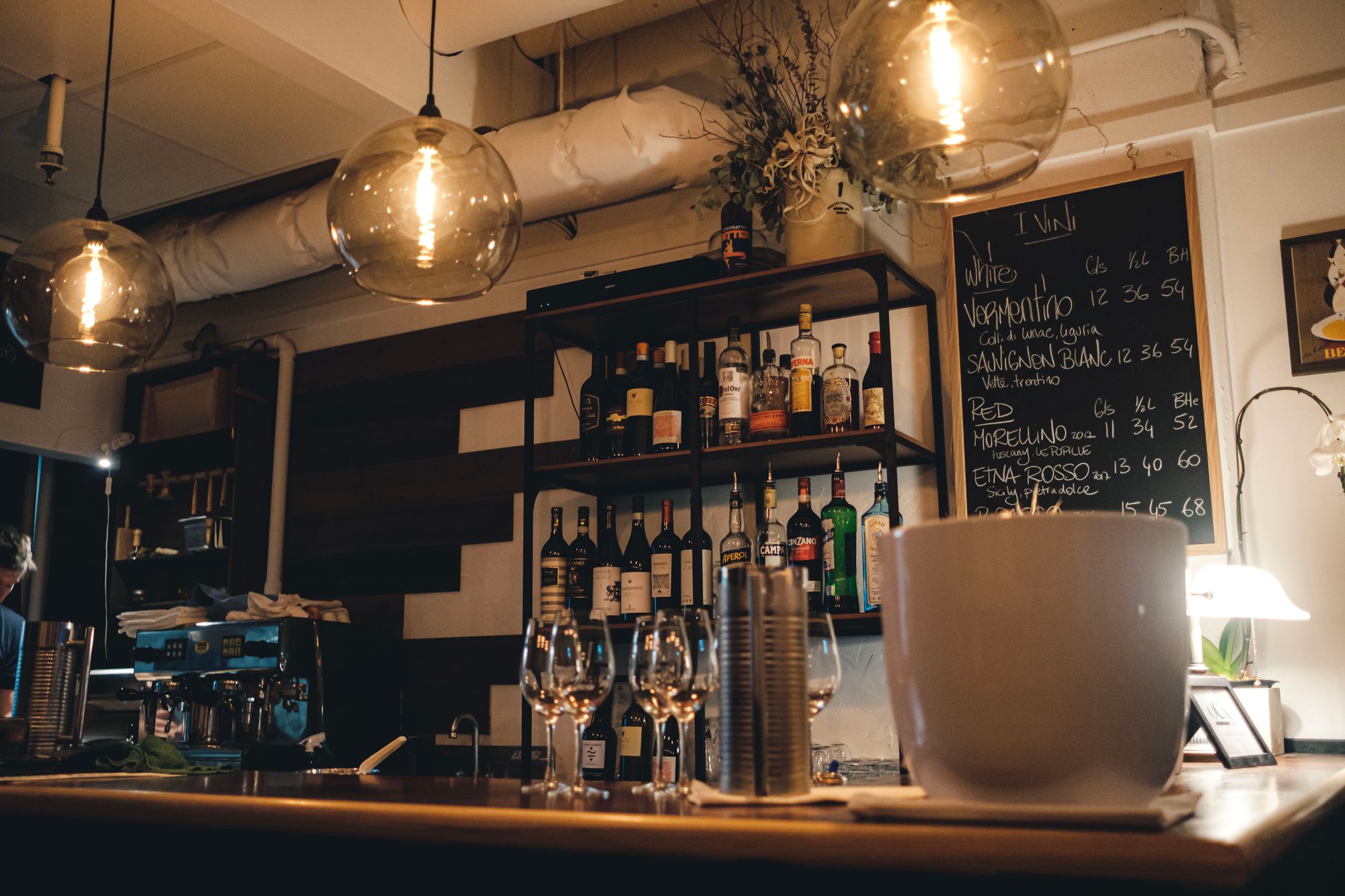 The restaurant itself is quite tiny, taking up residence in the old location of Absinthe Bistro, which moved a few blocks away. Inside are about 4 bar stools worth sitting at and about 10 tables inside to fit another 20 guests. The lighting is dim like every dinner-only Italian restaurant and the ambiance is a little quiet for my tastes. Given the space is cramped, the tables are close together, and there's no music playing in the background (at least during my visit), your neighbours will very likely hear what you are talking about at dinner. Don't bring any heavy topics into this type of dinner.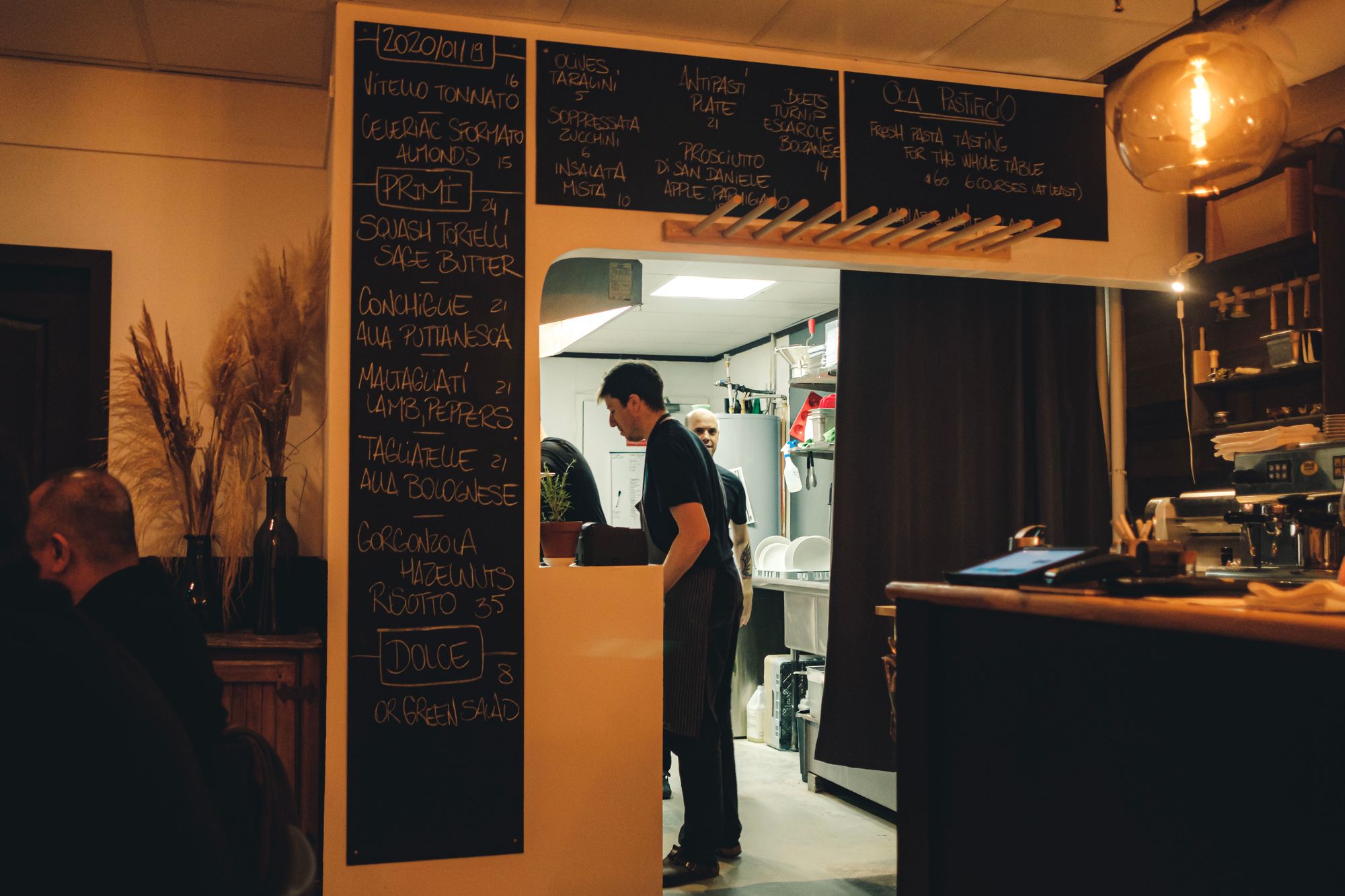 By the way, "oca" means goose in Italian, and harkens back to the owners early life. There's also a goose near the front of the restaurant to demonstrate its namesake, which also sometimes finds its way on the constantly-rotating menu.
Service:
Service was alright at our dinner at Oca Pastificio. The server would chirp back with enthusiasm if we prompted him with something (e.g. How's L'Ufficio? What does "oca" mean?) but there wasn't much effort from him to make this dinner especially interesting. I'm guessing that's because we either weren't ordering enough food or that's just how he is but I like to have at least a little intro to the dish being presented to me with details on where it's sourced, or what kind of cooking technique was employed to make the dish the restaurant's own. I normally wouldn't expect this level of detail at a chain restaurant with an $20 risotto, but I do at a small business restaurant with 3 staff sending out a $35 risotto.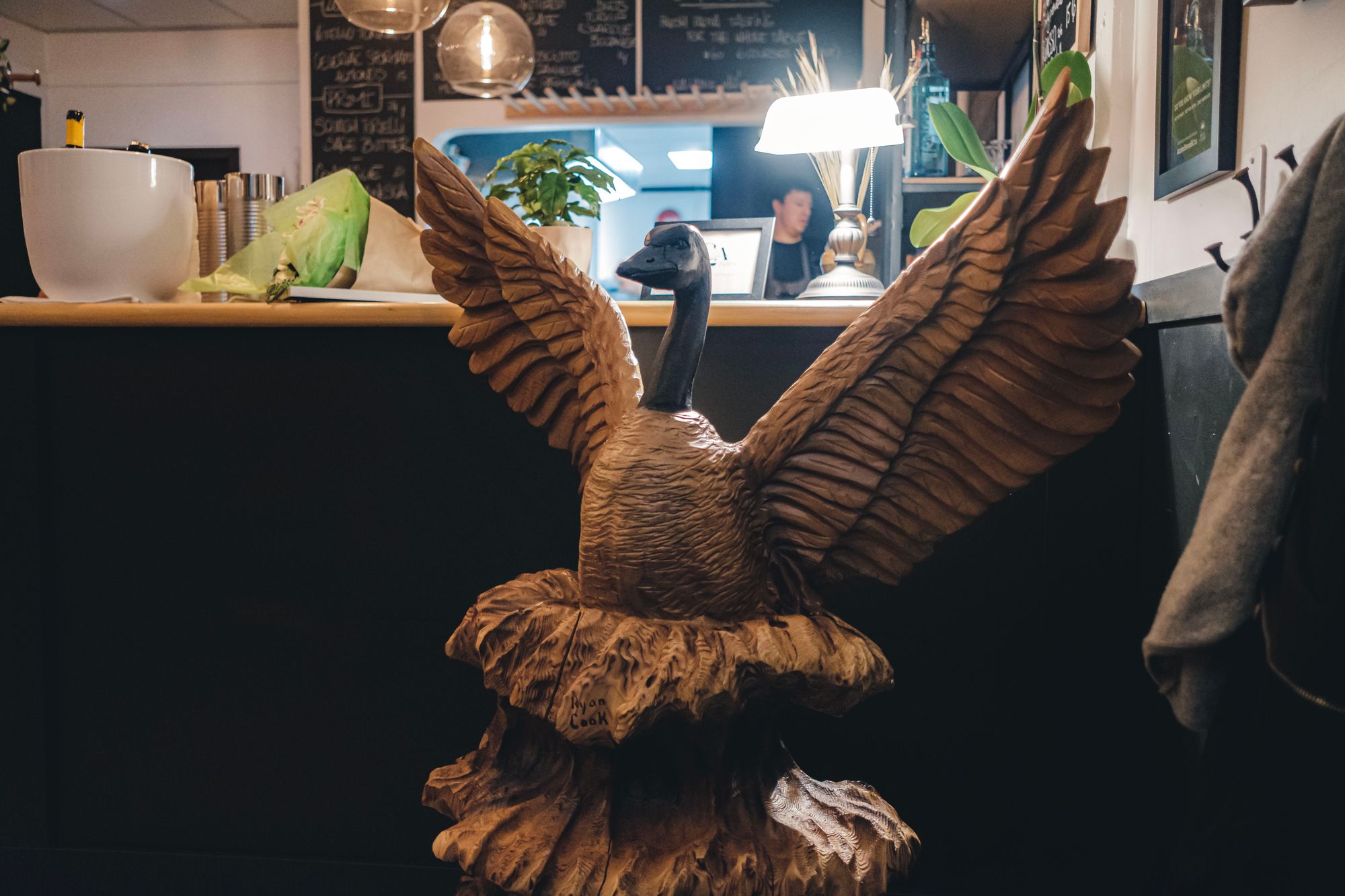 It was very busy at this restaurant by 5:30pm on a Saturday evening. I'd recommend coming as early as you can with a maximum group size of 6. They don't take reservations so you'll have to play it by ear if you want to risk coming later than 6:30pm. Food took around 10 minutes to start showing up at our table which is pretty terrific for 3 staff members working the Saturday dinner shift.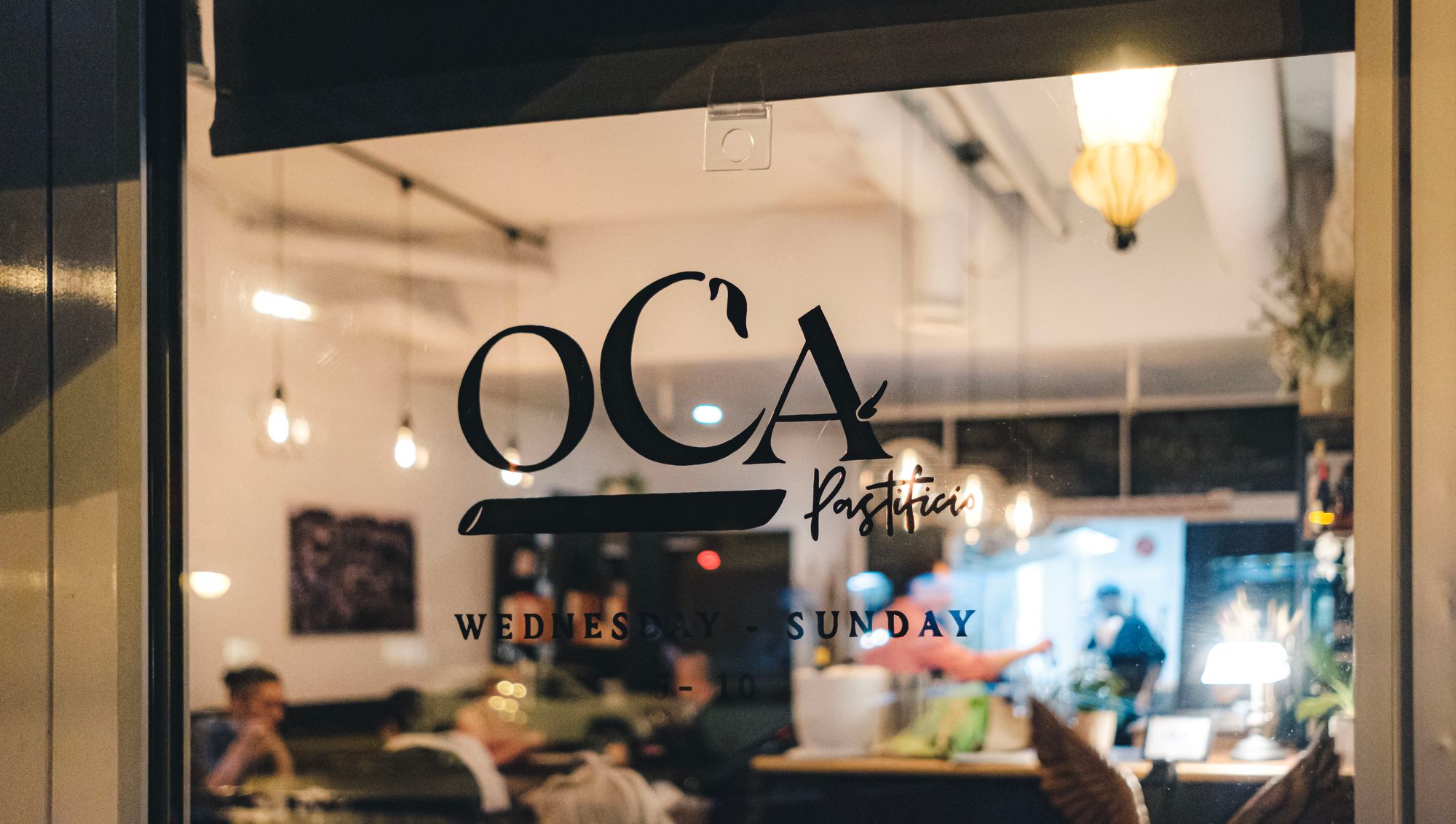 Final Thoughts:
One-liner: Very fresh pasta with the best al dente bite in an environment that might punish you if you're more of a casual Italian lover or someone who wants a restaurant with enough decibels that you can talk about anything you want in the dining space
Highlight: Gorgonzola hazelnut risotto
Price per person: $45-$80
Would I go back? No.