With so many Japanese sushi restaurants in Vancouver, it's easy to forget there are actually different concepts of Japanese cuisine beyond ramen. For my birthday back in August, my family and I went to Restaurant Yugo on Main Street to try out their Japanese-French cuisine.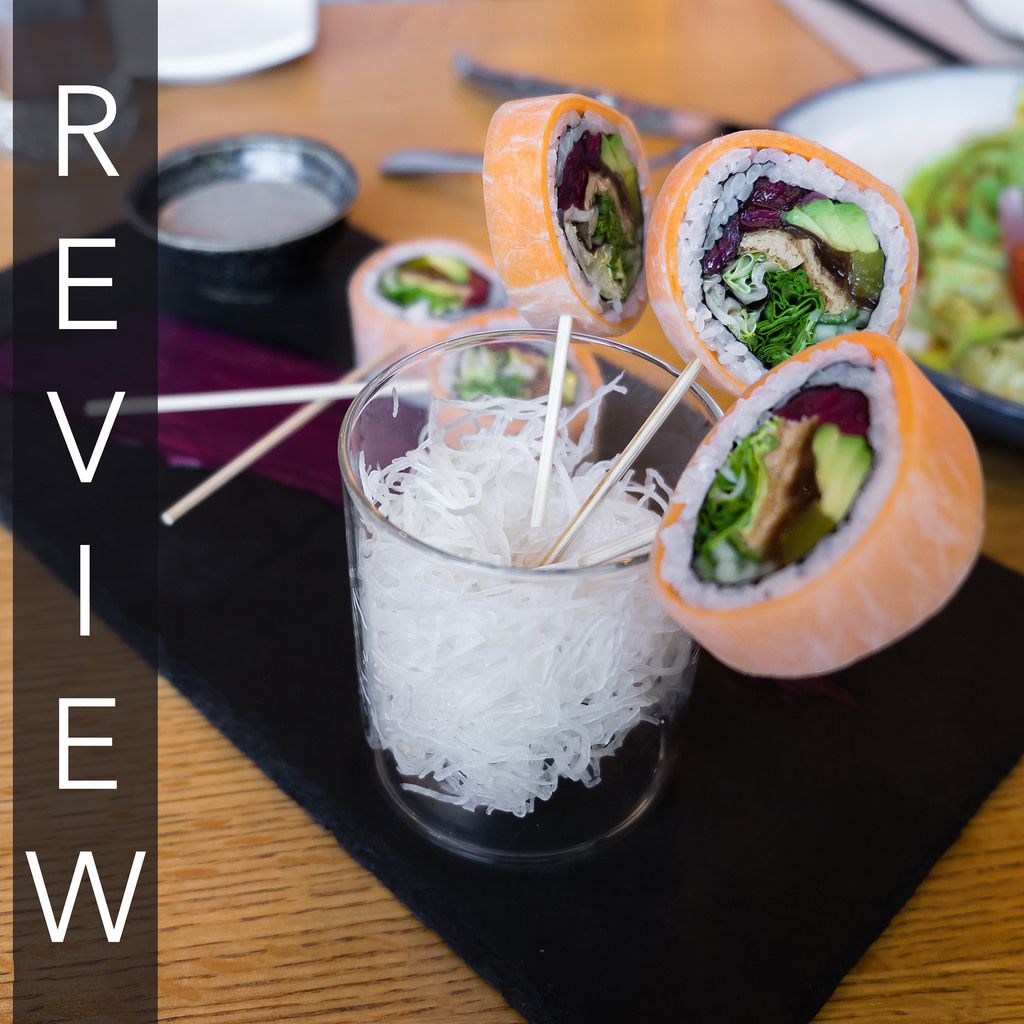 Food:
Team HD came here for a Friday evening dinner, just at the end of Happy Hour (discounted and regular prices listed below) and I had a great taste of the following:
Daily Appetizer Sashimi ($11, regular $18)
King Salmon Nigiri ($8, regular $9)
Foie Gras Nigiri ($16)
Yugo Roll ($12, regular $14)
Ebi Mayo ($10, regular $12)
Pistachio Salad ($10)
Confit Octopus ($16)
Hamachi Aburi Oshi ($15)
Lollipop Roll ($14)
Duck Breast ($25)
Beef Tongue ($25)
Black Cod ($25)
Matcha Mille Crepe ($6, regular ~$8)
The daily appetizer sashimi was a plate of various salmon, tuna, and yellowtail sashimi garnished with greens, radish, truffle ponzu sauce, and lime zest. This was a cool twist on the usual soy sauce and wasabi combo.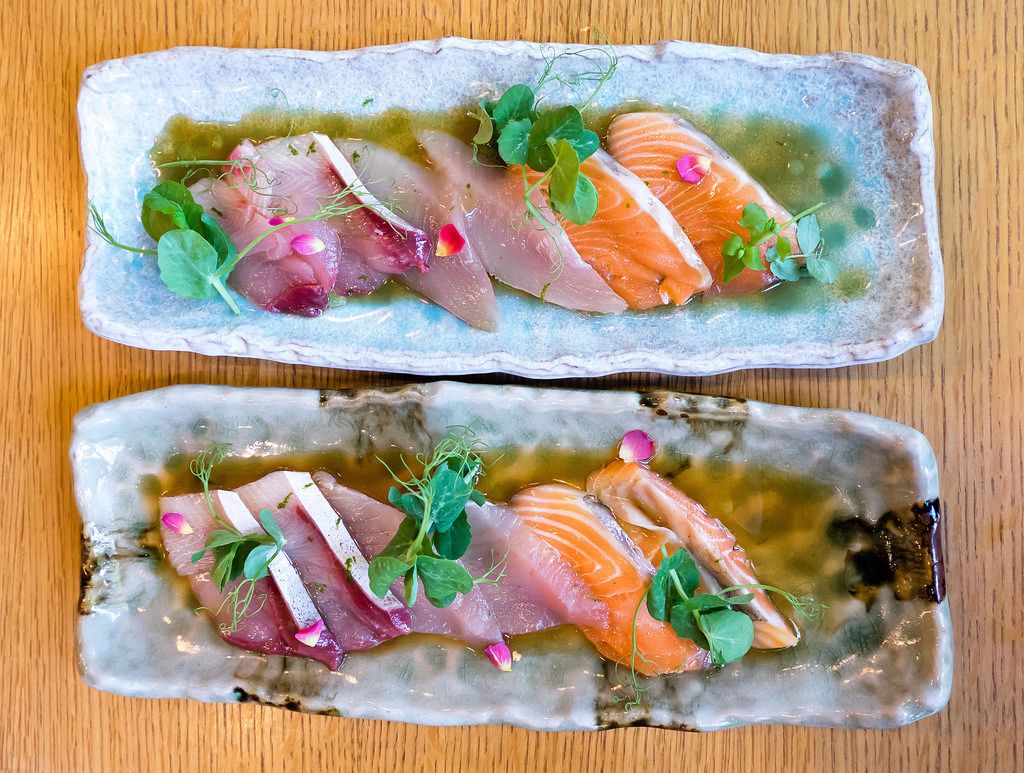 Moving onto nigiri, the king salmon nigiri featured on the happy hour menu had a meatier look than the usual salmon nigiri. This nigiri was also dressed up with a truffle sauce, eschewing the need for wasabi.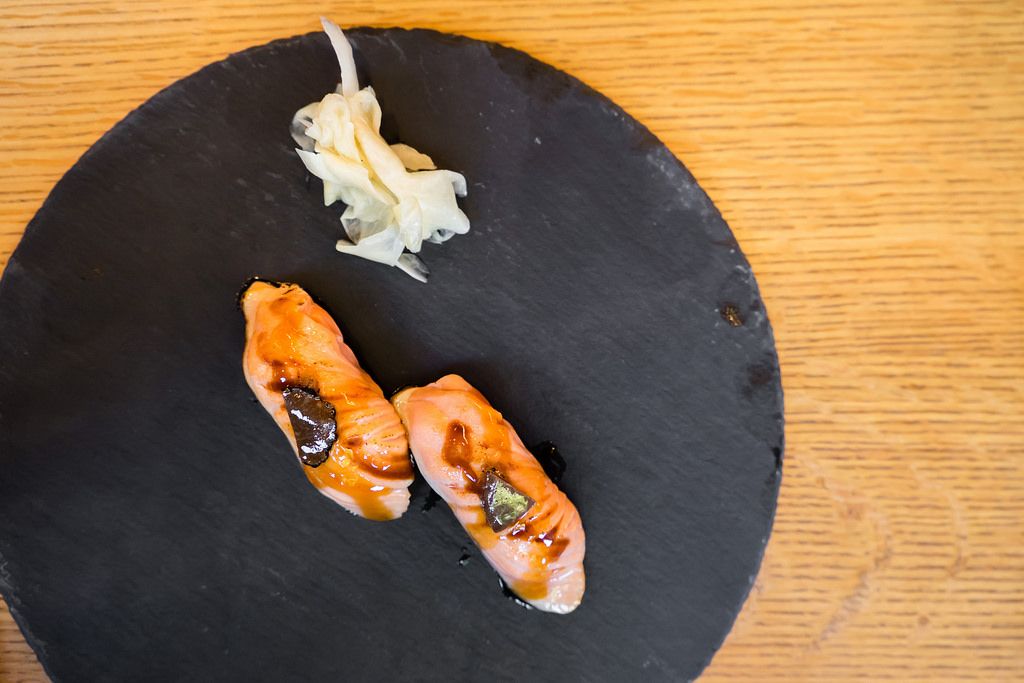 The foie gras nigiri was a French take on nigiri. Slabs of foie gras were pressed onto the tops of rice and served as a 2-piece. I thought this was a cool concept but will prefer to stick to fish on rice in the future. This felt like putting a stick of butter into my mouth. I normally love butter but this combination was too wild for me.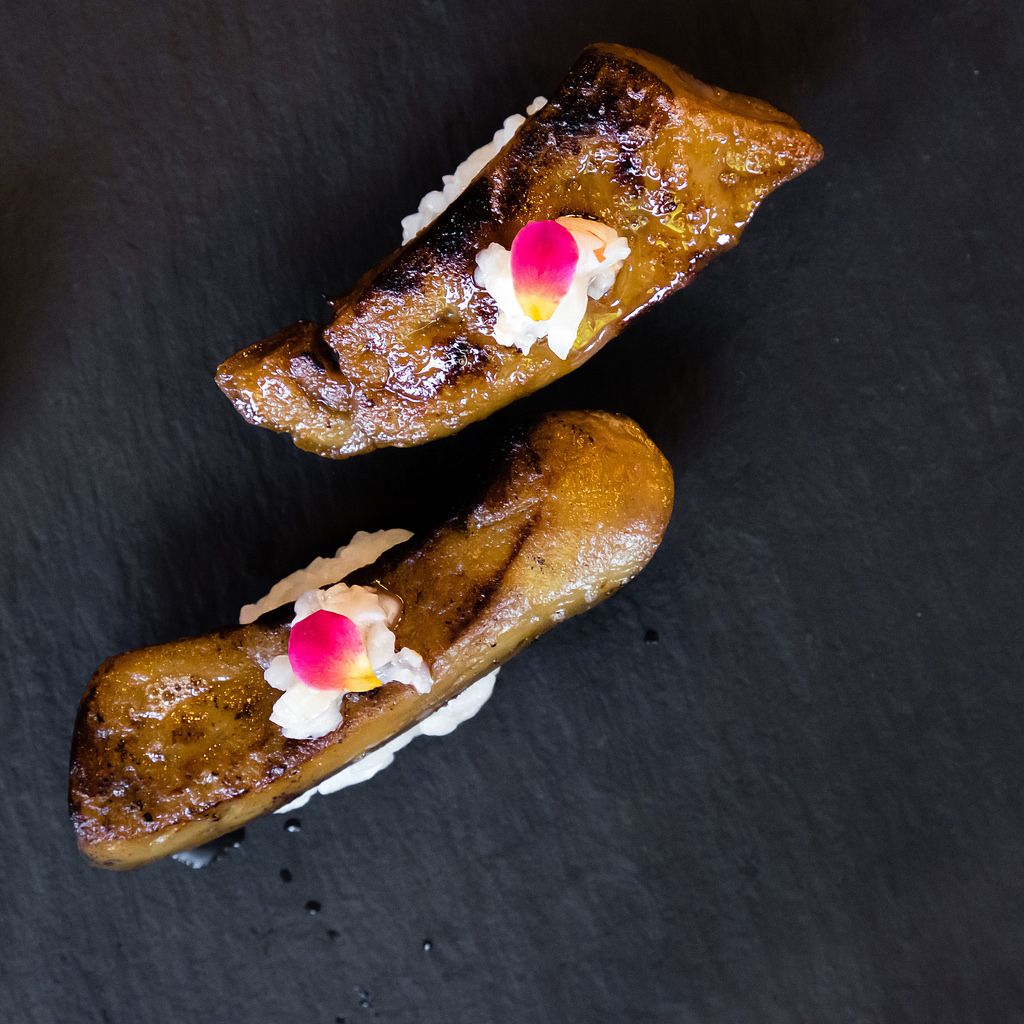 The Yugo roll was my favourite roll of the night. Featuring caramelized onions, cheese, avocado,  kimchi mayo, beef tataki, garlic chips, this roll was dressed up to the nines but still delivered on flavour. Caramelized onions add a savoury kick to any dish and this roll was no different.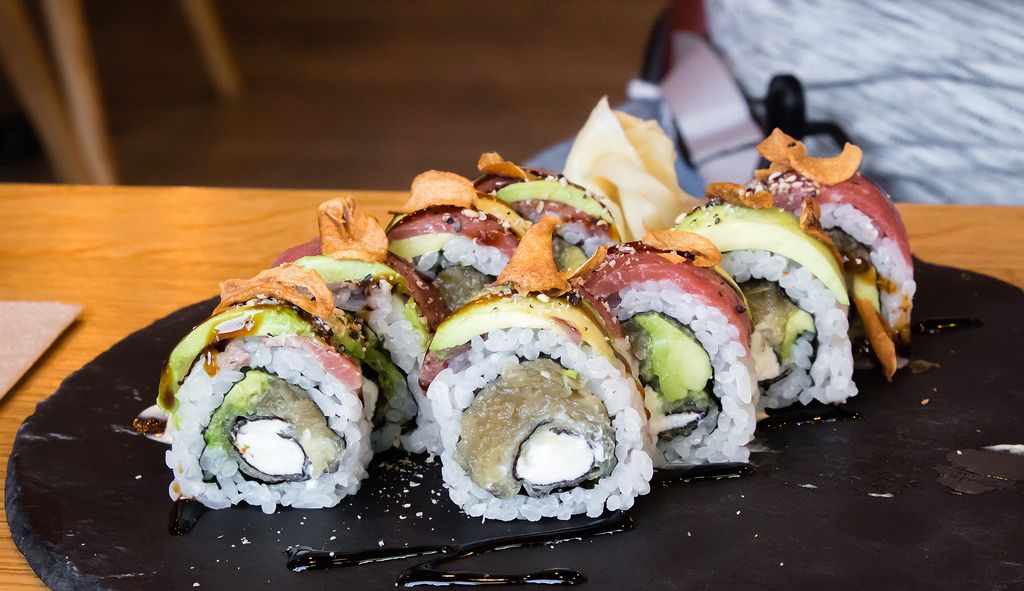 The ebi mayo was an izakaya classic with tiger prawn, miso mayo, fried leeks, shiso seasoning, and greens. At most izakayas, you generally only get the fried prawns and a mayo sauce to dip, but once again, Restaurant Yugo kicks it up a notch.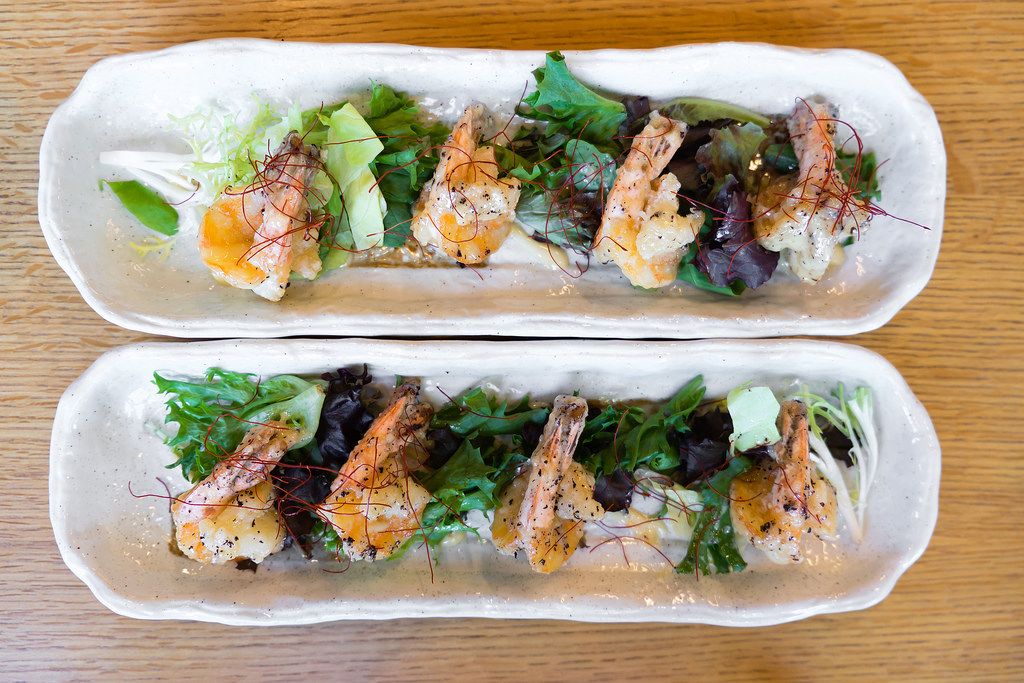 The pistachio salad was a Boston lettuce salad with watermelon, pickled vegan feta cheese, pistachio dressing, and shiso pistachio powder. Nutty flavour aside, this salad was a very cool concept with lots of texture and flavour. Watermelon and pistachio, write that combination down.
Our last appetizer was the confit octopus which was served with a black bean purée, fennel salad, and corn tempura. I loved the corn tempura here. I'm already basic for corn and having it deep fried into tempura was all I needed to enjoy this salad.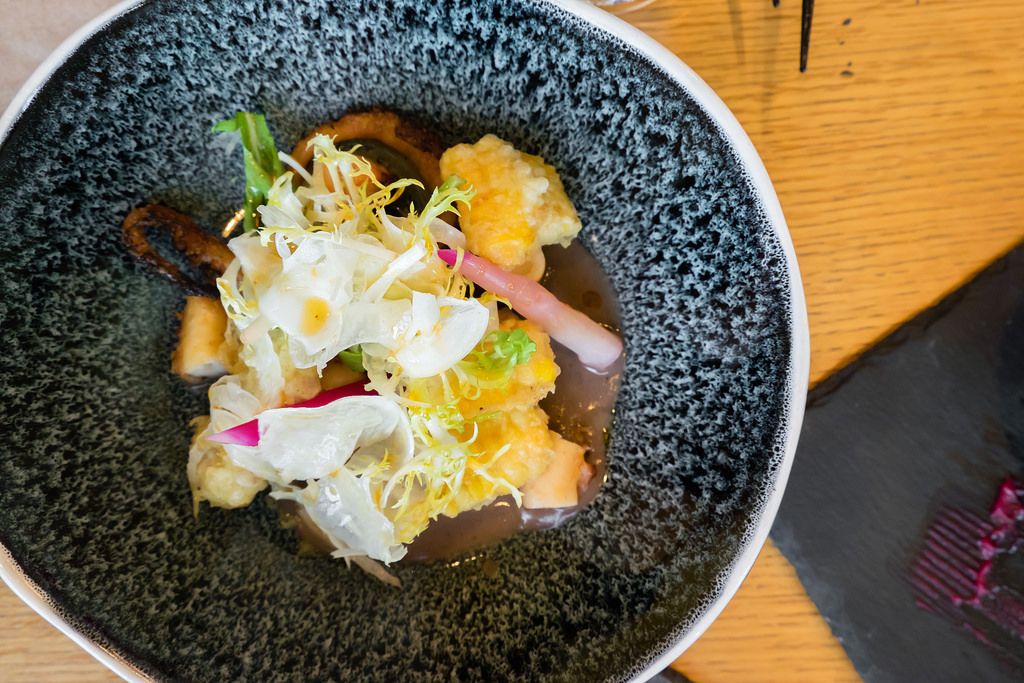 For oshi, we had the hamachi aburi, which was topped with jalapeno, fried taro, and drizzled with a miso mayo. Slices were razor sharp here and the seared mayo had a terrific smokiness. It's unfortunate that this needs to be mentioned, but the slice of fish was pretty hearty and provided a substantial amount of flavour.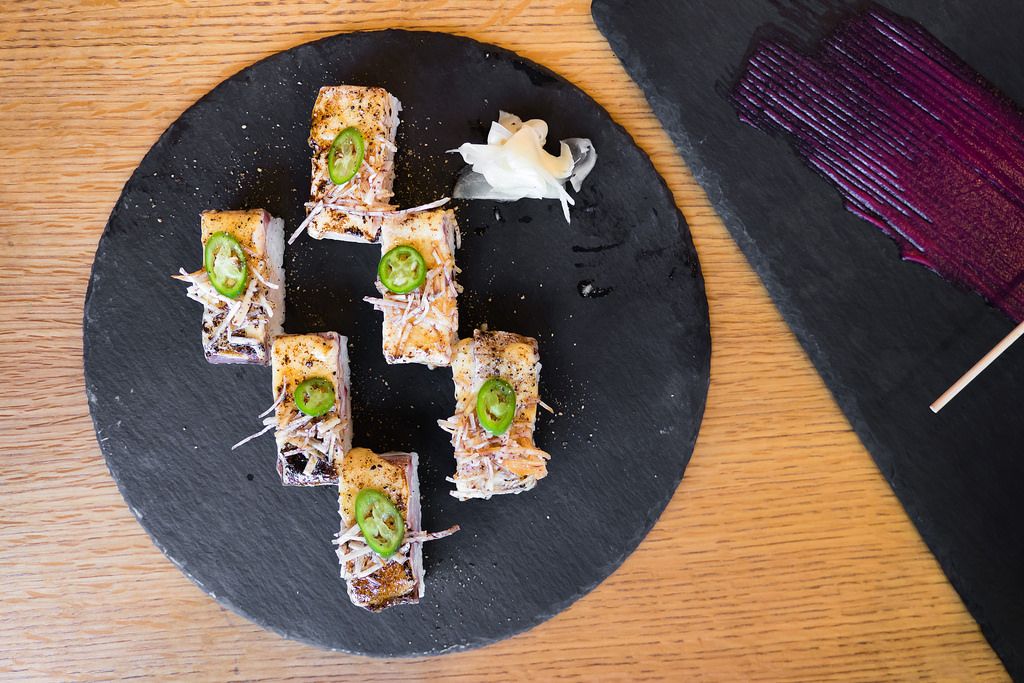 The lollipop roll was a dish of skewered sushi with shiitake, oshinko, kampyo, cucumber, inari, avocado, greens, beet purée, and sesame dip. On paper and visual, these were packed rolls, but were a little too big to eat in one chomp. Once I dipped into the sesame dip, the roll would just fall apart. Maybe my mouth is just too small to enjoy this roll properly.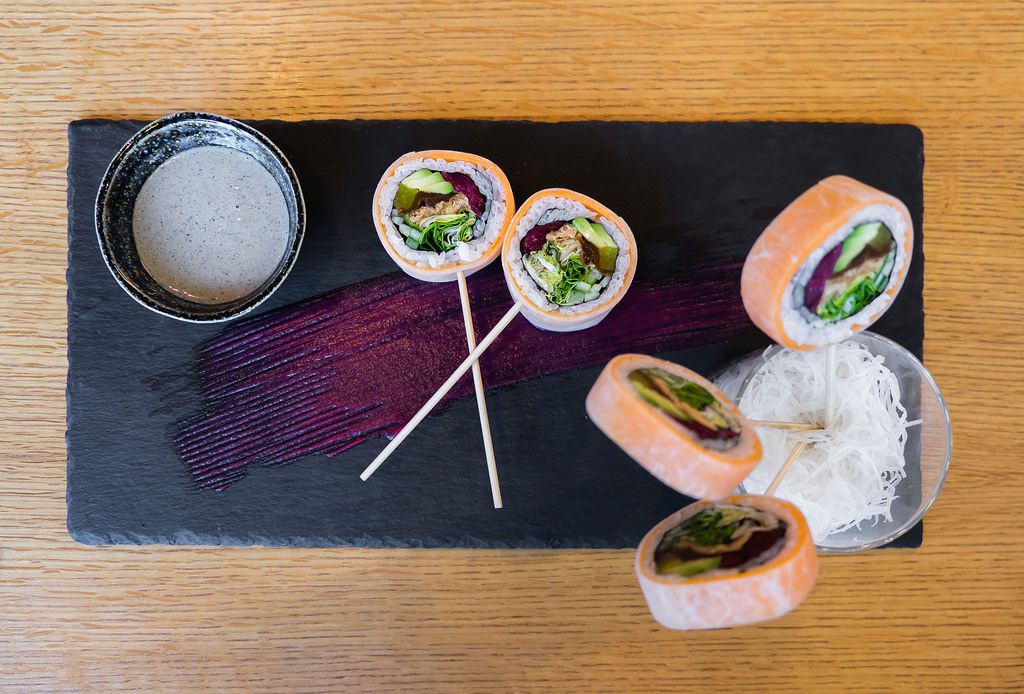 Onto the mains, first up was the duck breast. This was plated with chorizo polenta, corn cream, apache onion, and cranberry sauce. This was a delicate dish that reminded me of a fancy Thanksgiving dinner (for people who can afford to feed everyone duck). The asparagus had a wonderful crunch and the flab of chorizo polenta was full of complementary flavour for the duck breast which was cooked perfectly, leaving it supple and juicy.
The beef tongue featured a beet purée, sautéed vegetables (brussels sprouts), and bacon chunks. The beef tongue had just the right amount of chewiness and paired very well with the crisp seaweed and beet puree. I wish the brussels sprouts and bacon were crispier but I guess you can't have everything perfect.
So far, every dish with a beet purée has had a problem with me, so if you're not a huge fan of beets, maybe you can identify with my dish choices at Restaurant Yugo.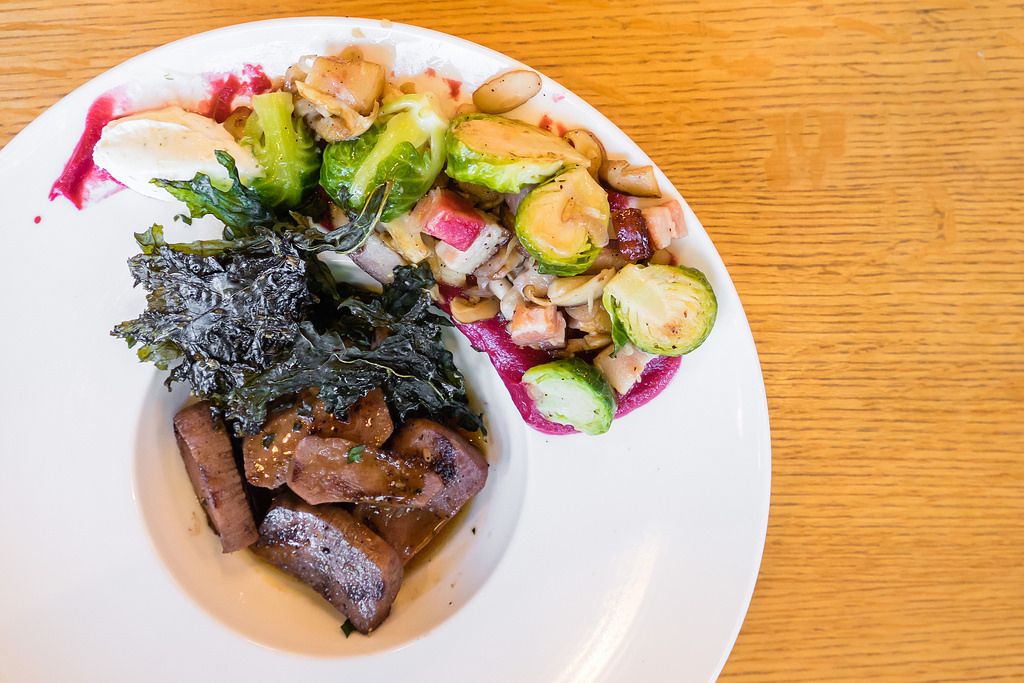 Our final main course was the black cod, which was glazed with maple syrup and served with fried soba noodles, kale, and yuzu foam. This was the prettiest plate of the night with baths of foam swished on both sides of the plate. the soba noodles were a fun carby addition to the plate and the cod oh so juicy. 2018 was definitely a year of foam (at least in cocktails) and the black cod dish speaks right to that cocktail trend.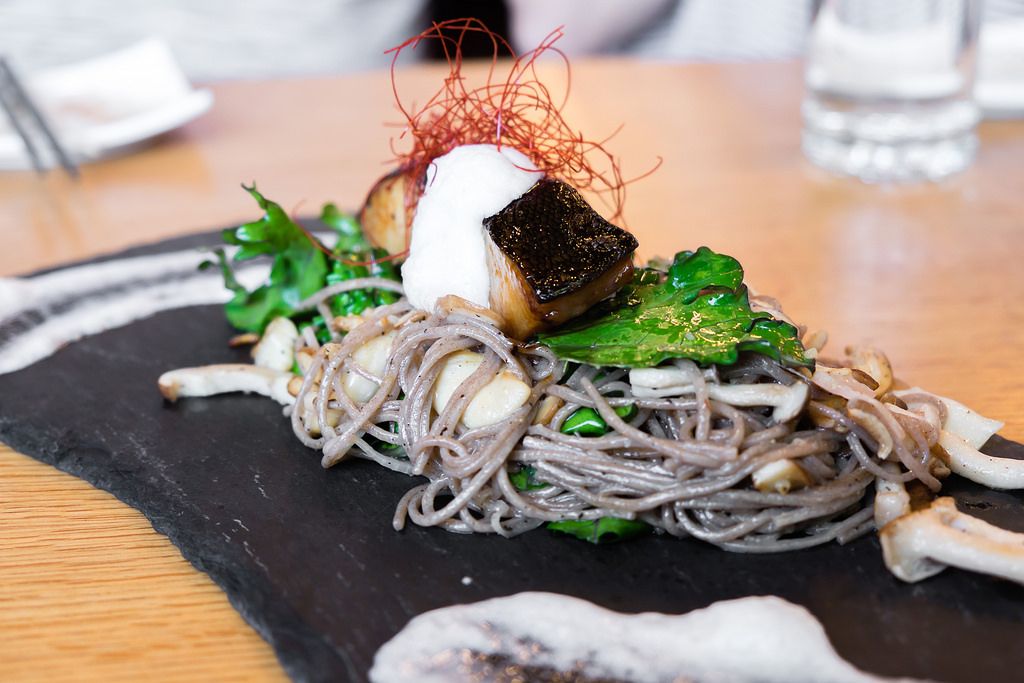 Last but not least, the matcha mille crepe, which was on the happy hour menu. First off, how often do you get desserts on a happy hour menu? If I worked closer, I would definitely come here and splurge on the desserts. The mille crepe had fine layers of cream and red bean pressed down in layers of crepe. No knife was needed for this dessert and my fork cleaved down to the bottom with zero issues.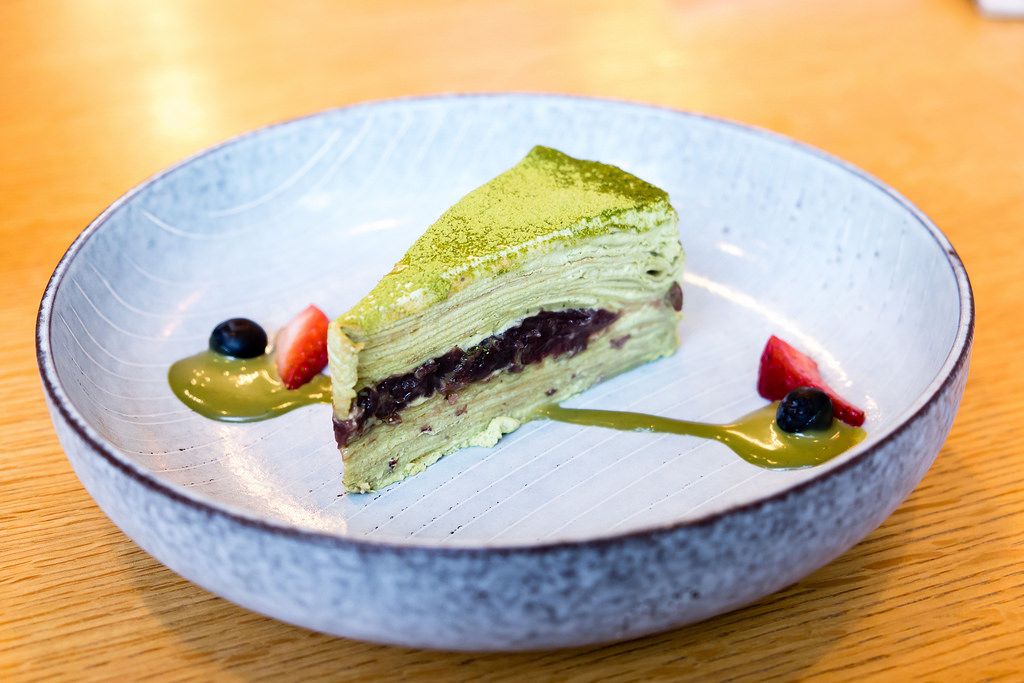 Features:
I reserved 2 weeks in advance and we got an awesome 6-top table at the front window. Restaurant Yugo has a chic interior with European styling despite the Japanese-forward menu. Inside, there is seating for about 80 guests amongst booths, tables, and a couple of window-front seats. There's enough lighting to keep your vision intrigues and enough air conditioning to warrant making a reservation to escape from the summer heat.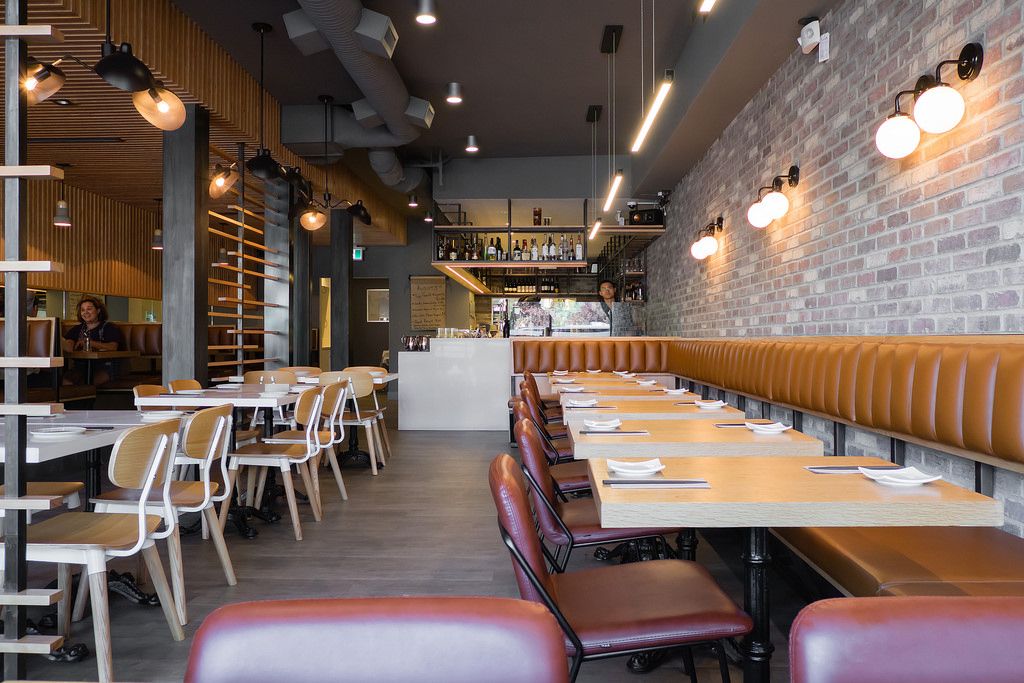 Service:
Service at Restaurant Yugo was fantastic. We came with a few minutes to spare in Happy Hour, and our server was happy to accommodate our pacing requests. We basically ordered a bunch of starters, mains, and dessert from the Happy Hour menu and our server let us have the items in the order they would normally be served (i.e. our dessert, ordered at 5:55pm, arrived at 7pm).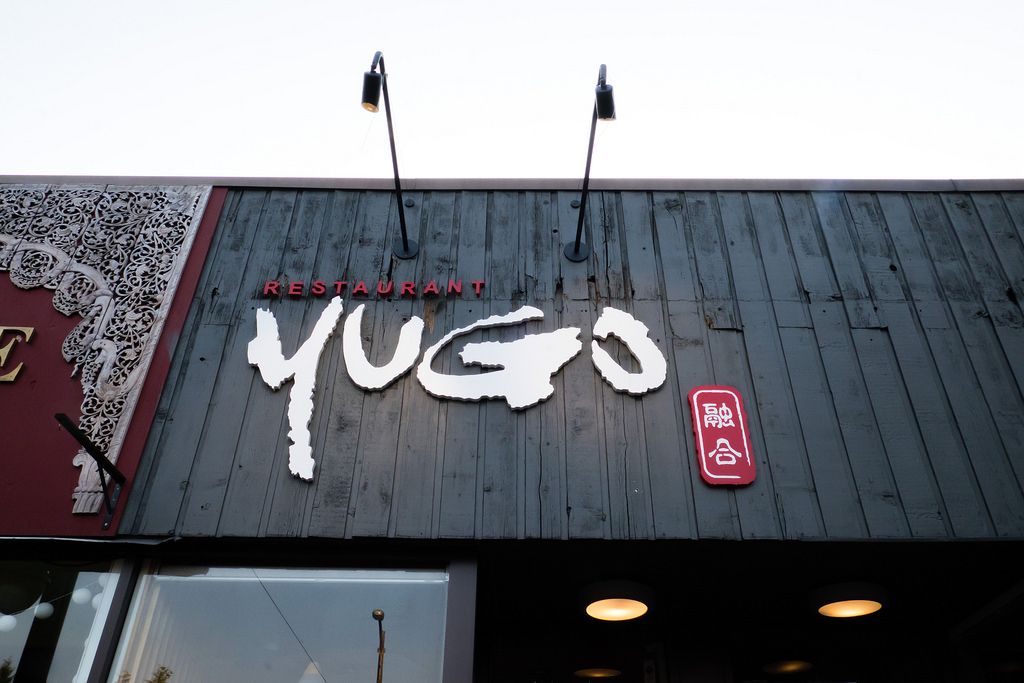 It wasn't too busy at Restaurant Yugo on this summer Friday night, which is a big bummer because I think this restaurant deserves a lot more. It's definitely a finer concept than what you'd normally be used to on Main Street, but there's also few places that push the Japanese hybrid cuisine envelope. I fully intend to be back at Restaurant Yugo and hope they're still there the next time I'm in.
Final Thoughts:
One-liner: Forward-thinking Japanese-French Fusion cuisine that pushes the normal envelope of Japanese sushi and izakaya foods with finer French finishes
Highlight: Hamachi Aburi Oshi
Price per person: $30-$50
Would I go back? Yes.