I'm sure I violated some SEO rule about the number of words in a blog post in today's write-up, but a recent opening in Marpole has the neighbourhood buzzing and the Japanese-biased taste buds in me tingling. Today, we're talking about J Crepe, short for Japanese Crepe, and a little bit about Ramen Raijin Express. Owned by folks at Zakkushi, J Crepe turns into Ramen Raijin Express at night, and both eateries live with Yoshida Shoten, a Japanese-style convenience market.
Disclosure: This was a complimentary tasting provided in exchange for an honest overview and no monetary compensation.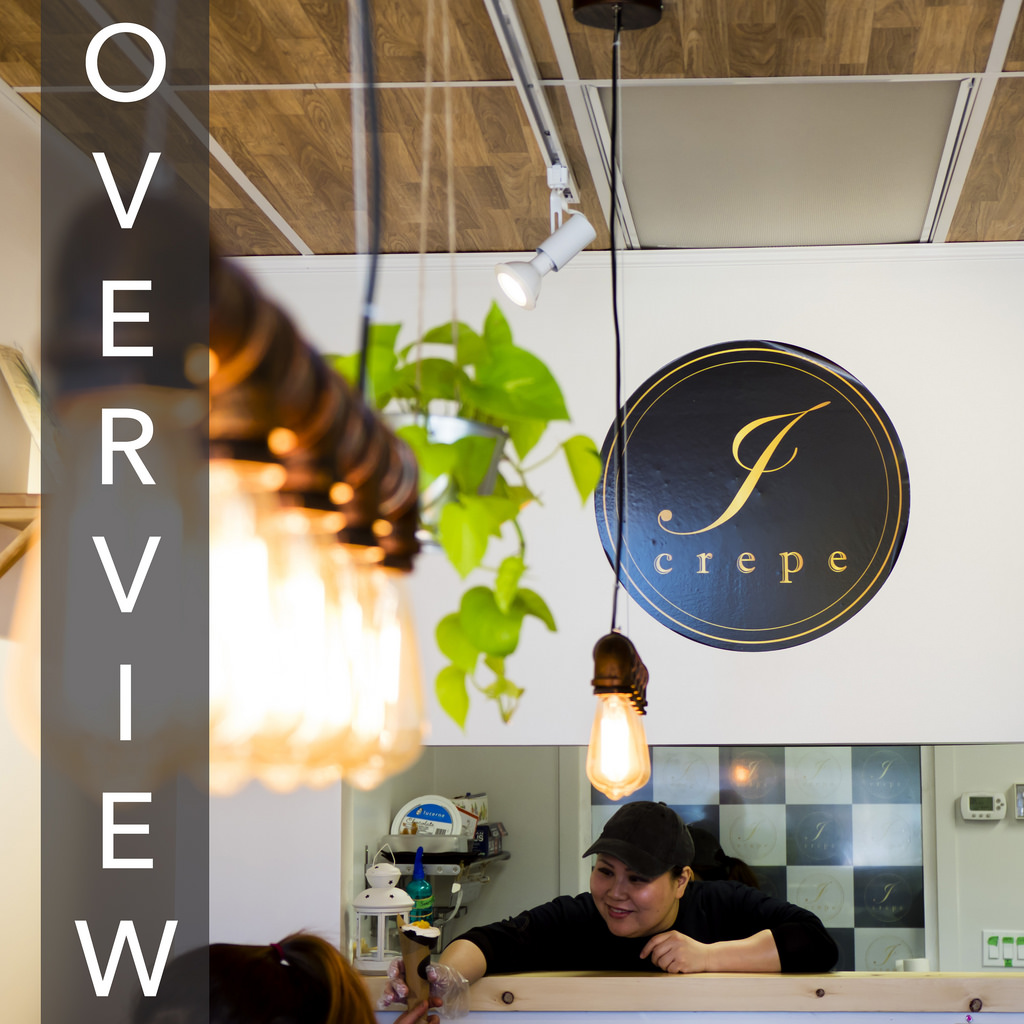 Japanese Crepe and Ramen:
Team Joe's House came here on a Saturday and I had a great taste of the following:
J Crepe:
No. 1 Brulee Crepe ($9.50)
No. 2 Ramen Raijin Crepe ($10.50)
No. 5 WA! Matcha Crepe ($9.50)
Ramen Raijin Express:
Spicy Tonkotsu Everything Ramen ($15.50)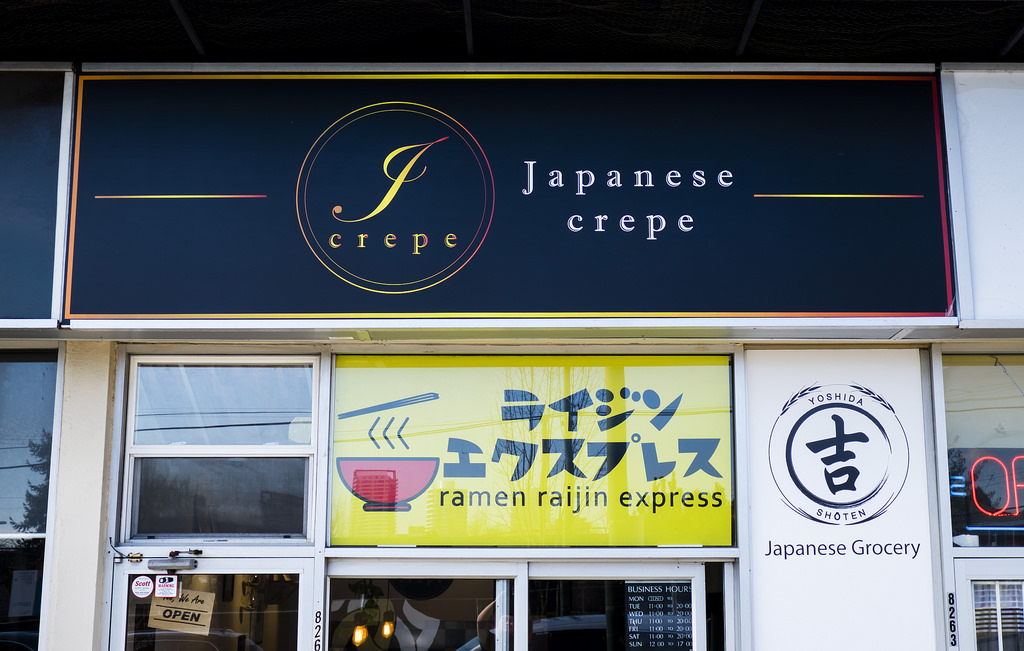 Outside J Crepe / Ramen Raijin Express / Yoshida Shoten
We actually started with the No. 2 Ramen Raijin Crepe. Housed in a bamboo charcoal batter, this crepe was filled with noodles, corn, green onion, seaweed, naruto, soup gelée, and shoulder cha-shu. You may have already seen these on Instagram, but this crepe is the first reason to visit J Crepe. The crepe (made in-house) is a cool vessel to house ramen in. I wish the soup gelée had a bit more oomph to it (I am a ramen broth drinker) as the noodles were a little on the dry side. Understand that this is a limitation by design as otherwise, you'd end up with a soupy mess on your hands. Don't count this crepe out though – it's worth a try on your first visit.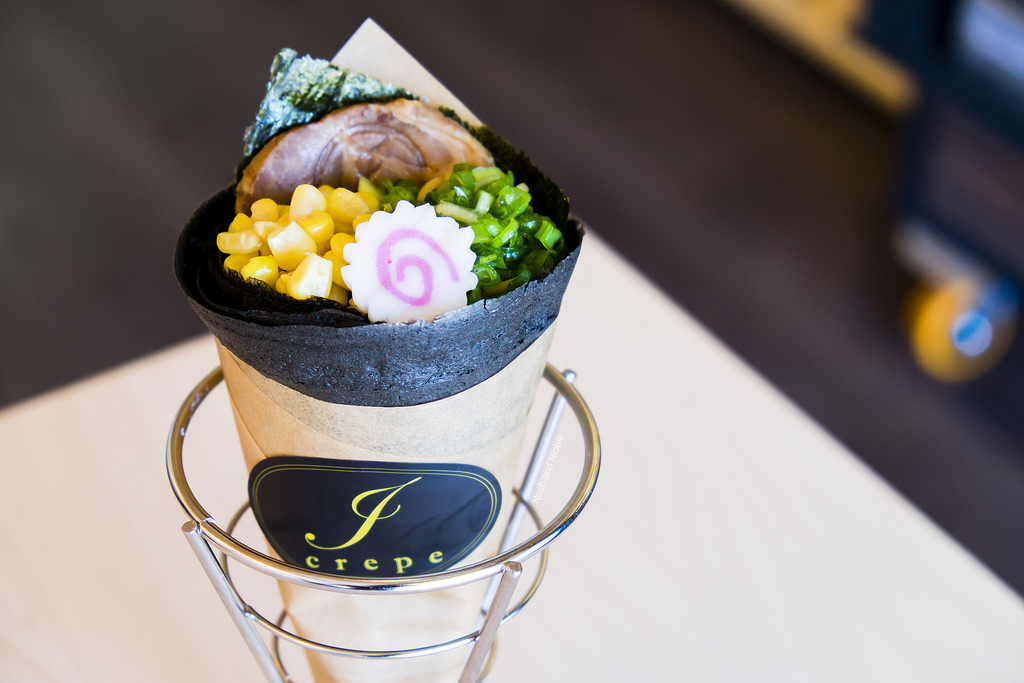 No. 2 Ramen Raijin Crepe
Moving onto a more traditional crepe, the No. 1 Brûlée Crepe was up next. In addition to crème brûlée, this was filled with passion fruit jelly and whipped cream. I think the chewiness of the bamboo charcoal crepe really lends to the soft cream which melted into my mouth on each chomp. Torching the brûlée also deserves some props as I'm sure torching pudding in a crepe requires some precision. There's a reason Brûlée is on the signature menu and I dig it even if it's not the most photogenic crepe on the menu.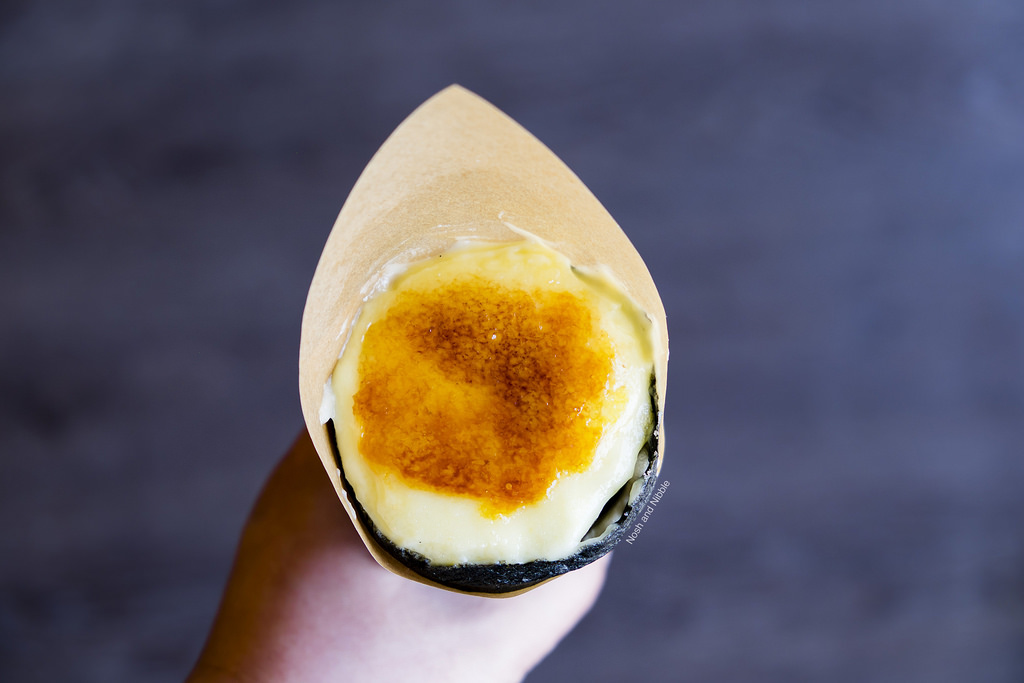 No. 1 Brûlée Crepe
Fun facts advocating the use of and charcoal in the batter here (it still mostly tastes like a typical flour crepe):
Super high in fibre (reduces constipation)
Mineral-rich
Strengthens digestion
Boosts immune system
Our final crepe was the No. 5 WA! (red bean whipped cream, mochi, ice cream, soybean powder, and brown sugar syrup). This crepe featured a matcha batter so the crepe was tinged a bit green. The vanilla ice cream and mochi gave this crepe a ton of life in each bite. A nice twist I found was in addition to the 3 mochi balls on top, a few more were hiding at the bottom of the crepe. It was a small detail but one I appreciate. Another surprise for me was the delicious soybean powder. It added a nutty texture that mixed very well with the sugar syrup.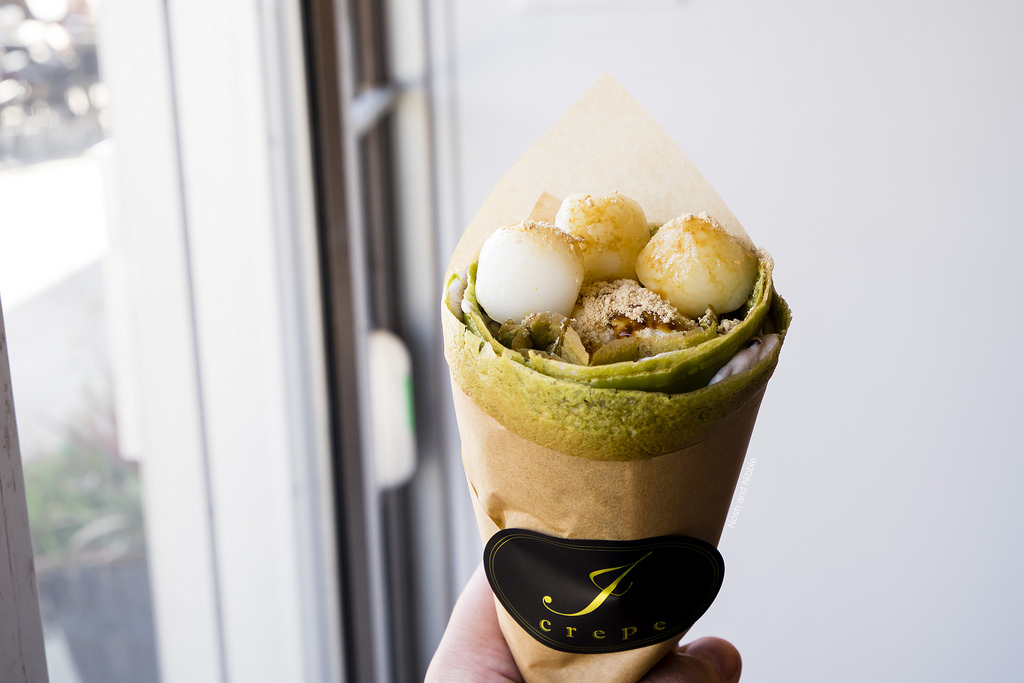 No. 5 WA! Matcha Crepe
Between the bamboo and matcha varieties of crepes, it's obviously a better representation of the eatery to have one of both. The matcha had a more potent flavour on my palate but the crème brûlée only comes in a bamboo charcoal crepe. If I was having another first experience and could only enjoy 2 of the 3 flavours I tried, I'd cut out the matcha crepe and go for the 2 signature flavours: brûlée and Ramen Raijin. A hard decision indeed.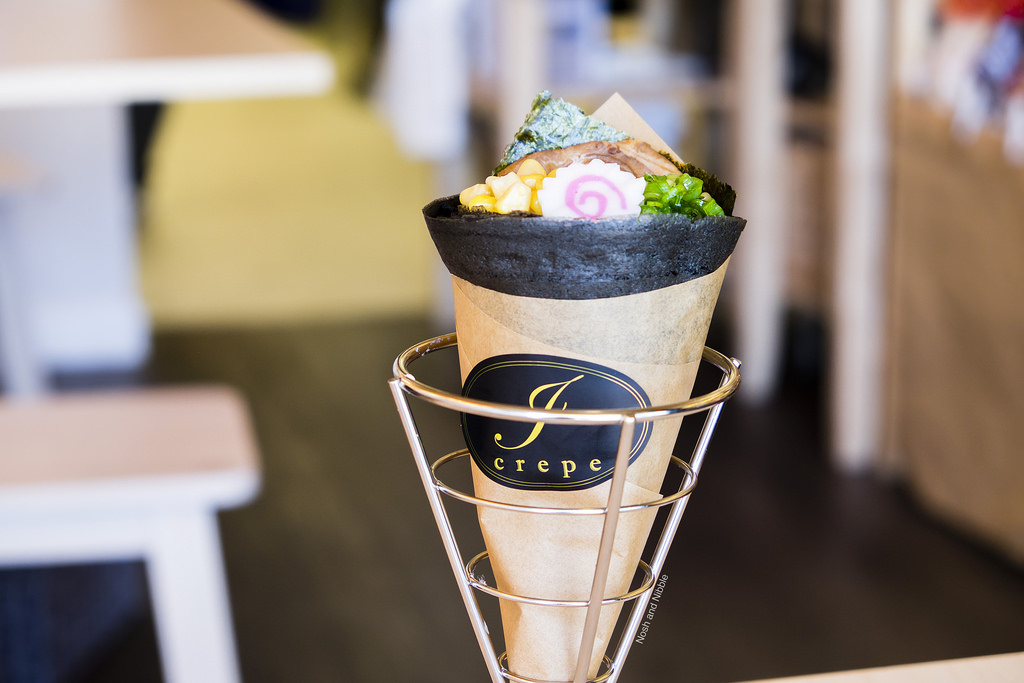 No. 2 Ramen Raijin Crepe
During this tasting I was also given a rare opportunity to enjoy a bowl of ramen, normally only served during their Ramen Raijin Express hours (Thurs, Fri, Sat: 10 PM - midnight). The Spicy Tonkotsu Everything Ramen was the top-tier ramen recommended to me and it came with a ton of toppings. We're talking bean sprouts, corn, green onion, extra pork cha-shu, a full soft-boiled egg, and a seaweed replacement (this was crunchy like kelp).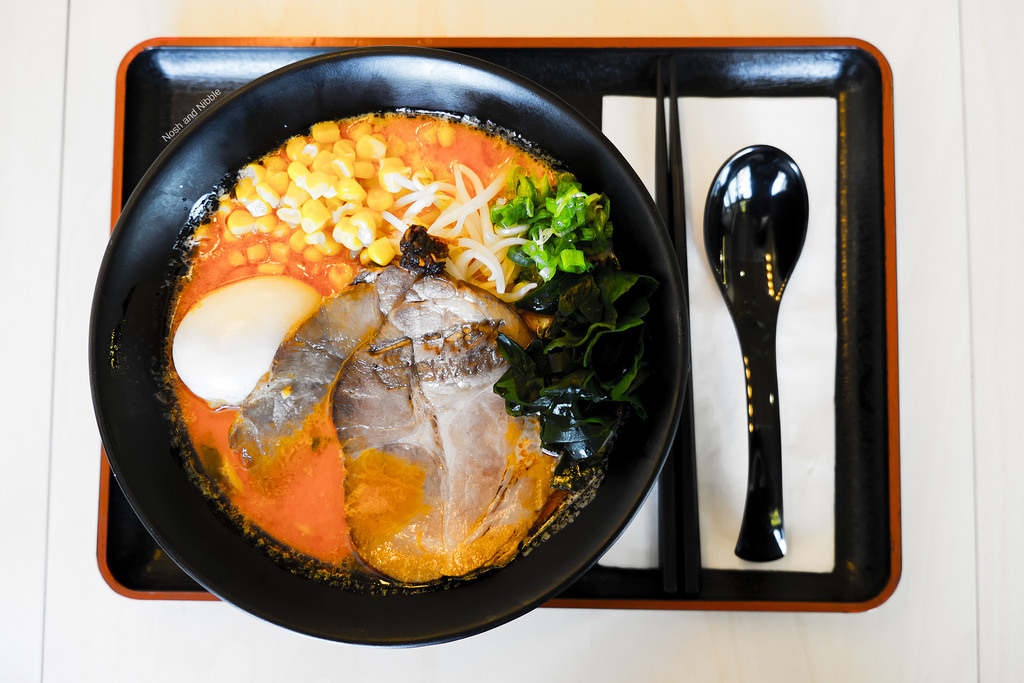 Spicy Tonkotsu Everything Ramen
This broth was thick! If you're a fan of Jinya Ramen's tonkotsu broths, you'll be right at home in this bowl (with a full egg to boot, which is not the case for most of Jinya's menu). Noodles in this bowl were naturally wavy and had a good chewiness. If you're looking for Ramen Danbo's super thin noodles, you won't find them here, but I personally find Danbo's noodles too thin for my liking.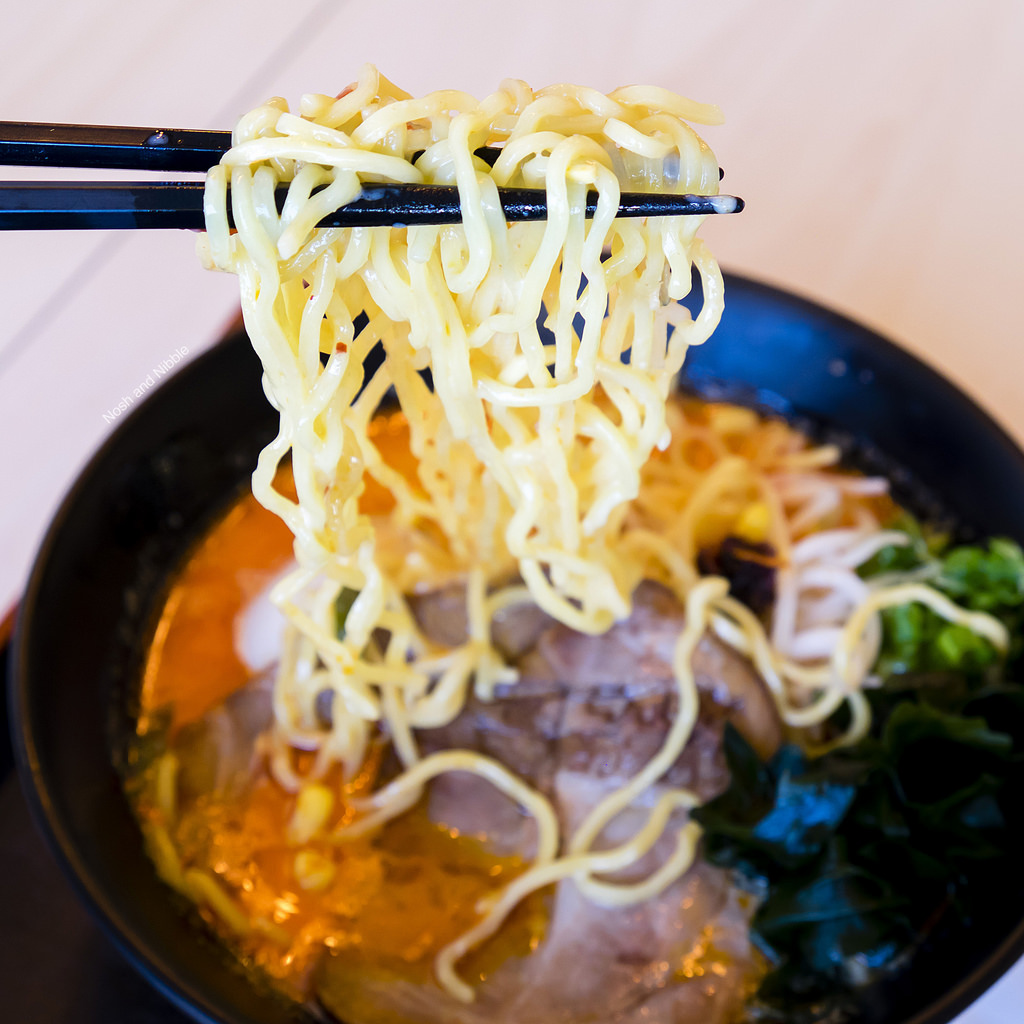 Ramen Raijin Express Noodles
The only bummer is that Ramen Raijin Express is only in operation 6 hours a week. If you want more Ramen Raijin in your life, you'll need to visit their Burnaby location.
Features:
Fitting three businesses in one venue sounds like an arduous task, but the organization at 8265 Oak Street lets this happen. Yoshida Shoten is the grocery section of the venue, offering hot/cold drinks and to-go lunches and snacks. Anyone can walk in and walk out with something consumable pretty quickly.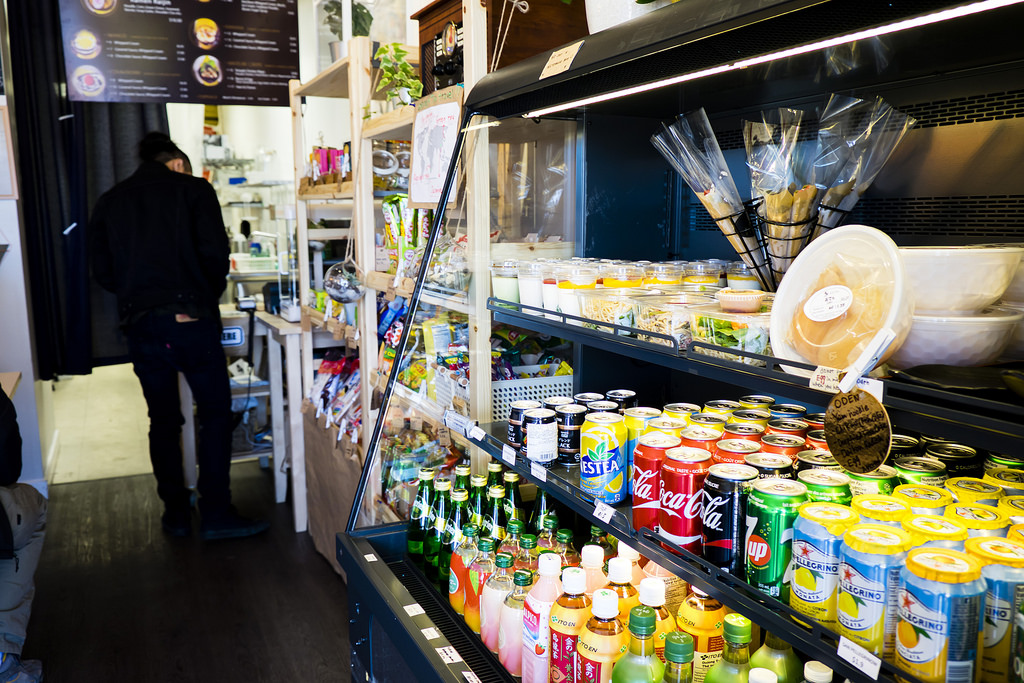 Yoshida Shoten
J Crepe is the main operation for most of the day. There's seating for about 16 guests at moveable 2-top tables. In true Japanese fashion, it's cozy inside so you'll probably be sitting with a neighbour. The feeling inside is quite homey especially with accents like these strung photos.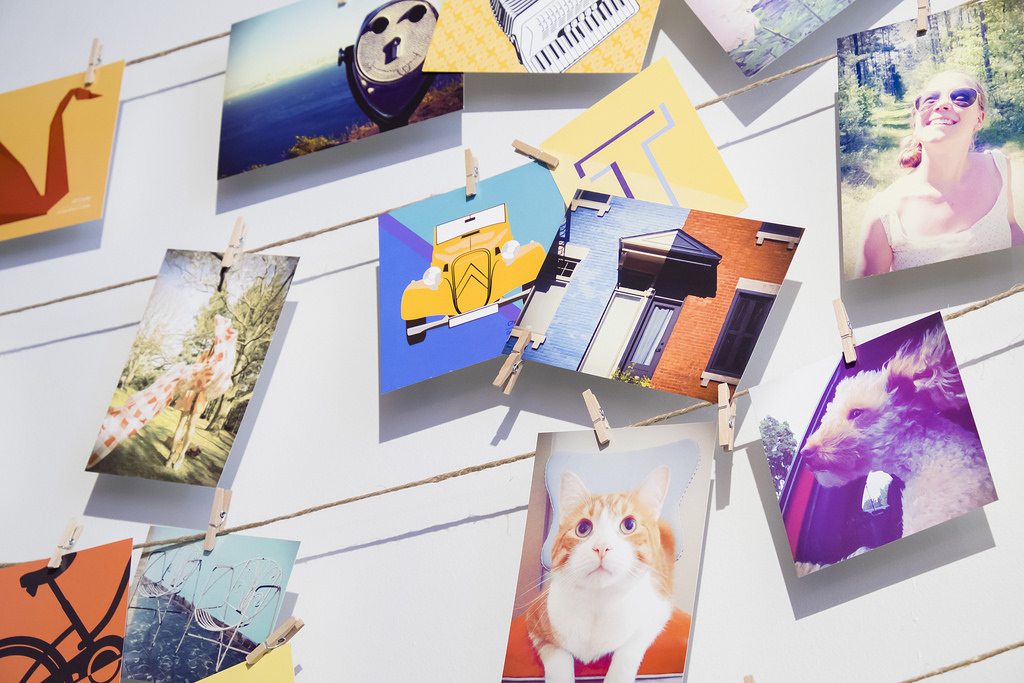 Inside J Crepe
Service:
Here you'll place and pay for your order prior to receiving it. If you have the luxury of sitting right by the counter, your crepe will be handed to you through the front window with a smile by the staff. Otherwise, you'll need to stand around and wait for your order. There's only one crepe-folding grill, so orders can take 3-5 minutes depending on how many crepes you order.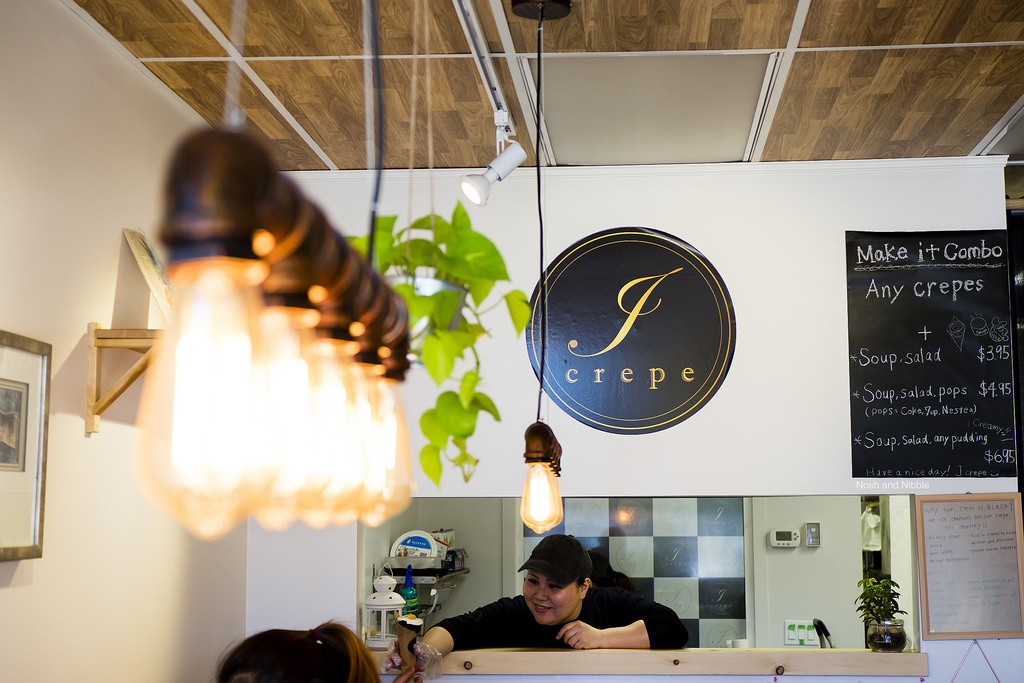 J Crepe Counter Service
On a Saturday afternoon, about 10 of the 16 seats were always occupied, and since it was sunny outside some people elected to eat outside. The staff here are Japanese and were very kind during my visit. I find it best to treat people with the same respect I expect to receive, yet I still feel trumped whenever I'm a diner inside a Japanese business. You'll feel like a king or queen as you're making your order.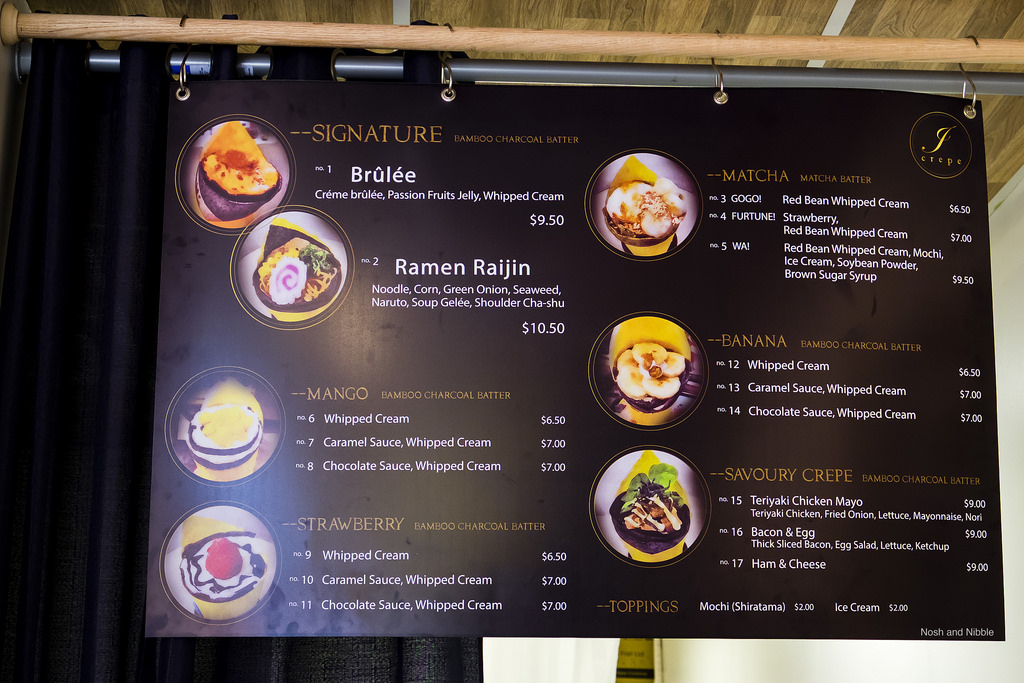 J Crepe Menu
Final Thoughts:
One-liner: A new 3-in-1 Japanese eatery that'll have you coming for the exclusive ramen crepe and leaving with a sweeter appreciation of bamboo charcoal dessert crepes
Highlight: Signature Brûlée Crepe
Price per person: $10-$20
Would I go back? Yes.