If you keep up with any sort of lifestyle column in Vancouver, you'll know that St. Lawrence has stormed onto the scene as one of Vancouver's best new openings of 2017 (see Alexandra Gill, Vancouver Magazine results pending, and Georgia Straight). It took me awhile to find time for this post, but I'm proud to say I was a diner at St. Lawrence back in February before all the publicity. Now that the jig is up, I can only hope diners can snag a reservation within a month because St. Lawrence really is that good.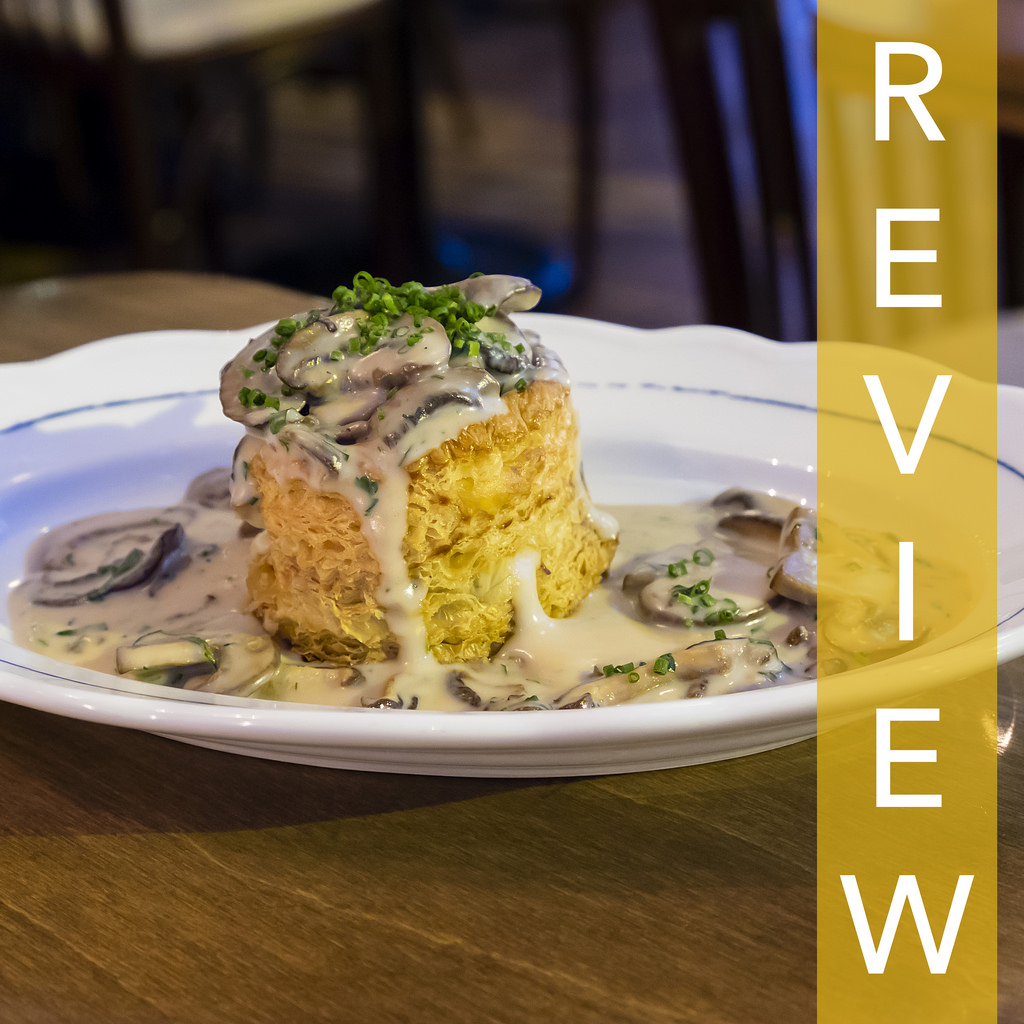 Food:
Team Tastic came here on a Friday evening and I had a great taste of the following:
Vol-au-vent aux champignons & sauce Mornay ($17)
Pomme Duchesse à la Royale ($14)
Agneau braisé en crépinette & ragôut de flageolets ($39)
Côte de porc, fromage Oka & sauce charcutière ($37)
Mille-feuilles chocolat-café ($12)
We enjoyed some starter bread which came with duck pâté and house mustard.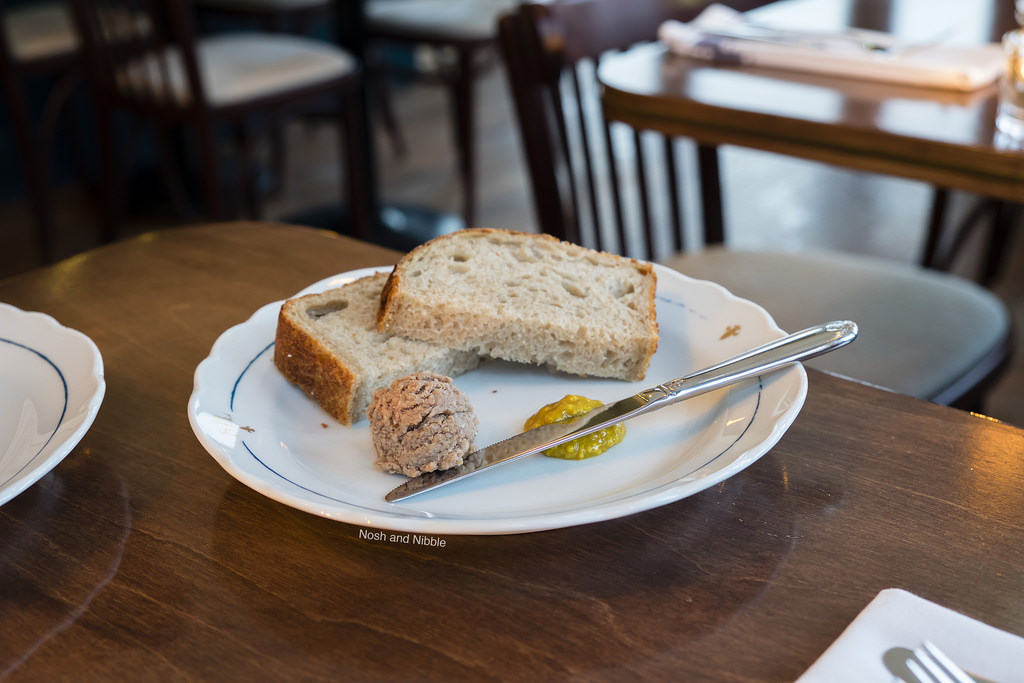 Starter Bread
Our first appetizer was the "Vol-au-vent aux champignons & sauce Mornay" AKA the Flight to the Wind Mushroom. This was mushroom in a white béchamel sauce with a puff pastry shell. The puff pastry had a superb flakiness, the mushrooms a bouncy juiciness, and the sauce blended everything together in a satisfying way. This will be the first (and not the last) time I mention I've never had an appetizer like this in Vancouver.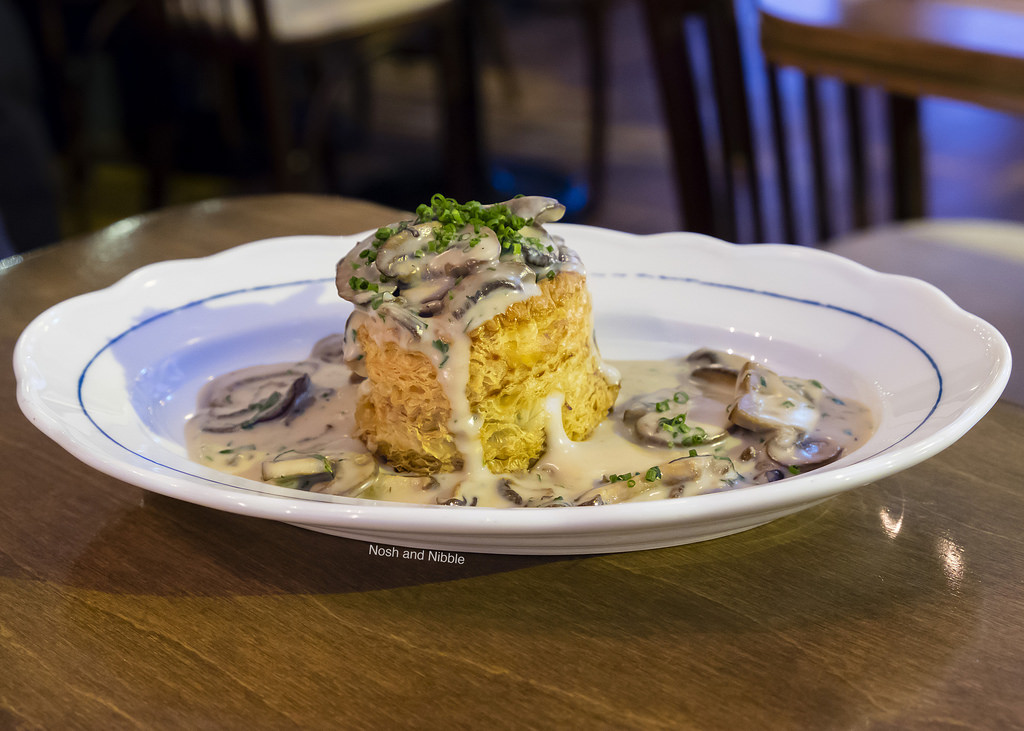 Vol-au-vent aux champignons & sauce Mornay
Fun fact: Wikipedia states that béchamel sauce is One of the mother sauces of French cuisine.
Next up on appies was the "Pomme Duchesse à la Royale" AKA the Baked Potato. This baked potato was simple with accompaniments of cheese curds and gravy. The real star was that the kitchen took the potato stuffing, fluffed it up, mixed in some cheese curds, and put it all back into the potato as a delicate layer of potato icing.
Having such a simple dish (baked potato) served in such an exquisite blew my mind. Again, I've never had anything like this in Vancouver.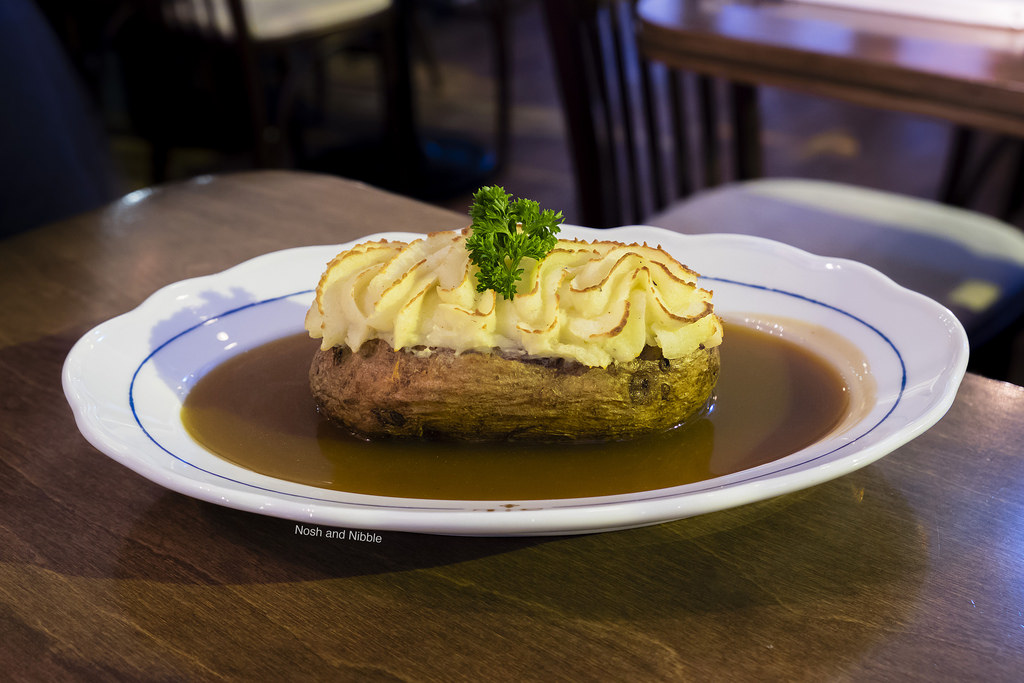 Pomme Duchesse à la Royale
Onto the mains, the first one I tried was the "Agneau braisé en crépinette & ragôut de flageolets" AKA the Braised Lamb. This was served with a small bed of vegetables and classic French (flageolet) beans. The lamb was very juicy and looked fantastic as a cute patty-like crown resting on a bed of veggies. This was my first time having flageolets and the texture was a little too dry for my palate. A small thing I had to nitpick.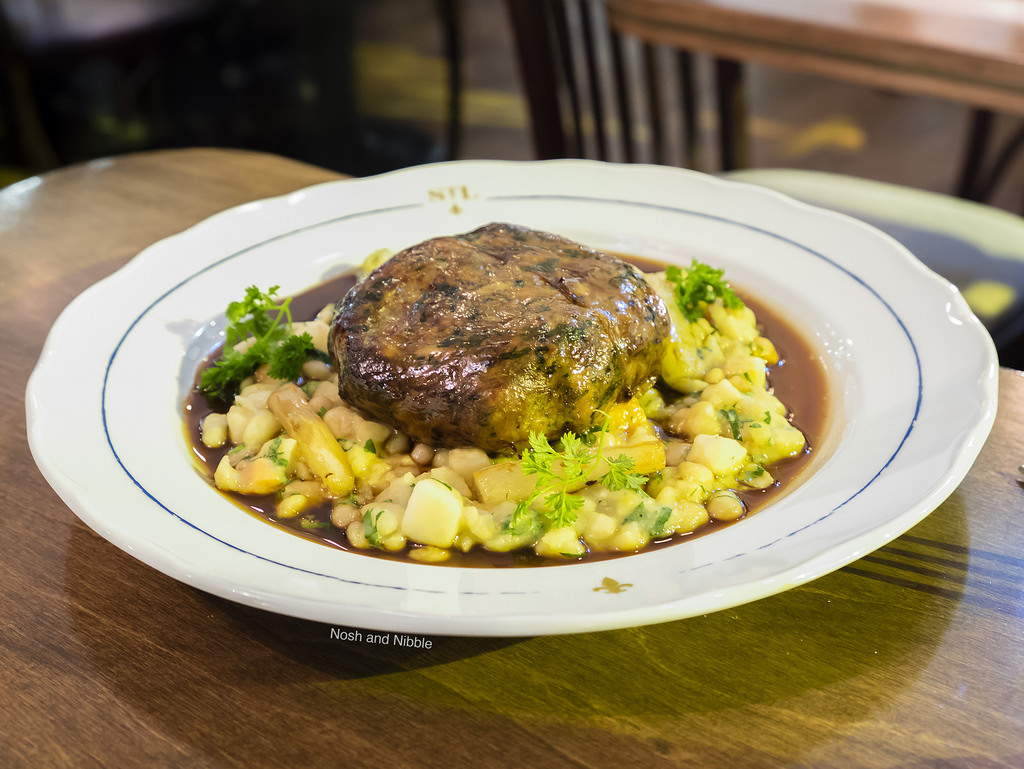 Agneau braisé en crépinette & ragôut de flageolets
Our other main was the "Côte de porc, fromage Oka & sauce charcutière" AKA the pork chop. This was an impossibly thick cut of pork served with a bed of oka cheese and butcher sauce. Holy moly was this juicy. The sheer girth of this pork chop plus the extra smooth Oka cheese made this a very substantial entree. I bet 2 average people could split this in half and leave the restaurant satisfied. In my opinion, this is the low-key value entree with huge flavour and culinary expertise.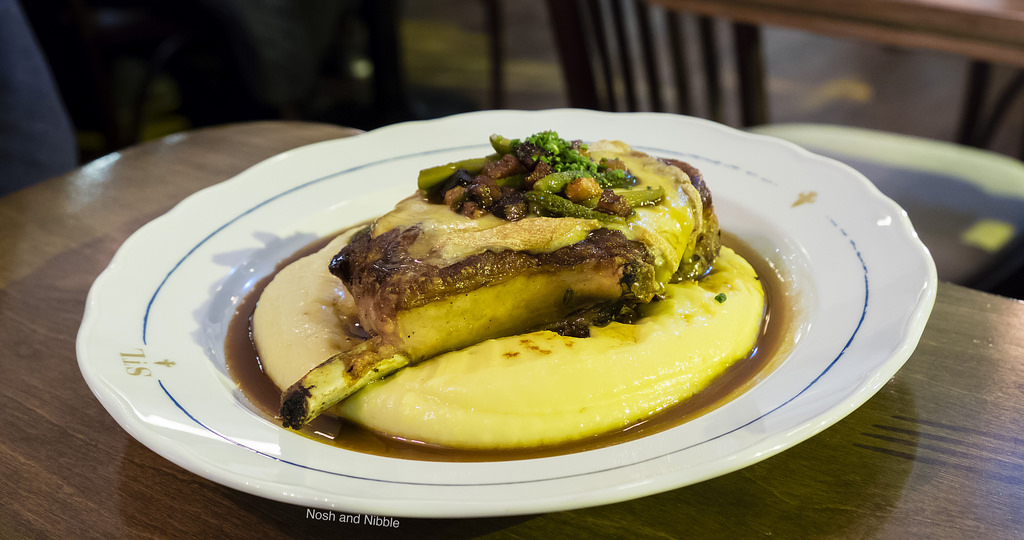 Côte de porc, fromage Oka & sauce charcutière
We ended up taking portions of both our entrees home.
For dessert, we settled on the Mille-feuilles chocolat-café. This was a puff pastry with fillings of chocolate and coffee cream.
The coffee and chocolate cream was a smooth filling and had a good balance between bitter and sweet.
Puff pastry made another experience but I enjoyed it with this sweet combination almost as much as I did with the mushroom. That being said, I think I would have enjoyed this more if I hadn't already ordered the mushroom earlier.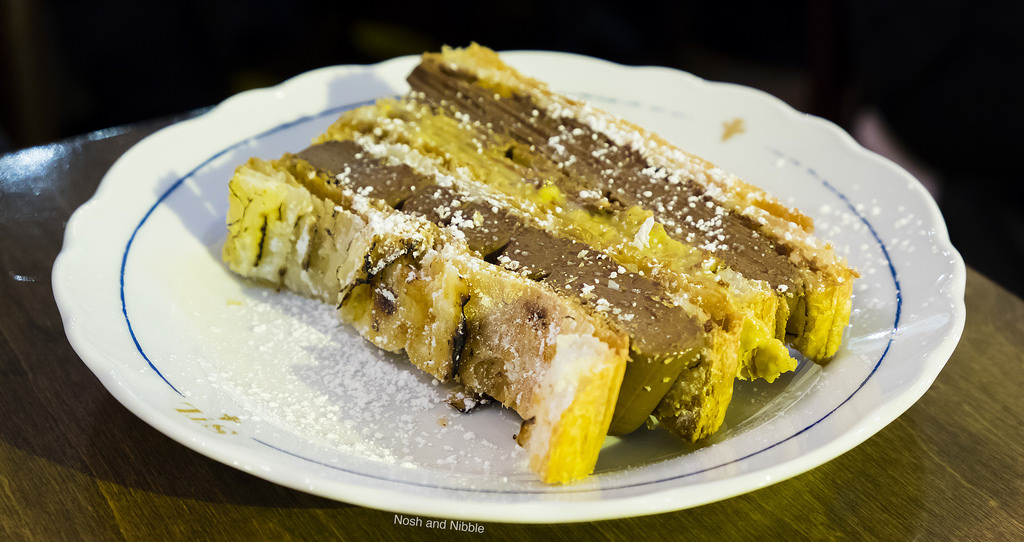 Mille-feuilles chocolat-café
Features:
St. Lawrence is a small restaurant located in Vancouver's Railtown neighbourhood. If you feel vibes of Ask for Luigi inside, it might be because the chef previously the Italian favourite (and Pizzeria Farina, and Pour House, and Di Beppe). J.C. Poirier sure is a busy guy.
Inside St. Lawrence you'll find seating for about 30 guests at tables and a bar counter. In true European fashion, tables are cramped (i.e. cozy) so your belongings may have a more suitable home in the hallway leading to the washrooms. French blues are everywhere in the decor but overall it feels like you're dining in something romantic with lots of dark ambiance and candles at each table.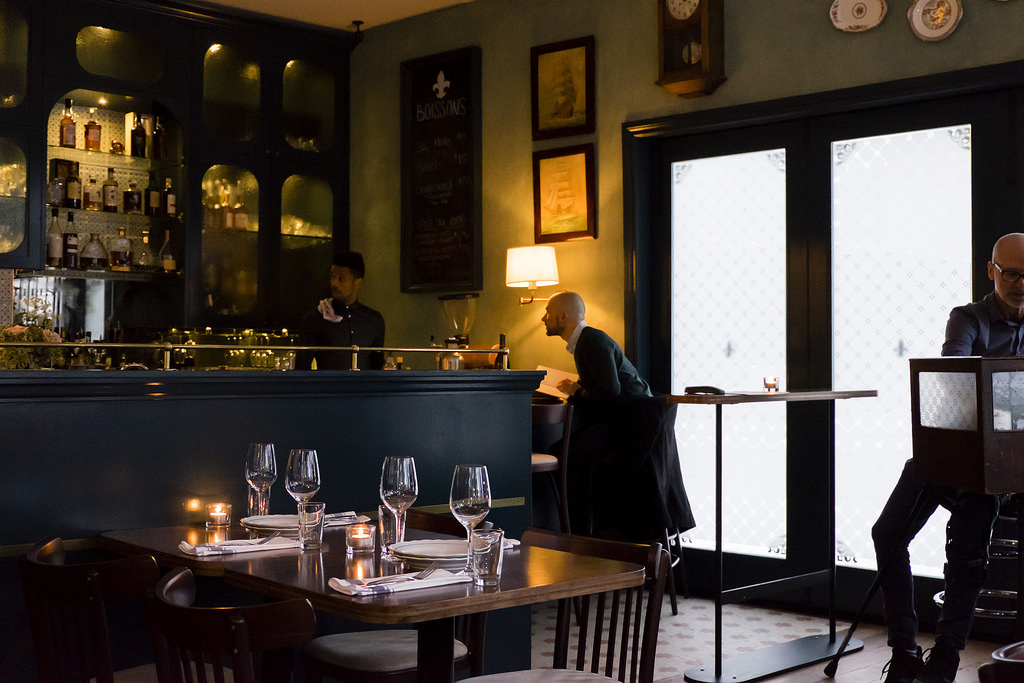 Inside St. Lawrence
Service:
Our visit was back in February, so if St Lawrence wasn't already busy then, it will assuredly be busy now. We had to make a reservation for 2 three weeks in advance and each amendment we had to make to the reso cost us another 2 weeks. It was bonkers. If you want any chance of success at getting a seat, I'd recommend giving the restaurant a call with your plan and see how or when they'll fit you in.
Table service at St. Lawrence was superb. Our server came to check in on us multiple times and top up our waters. It was a very tight space in there but the staff were trained to dodge diners in the small aisles while balancing a ton of plates (they also cleared our whole table at once).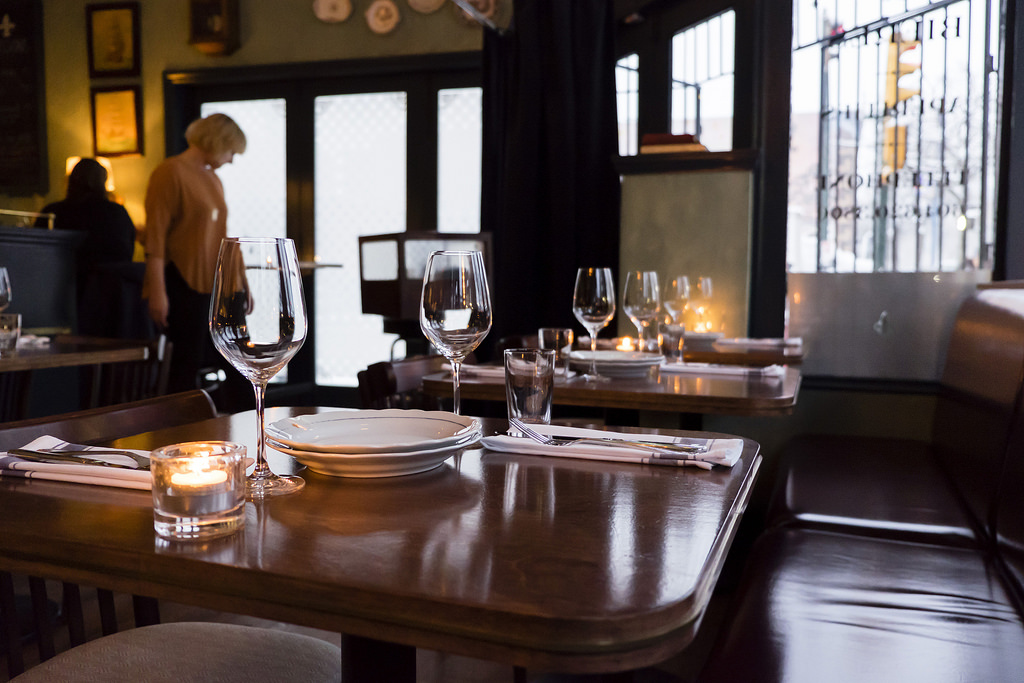 Inside St. Lawrence
Final Thoughts:
One-liner: Creative Quebecois cuisine that doesn't cut in quality despite being priced around casual fine dining menus
Highlight: Pork Chop
**Price person: $35-$60
Would I go back? Yes.