One Italian business in Vancouver's "Little Italy" has shuttered and, big surprise, another takes its place in a brand-spankin' new renovation project. Sopra Sotto, run by Executive Chef Enrico Fratoni, has just entered the East Van dining hub on Commercial Drive as a new pizzeria, situating itself near longtime staples in the neighbourhood. Last weekend I had the chance to try out some menu items to experience the new concept.
Disclosure: This was a complimentary tasting provided in exchange for an honest overview and no monetary compensation.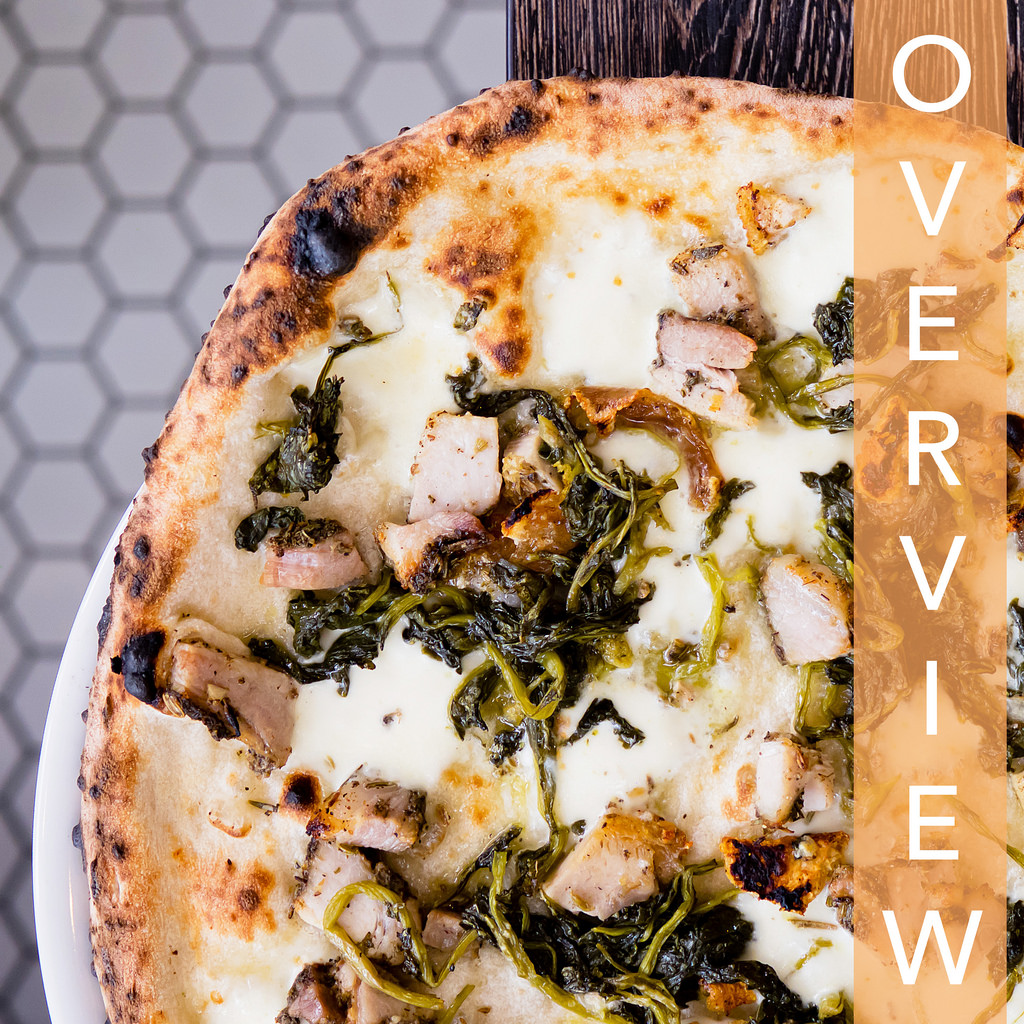 Food:
Team Tastic came here for an early Saturday dinner and I had myself a great taste of the following:
Antipasto Misto (For Two) ($22)
Chitarrine Al Ragù ($19)
Porchetta E Friarelli Pizza ($18)
Tiramisu ($8)
Starting off with the antipasti misto was a great move to start the night. This was a wooden board of focaccia, capicollo (dry cured pork neck), caponata (Sicilian-style eggplant), truffle salami, anchovies, grana cheese and apple, and artichoke. This board was a pleasant mix of everything to start my taste buds on the right path. The caponata, in particular, was juicy and pretty creative. It's uncommon to find such an appetizer on most antipasto boards.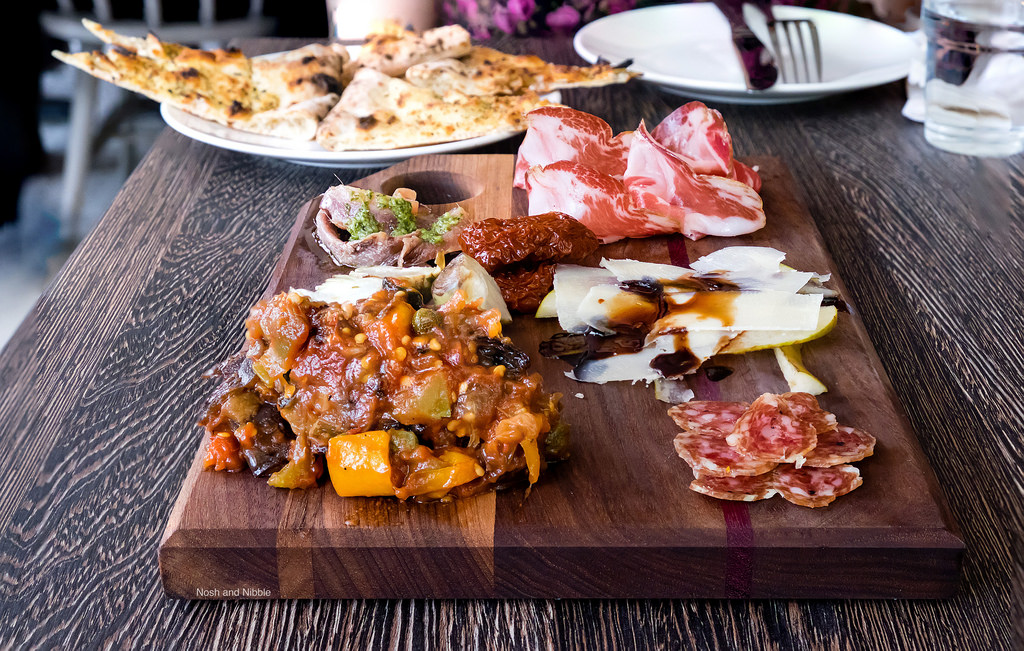 Antipasto Misto
Moving onto the pasta section, we had the chitarrine al ragù which was fresh square spaghetti served in an authentic bolognese sauce. I checked – the spaghetti had squared edges! The noodles were thick and chewy – about as chewy as al dente should be for me. For reference, these are about as chewy as the rigatoni from Di Beppe, another regarded Italian restaurant in the city. The real star was in the ragù. The sauce left an extra savoury feeling in my leaving me wanting to slurp up the entire plate.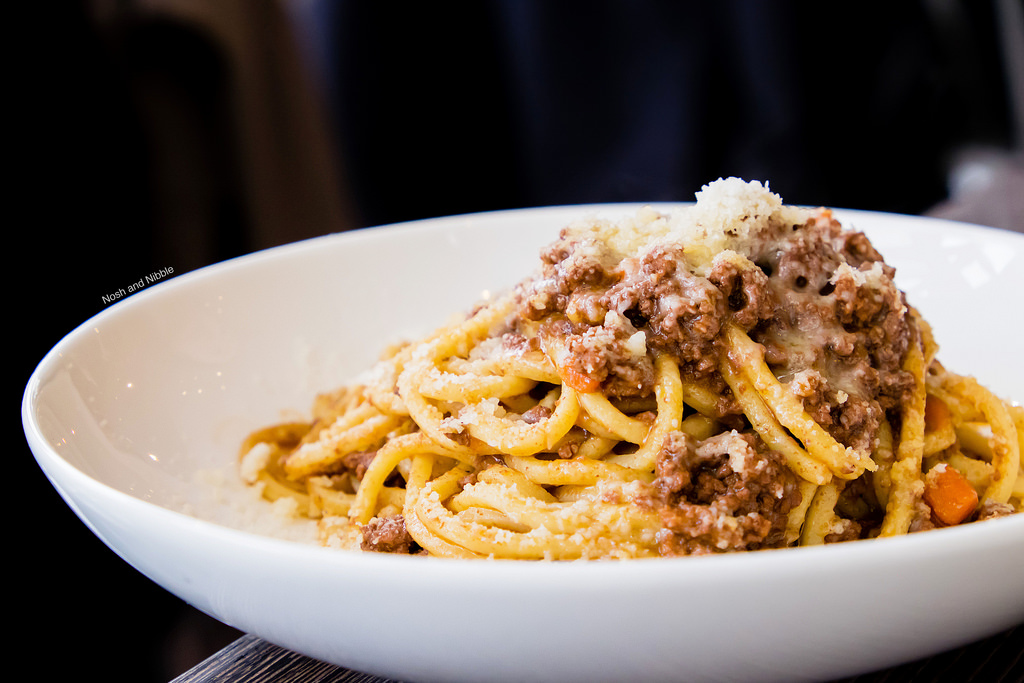 Chitarrine Al Ragù
Now for the main attraction – pizza. Pizzas here are all handmade and baked in a giant over, so our porchetta e friarelli pizza came out extra fluffy and chewy. This was one of the chewier pizzas I've had, and it's cool to see the trend of ageing yeast to add flavour be put into practice here. The flour is given two days to rise, allowing the yeast to complete its growth cycle. I personally enjoyed the added chew and taste of the focaccia-like dough.
If there could be one thing I'd improve on our pizza, it would be to have a moister porchetta. It's likely difficult to time the baking of pizza dough with the cooking of porchetta (a boneless pork roast), but at least everything was cooked evenly.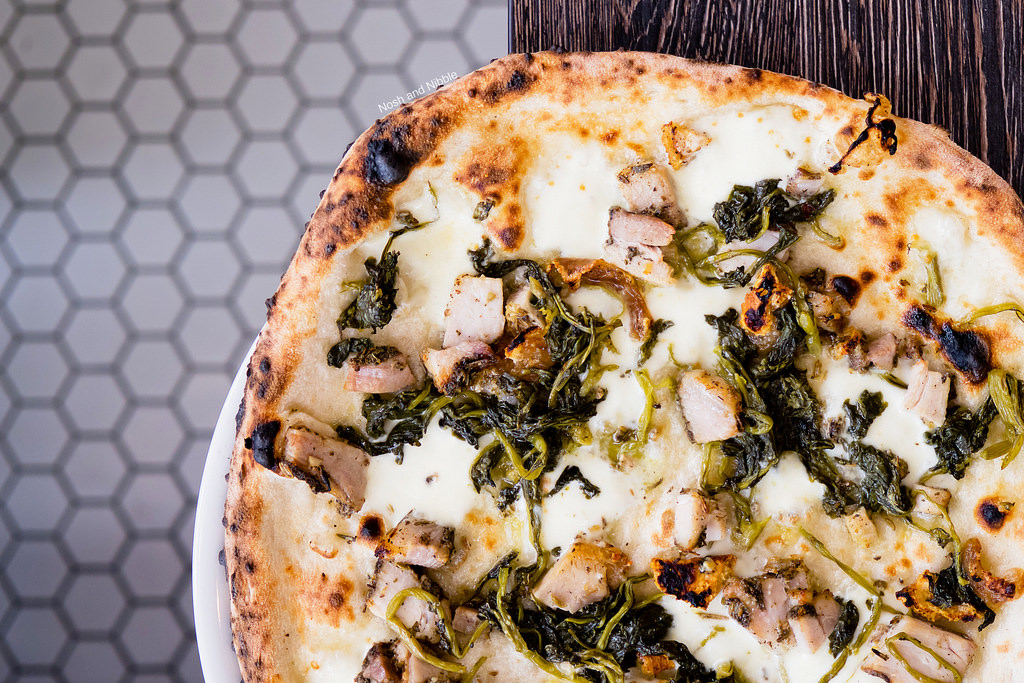 Porchetta E Friarelli Pizza
Finally, for dessert we enjoyed the tiramisu which was a classic mix of ladyfingers soaked in espresso, layered with mascarpone cream, and topped with crushed chocolate and cocoa powder. I loved the glass jar that this arrived in. Much more eye-catching than the traditional opaque white bowls tiramisu commonly comes in. The layers of mascarpone cream were generous as were the sprinkles of chocolate on top. Those who enjoy a milder espresso flavour will enjoy the lighter dose of espresso soaking the ladyfingers.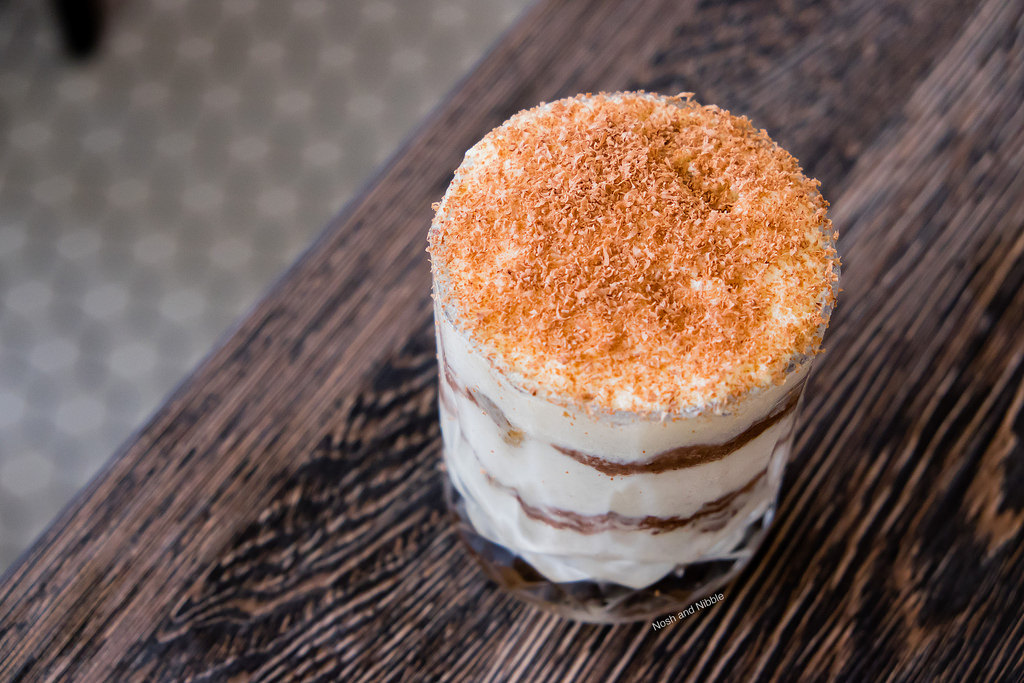 Tiramisu
Features:
Sopra Sotto is a new restaurant on "The Drive", replacing Caffe Roma. Caffe Roma was an older cafe so the Sopra Sotto team had to gut the entire place to create the current restaurant. The interior features seating for 90 guests in tables, booths, and bar seating. The feeling inside is quite posh compared to the normal Commercial Street vibe. Featuring a smooth mix of greys and brass trimmings, the main pop came from the wallpaper print of multi-coloured birds. I couldn't help but feel a little more alive dining in such a stunning interior. If you're a fan of interiors like Savio Volpe, you'll likely find a similar soothing rhythm here.
A quick note on the restrooms. The restrooms are unisex single stalls with a shared washing area. This might be a bit weird for some diners (a little girl gave me a weird look as she walked in and saw me washing up at the sink) but I think this was a brave move for Sopra Sotto to create a gender-inclusive space.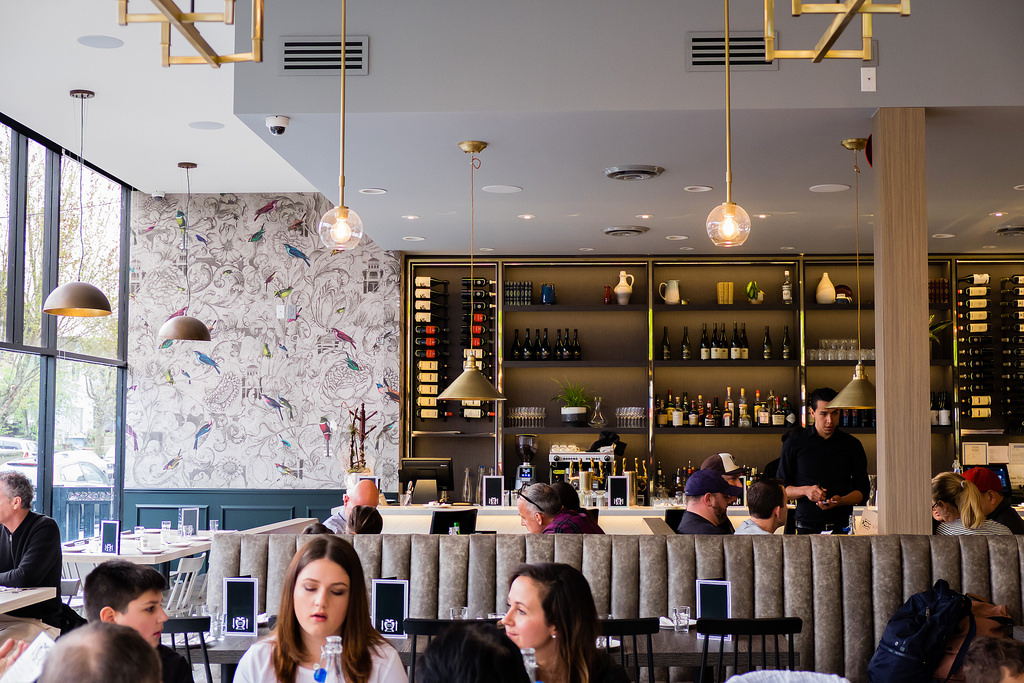 Inside Sopra Sotto
Final Thoughts:
One-liner: Ultra-modern Italian cuisine that gets the job done in a posh environment and forward-thinking restroom facilities
Highlight: Chitarrine al Ragù
Price per person: $20-$40
Would I go back? Yes.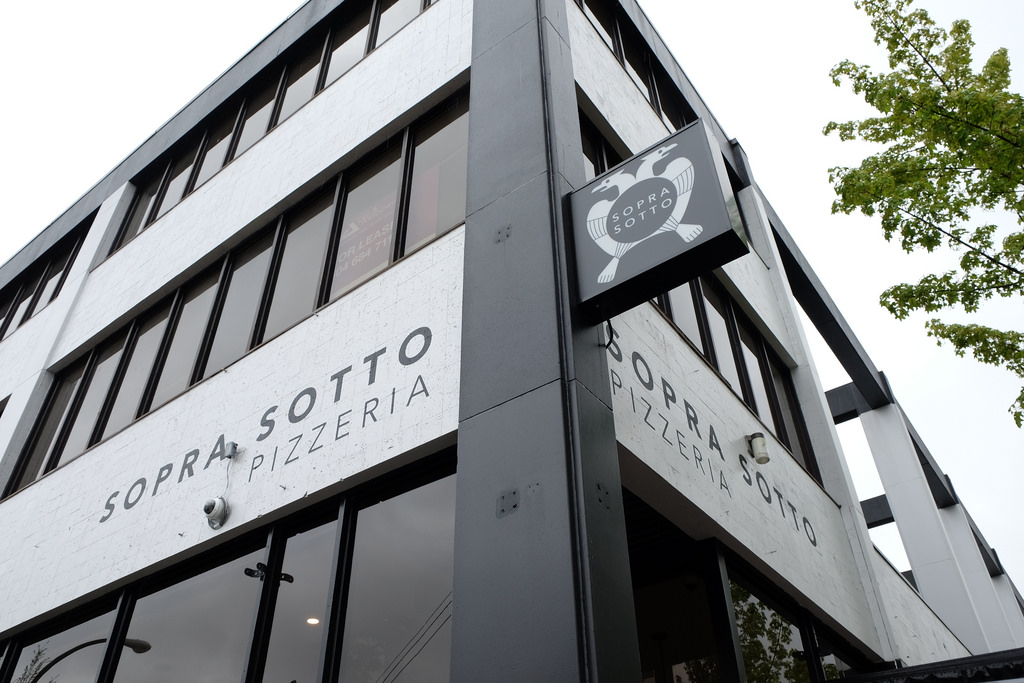 Outside Sopra Sotto