When's the last time you spent $10 on a cup of coffee? Most of us have yet to reach this level of coffee enjoyment, but a few shops in Vancouver hover around this mark when it comes to serving up siphon-brewed coffee. Starbucks has recently expanded its small-lot Starbucks Reserve® coffee availability to Main Street. With small-lot beans on deck rotating every month, coffee craft is the forefront of this immersive Starbucks experience.
Introduction:
Celebrating its 30 year history in Vancouver, this location is further influenced by the educational aspects of the flagship Starbucks Reserve® Roastery in Seattle. As such, all the partners here are Coffee Masters or working on their designation. This is the the first Western Canada Starbucks to feature an experiential Reserve coffee bar.
Disclosure: I was given a gift card to experience this renovated Starbucks. My visit was anonymous, paid with a credit card, and all opinions are my own.
Coffee:
I came here on a Sunday afternoon and I had myself the following:
Rwanda Abakunakawa, siphon-brewed ($10)
I'll say this right off the bat: Siphon brewing is an entire experience and not just a grab-and-go show like most of Starbucks' drinks. Siphon doesn't even appear as an option on the menu, but it does appear in their menu of brewing methods.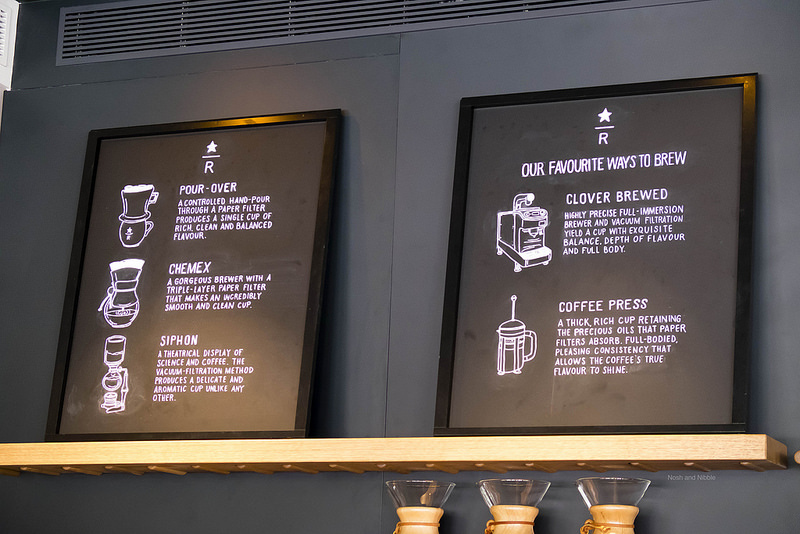 I started off being ushered to the slow brew oak bar, where a siphon apparatus was being prepped with water.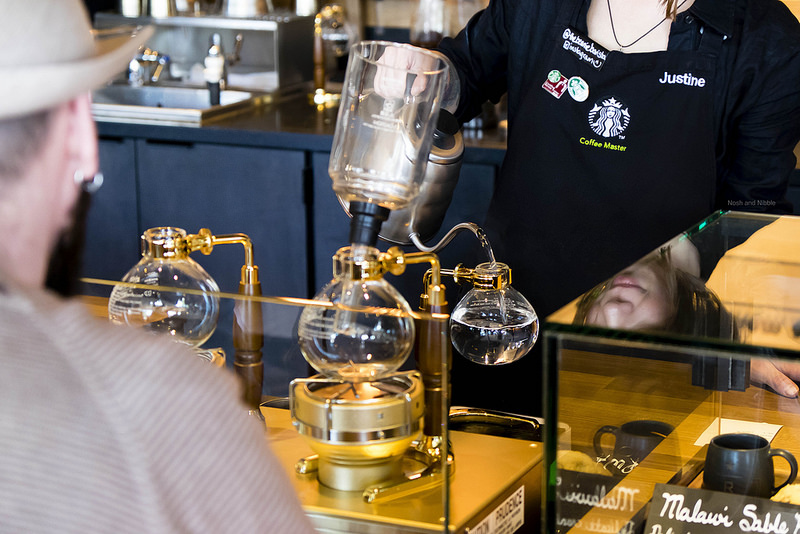 Next up was heat to expand the air particles, pushing the liquid upwards into a second chamber. This was the anti-gravity effect in action.
At this time, my Coffee Master, Justine, identified me amongst those waiting for a siphon and introduced herself to me.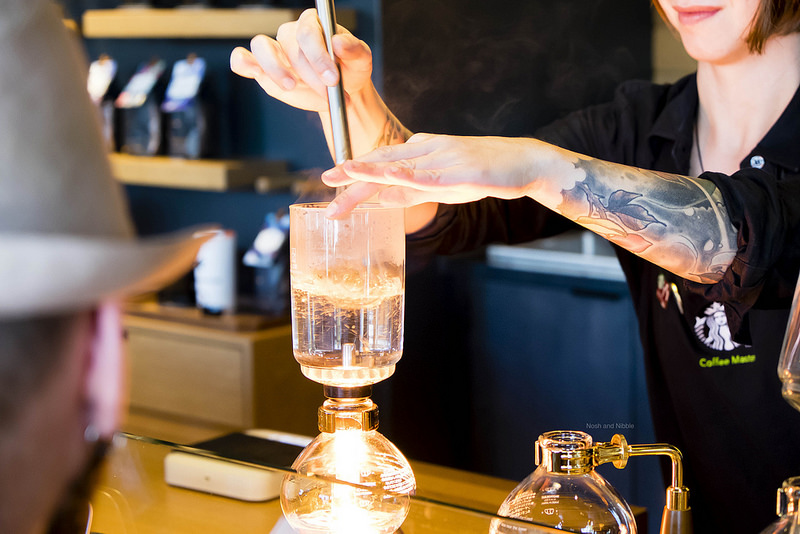 Coffee grounds were then stirred in while the water was still heated and pushed up out of the bottom chamber.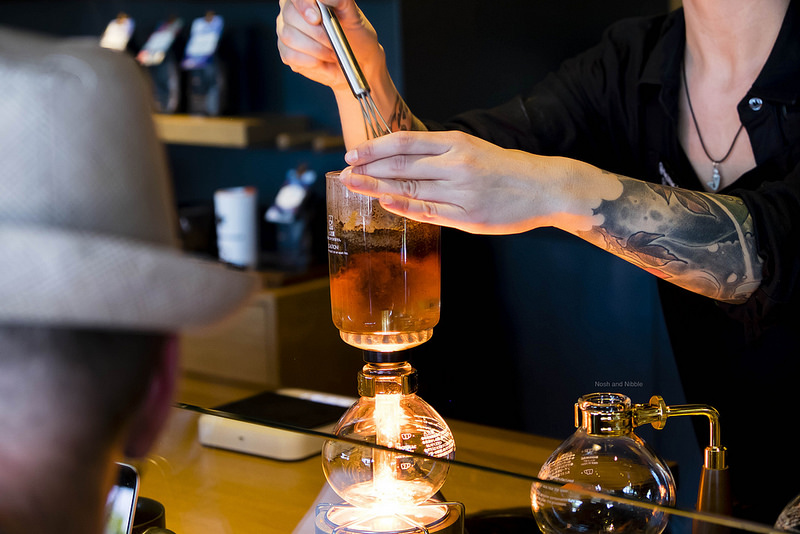 Once the coffee had brewed, the siphon apparatus was removed from heat to allow the bottom chamber to return to room temperature, shrinking the expanded air particles, and allowing the coffee to begin its descent back down.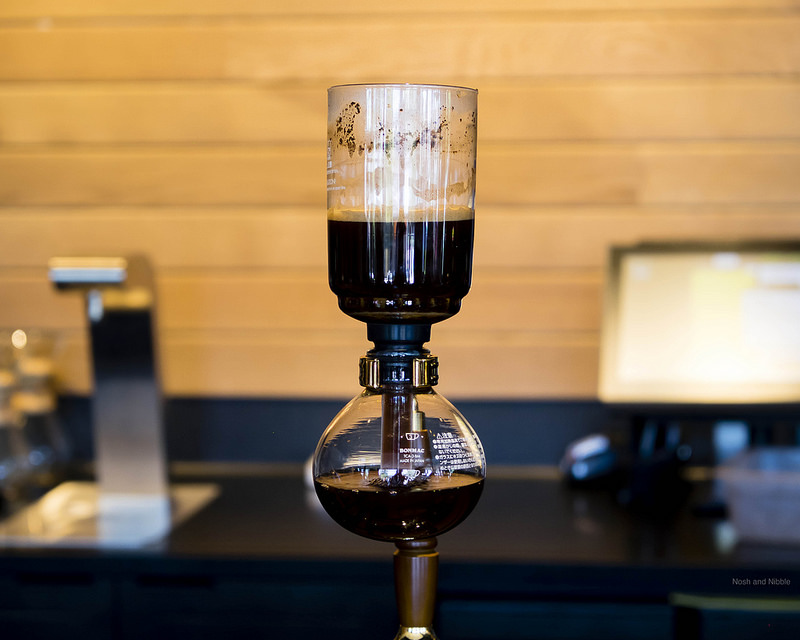 After this last filtering, the coffee was ready to be served.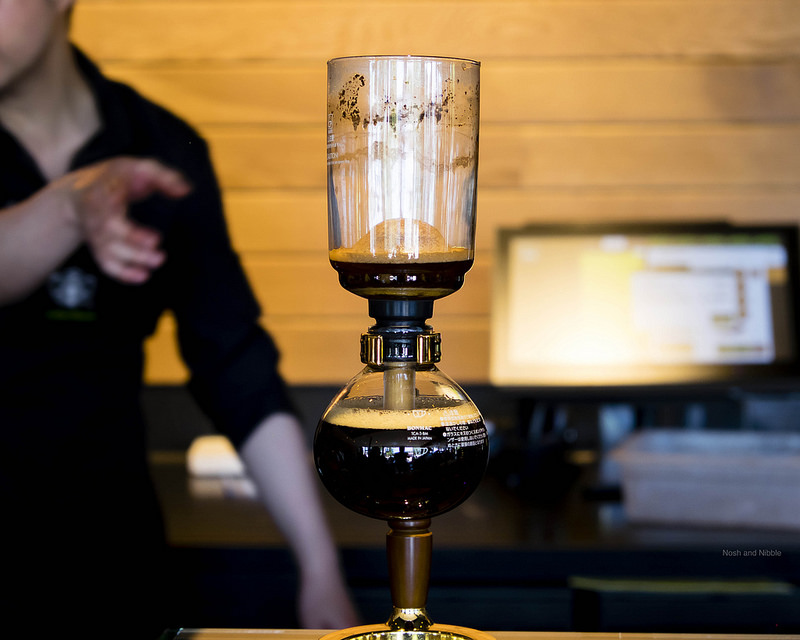 This Grande-sized coffee was an experience for sure. The barista at times leaned over the busy counter to explain/shout to me what exactly was happening (and I later confirmed the brewing method). The final result was an exquisitely-branded Starbucks tray, a place card of the coffee I invested in, a real coffee mug (one that requires actual washing!), and a means to pour my $10 coffee myself.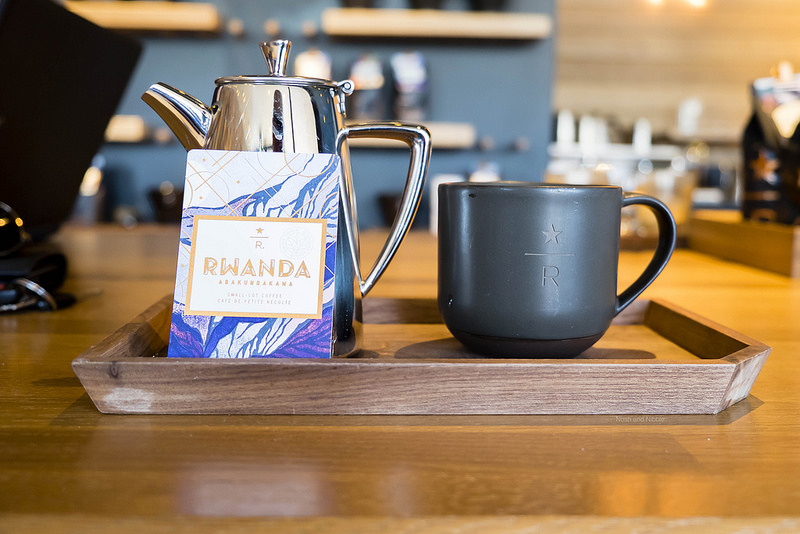 Taste-wise, the citrus and caramel notes promised on the menu delivered. Aromatically, the coffee was superb, but drinking-wise, my expectations may have been too high. While I don't think this was 4x the flavour of a regular coffee, I do think the flavour was more intense than the average Starbucks coffee. One huge plus I enjoyed was the smooth coffee fluid was devoid of any coffee ground residue, so there were no leftover particles in my mouth. The lack of residue is also indicative of a good pour over or Chemex brew.
Features:
All the menu items are priced by Grande sized drinks. For first-timers, this might be daunting, but it does make the menu a little cleaner. I personally would have preferred some disclosure that other sizes are still available though.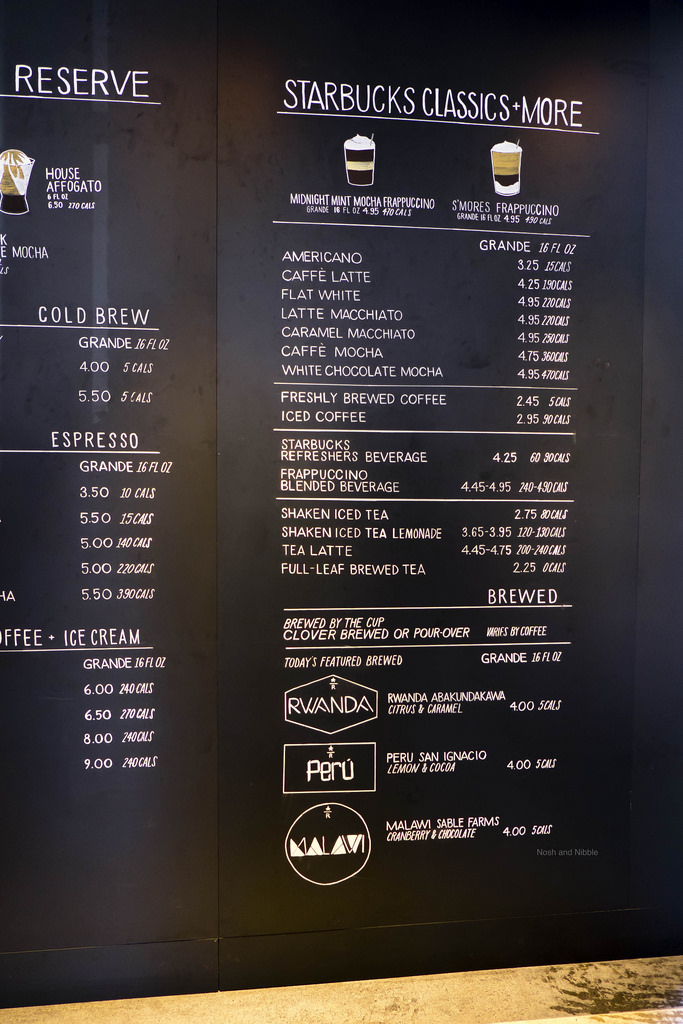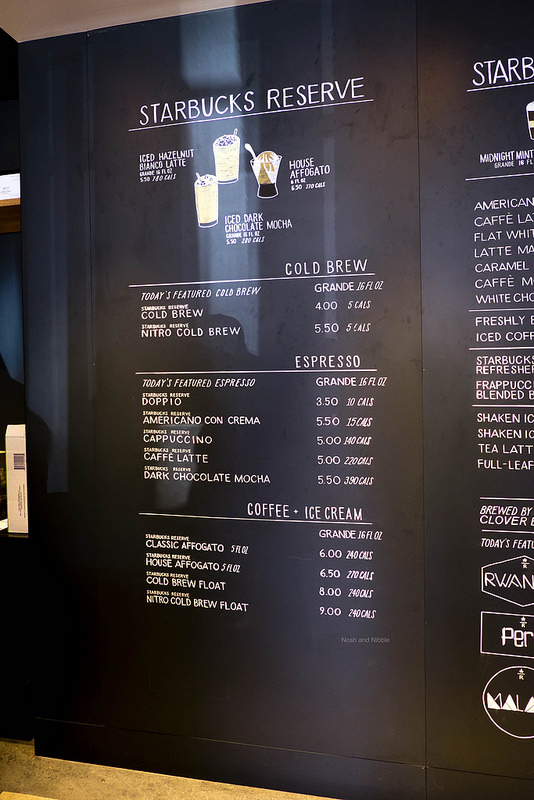 Also, this Starbucks is now one of the largest in Vancouver if it wasn't already. The interior is completely redone with a giant serving space, tables, lounge chairs, booths, and an outdoor bench. There's seating for about 40 guests here and even more room in the organized lineup (because there will be a lineup).
Service:
Justine, my Coffee Master, asked me how the coffee was and offered a glass of sparkling water so I could cleanse my palate over and over in between sips of coffee. I thought that was a classy touch and further added value to the experience of being so close to the action. I think a comparative experience would be a Japanese omakase (i.e. a personal experience hosted by the chef), but the Starbucks Coffee edition.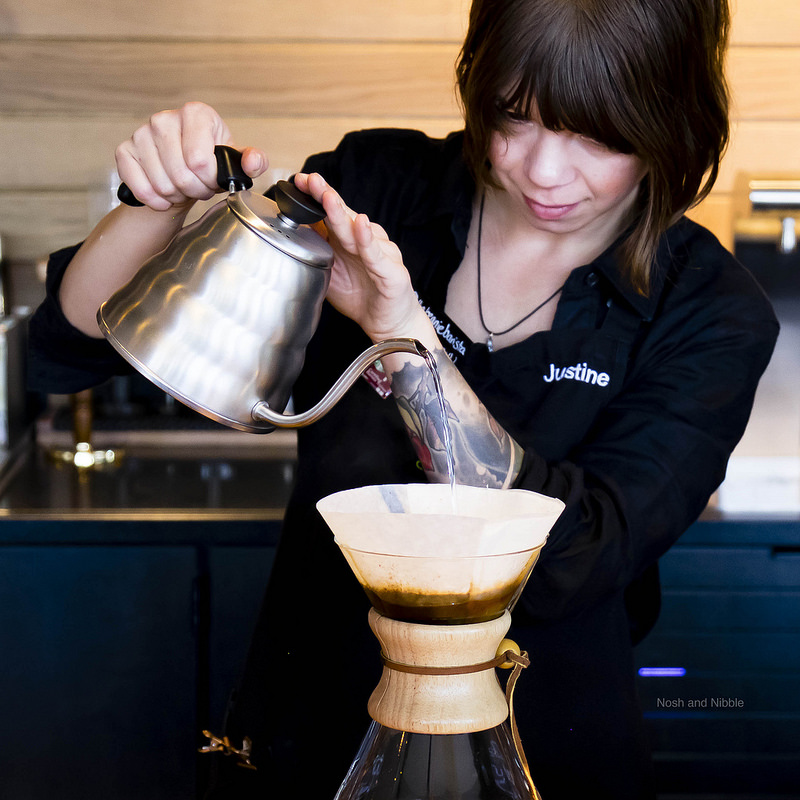 If you're coming in for any of the slow brew methods, be prepared to wait. Between placing my order and receiving my siphon coffee was a good 15 minute period. This Starbucks is crazy busy. Sunday afternoons are no joke, but the staff were super courteous, and always had a smile when speaking to me. When someone shattered a glass cup on the ground, a team of 3 staff immediately got to work in clearing out the mess and making sure nobody was hurt. I gotta say, the level of service at this Starbucks was superb.
It does boggle my mind a bit that most people lining up are lining up for regular menu items, so it's a good thing this Reserve Coffee Bar still functions as a regular Starbucks. I think the slow brew methods are worth a try, especially if it's your first time as the staff are more than happy to give you an overview.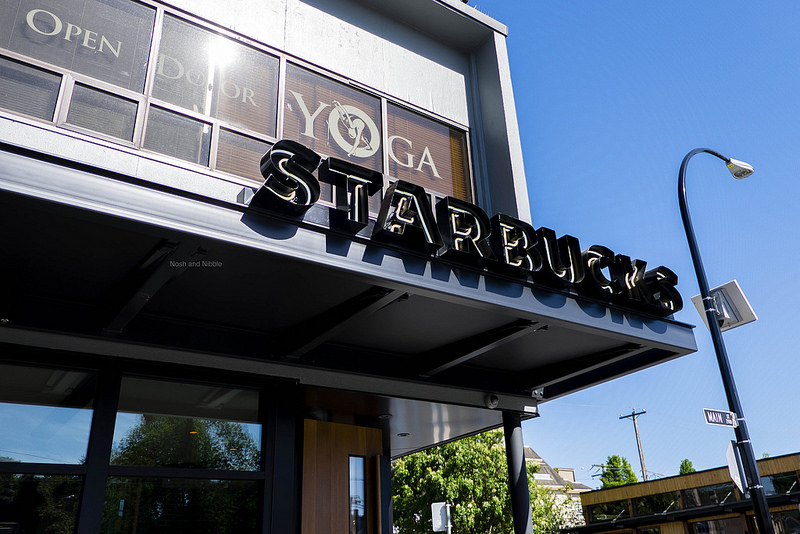 Final Thoughts:
One-liner: An exquisite coffee experience definitive of Vancouver with a level of service seldom had at Starbucks
Highlight: Siphon-brewed coffee
Price per person: $5-$15
Would I go back? Yes.