Stepping into a little hovel and experiencing what the locals eat is every tourist's dream when it comes to dining. Yaletown L'Antipasto seeks to provide the same atmosphere for Italian cuisine, and is one of the mainstays of Taste of Yaletown, now in its 13th year. Until October 27th, 26 participating restaurants will be offering 3-course prix fixe menus at $25, $35, or $45 price points. In addition to supporting local dining, partial proceeds benefit the Greater Vancouver Food Bank. To get a taste of what diners are in for, I had a dining stop at Yaletown L'Antipasto.
Disclosure: This was a media tasting and all opinions are my own.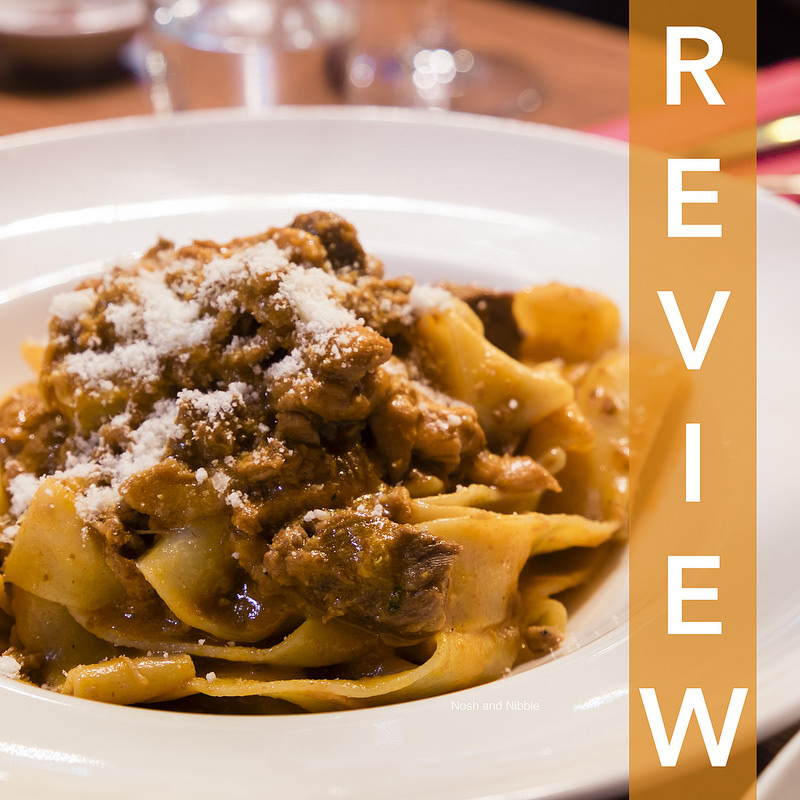 Food:
I'd actually been to Yaletown L'Antipasto back in 2012 and gave it a thumbs up for its tasty $45 menu back in the day. The price is still the same today with many of the same items! Our media group had a great taste of the following:
Antipasti:
Burrata Caprese
Beef Tenderloin Carpaccio
Bruschetta Leccese
Pasta & Risotto:
Pappardelle 'Rosche'
Risotto ai Funghi Porcini
Lobster & Crab Ravioli
Dolci (Desserts):
Tiramisu
Chocolate Mousse
Panna Cotta
Take all the photos below with a grain of salt as I believe the servings we received during this tasting were larger than what the average diner gets (we had a large group).
Update: Yaletown L'Antipasto informed me via Twitter that the servings below are actual size for diners. Fantastic!
The burrata caprese was a classic antipasti dish with burrata mozzarella flown in from Puglia, Italy, local cherry tomatoes, basil, and EVOO. The burrata was almost creamy but held its shape and added a refreshing flavour when eaten with the tomato halves.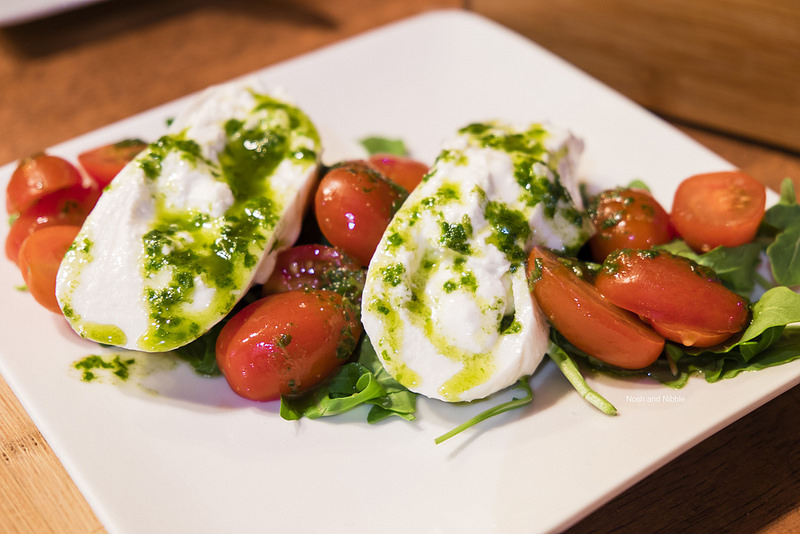 Burrata Caprese
The beef tenderloin carpaccio was made with AAA Alberta beef tenderlion, while alba truffle oil, and veggies preserved in-house sott'olio (preserved in EVOO). There were a number of hearty slices of beef but the pickled vegetables, all crunchy and sour, took this plate of carpaccio to the next level. They even pickled onions which was a first for me.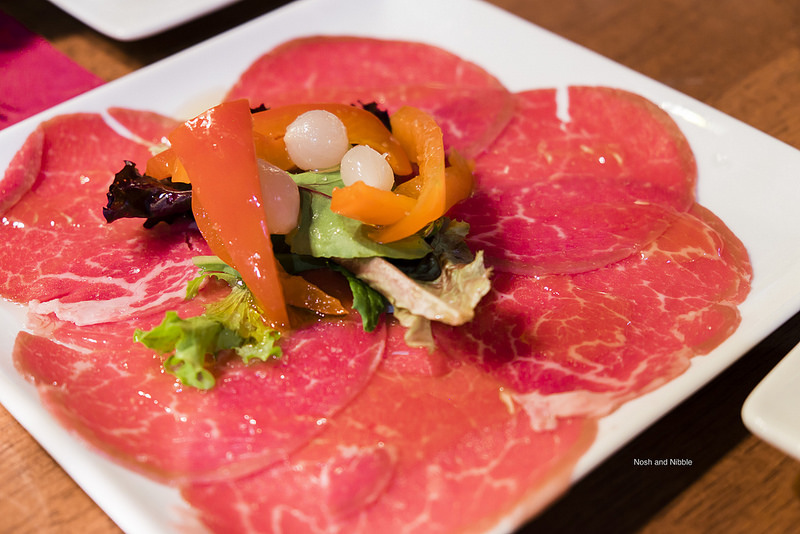 Beef Tenderloin Carpaccio
This carpaccio was served with a side of bread.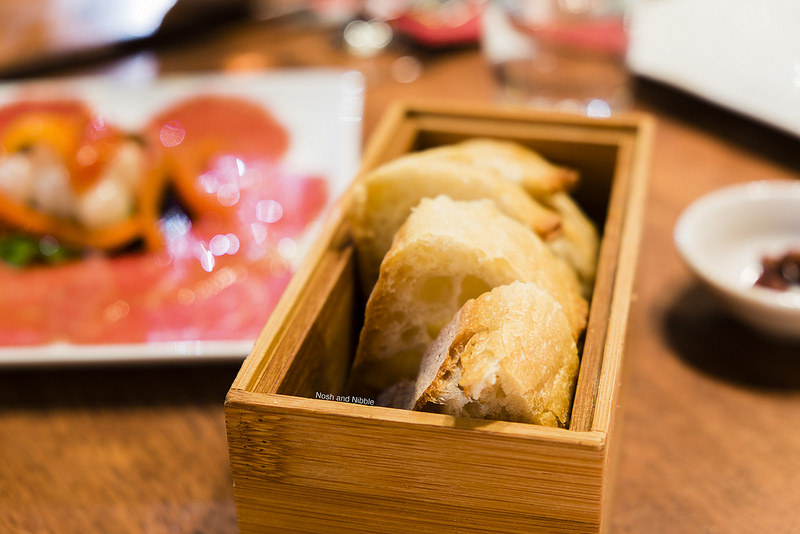 Bread
The bruschetta leccese was found on the staff's recent trips to Italy, and was essentially a slice of bread topped with gorgonzola, fig marmalade, pine nuts, and DOP prosciutto di parma. This was a hefty serving with lots of flavour in the pine nuts and prosciutto. I wasn't a huge fan of the volume of bread and would have preferred a thinner slicer, but I think this is the best appetizer to get if you want to leave feeling full.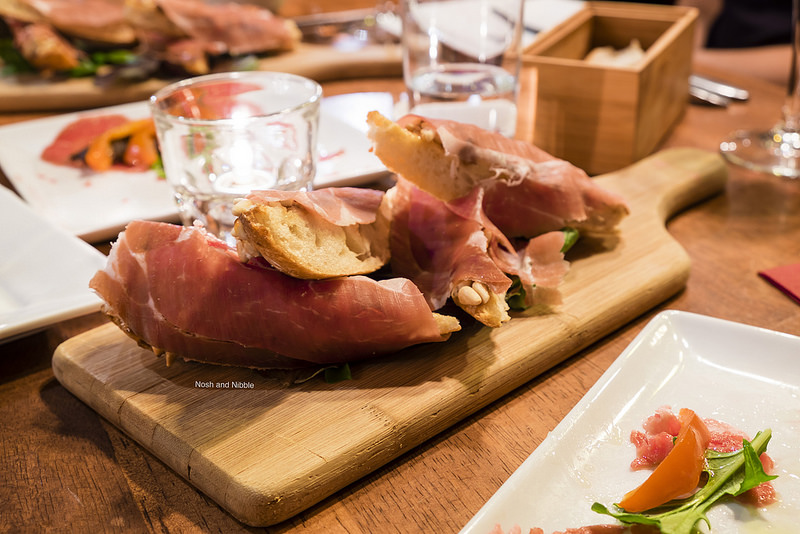 Bruschette Leccese
Onto the mains! The pappardelle 'rosche' was a wide noodled pasta with organic beef short ribs, free-range chicken, and Italian fennel sausages mixed in a tomato based ragú. This is as homey as it gets. With ragu, the sauce is left to simmer and reduce, intensifying the flavours from the meats. This pappardelle delivered on flavour and the exquisite al dente bite.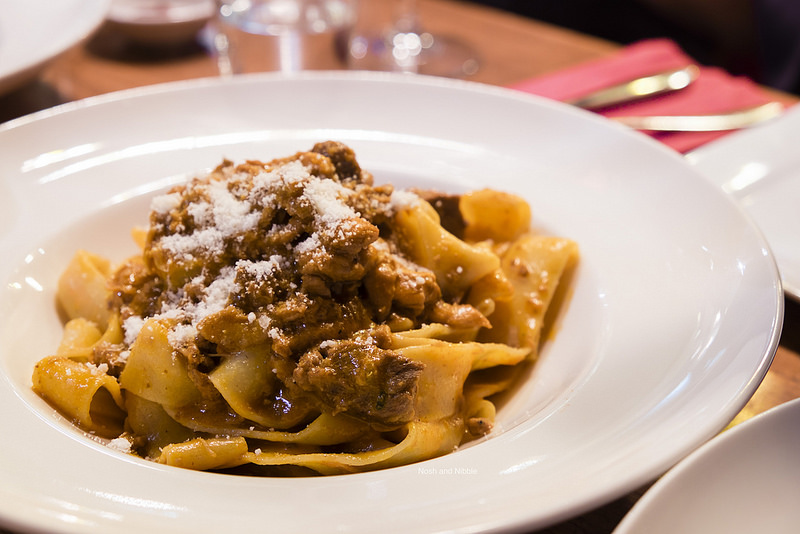 Pappardelle 'Rosche'
The risotto ai funghi porcini was a bowl of earth flavours with porcini mushrooms and short grained arborio rice. For the vegetarians, risotto is the go-to. The porcini mushrooms packed a ton of flavour and are way more expensive to get than button mushrooms. For meat lovers though, I'd direct your attention to either one of the meat options for your main as those had more exciting developments.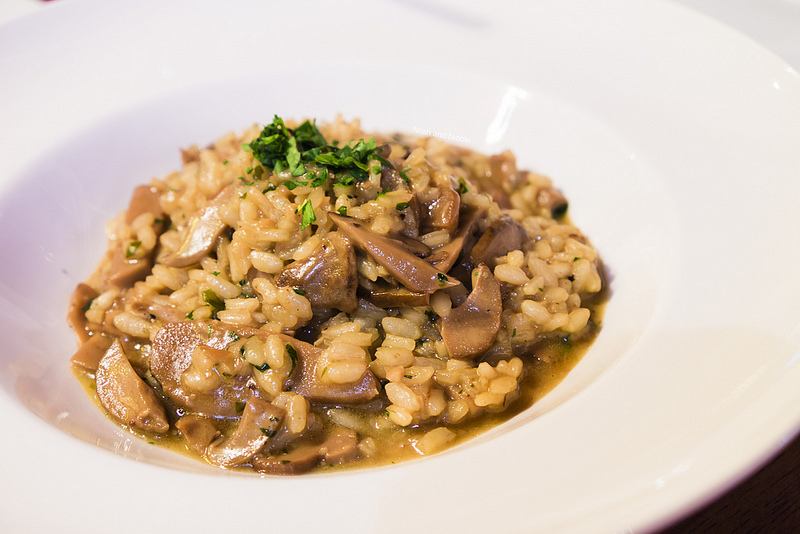 Risotto ai Funghi Porcini
The lobster and crab ravioli was hands down the star of the pastas. Served with cherry tomatoes, arugula, tiger prawns, and a hint of spice, these ravioli had the flavour, the subtle pop as you bite into a raviolo (that's the singular form of ravioli) shell, and a minor bit of heat just to keep things exciting on the tongue. Add to that some hefty tiger prawns and I'd walk away happy by eating just this.

Lobster and Crab Ravioli
Now for the desserts, in my opinion, the panna cotta didn't disappoint me 5 years ago, and it didn't disappoint tonight, so I'm automaticaly biased for it. This panna cotta looks like a gelatinous flan, but it's actually made with fine cream that melts onto the tongue. How it keeps its shape is magical and the berries add a perfect balance to the flavour profile.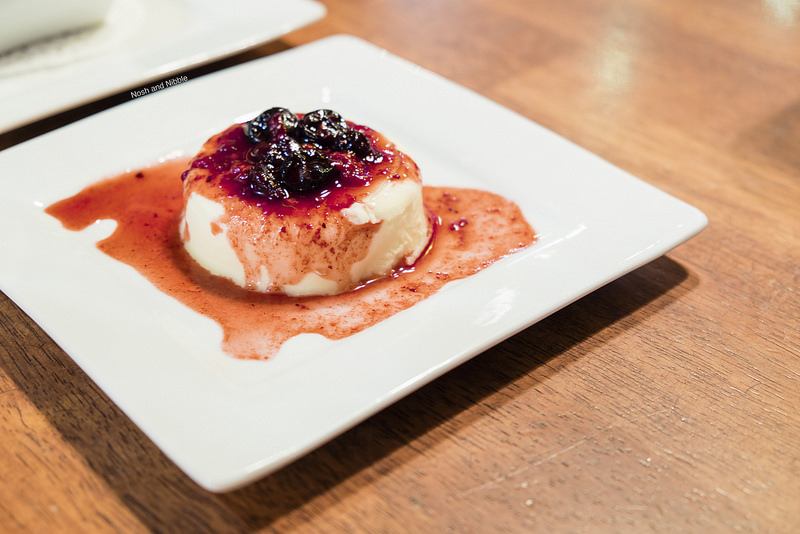 Panna Cotta
The other two desserts were a tiramisu and a chocolate mousse. As both were served in bowls, I didn't get to see the side profile of the tiramisu and there wasn't too much going on visually in the chocolate mousse. To be fair, it's harder to serve a tiramisu in a container. Neither was an unpleasant experience, but my 2 experiences over the past 5 years have convinced me to recommend the panna cotta dessert should you decide to visit Yaletown L'Antipasto for Taste of Yaletown.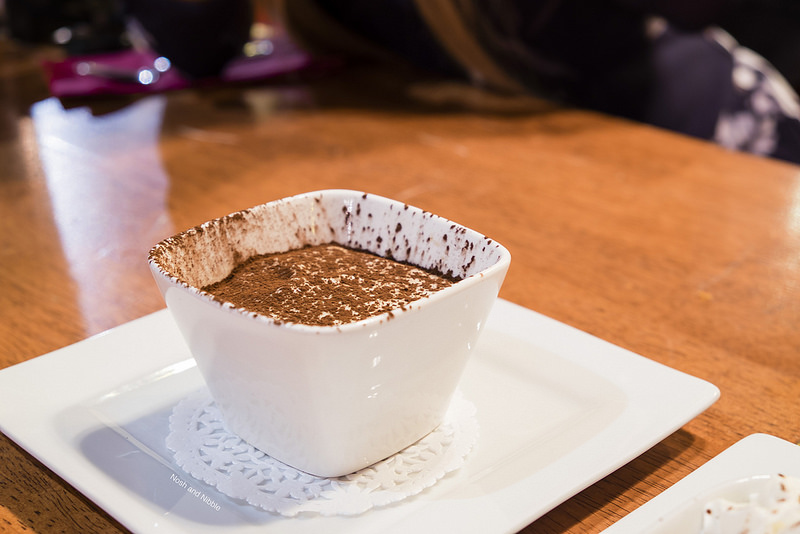 Tiramisu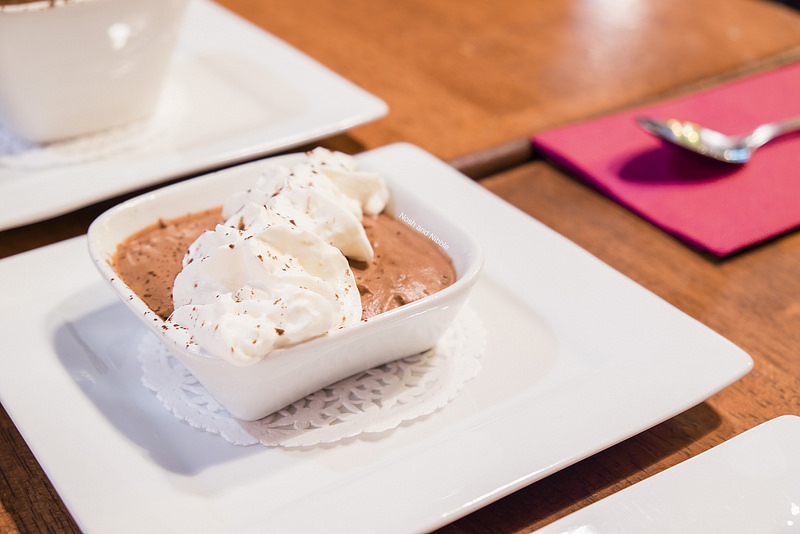 Chocolate Mousse
At $45, this is the fine of the fine when it comes to Taste of Yaletown. I would hope during your reservation you can request an inside seat and face yourself into the tiny open kitchen where everything is produced.
Features:
Yaletown L'Antipasto featured a tiny interior with a covered outdoor patio, complete with blankets and heaters. The interior is where the party's at though, with homey decor and an chance to peep into the kitchen magic. I overheard the manager speaking Italian to tourists and the kitchen which added to the total authenticity of the experience. It's a tiny restaurant (seating about 40 inside and out), so reservations are recommended. The vibe is quite fine with very warm lighting and on the inside, it really does look like someone's home with the cozy kitchen nestled in with the dining tables.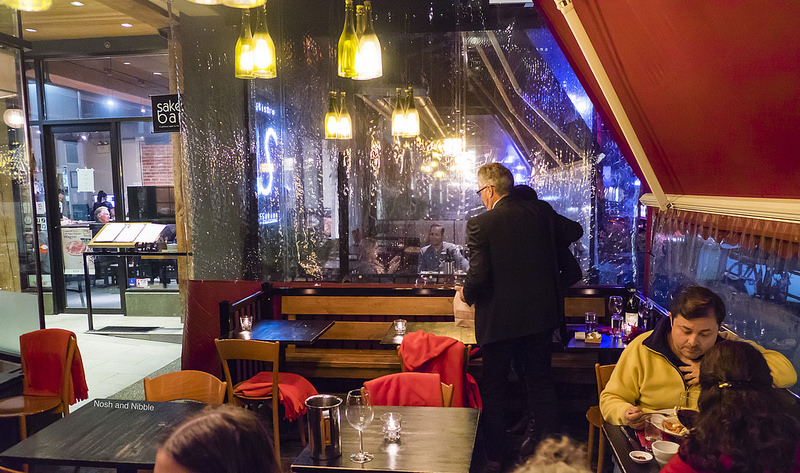 Patio Seating at Yaletown L'Antipasto
Final Thoughts:
One-liner: Authentic Italian cuisine with a homey feeling thanks to the stories behind the dishes and a very open kitchen
Recommended order: Bruchetta Leccese, Lobster and Crab Ravioli, and Panna Cotta
Price per person: $45
Would I go back? Yes.
To make your next Taste of Yaletown (on until October 27th) reservation, visit https://yaletowninfo.com/event/taste-yaletown-2017/.