The Donnelly Group is known for producing a number of pub-type restaurants as well as event venues around Vancouver. Among its Yaletown presence is The New Oxford which features Executive Chef Alvin Pillay (previously of Hubbub and Edible Canada) and Development Chef Sarah Stewart (previously of Juniper). I was given a chance to taste the brunch menu at The New Oxford which includes classic and modernized favourites. Do the brunch eats here warrant a cocktail visit or should you stick to the classic pub brews?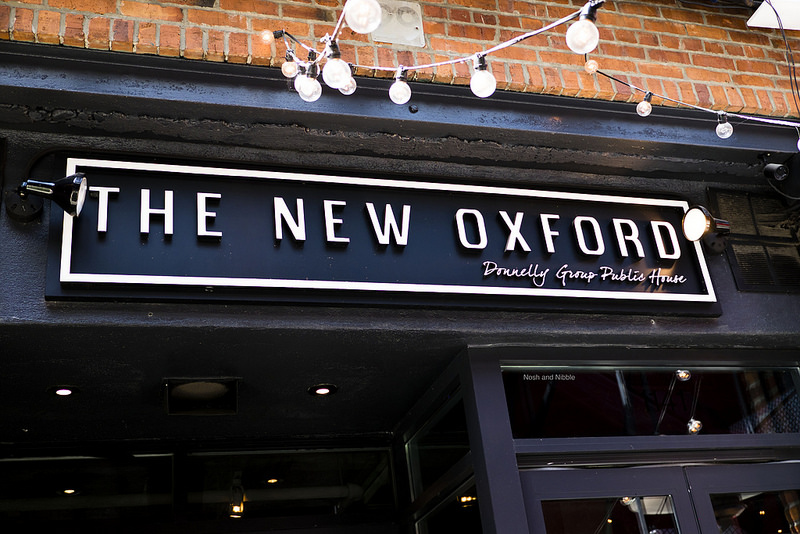 Disclosure: This was a media tasting and all opinions are my own.
Food and Drink:
I came here for a Saturday brunch tasting and had myself a great taste of the following:
BK Block Party ($12)
Beefeater and Mint Cucumber Tonic ($12)
Yogurt & Granola ($12)
Mushroom Scramble ($13)
Huevos Rancheros ($15)
Jalapeño Cheddar Sausage Board ($14.50)
Nola French Toast ($14)
We actually started the meal with banana bread which comes complimentary with any meal. This was pretty moist and was served in a cute iron pot.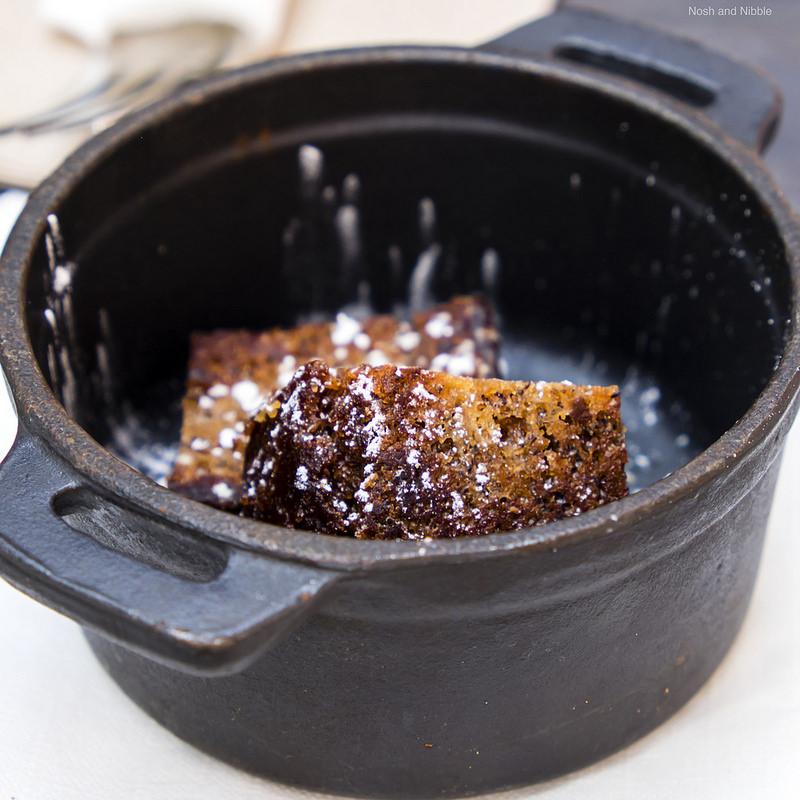 The BK block party came with NY Distilling Dorothy Parker Gin (not available at BC Liquor Stores), watermelon juice, lime juice, ginger honey syrup, somersby cider, and a wheel of lime. There were actually two sources of alcohol in here which made for a slightly boozier experience. This was, however, a fruity drink with some carbonated bite good for enhancing the atmosphere.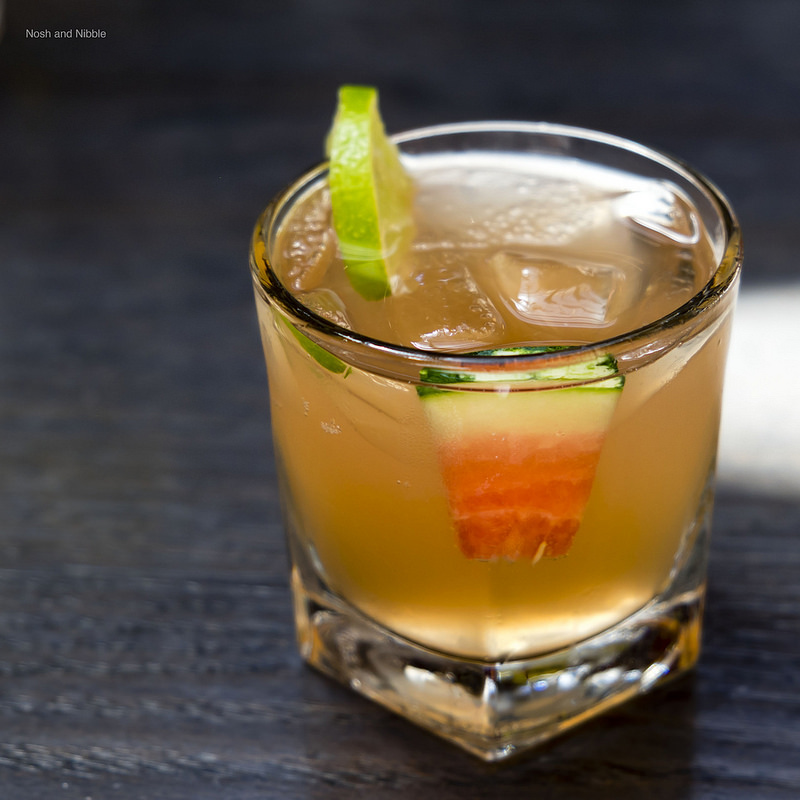 BK Block Party
My other drink today was the Beefeater and mint cucumber tonic. This was essentially a gin and tonic with added cucumber freshness as it mixed the classic ingredients of a G&T with a fresh cucumber scent (via cucumber mint tonic and actual cucumber). This was served in a hefty glass which upped its classiness.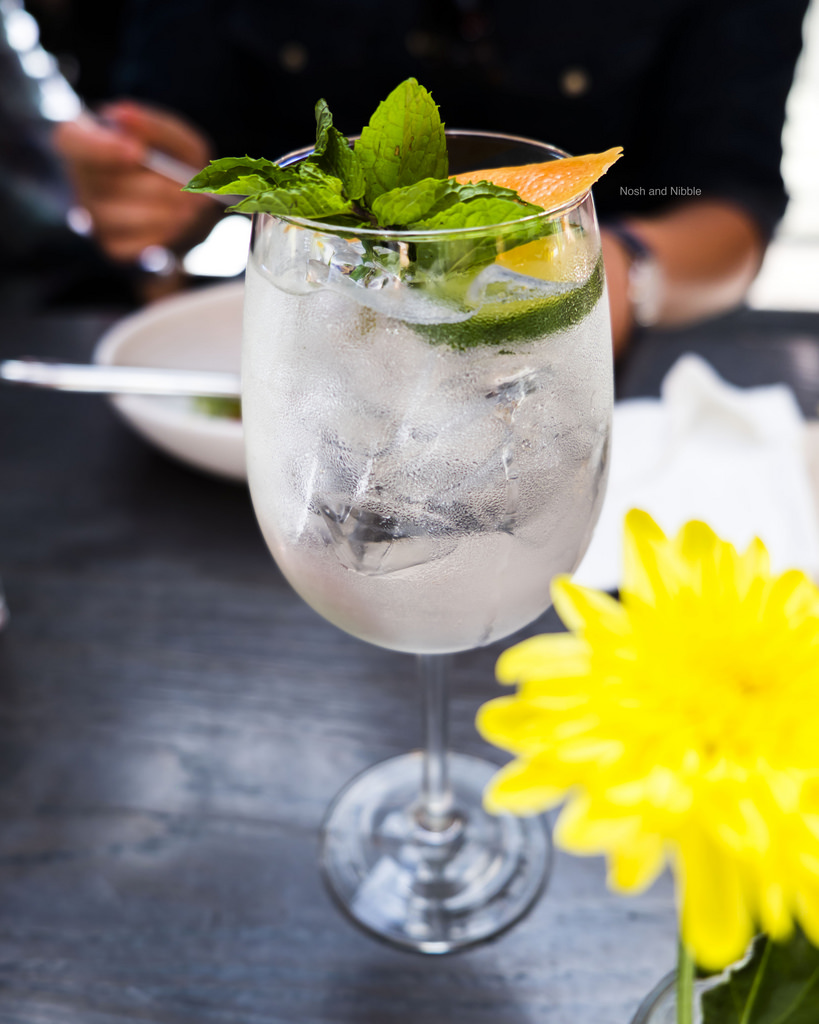 Beefeater and Mint Cucumber Tonic
Onto some food, the yogurt and granola contained various fruits, preserved, honeyed Greek yogurt, granola, and toasted seeds. I'm not much of a yogurt person for brunch but I did admire the toasted seeds as a warm finishing touch to this bowl. Pictured below is a small sampler size of the dish; the actual one is much larger and contains more fruit.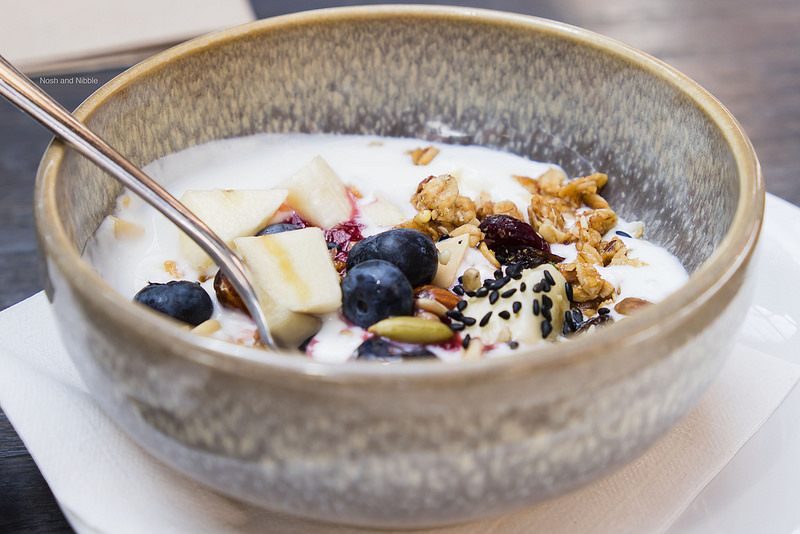 Yogurt & Granola
The mushroom scramble was my first taste of eggs. There was more than meets the eye as scrambled eggs tend to look less voluminous than poached or over easy. This was a substantial dish of fluffy eggs enhanced with just the right amount of goat cheese, baby kale, arugula pesto, fingerling potatoes, and greens.
For those avoiding yolks, this dish offers an egg whites only edition so you can still enjoy this dish and retain your sweet gains in the gym.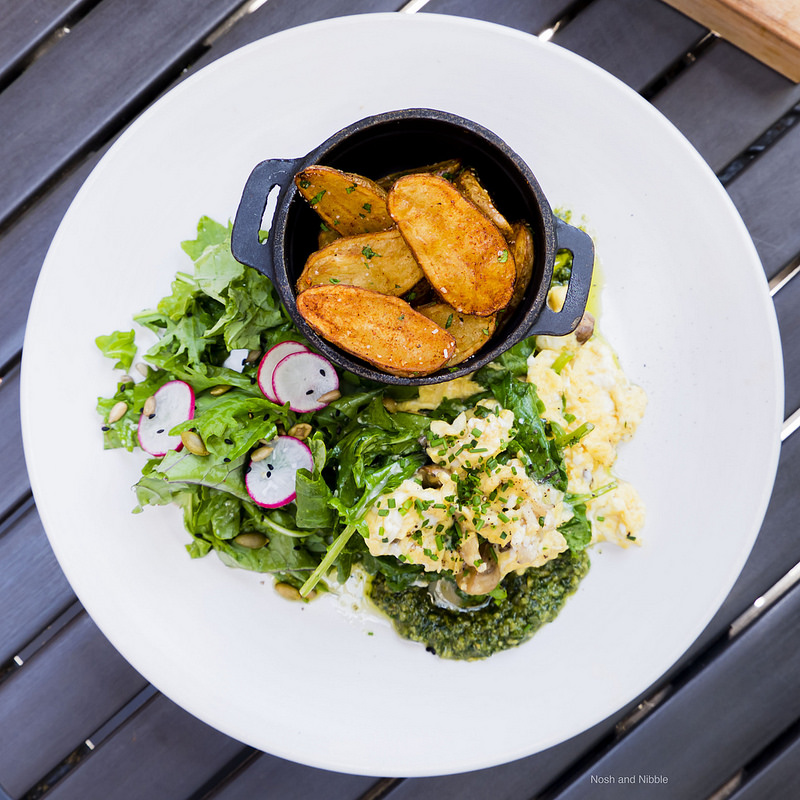 Mushroom Scramble
The huevos rancheros was a classic dish with cheese quesadilla, avocado, spicy chickpea and yam, sunny eggs, cotija cheese (Mexican cheese), and served with a small bottle of carrot habanero hot sauce on the side. Instead of beans you get chickpeas in the mix which was a cool touch. I much enjoyed the cheese quesadilla and hope in the future this gets added as a potential side for other dishes.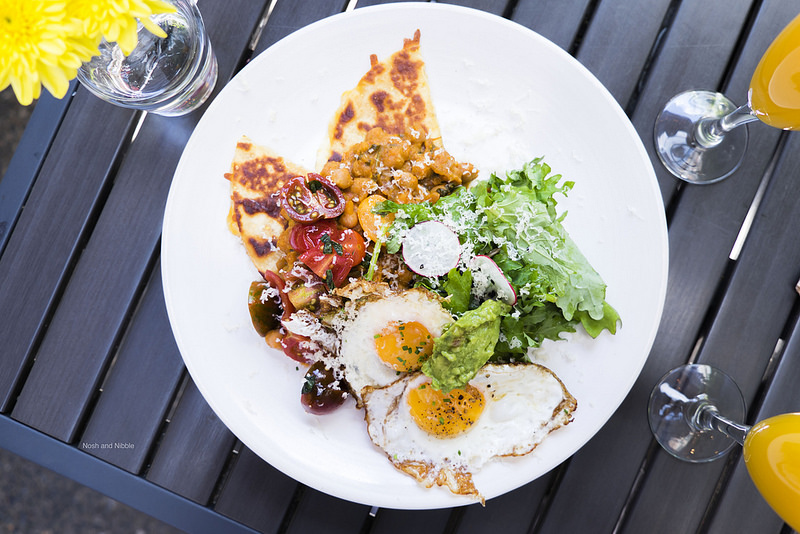 Huevos Rancheros
Those partial to German or eastern European dishes might find fancy with the sausage boards. The jalapeño cheddar one in particular was juicy on the inside and thankfully did not squirt out cheese sauce like the store-bought varieties. The fluffy scrambled eggs made another appearance here as well as the greens. To zest up the sausage , a healthy dollop of dijon was provided as well as toast to fill me up.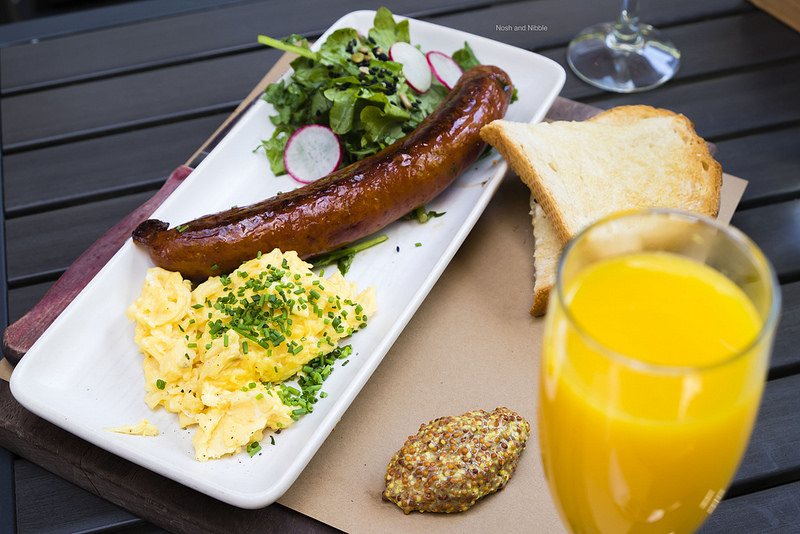 Smoked Jalapeno Cheddar Sausage Board
Finishing up the meal was the Nola French Toast. Nola is a term used for describing New Orleans in Louisiana, USA and The New Oxford is including an homage on its menu. This was a stuffed brioche with bourbon maple syrup, brown butter oats, and lime whip. I'm not sure what these New Orlean folk do in their spare time, but pouring heaps of bourbon maple syrup sounds like an awesome hobby. the sweet bourbon was still syrupy and made for a tasty finisher. It was quite large so I'd recommend splitting this with someone if you've already enjoyed another dish.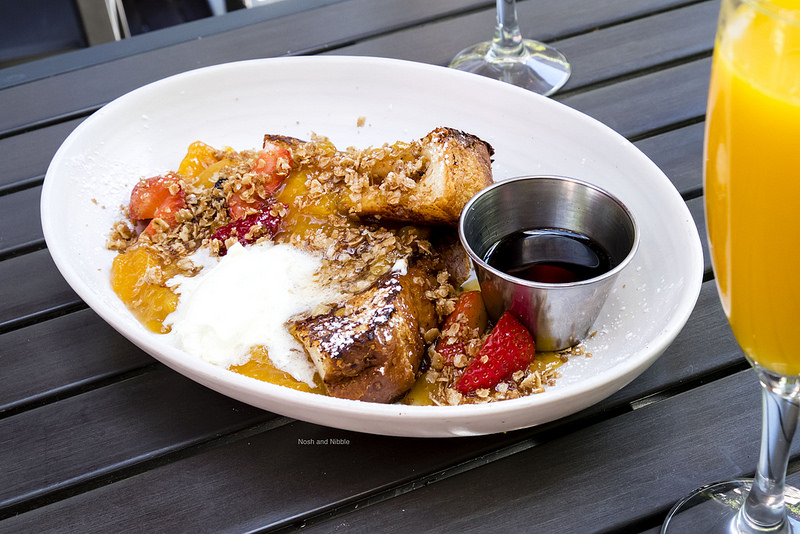 Nola French Toast
Features:
The New Oxford is a 2-part eatery/watering hole in the Yaletown neighbourhood. Upstairs is more of an eatery whereas the downstairs serves more of a tavern. That being said, the patio is open for brunch and my preferred spot to be in as it can be quite dark inside. Being named after an English university, the homages to knowledge and intelligence are shown in the interior and classic pub booths. On the patio, there isn't as much obvious decoration which is a bummer. The patio has seating for about 30 guests amongst high tables and benched tables.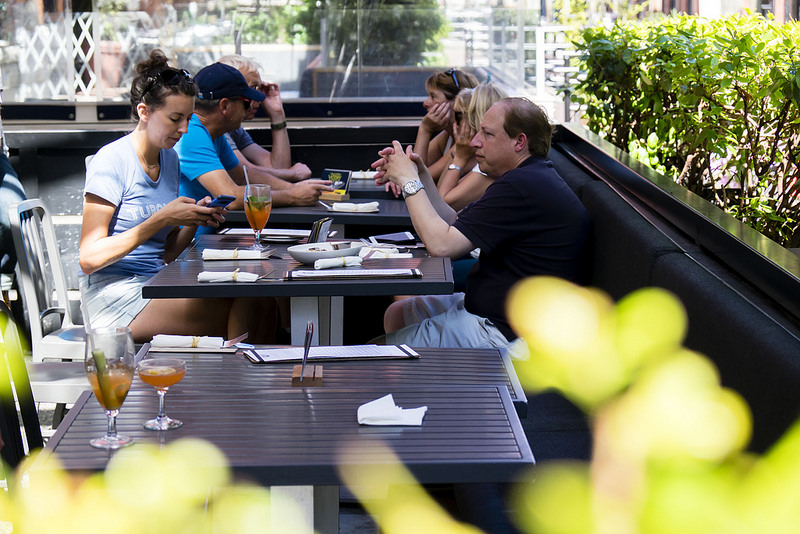 Final Thoughts:
One-liner: Olde English-inspired pub that serves classic brunch with a twist alongside some enjoyable, mid-priced cocktails
Highlight: Huevos Rancheros
Price per person: $15-30
Would I go back? Yes.