If the financial thought of dining in Vancouver's Yaletown sounds daunting to you, then you might be happy to hear 3-course meals are still possible on the average 9-5er's budget. Urban Thai Bistro has been serving up their Winter Festive Set Menu and I got a great taste of it last week.
Disclosure: This was a complimentary media tasting. All opinions are my own.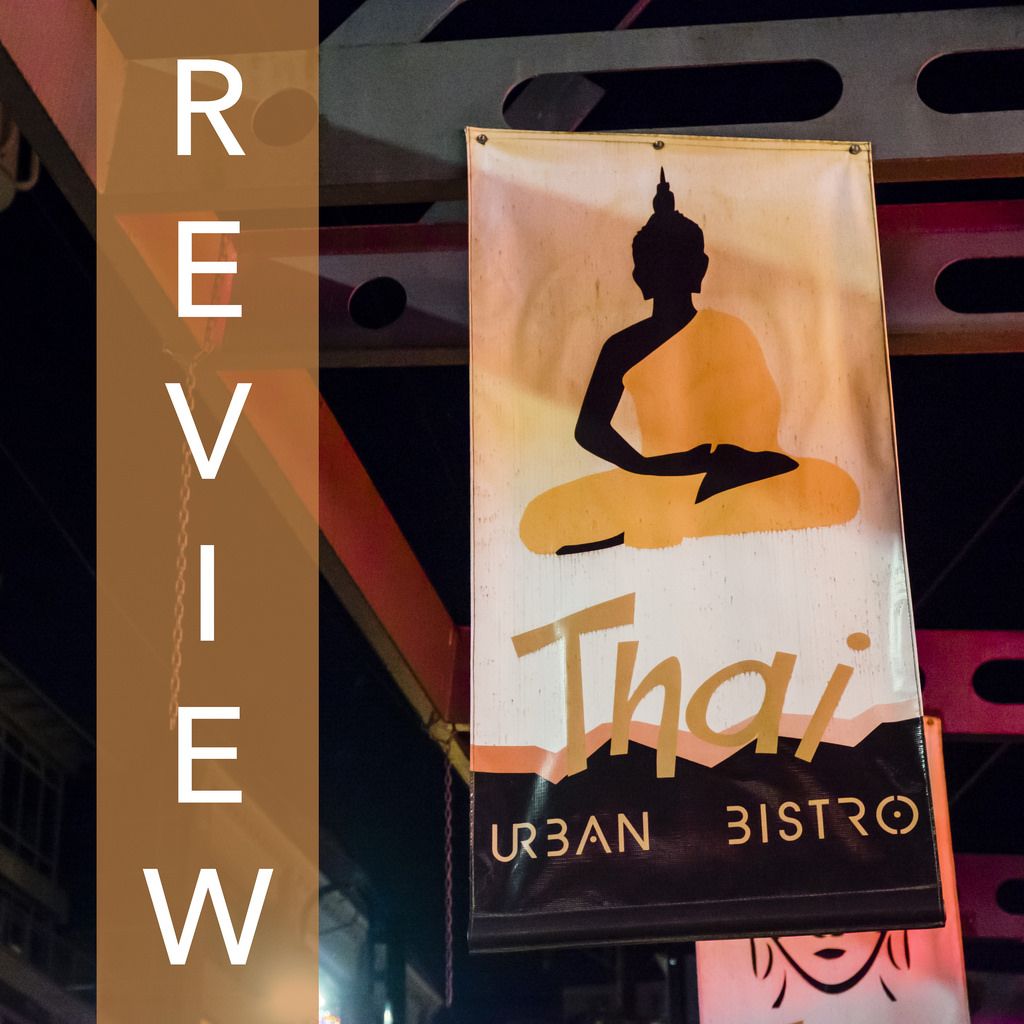 Food:
Team Tastic came here last Monday and I had a great taste of the following items from the Winter Festive Set Menu ($30/3 courses):
Appetizer - BBQ Lemongrass Chicken
Appetizer - Thai Style Shrimp Toast
Main - Panang Curry Fish Fillet
Main - Kra Pau Tiger Prawns
Dessert - Banana in Coconut Cream
Dessert - Deep Fried Ice Cream
The BBQ lemongrass chicken was served with a homemade tamarind sauce amidst a cabbage salad. I liked the sweet, lemongrass-flavoured skin of this chicken and the inside was cooked just right.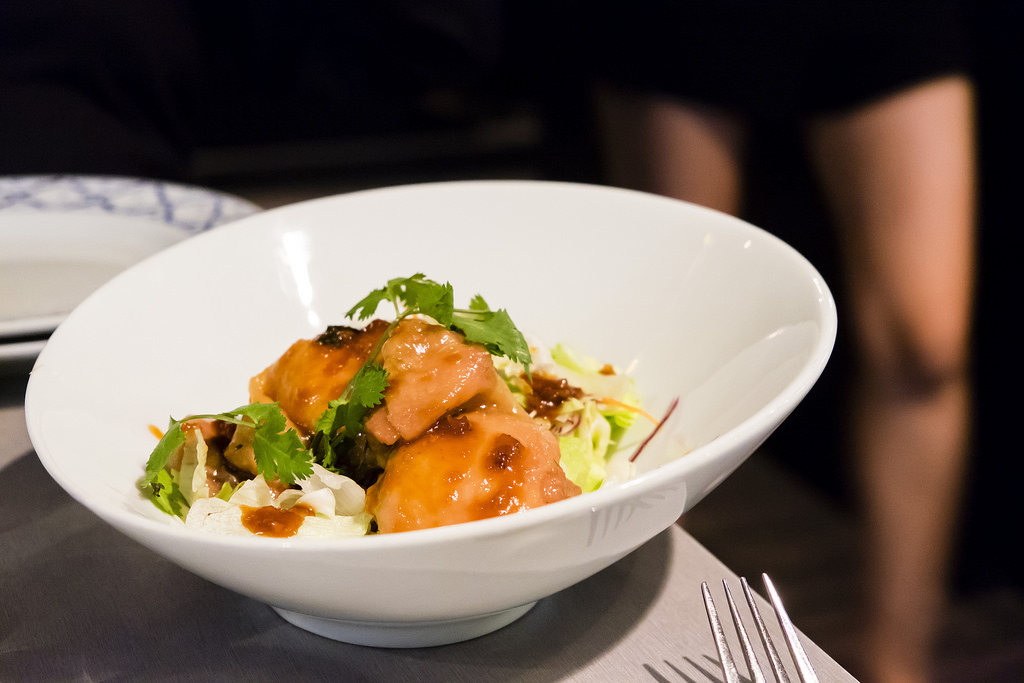 BBQ Lemongrass Chicken
The Thai style shrimp toast was a treat with slices of marinated shrimp paste with Thai herbs on toast served with peanut sauce. This was a little harder to eat but was a cool concept having the shrimp paste breaded into the toast.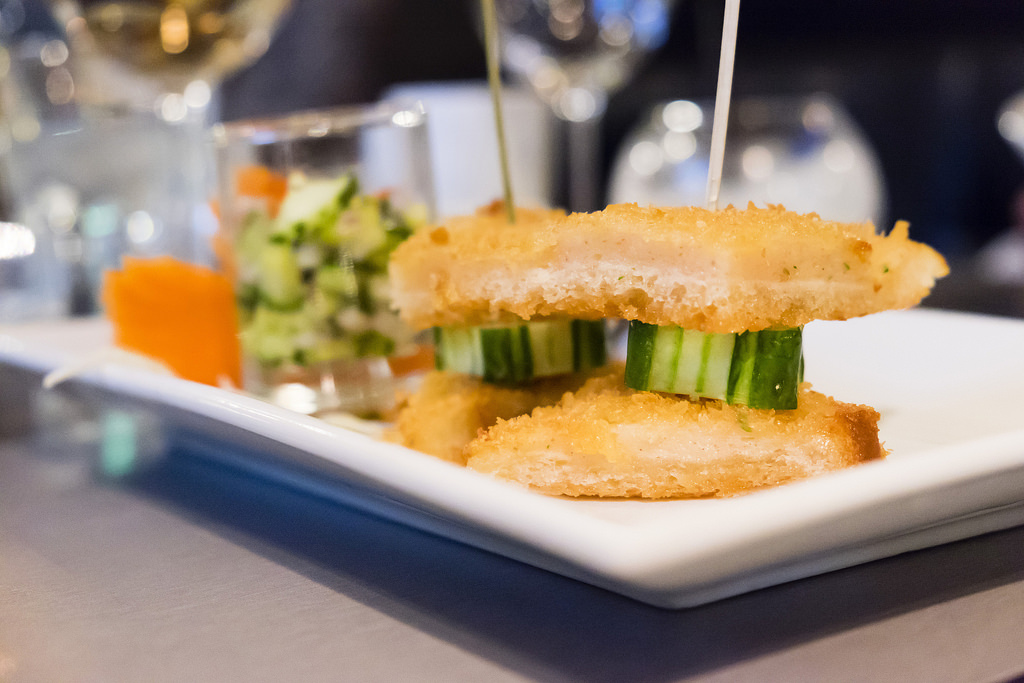 Thai Style Shrimp Toast
Moving onto the mains, the Panang curry fish fillet was a red curry simmered with coconut cream, green beans and lime leaves on a bed of steamed rice. I always love a Thai curry. A good Thai curry to me is one that's full of flavour, not overreliant on coconut flavour, and served with fulfilling protein. The fish here was soft, but not mushy (e.g. not cooked from frozen) and it kept its shape as I swirled it around my plate catching more curry sauce.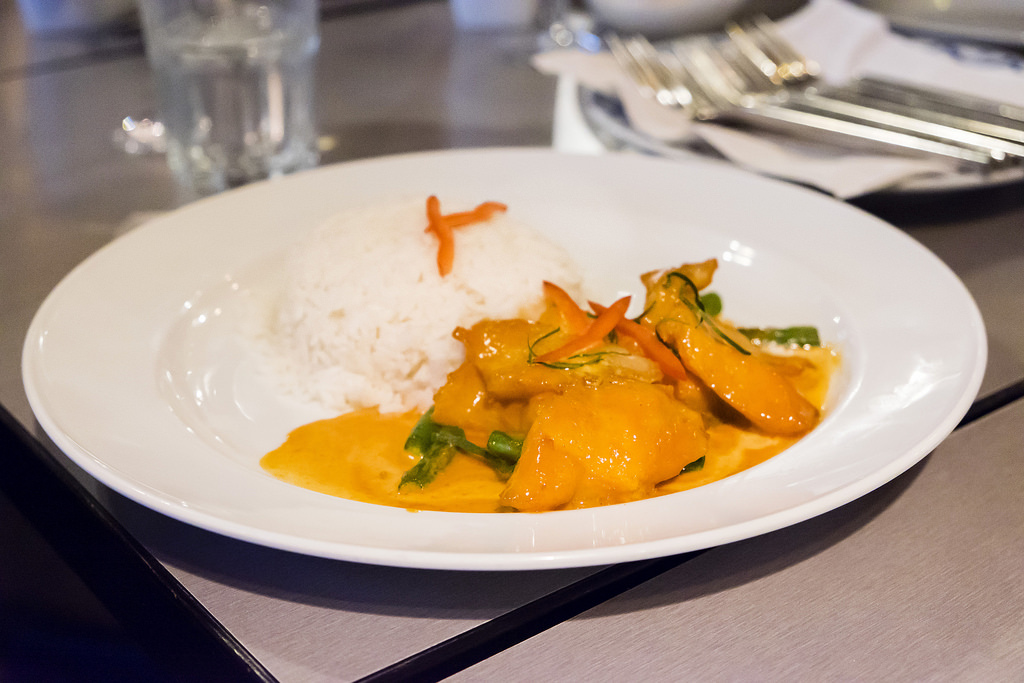 Panang Curry Fish Fillet
The other main I tried was the kra pau tiger prawns. These prawns were stir-fried with Thai chilli, basil, onion, and bell pepper served with steamed rice. Heatseekers will love this dish. The tiger prawns brought some definite heat that was just above my level so I had to slow my pace while eating these juicy, but spicy prawns.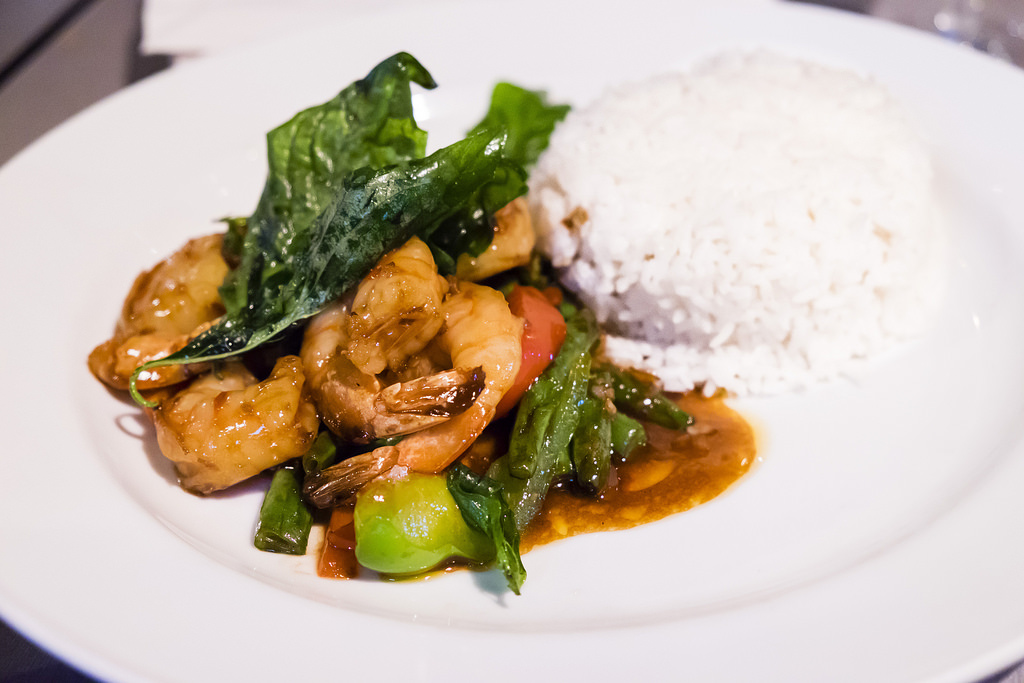 Kra Pau Tiger Prawns
Onto the desserts, I definitely enjoyed the deep fried ice cream more than I did the banana in coconut cream. The banana dessert screamed authenticity but when it came to taste, it just felt like I was eating coconut in the form of a mashed banana. Not my favourite experience.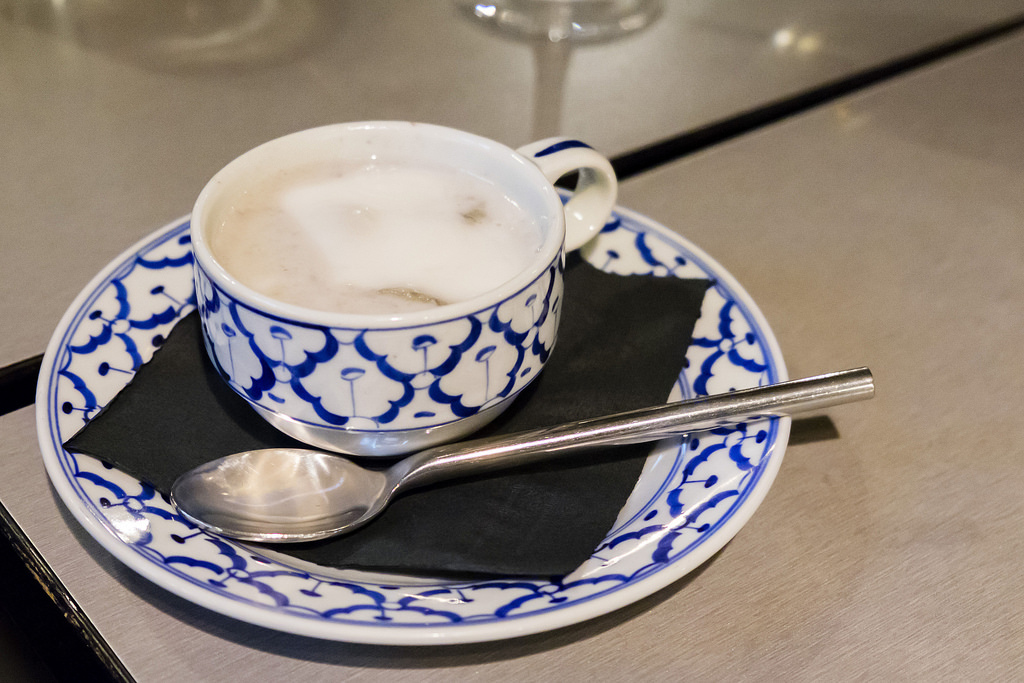 Banana in Coconut Cream
The deep fried ice cream was more up my alley. With some standard matcha ice cream filling, the star here was encapsulating it in a shell of deep-fried dough and serving it quick enough before the ice cream melted. This had a Chinese doughnut kind of feel but with a delicious sweet innard. It was kind of like a fried lava cake but with an ice cream filling.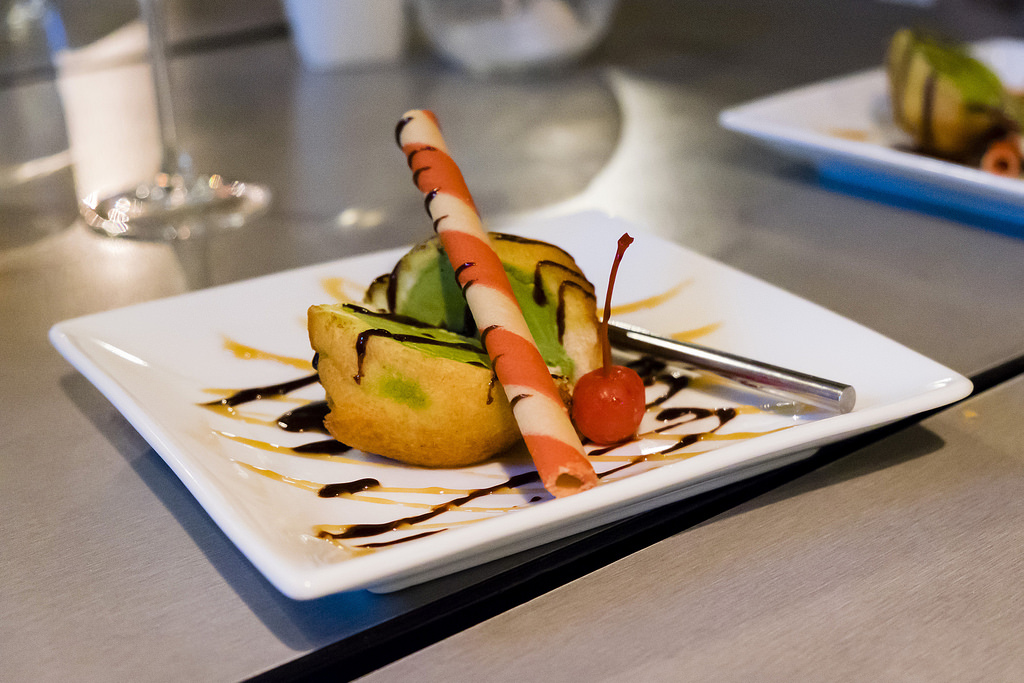 Deep Fried Ice Cream
All-in-all, at $30, you get a 3-course meal, and I left full after having my share. I know some mumblers may feel there used to be a time you could get a $25 3-course meal, but with rising food prices, I believe that time is over. This festive set menu resides among the lower end of Yaletown dining experiences which makes it stand out, in my opinion (settle down there, Cioppino).
Features:
Urban Thai Bistro takes up residence on Hamilton Street in Yaletown, one of Vancouver's chic dining neighbourhoods. What used to be rail yards and warehouse buildings are now converted into kitchens and dining spaces that keep the old exposed beams and high ceilings of their industrial forefathers.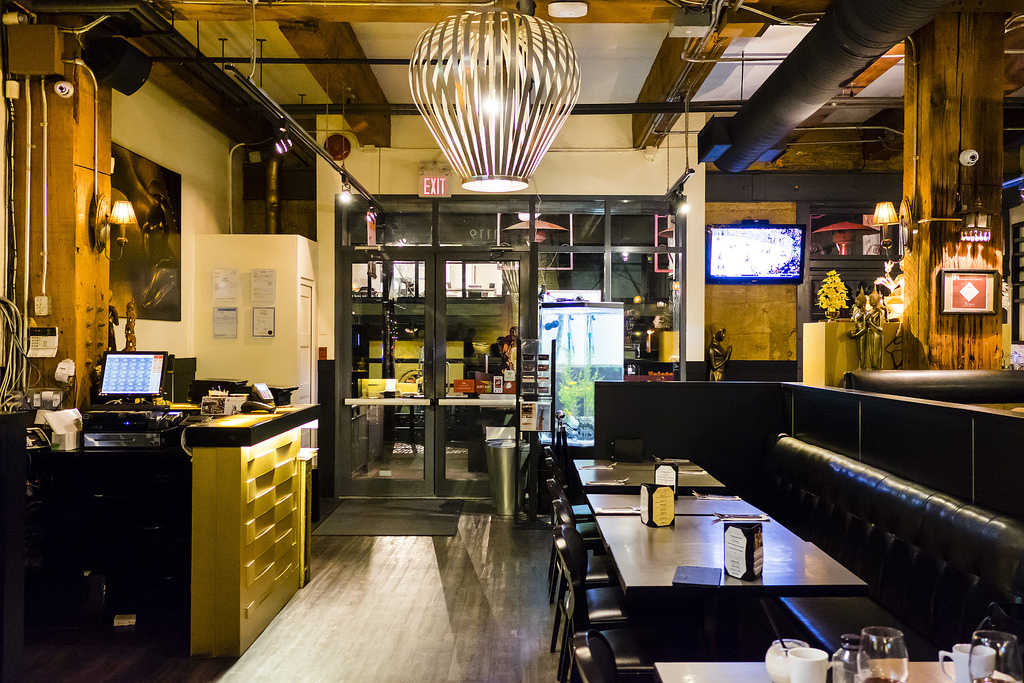 Inside Urban Thai Bistro
Urban Thai Bistro seats about 80 guests amongst its booths, roundtables, and outdoor patio. The vibe is pretty chic despite the entry-level price tag so it's a pretty classy value entrance to the casual midrange tier of dining.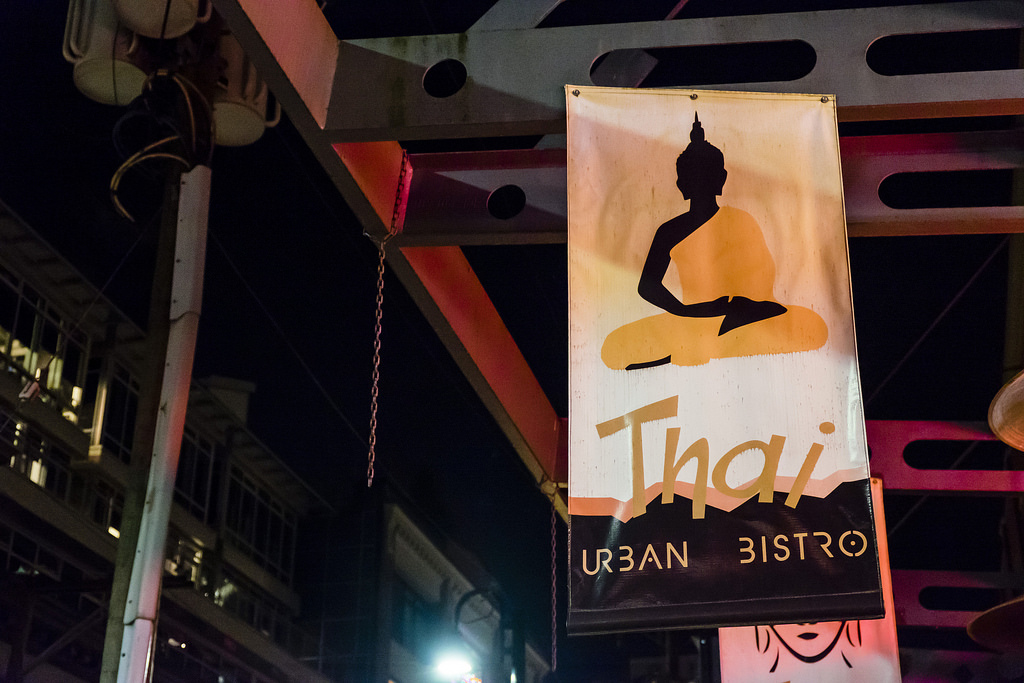 Outside Urban Thai Bistro
Final Thoughts:
One-liner: Tasty and affordable entry into good Thai and casual midrange dining
Highlight: Kra Pau Tiger Prawns
Price per person: $30
Recommended order: BBQ Lemongrass Chicken, Kra Pau Tiger Prawns, and Deep Fried Ice Cream
Would I go back? Yes.