Is it a sign that life is returning to normal given that the Vancouver International Wine Festival is back after a year off? This annual celebration of wine was the last large-scale event in Vancouver I published prior to everything shutting down in 2020 so it now holds sentimental value in my heart. With the rebirth of this festival is a new era as wines have changed with 2 years of backlog. As part of the festival schedule, I attended a superb wine-pairing lunch by Gennaro Iorio at La Terrazza and put together a recap of all that we consumed during this 2.5 hour celebration of Italian wine.
Disclosure: I was given a media invitation to attend this event. All opinions are my own.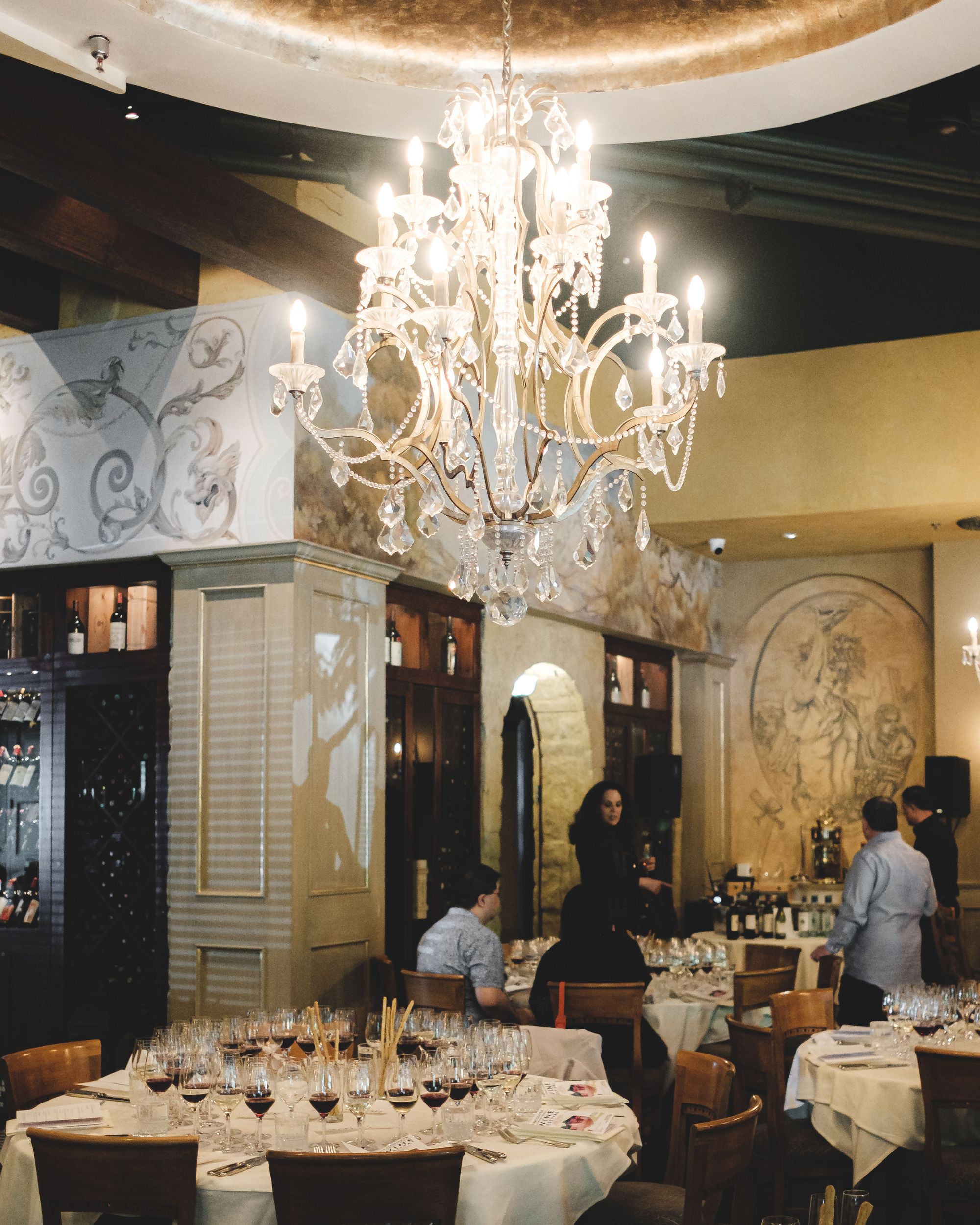 Food and Drink
Reception:
To begin the sunny afternoon, we hung out on the patio sipping bubbly in the form of:
The Mionetto bottle was designed like a bride-to-be wrapped in a bachelorette party sash but the real fun was on the palate: refreshing notes of red berries and grapefruit with elegant fine bubbles.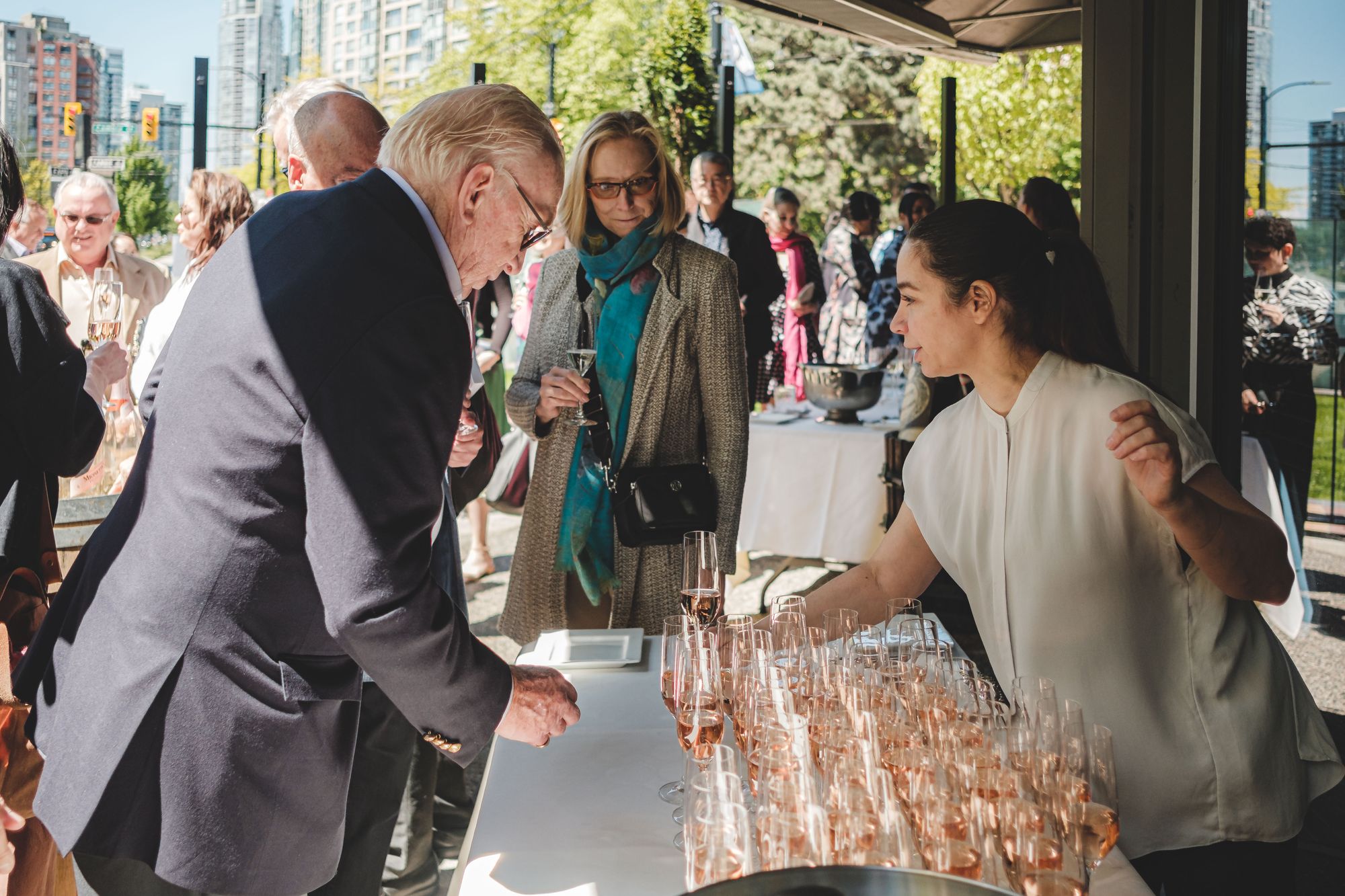 The Villa Sandi was a regal-looking bottle of bubbly, and on the palate was notes of white and yellow pulp fruits, especially peach and pear, with a lasting finish of apple and pear skins.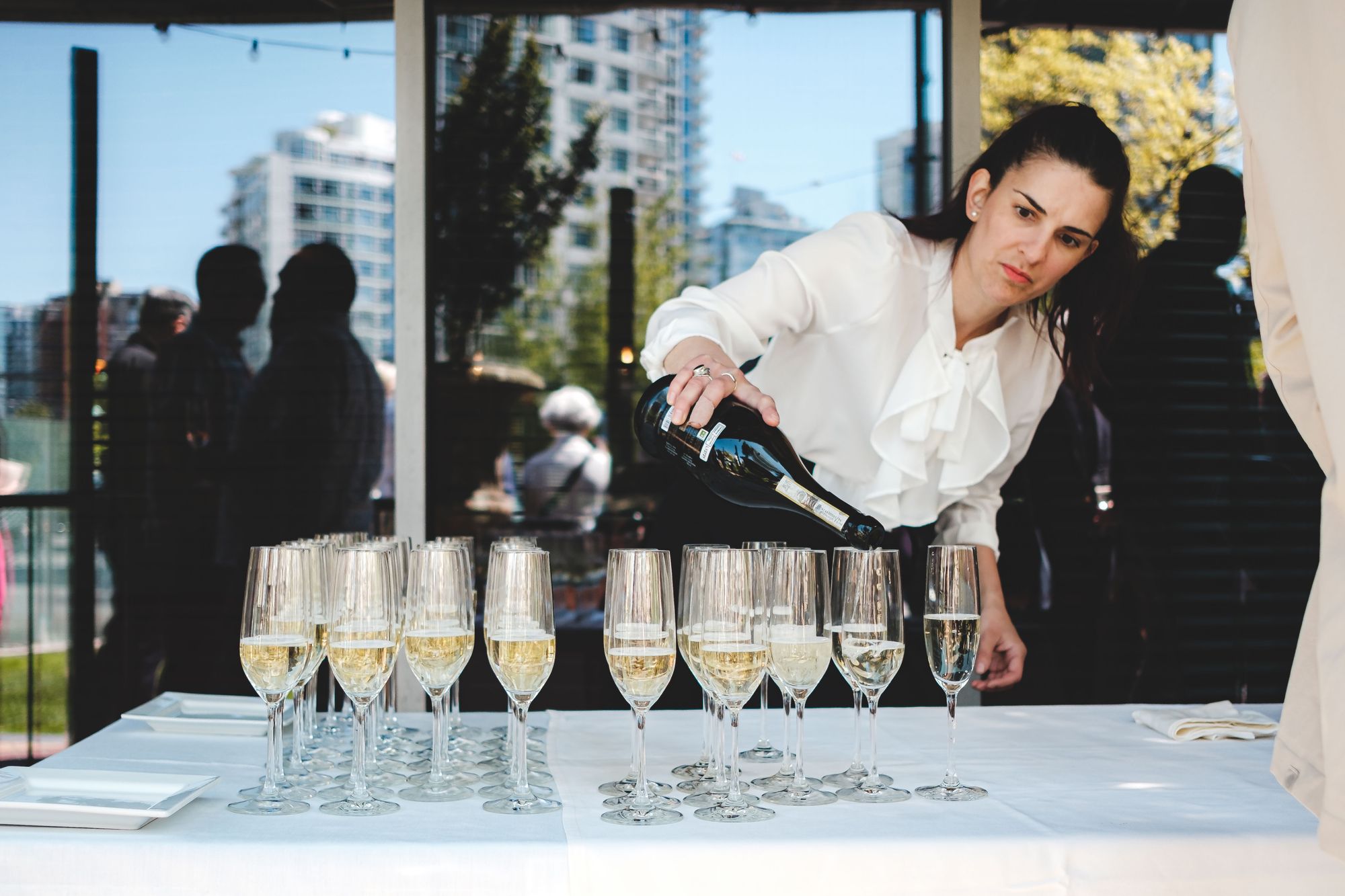 Fun fact: to be labelled a Prosecco, the sparkling wine must come from 1 of 9 provinces in the Veneto and Fruili Venezia Giulia regions of Italy. It's akin to how Champagne is specific to France.
Primi:
For our first course, we were served:
The smoked sablefish was served with golden beet and a summer pea puree. The smoke was heavy on the sablefish which was deliberately cut through with the paired wines. Of the two, the Langhe Arneis by Cascina Galarin stood out as a better pairing with its more complex palate. The Casa Gancia Pinot Grigio was a pretty basic medium-body flavour which would be a safe choice if you're into more traditional pairings.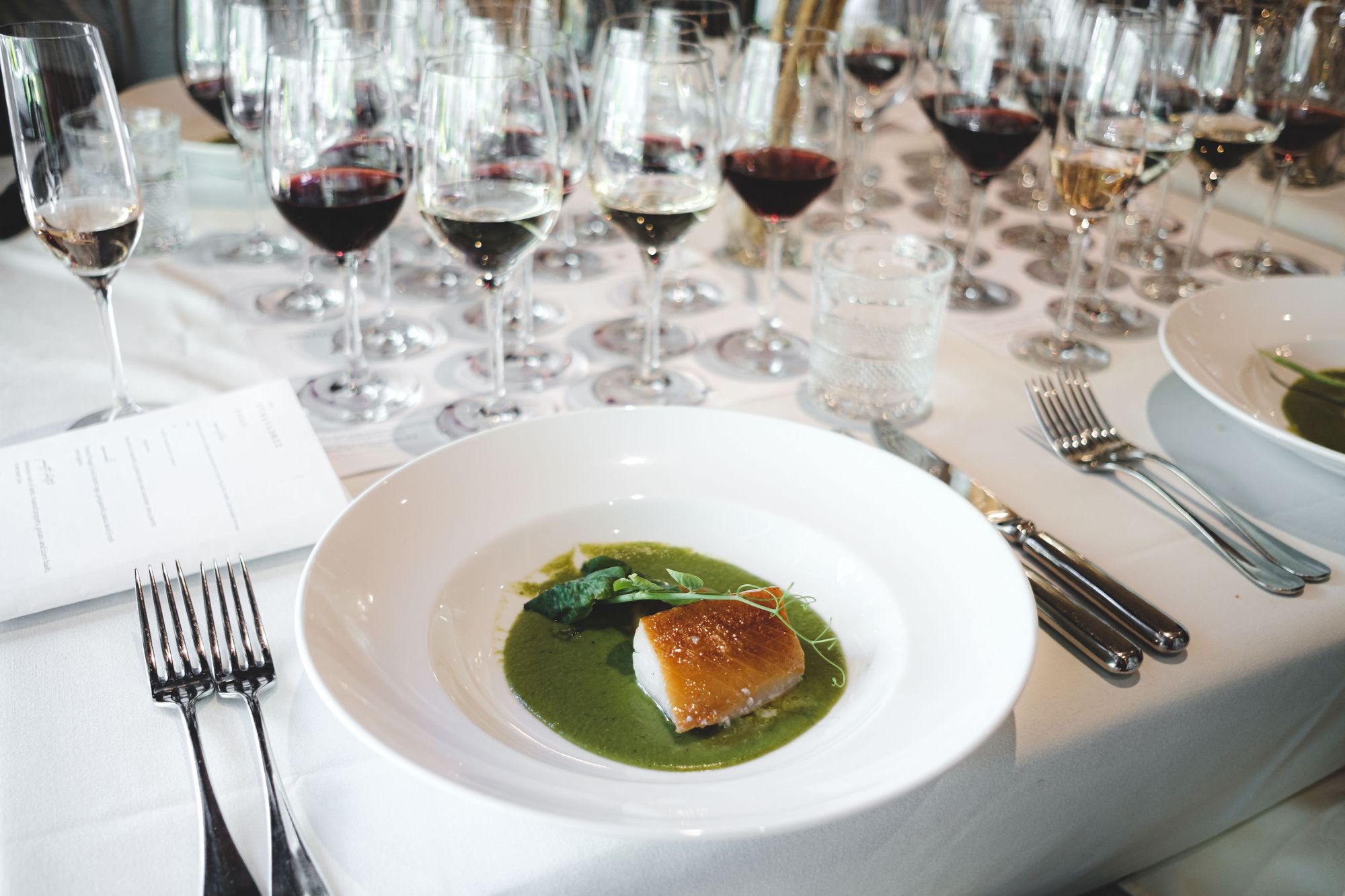 Secondi:
For our second course, we were served:
The wagyu veal cheek ragu was a taste to be remembered. Incredibly tender and marbled beef melted away into a savoury plate of ragu of garganelli pasta and fresh parmigiano. This was an almost nostalgic experience reminding me of something my mom would make for me at home, though with much more casual meat! I thought the ragu sauce was on the thin side but this was a deliberate decision to pair best with either of the wines. Both the Broccardo and Tommasi pairings were medium-bodied, not too bold for a thinner sauce, and full of red fruit tannins.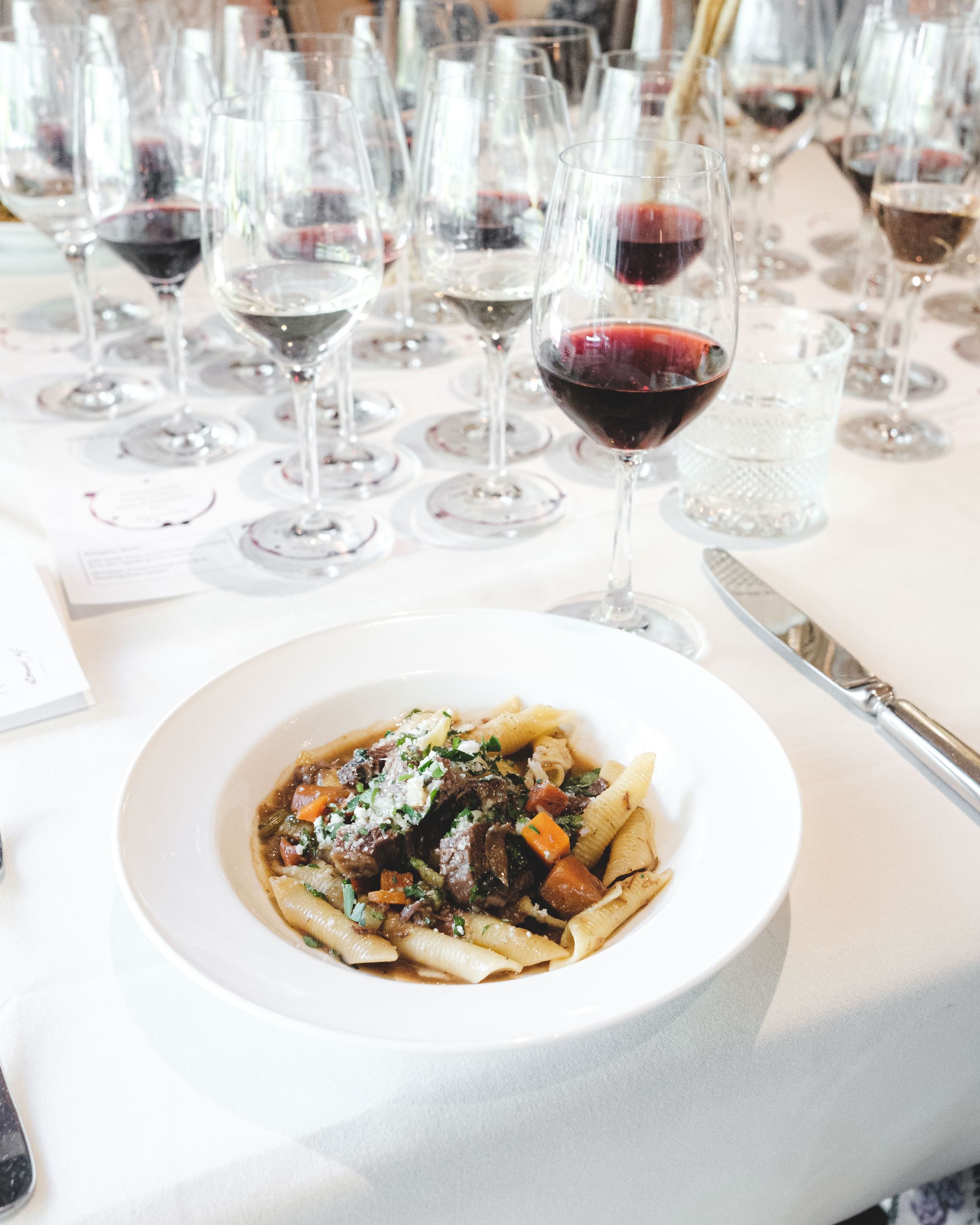 Piatti Forte:
For our piatti forte (main course), we were served:
The boneless rack of lamb was an incredibly tender plating with roast peppers, potato and corn hash, and a rosemary jus. The components combined to offer deep savouriness that demanded a bold pairing, and bold was delivered best with the Tolaini Chianto Classico, which was a sensual wine with black cherry fruit notes, tobacco and hints of licorice and spice. I can still feel the tannins mixing with the tender lamb on my tongue.
Formaggio:
To start winding things down, we were served the following:
Never underestimate the pairing of cheese with honey. The taleggio was a beautiful piece of cheese with understated butteriness and a rind much less chalky than the one you'd find on brie, its cousin cheese. The wine pairing here was undoubtedly the Savian Vini Amarone. This had a refreshing aftertaste that invigorated me to pop another bite of cheese.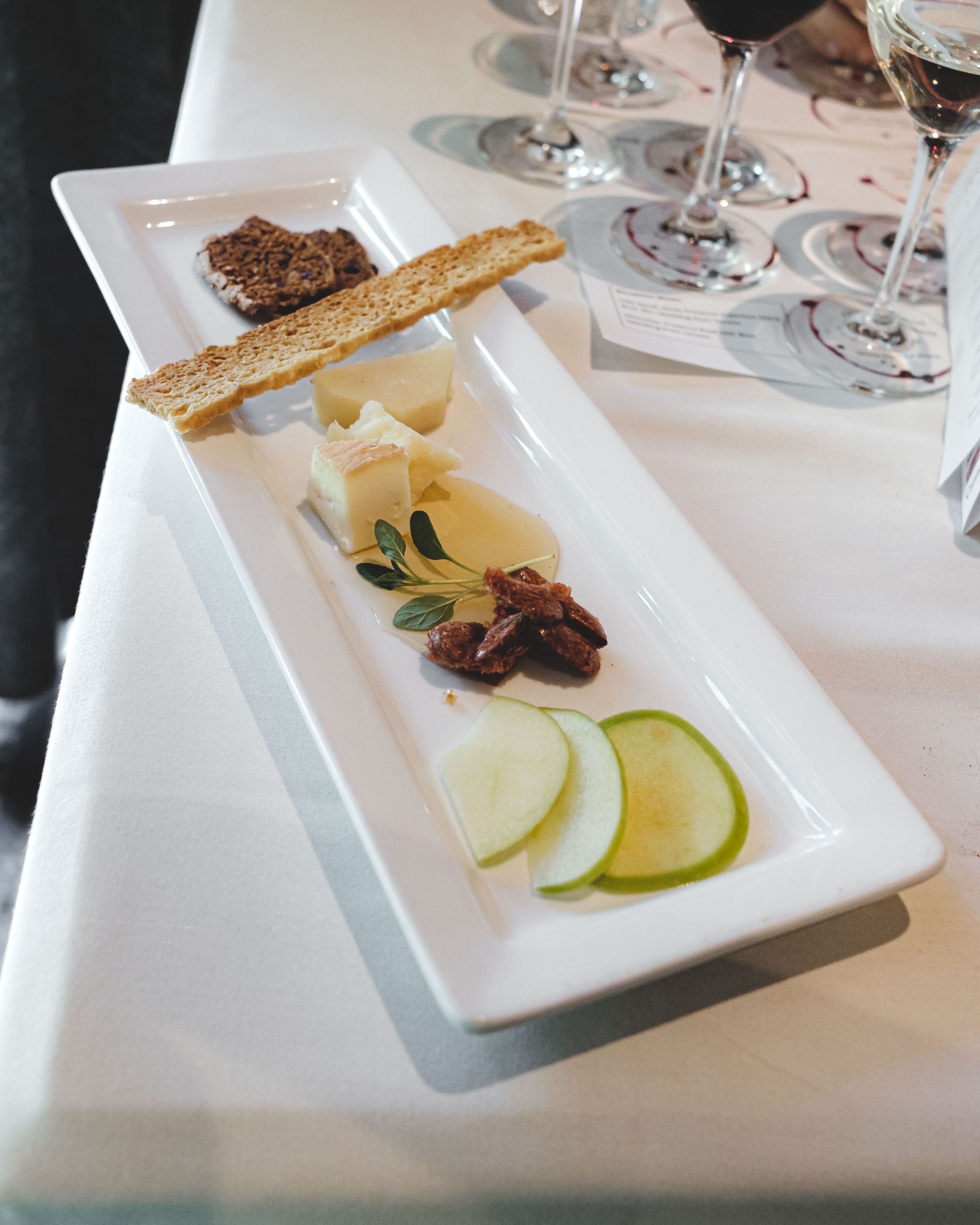 Dolce:
Finally, for dessert we were served:
I love the taste of sweets but the frangipane was a beautiful piece of art too with a firm yet juicy piece of grilled apriot plopped on top.  Fresh whipped cream, apricot coulis, and pulled sugar art rounded out the plate. You know a restaurant is investing serious time when they are presenting pieces of sugar art on the actual baked good. This presentation takes time! The tart made for a good base to let my wine pairing seep into and penetrate in tandem on my palate. If I learned anything from Dine Italia, it's that I need to purchase more wines from the Valpolicella region.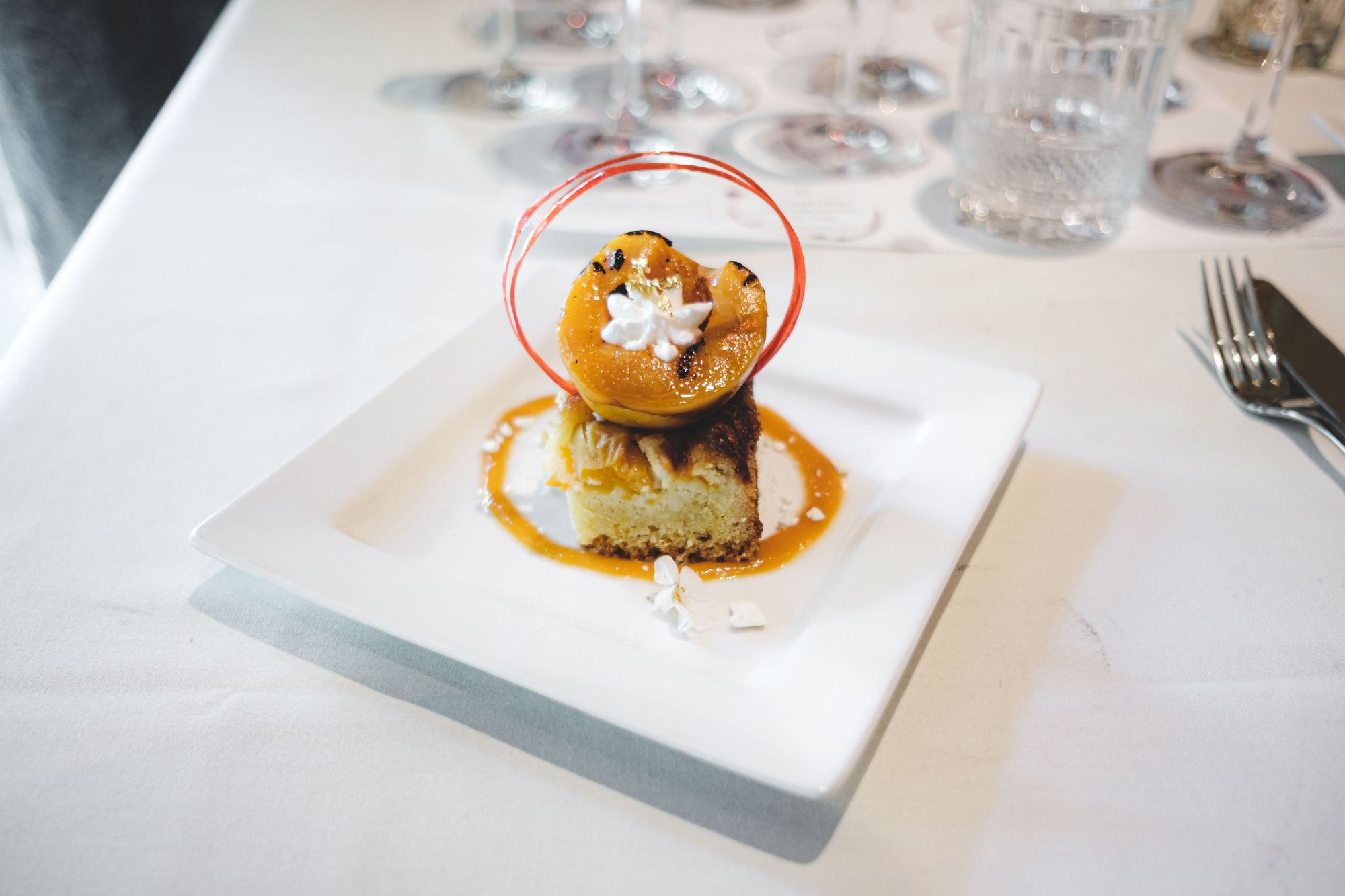 Features:
Dine Italia, a premier event of the Vancouver International Wine Festival, took place inside La Terrazza, a Vancouver staple of Italian fare. You can bet the restaurant venues chosen for the wine festival are among Vancouver's best for finer dining and in this occasion, the food did not disappoint and I respect the challenge the team has to crank out 60 plates of the same dish at the same time at the same temperatures. We were seated in a large ballroom with chandeliers to dream about.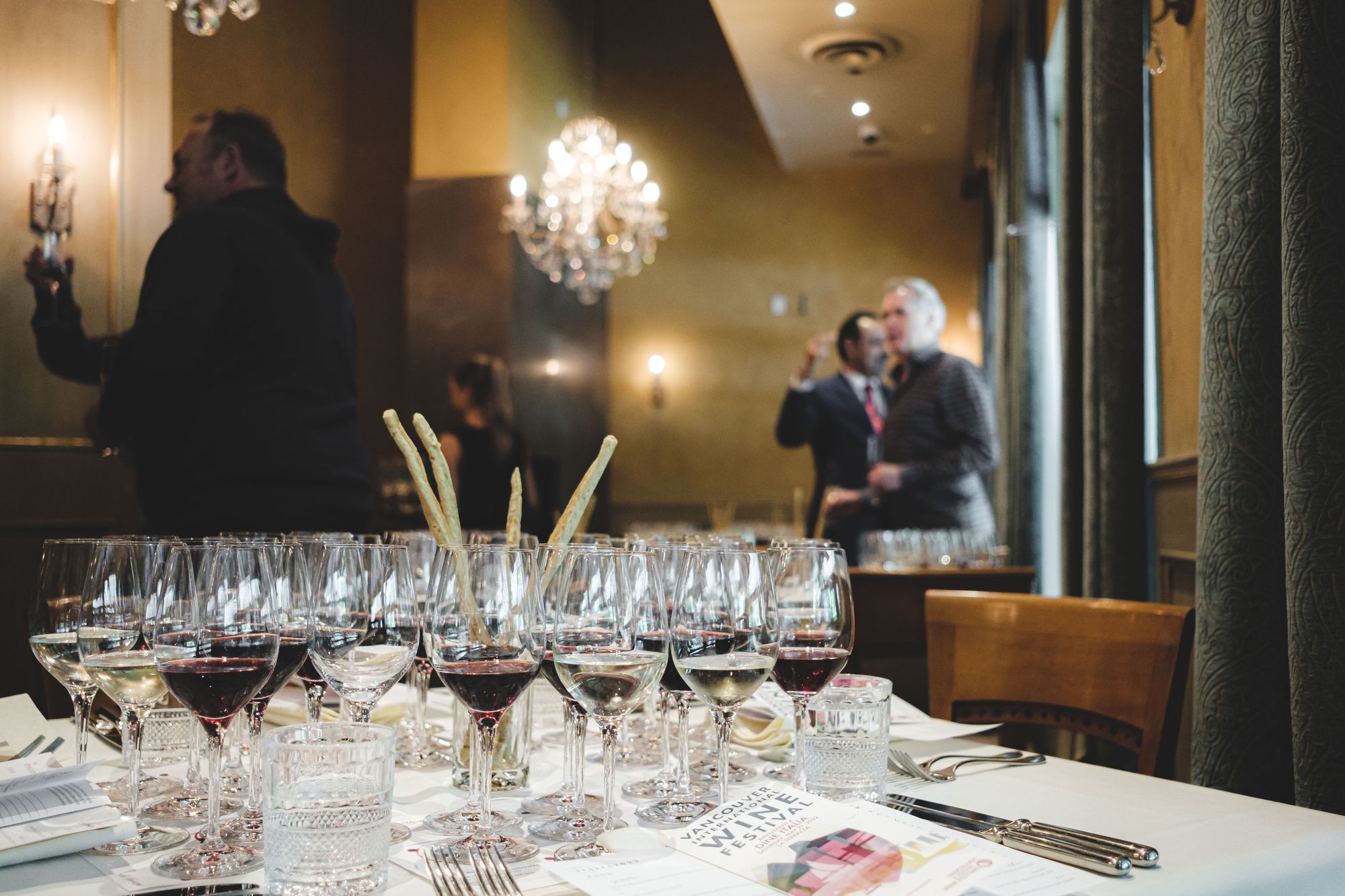 The actual programming of the event was as follows:
Be introduced to the winemakers and hear their story for each wine
Munch on the food paired with the wine
This would repeat for each course of the meal and there were natural breaks for folks to mingle together.
One thing to note about these events is they are very communal. For Dine Italia, I was seated myself with a lovely couple working in property management, and another couple working in tech and finance industries. I didn't know anyone but the vibe was amazingly amicable and I bonded with my neighbours through a shared love of food and dining in Vancouver.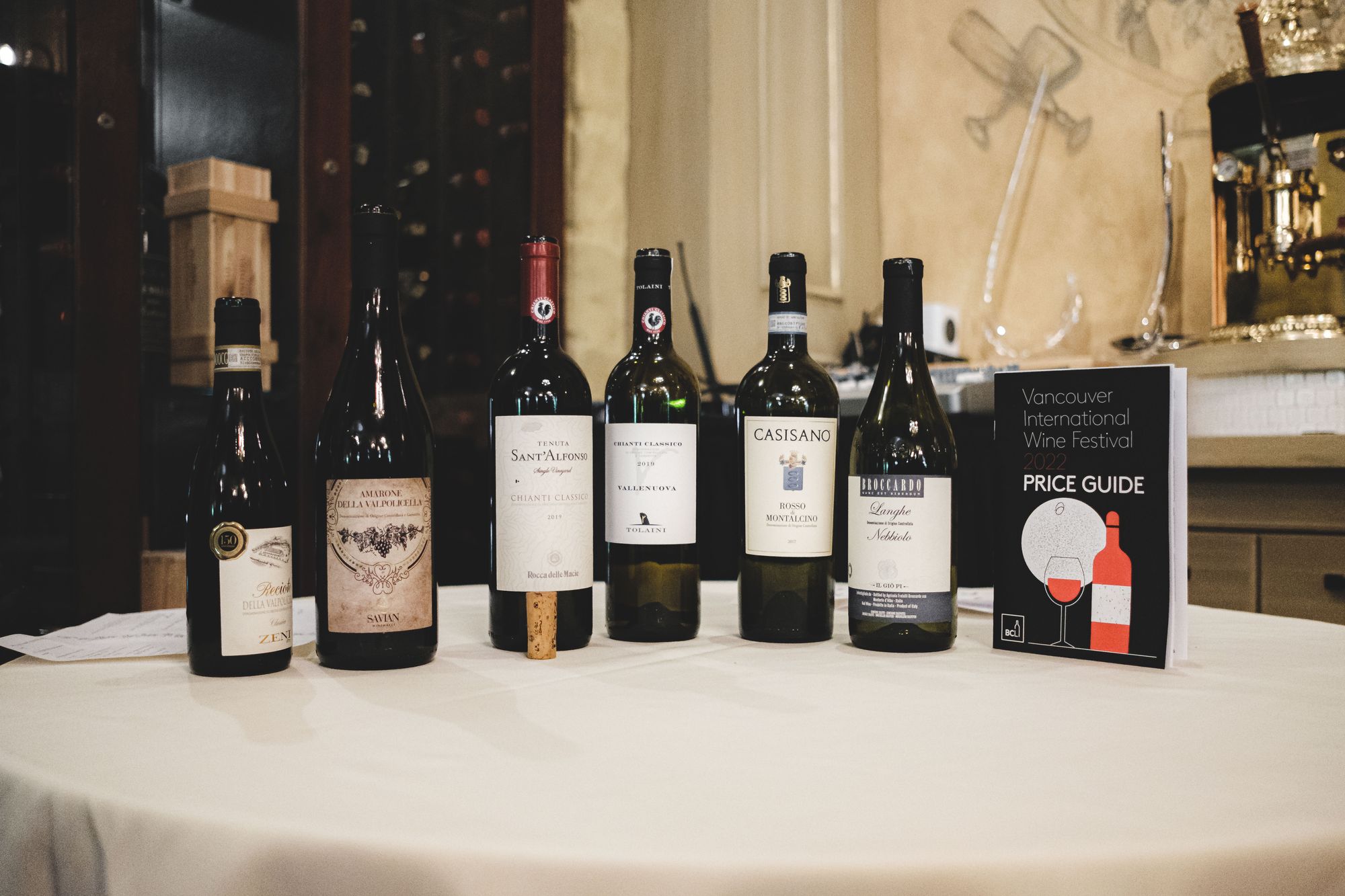 Overall, Dine Italia was a fantastic event organized for the Vancouver International Wine Festival and is suitable for any wine lover who is interested in a curated session of wine tasting paired with food in a specific region of the world. I wish the winemakers had more time to mingle with other tables but I understand the tight timing required to make everything go off without a hitch.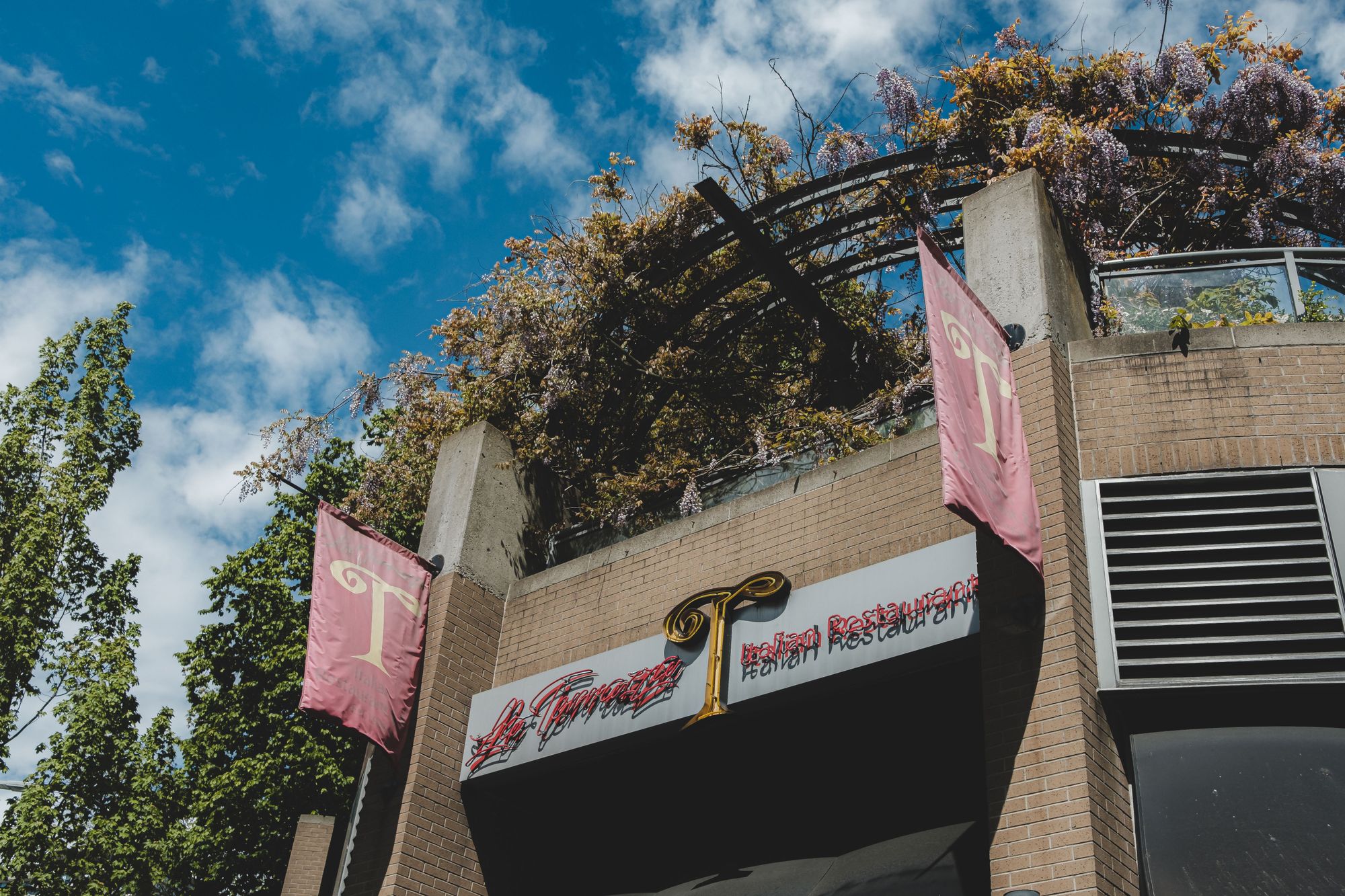 Final Thoughts:
One-liner: An all-Italian festa featuring a fantastic introduction to Italian wines and storied history in Vancouver's famous La Terrazza
Highlight: Wagyu veal cheek ragu
Price per person: $195
For more information: https://vanwinefest.ca/