There aren't many restaurants as wine-forward as VV Tapas Lounge in Vancouver. There are plenty of wine bars but with a worthy food menu. Grapes and Soda in South Granville comes to mind with a smaller food menu, and L'Ufficio doesn't count since they share a kitchen with La Quercia. Based on this "niche" criteria, VV Tapas Lounge, and its on-premises market stand, VV's Niche, is a one-of-a-kind experience where your server appropriately doubles as a sommelier.
---
Disclosure: This was a complimentary tasting provided in exchange for an honest overview and no monetary compensation.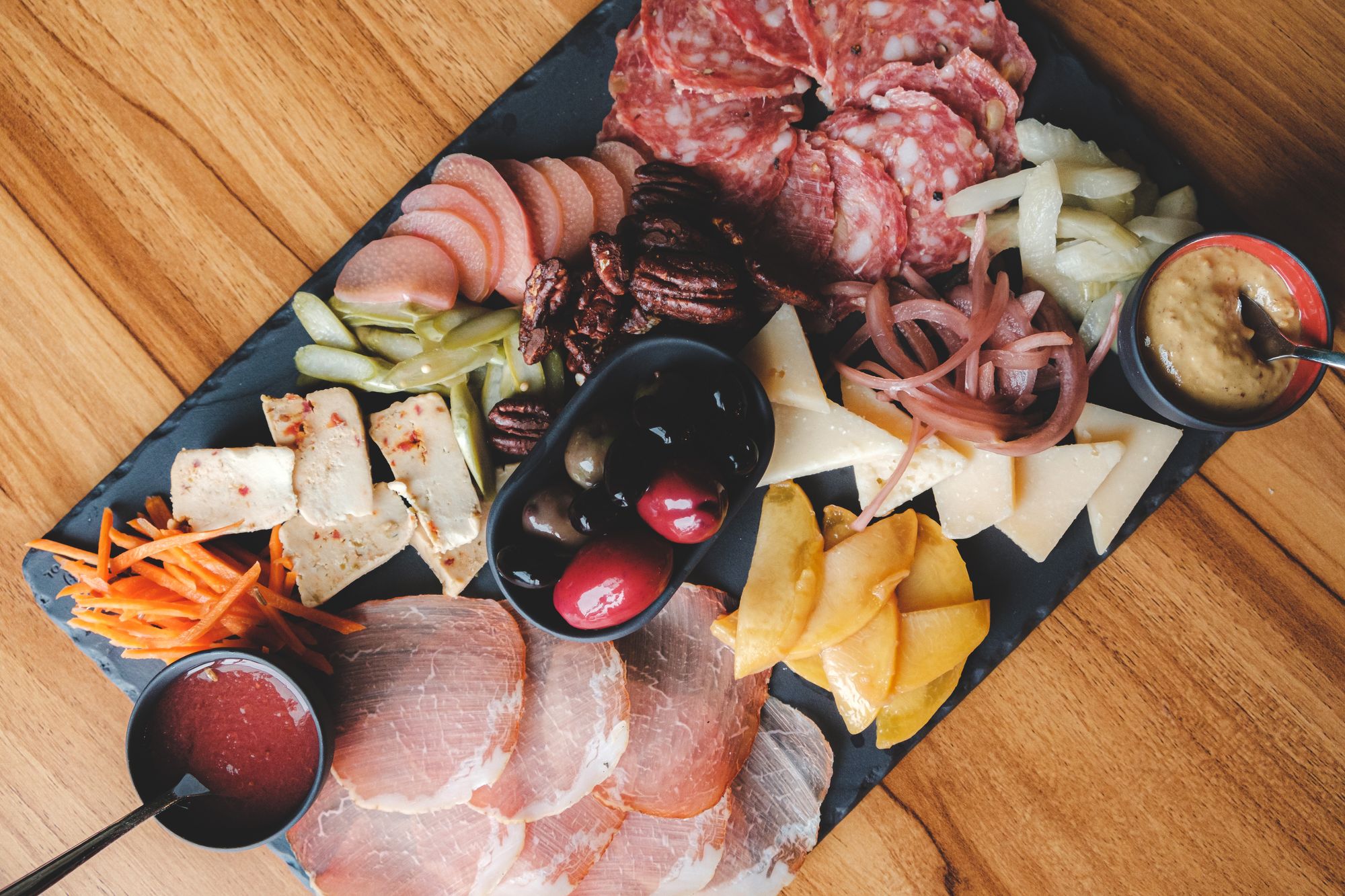 Food and Drink:
Team Tastic came here on a Tuesday evening and I had a great taste of the following:
Amuse Bouche
3 x 3oz flight of wine ($20)
4-piece charcuterie board ($25)
Burrata ($17)
Mushroom Risotto ($20)
Seared Halibut ($27)
Tiramisu ($9)
Odd Society Bittersweet Vermouth ($12)
As with all meals at VV, we started with an amuse bouche of salted and butter-dipped radish to cleanse the palates and make way for the rest of the night.
Because the wine from the wine shop is sold by the bottle, a flight of wine was my way to try out some of the wines available in VV's Niche. For reference, I had:
La Stella Vivace 2019
La Stella LaStellina Rosato 2019
Masseria Li Veli Garrisa 2015
I'm not a huge white wine drinker but the Vivace was a pleasant pinot grigio of citrus fruit before it finishes with tart apple and zest notes – not just a load of pears! This paired best with the seared halibut.
The LaStellina Rosato, a blended Italian-style wine was an aromatic mix of beautiful spice, bing cherry, dark fruit, and herbal notes. This paired best with the cheeses from our charcuterie board.
The Garrisa was the lone Italian-geographic wine on the menu and man did this pack aromatics. On the palate, this was a dry, juicy red from an ancient grape, loaded with mouth-filling dark cherry flavors. The body on this was intense and exactly what I like to have with the heartiest of dishes. This big body wine paired best with the mushroom risotto.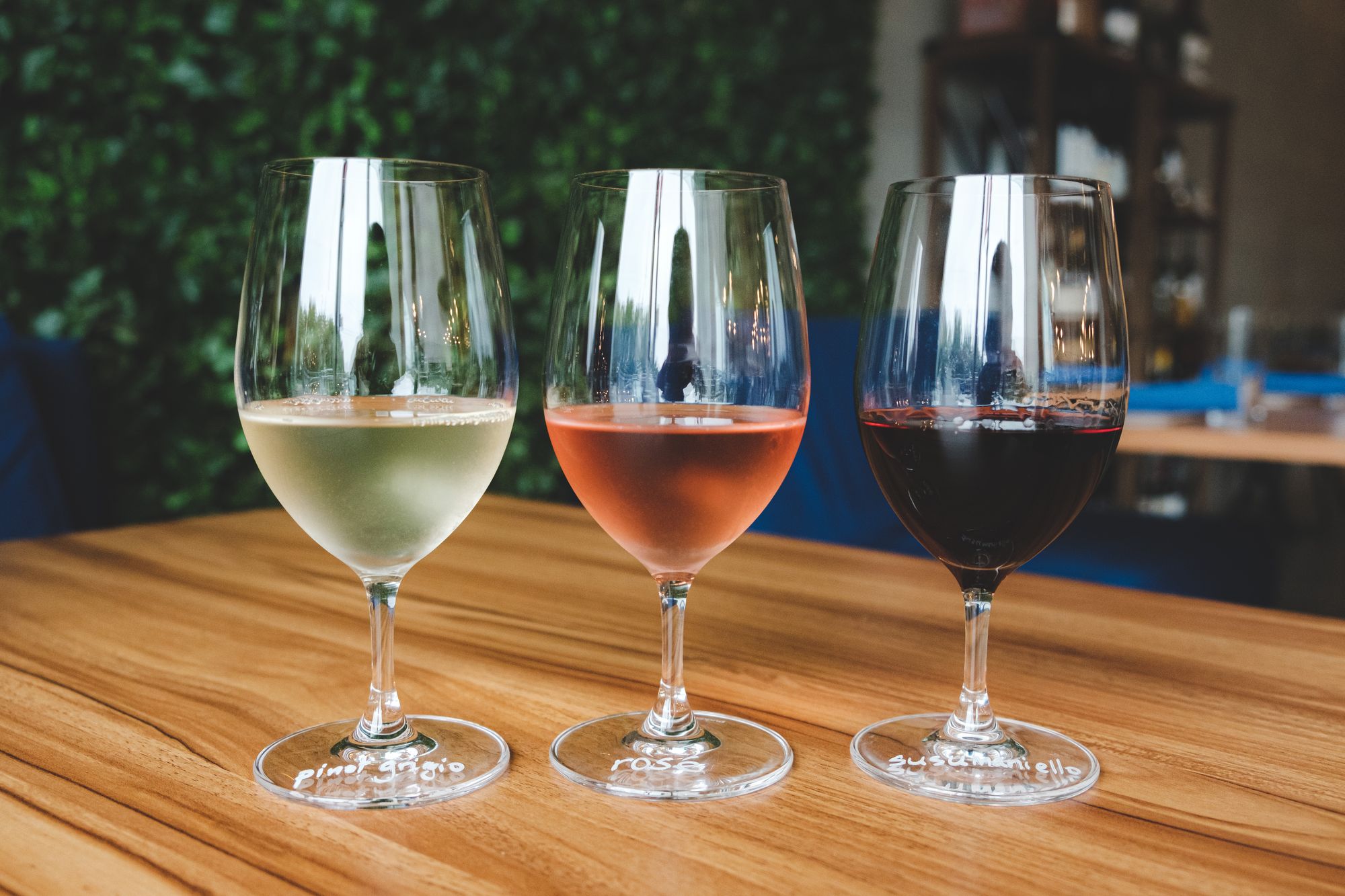 A key element of VV Tapas Lounge is the ability to customize your charcuterie. Their pantry here must be plenty large in order to support accommodating different tastes, and again, the sommelier/server here understands the tasting notes of each cheese and can provide recommendations. For our 4-piece charcuterie, we opted for lonzino (aged pork loin), milano (pork & beef, red wine, herbs), ewephoria (sheep cheese, hard, butterscotch), and the crown (cashew cheese, sun-dried tomato, herbs). By the way, every charcuterie board comes with bread (from The Bench Bakehouse), crackers, nuts, house-made pickles, and condiment jams. I'm usually skeptical of charcuterie boards being the price that they are, but at VV, I feel like I'm in charge and can try new morsels of cheese or meats with the options provided by VV. There have been times I bought a block of cheese new to me that I didn't love and it was a chore to finish.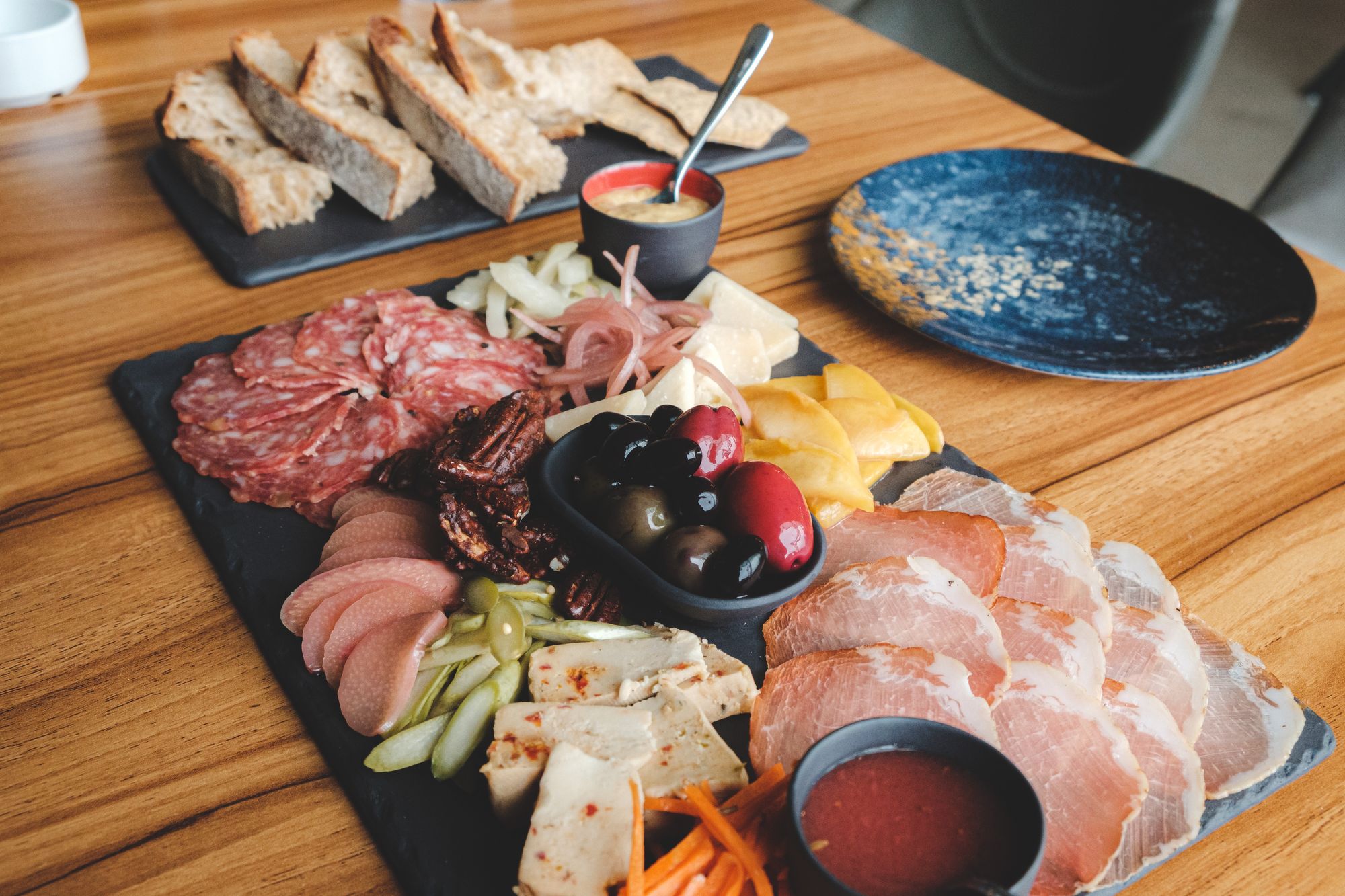 By the way, all of the non-meat/cheese sides except for the raspberry jam can be purchased from the in-restaurant marketplace, VV's Niche, if you want to get some ingredients to use at home. For those who are conscious about transportation emissions, I think the in-house pickled vegetables are the best treat to get since most grocery stores will only sell goods that were pickled and jarred far away and it seems VV Tapas Lounge does some subset of local sourcing for ingredients.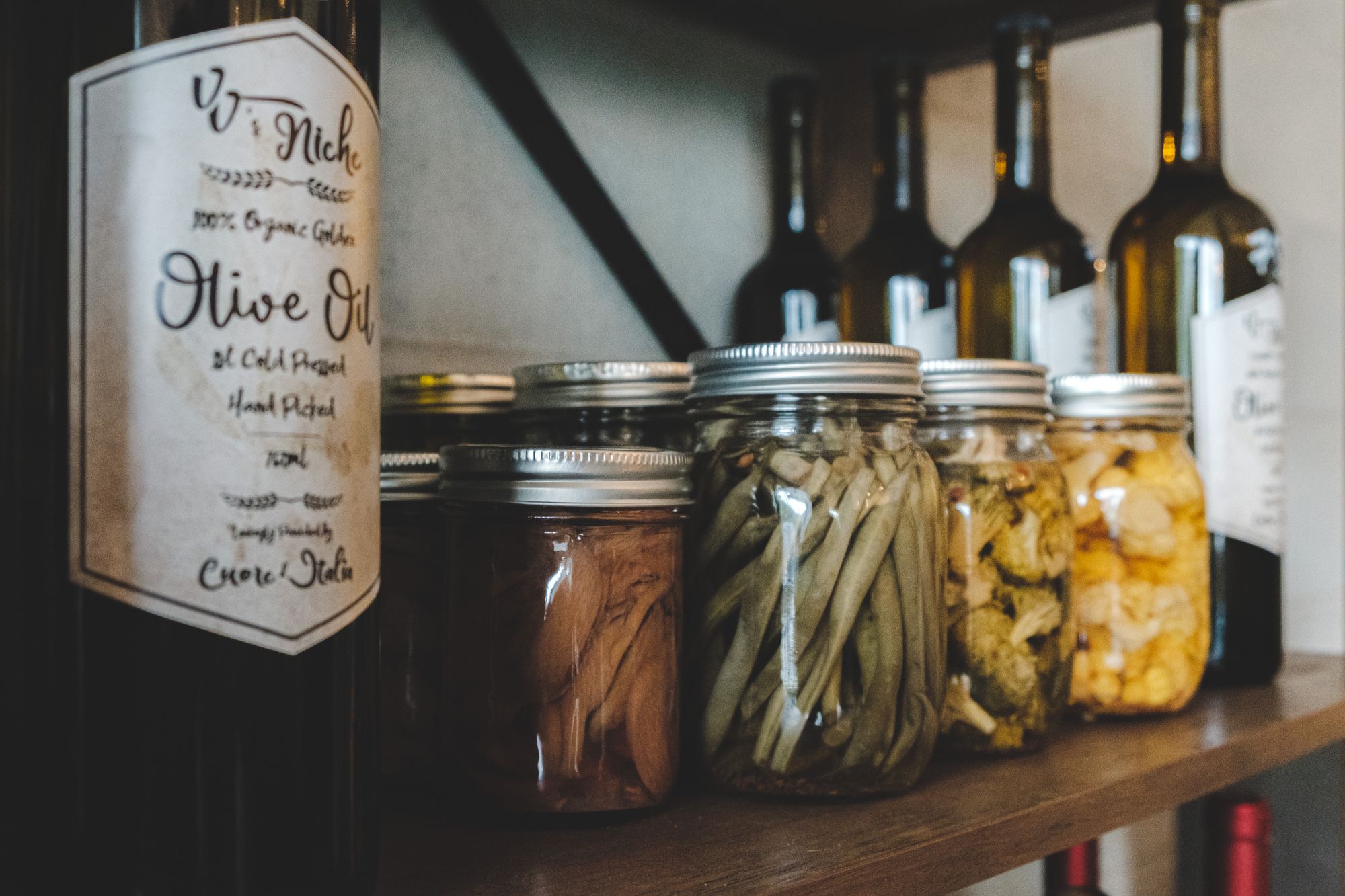 The burrata was served with a pistachio dukkah, rhubarb, mint, and a side of bread. This serving's a little too small for 2 people to share, which might be fine in some contexts because sharing burrata is something I struggle to do. The coolest part of this burrata is the little dollop of white wine slush that goes on top and adds a pleasant trail of wine body in your mouth after consuming the burrata. It's important to note that the bread here is the exact same as what you get in the charcuterie – no variety to be found there.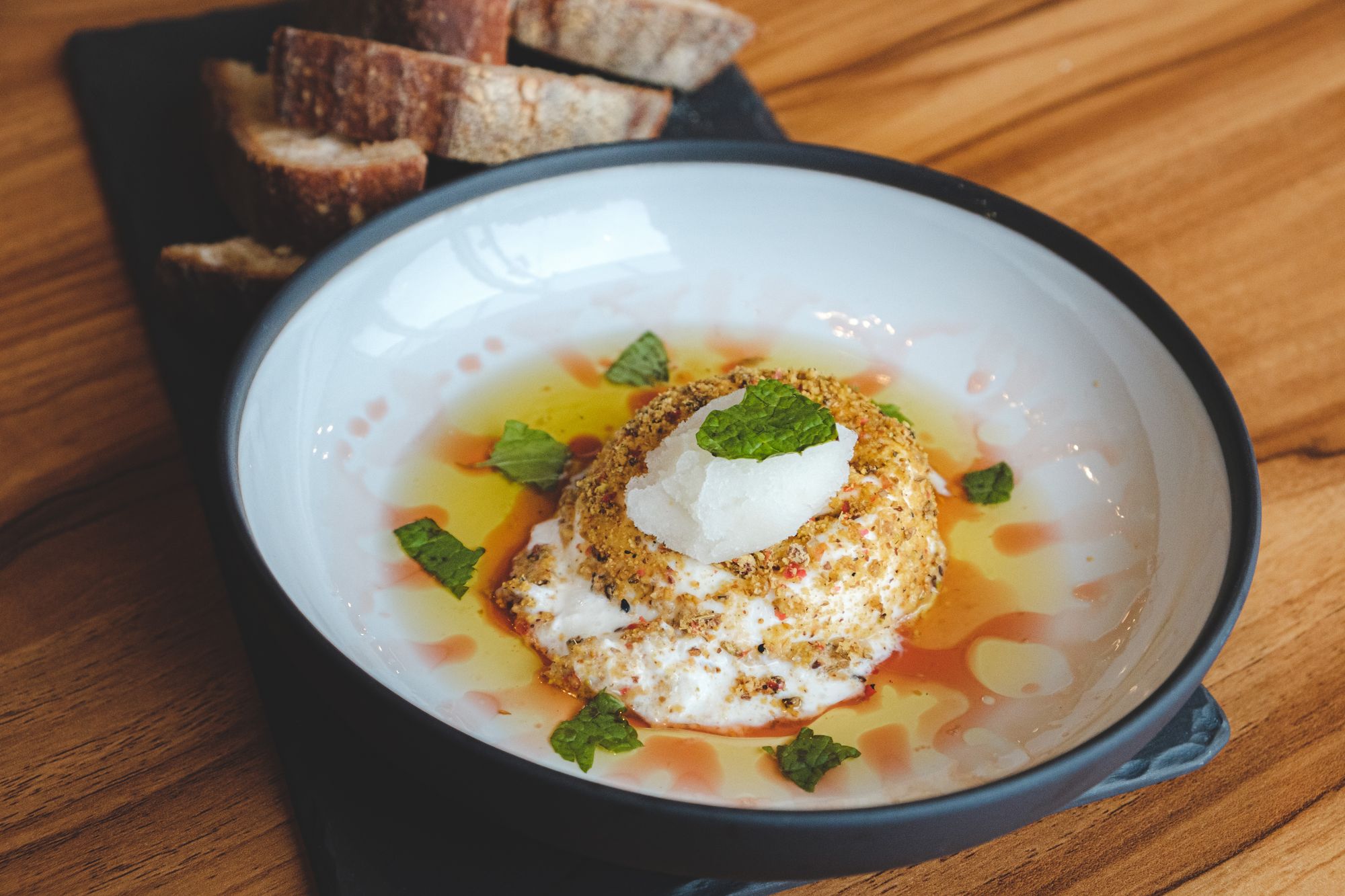 The mushroom risotto is an evolution of another item on the menu. From my last visit, I already loved the leek and herb risotto, but the porcini stock and oyster mushrooms take this already good risotto to new heights. I'd come to VV just for this risotto. It looks deceptively small but the combination of black garlic miso paste and egg yolk cooked with risotto makes this a hefty small plate to go with your flight of wine.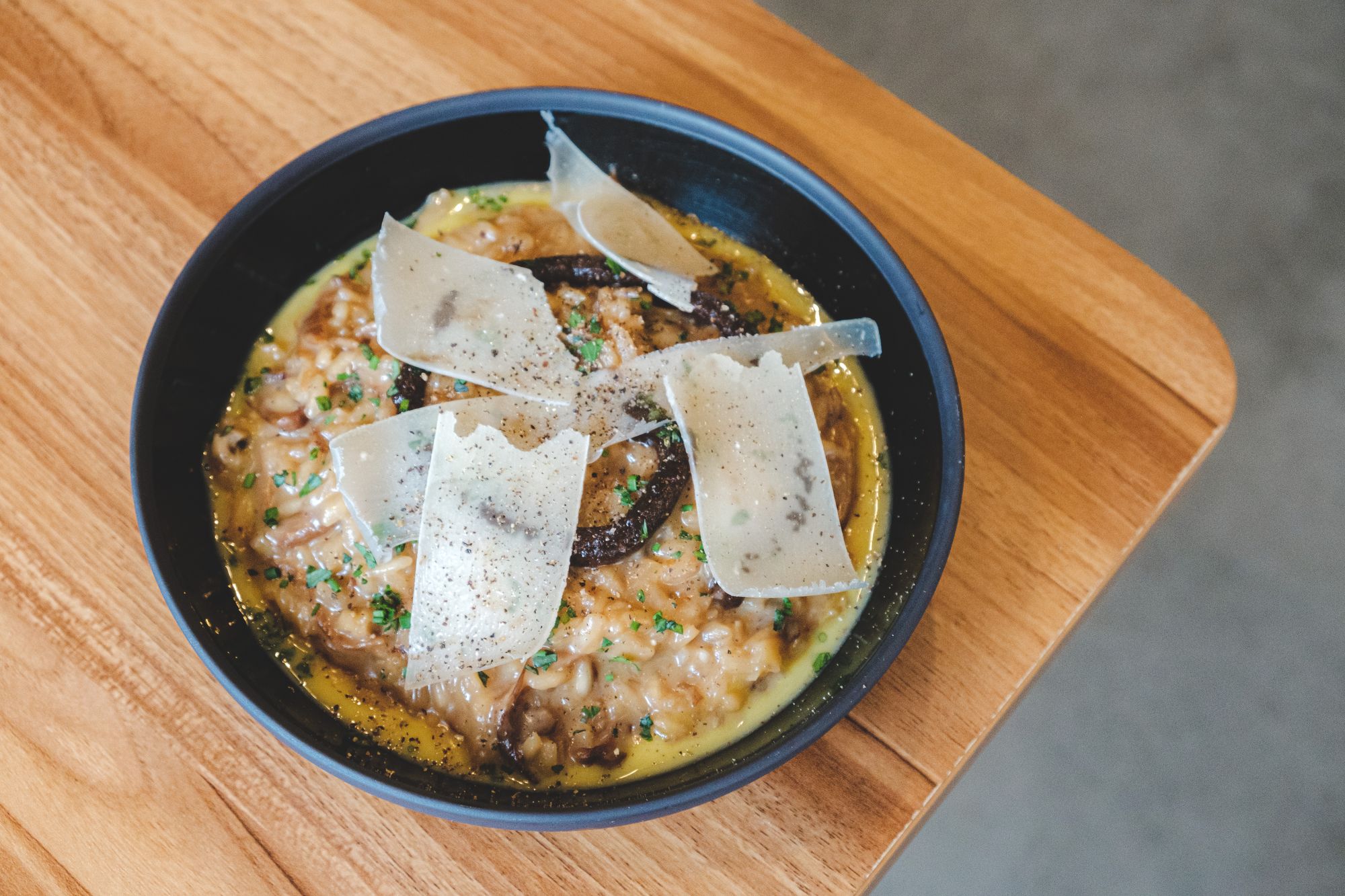 The seared halibut is another new item on the menu and one that's cool to see given this tapas lounge doesn't have a traditional stove on-premises. This halibut is cooked with a sake kasu marinade with corn, potato salad, and pistachio romesco as the supporting cast. This would be a great item for white wine fans looking for something other than nuts or ceviche to pair with their vino.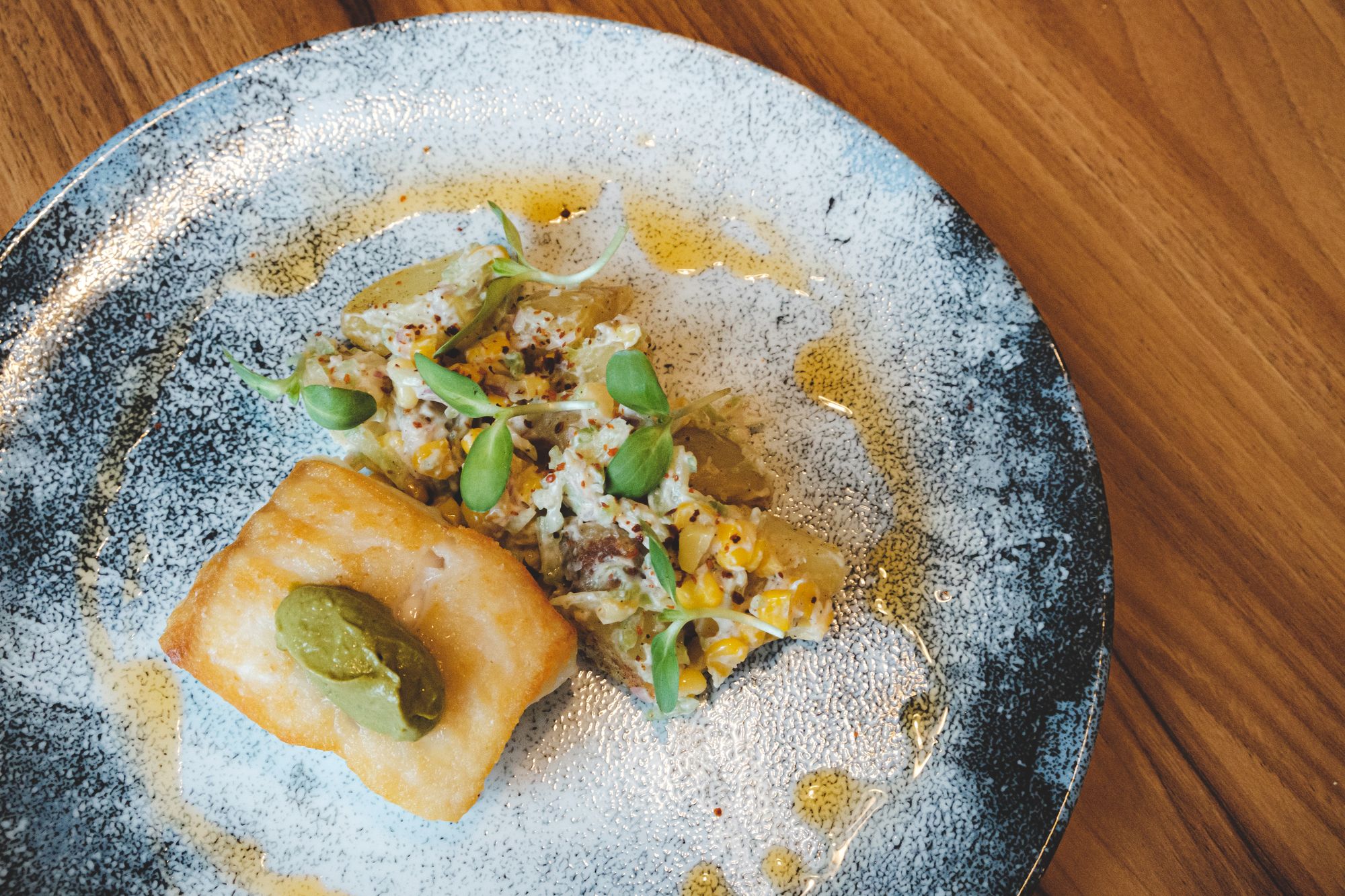 The tiramisu here is no sham. Made with the traditional ingredients of mascarpone, frangelico liqueur, and biscotti, this was a jar full of joy. I was positively stuffed by this point but this would be a fine serving for a single person if all you got was a risotto, a flight of wine, and this guy.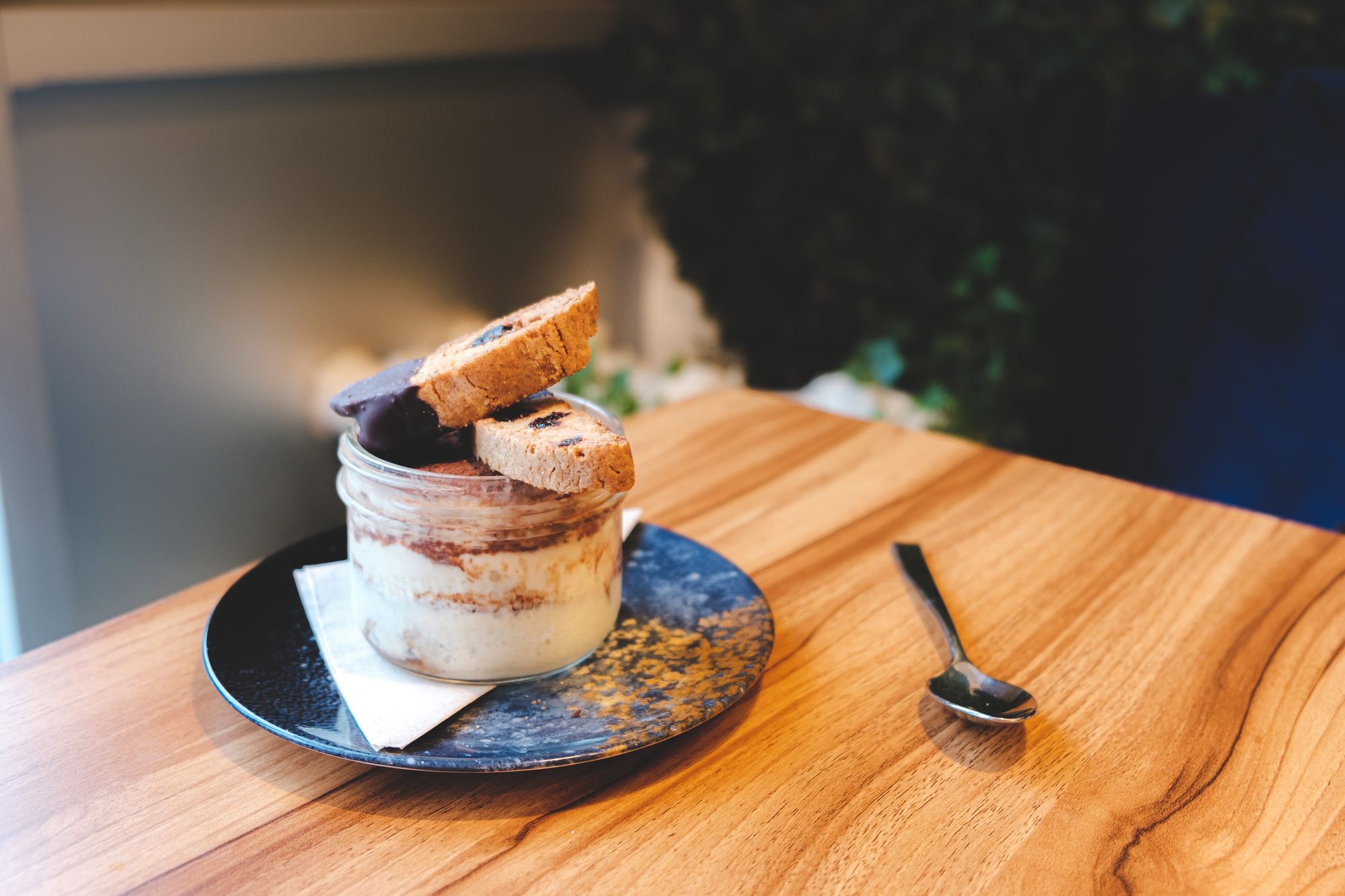 To pair with the tiramisu, I had an Odd Society Bittersweet Vermouth. If you love wine enough to have it over any other type of spirit, vermouth is the step forward for you. This fortified wine drink was served with a giant ice cube to regulate temperature, and with the orange peel, served as a neutralizing flavour to the sweet tiramisu. Glassware here is on point with lots of texture in this drink.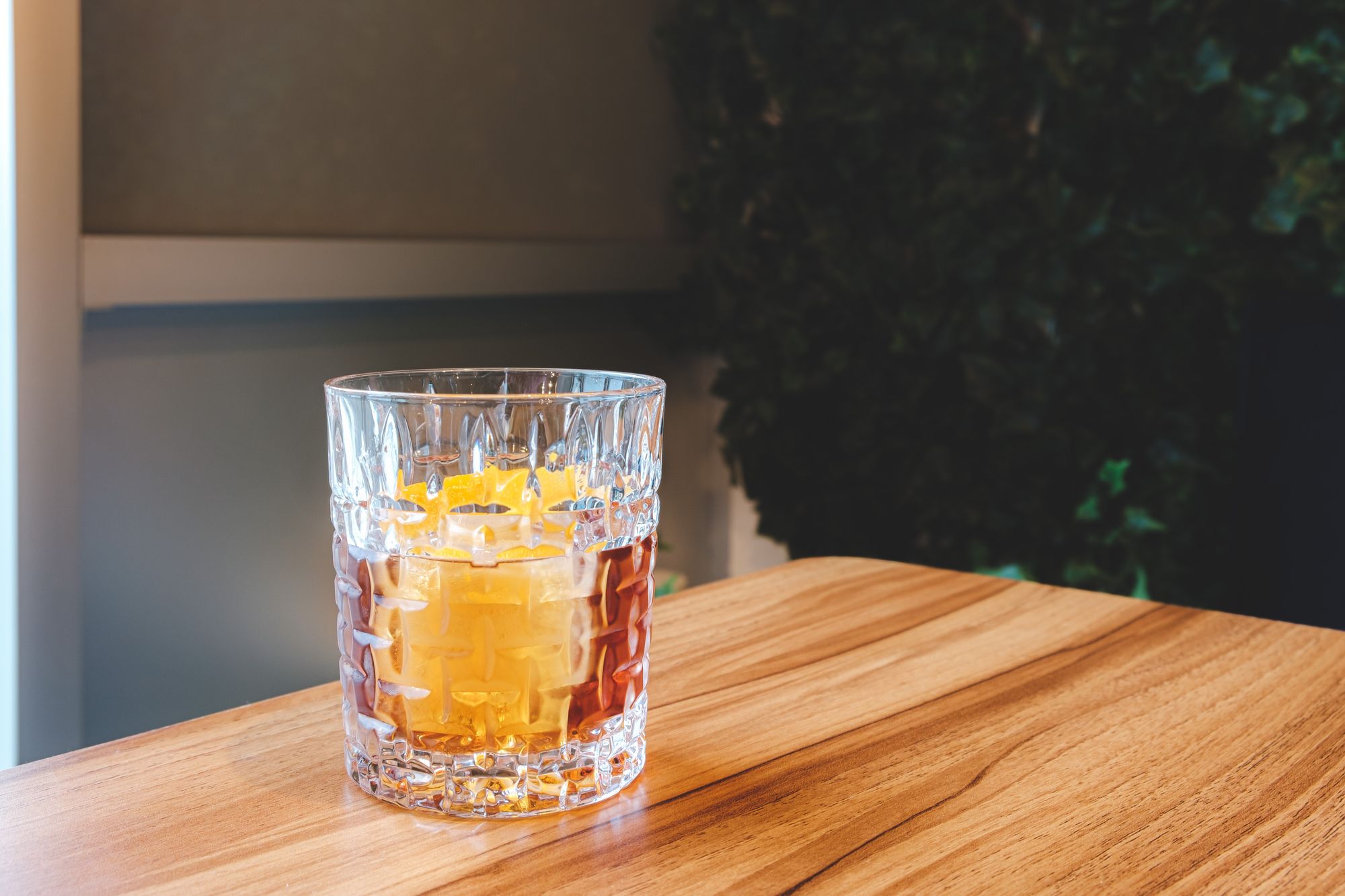 Features:
VV Tapas Lounge is a drink-first type of establishment that proudly shares how much the business loves wine and cocktails. The main bar inside, with a wine barrel embedded into it, has a beautiful pattern display of cork that's lit with the intention of showing off the various wine labels that went into all the residual corks (hundreds of bottles!). Behind the counter is another masterpiece – a massive barrel-shaped bar holding the harder liquors.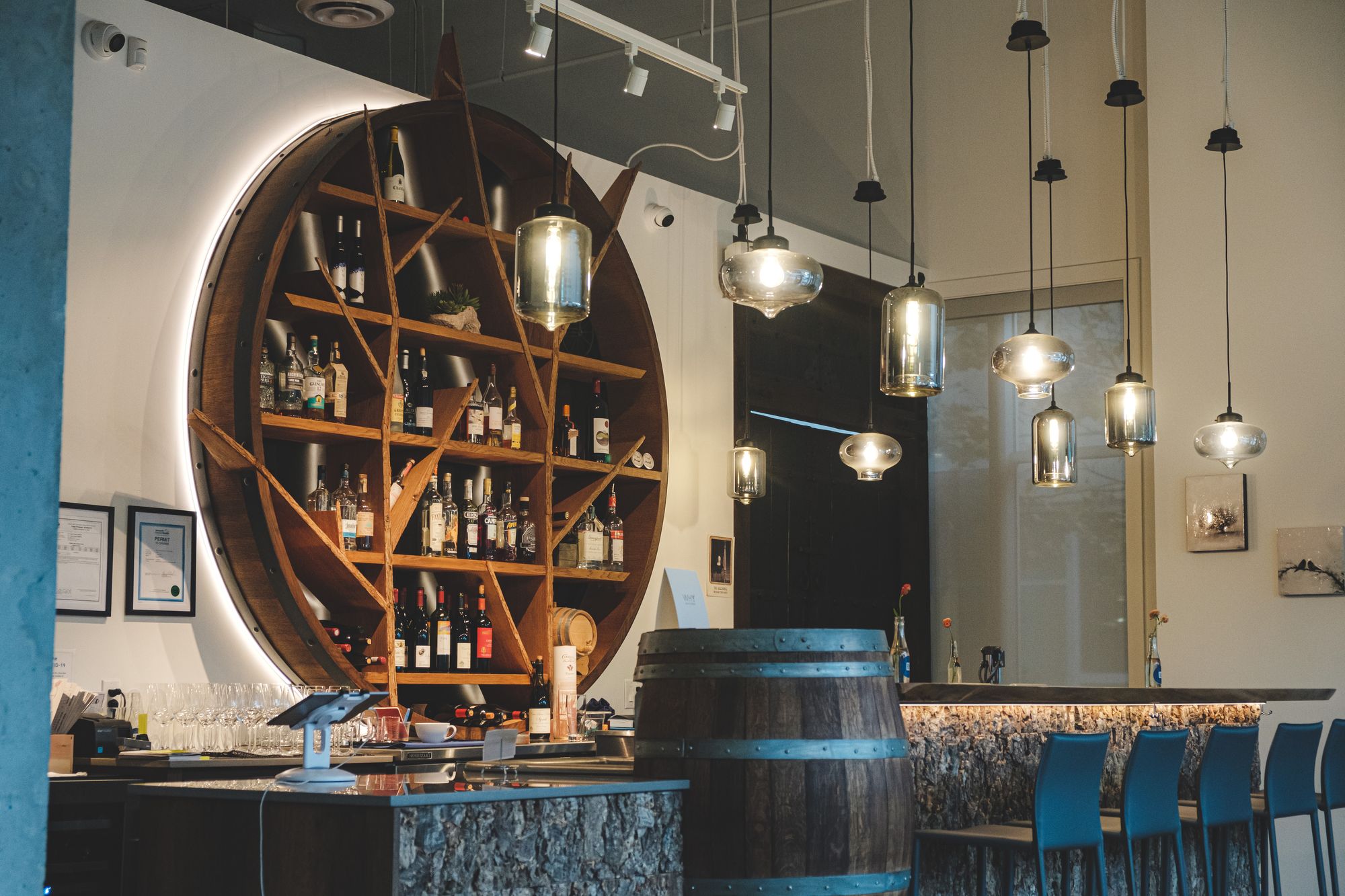 Towards the bathrooms are hanging terrariums, and within the bathrooms are another pattern of vinyl records plastered across the ceilings. There's a lot to discover at VV Tapas Lounge, which seats around 50 guests in bars, tables, and benches, and it's certainly an experience worth visiting for.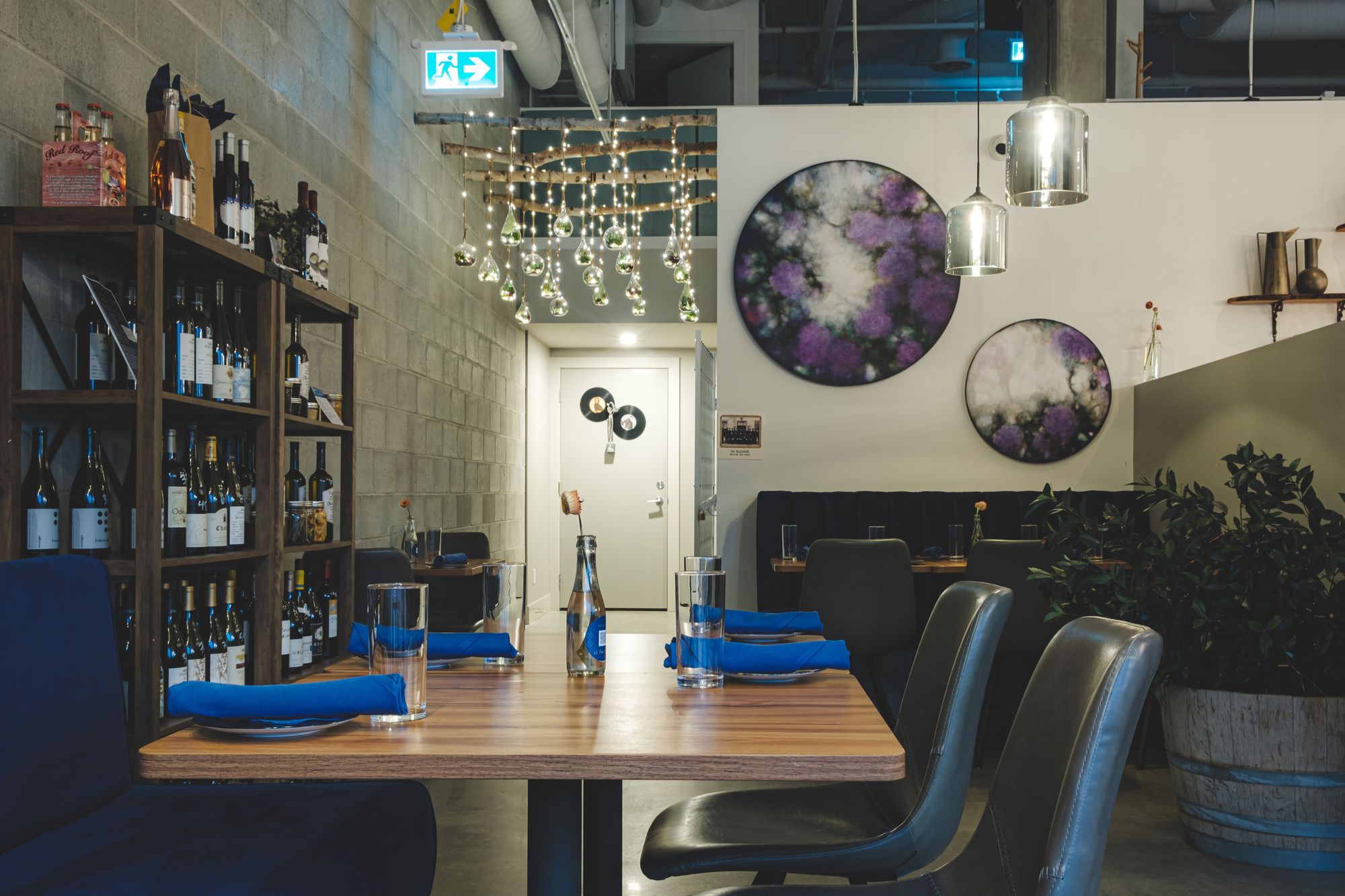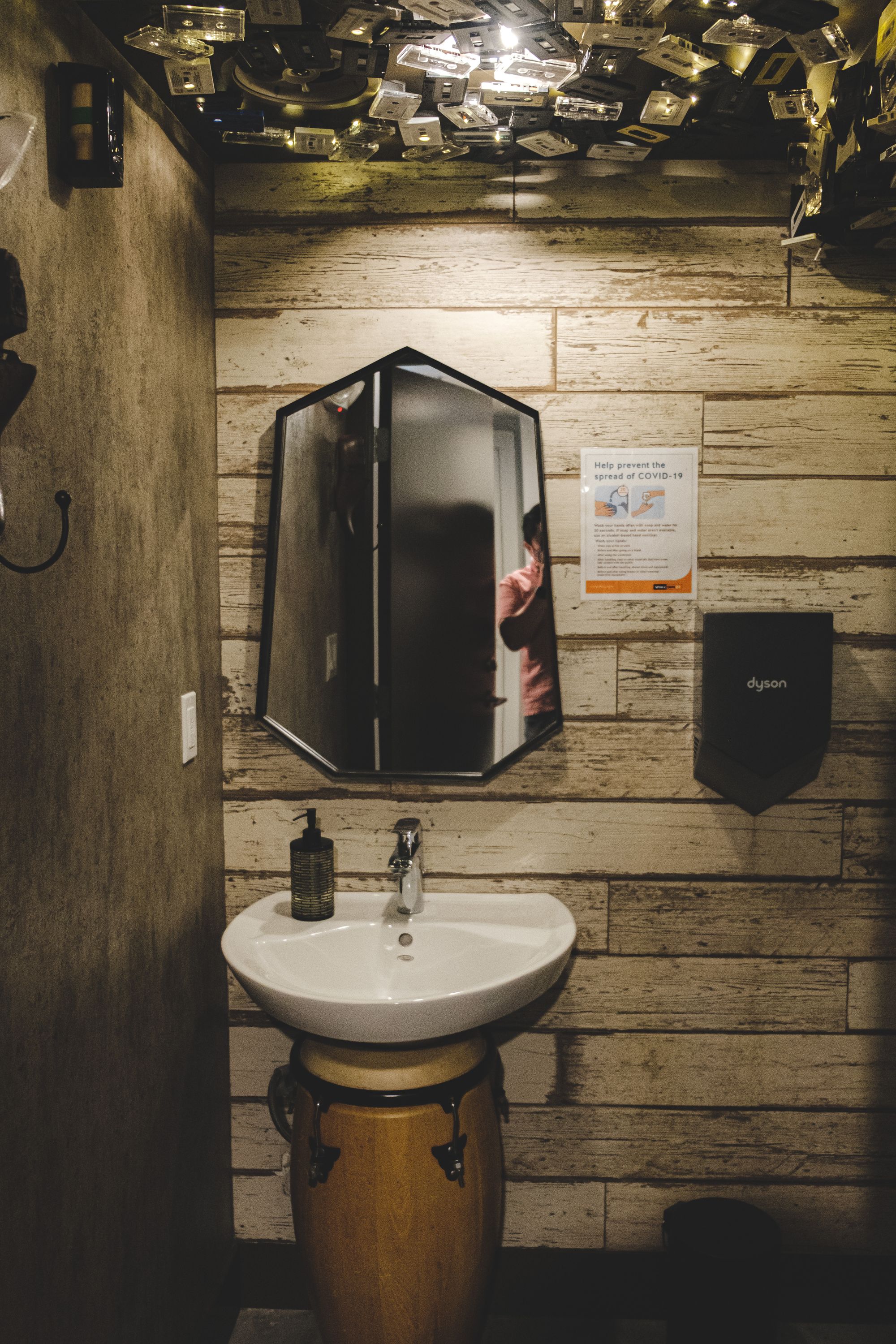 New to VV Tapas Lounge is VV's Niche, which as mentioned above, is an in-restaurant wine shop and marketplace where you can procure a lot of house-made pickles and condiments that you would have also enjoyed on their charcuterie board.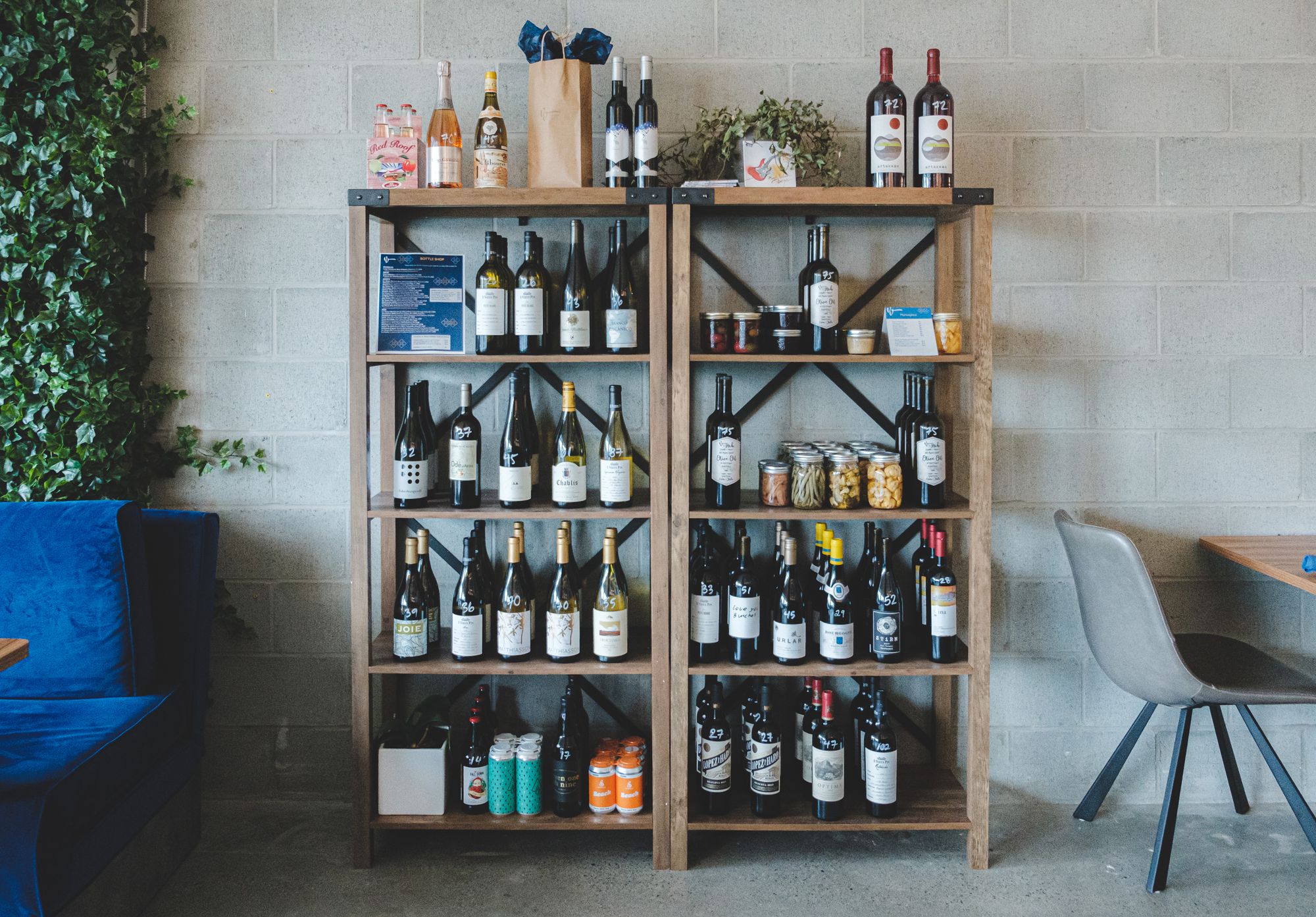 The selection of wine here is curated for a fun night at home. You can get them uncorked for your meal but the main proposition is the ability to try new wines you can't find at the BC Liquor Store. Given the whole business is founded by people who love wine, you're in good hands by buying a bottle at market price from VV Niche.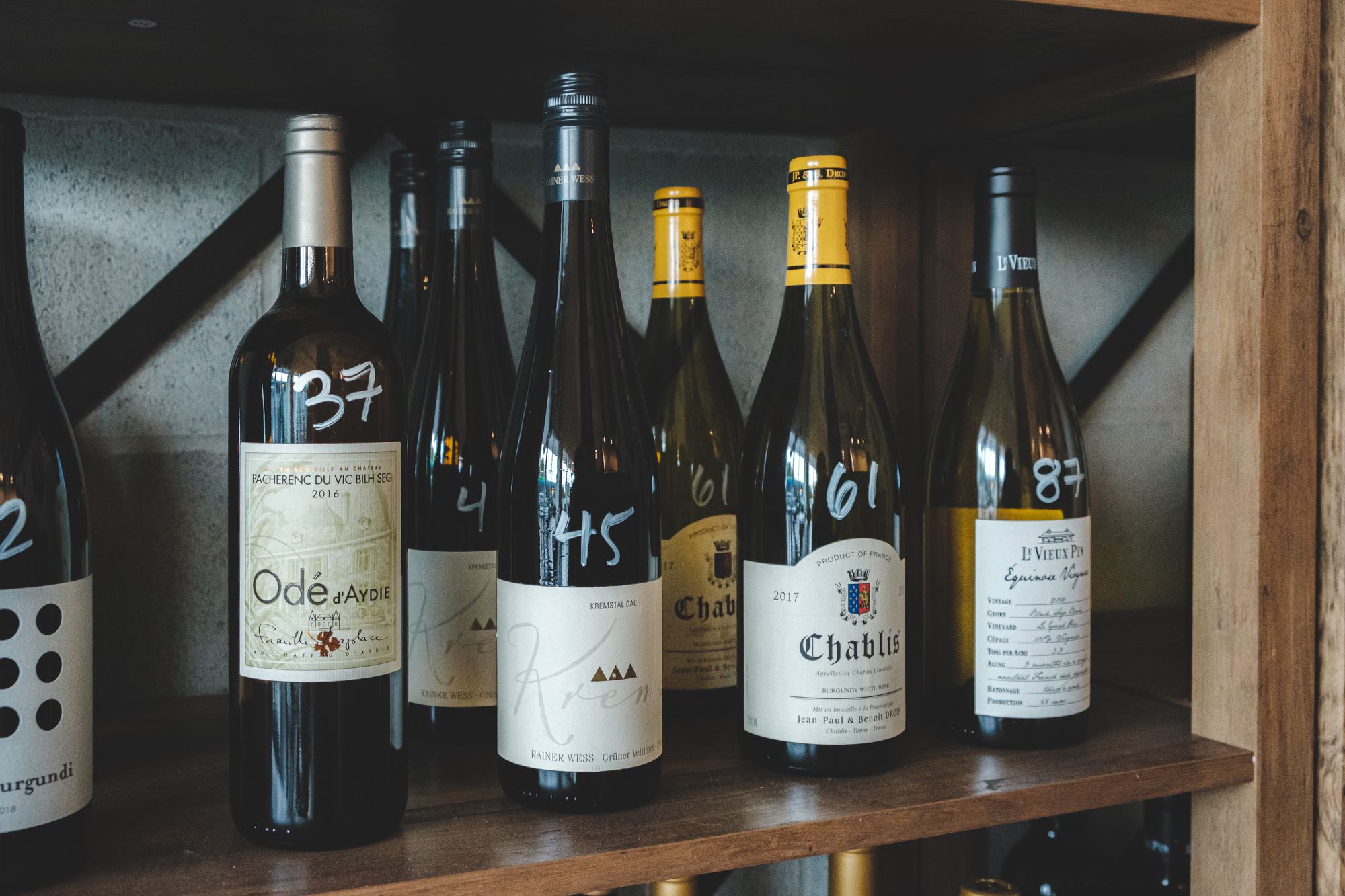 You can either check out the marketplace for VV's Niche at the actual restaurant or online at https://www.vvtapaslounge.com/niche.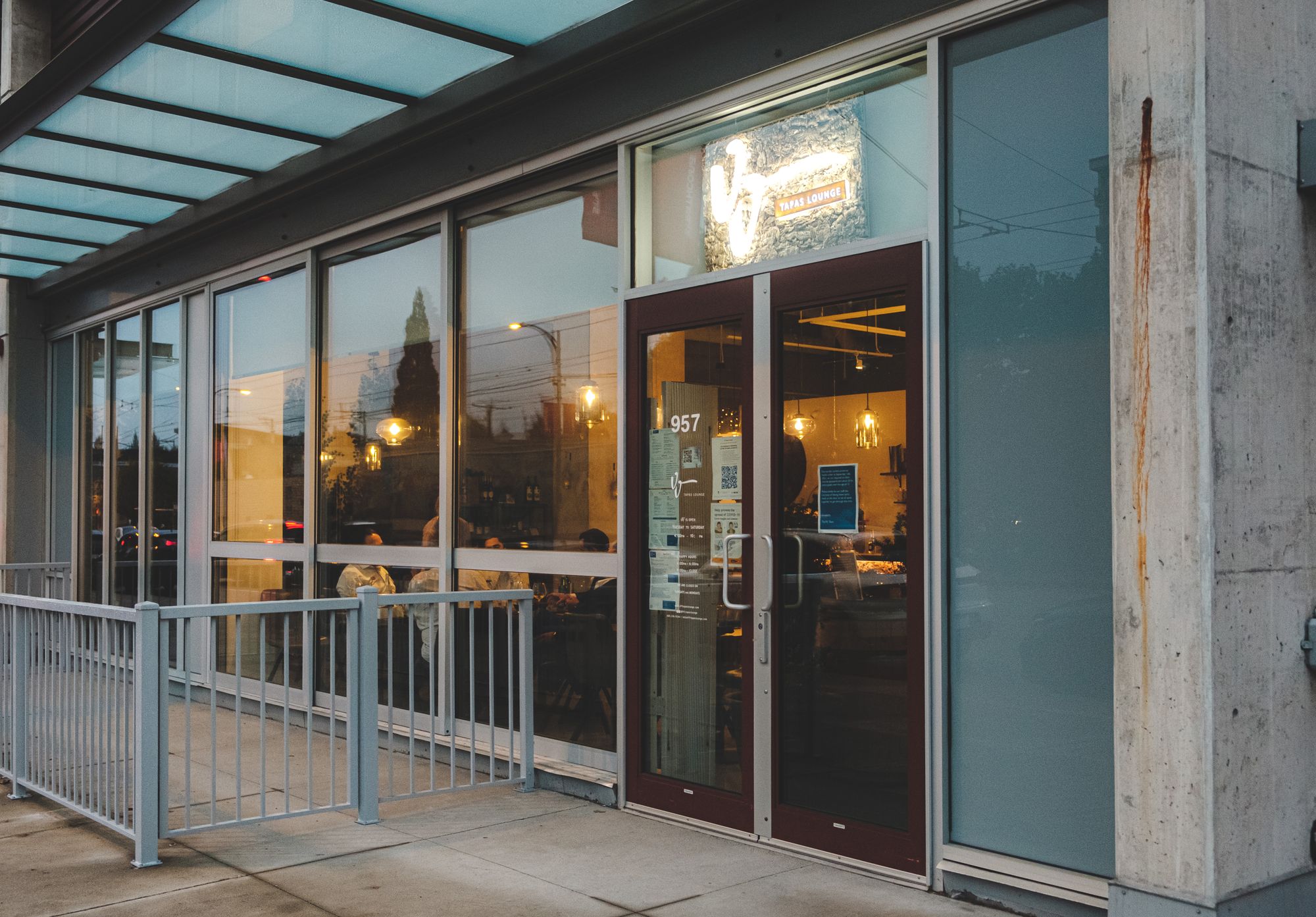 Final Thoughts:
One-liner: A cozy, experience-first tapas lounge that's got a surprisingly great food menu that pulls in local vendors wherever possible and offers the most choice in charcuterie options
Highlight: Mushroom Risotto
Price per person: $30-$70 (depends if you're here for snacks or a full on experience)
Would I go back? Already have.