In English, "zarak" means "gold", and while brass might be a more accurate way to describe the interior accents, there's no denying that Zarak by Afghan Kitchen is classy. As Vancouver's only Afghan-inspired brunch spot (I think) that just started serving a few weeks ago, this is a great way to blend together Afghan-style cuisine with your brunch staples, namely poached eggs and potatoes. I think this is well worth a visit if you want something a little more unique for your weekend catch-ups with your friends.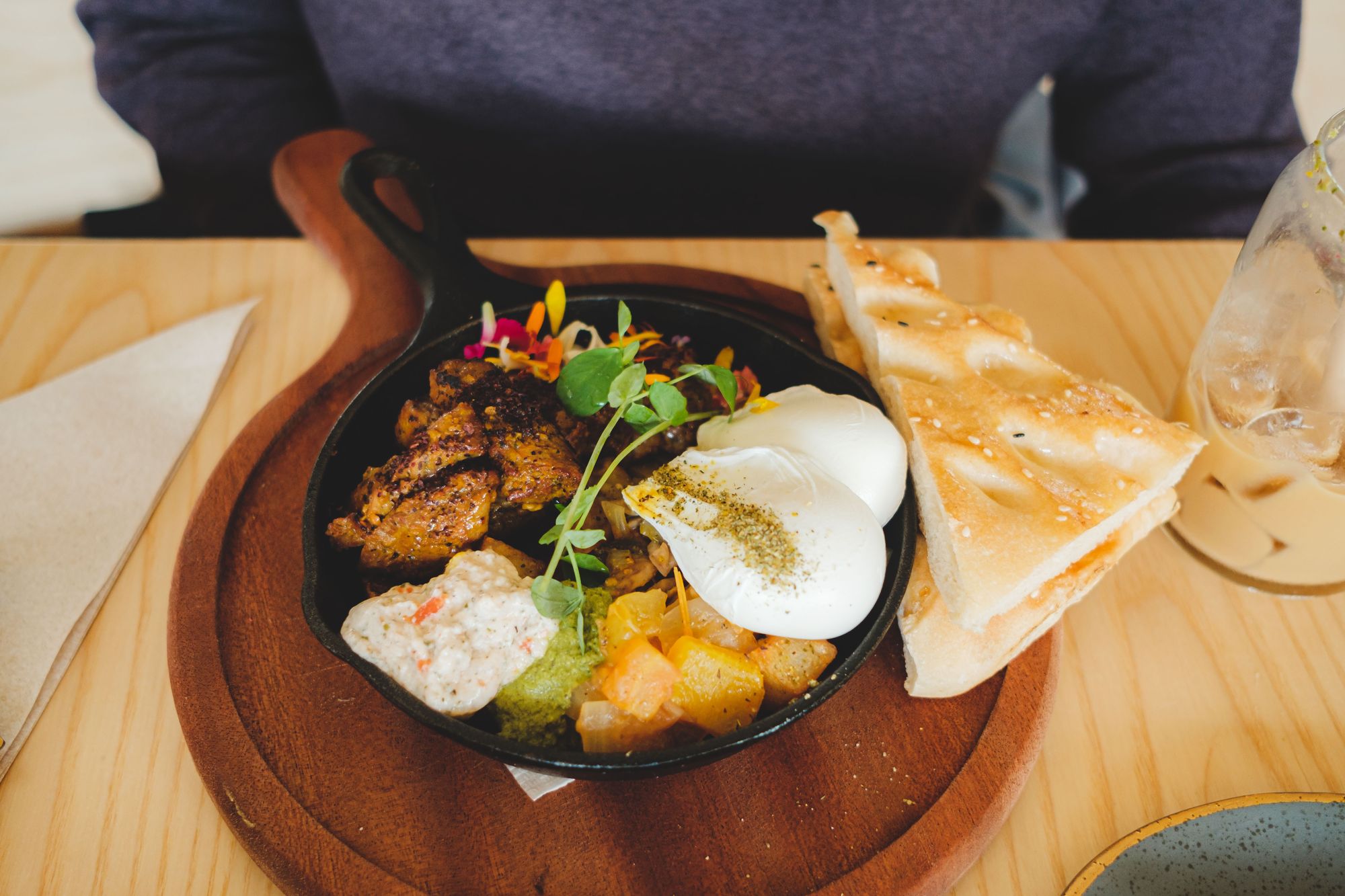 Food:
Team Tastic came here for a Sunday brunch and I had a great taste of the following:
Iced Pistachio Coffee ($6)
Chickpea Hash ($16)
Kebab and Eggs Skillet ($19)
First I must mention the water. These are no mere glass cups. You get some nifty stoneware and a giant carafe of water infused with grapefruit and cucumber. Classy!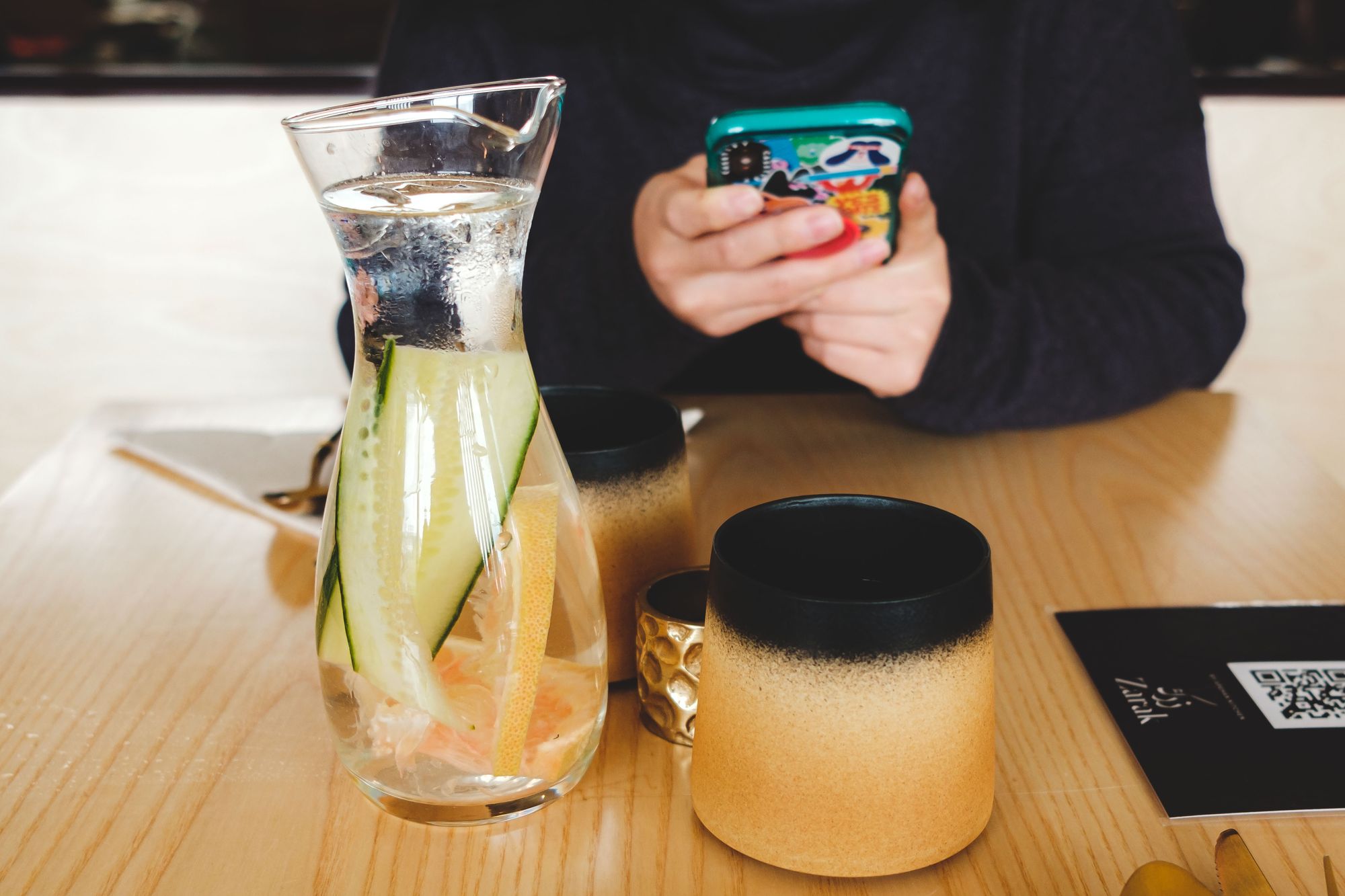 I kid you not when everyone around us was ordering this next particular drink. The iced pistachio coffee is served in an elegant clear glass with big ice cubes and finished with a pistachio rim. I get the aesthetics of filling the glass but I would have preferred more coffee and fewer ice cubes even if it meant increasing the price. The coffee was quite diluted on taste and continues to dilute as the ice cubes melt. On the plus side, it wasn't as sweet which I have normally come to expect from Starbucks-style syrups (suggesting maybe it wasn't a syrup).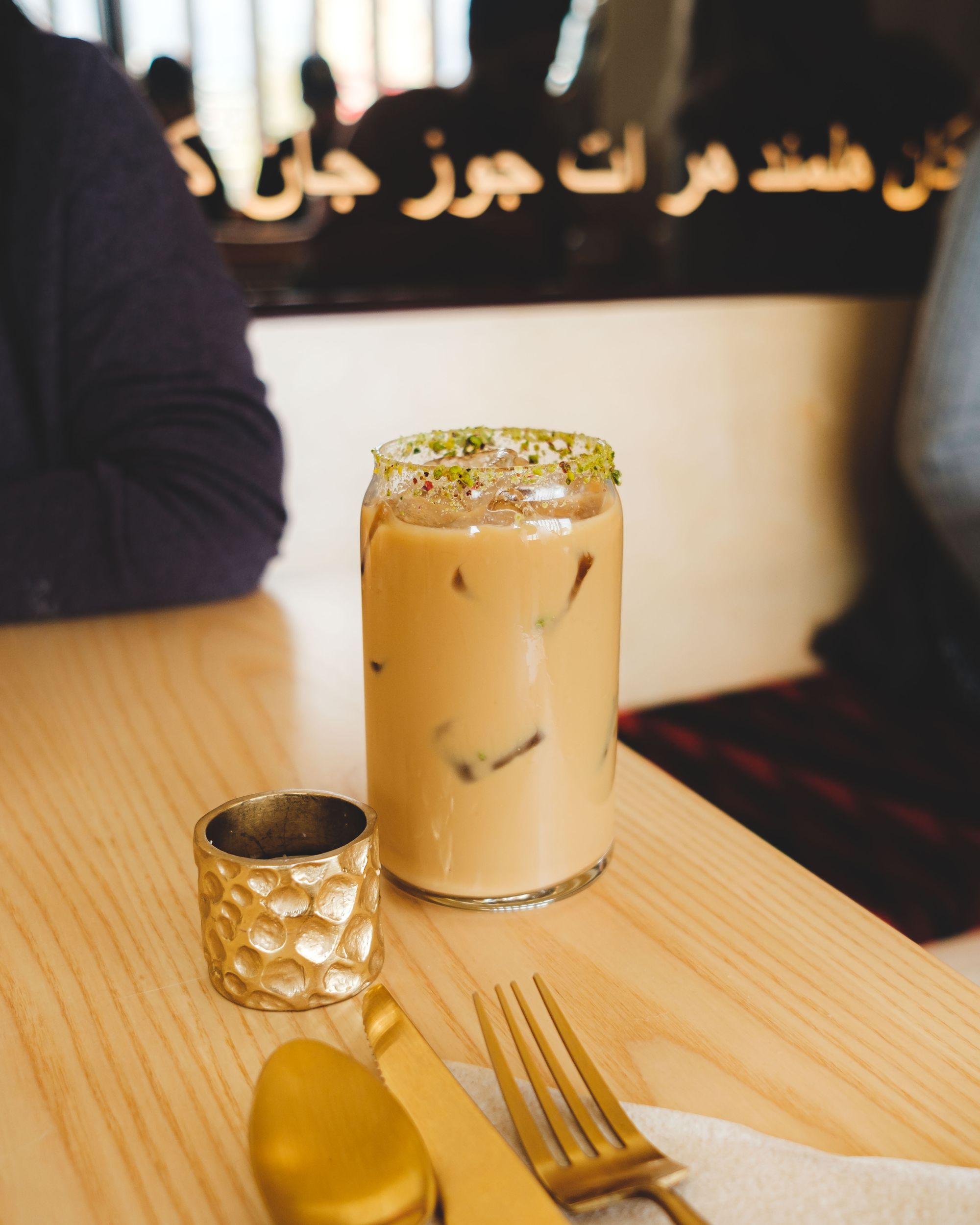 On the chickpea hash, this was served with potato, spinach, char masala (Afghan spice blend), and a side of grilled naan-e (Afghan bread). Spicy sauces were served on the side. This was a mediocre offering. From a calorie perspective, you'll be full after eating this. However, I found the chickpea lacked seasoning. Chickpeas are dense so flavour can be bland especially in the middle of whole chickpeas. I had to lather my chickpeas with the spicy sauces on the side to consume which as a flavouring convention has a drawback of turning on my fire-breathing reaction.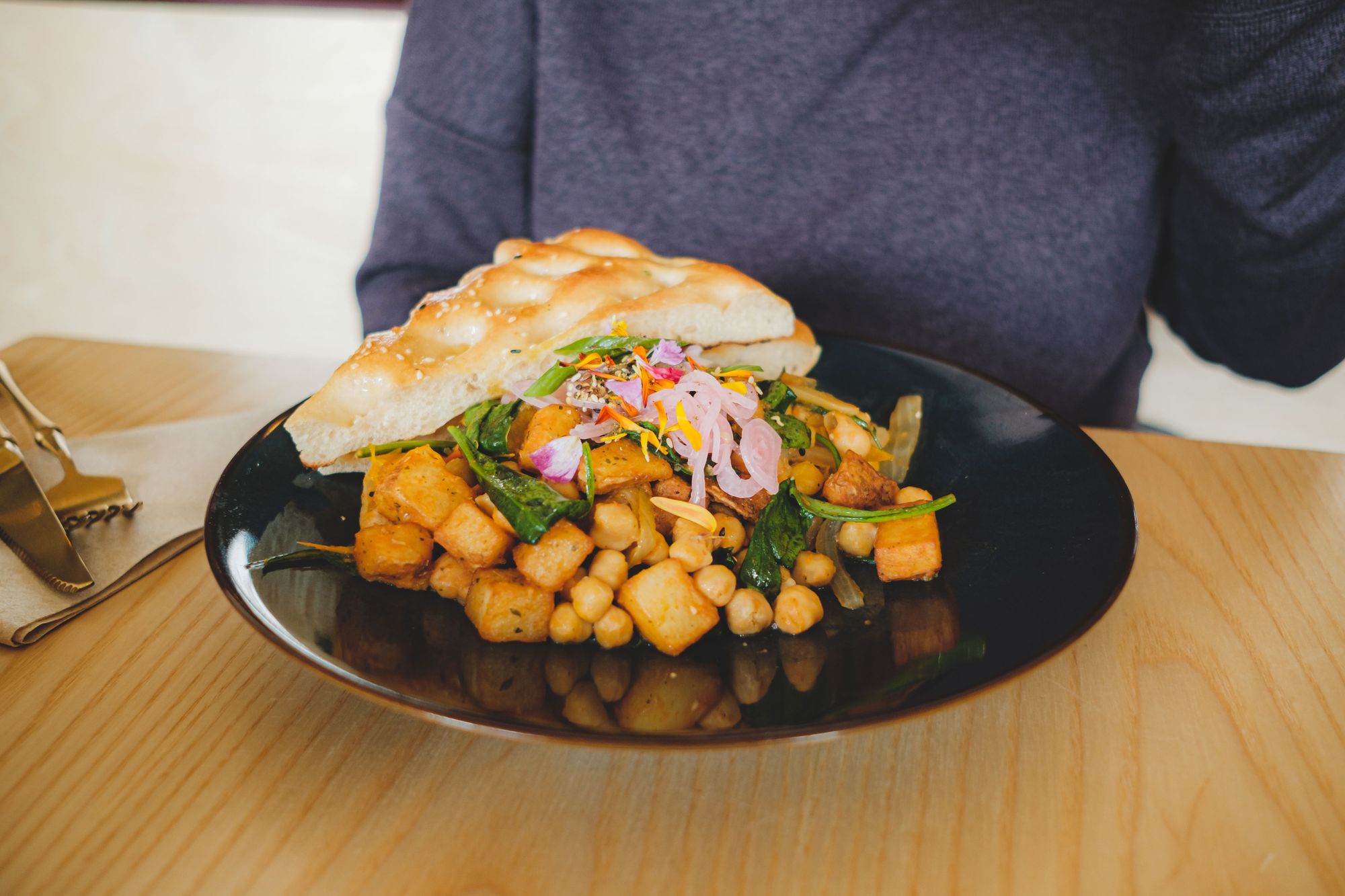 Our other dish was the kebab and egg skillet which consisted of grilled beef, poached egg, potato, and spiced yogurt. I was warned about how hot the skillet was and you could feel it by hovering your hand above. The most important part was that the eggs were jiggly and popped open to a stream of warm yolk. The yogurt was a great complementary flavour to the deep savouriness of the potatoes and seasoning.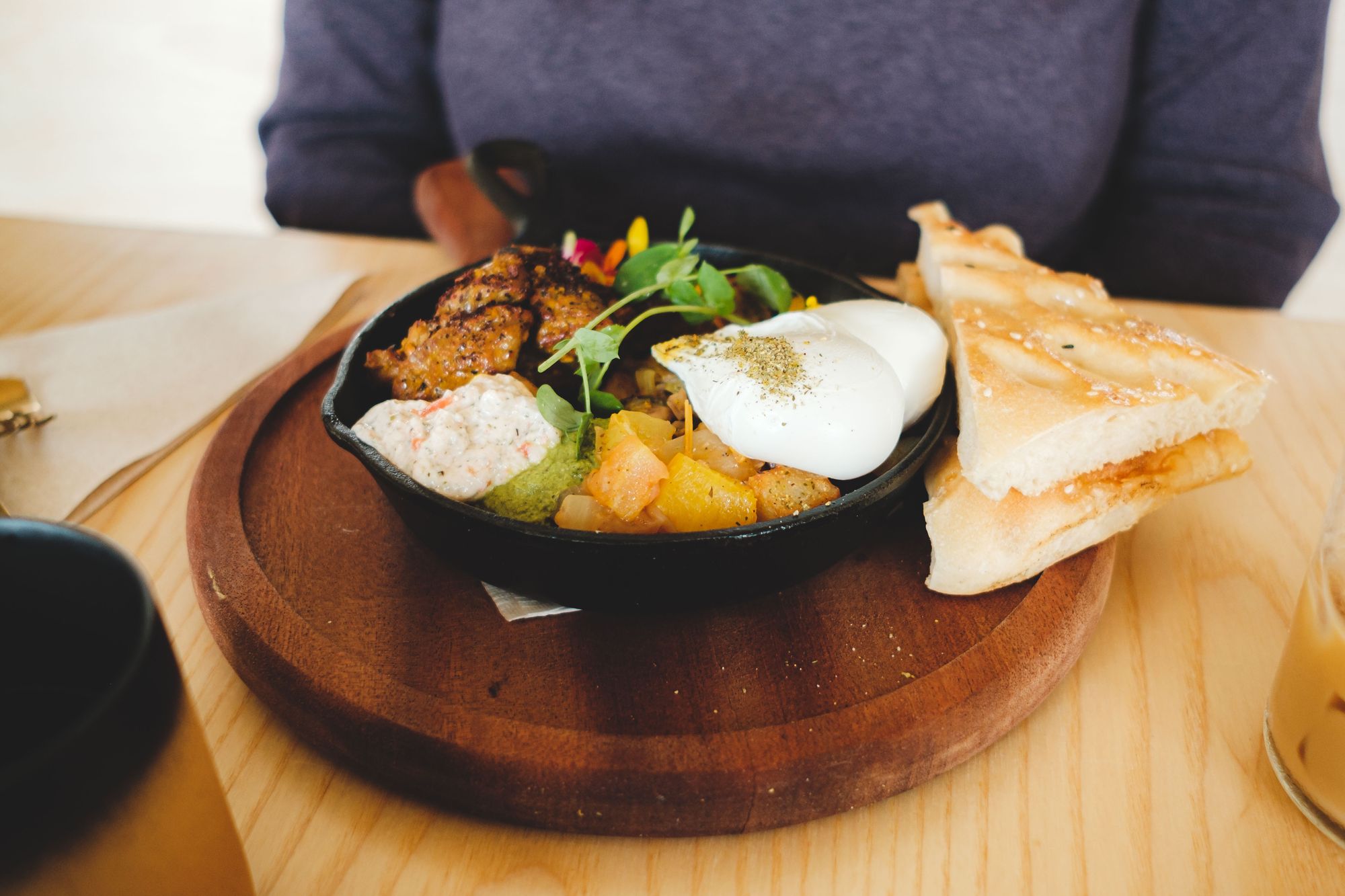 The beef unfortunately was very raw on my skillet. By cutting it open, it looked very uncooked. I checked with our server who at first said it was as the chef intended, but I still felt a little queasy. It was great tact of the server on their second pass of our table to come say they were going to cook a fresh batch of beef kebab for us so I applaud the team for making a good decision on behalf of a diner like myself in a confusing situation. When the new kebab came it looked just like the one in the skillet but was cooked much closer to well-done and tasted better.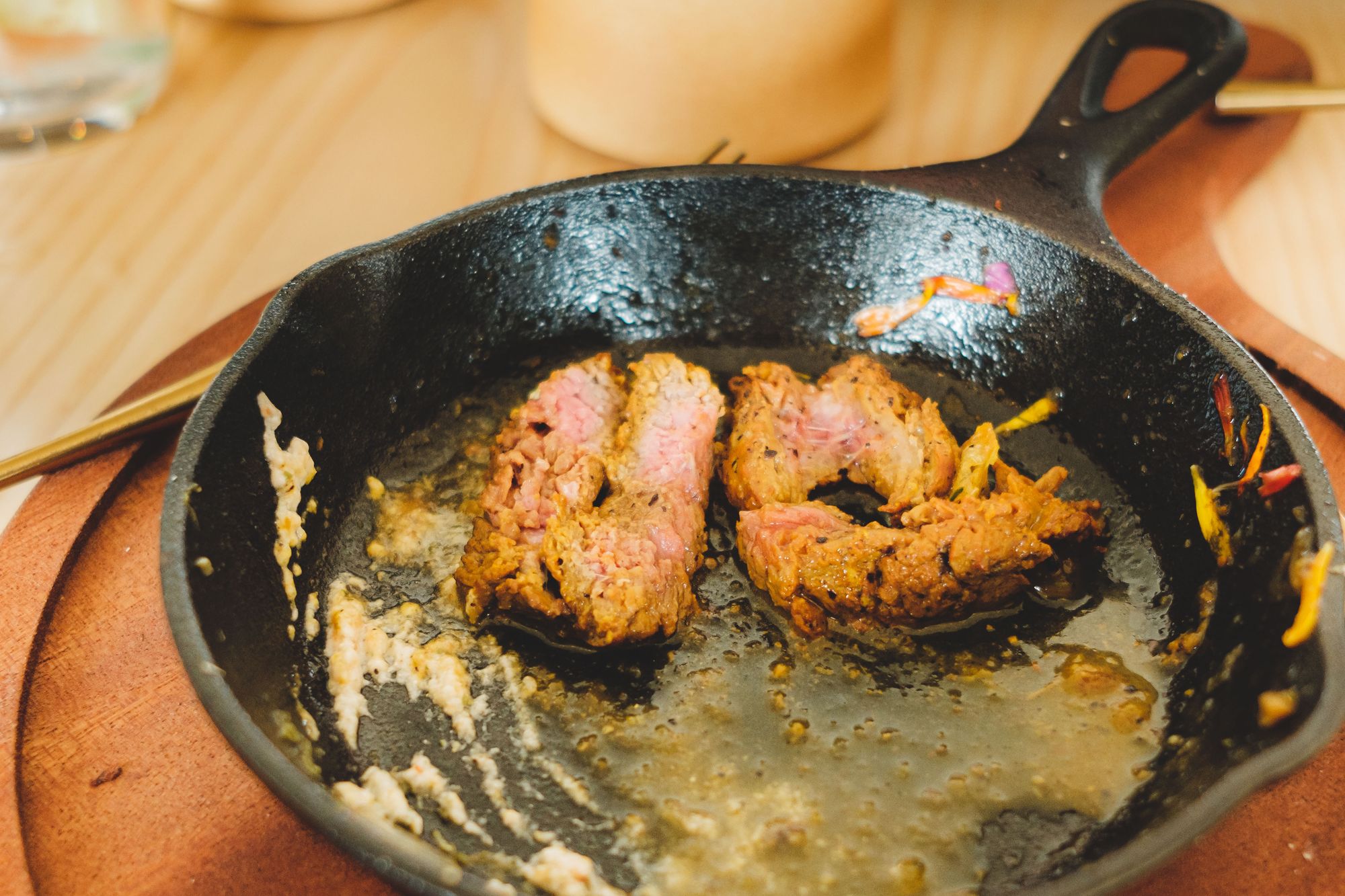 Features:
Zarak is a beautiful restaurant and as the first commercial occupants of a new condo building in Vancouver's famous Mount Pleasant neighbourhood, had a lot of thoughtful design ideas put in place. The front of the restaurant is a cozy little bar which then extends into a lounge with giant windows the length of the building so that natural light can flood into the light wood-filled space.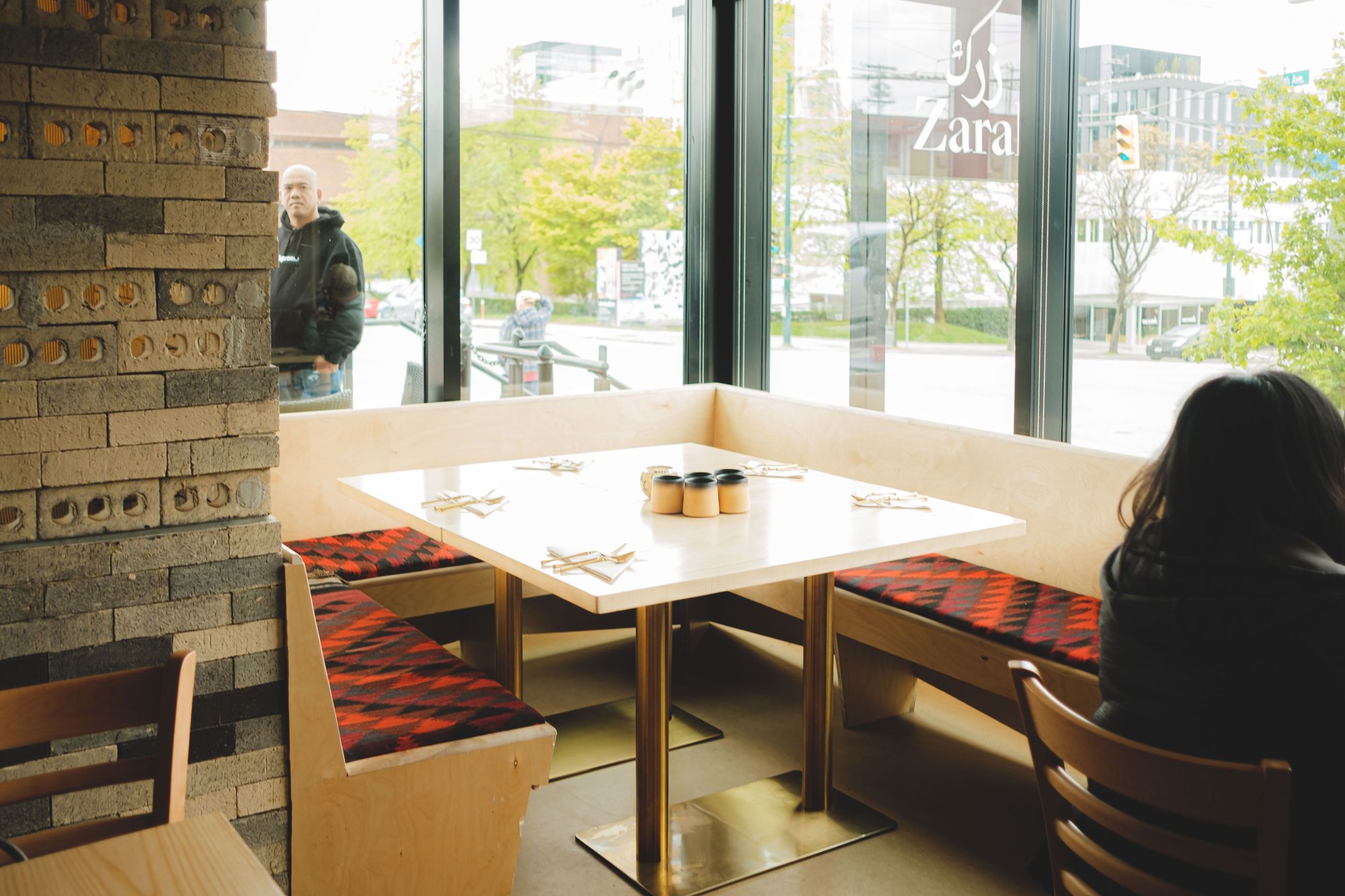 If you noticed in my pistachio coffee photo, there is even a light strip of Arabic that lines the back wall which also functions as a long mirror to further brighten the space. The effect is the space feels invigorating and with the brass accents, very classy. If you get to come here during the day, natural light floods nearly every space in the restaurant. There appears to be seating for about 80 guests.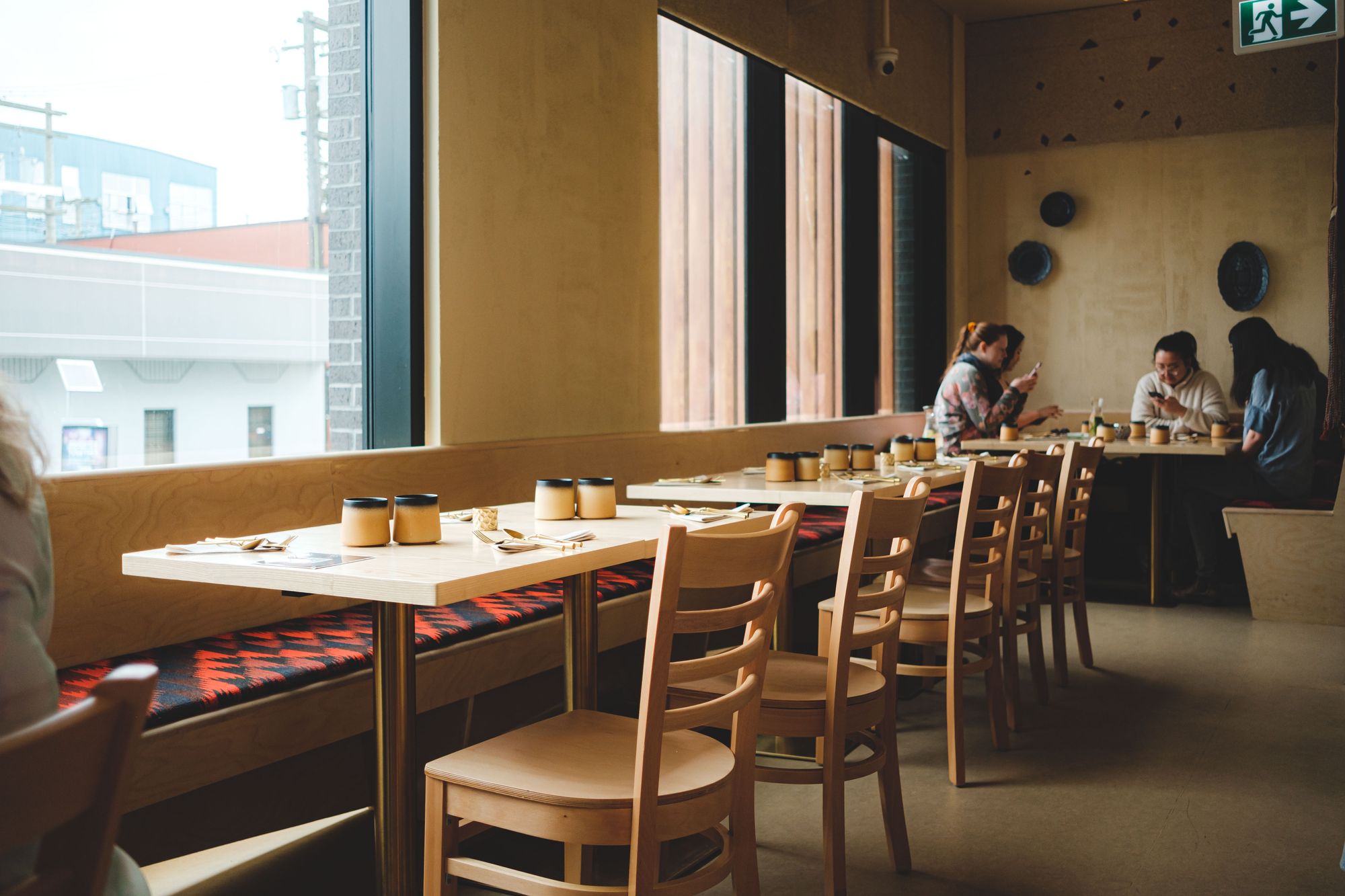 Service:
As mentioned above with the beef, it was very attentive for our server to make the call of re-serving the beef kebab given I was feeling a little iffy of eating such rare/raw beef. Kudos for that.
One thing that I noticed was the pace of service was a little slow. After placing our order (10:55am), it was 13 minutes to receive drinks which is fine but 31 minutes to receive our food. This isn't egregiously long but is notable if you aren't planning to have drinks. I think this will get better with time as the team ramps up its brunch operations but just happened to be my experience on this visit.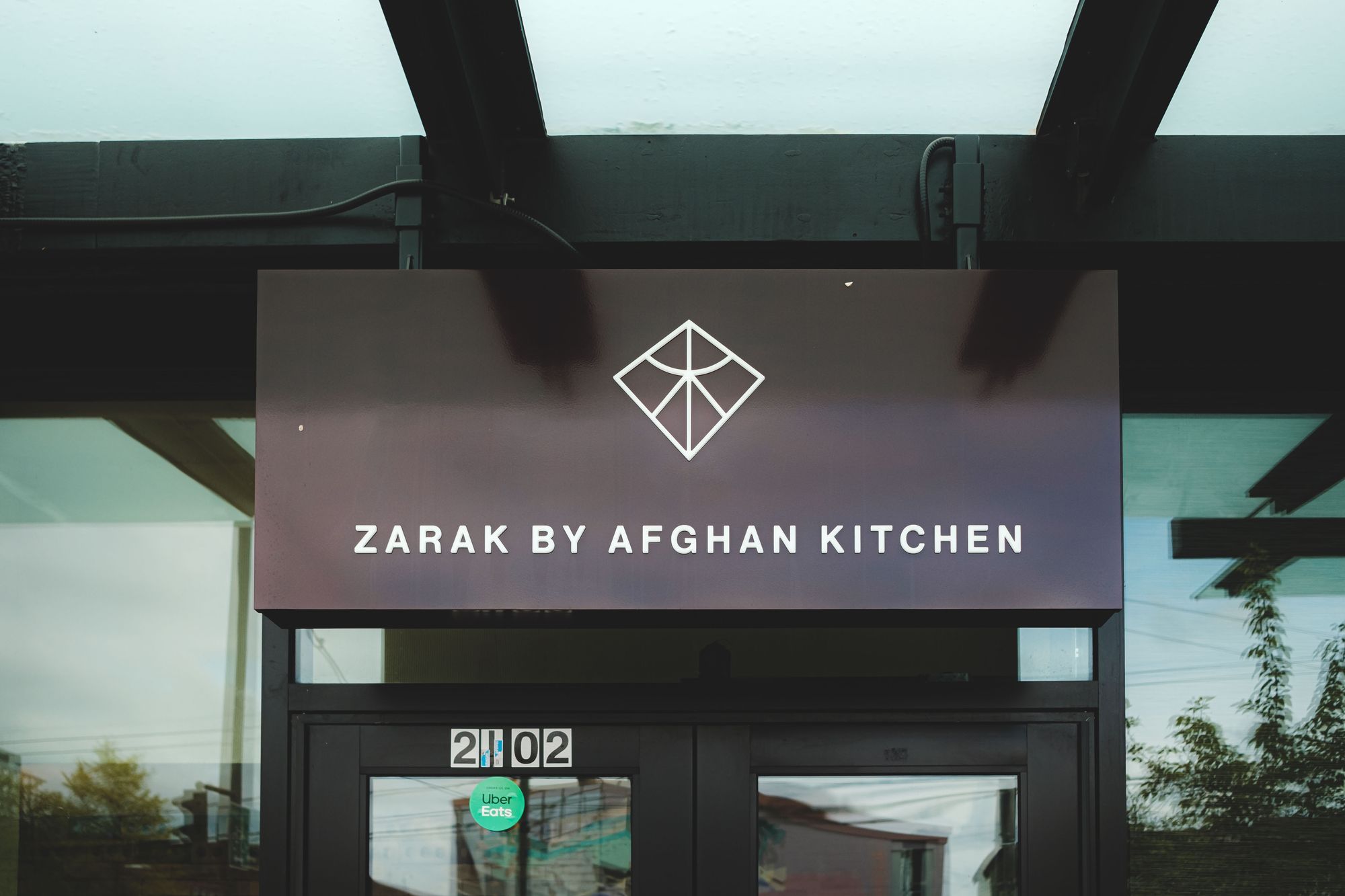 Another thing to note is Zarak has no time for slowpokes. There was a party ahead of us with a 10:30am reservation who were in danger of losing their reservation because their full party wasn't there at 10:50am. Their people eventually got in but because Zarak is such a busy restaurant, you might want to remind your party that if you are late, you might have to find another spot to eat which is tough. Absolutely reserve if you can and remind your people to arrive on time to avoid disappointment.
Final Thoughts:
One-liner: Afghan-inspired flavours meld into a traditional brunch palette in a beautiful interior that is almost enough to excuse the longer-than-average wait time
Highlight: Kebab and Egg Skillet that's properly cooked
Price per person: $25-$40
Would I go back? No.