As a born-and-bred Vancouverite, I like to think I'm well-versed of the destinations in the 604. The most recent local experience I enjoyed was a 2-day adventure through the Fraser Valley's Circle Farm Tour, a designation of Metro Vancouver backyard businesses that support local endeavours and tourism. Over these 2 days, I learned a lot about what makes these businesses special and am sharing the goods with you today.
Disclosure: Everything in this overview was experienced complimentary and all opinions are my own.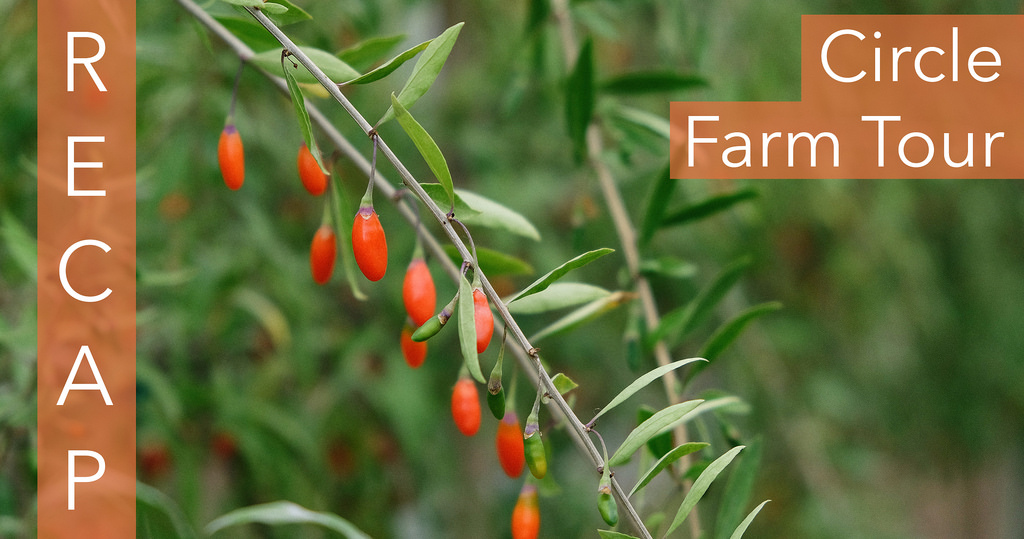 Circle Farm Tour:
On this tour, we visited the following towns and businesses:
Pitt Meadows
Harrison Mills
Agassiz
The Farm House Natural Cheeses
Harrison Hot Springs
Morgan's Bistro
Harrison Beach Hotel
Muddy Waters Cafe
Abbotsford
Duft and Co Brickhouse
Oldhand Coffee
Campbell's Gold Honey Farm and Meadery
Aldergrove
Hopcott Premium Meats
Hopcott Premium Meats was our first stop on this epic tour. Here we checked out the in-house bistro and got a behind-the-scenes look at their giant freezer. The cattle are all BC-born, grass-fed, and butchered on-site to reduce transportation and carbon costs.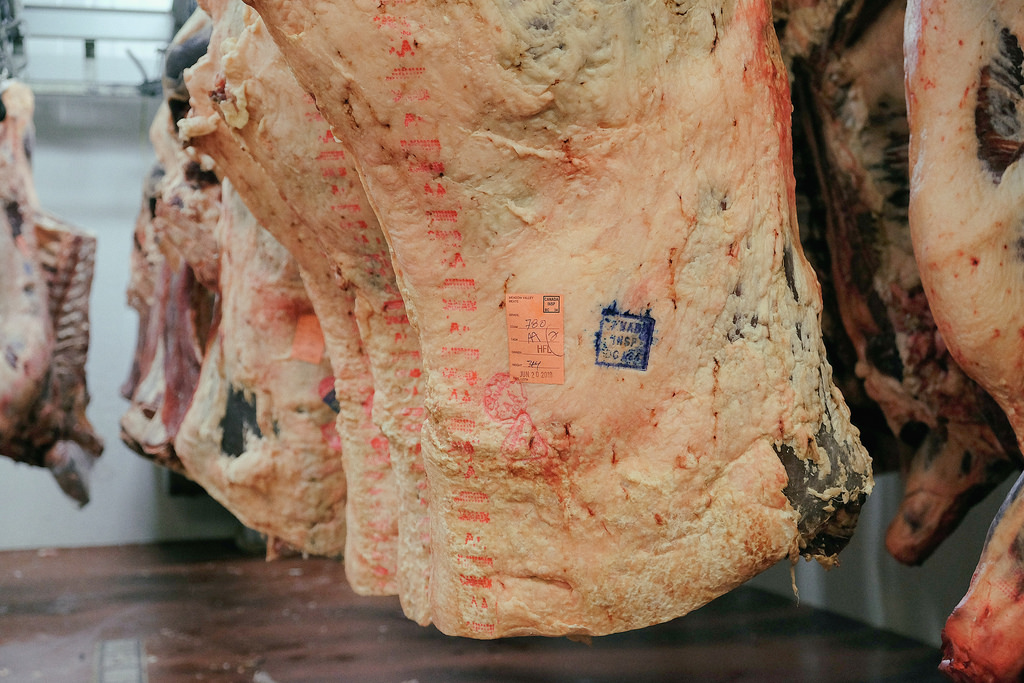 Animal Traceability
Another key benefit is the traceability of each animal which lends to a more confident statement of quality and adherence to a process that includes dry-aging for a few weeks prior to sale.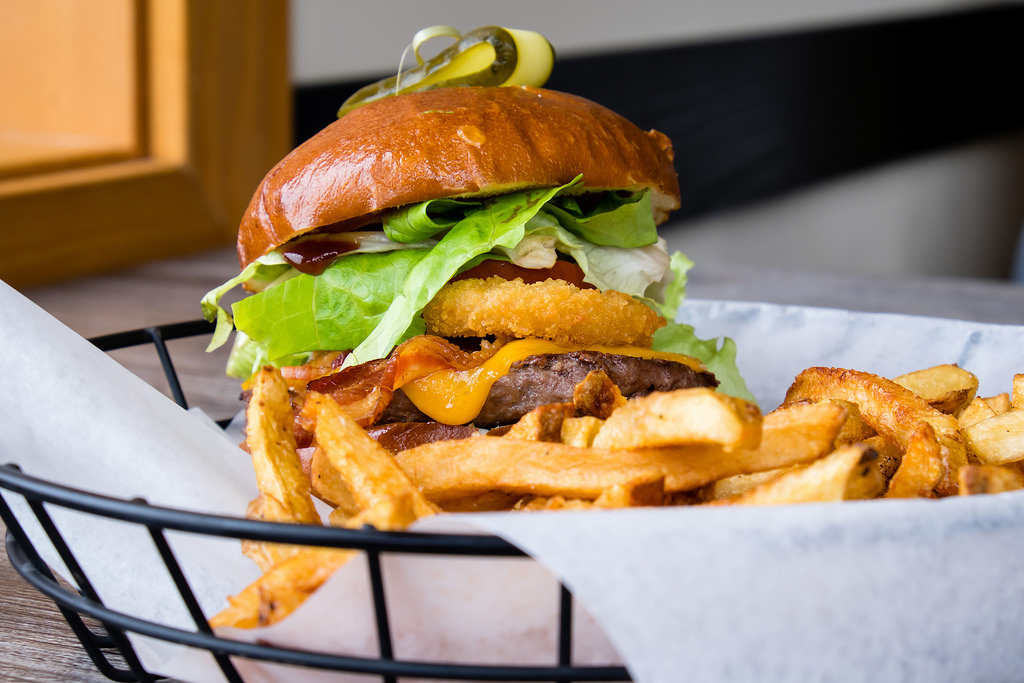 Hopcott Premium Meats Bistro
Kilby Historic Site
On our way through Highway 7 into Harrison Hot Springs, we stopped by Kilby Historic Site. Here visitors can immerse themselves into an experience of olde rural BC lifestyle. There is also the main gift store if you opt out of the experience.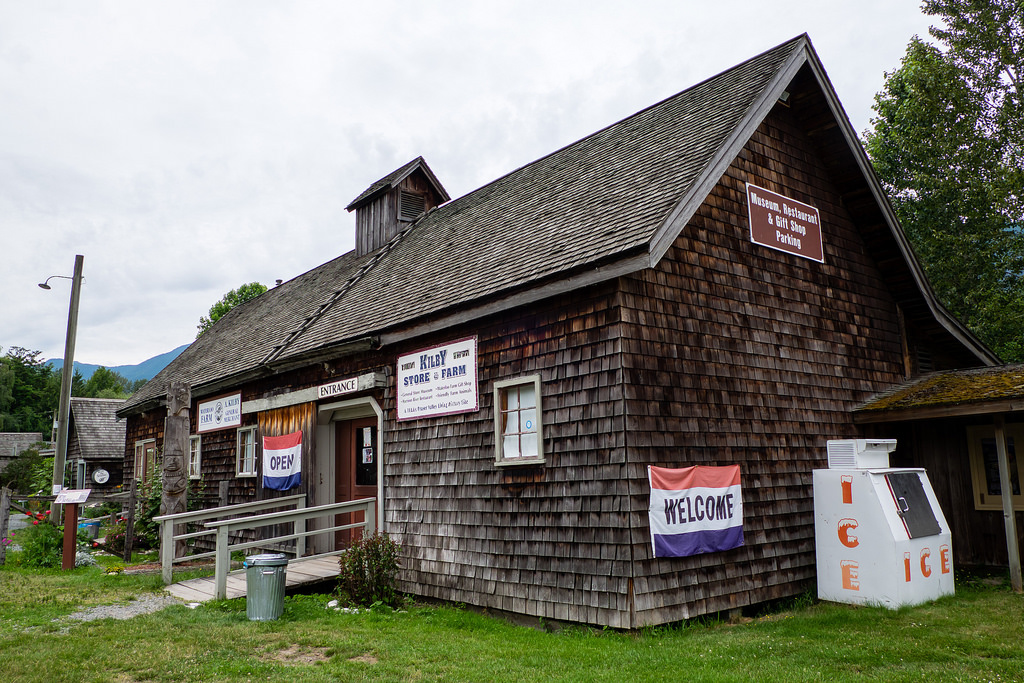 Kilby Historic Site
The Farm House Natural Cheeses
Agassiz is the gatekeeper to Harrison Hot Springs so we decided to pop by Farm House Natural Cheeses. Inside was a cool selection of cheese products crafted on-premises and outside were the source – goats!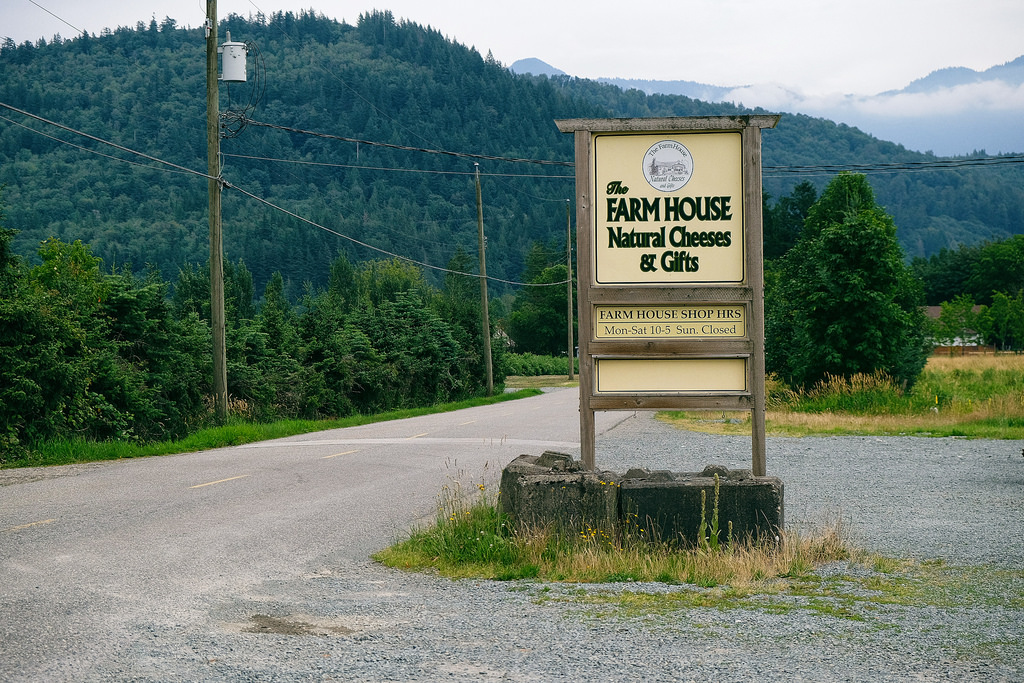 The Farm House Natural Cheeses
This was no petting zoo, but some of the goats were genuinely curious about the humans coming to visit. The cheese here was about as local as it gets.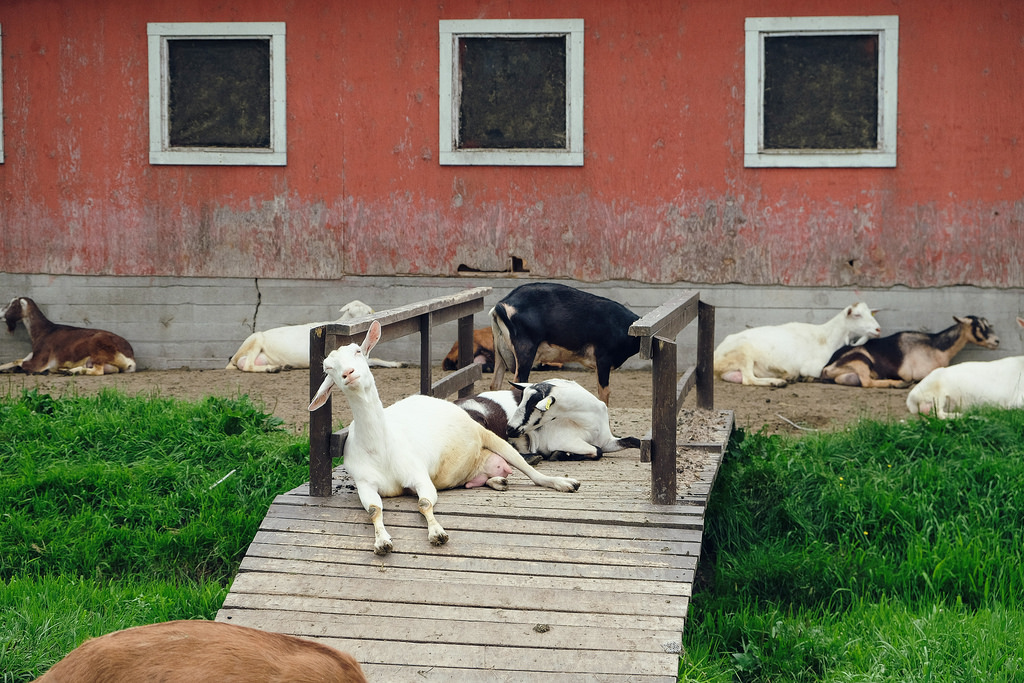 The Farm House Natural Cheeses Goats
Harrison Hot Springs
Making our way into Harrison Hot Springs, we first checked into the Harrison Beach Hotel. This was a family-style hotel located along the beachfront and featured a full kitchen in addition to the usual amenities of a hotel. The mattress here was quite firm but not rock hard so it was a suitable sleep for my average back.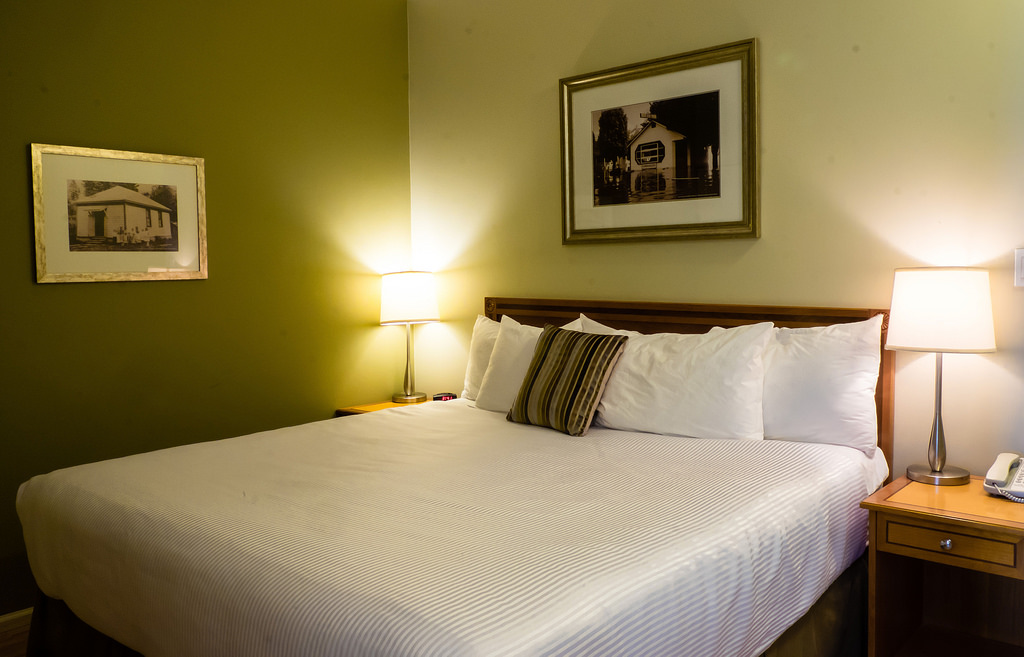 Harrison Beach Hotel Bedroom
If you plan to spend any significant time in the hotel room, getting a waterfront view is a must as the balcony has all the al fresco feeling you can want at Harrison Hot Springs.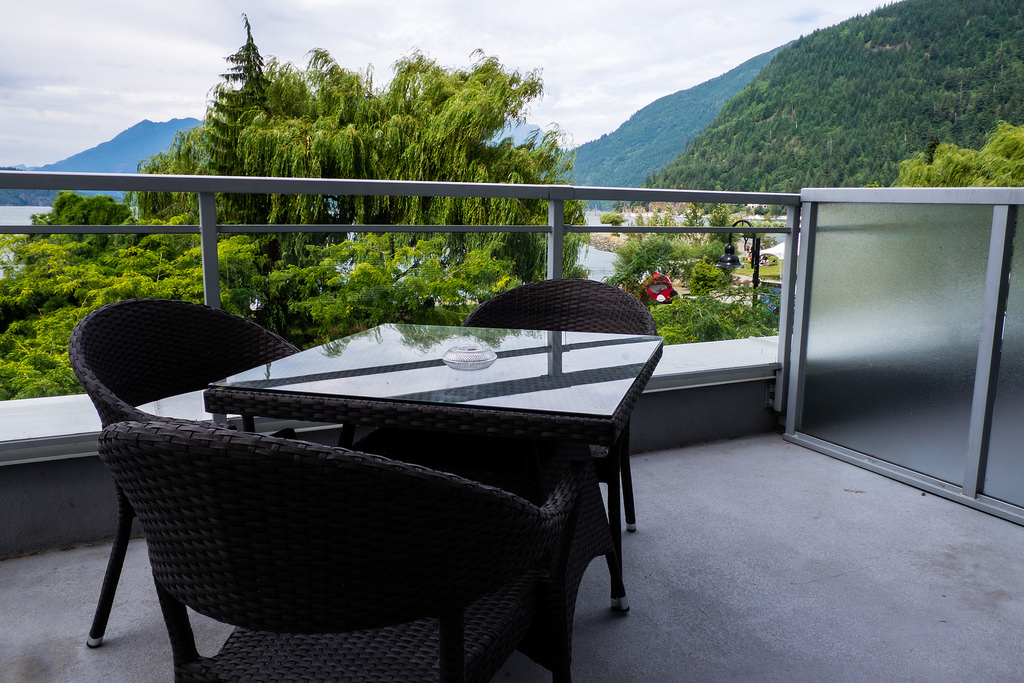 Harrison Beach Hotel Balcony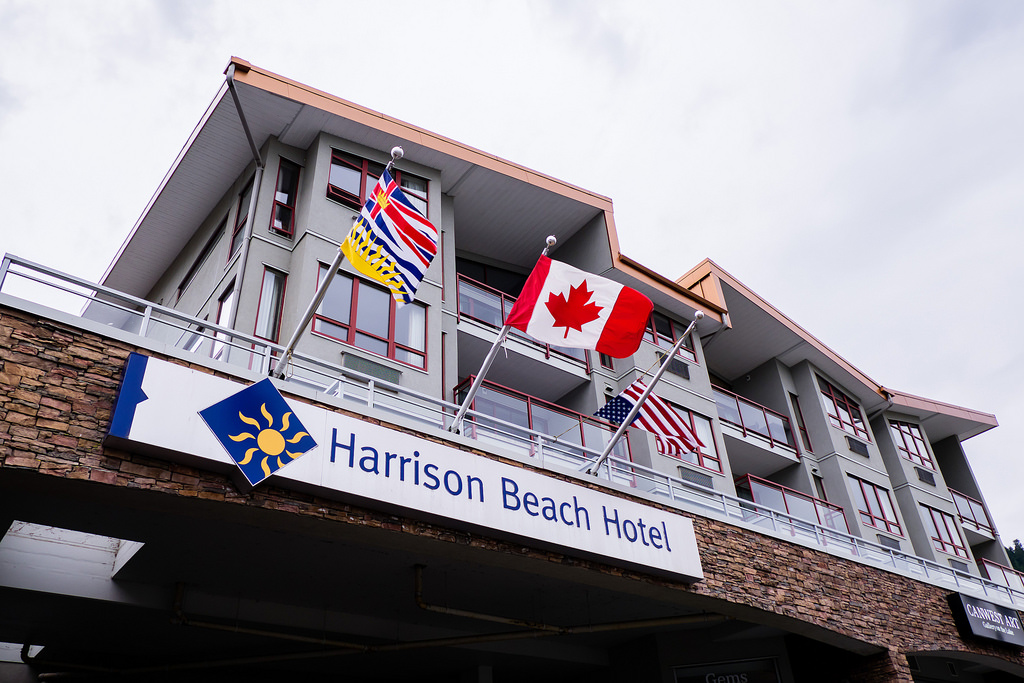 Outside Harrison Beach Hotel
For dinner, we stopped by Morgan's Bistro, a unique family-owned restaurant featuring the recipes of grandma and the management of her generation. For the full overview, check out my earlier post (and exclamation of love for the Fraser Valley duck) here.

Morgan's Bistro - Fraser Valley Duck
Breakfast the next morning was at the iconic Muddy Waters Cafe. Family-run and at one point staffed by five sisters, this is another beachfront eatery and a great place to spend a morning in Harrison Hot Springs if you love natural light streaming in through rooftop windows while you sip your coffee or tea. Full overview here.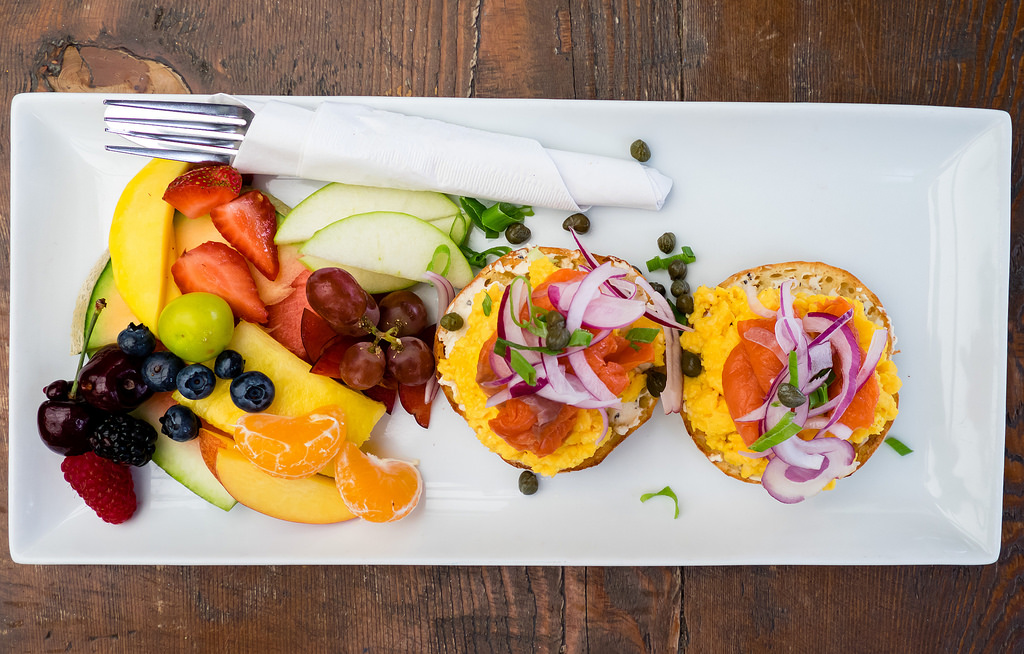 Muddy Waters Cafe
Harrison Hot Springs is a calm and tranquil community. If you're looking for some R&R close to Vancouver, this is a very day-trippable destination. Staying overnight is a bonus if you plan to disconnect without being too far away.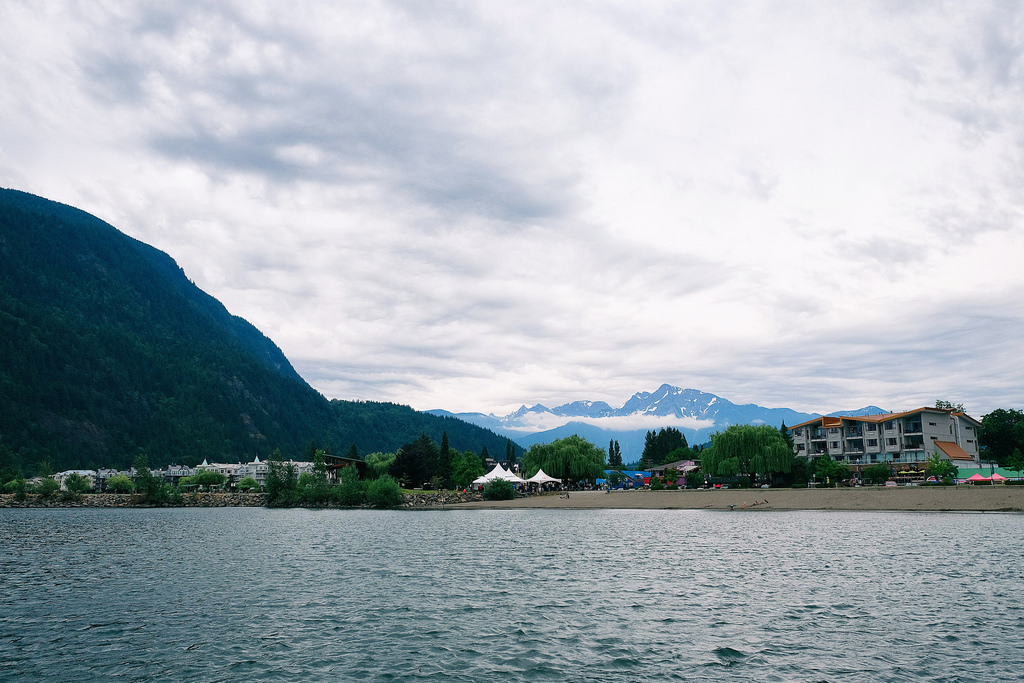 Harrison Hot Springs View
Abbotsford
Leaving Harrison Hot Springs, we opted for the Trans-Canada Highway (Hwy 1) for our trip back to Vancouver. We stopped in Abbotsford's historic downtown district to hit up Duft and Co. Brickhouse, a recent expansion of the ever-popular Duft and Co. Bakehouse. This casual pizza shop evolved from a finer dining establishment to fill an important niche in Abbotsford – homey pizza baked fresh to order. To characterize this pizza, it's a mix of New York and Italian styles so the bread-like pizza dough had lots of chewiness and gluten lovers like me should find this pizza a good meal.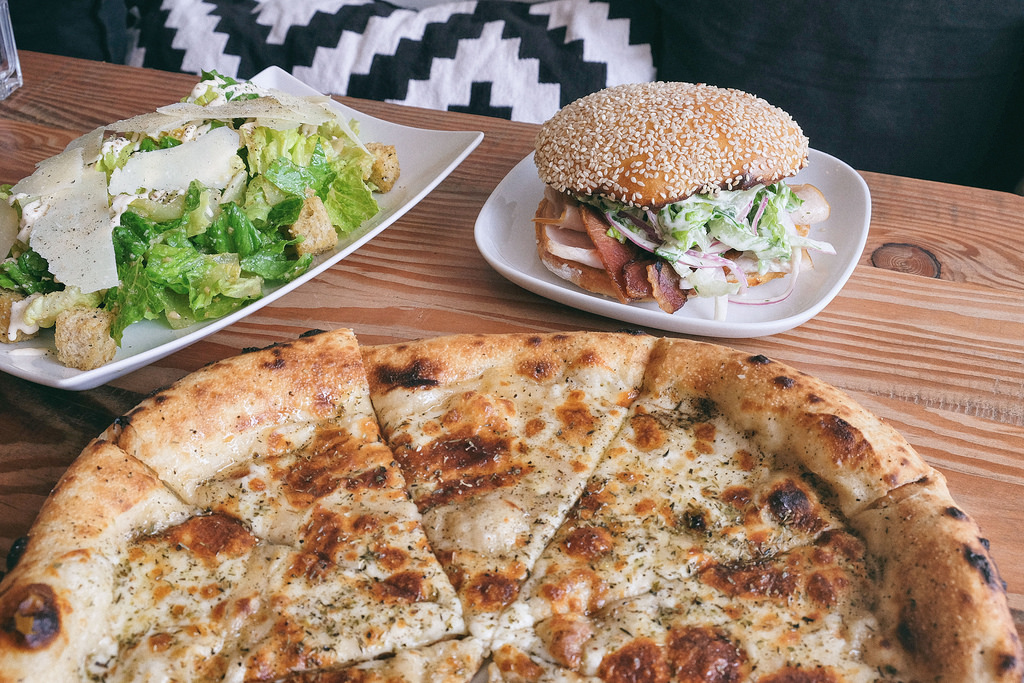 Duft and Co. Brickhouse - Pizza, Smoked Turkey Bacon Sandwich, and NY Caesar Salad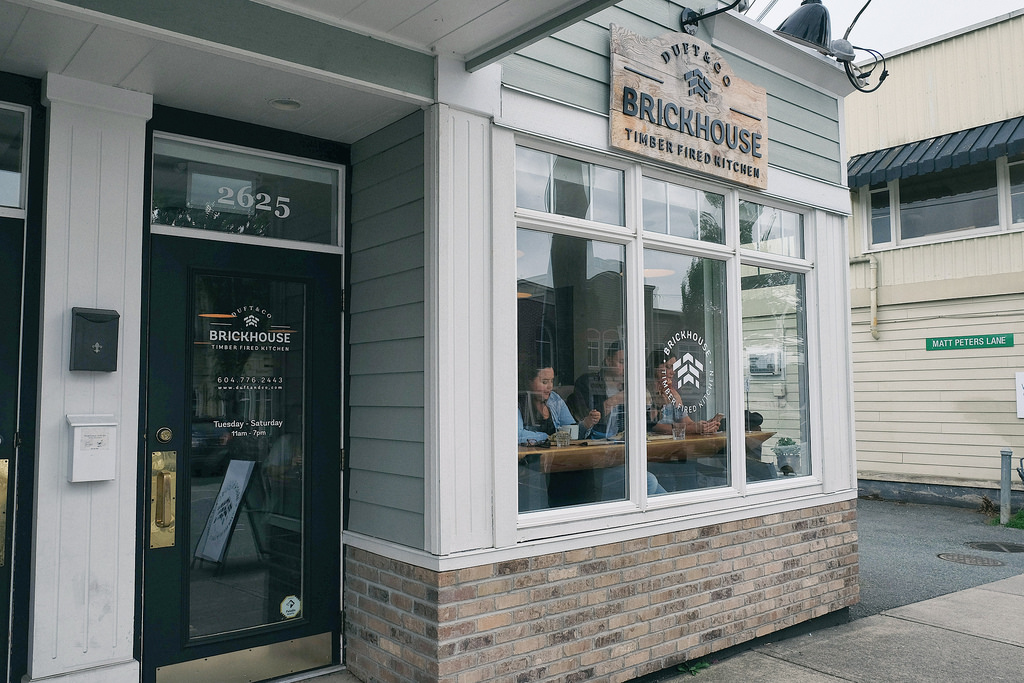 Outside Duft and Co. Brickhouse
After pizza, we stopped for coffee at Oldhand Coffee Co. Latte art was A+ on my mug. Oldhand was a quaint coffee shop with a heritage schoolhouse vibe to it with all the old photos on the wall and wide-planked wood flooring. For beans, these folks source Bows x Arrows. Way to support a local Vancouver business!

Oldhand Coffee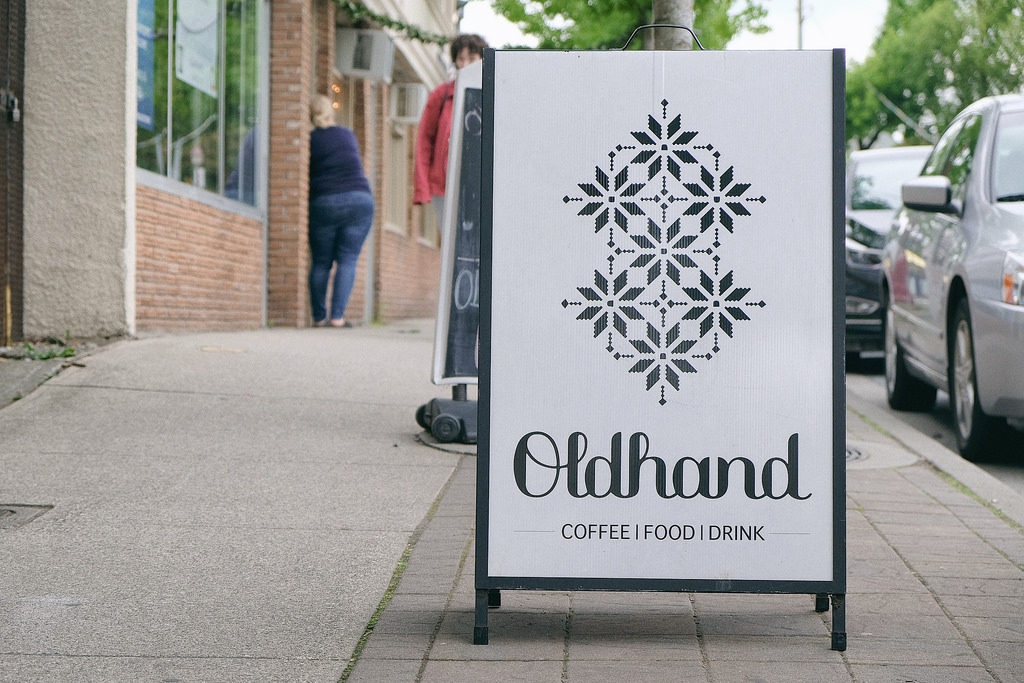 Outside Oldhand Coffee
Afterward, we checked out a few independent boutiques in the small downtown neighbourhood. I loved the old school heritage look of the shops. Also this dog!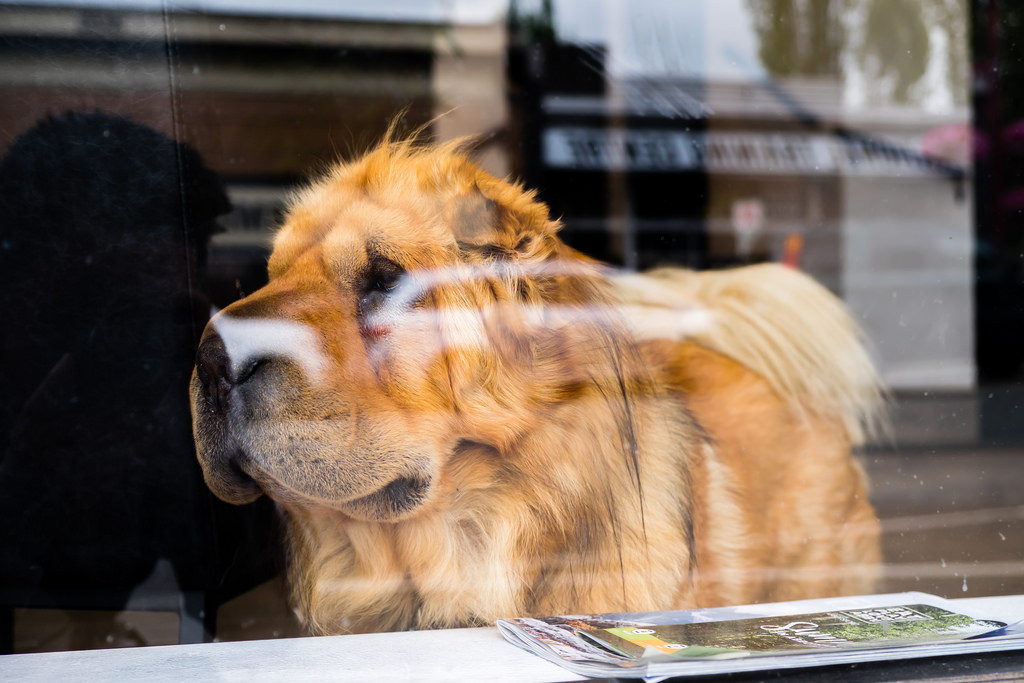 Downtown Doggo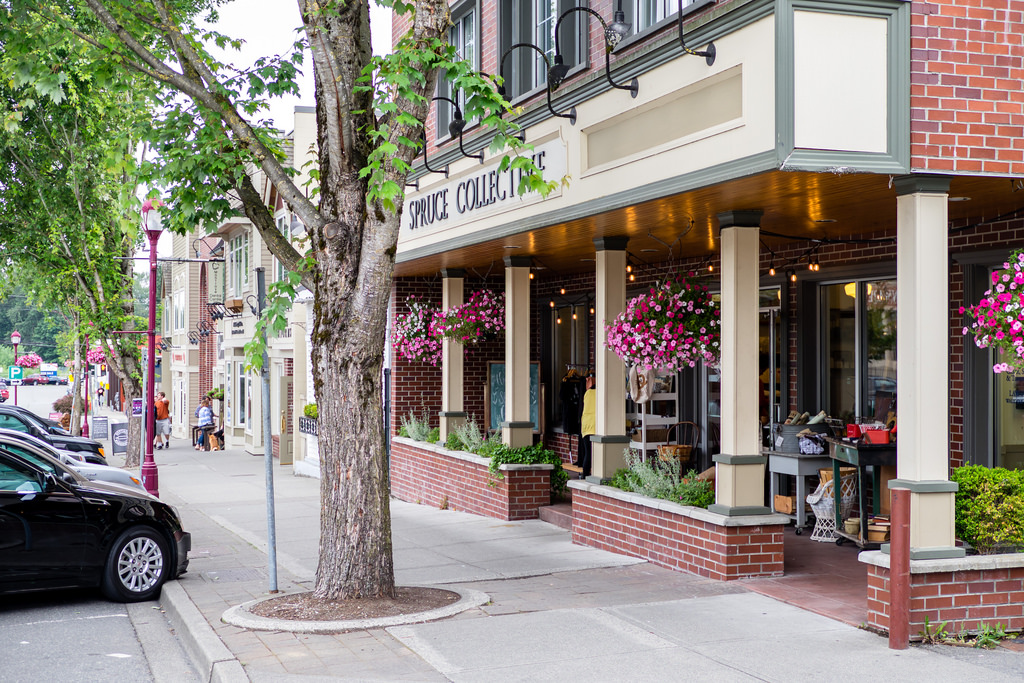 Downtown Abbotsford
Our last stop in Abbotsford proper was Campbell's Gold Honey Farm and Meadery. This is a unique business that educates the public on proper bee practices, sells honey products from their backyard farm, and hosts mead tasting sessions which help customers get a taste of the wide variety of meads on display. For wine lovers, this is a unique experience as most wineries are about the grapes and not honey. Even for non-wine lovers, I'd recommend the mead tasting session if you're into sweet drinks. Mead can be a great gateway into wine education.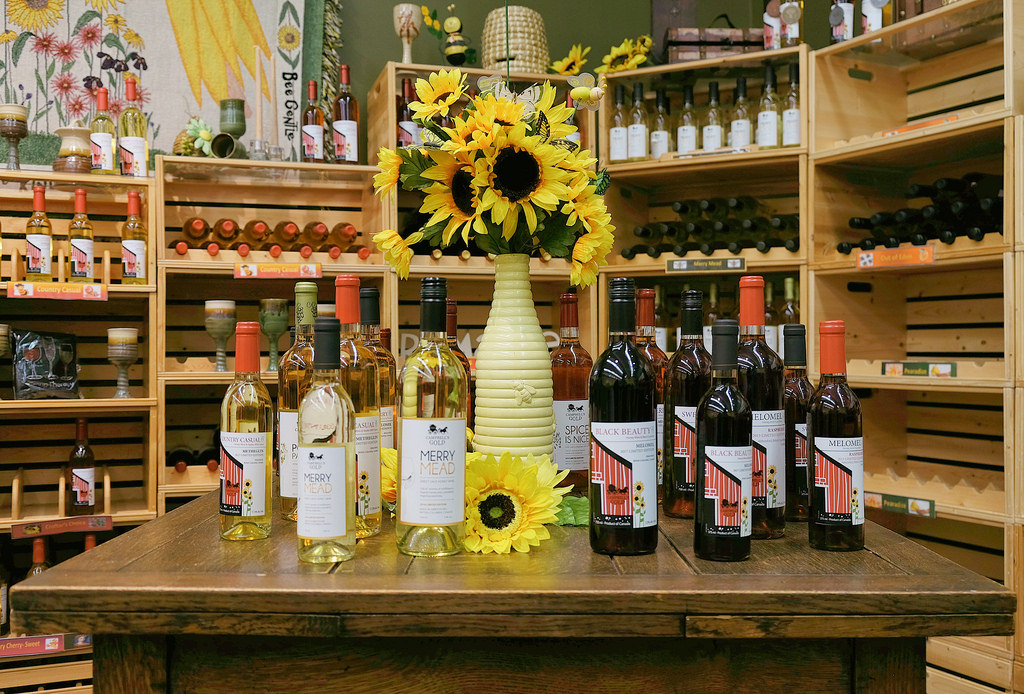 Campbell's Gold Honey Farm and Meadery - Meads
The folks at Campbell's also from time-to-time host mead and honey-making workshops. A class can be a great way to gain some skills if you can't make it out to this Abbotsford farm often enough.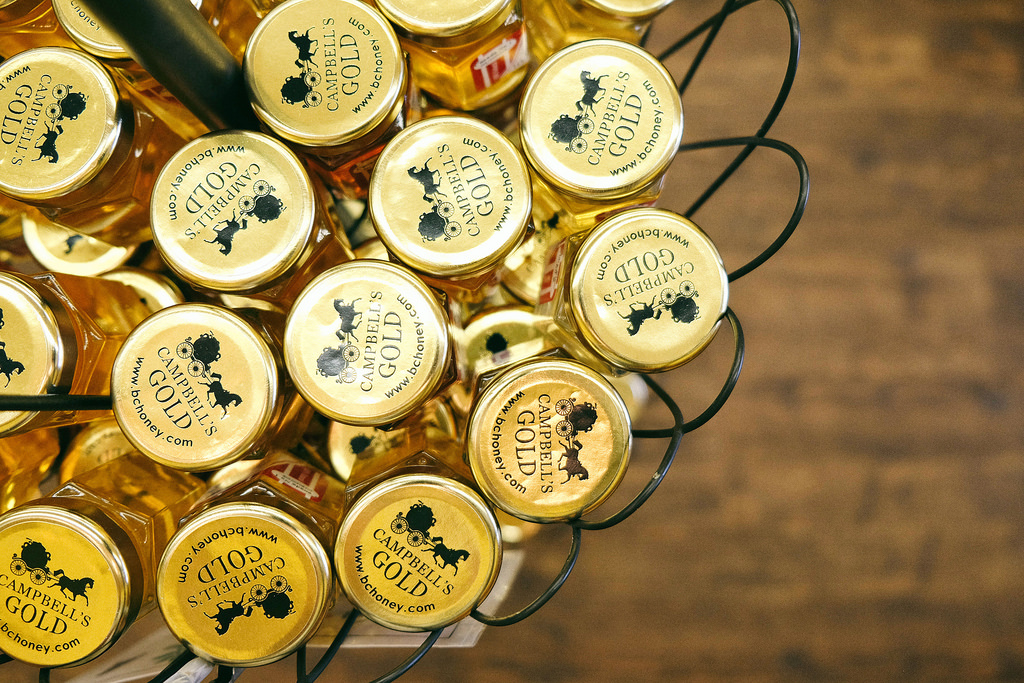 Campbell's Gold Honey Farm and Meadery - Honey
If you're concerned about the crystallization seen in some of the honey jars, rest assured that crystallization is a natural process of keeping honey fresh for longer.
Aldergrove
The final stop of our Circle Farm Tour was at Aldergrove's Topgro Greenhouses, home of North America's only goji berry farm. Recently revealed as a superfood, goji berries are often found packaged as dried fruits in grocery stores. Gojoy berries are instead fresh and frozen, meaning you can still extract some juiciness from these unique berries.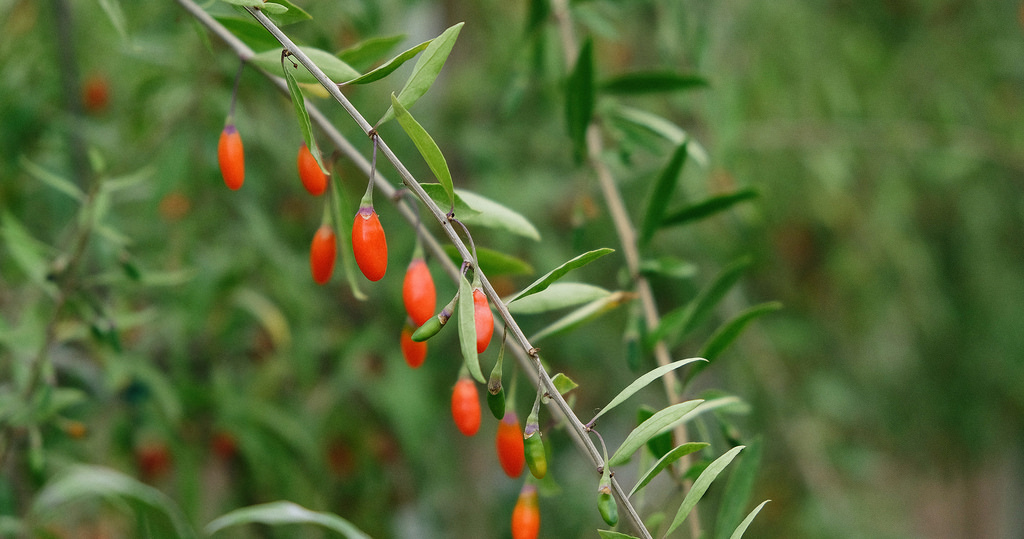 A Goji Berry Vine
Another unique feature of the farm is that during goji berry season, you can call the farm and arrange a pick-your-own session where you can fill up a bag of goji berries. Visiting the farm affords guests to learn about the history of growing an Asian-favourite berry in Canada and learning of the various nutritional benefits of including goji berries in one's diet.

Goji Berries
Final Thoughts:
As a self-guided tour, the Circle Farm Tour is an excellent way to learn about unique businesses in Metro Vancouver and the Fraser Valley. As you can see from my itinerary above, there were a ton of different stops to be had and many different eats to enjoy. I'd recommend this tour for anyone with access to a car and an eagerness in local businesses. Many of these farm owners make appearances at farmers markets but the best experience is definitely the one you get on-premises. As for me, I made sure to load up on goji berries because there is literally nowhere else you can find fresh goji berries. These are a treasure to have in the 604.