This is going to be one of those posts where I get angry messages from the business or its fans. I went to one of the hippest restaurant openings in Hanai and sadly can't get myself to imagine going again. Coming from a background where I enjoy creative food and enjoy paying for it, I guess the menu we tried didn't wow me when it mattered, and I'll jump into why.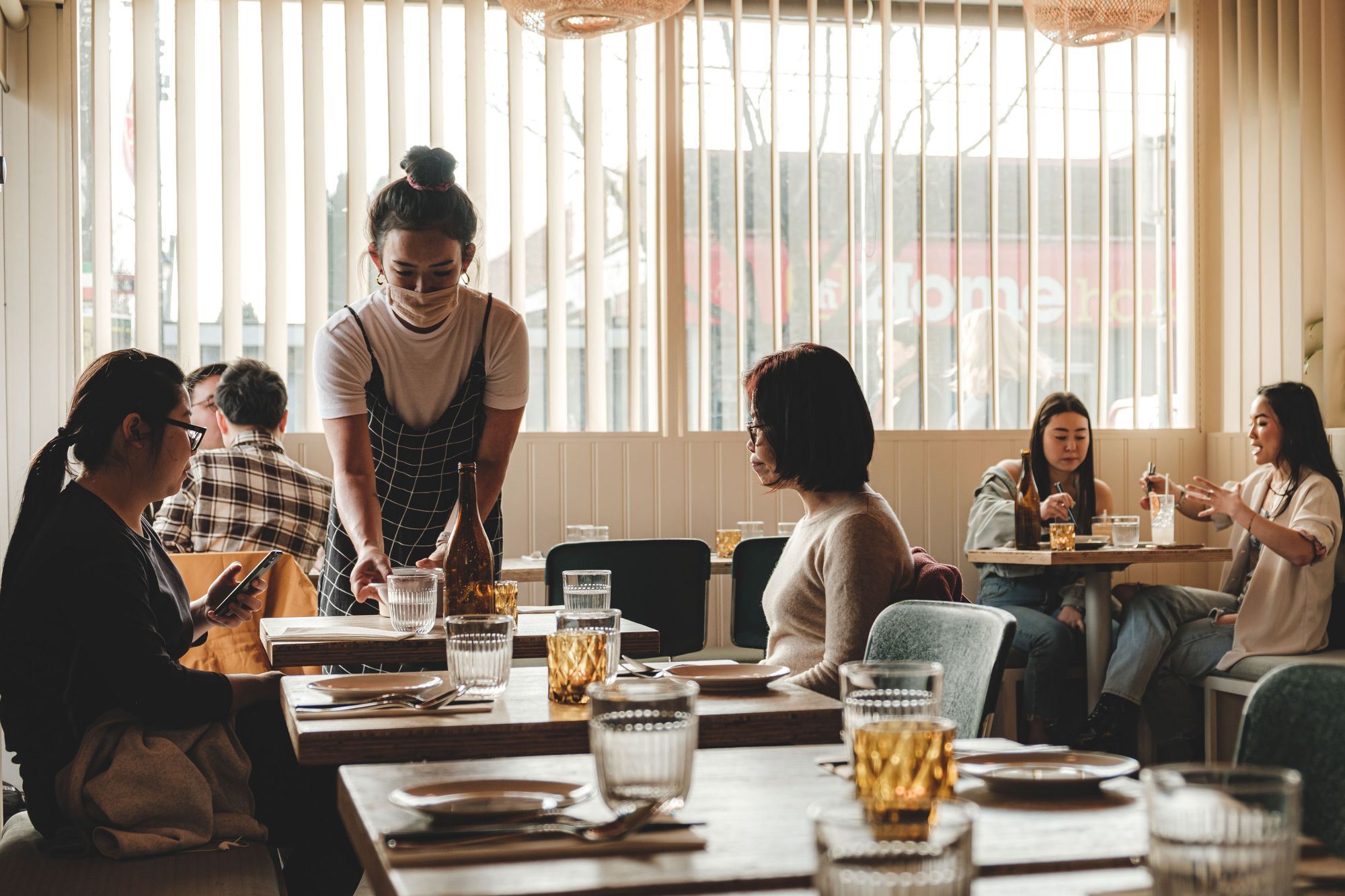 Food:
Team Tastic came here for a Monday evening dinner and I had a great taste of the following:
Kimchi Dip ($9)
Crab Fried Noodles ($18)
Kālua Pork ($18)
Chicken Lau Lau ($20)
Miso Tahini Ginger Cookie ($8)
The kimchi dip was a house made dip featuring wonton furikake crackers. This was a creative take on what's traditionally steamed or boiled. The crackers had a firm crunch and a large shape that casually invited me to double-dip – not a problem for me in my triple-vaxxed world.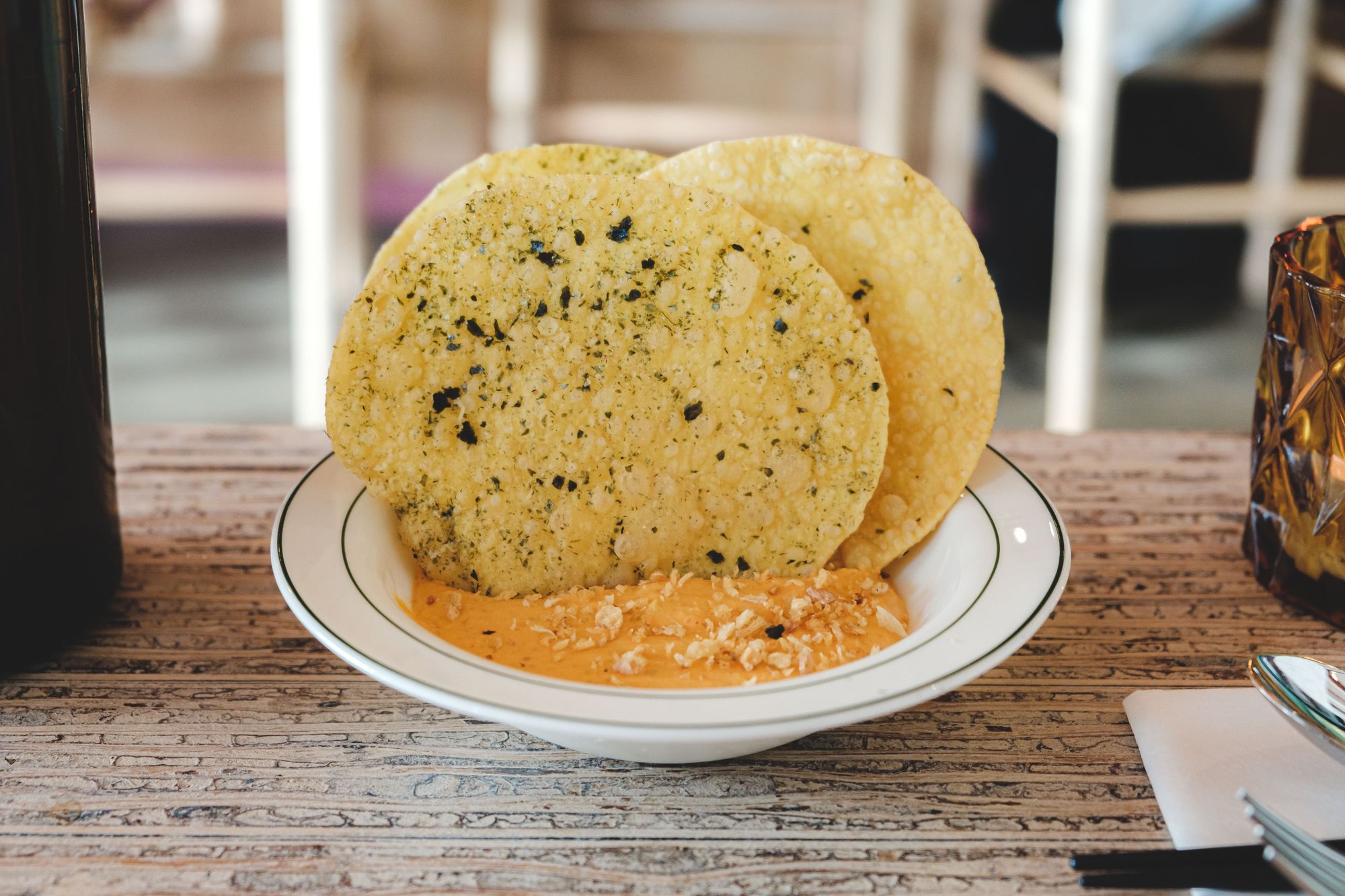 The crab fried noodles had some fun zing with garlic crab oil and lemon panko. The presentation was spot on and even had complementary colours between the noodles and the plate. The noodles had plenty of texture and while I wish there was actual crab, the oil had lasting flavour and the lemon panko added texture I now want in every noodle dish. This left me yearning for some real crab in the mix, but for $18 in this post-COVID world, I can stomach it.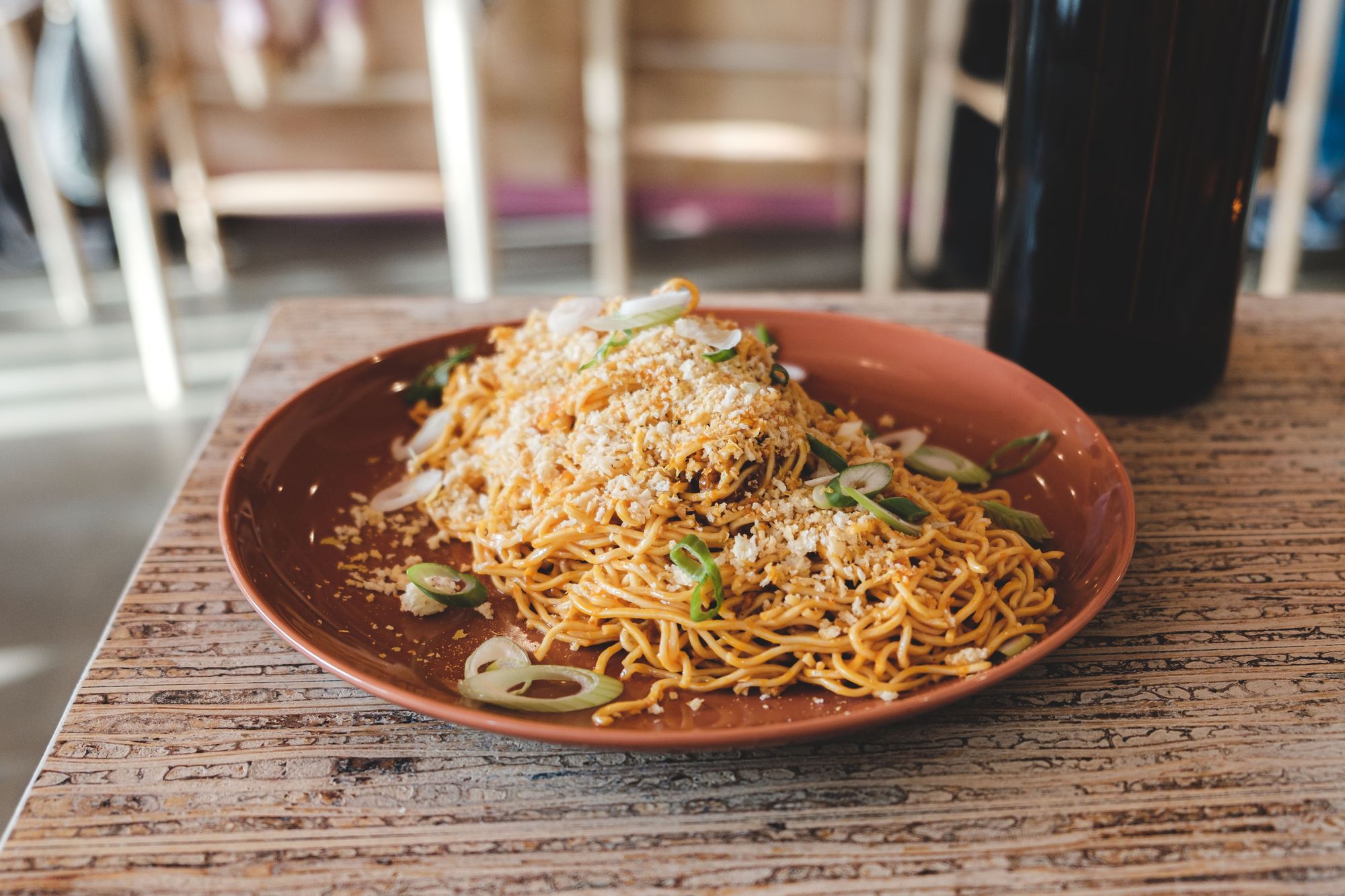 The kalua pork was a bowl of slow-cooked pork shoulder with pickled cabbage. "New Traditional" is how I would describe the style of this dish – nothing about the plating really made me excited to dig into it. The pork was fall-off-a-bone tender and a good contrast with the crunchy pickled cabbage so at least it tasted good. Just, is this worth $18?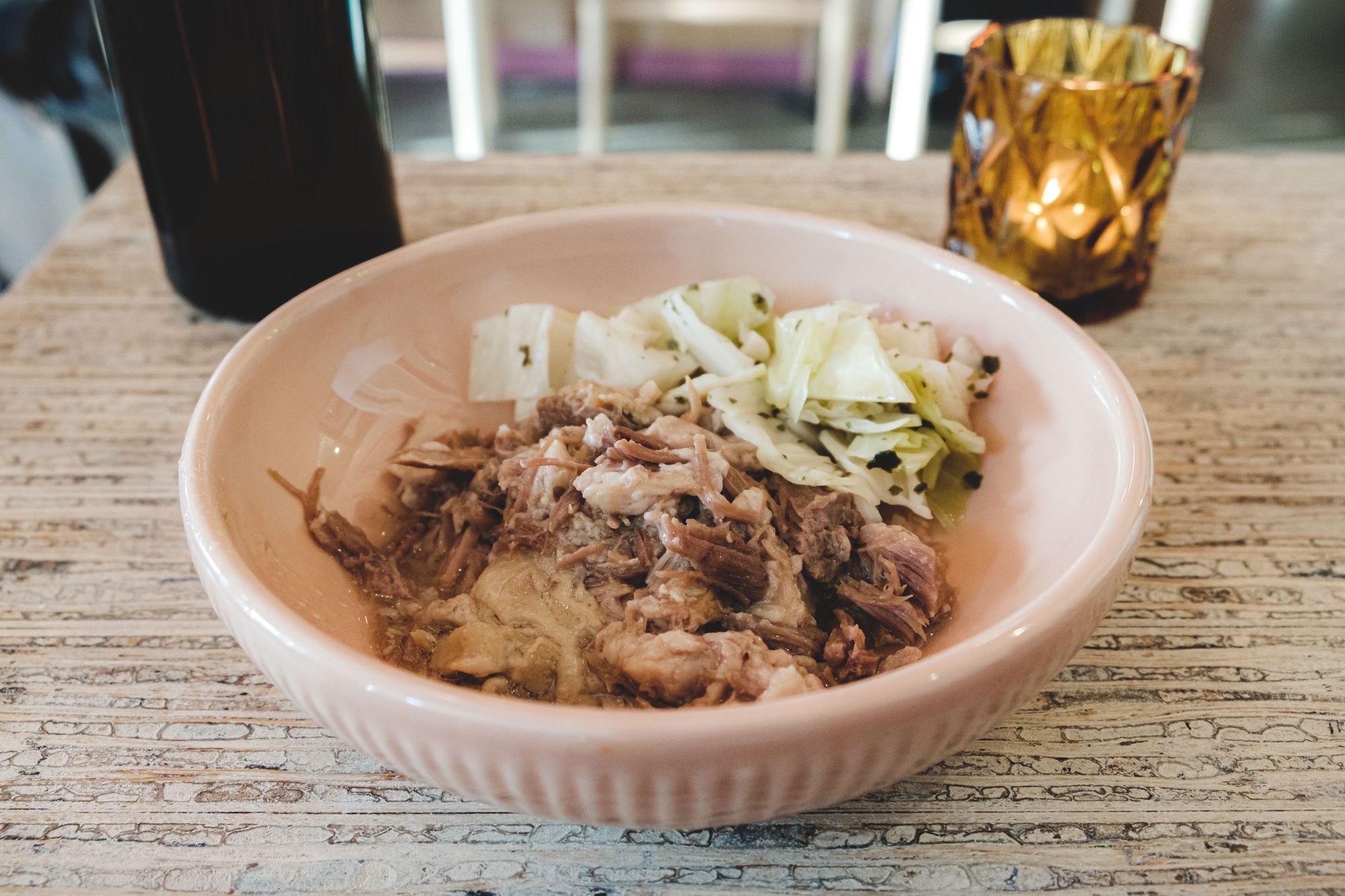 The chicken lau lau was a whole leg, bone-in, drenched in kalua pork fat, piece of chicken served in chard and lotus leaf. As the most expensive food item you can order on the menu, something felt wrong here. The chicken was tender but didn't have anything else going for it presentation-wise. At least there was both a drumstick and a thigh to munch on. I watched another table of 4 share this and it wasn't a pretty sight.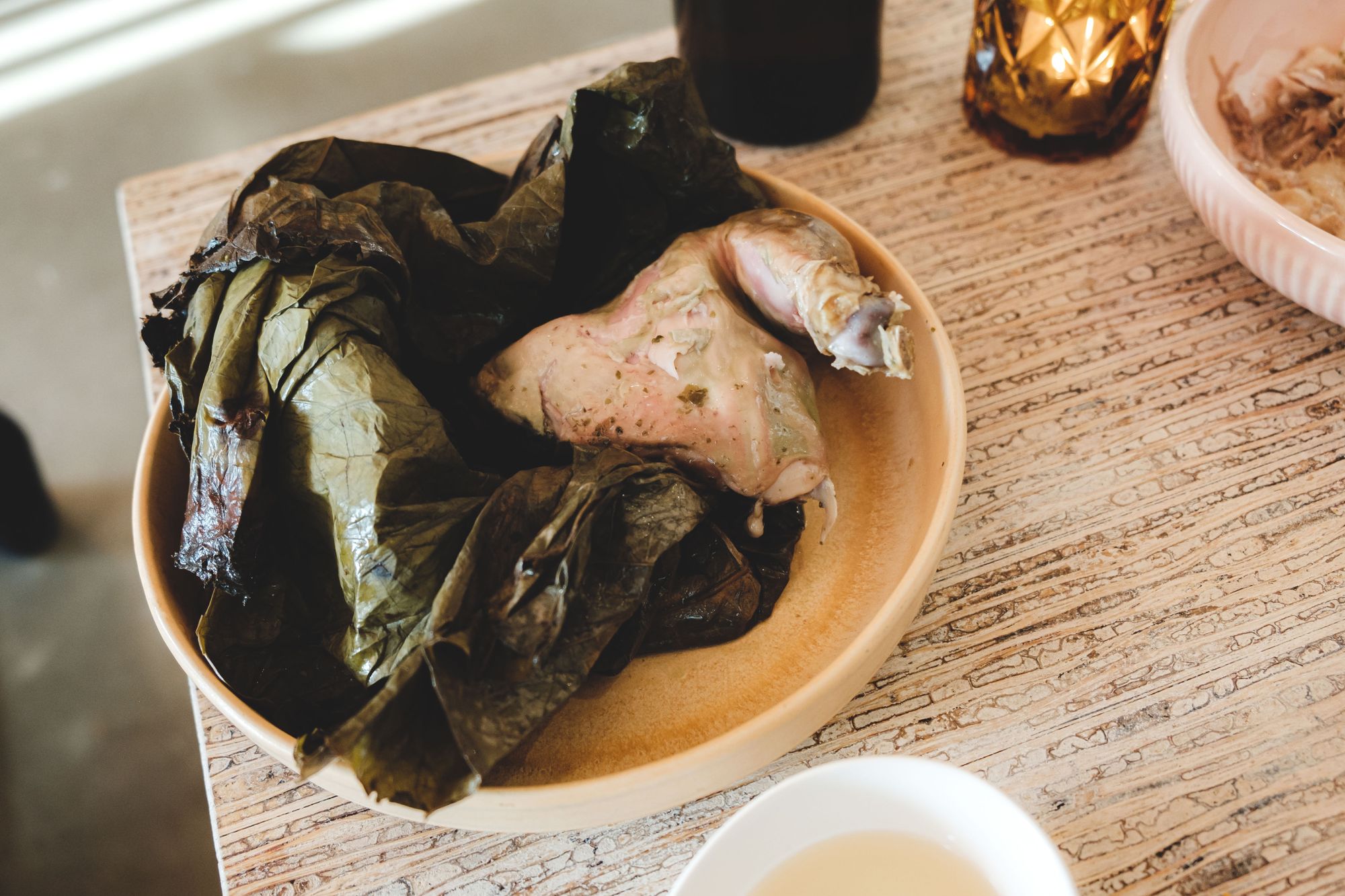 For dessert, we had the miso ginger tahini ginger cookie. Featuring fior di latte gelato from Dolce Amore next door and sesame crumble, this was a really fun dessert to end the meal with. The ginger cookie itself is precrumbled and cleavable with your spoon. Unlike the sports bars that all serve an ice cream cookie skillet, the cookie here wasn't too buttery and struck the right balance of sweetness to be complemented by the gelato. Shoutout to Dolce Amore for producing great gelato on The Drive.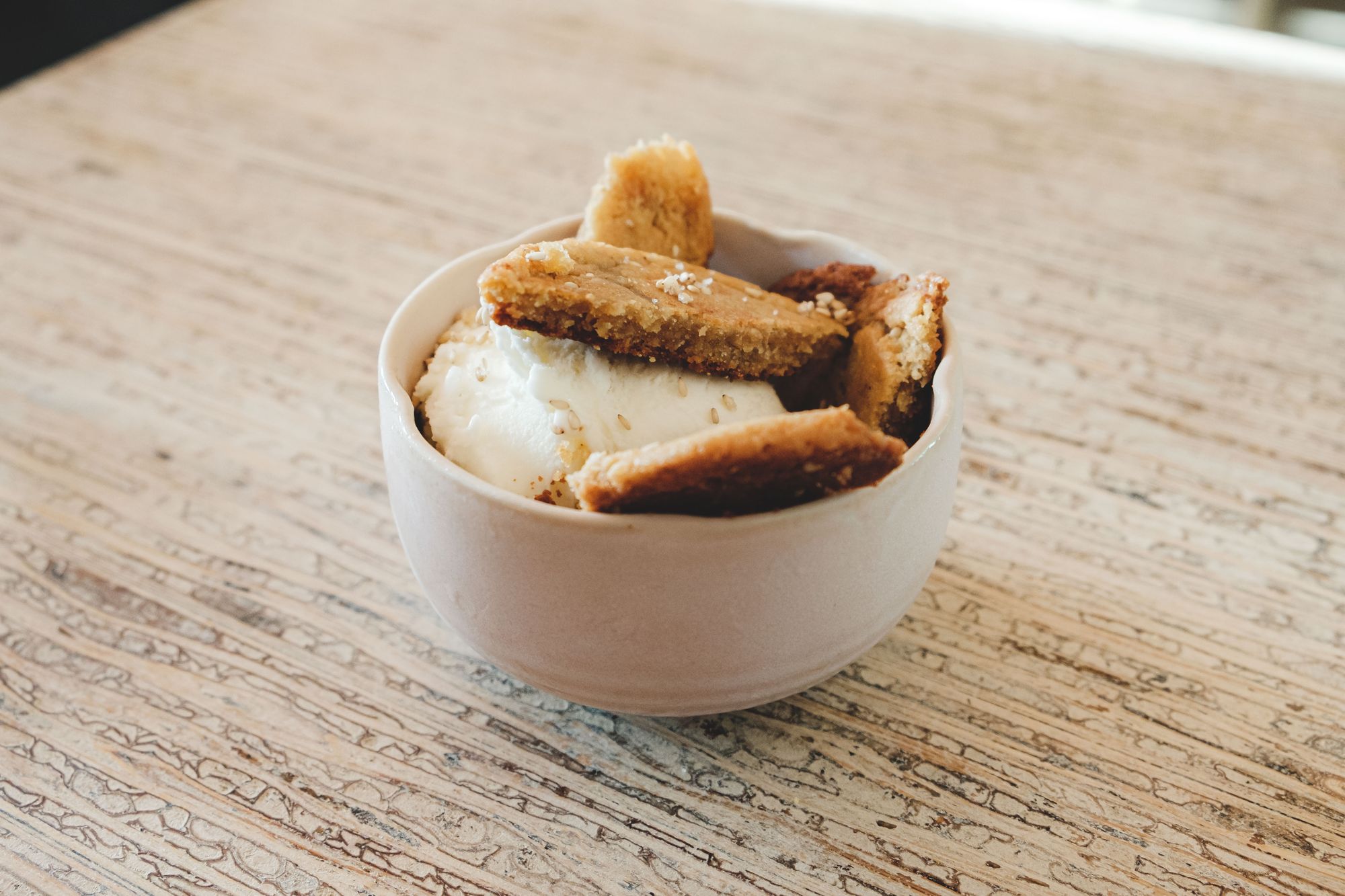 On the choice of menu items, maybe we just ordered the wrong things. I thought it was weird there weren't many traditional Hawaiian items like musubi or poi because it would have been nice to see the restaurant's creative takes on such classics. As I write this, I think I was most disappointed by the presentation of the more expensive items given the price. Somebody should tell me if I'm being unfair about my price-to-value expectations. The average person should expect to consume 3-4 items if you expect to leave feeling full.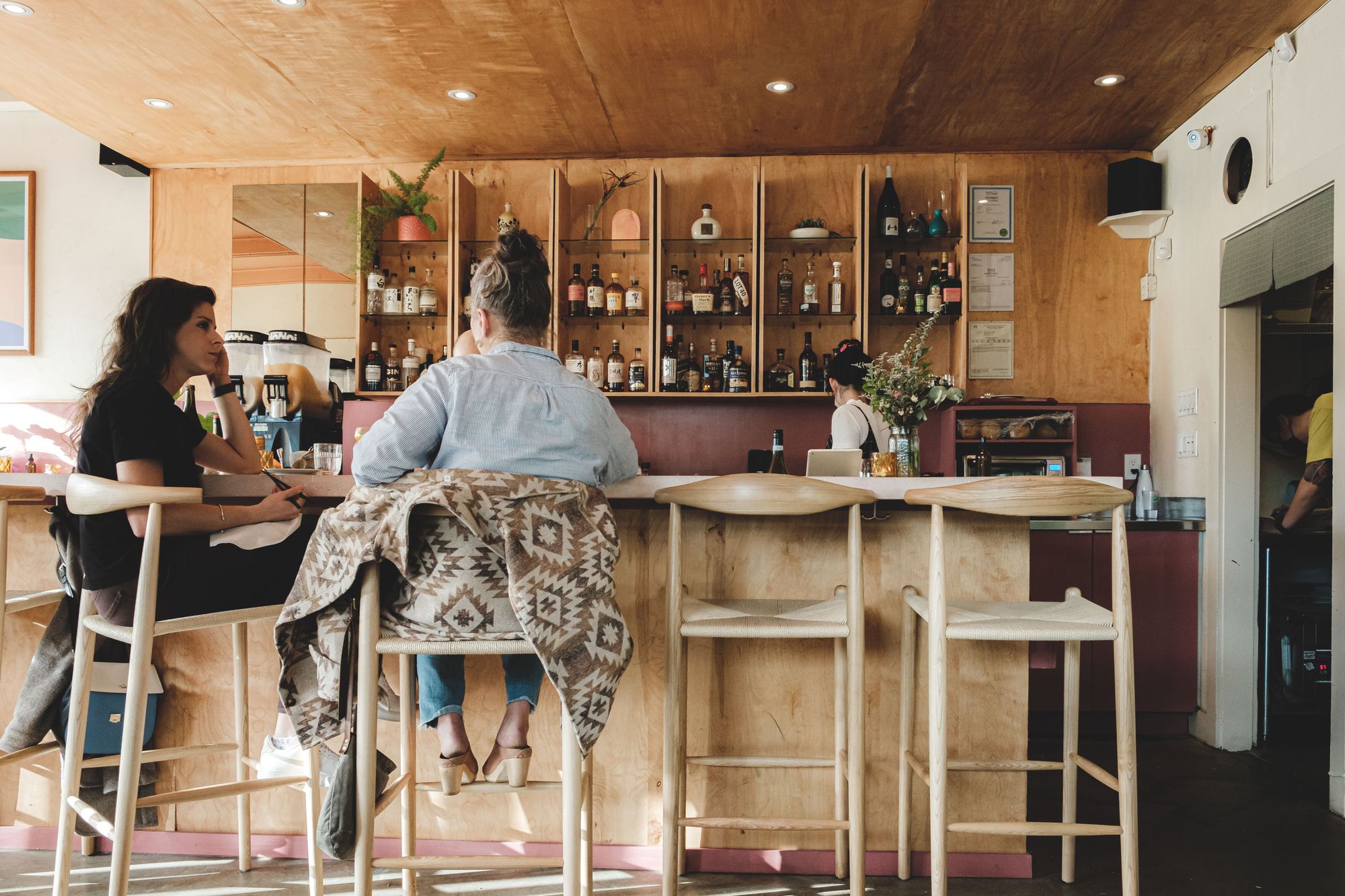 Features:
Hanai takes up residence in the old space of Ugly Dumpling and they have done a great job with the space, repainting areas to make the space much brighter with pastel colours and an eclectic art style. It's certainly a beautiful spot to be in and maybe that's why it costs so much to dine at Hanai. There is seating for about 50 guests amongst tables and an L-shaped bar. The vibe is positively buzzing here with tables loading up on drinks and the acoustics provided lots of reverb for happy conversations.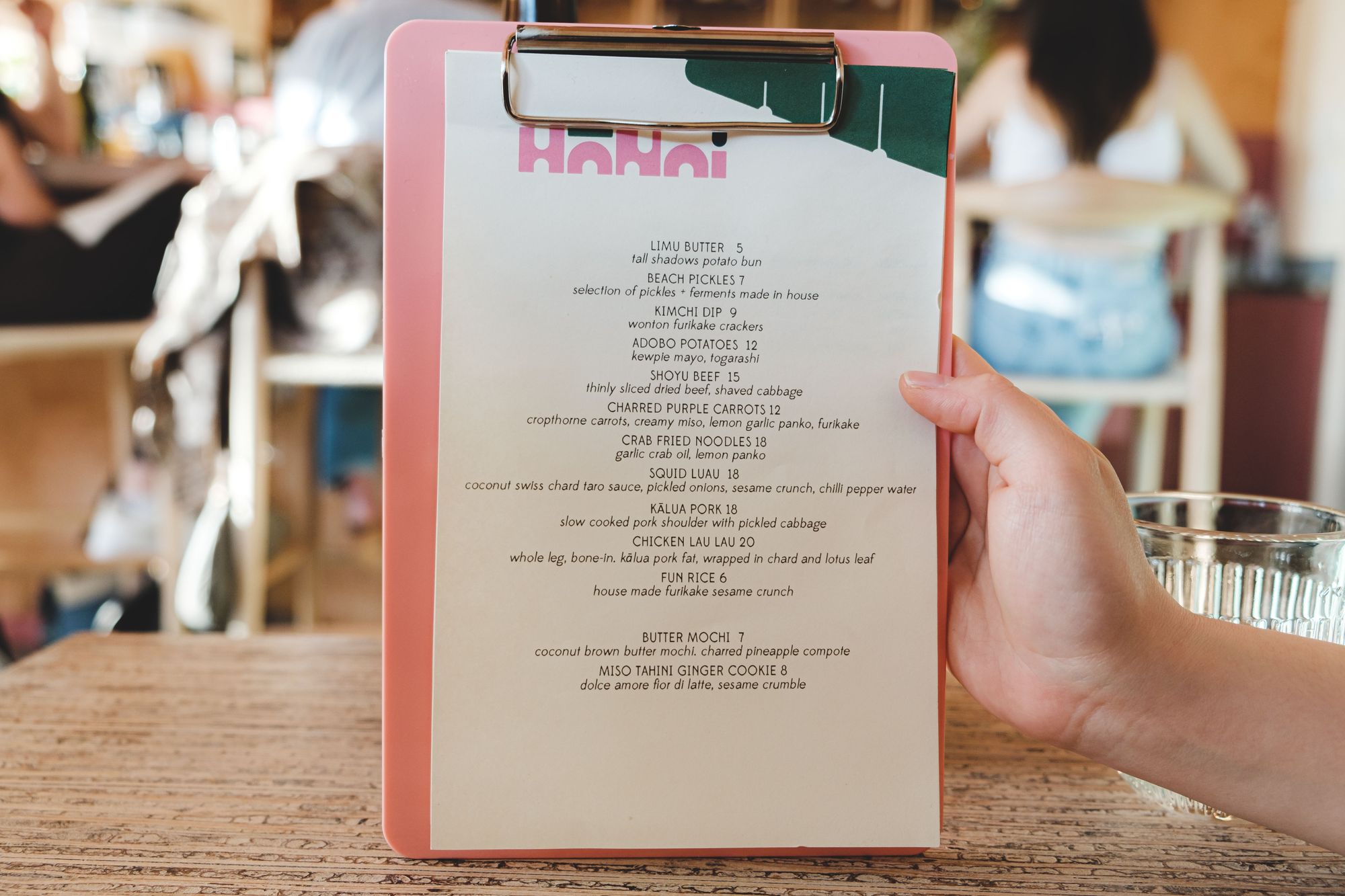 If you're looking for the origins of Hanai, this restaurant is a nod to the founders growing up in Hawai'i and their experience there. The word "hanai" is meant to refer to the informal adoption of a person into a family which is used to exemplify the fact you can live a life with both your biological and chosen families if the bonds are strong enough.
Service:
Service was great at Hanai. We had our server come by multiple times to check in on us and provide water top-ups and she was quite caring in her approach. We reserved way in advance online and that seems to be the way to go if you want a spot. By the time we left at 6:30pm, the place was packed and people were waiting out the door for a spot.
Final Thoughts:
One-liner: Very elevated, Hawaiian cuisine that I wish had takes on more casual classics and a better presentation strategy for their most expensive food items
Highlight: Kimchi Dip
Price per person: $50-$80
Would I go back? No.