Lines were out the door when this place first opened, and while the queue has changed, the amazing food and interior remains the same. Heck, maybe the greatest thing about this place is the service. Kaneko Hannosuke is the real deal and despite what some people say about feeling wronged by the shallow rice, for most people, it doesn't matter. The tendon (tempura on rice, not the tissue connecting muscle to bone) is still a filling meal and worth visiting. The company has just opened a location at Brentwood Town Centre but I thought it'd be great to catch up with the original location for the full restaurant experience.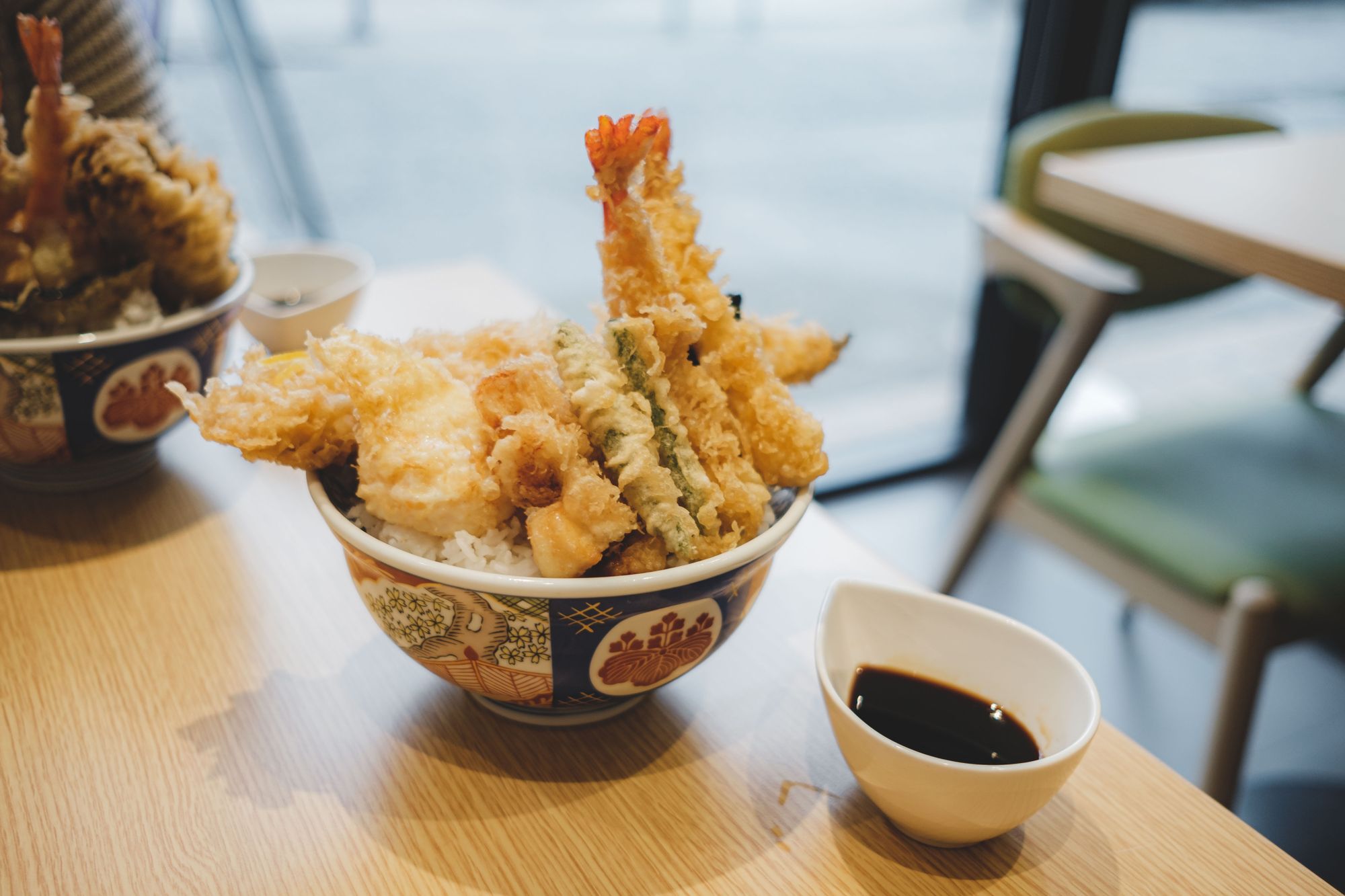 Food:
Team Food Soc came here for a Tuesday dinner and I had a great taste of a premium tempura bowl ($18.95). This is the most expensive bowl money can buy and with it you get a tempura bowl with conger eel tempura, shrimp tempura, kakiage, soft-boiled egg (yes, soft-boiled egg tempura!), seaweed tempura, and green bean tempura. Essentially, anything that is not rice is tempura-fied which is awesome if you're looking for a crispy crunch. Hint of classiness: note the zesty decoration on the conger eel tempura.
One thing to note is that you have a choice of your sauce being served in the bowl or on the side. I personally like the sauce on the side because I am a slow eater so I can prevent my tempura from getting soggy but know that the chef would intend the sauce be served directly on the tempura and rice.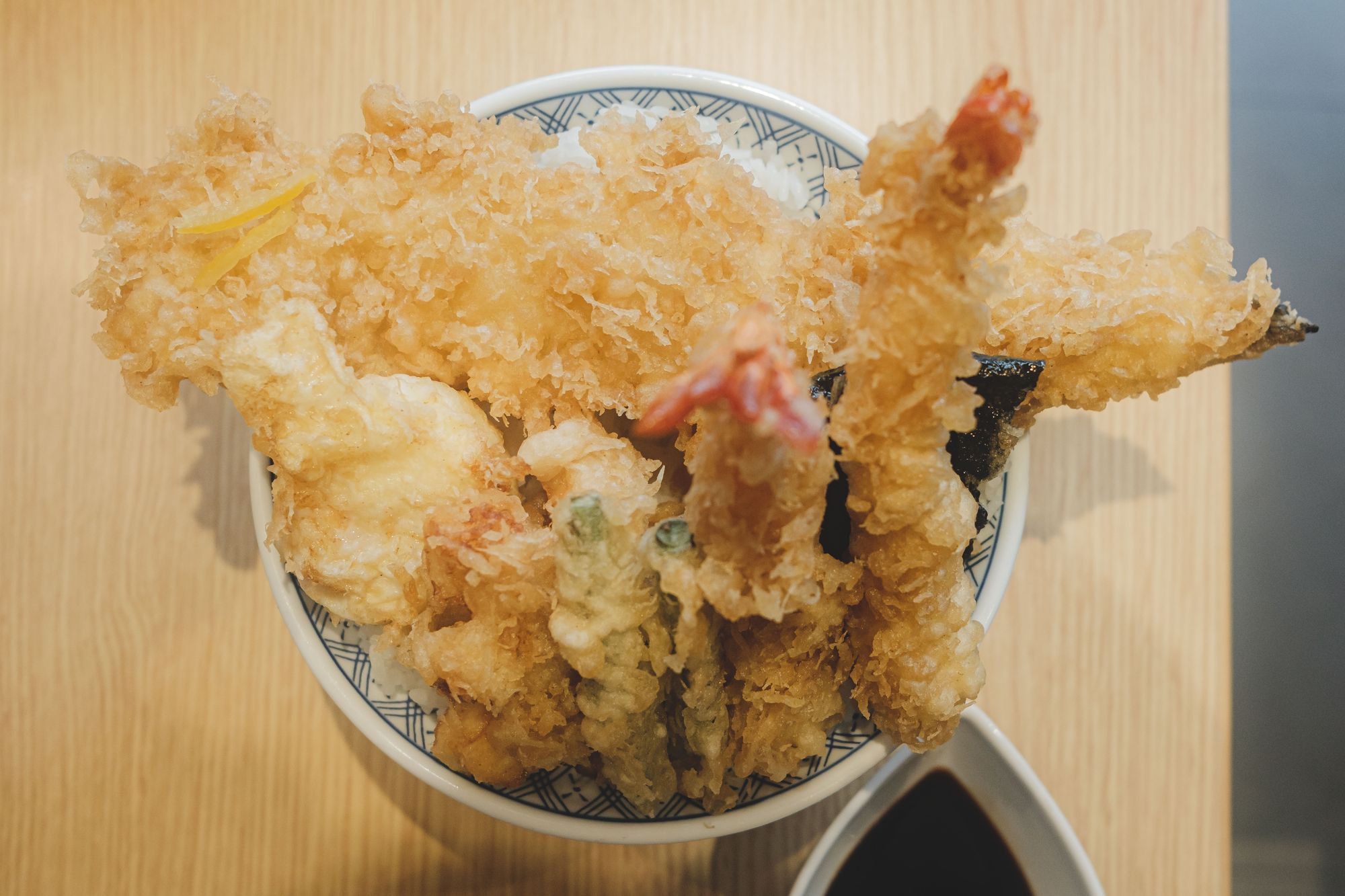 The conger eel was the highlight of this bowl. Made extra voluminous from the deep-frying, my eel had a ton of flavour and no rogue pieces or bone for me to worry about while chomping down. The tempura batter was a little heavy in my case so I had to use a ton of sauce to balance things out. Every other tempura I received had a lighter amount of body and I enjoyed them a lot more, especially the soft-boiled egg tempura! I was really impressed by how they kept the yolk gooey despite having time to dunk the egg in a deep-fryer.
If you're a fan of Korean banchan, you'll be pleased to find there is a small selection of the same at Kaneko Hannosuke. I enjoyed the pickled cabbage and ginger in between bites of my tempura.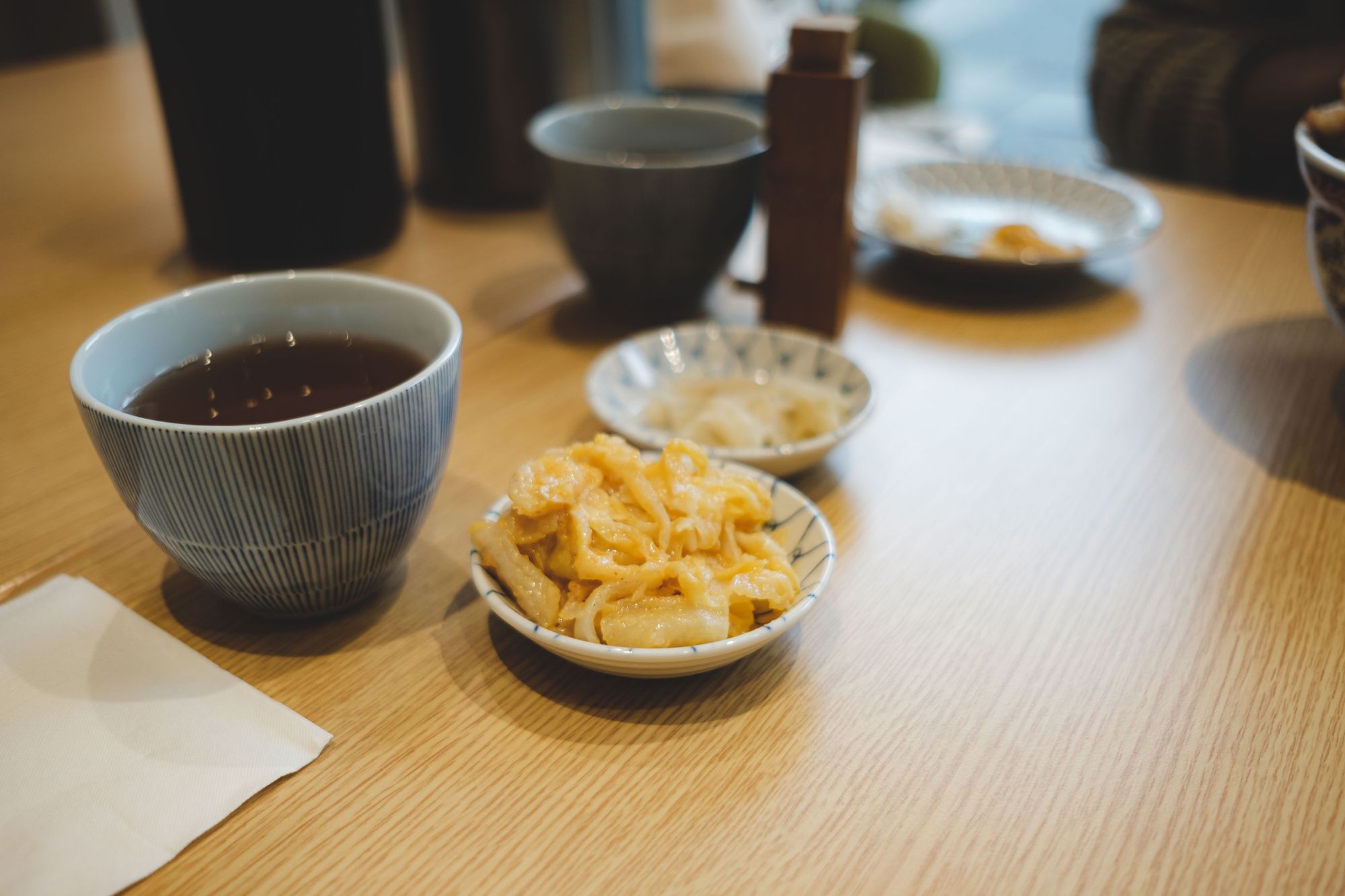 Features:
Kaneko Hannosuke takes up residence in a former De Dutch restaurant and the differences couldn't be greater. The whole interior was redone in anticipation of this new franchise to be imported from Japan and the result is a dining area that feels spacious with the soft lighting and earthy with the light woods (oak) framing the walls of this 60-something seater restaurant. Attention is even given to how the bathroom is approached being that there is a very low-profile marker on the wall indicating to push the wall which is actually a door to the bathroom.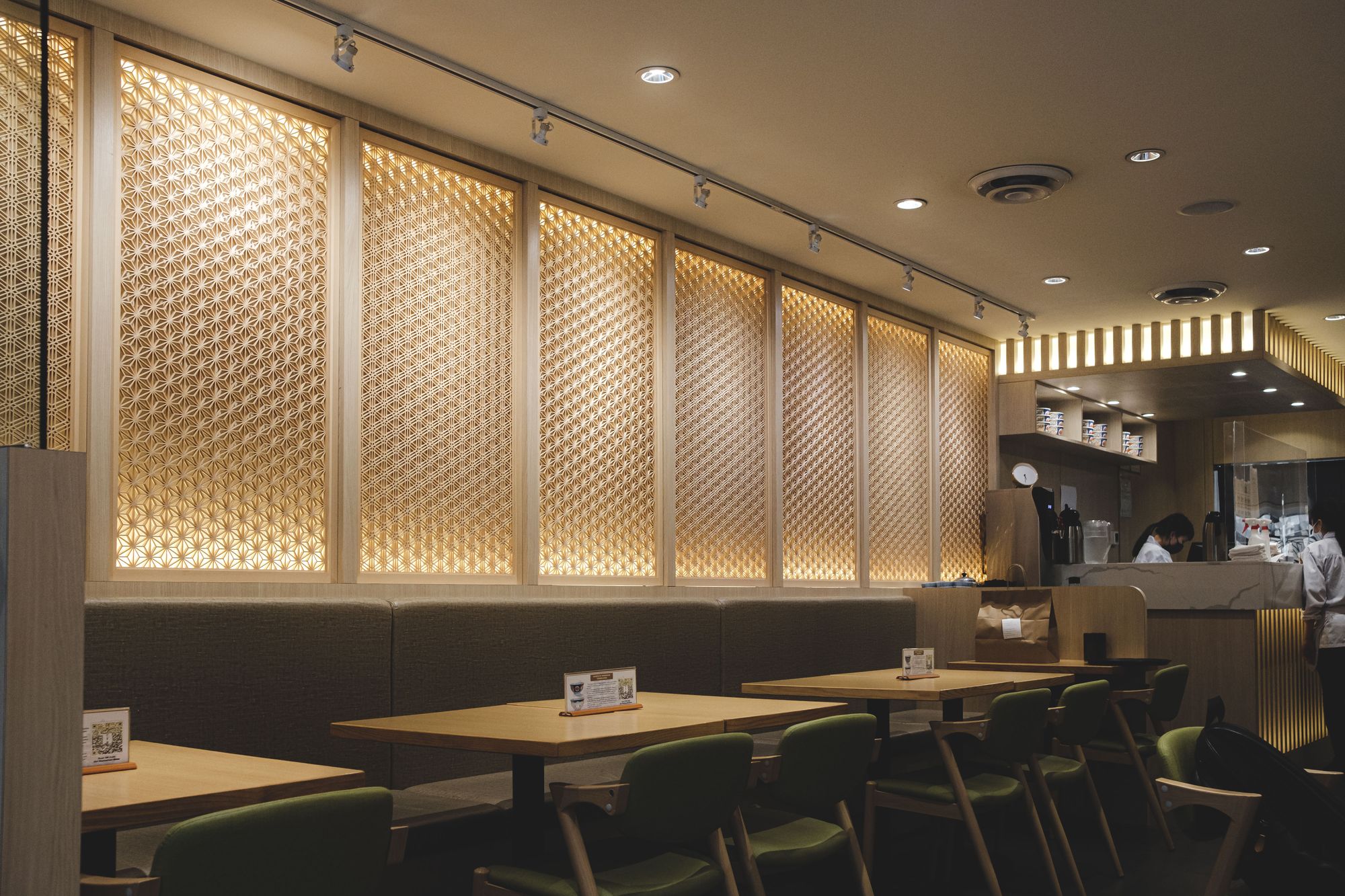 People might moan about how shallow the tempura bowl rice depth is, but I don't think it mattered. In my premium tempura bowl, I was stuffed by the time I finished my rice and understand the bowl is shallow so that the tempura can be propped up nicely on a flatter surface while in the confines of a bowl.
Service:
Service was almost comically good on a Tuesday evening at Kaneko Hannosuke in Vancouver. Servers were prompt at welcoming guests, filling up tea, and making themselves available. Making themselves available was taken to the extreme with my experience. My dining partner merely lifted her head after stuffing her mouth with tempura and made incidental eye contact with one of the servers watching attentively from the counter. Despite the incidental intention, contact was established, and the server rushed over to ask us what was up and we had to politely excuse ourselves for glancing over when we did not need assistance. That was a cute detail.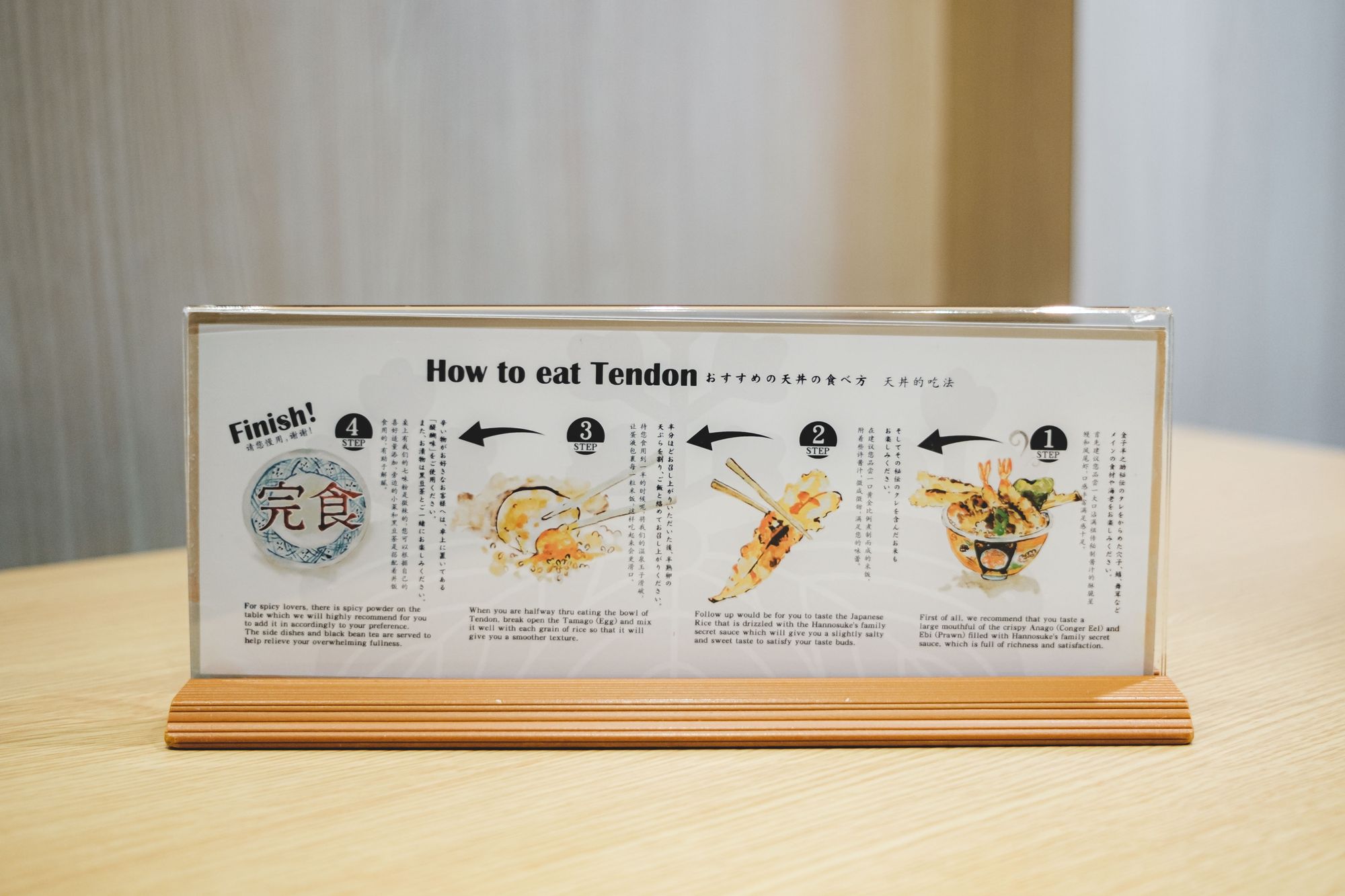 On this particular Tuesday night, no reservation was needed for a 5:30pm dinner. Though it got busier as we ate, the restaurant did not appear to fill up, and given how good it is, I hope that's just a sign of Tuesdays because the business is successful enough to open a second location in Burnaby.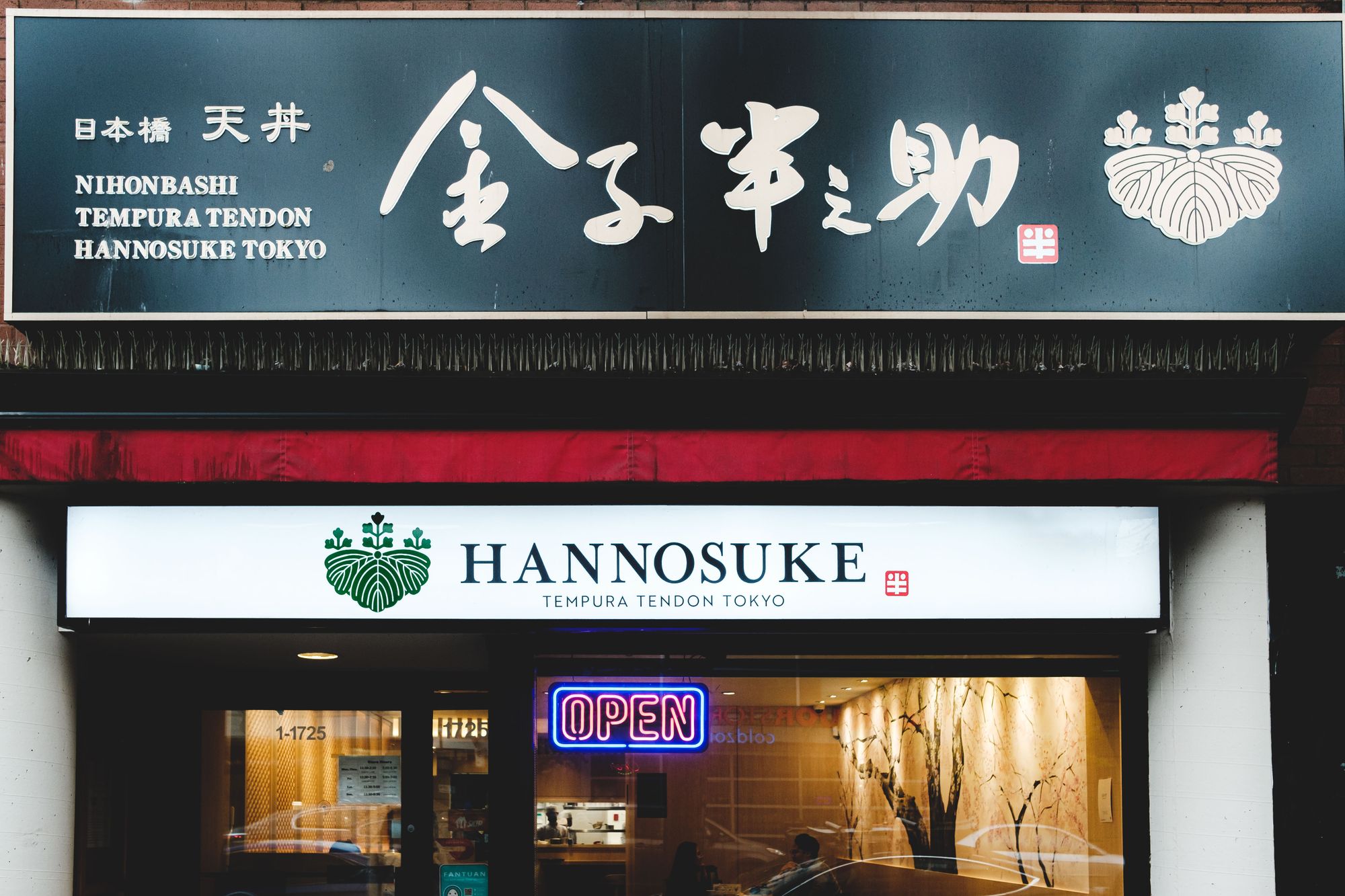 Compared to Tendon Kohaku which I have also dined at, I think the main differentiator for Kaneko Hannosuke is the level of service. Incidental eye contact or not, these servers were hyper-attentive on a Tuesday night.
Final Thoughts:
One-liner: One of two hyper-focused tendon places in Vancouver where the main differentiator is the hyper level of focus on service.
Highlight: Premium Tempura Bowl
Price per person: $20-$30
Would I go back? Yes but for one of the other tempura bowls.