The Mexican scene in Vancouver continues to expand. Hailing from Whistler, BC, La Cantina has just opened its new location on Nelson Street in downtown Vancouver. With a focus on fresh tacos and imported Mexican flavours, these folks are on a mission similar to other pinche taco shops in the Lower Mainland.
Disclosure: This was a complimentary tasting provided in exchange for an honest review and no monetary compensation.
Food:
Team GlueCrew came here for a Friday lunch and I had myself the following:
Birria Soup ($5)
Tortilla Soup ($4)
Adobo Chicken Taco ($3)
Mole Chicken Taco ($3)
Morita Pork Taco ($3)
Cochinita Pork Taco ($3)
Pacific Rock Fish Taco ($3)
Camote Taco ($2.50)
Rajas Poblanas ($2.50)
Shrimp and Pork Chorizo Quesadilla ($8)
The birria soup is heralded as the ultimate hangover cure at La Cantina. With a beefy base, this was a savoury soup with lots of spices inside that warmed up my body. Sadly I could not test the hangover-curing properties of the soup during this tasting.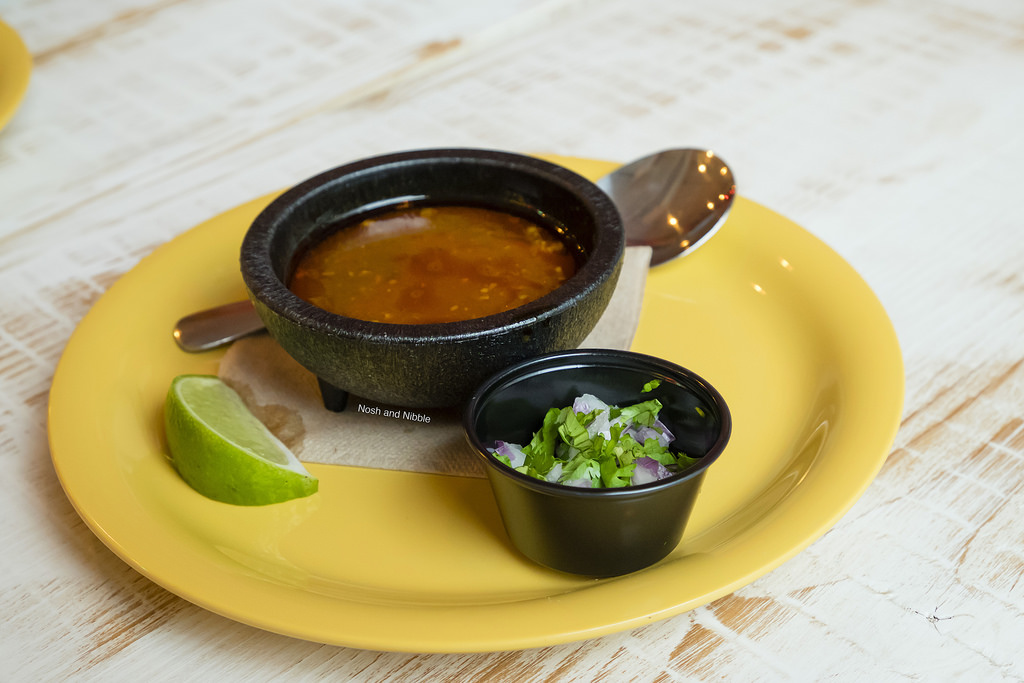 Birria Soup - sample-sized
The tortilla soup was the other option on deck and tasted exactly as it sounded. While this had a creamier finish, I was more on board with the savoury birria soup.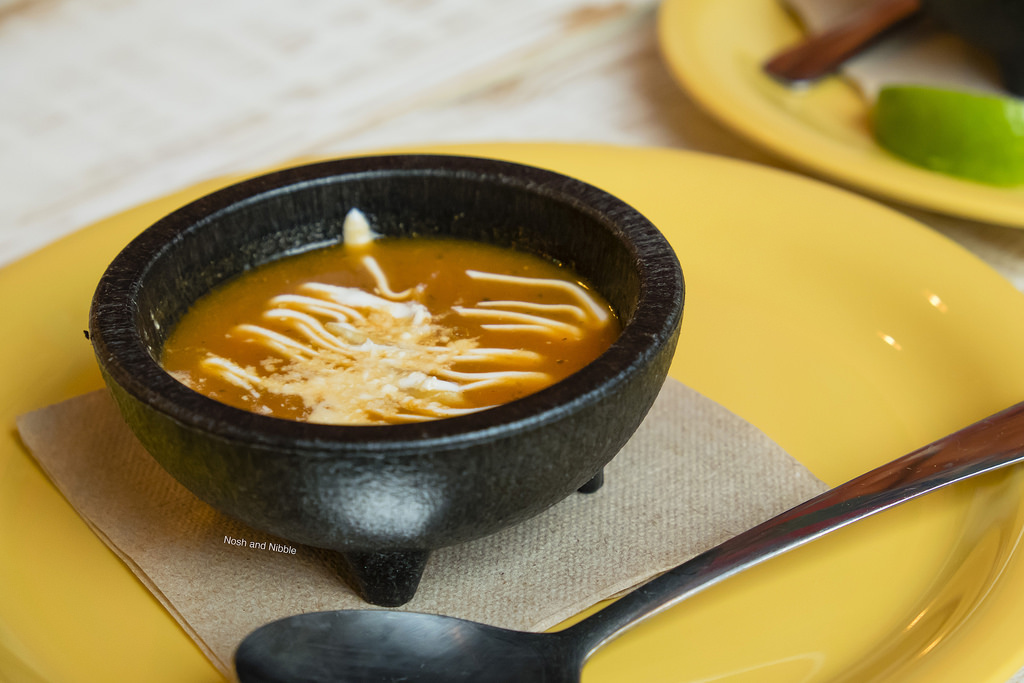 Tortilla Soup - sample-sized
Moving onto the tacos, the first great thing was that all featured a fresh double helping of steamed tortilla and priced according to whether they were meat or veggie tacos. Some places take it pretty personally assigning different prices for different tacos but not here. There will be comparisons to the epic deal at La Taqueria where $10 gets you 2 veggie and 2 meat tacos but the tacos at La Cantina appear to feature more fillings for your dollar.
The adobo chicken featured a ton of juicy chicken stewed in adobo sauce (think garlic, paprika, pepper, and salt).
Served alongside was the mole chicken. Cilantro lovers will love the herbed taste of this chicken taco.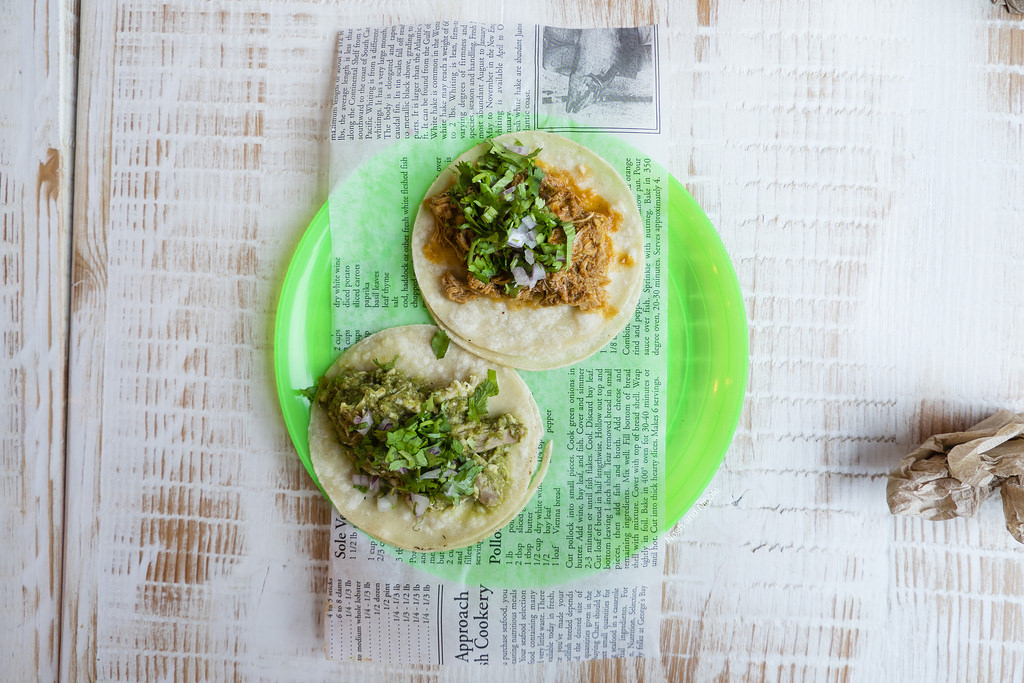 Adobo Chicken and Mole Chicken Tacos
Next up was the morita pork (smoked jalapeno). Sadly, I did not have enough stomach space to try this taco.
What I did try was the cochinita pork. Topped with pickled onions, this slow roast pork was extra juicy and finished with a satisfying crunch with the house-pickled onions.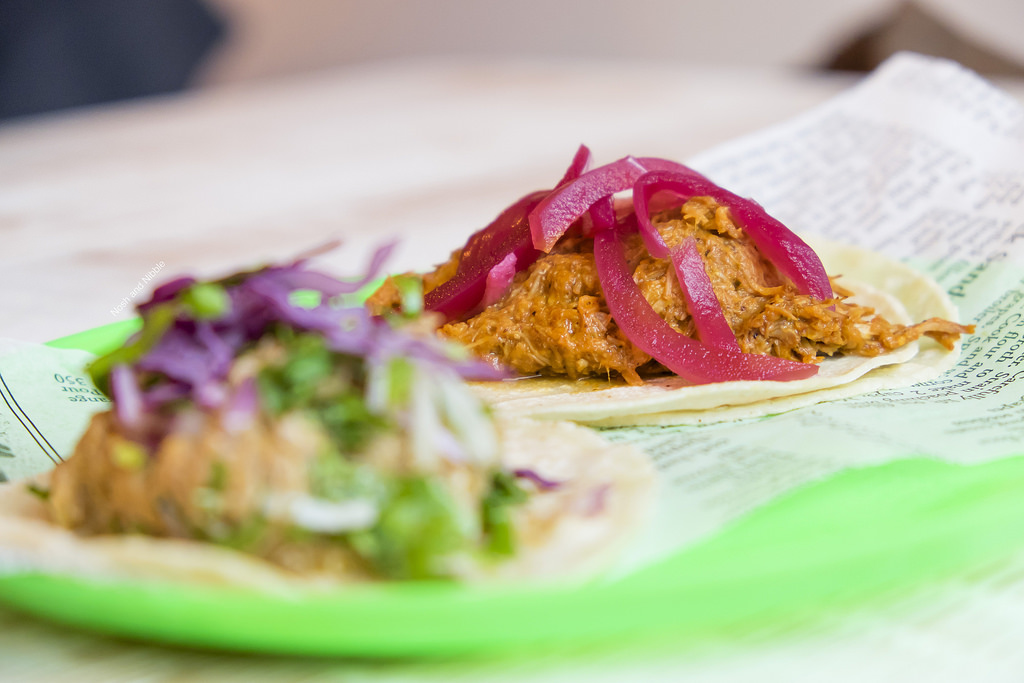 Morita Pork and Cochinita Pork Tacos
The one fish option on the menu is the Pacific Rockfish. This was a taco topped with pico de gallo and chilli mayo but get this - it's baked rather than deep-fried. Despite this cooking method, the corn flakes on the side gave a sensation of being crunchy anyway, so kudos to the chef for offering a more health-conscious option.

Pacific Rockfish Taco
Onto the veggie options, the camote featured corn-crusted yam potato strips and was topped with cabbage and jalapeno mayo. Carb hunters can rejoice with this extra filling taco. The corn crusting on the yam was a nice culinary touch and gave this a little more oomph.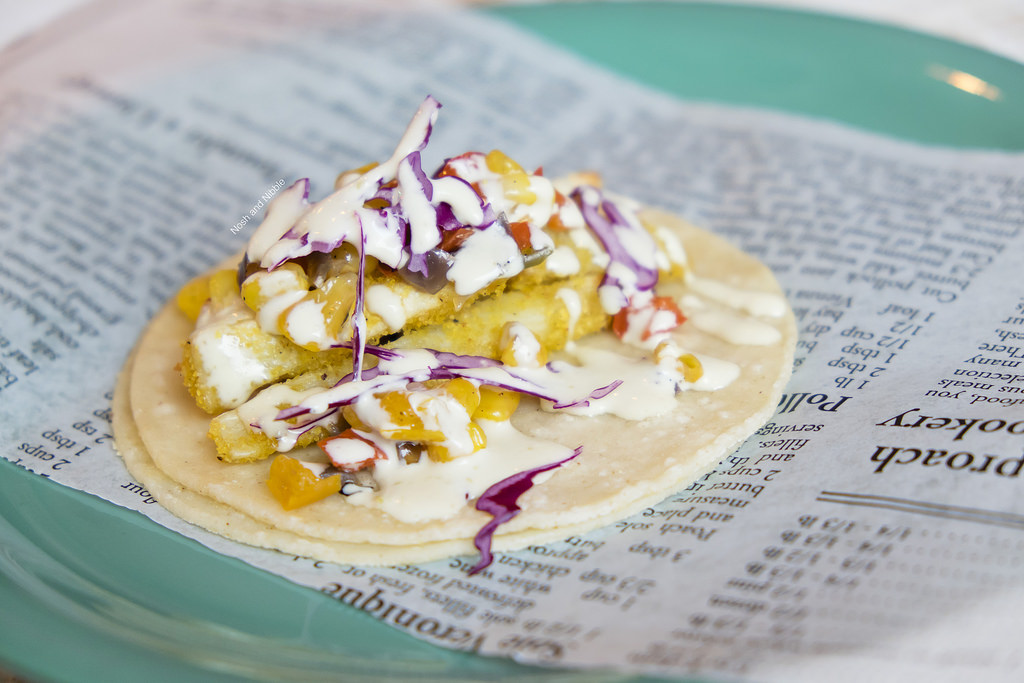 Camote Taco
My choice veggie taco was the rajas poblanas. The creamy sauce and feta cheese topping made this an extra cheesy and gooey taco despite its veggie status.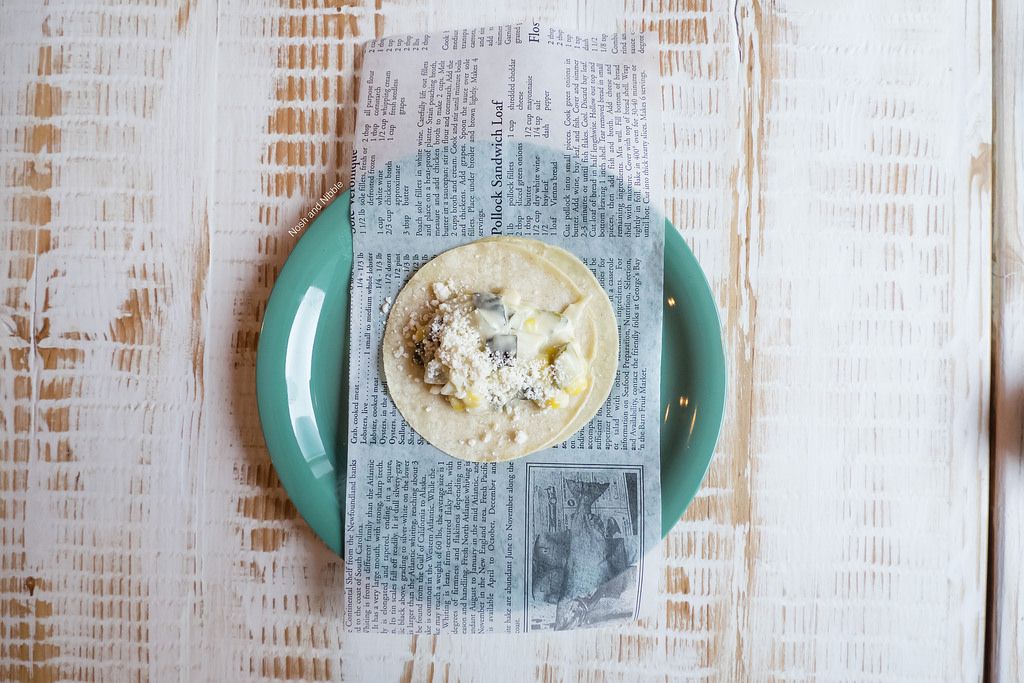 Rajas Poblanas Taco
We finished with the shrimp and pork chorizo quesadilla. Presented with a drizzle of chilli mayo and sides of sour cream and pico de gallo, this quesadilla may not have looked voluminous but it was thick! With the shrimp mixed in with the chorizo, there was enough filling to cover 2.5ish tacos in the tortillas so this would be good to grab if you're in a rush.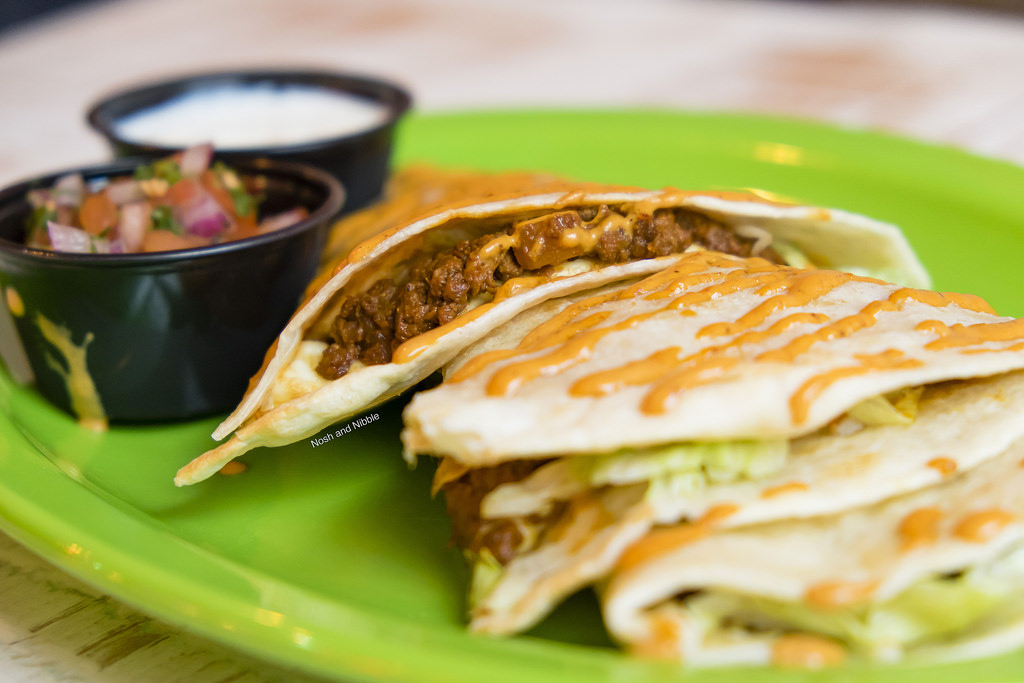 Shrimp and Pork Chorizo Quesadilla
Features:
Where La Cantina shines brightest is with its interior. For anyone who's been to the other pinche-style taco shops like La Taqueria on Hastings, you'll know seating is a huge eyesore with stools often pushed into the walls with meagre counter space. I'm happy to say the seating arrangements at La Cantina are its biggest strengths over the other taquerias. Not only are the seats wonderfully designed (see the wrestler stool below), but the decor for the restaurant is top notch with a number of murals hand-painted by a legitimate Mexican artist that the team flew in.

Inside La Cantina - Mural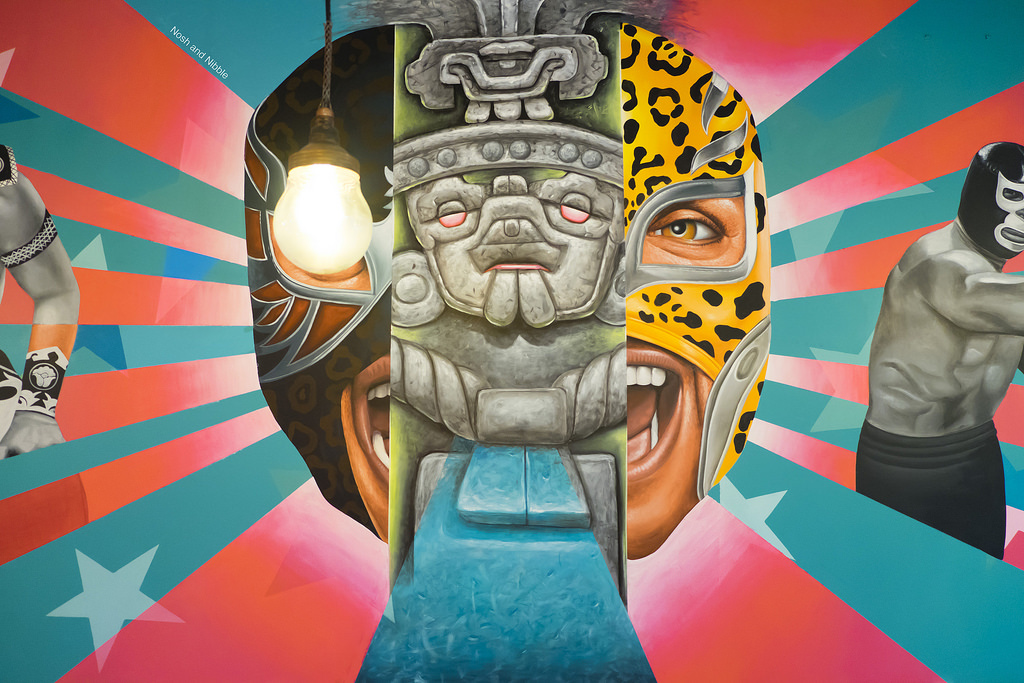 Mural Close-up
In this spacious interior, there's seating for about 30 guests in regular tables and high tables, but man is it roomy compared to places like Tacomio!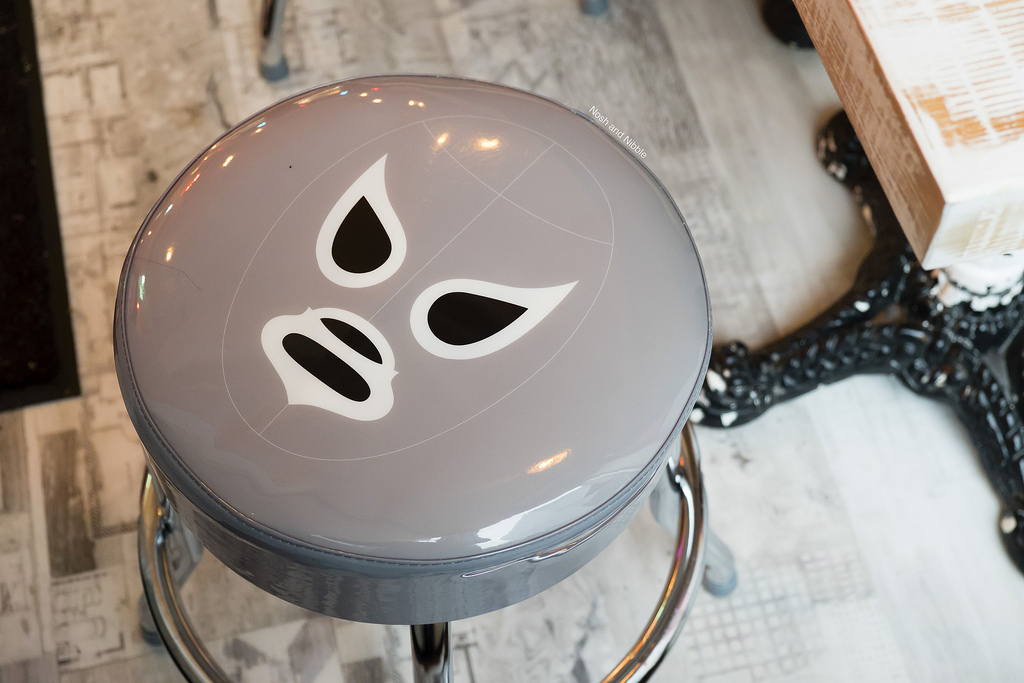 Stool
Service:
You'll place and pay for your order prior to receiving a number and receiving your food at La Cantina. With most of the prep being done in the morning and throughout the day, the tacos are quick to produce (<10 minutes) and the staff were very courteous to all the guests in the restaurant. You'll find the sauce station to the side for you to self-serve (careful, the green one is extra spicy – it's not a salsa verde!).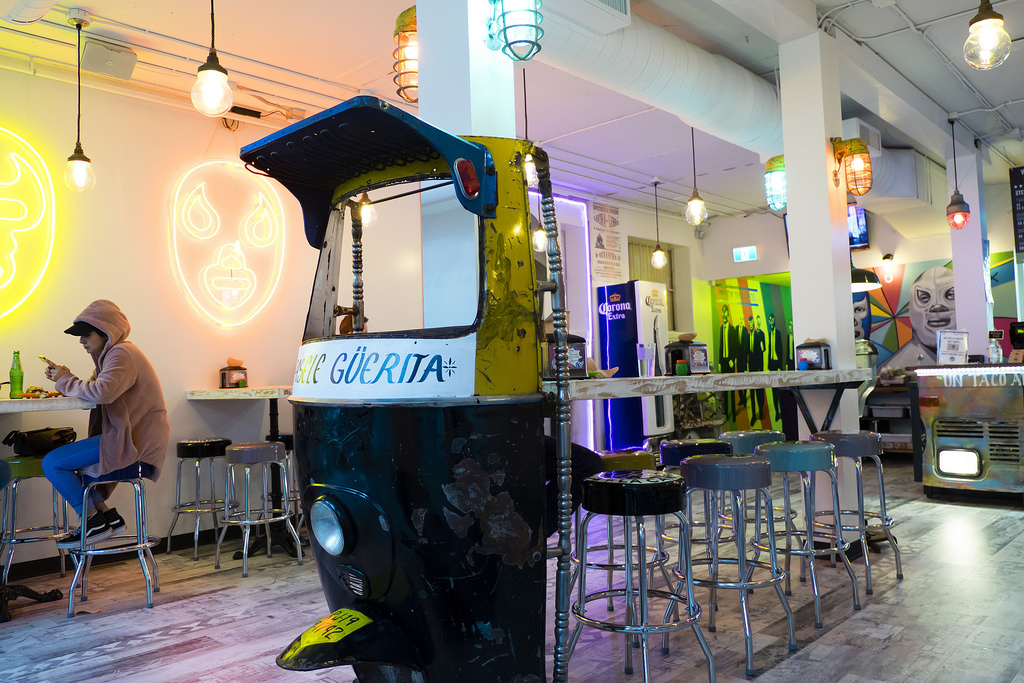 Inside La Cantina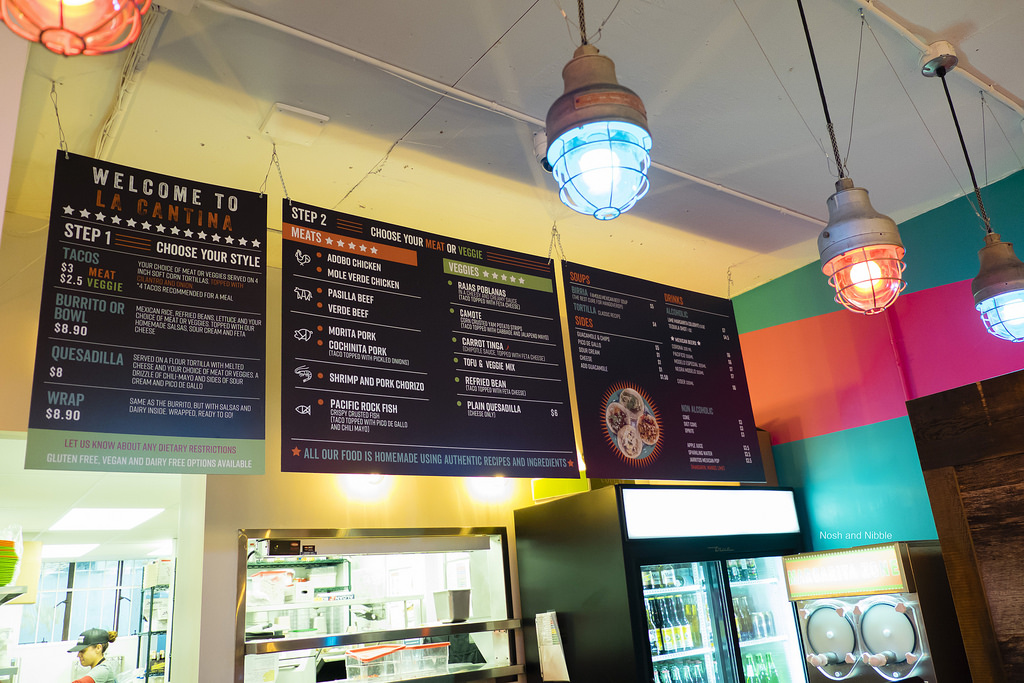 Menu
Final Thoughts:
One-liner: Tasty tacos with a supreme interior despite the quick-eats style menu
Highlight: Adobo Chicken Taco
Price per person: $10-$20
Would I go back? Yes.