It's fun to crawl through the glitz and glam of downtown hubs in the restaurant world, but if you look deep enough, the same kind of prestige can be had in the suburbs often for a better value price. I believe Stem Japanese Eatery is one of those venues and I had to fight tooth and nail to get a kaiseki reservation here – essentially the highest form of dining possible at a Japanese restaurant. I'll go over what your $143/person meal gets you and why Stem is worth experiencing if you're looking to spend this kind of money. Buckle up!
---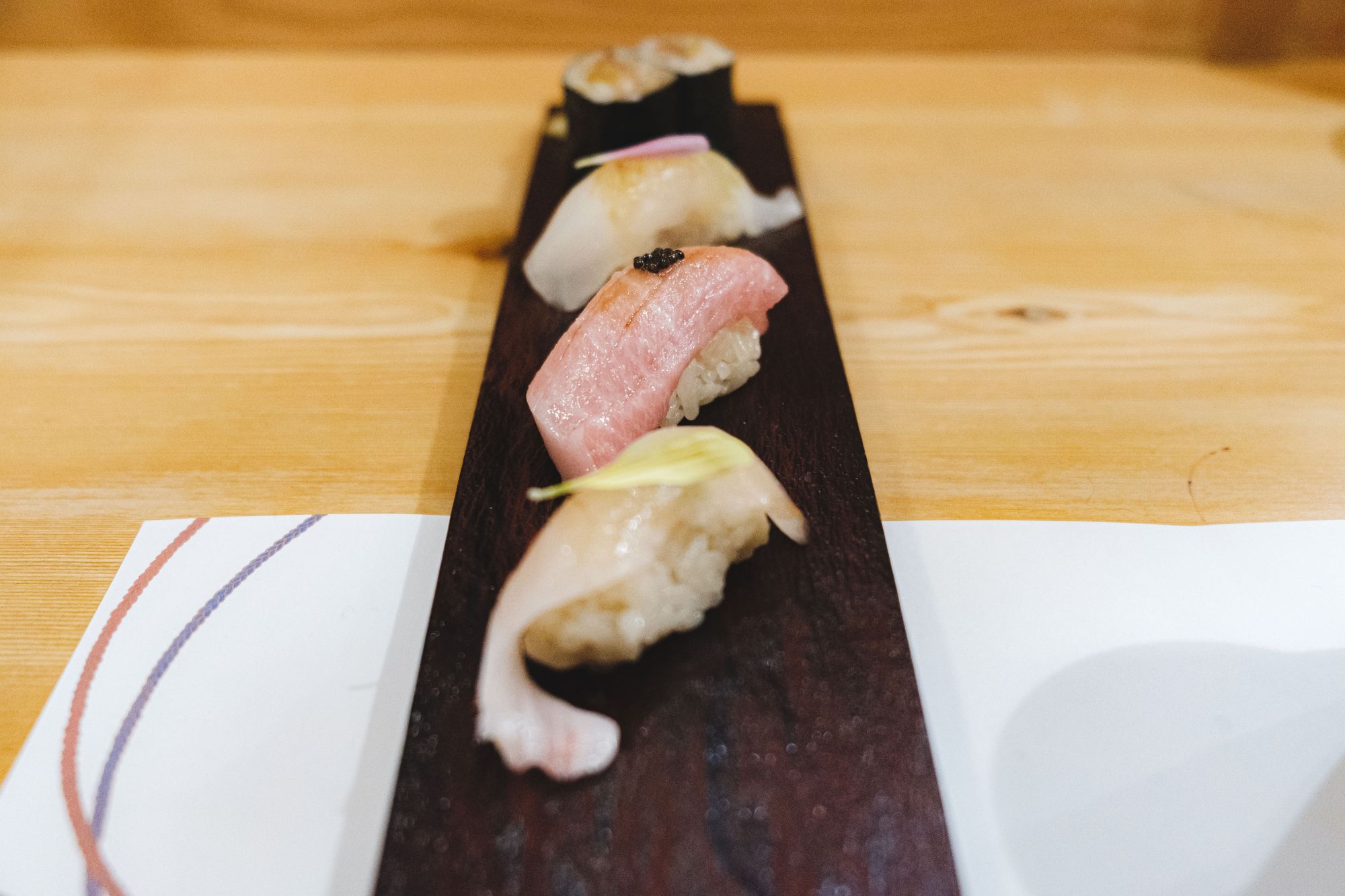 Omakase vs. Kaiseki:
First up I'll differentiate the two popular Japanese dining terms. In the strictest sense, omakase is when you completely leave it to the chef to guide your night and decide what to serve you nigiri based on the catch of the day and your reaction to each dish served. In Vancouver practice, this is really a set meal kaiseki-style that generally consists solely of sushi-related items.
Kaiseki is a multi-course meal set by the chef of the restaurant and meant to be a mixture of courses that are similar to a multi-course meal in a white tablecloth setting however there are 8+ courses and you're served a set meal no matter how hungry you are. You aren't limited to sushi and at Stem, only one or two courses can truly be considered sushi foods.
That being said, "omakase" is a much more brandable term in Vancouver that people associate with "top tier Japanese food", so while the menu refers to this being an omakase, it truly is a kaiseki meal.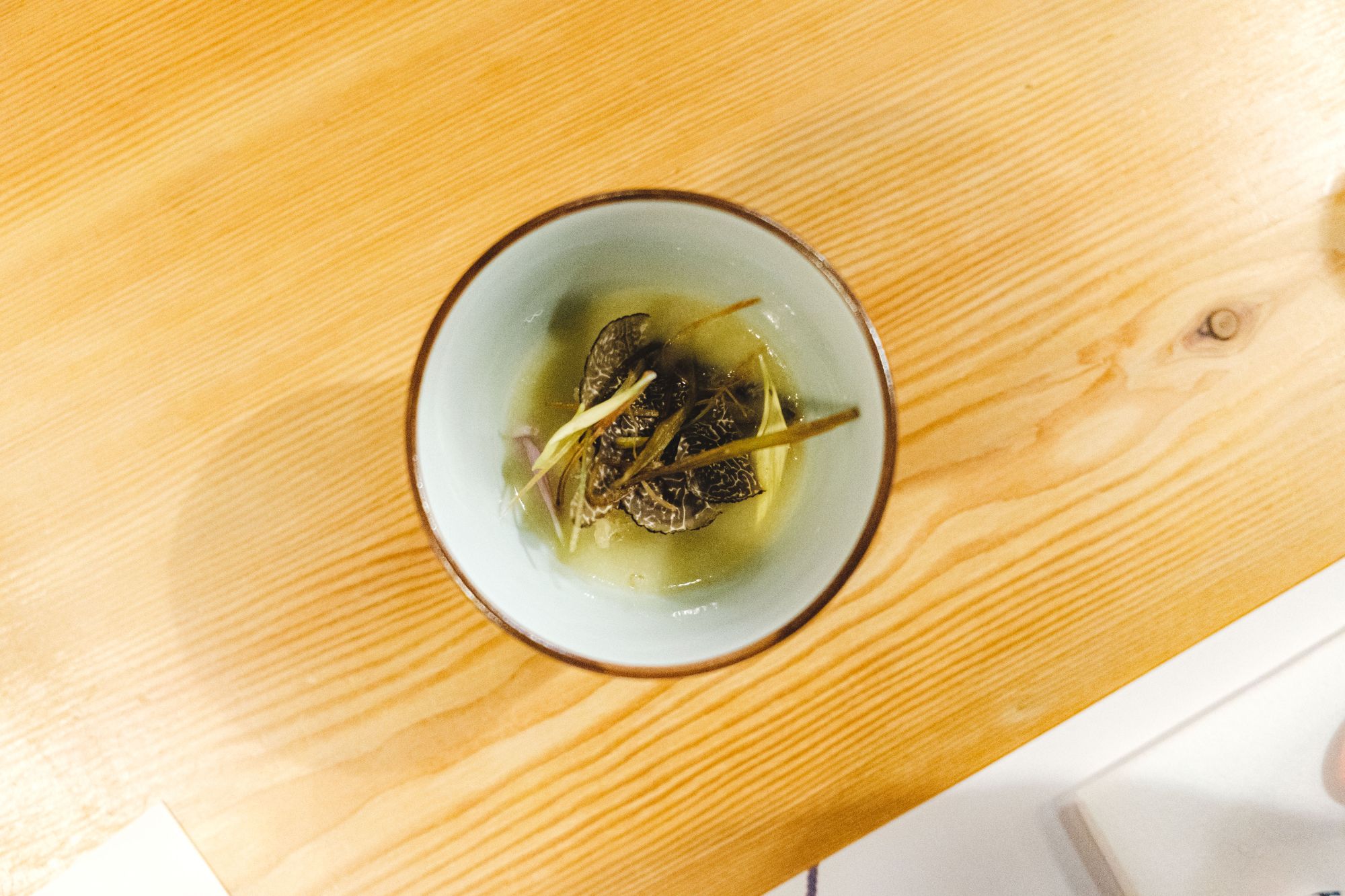 Food:
Team Domah came here for a Friday evening kaiseki (starting at $143/person) and I had a great taste of the following:
Sakizuke – Hokkaido Shirako
Mukozuke – Winter Buri, Kawahagi (thread-sail filefish), and Sayori (Japanese Halfbeak)
Owan – Hokkaido Scallop and Snow Crab
Hassun – Monkfish Liver, Sawara Mackerel, Bluefin Tuna, Koubako Crab, and BC Dungeness Crab
Mushi-Mono – Chawanmushi
Kuzushi – Miso Potage
Tome 1 – 3-Piece Nigiri Sushi
Tome 2 – Staub Gohan (+$12 additional charge)
Dessert – Shiratama Mochi and Persimmon, Yakiimo Ice Cream, and White Sesame Cheesecake Espuma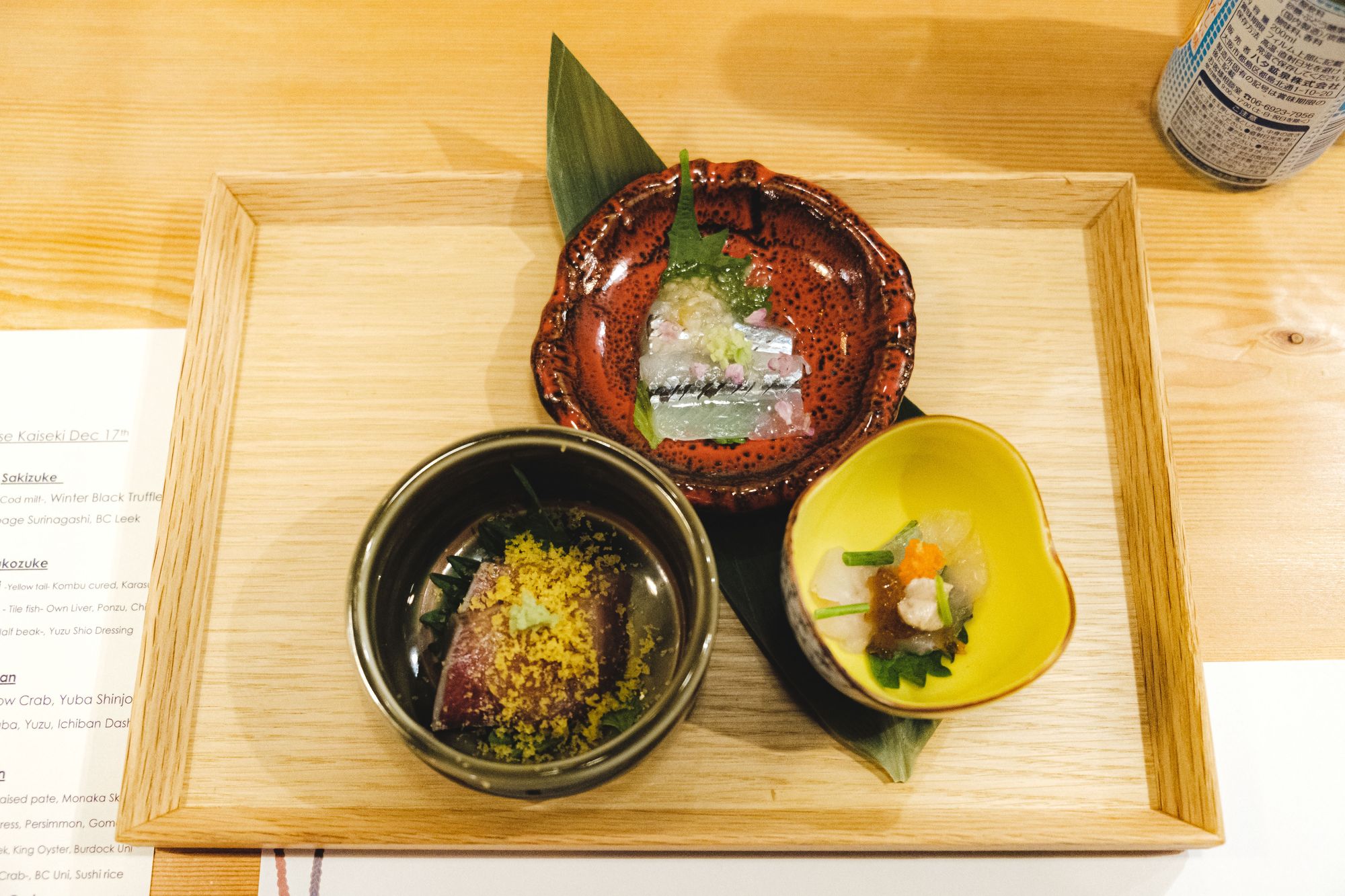 Notes on the menu:
The Tome course is 1 of 2 options. We opted for both options to experience it all and this came out to be an additional $12/person
The actual menu descriptions are much more eloquent (i.e. long) than what I've listed above but I'm trying to be succinct. I'll include a photo of the kaiseki menu for full descriptions below.
It doesn't feel right to describe in detail what every dish entails. In broad strokes, the details and presentation of each plate is meticulous. It's as if the chef's arsenal of culinary skills is sliced into different slices of a pizza and each slice is a different talent or method to tickle your taste buds until you get to the dessert.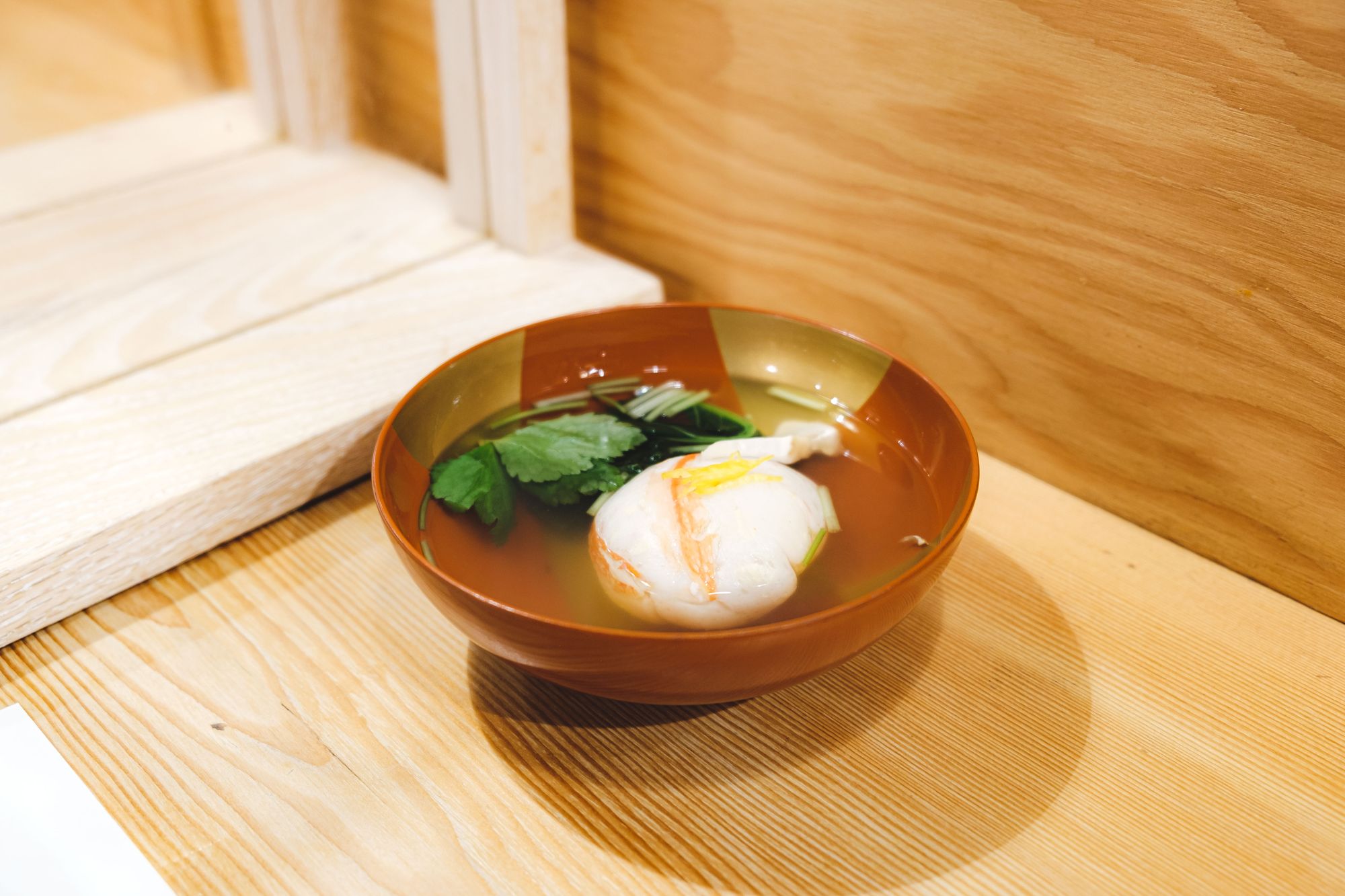 The ordering of plates matters in kaiseki. We began with the lightest of mouthfeel with cod sperm (milt) in our sakizuke (amuse bouche) and cresting with the deep body tones from the miso potage which was a locally-sourced wagyu beef cheek drowned in a hearty stew of miso-infused mashed potato. And if the shortrib wasn't bold enough, you can continue on with a hearty plate of nigiri sushi with some serious meat to them before finishing with a trio of small Japanese desserts like the yakiimo (baked sweet potato) ice cream.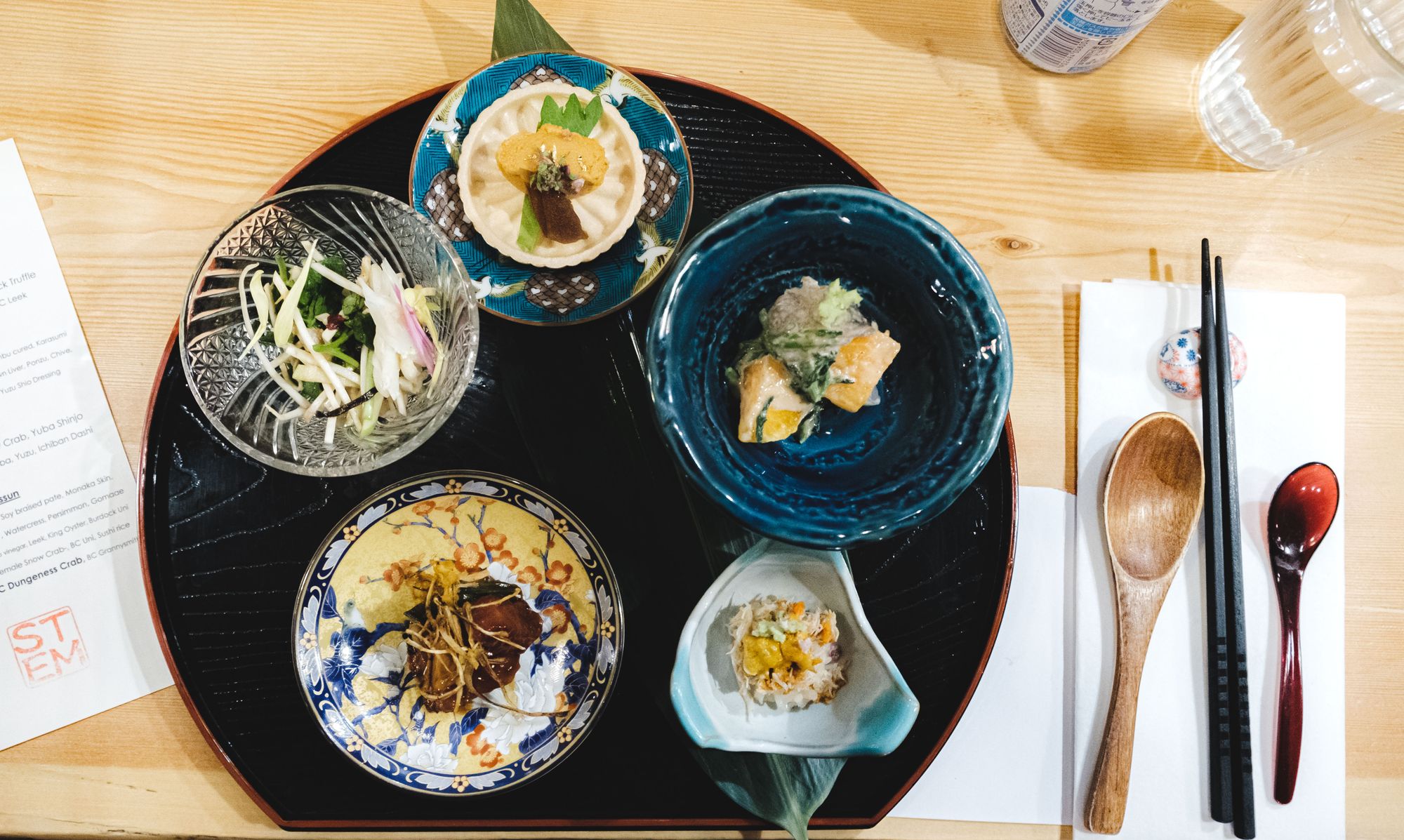 One thing that's a bummer is you don't get to know what the menu is ahead of time. The menu is finalized and printed on the day of and I'm unsure if substitutions are allowed. I was given an option on the phone while reserving to state allergies but not to state dietary preferences. The kaiseki meal has bluefin tuna on the nigiri sushi so you might want to adjust that meal setting in advance if you are reserving on the phone since you are expected to eat the thing once you're booked into the system.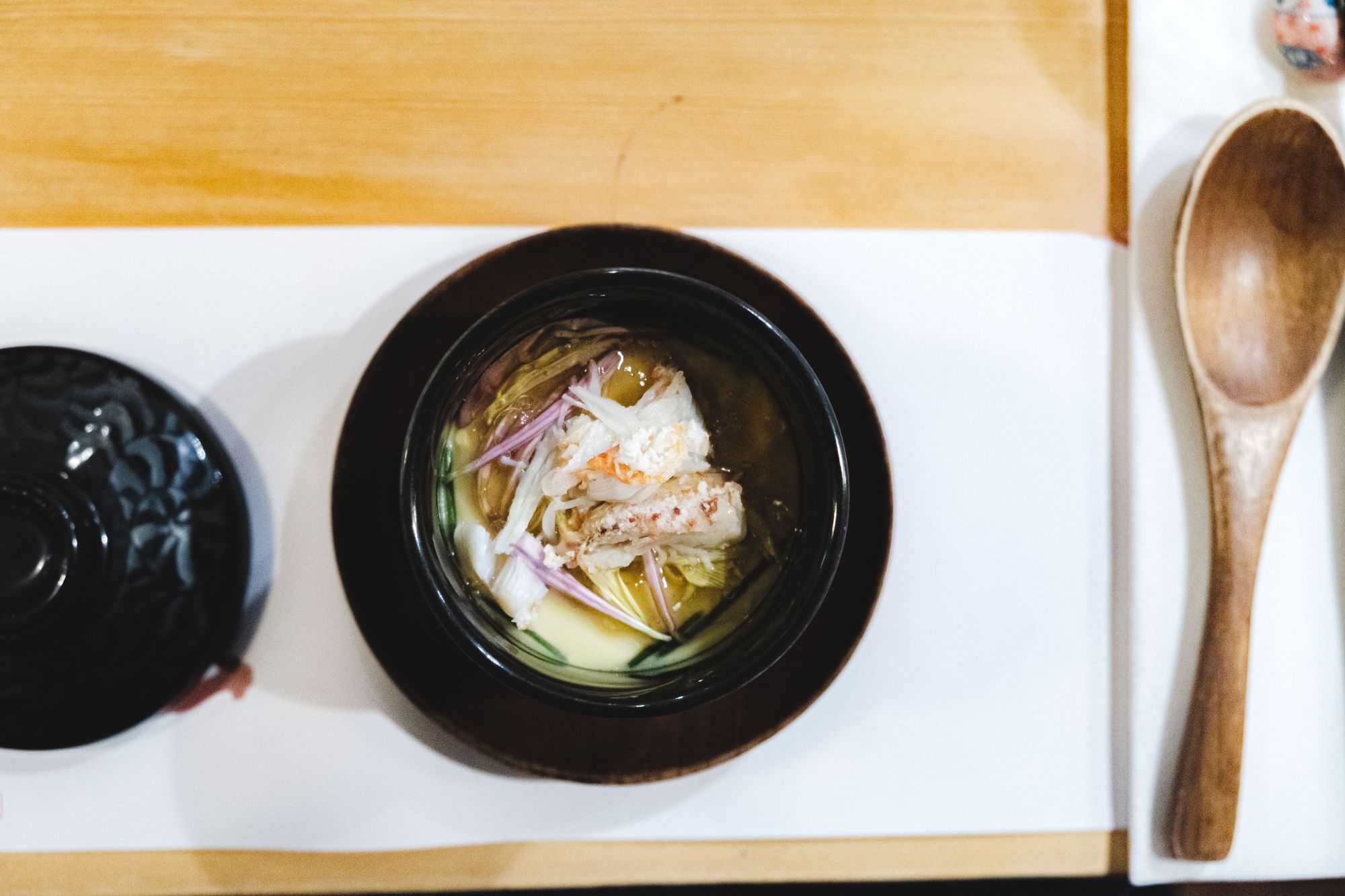 Of the things we received, it appears most are available on the regular menu which is a shame. The fish served is based on the catch of the day but I'm thinking chances are you could order the same fish a la carte if you didn't opt for the kaiseki meal. The only items that felt truly off-menu were the Hokkaido shirako (featuring black truffle!) and the Hokkaido scallop and snow crab soup.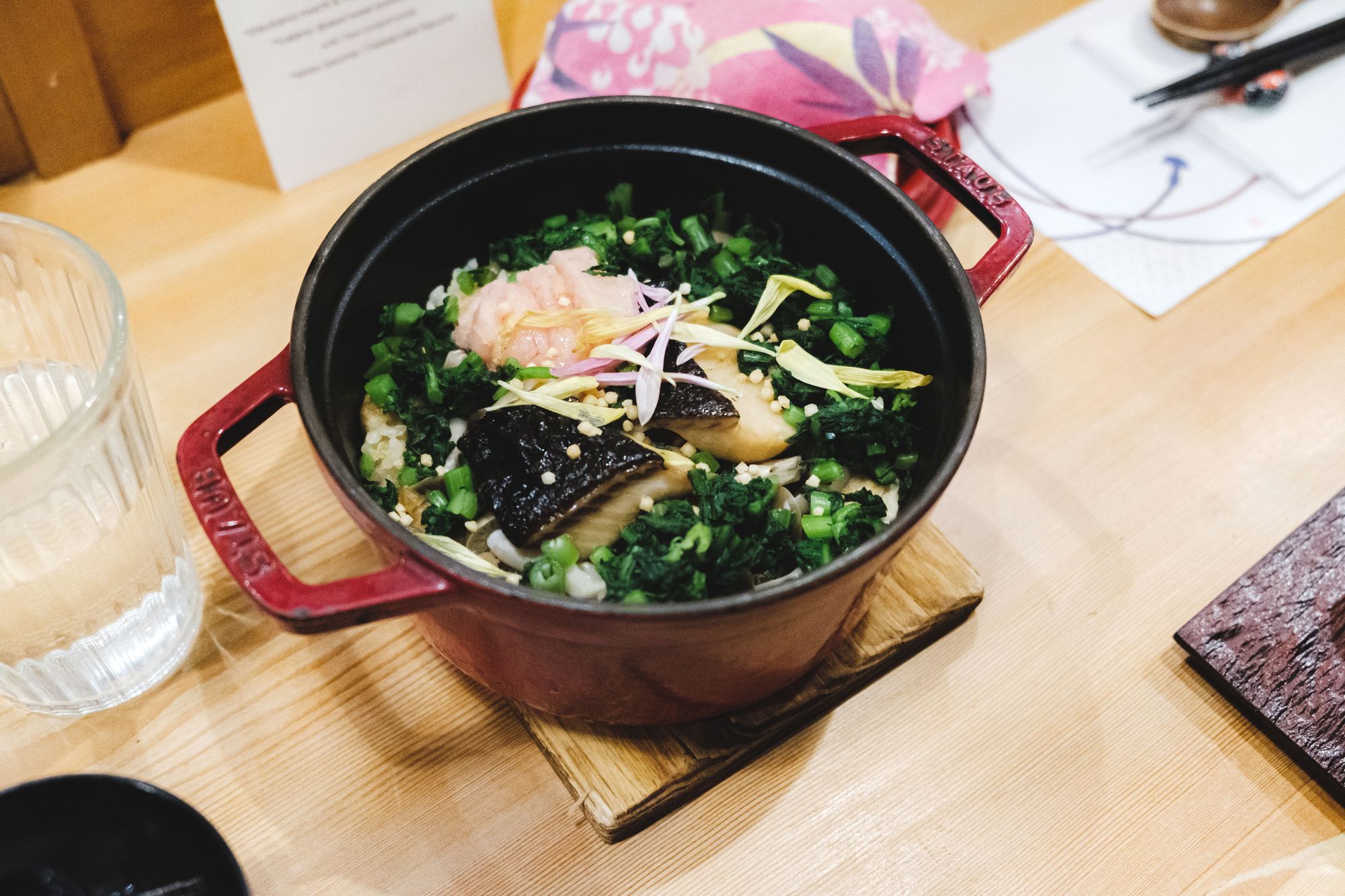 That being said, you're not doing a kaiseki in order to try everything at full-size. You're doing a kaiseki in order to try many items, and here at least it seems there are a fair number of items that you can't get from the a la carte menu – something you can't say about Tetsu Sushi Bar. I left this meal feeling very full and as if I had been put through a symphony of different flavours. If I had to pick a favourite course it would be the chawanmushi which was served extra hot and was a beautiful blend of egg custard, mushroom, and prawn. This is actually on the regular menu so you don't need to opt for kaiseki if you just want what I liked.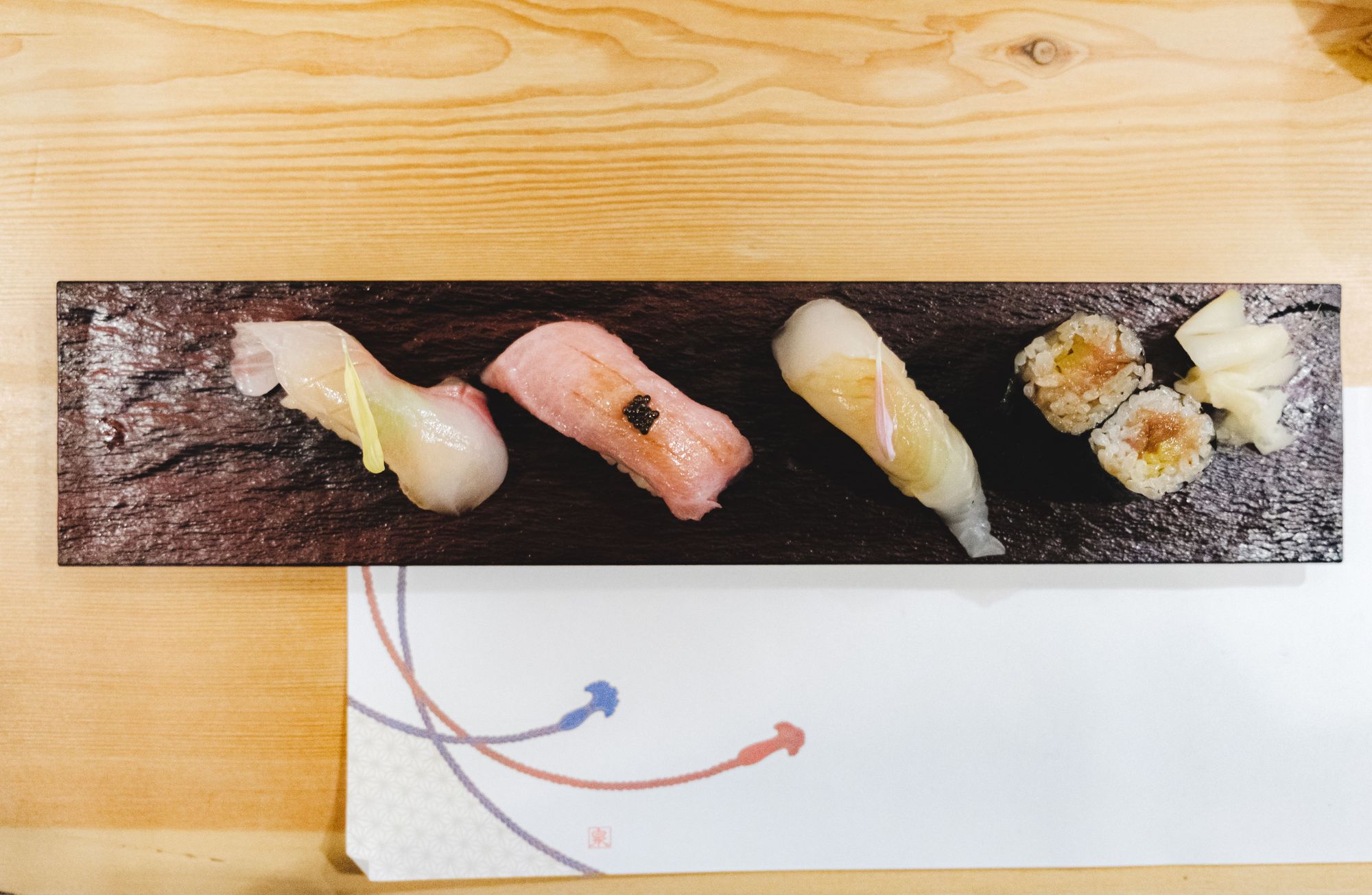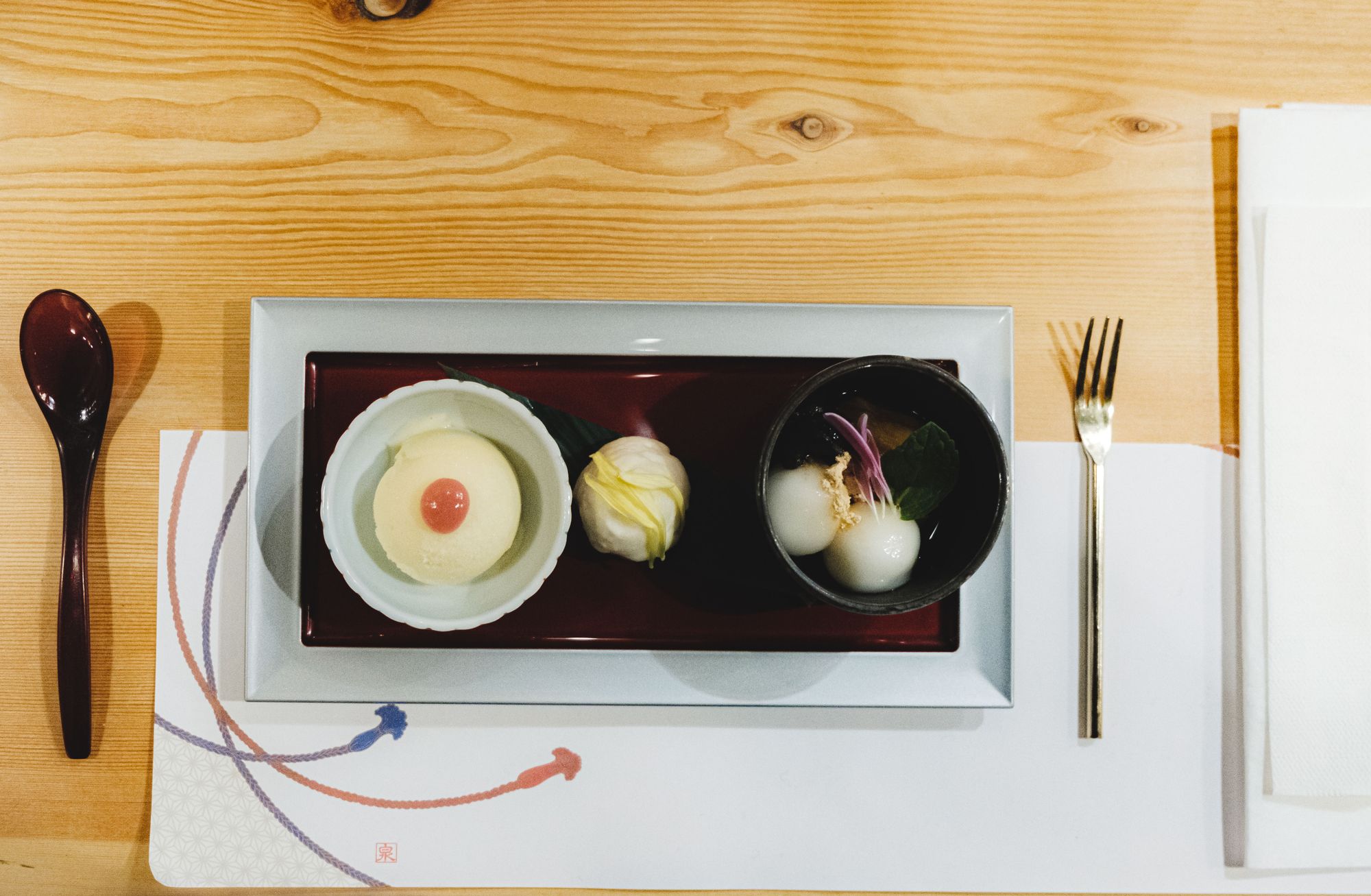 Features:
The interior of Stem Japanese Eatery is very homey. Wooden beams and tiny decorations line the medium-sized restaurant giving it a cozy and intimate feeling. The counter and much of the seating has separation in the form of plexiglass but otherwise capacity hasn't changed here. There is seating for about 60 guests and if you're into Christmas, boy are they into it too.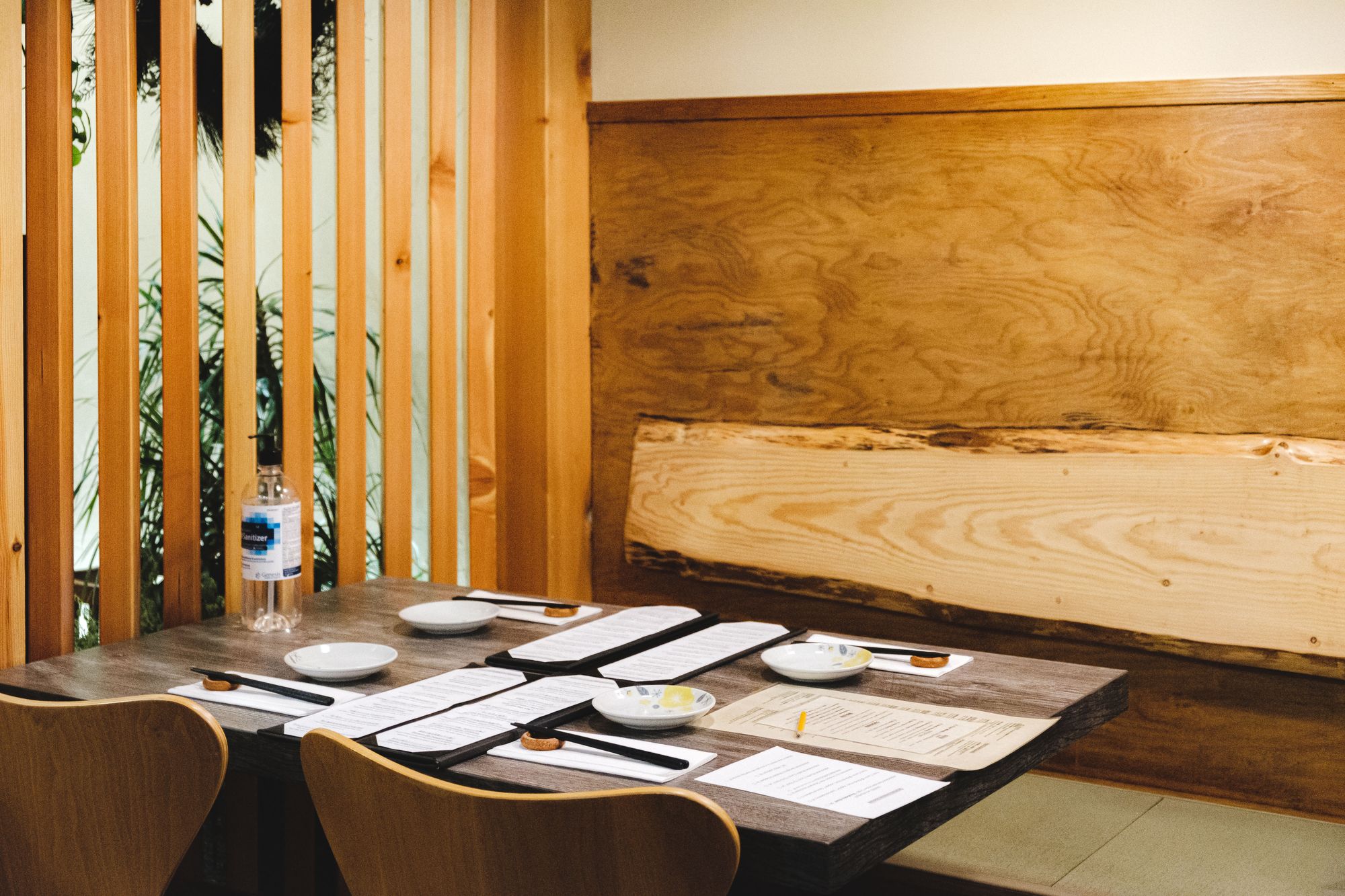 Service:
It truly is a team effort at Stem Japanese Eatery. In the kaiseki experience, each course is brought out to you and cleared out, leaving behind only the cutlery prepare for your meal. There were courses where I was deliberately a little slower in eating yet I could tell I was being coddled by the staff because moments after I finished, someone would come take away our plates and moments later arrive again with the next course. I guess what I'm saying is in addition to the plethora of food you're trying in your kaiseki meal, you're also treated like a 1st class citizen. I'll have to find out if this affects service for non-kaiseki meals.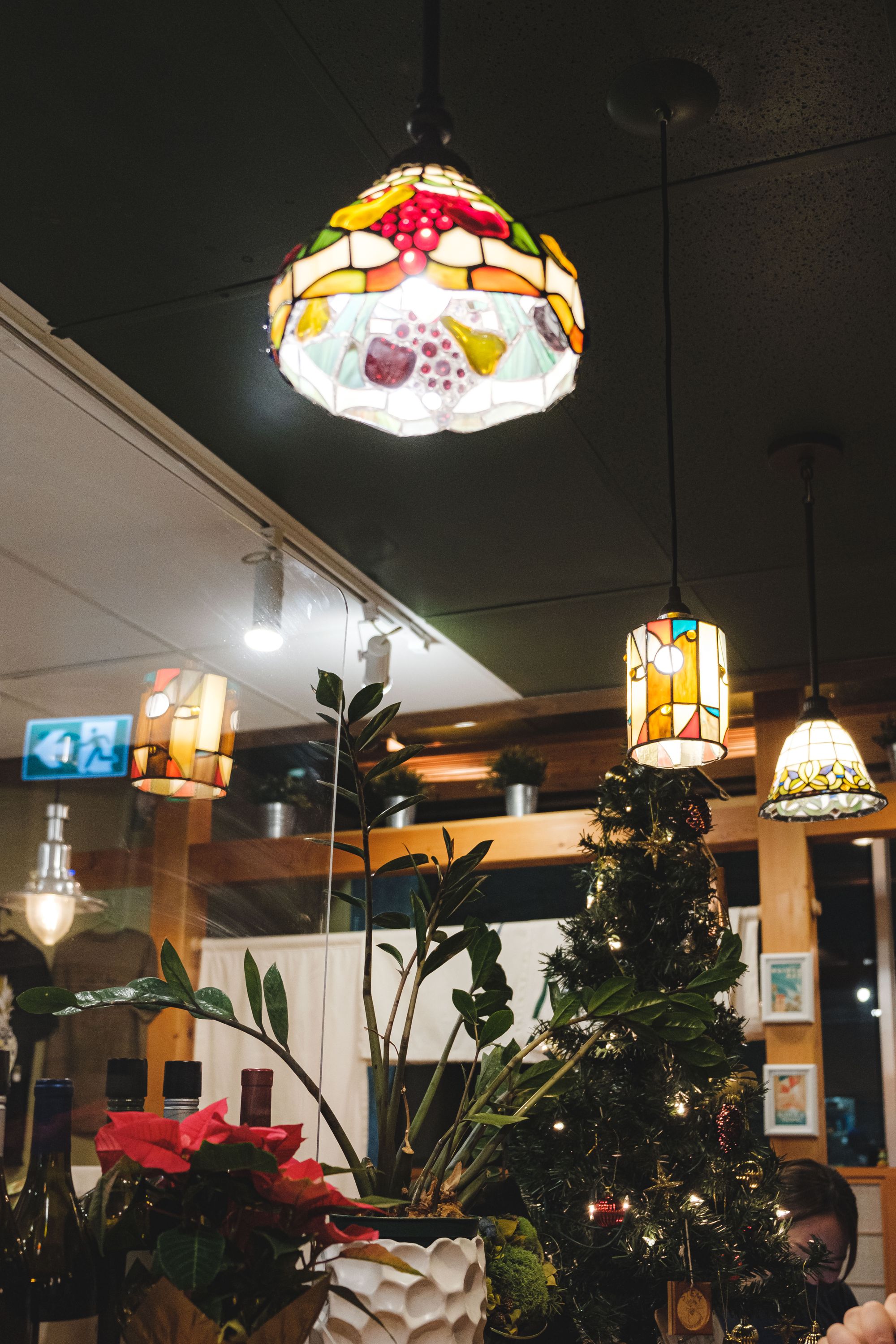 There are only 12 seats a night available for kaiseki and it's only served Wednesdays through Saturdays. If you want a spot, you have to call ahead and offer up your credit card so that they ensure your commitment. I got really lucky reserving the last spots on a Friday night just a few days prior but it was stressful. There's definitely a secret spot that locals know about in Burnaby for Japanese kaiseki and I'm honoured I got to experience it for myself too.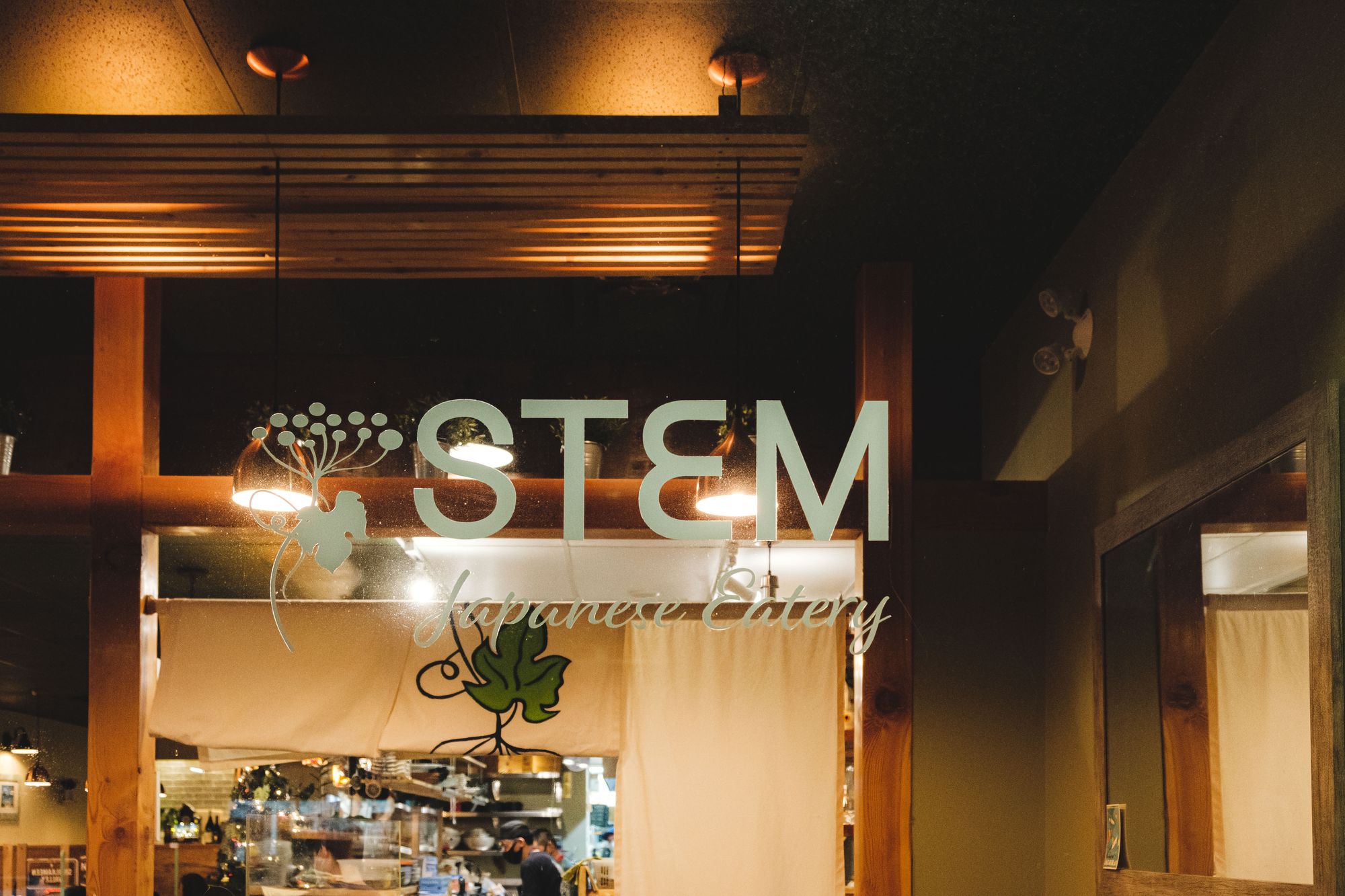 Final Thoughts:
One-liner: Burnaby's best kaiseki/omakase experience is also one of the tastiest I've ever been to in Greater Vancouver that performs creative twists you can't get just from the a la carte menu
Highlight: Chawanmushi
Price per person: $150-$170 for kaiseki/omakase
Would I go back? Yes.