In the span of 2 years, Vancouver has almost doubled its number of steakhouse franchises. What was once just Hy's, Gotham's, Black & Blue, and The Keg, added The Victor to the list, and now Elisa in late 2018. To celebrate Valentine's Day a couple of weeks ago, I made a reservation at this new steakhouse ready to empty my wallet for the full Elisa experience which I'm ready to share with you all today.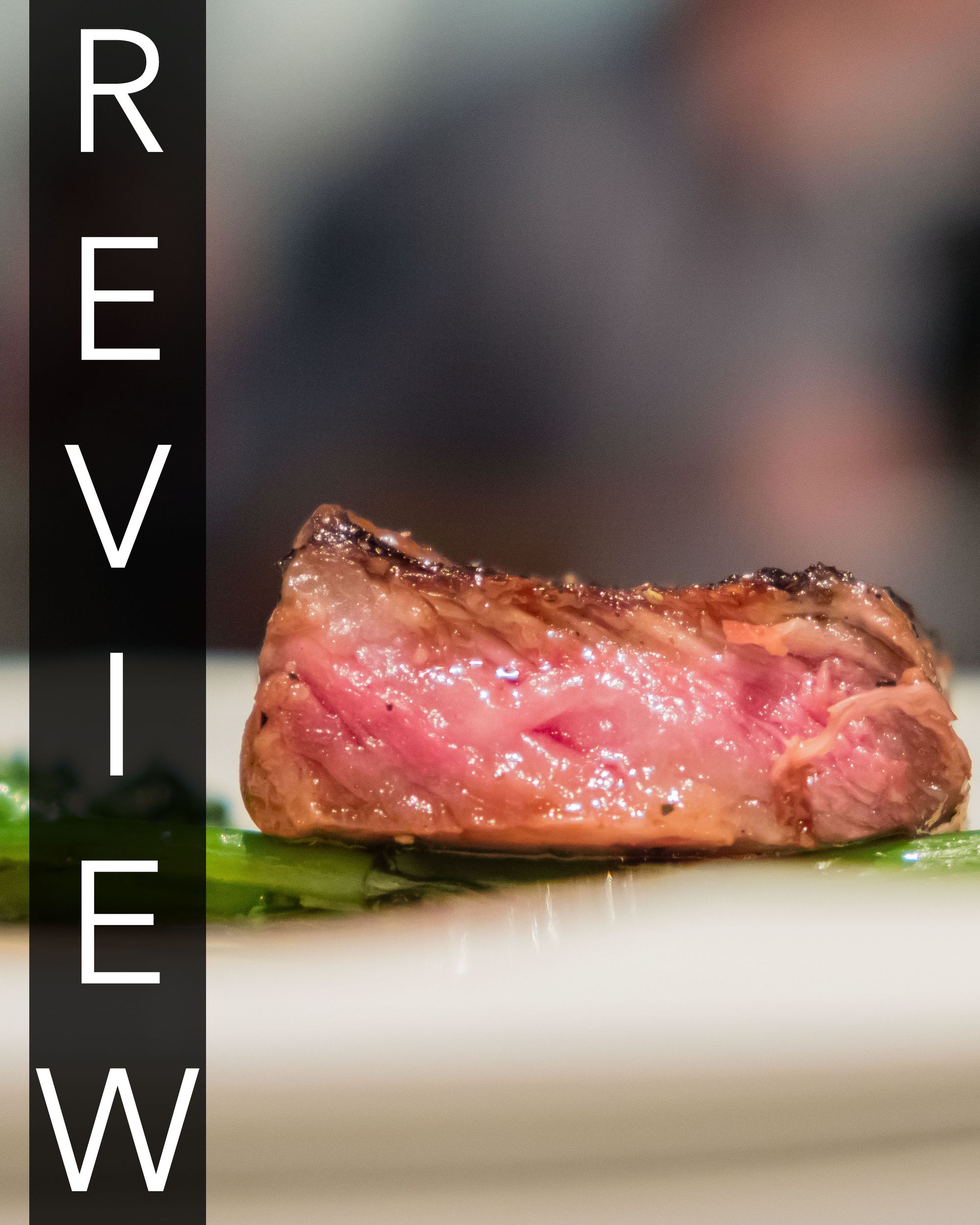 Food:
Team Tastic came here for a pre-February 14th dinner and I had a great taste of the following:
Alaskan King Crab 'Robata Style' ($30)
Crispy Cauliflower ($26)
Fries - 3 Times Cooked ($12)
Mushroom Risotto ($13)
Holstein Dairy Cow (Wisconsin, USA) Ribeye (12oz for $58)
A5 Tenderloin (Kagoshima Prefecture, Japan) (2oz for $58)
Baked Alaska ($20)
Like any reputable steakhouse, dinner starts with some house bread. The sourdough tasted fresh and had a good chew on the crust. There were large air pockets in the sourdough that created some anxiety over bread density but I used that as an opportunity to layer more house-smoked butter (which was delicious, by the way), onto the bread which I could then dip into the olive oil served with the butter.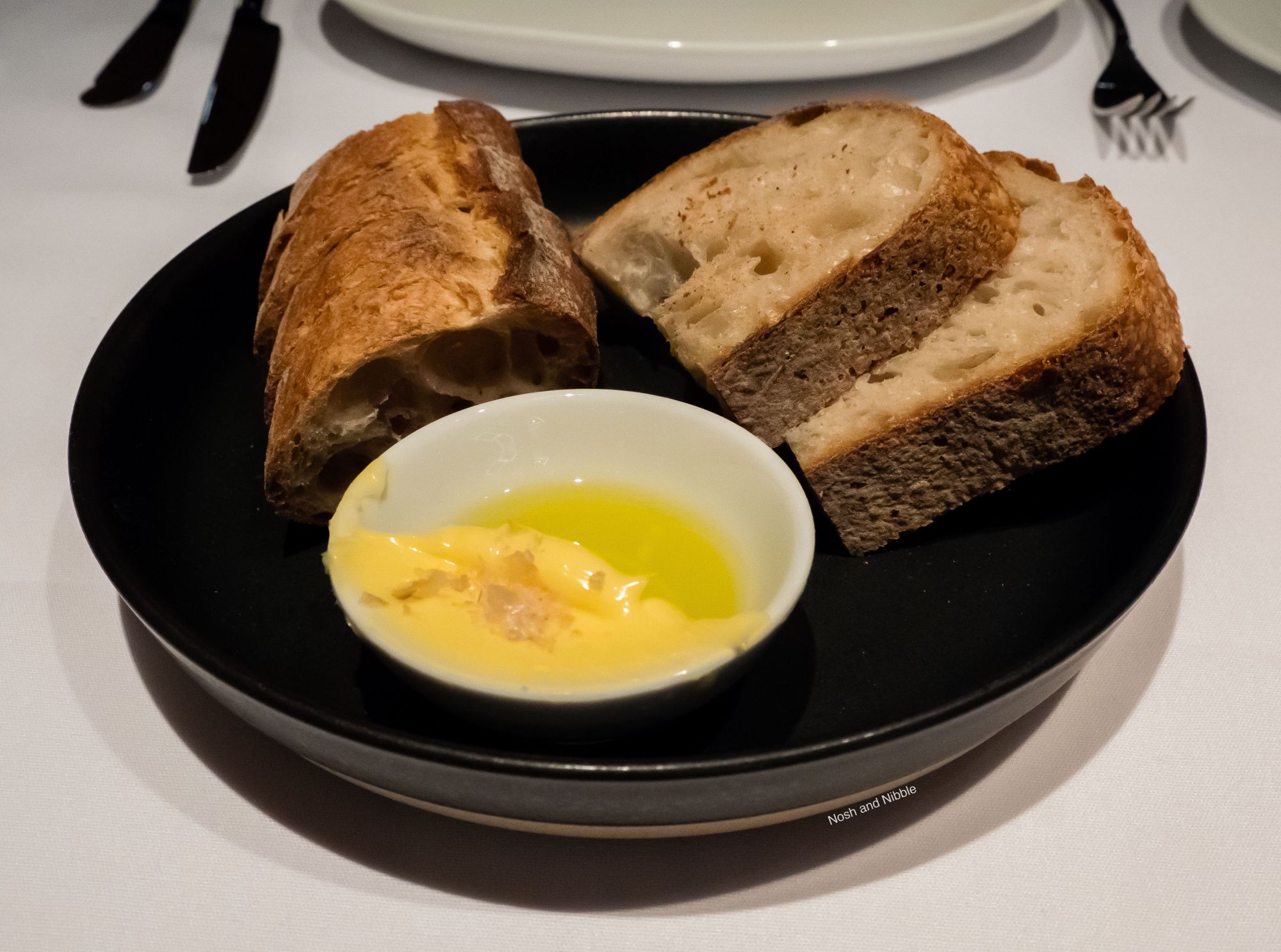 The Alaskan king crab was our choice of starter and this was a 'robata style' skewer grilled over burning coals, seasoned with rayu (Japanese sesame oil), and served with a mix of chickpea, coriander, and olive oil. The skewers of king crab were as thick as I'd seen any king crab and de-shelled which was perfect for enjoying on a skewer. The chickpea hummus was pretty out of this world with the addition of the rayu seasoning on top. This appy might be exclusive to Elisa because I don't remember seeing it at The Victor or at Hy's.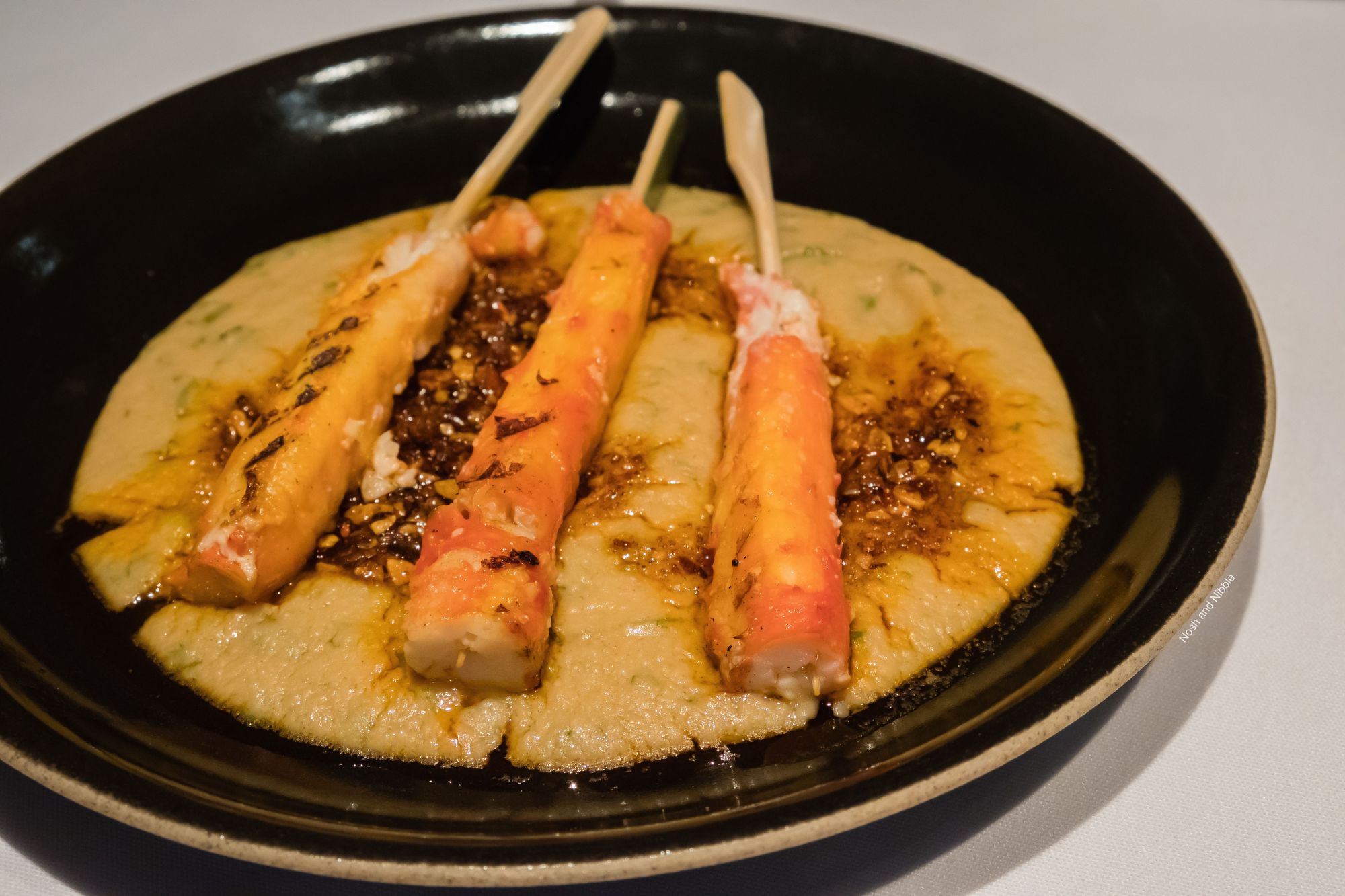 We are a happy cauliflower couple so it was no surprise that we ordered the crispy cauliflower too. This was seasoned with chermoula (Middle Eastern marinade) and sumac and served with farro verde, root vegetables, and hubbard blue squash. The menu also mentions soba with citrus butter, but I really didn't see that happening on our plate and didn't realize what I was missing until I started writing this review. Was the soba mixed in with the farro?
In any case, it doesn't really matter because the best thing about this dish was not the cauliflower, but the smooth hubbard squash. I could swirl either the cauliflower or farro in and it would taste great. The cauliflower though is not what I would describe as "crispy". It had a nice glaze which made for a tasty bite in each chomp, but there was no batter to speak of or deep-frying action to have it fit in my definition of crispy. For those who are fans of the Korean Fried Cauliflower à la Heirloom, you may temper your expectations now.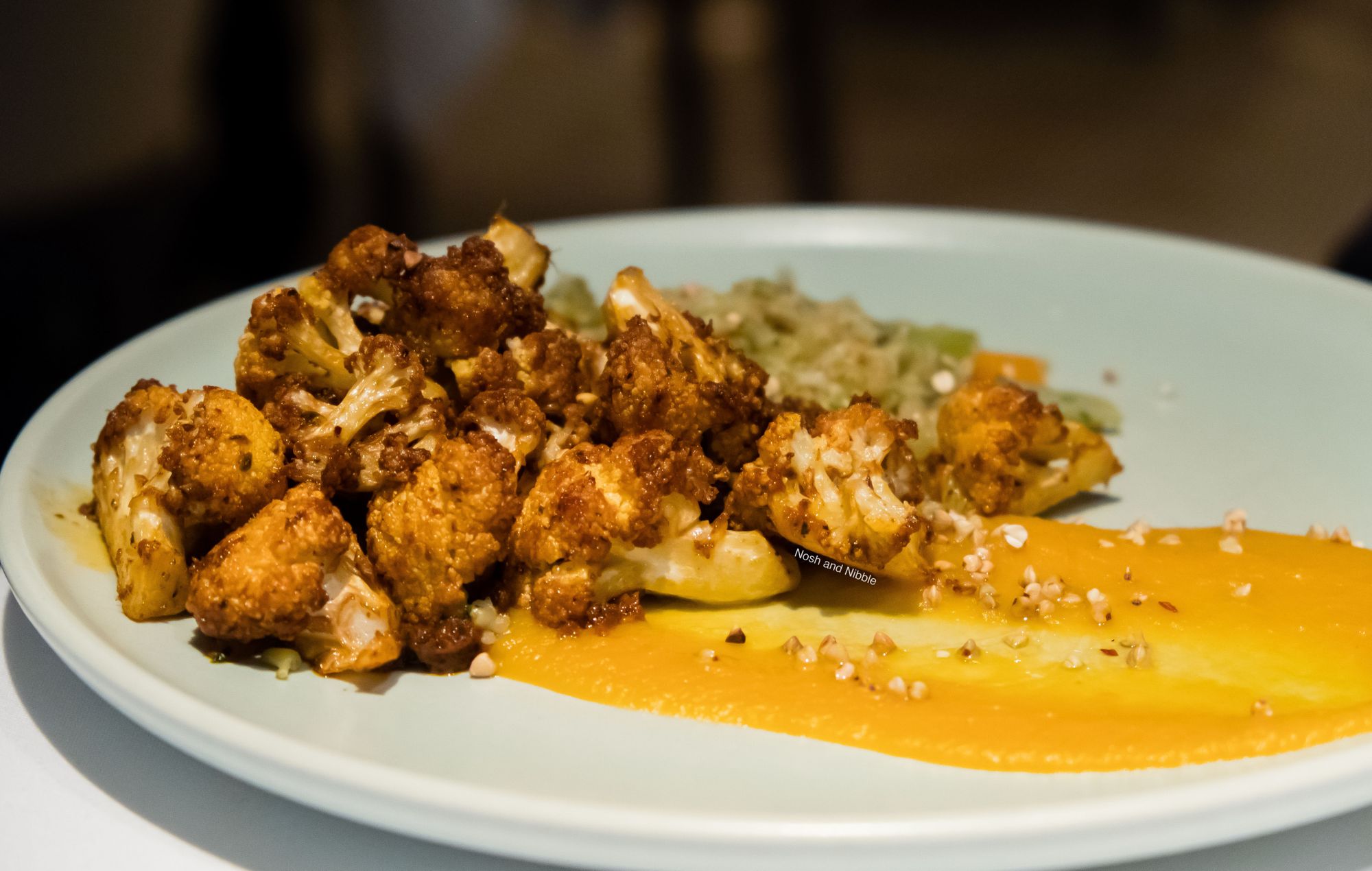 Moving onto the sides, our first choice was the fries - 3 times cooked. After having the impossibly-huge triple-cooked fries from The Victor, expectations were high for the Elisa take. Unfortunately, these fries came out looking lifeless, at times soggy, and a huge ask for $12. There was a nice garlic aioli on the side but each fry was pretty greasy so it wasn't always the best mix. If I could take back this $12 and pay for the $10 triple-cooked fries at The Victor (you should just check them out regardless), I would. For the fry fans, ordering fries at Elisa is not the move.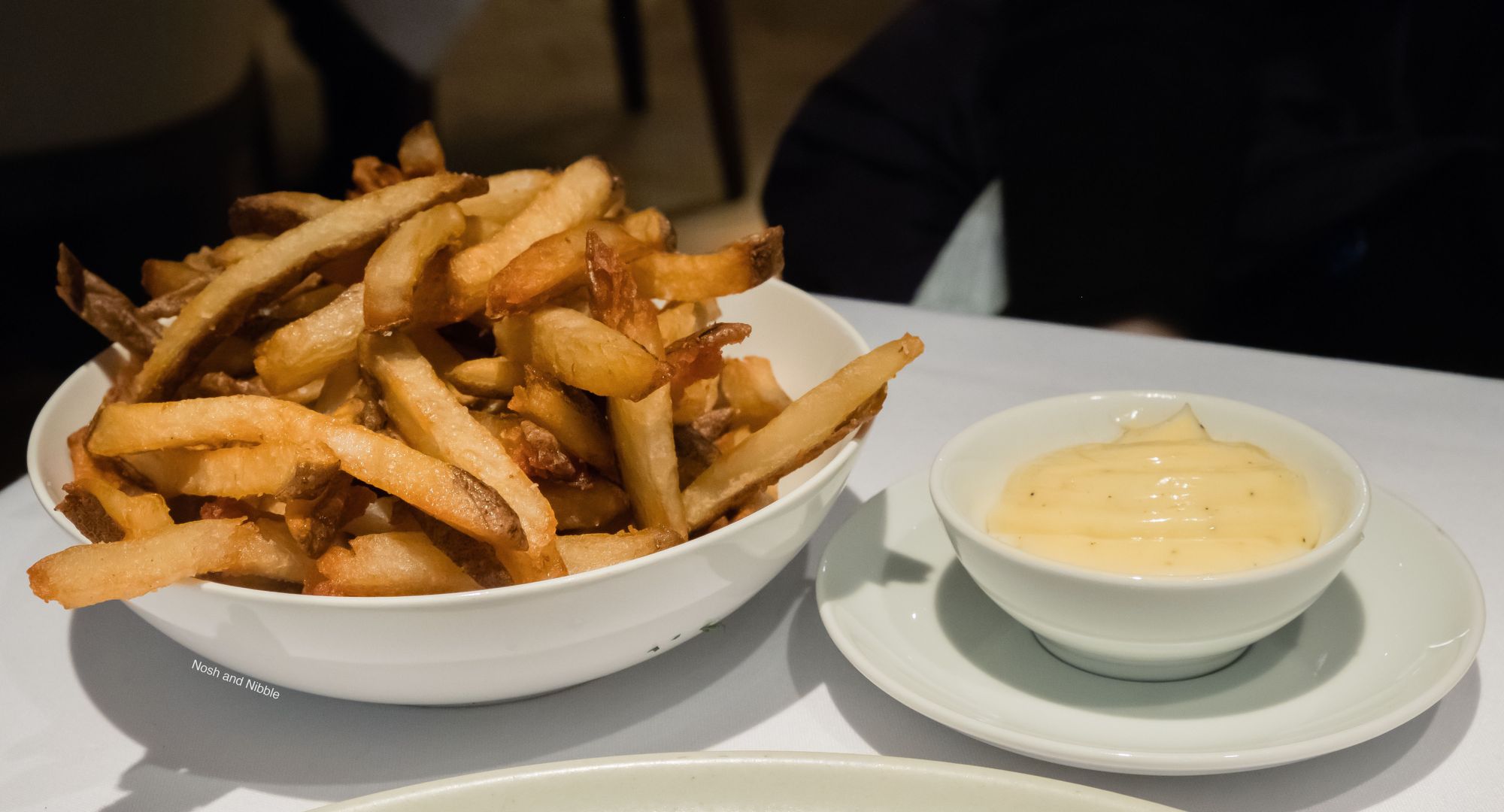 One side that was great though was the mushroom risotto. Coming in as a hefty serving (perfect for 2 to share or arguably a greedy single person's lunch), this was a thick and hearty bowl. Each spoonful had a generous supply of mushroom and the risotto had an excellent consistency in each grain. If all the sides are this good, Elisa could bill itself as a sides destination. Too bad the fries left so much to be desired though (I could re-live the triple-cooked fries from The Victor over and over again).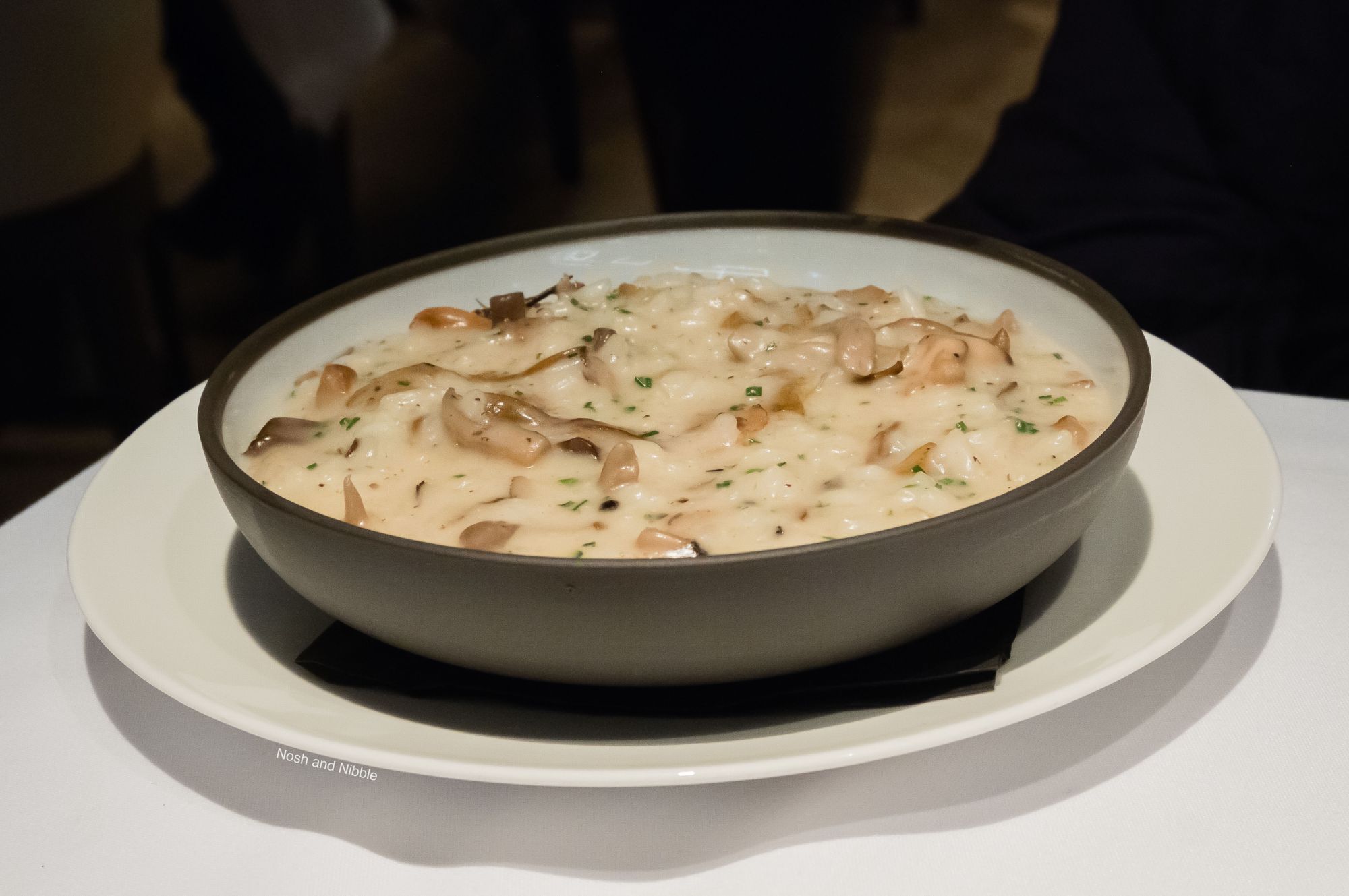 Let's talk about some steaks. The selection at Elisa is huge, but the staff were prepared to answer questions like which was the most popular options and the different qualities of the farms the steaks were sourced from. Our first steak of choice was the Holstein Dairy Cow (Wisconsin, USA) Ribeye, ordered medium-rare.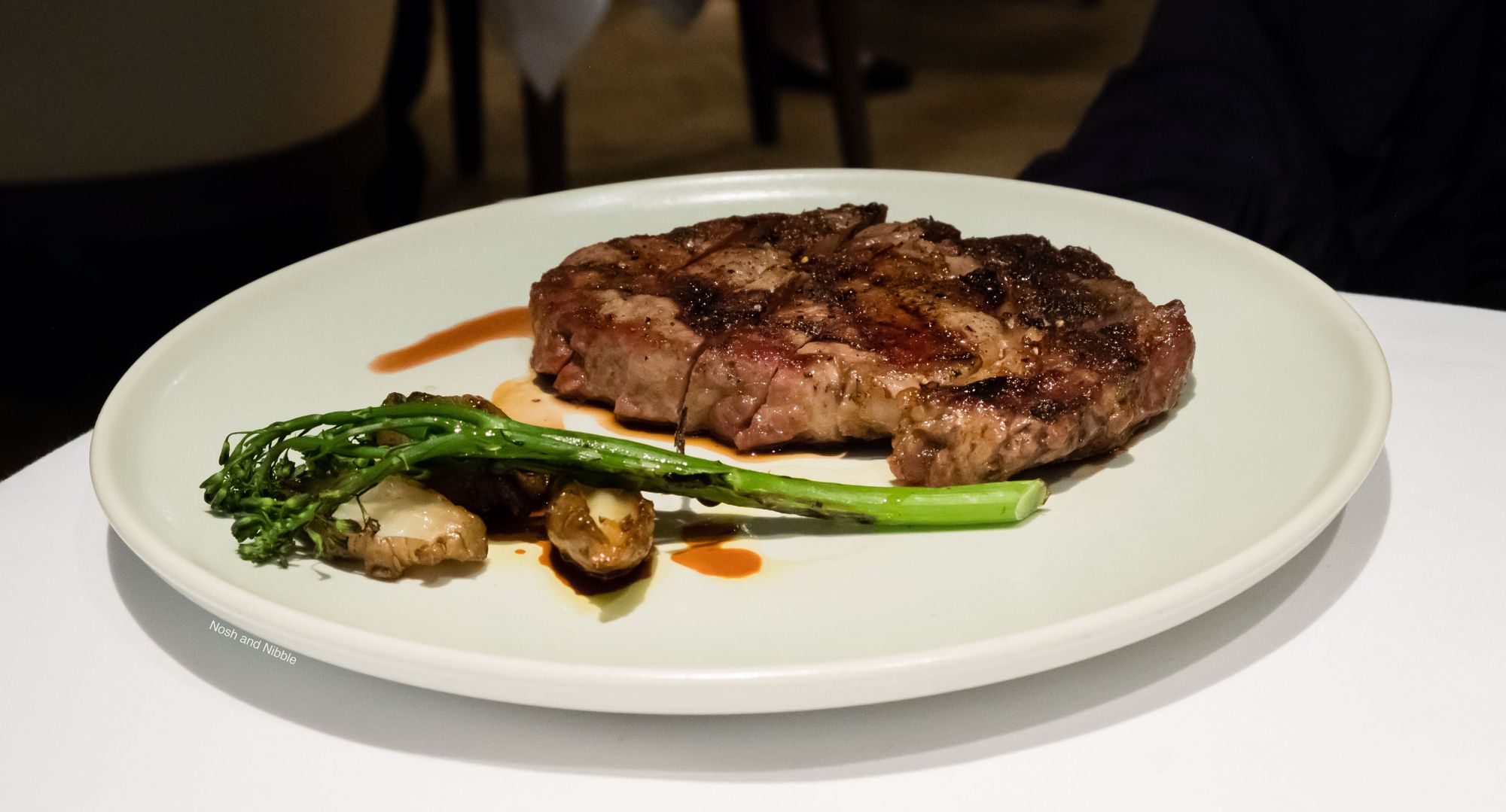 On first glance, this was a well-charred steak served with the usual suspects (in this case, broccolini and sunchokes). This steak had a juicy and whole flavour but looked a little closer to medium than medium-rare (I'm not a steak expert). I thought this was expected due to the relatively thin profile of the steak, but the A5 that we ordered next proved me wrong. This seemed pretty medium though like any good ribeye, featured strong chunks of fat to keep the steak taste within its own juices.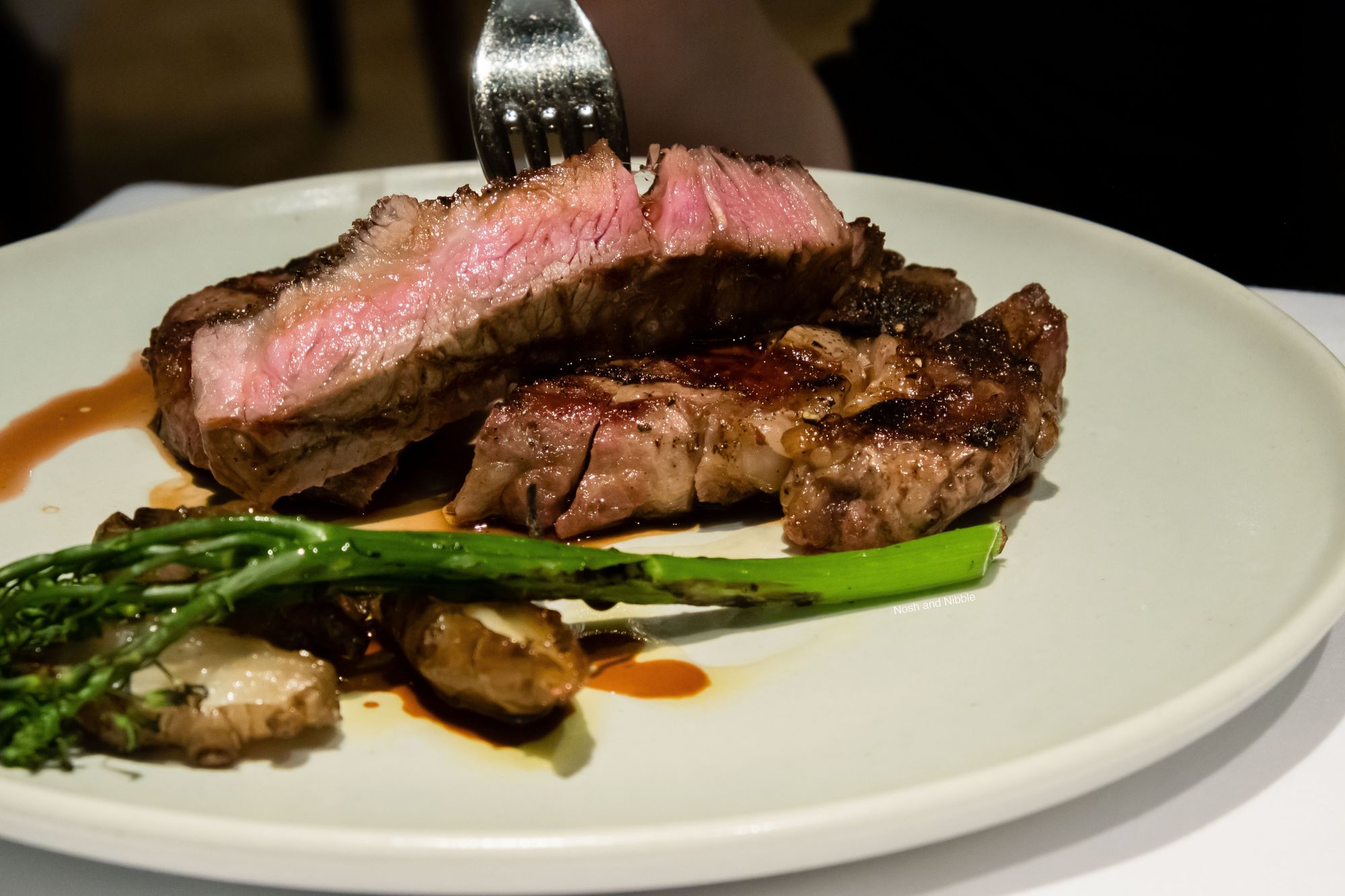 Not wanting to miss an opportunity, we also ordered an A5 Tenderloin (Kagoshima Prefecture, Japan), cooked to medium-rare. Oh man, was this a treat. They say A5 in Japan is the highest designation a piece of beef can receive (point of information: A4 is inferior, A6 doesn't exist today). I trust the Japanese to have a detailed grading system and it turns out the A5 score must be decided by an entire panel of judges.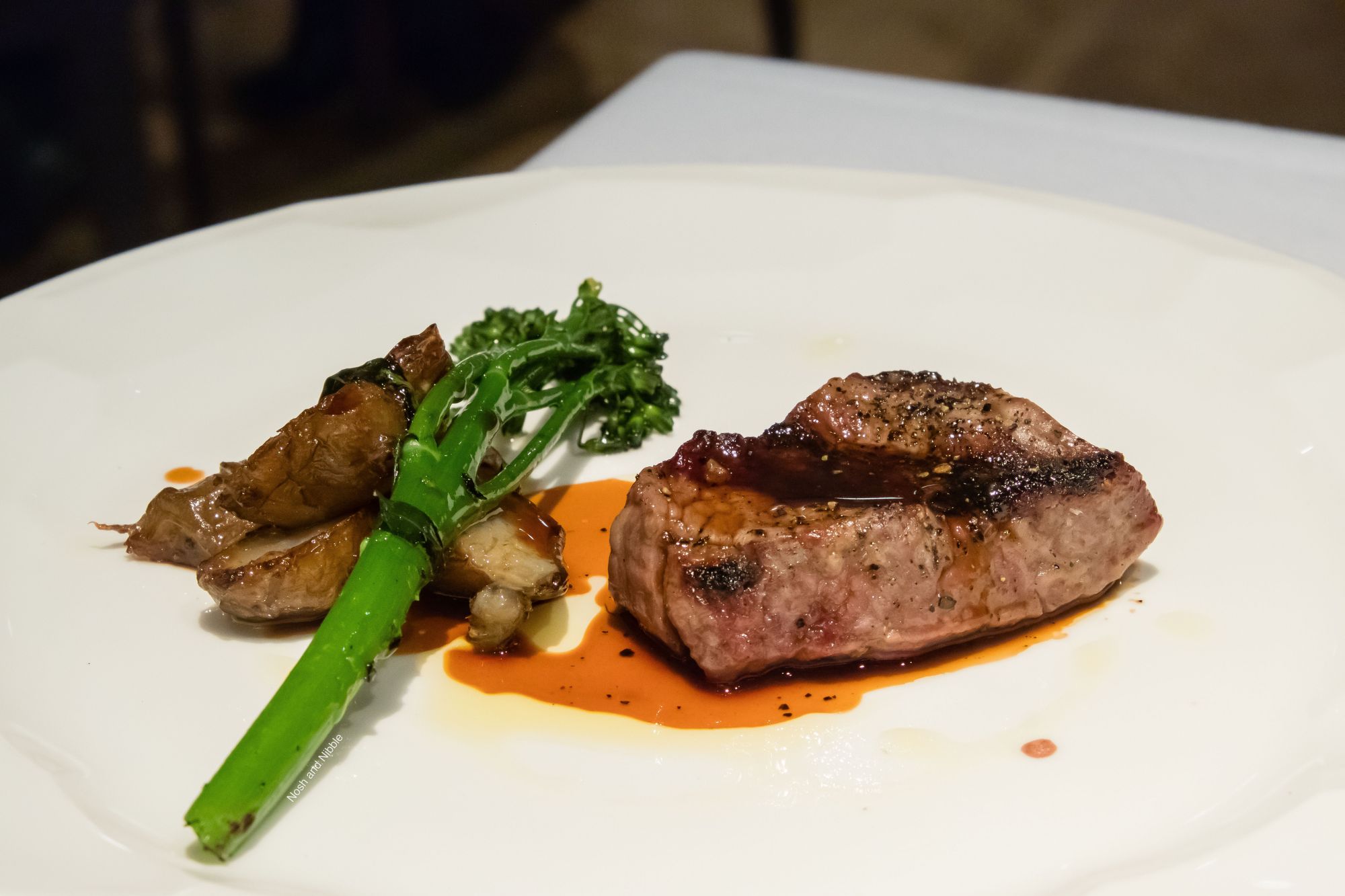 The A5 Tenderloin we ordered came with the same usual suspects but this time I was 100% positive this was cooked to medium-rare. This had an innate butteriness and nuttiness that not found in the ribeye from up above. The two steaks we ordered cost the same amount of money, but the real joy was in the A5. If you could only afford a few items at Elisa, I say splurge as much as you can on it and fill up on the mushroom risotto side. All the fat contained within the A5 steak makes it an out-of-this-world experience!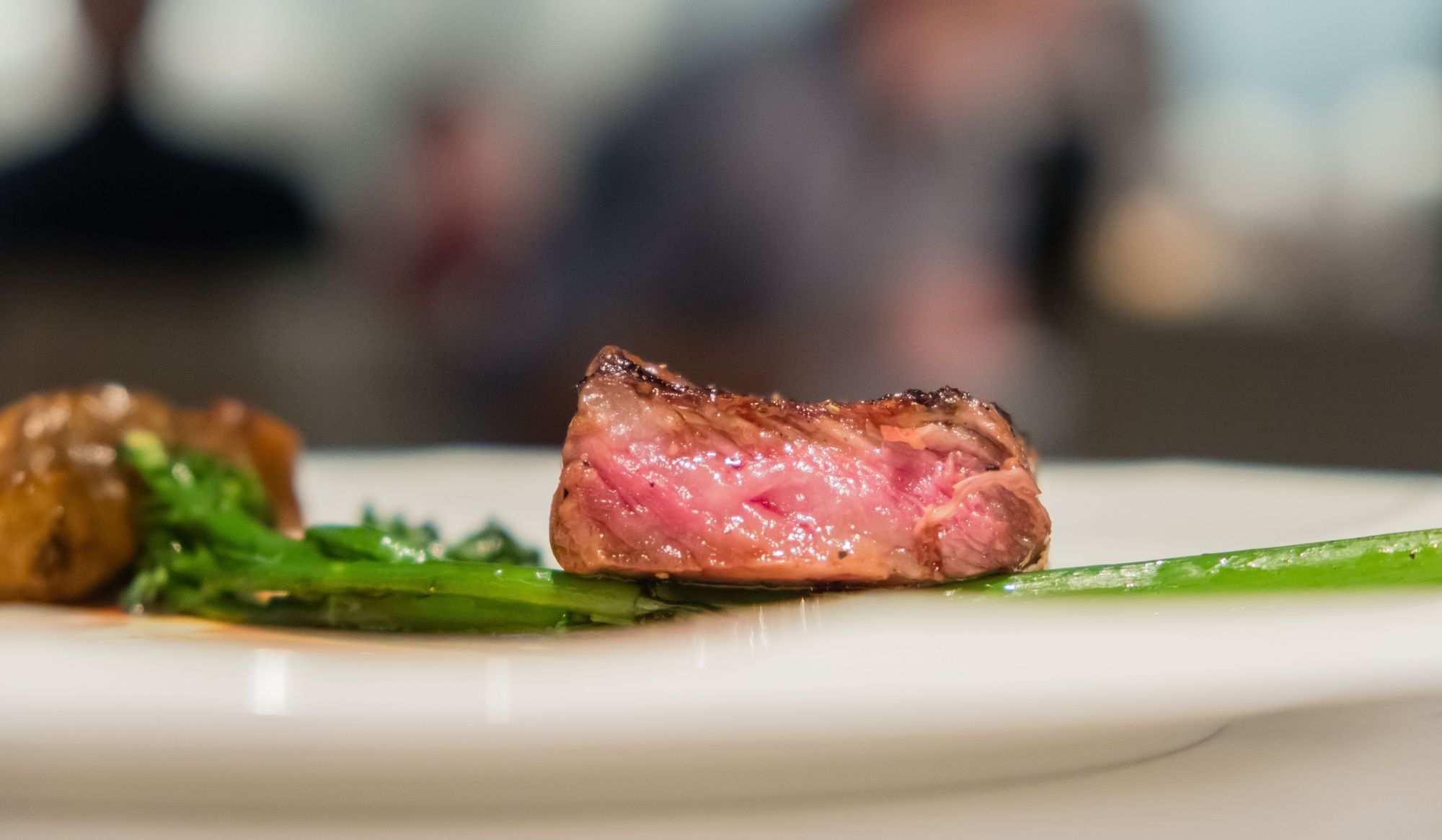 A note on both steaks. Despite the restaurant billing itself with a wood-fired stove, I can't say I tasted much smokiness in the meats here. There was probably more smokiness in the butter than the actual steaks. Not a huge deal, in my opinion, but the smokiness might be more marketing buzz than an essential part of the process at Elisa.
Moving onto dessert, we had the baked Alaska which came with caramelized banana rum ice cream, browned butter cake, peanut butter cremeux, banana puree, and candied peanuts. At $20, this is pretty much the highest echelon of dessert you can have in a Vancouver restaurant. Ingredient-wise, I don't think this was too game-changing but it certainly looked pretty. The best part was the browned butter cake which was best enjoyed by cleaving through the meringue and ice cream.  After having the A5 though, maybe skip the dessert and cram another 2 ounces into your A5 order.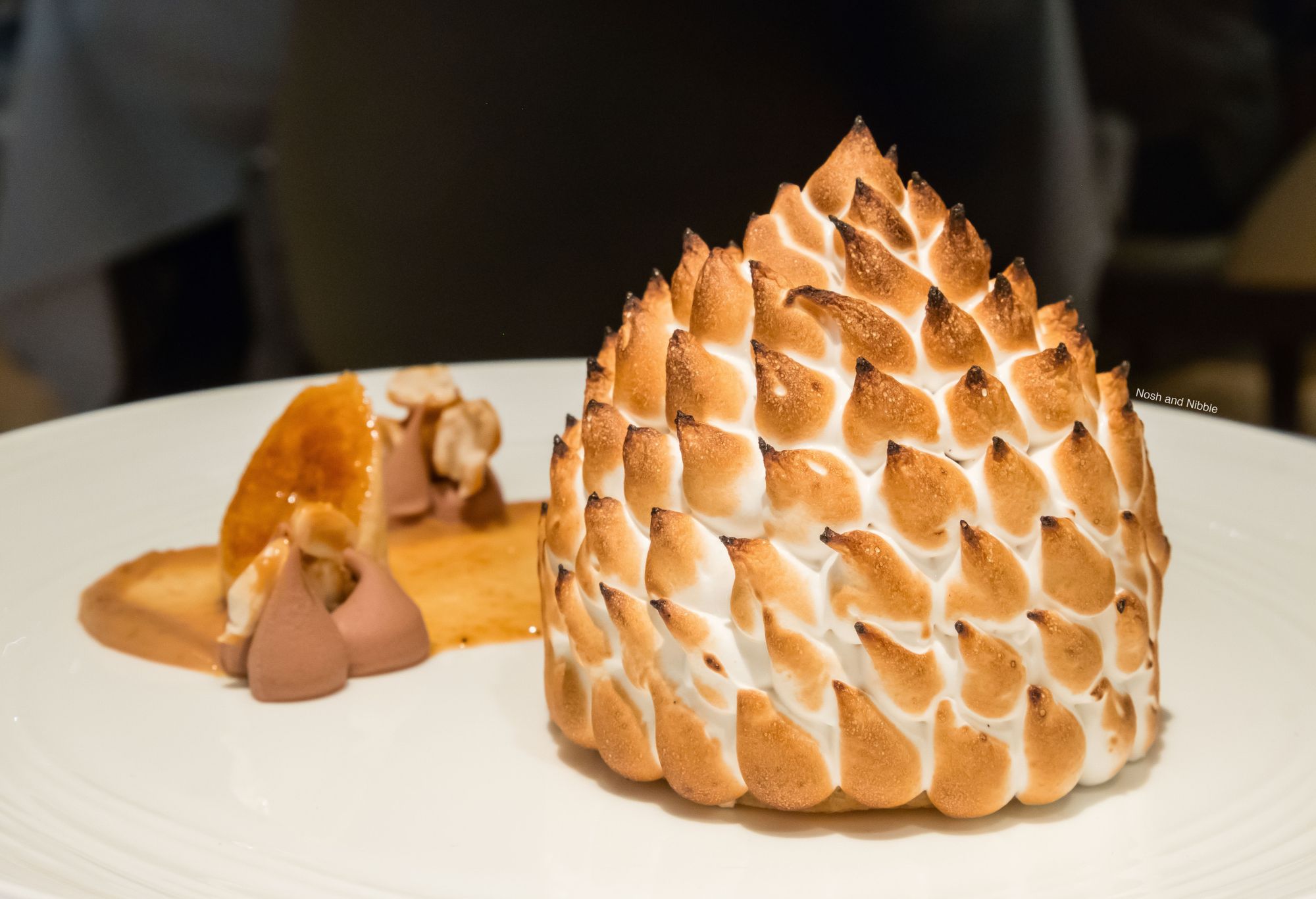 Regardless of your dessert decision though, you'll finish your meal with a pecan cookie as the bill gets delivered to your table.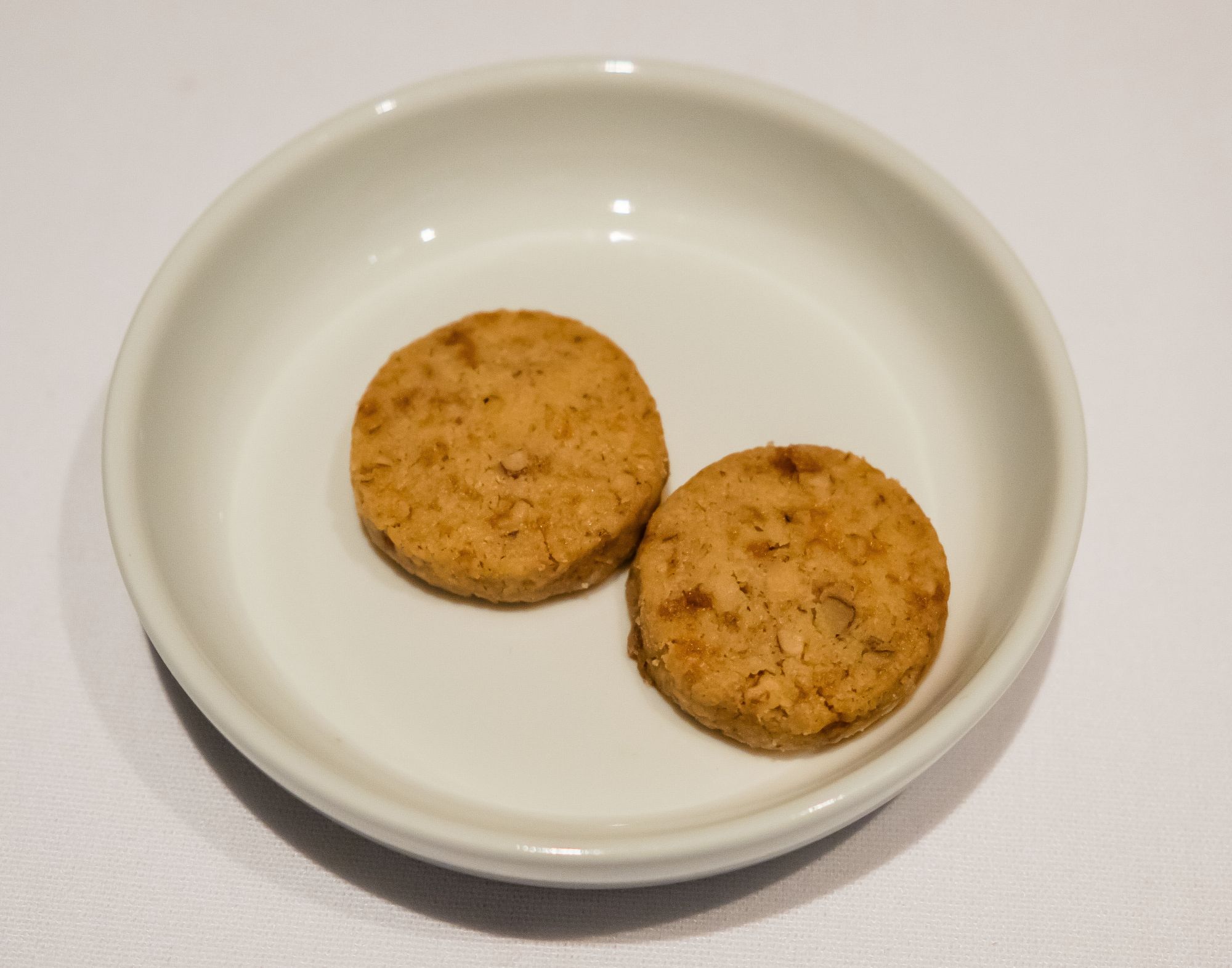 Features:
Like every other steakhouse restaurant, Elisa has the support of a large restaurant group, which is this case is Toptable Group (i.e Thierry, CinCin, and more). It might be easier to launch a new concept when you've got backing from other restaurants under the same umbrella.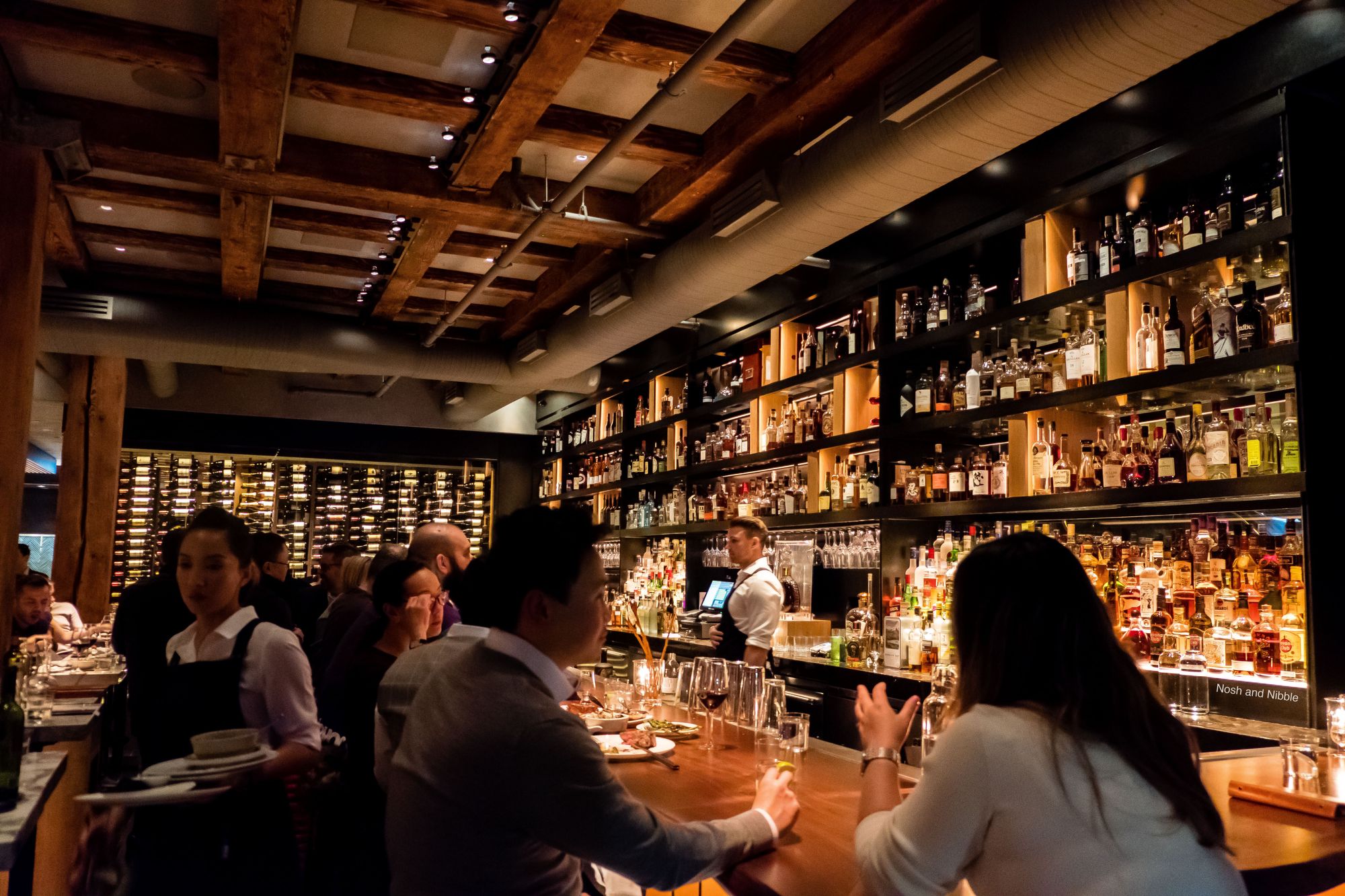 Inside the restaurant is an all-new renovation of the former Milestones restaurant that used to occupy the space. A stacked bar greets you on your way in which is a great feeling. Depending on where you sit, the kitchen is mostly in plain-sight and you can catch wind of the wood-fire stove. If you get closer you could probably smell the alder and birch woods.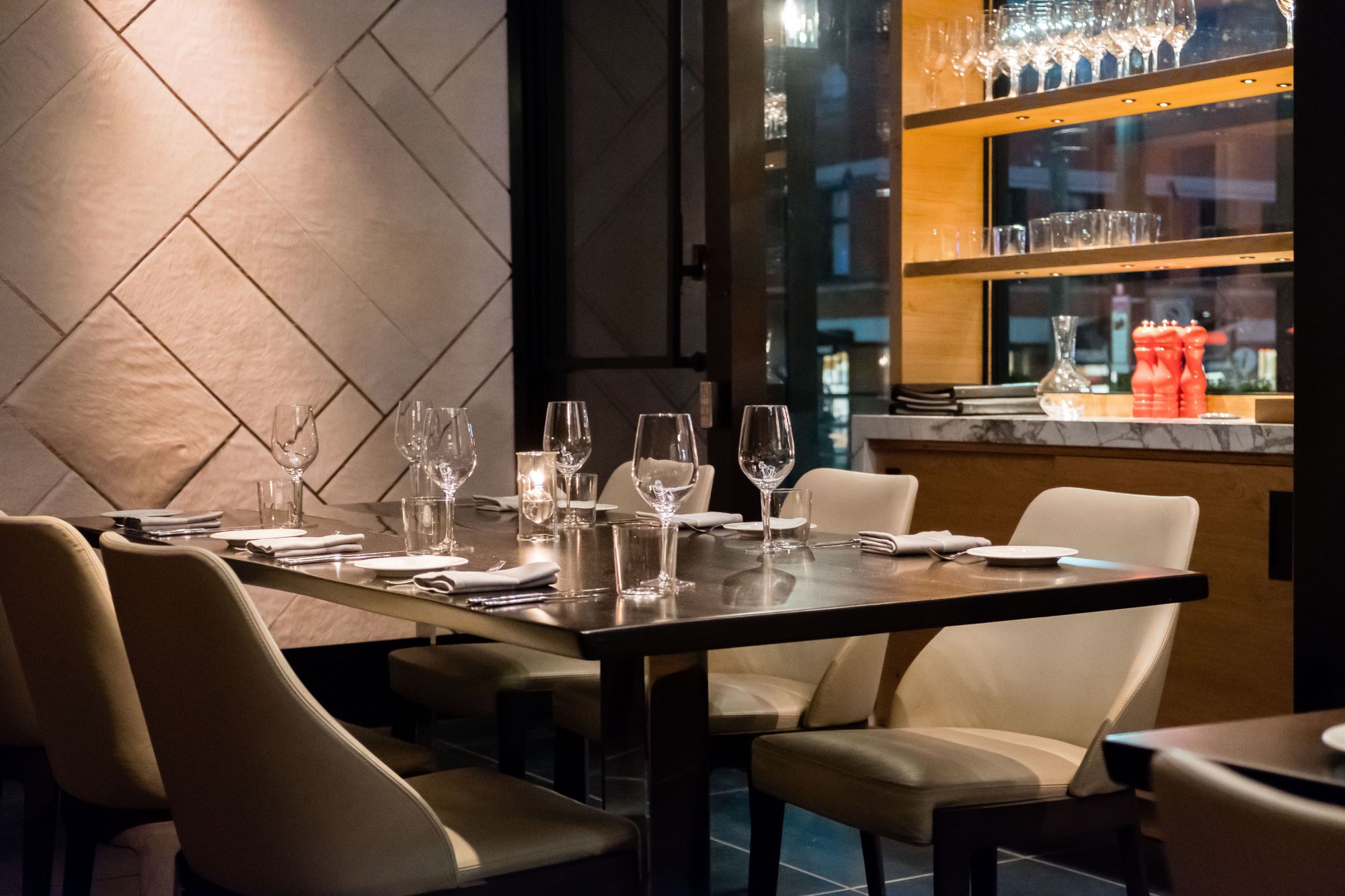 There is seating for at least 120 guests in the 6800 square footage amongst a bar, outdoor patio, booths, and dining tables of all sizes.
The restrooms at Elisa (individual unisex stalls) all feature individual hand towels so you know you're dining with some high-end features. Hand towels are great for conservation too.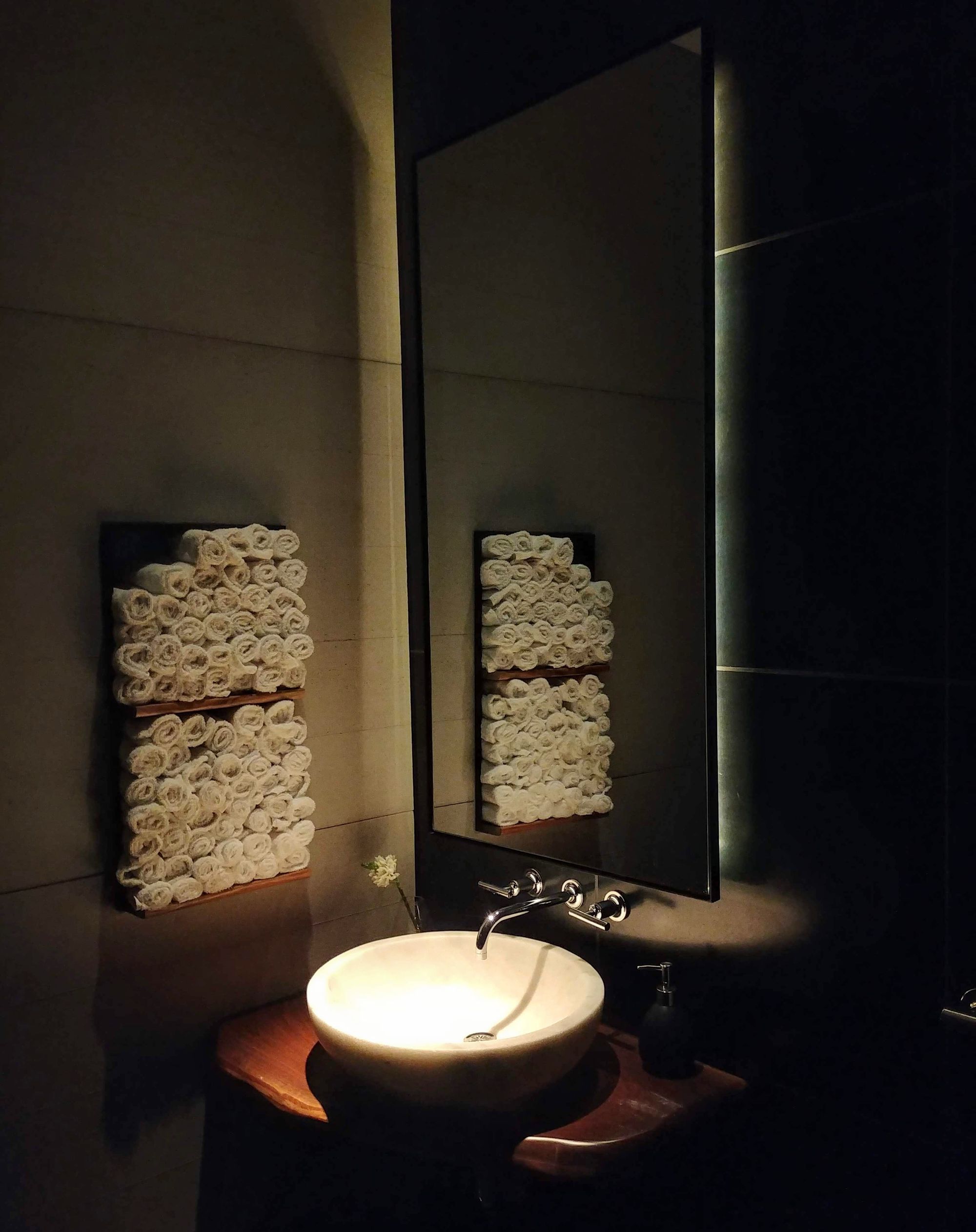 Service:
Admittedly, the food at Elisa is not mind-blowingly good. After stops at The Victor and Hy's though, I can confirm the service at Elisa is a notch above the rest. Here's the story:
The A5 steak was not a part of our original order. As we neared finishing our food, we asked our server if we could add the 2oz A5 to which she obliged and asked if we wanted fresh personal plates for the new steak. We said no. She nodded and went off.
In the span of time it took for us to receive our 2oz A5 steak, no fewer than five Elisa staff attempted to clear away our existing personal plates. Some asked if we wanted them gone while some made a move before we stopped them, but this was a great feeling to feel so loved. It also signals an understanding amongst the Elisa team that they're working together regardless of the tables they're actually serving.
Eventually, Elisa staff stopped trying to take our ribeye-stained plates away, and the A5 steak arrived. It took around 30 minutes for it to arrive, and I can only imagine that's because few people intentionally order 2 ounces of steak and we had to wait for a similar order to produce a 2oz leftover cut for our order to go through.
The rest of the night went swimmingly too. Our waters were constantly topped up and our primary server was never too far away. Food came out in a reasonable amount of time despite it being a packed pre-Valentine's Day dinner.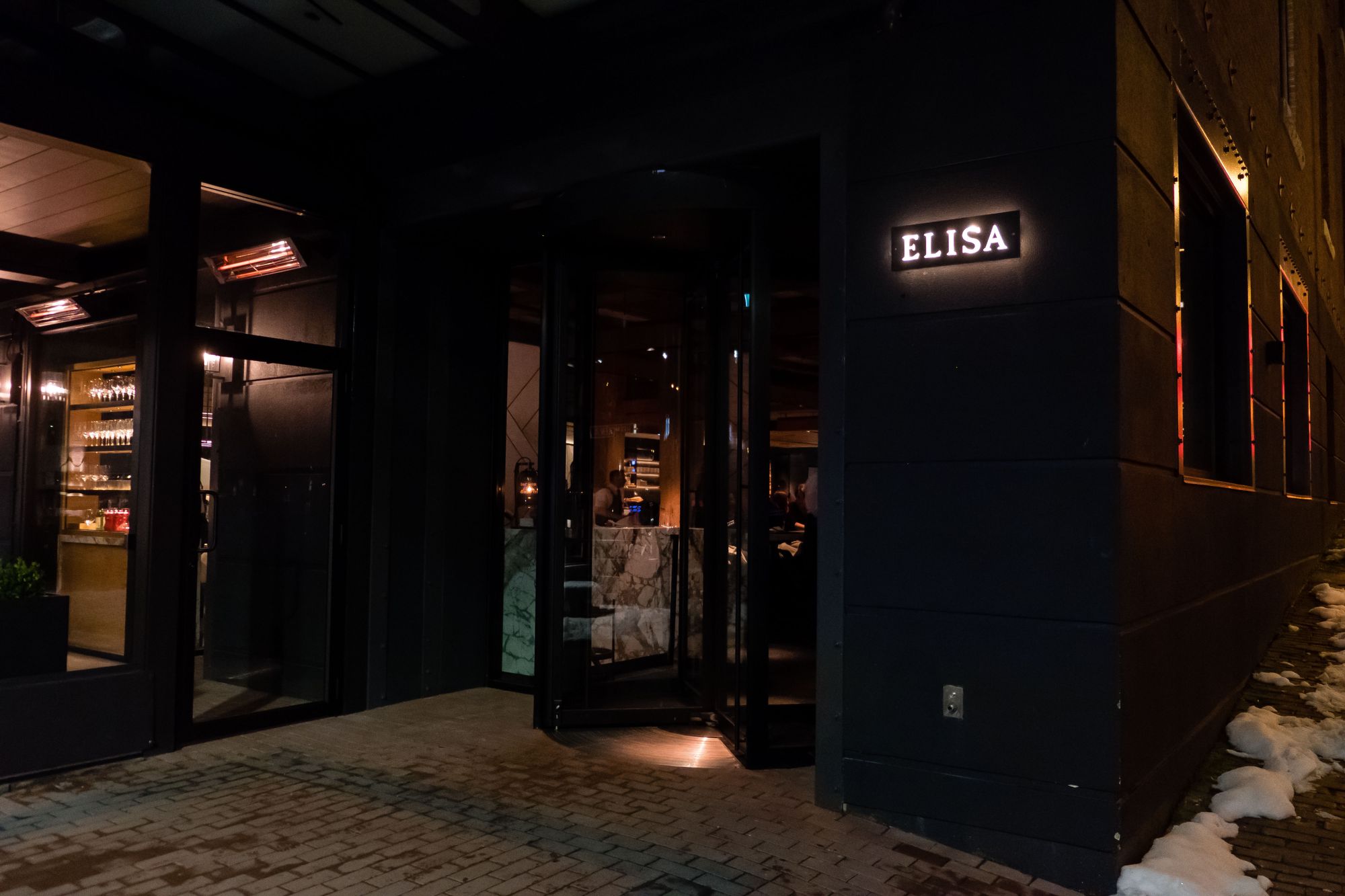 Final Thoughts:
One-liner: Amazing service at a steakhouse that offers a steak for everyone and some side attractions, some of which are hits and some of which are misses
Highlight: A5 Tenderloin
Price per person: $100-$150 (more if you love A5 or classy cocktails)
Would I go back? Only for the A5 steaks.