Did you want fried chicken with your coffee? Now you can! The newly opened Nemesis Coffee Great Northern Way (stylized as GNW) is as unique as they come. The brand has come a long way in establishing itself as the first tenants in their space and with the GNW location, they won a sweet bid to take up residence outside Emily Carr University in a Perkins & Will-designed architectural eyecatcher offering an elevated coffee experience. For this post, we'll get into the food, but the coffee is as good as they come in Vancouver. For coverage on the coffee, check out my first visit to the original Nemesis. For food and pastries, read on.
---
1. Food
Team Tastic biked here for a Sunday brunch, parked our bikes at one of many racks beside the cafe, and enjoyed the following:
Rotating Cream Puff – Cherry Chocolate ($6)
Fried Chicken ($17)
Porchetta Sandwich ($17)
We originally came for savoury food, but I caved once I got to the front of the line and ordered the rotating cream puff, a cherry chocolate flavour as described by the cashier. This was an oozy cream puff with a viscous custardy cream filling the inside with lots of dark chocolate notes. Sadly the cream puff shell itself was quite soggy once I bit into it. I guess I've been spoiled by BETA5's excellent cookie crumb cream puff shells. I'd stick to an almond croissant next time which is my favourite in the city.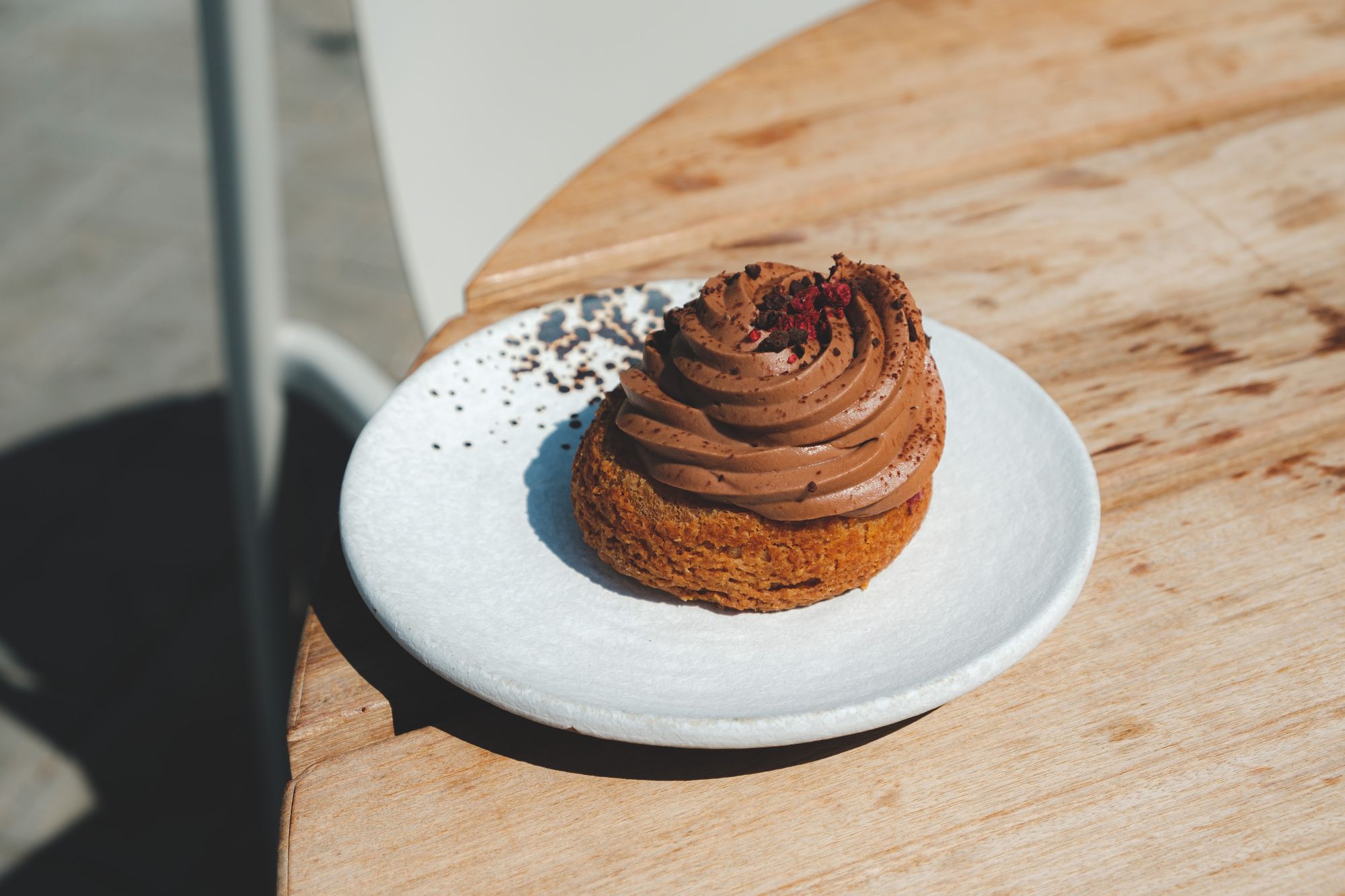 Now about that fried chicken. This guy is served with cornbread, chives, harissa, pickled rhubarb, unripe strawberry (tastier than you think!), and pickled onion. The toppings here are the main seasoning driver of the experience yet they didn't do much for the unseasoned breading of the chicken. If you were to take away the toppings and have a piece of chicken on its own, you'd find that the breading is bland. The intention here is to eat everything as a whole but it feels really awkward when you get a lone piece of chicken, and it will happen, and the breading lacks any flavour. That's too elevated of a fried chicken for me and isn't for my Downlow-spoiled soul. At least the cornbread was moist.
If Nemesis were to strike a deal with Downlow to supply chicken breading and seasoning, we could have a moment together.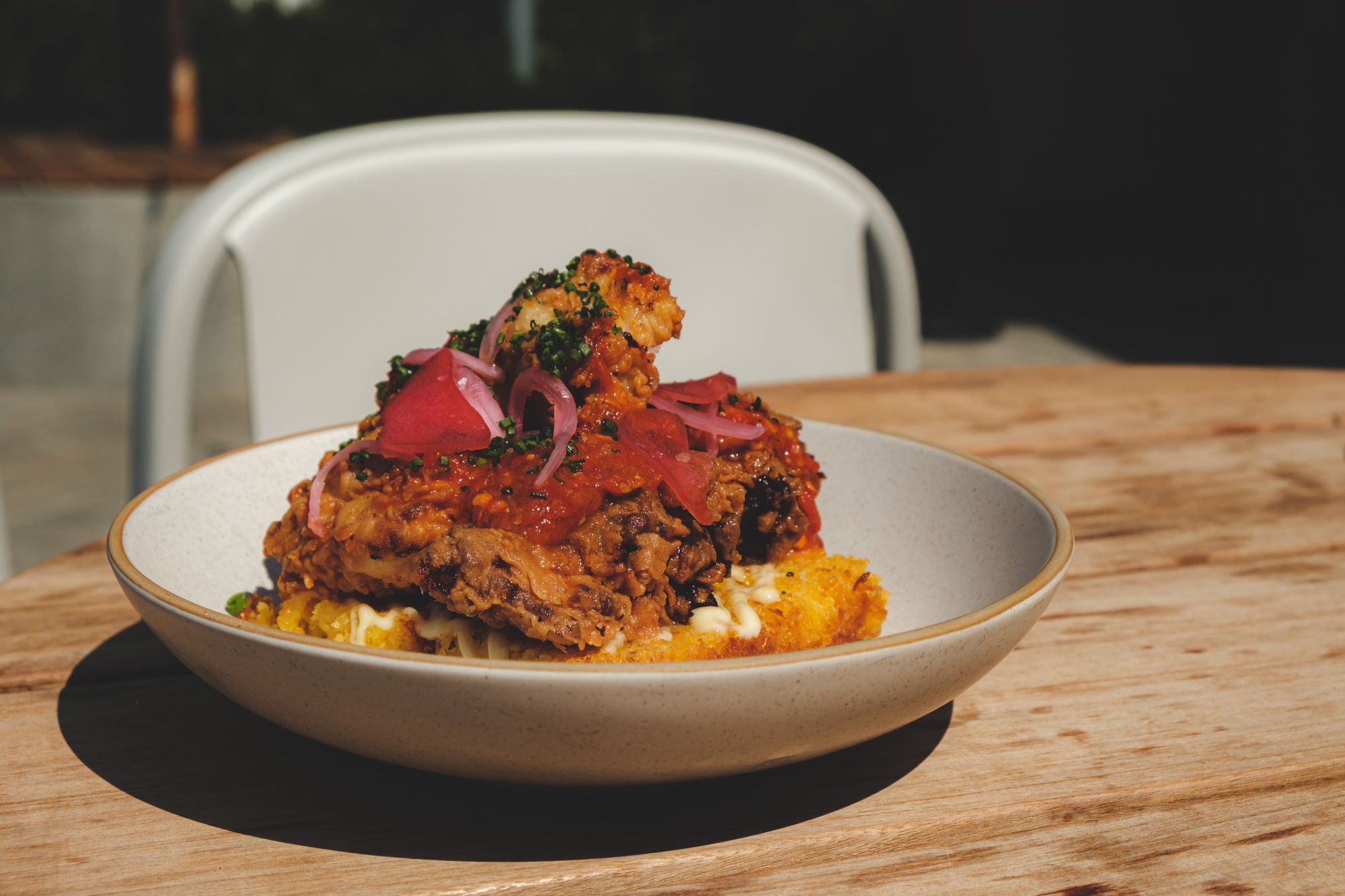 Another laughable item on the menu is the Porchetta Sandwich which comes with rosemary focaccia, fennel + apple slaw, pickled onion, grainy dijon, and roasted garlic. This was a burger-shaped sandwich with a very dense bun. So much so that I felt I was cleaving through more bread than filling at times. The grainy dijon was very sparse on our sandwich leaving me wishing for a sandwich spread with more oomph. More acid! More savoury! Anything!
I don't know what needs to happen, but if Nemesis were to strike a deal with Meat & Bread to supply porchetta and pork crackling, we could have another moment. So many feelings.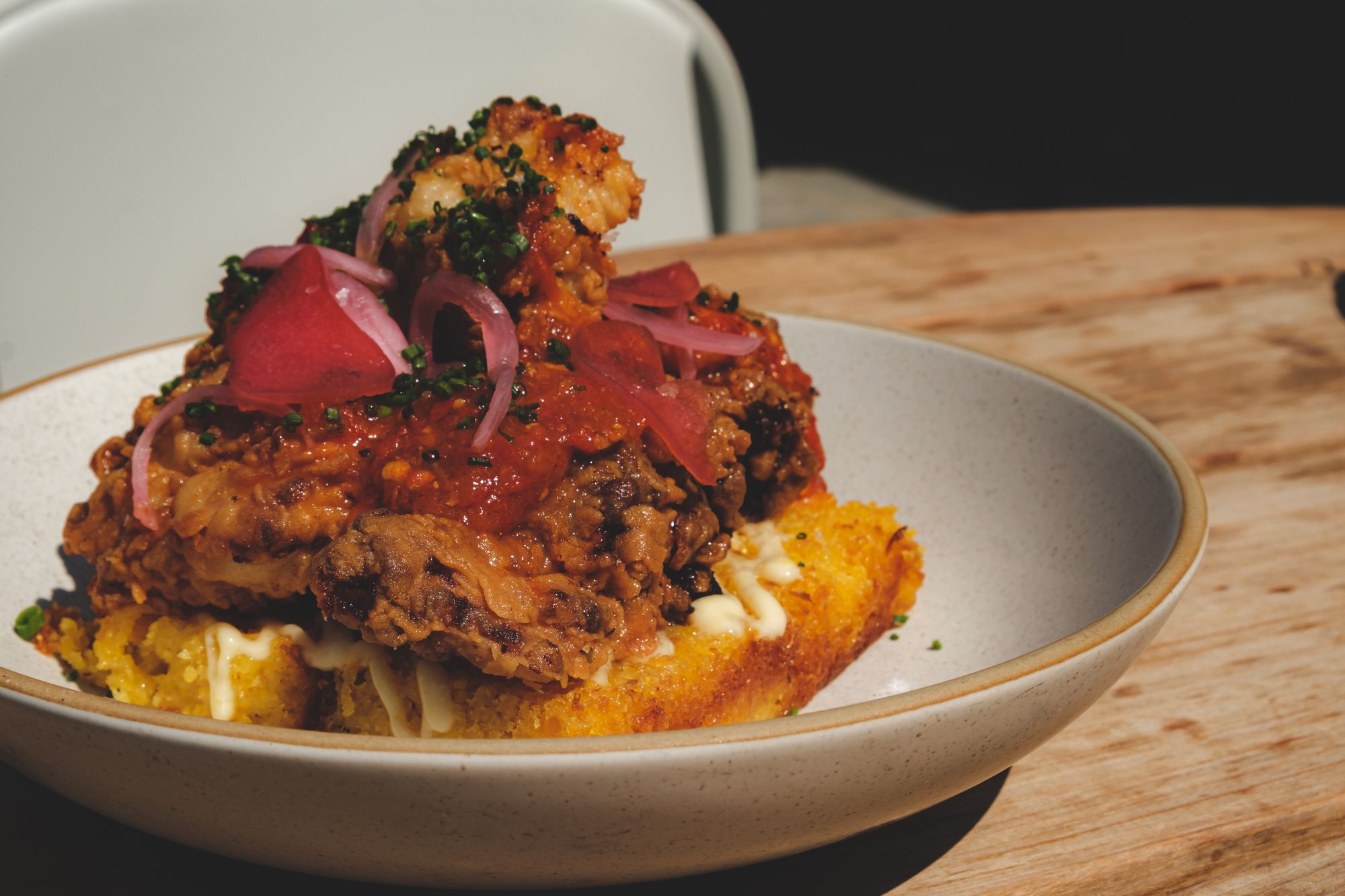 If you're wondering why a coffee shop is serving entrees like fried chicken, it beats me too, but Nemesis has been known to slap harder than your average cafe and this is basically the elevated dining tier of coffee shops. A person could easily spend $30 on their lunch at this coffee shop.
2. Features
The architecture of Nemesis GNW is what drew me in and despite my misgivings about the food menu, it's what's going to keep me coming back. The building is designed as an upside-down flower petal with a brilliant shade of red you can spot from a distance. Once inside, the interior is very spacious (COVID plan, I'm assuming) and the staff are situated along a long bar. Much like Storyville Coffee in Seattle's Pike Place, the atmosphere in this coffee shop is iconic. Can you think of a more idyllic vibe to sip your $4.50 latte in? I can't. The petals on the outside converge on the inside to form an oculus that softly diffuses light onto the wood inside. I could go on for days discovering new things to love about this space. The venue looks even more amazing than the food which is why I've used it as the cover photo for this blog post!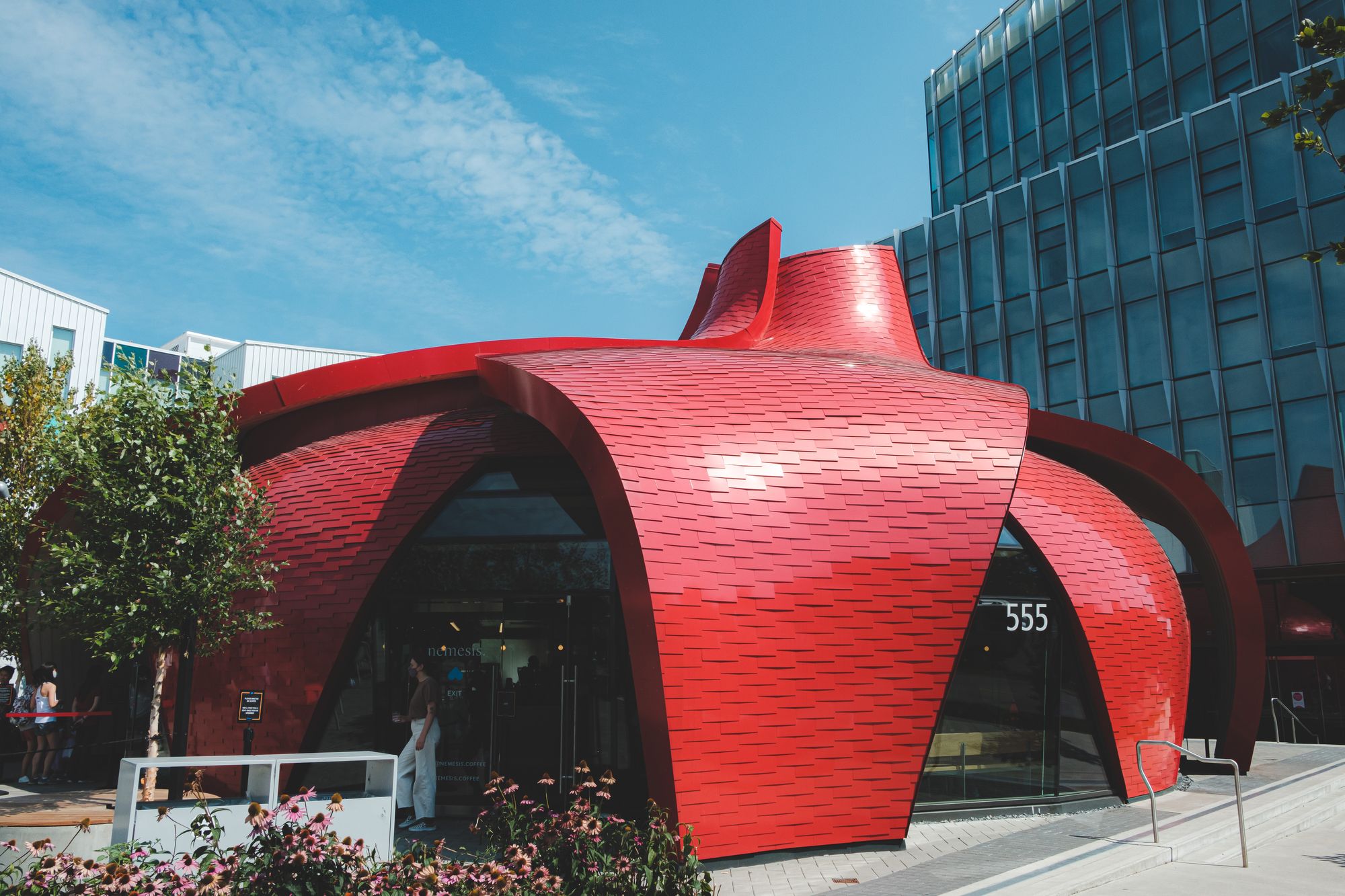 There's also an outdoor patio if being outside is more your thing. The tables have cement stands rooted to the ground so there's less to maneuver for the operators and so the patio design feels very deliberate, and again, like elevated dining. There are string lights dotting the area but don't do much during the day. In addition, Nemesis GNW is only open until 5pm. Maybe they'll find a way to open later in the day.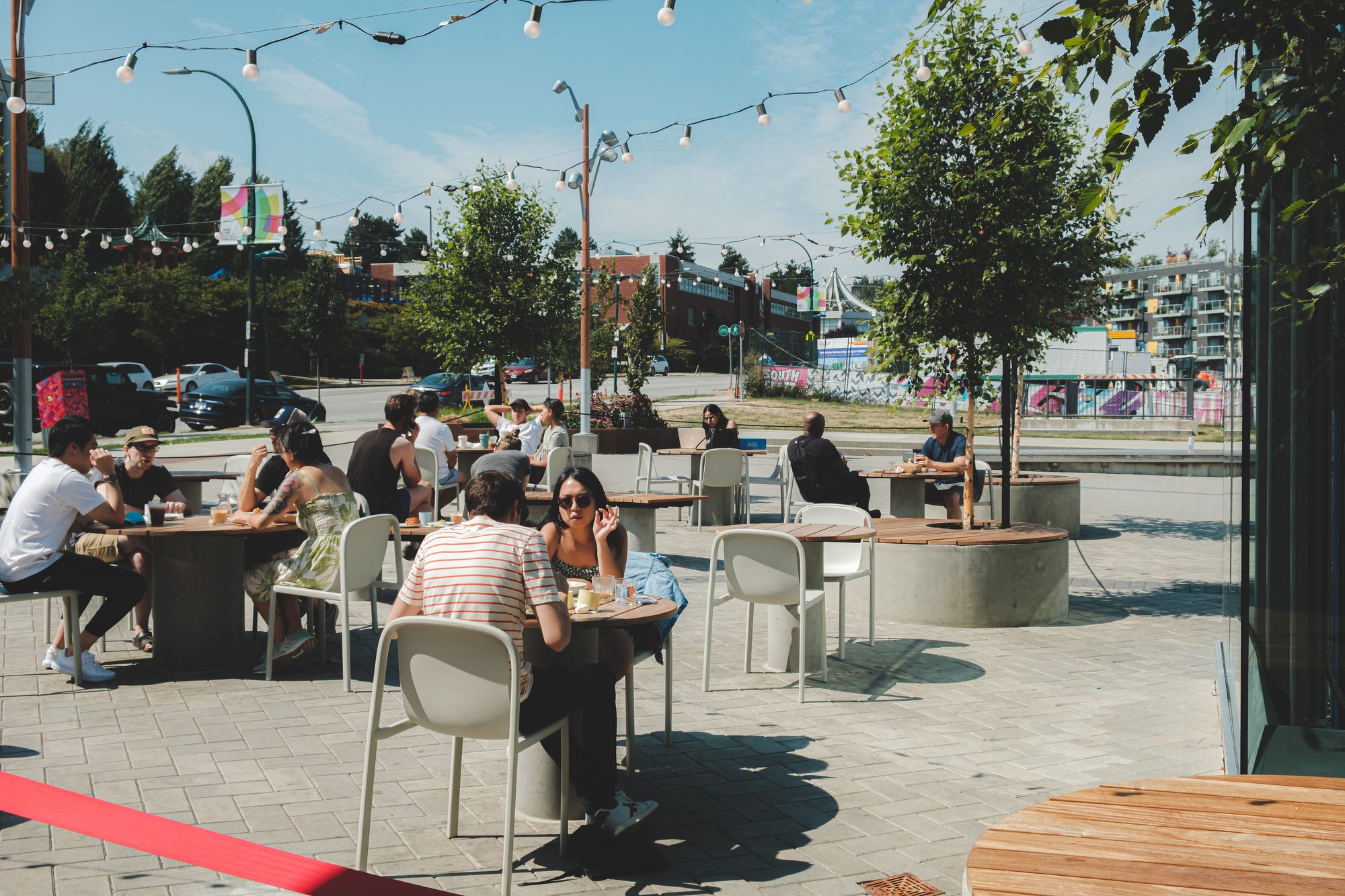 Seating-wise, the outside patio contains seating for about 40 guests and the inside, during this pandemic, seems to seat around 40 as well with lots of room to spare.
3. Service
Service at Nemesis GNW is a journey. First, there's a long line out the door wrapping around the flower-shaped cafe. Once you get in, there's just a small window of opportunity to peruse the pastries before you place your order. It took me about 15 minutes to get from the back of the line to placing my order on a Sunday noon hour.
It's important to note that if you are in a group, you can't send someone to hold a table while somebody orders. I love this. This puts to rest the moral dilemma, especially if you are alone, to how far in advance it is acceptable to snipe a table for yourself or a group. I literally saw a person get shooed off a table and the staff instruct them that they will be taken to a table after they placed their order. It was glorious.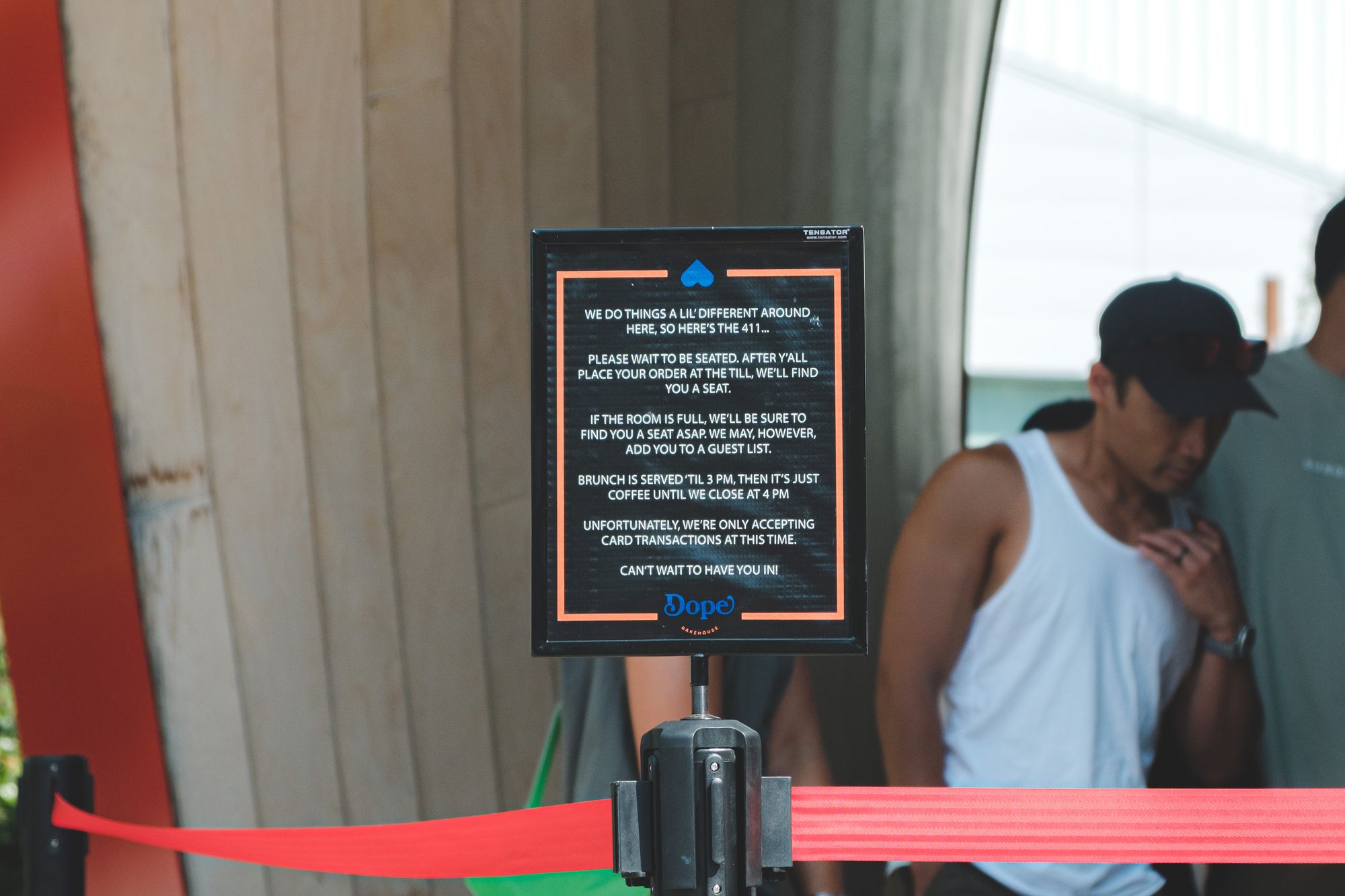 Food takes 15-20 minutes to get to your table, coffee about 2 minutes, and pastries are instant. Because the staff do fully bus your table, seat you, and wipe up after you (except for the outdoor tables), do remember to tip as you place your order if you practice cafe tipping.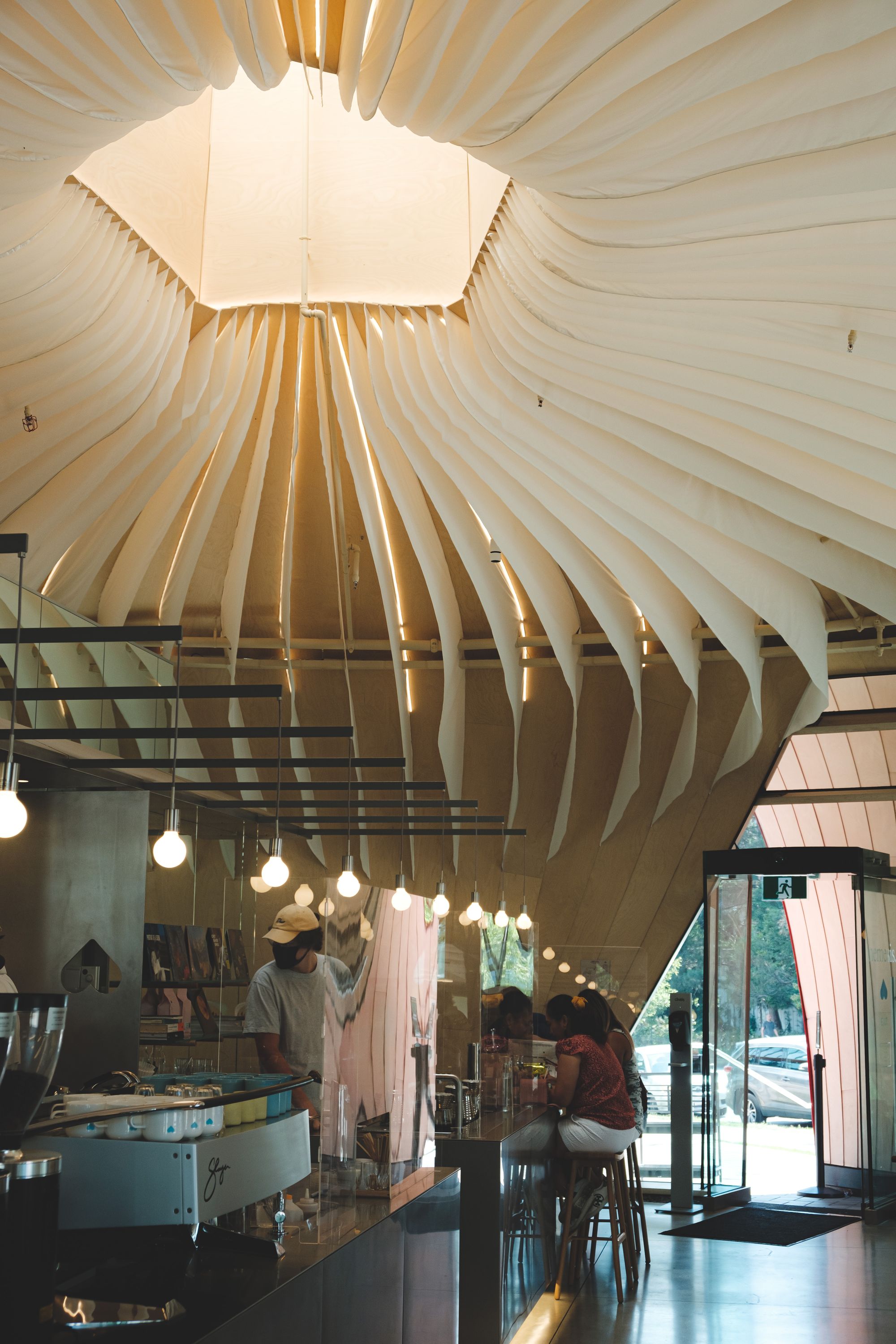 Final Thoughts:
One-liner: Elevated coffee experience serving up somewhat forgettable food you can't order at any other cafe, nor another Nemesis Coffee for that matter
Highlight: The architecture
Price per person: $6-$30
Would I go back? Yes for coffee and pastries.